Top Tips for eCommerce Lead Generation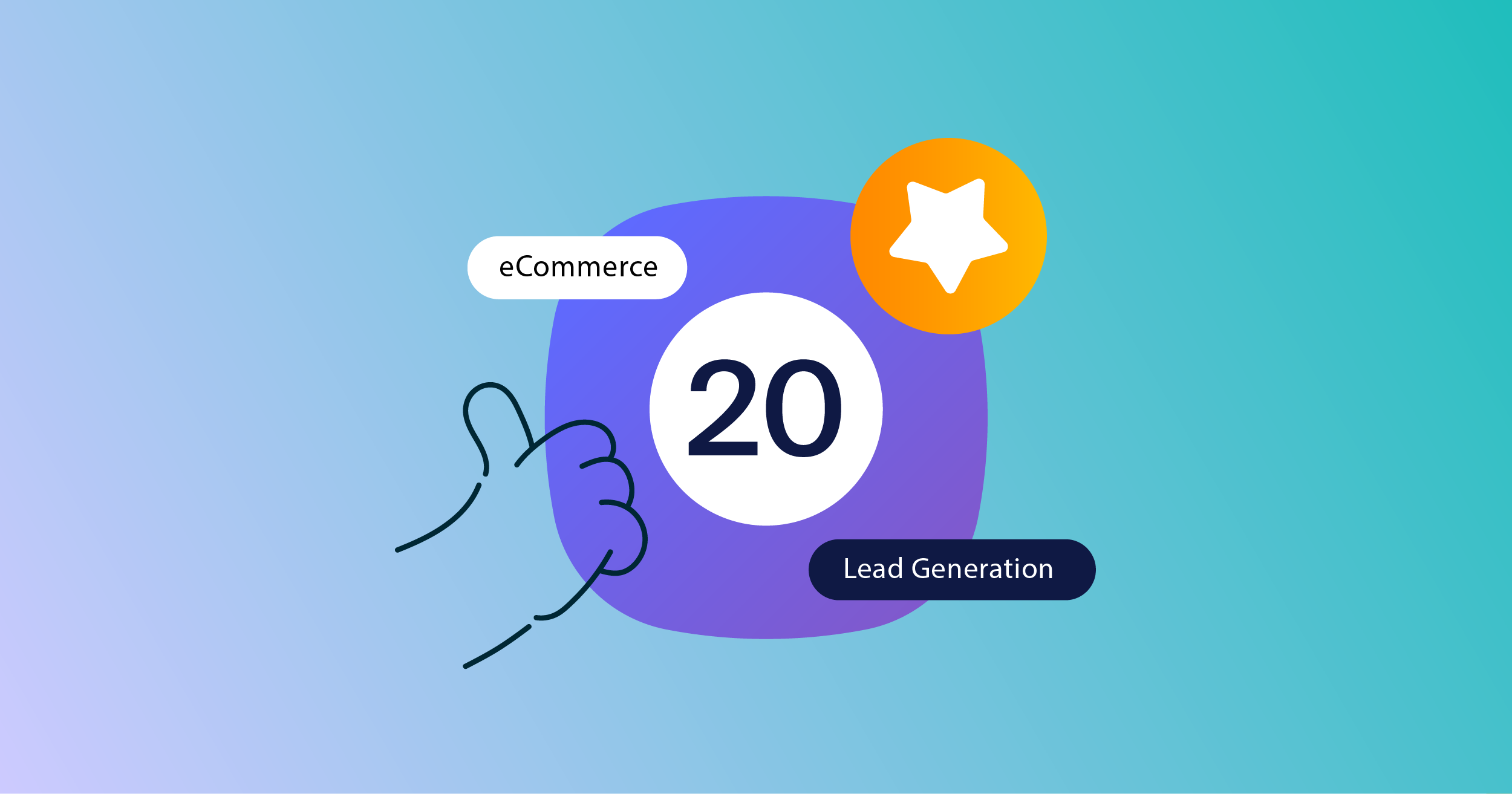 eCommerce lead generation is the approach businesses and brands implement to bring in interested consumers and turn them into customers. A lead is a consumer that shows interest in your product or services. These potential customers show interest by taking specific actions, following your brand on social media, reviewing the ads, subscribing to your newsletters, and visiting your eCommerce site.
Businesses in the eCommerce industry need to understand customer journeys to create a proper roadmap to help generate more traffic and leads (including SMS leads). You must determine what will attract consumers to visit your store or buy your product or service with the right lead generation strategy, whether it's B2C or B2B eCommerce marketing.
Top 19 eCommerce Lead Generation Tips
1. SEO Optimization
There's nothing as important as optimizing your eCommerce website for search engines. According to Hubspot, 75% of users don't go past the first page of search engine results. Remember to:
Optimize your assets with keywords and tactics
Optimize both content and sales pages
Optimize your CTAs
Use Keywords Everywhere to get the ball rolling
Use targeted keywords and metatags
Optimize your image alt
2. PPC Campaigns
PPC may assist you in achieving a wide range of business and marketing objectives. One significant advantage of PPC advertising with Google Ads is that it is simple to assess and track. PPC and SEO complement each other nicely since impressions and traffic possibilities are frequently directed at the same target. Even if you're a decade behind your competition in terms of PPC marketing, with a little bit of optimization, you can be up and running quickly.
Get in Touch With Our Experts
Streamline your efforts and centralize your channels with Dexatel's all-in-one platform. Talk to our experts and get all your questions answered.
3. Valuable Content
Over 70% of people prefer to learn about a product from an article or an ad. Consider using content marketing to further accelerate your business towards your potential customers. You may provide valuable content by creating:
Webinars and educational videos
Reports
Checklists and cheat sheets
Popular blog posts or articles
4. Social Media Followers
Social media is considered a gold mine for eCommerce lead generation strategies. Statistics show that 80% of users will research a product, and 81% of users will make a purchasing decision after learning about it. You can also use paid advertising on social media to further leverage this strategy. Ads help you target relevant content to the potential buyers.
5. Social Media Giveaways
No matter how small or big your social media follower list is, you can offer giveaways as a means to attract more followers and leave a positive impression on existing ones. Everyone loves free stuff—people will share it with their friends, giving your brand more organic exposure.
6. Email Marketing
Research shows that email marketing has an ROI of 4400%, which is $44 for every dollar spent on a campaign. This means you won't have to splurge for a successful email marketing campaign. Once your customers opt in to your campaign, you can send them updates about your business. eCommerce marketing strategies for email include:
Notifying new products and services
Reminding about abandoned carts
Launching loyalty and referral programs
Providing discounts and incentives
7. Email Lists
Besides email marketing, you can set up email address lists to keep track of who you connect with and what message you send them. MailChimp is the most popular marketing automation tool that businesses use. Its free plan includes 2,000 subscribers and 12,000 emails per month, meaning new businesses with tight budgets can reap the benefits of this tool.
8. Personalization
Personalization is a widely discussed topic for good reason. Customers respond to customized and individual approaches that show they are valuable to a business. An eMarketer survey stated that 50% of people prefer the personalization of products that interest them.
9. Target Keywords
It is of high importance to create optimized content for a specific keyword that represents your brand. Then, target that keyword via a PPC campaign for wide outreach. The idea is to create valuable content around the keyword so your target audience can find your brand online.
10. Cookies
Cookies collect and store information from visitors, including where they clicked on the website, what items they added to the cart or wishlist, and what items they viewed. With this data, businesses can create a retargeting campaign that gets nearly 77% more clicks than other ads.
11. Conversion Rate Optimization
You'll encounter many potential customers who visit your eCommerce store and then leave. A few reasons why they left include:
Page loading issues
Low quality of images
Not enough reviews
Generic content
No CTAs
In order to convert visitors into customers, you can :
Check social analytics
Collect and use demographic information
Enable eCommerce tracking in Google Analytics
12. Mobile Optimization
As the owner of an eCommerce business, you understand the importance of having a strong online presence. You optimize for search engines, advertise your material, add high-quality photographs, and provide everything needed to succeed in the eCommerce industry.
However, many of these methods are geared toward desktop optimization. Mobile optimization is a completely different thing. To outperform the competition, you must master mobile.
13. Search Ad Extensions
You can use ad extensions for your search ads to help with lead generation for eCommerce. To do this, you need to target your goal for lead generation in as many aspects and with as many tools as you can possibly have. With search ad extensions, you can:
Inform more about the product or service
Include discounts and sales
14. Discounts and Benefits
Nothing entices a customer like discounts and benefits. These are the most common benefits an eCommerce business can include in their list of advantages:
Free shipping
Coupons
Gift cards
Offer new deals
Freebies
15. Contests
Apart from offering giveaways, hosting contests can immensely boost your leads. People love playing games with the chance of winning a prize. People can opt-in for the contest and share it with their friends, which will further accelerate lead generation. You can leverage this strategy via anything from chat eCommerce to SMS for eCommerce.
16. Lead Magnets
Similar to freebies, a lead magnet is a marketing term for a free product or service given away in exchange for contact information. Examples include:
eBooks
Checklists and cheat sheets
Free templates
Guides
Use cases
Toolkits
Resources lists
17. Easy Checkouts
The checkout process should be just as optimized as your landing page. Make sure to include clear CTAs and steps so that the customer can complete the transaction without any hassle.
18. Exit Intents
Exist intents track and monitor the movement of your visitors. You can use this technology to see if visitors are about to leave your online store without making a purchase. According to stats, more than 70% of the visitors who leave your site don't return. To ensure this is kept to a minimum, businesses can add:
Pop-ups for abandoned cart reminders
Pop-ups for ebook or case study downloads
Free consultation calls
Webinar signups
Personalized "Are You Sure" pop-ups
Pop-ups with the choice to leave or return
Time-sensitive discount offers
19. Design
Lastly, it's essential to pay attention to the design for lead generation purposes. Calls-to-action, for instance, cannot be randomly placed or have a complicated language. Your page should be visually appealing and accessible to the visitor. Your main goal is to give customers the most comprehensive experience possible.