SMS Marketing for Retail: Starting Your First Campaign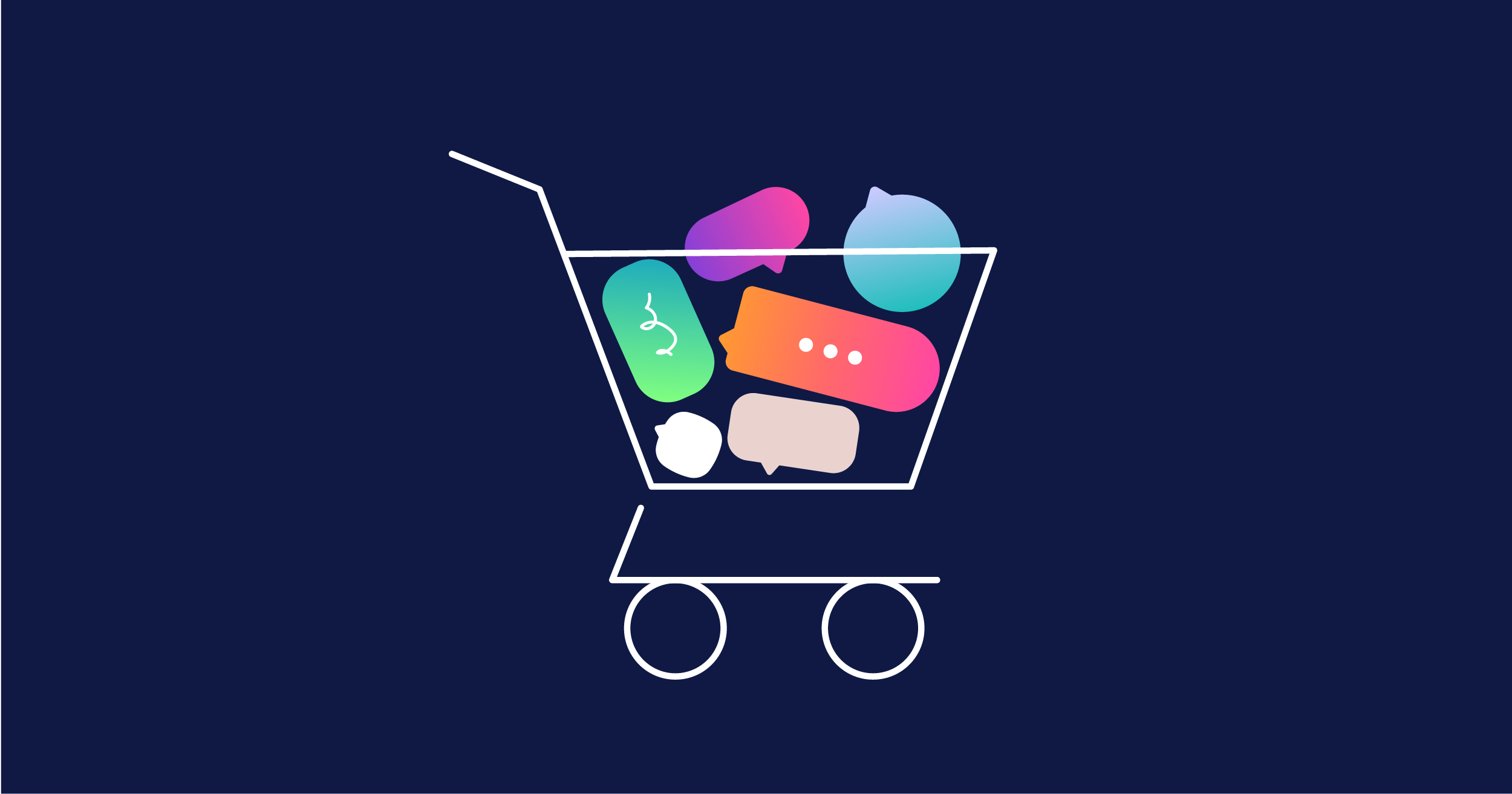 Retail has always been one of the leading industries that heavily relies on marketing. By reinventing itself multiple times from a marketing standpoint, this industry continued to maintain steady sales figures.
With the rise of internet technologies, the retail industry gained a new weapon in mobile marketing to add to its vast arsenal. Now, retail stores have a lot of choices to make regarding the path they choose for their marketing strategy. The million-dollar question is: "Will they take the traditional path or employ modern practices to keep up with the times?"
Thankfully, there's a solution that combines the best of both worlds—text message marketing. Considering its inherent qualities, SMS combines traditional marketing features with digital ones to create the ideal channel.
Unlike most industries, the retail business doesn't have a specific target demographic. In other words, any person is really a target. SMS marketing for retail, in that regard, is similar in concept in that it can target just about anyone across the world.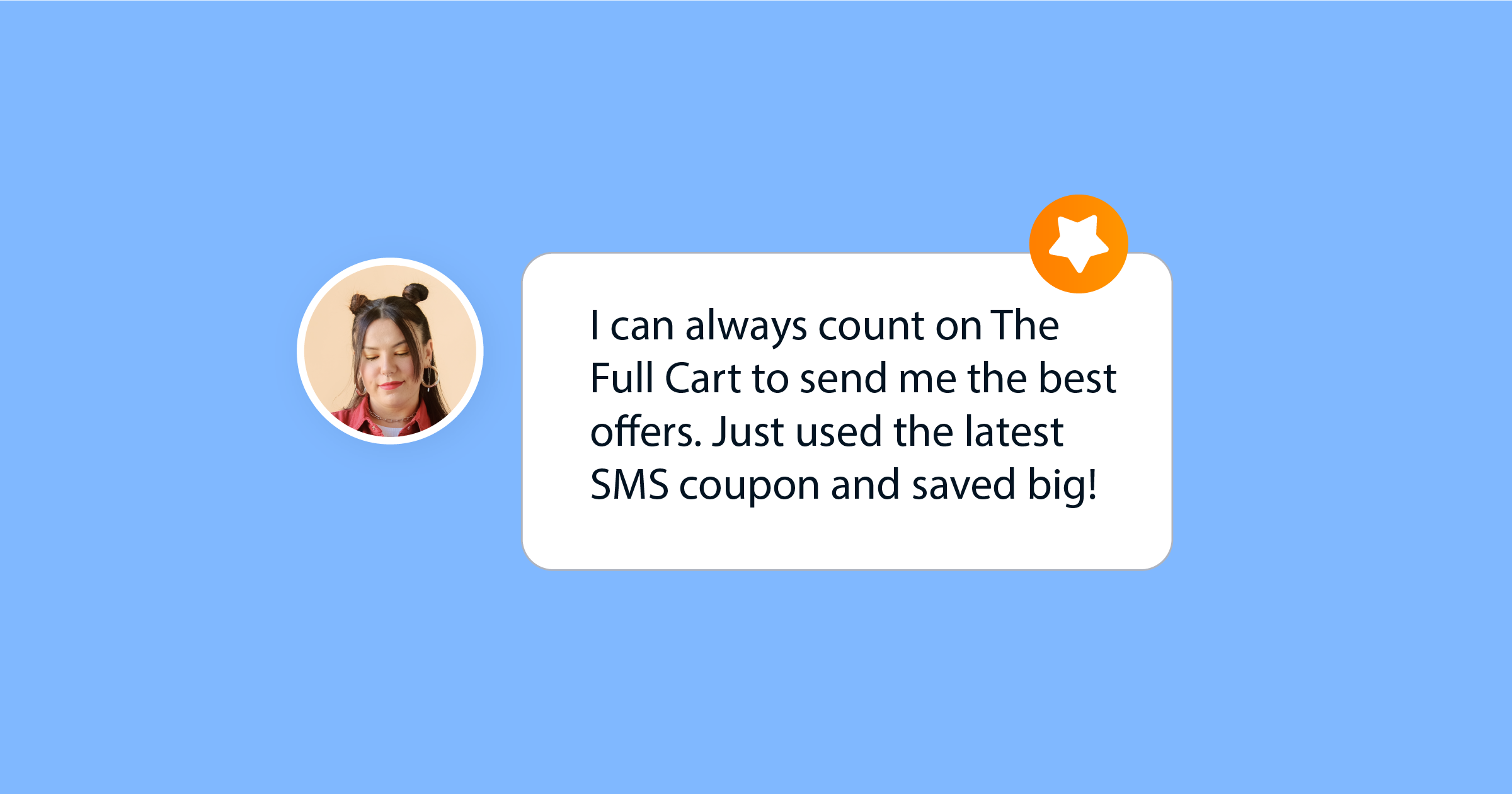 Advantages of SMS Marketing for Retailers
Text message marketing offers an abundance of benefits for retail companies. Its efficiency and effectiveness is no secret either. There's a good reason SMS marketing for retail stores has been around for a couple of decades now. In fact, it has successfully held its spot among the best marketing channels out there.
The longevity of the SMS marketing channel and its worldwide application is a testament to its prevalence. With that in mind, let's dive into the benefits of text marketing for retail businesses. 
An Affordable Option
No matter how successful and financially stable your retail shop is, it never hurts to employ affordable marketing strategies. In comparison to other forms of marketing, SMS is the most cost-effective option you can go for. And in this case, a low price doesn't equal low quality. As a matter of fact, it is arguably the best marketing method with the highest open rate. 
Worldwide Outreach
Text marketing knows no physical boundaries. You can send out your SMS campaign anywhere in the world and rest assured that your customers will receive your message. However, just because you can send messages worldwide doesn't necessarily mean you should. 
Sending it to the wrong demographic would yield no results, rendering your campaign useless. For instance, it wouldn't make sense for a small-town retail business in the US to send promotional messages to customers in France.
Response and Conversion Rate
Out of every marketing channel, SMS messages have the highest response rate. They boast a 98% open rate and a conversion rate that ranges between 30% and 40%. Retail SMS marketing campaigns can not only grow your business, but it can also enhance the customer experience.
This only goes to show that retail marketing messages have proven to be effective in delivering results for businesses. This alone is a selling point for a retail business to start implementing text message marketing in their strategies.
Increased Customer Engagement and Loyalty
As much as any retail shop would like to gain new customers, the real business comes from returning customers. This requires building a loyal customer base, which goes a long way in the retail industry. 
The first step is making customer service and engagement a priority. SMS marketing achieves that by establishing two-way communication between the store and clients, resulting in a strong customer relationship which in turn increases sales.
Creating Text Campaigns Is Simple and Straightforward
SMS text marketing campaigns are much simpler to plan and create than email marketing ones. They are concise and to the point, and you can easily check the performance of each campaign. You can test different templates and see how your recipients respond to each. For example, cheerful language may be well-received in certain cases but may not work in others. You'll want to learn from every campaign you create and optimize your approach based on results. 
High Return on Investment
Considering how effective they can be, SMS texting campaigns enable your retail business to scale faster. A well-formulated text marketing strategy can be an incredible way to reach your target audience in no time while boosting brand awareness and building customer loyalty. Simply put, texting offers a high return on investment and is also a cost-effective way to reach out to your audience.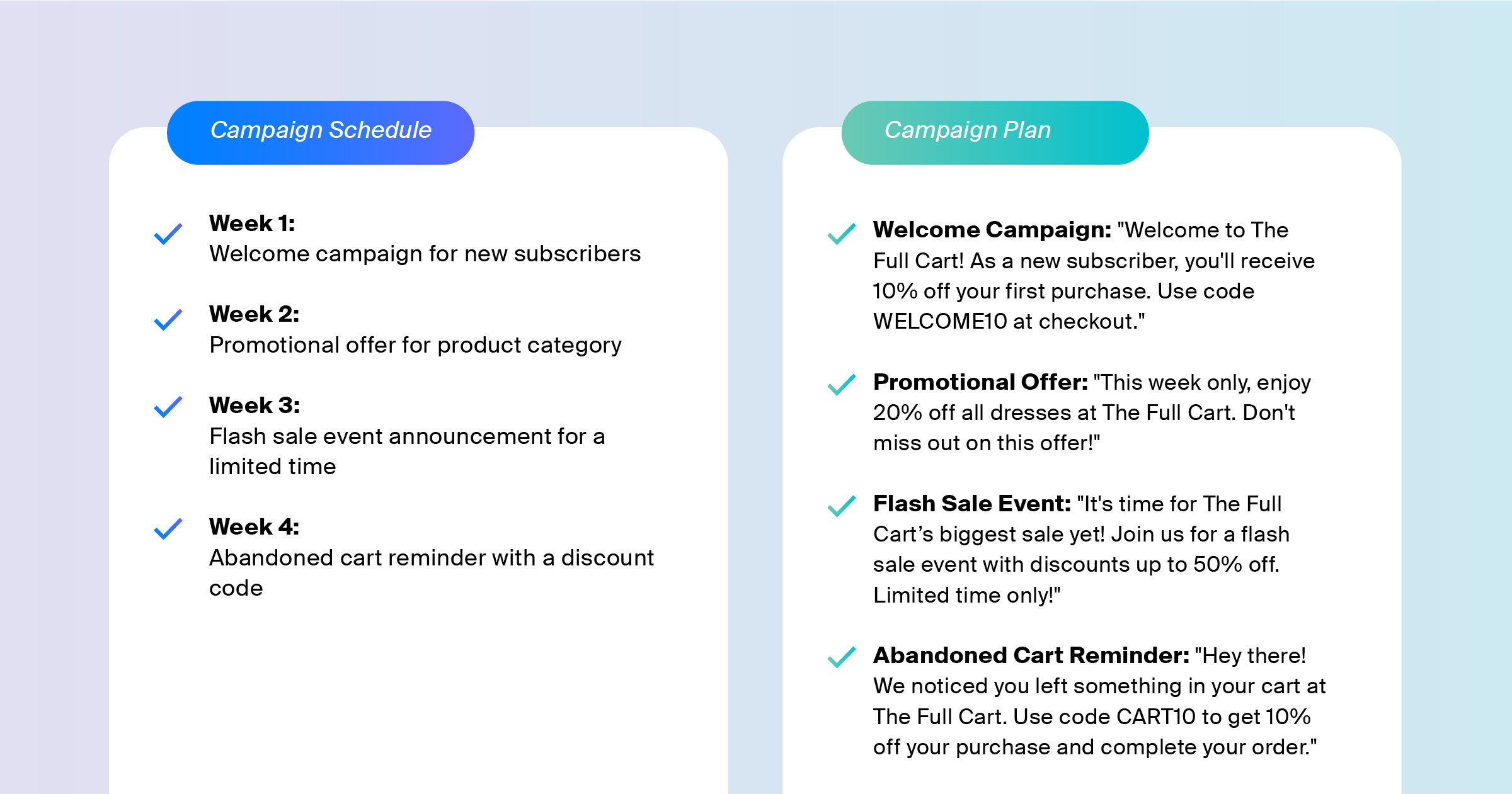 Best Practices for Retail SMS Marketing
Retail text messaging can do wonders for your company's bottom line, but only if you go about it the right way. Taking certain best practices into consideration boosts the probability of your text campaigns bringing in the results you would hope for. Here are a few important tips and tricks for your text marketing channel. 
Know Who Your Target Audience Is
The first step in creating a marketing strategy is knowing who your target audience is. It ensures that you're communicating with people who are most likely to become paying customers. You'll want to start by creating a customer persona and figuring out attributes like pain points and buying behavior. You can then make use of that information to come up with and send sms marketing campaigns.
Get Permission to Send Messages
Much like email marketing, SMS marketing involves getting permission to send text messages. As a matter of fact, you are required by law to obtain consent from recipients before launching text campaigns. There are several ways to do this. For instance, you include an opt-in form on your website or spread the word about your text messaging channel on social media. Another tactic involves asking potential customers to opt in by texting a certain keyword to a short code or phone number. It's also common practice to include an opt-out option in your text messages and to respect opt-out requests. 
Keep Your Messages Short and to the Point
You probably know that text messages have a maximum limit of 160 characters. That being said, it's always a good idea to keep your messages short and simple. The content you convey should be easy for the recipient to digest. Before sending the text, see how it sounds to you. If it's straightforward and engaging, then you're good to go. You may also want to include a clear call to action that will prompt your recipients to interact with the campaign. 
Track the Performance of Your SMS Campaigns
A text marketing campaign doesn't end after you hit send. A vital part of the process is to watch how your retail SMS campaigns are performing. This includes tracking the return on investment of the marketing channel. Business text messaging platforms often provide a dashboard where you can monitor the performance of each campaign, allowing you to adjust your strategies as necessary. Make sure to account for KPIs like open rates, click-through rates, and opt-out rates. 
Personalize Your Text Messages
Recipients often respond better to messages that target them on a personal level. Any piece of content you convey through SMS should ideally be relevant and tailored to each contact.  This means grabbing their attention by including their name and, where possible, mentioning any details based on available customer data (such as purchase history). Personalized text messages enable you to build strong customer relationships down the line and ensure repeat business, which goes a long way in retail. Keep in mind that it's easier to retain existing customers than to gain new ones. 
Align With Email Marketing
Text messaging is an excellent way to amplify your other marketing channels. An effective strategy is to align your retail SMS campaigns with your email marketing. This ensures that anyone who doesn't see your email message will see your text. Needless to say, you'll need to adapt the content for SMS messaging. Another tactic involves launching SMS-specific campaigns that only your text subscribers will receive. Doing so will encourage prospects to opt in if they find out they'll get special offers that email contacts won't.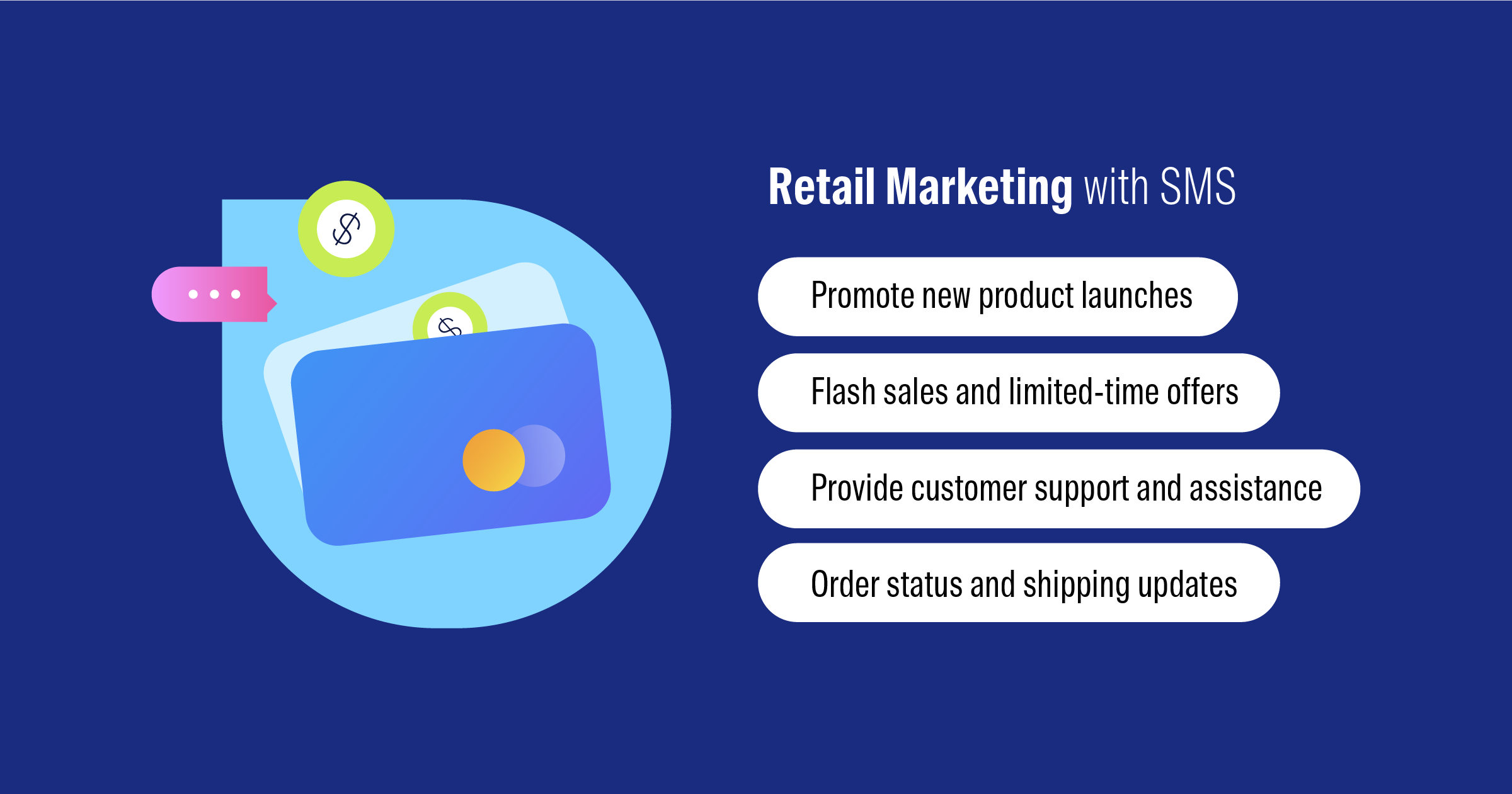 Different Ways to Use Retail Text Message Marketing 
Once you have a subscriber list in place, you can start planning your SMS marketing campaign. There are various types of SMS marketing campaigns for retail that you can create and launch. The main aim, however, is to maximize engagement and increase sales. 
Welcome Sequence
Many retail will send a welcome message as soon as someone signs in to their text message marketing. You can send one or a series of messages introducing your new subscribers to your business. Give them an idea of what to expect, motivate them to go to your website, and let them know where to find you on social media. 
Customer Service
You can develop two-way SMS communication with your customers by integrating your text messaging platform with your customer service. Note that this is just about responding to customer service questions and complaints. It can also be useful for telling your loyal customers about exclusive offers and new releases. 
Abandoned Cart Reminders
Another use case of retail SMS marketing—online retail in particular—is to remind customers about items they have left in their cart. You can do this by setting up an abandoned cart recovery SMS sequence. Start by sending one or two texts just to see how it forms and repeat based on the outcome. 
Discounts and Exclusive Offers
Discounts and special offers typically don't last more than a week. That being said, you'll want your customers to get the news as soon as possible. Unlike an email which may go unnoticed, text marketing messages will grab their attention in an instant. Tailoring the message and offering exclusive mobile coupons will go a long way in boosting customer engagement. 
Birthday Messages
Sending birthday messages to your subscribers is an effective way to establish strong relationships with your customers. The message would ideally include a special offer tailored to the specific preferences of the recipient. This makes your audience feel valued and appreciated. Besides, who doesn't love getting unexpected treats on their special day?
Back-in-Stock Alerts
The high open rates of text messaging make it an excellent way to let customers when a product is back in stock. For instance, you can customize and segment your SMS marketing campaign and target those who opted in to receive back-in-stock updates. It is also a good idea to send back-in-stock notifications to customers who have previously purchased similar items. 
Review Requests
People tend to trust online reviews as much as they would trust a personal recommendation. It's also worth noting that review requests sent by text have a significantly higher conversion rate than those sent by email. You can schedule automated text messages to go out to customers a week or two after they buy a product from you, asking them to leave a review. Including a link to the product makes the process more convenient for the recipient. 
Loyalty Messages
You can use retail text message marketing to reach out to your loyal customers on a personal level. This can involve segmenting your loyalty program members and relaying product-related information based on their buying behavior. When you're sending a loyalty SMS sequence, make sure to address the recipients by their first name and share exclusive updates with them before spreading the news to the rest of your audience. 
New Product Announcement
Whenever you introduce a new product to your inventory, you'd normally want your audience to know as soon as possible. The best way to announce the release of a new item is via SMS—with the high response rates and all. You can also send exclusive updates regarding the product release to your SMS subscriber list. That way, your loyal customers will have a chance to buy the item before it sells out. 
Starting an SMS Marketing Campaign for a Retail Business
Text marketing for retail isn't different from other industries. The fundamentals of starting an SMS campaign are essentially the same. To simplify the process, we've created a brief guide on how to start a retail messaging campaign.
Select a bulk SMS provider that offers an SMS marketing platform

Develop your target demographic by creating a buyer persona relevant to your shop

Create a list of phone numbers to whom you will send your marketing messages

Develop the core idea of your SMS marketing campaign and design your promotional text messages accordingly

Customize the messages for each recipient to make them more personal

Schedule your text campaign to send text messages when people are more likely to be responsive 

Hit send and kickstart your SMS marketing campaign

Make sure to follow up with new SMS messages to customers. After all, text message marketing is not a one-time thing and its success vastly depends on its consistent usage.