Creating an SMS Campaign: An Advanced Guide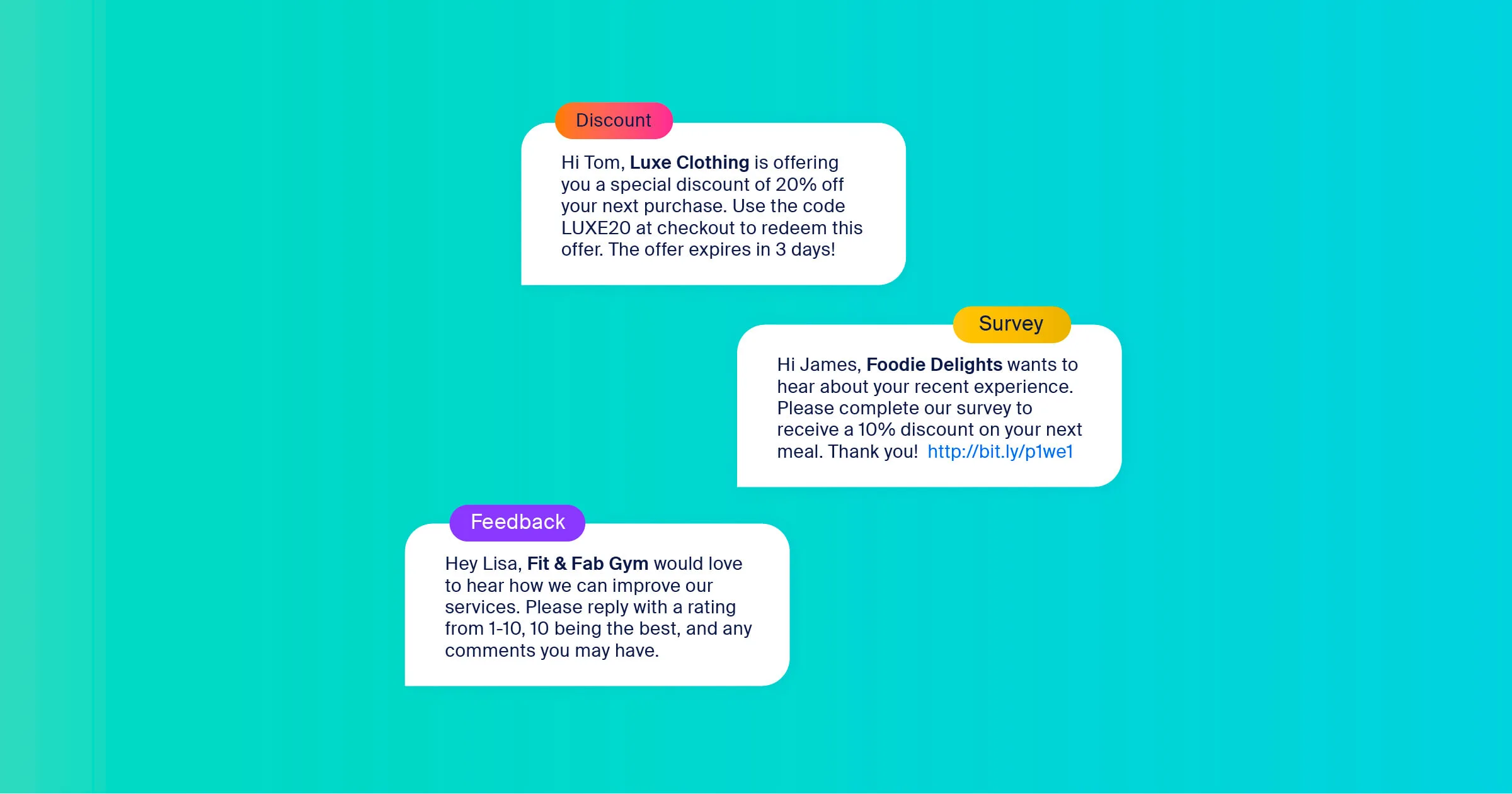 In this day and age, the purpose of mobile phones extends far beyond just making and receiving calls. We also use our devices for other reasons like storing media, consuming online content, sharing information, and of course, texting. It's only natural for this versatile technology to have an incredible influence on marketing—in the form of SMS campaigns.
As overwhelming amounts of evidence would suggest, an SMS marketing campaign is an effective way for a business to connect with its audience. And the data speaks for itself: studies show that the average mobile user spends at least five hours a day on their smartphone. Moreover, texting statistics reveal that 97% of Americans send or receive text messages at least once per day.
This points to the convenience and popularity of using SMS as a means of communication. Needless to say, targeting your customers via their favorite channel positively impacts your company's customer retention rates. 
Experts have discovered the huge potential of text message marketing as a fast, easy, and cost-effective marketing channel. A successful text campaign will have no trouble reaching your targeted audience and converting leads into paying customers.
Why Launch an SMS Campaign?
Marketing via SMS offers a slew of opportunities for delivering your company's message to your target audience. A well-planned SMS campaign can be an ideal means for notifying customers about upcoming events, promotions, product launches, and more. From a financial perspective, an SMS messaging campaign is a cost-effective communication method that offers great ROI potential.
For starters, you can send out bulk SMS messages to large volumes of customers while connecting with them on a personal level. Why break the bank by relying solely on less efficient and more costly methods such as print media? As a marketing channel, a mobile campaign raises brand awareness, increases customer retention, and boosts sales, all while saving you a great deal of money. 
Having said all that, why is SMS the preferred channel of marketers? SMS messages are known to have a 98% open rate—impressive in comparison to the 20% open rate of email marketing and the 1.2% click-through rate of social media. This only goes to show that launching a texting campaign is something to look into.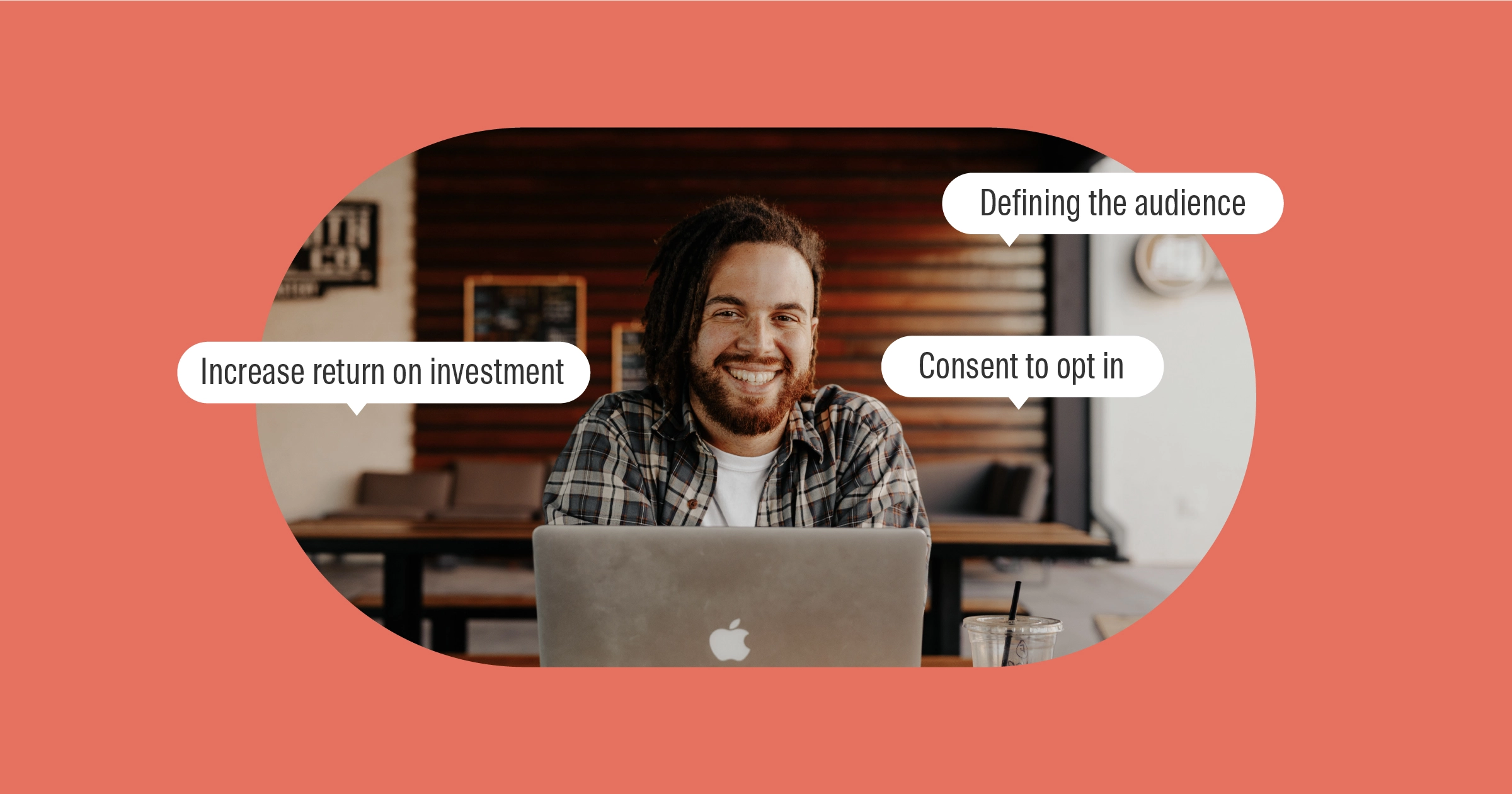 What to Do Before Creating an SMS Campaign?
There's no denying the benefits an SMS campaign can bring in, but only if you implement it the right way. That being said, you'll need to have a solid SMS marketing strategy in place before even thinking about launching it. This involves defining your audience, setting objectives, and making sure to abide by local texting regulations.
Get Started Now
Reach your clients now and claim your 30-day free trial. No credit card required.
Know Your Audience
A fundamental part of coming up with a text message marketing campaign involves knowing who your target audience is. By doing so, your messages will go out to those who are most likely to engage and possibly become your customers. 
Figuring out who your target audience is involves creating a customer profile. You'll want to define certain attributes such as pain points and buying behavior. Demographic information will also come in handy when creating SMS marketing campaigns.
Define Your Goals
Before you send your texting campaign on its way, it's important to know what goals you have in mind. You'll also want to set KPIs for the channel. Determine how you'll meet those goals and how you'll calculate the success of the campaigns. 
You'll want to have a clear idea of how SMS can align with your company's mission and serve its bottom line. Essential metrics you need to take into account include conversion, click-through, and sub-growth rates, in addition to SMS marketing ROI.
Ask For Permission 
No matter how urgent your message is, avoid texting your customers without their permission. The rule of thumb is that your customers should want to get messages from you. As a matter of fact, you are required by law to obtain your customers' consent before sending them SMS messages. 
Do not pursue customers who have no interest in your campaign. Instead, give them an opportunity to opt out. A common practice is to include an SMS opt-in form on your company's website.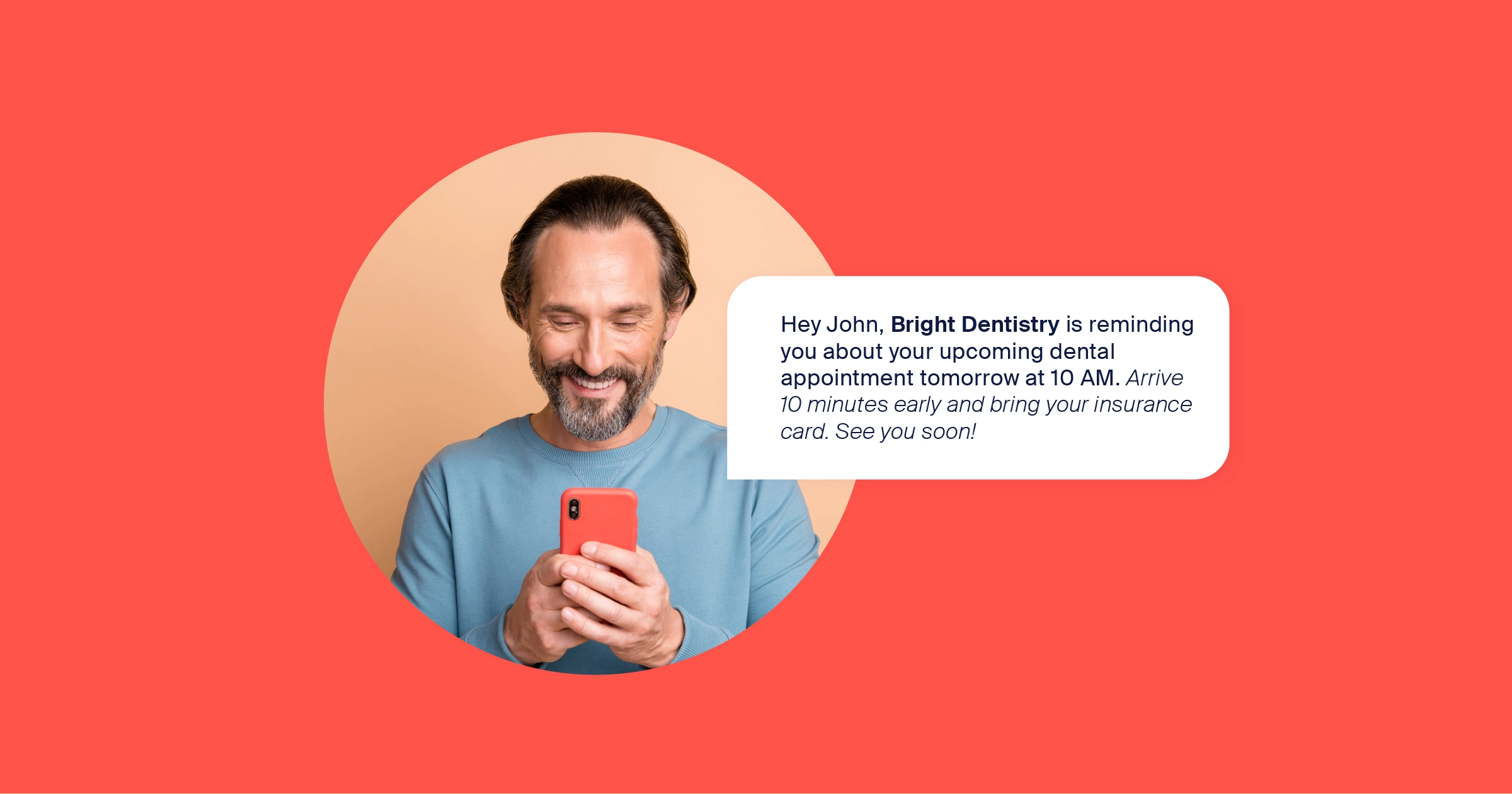 8 Text Marketing Campaign Ideas to Use Now
82% of survey respondents admit to opening all text messages they receive. When a campaign delivers your business messages directly to your customers' inboxes, chances are they will read them. You can take your first step with these SMS marketing campaign ideas and use cases. 
1. Let Your Customers Know About Your Best Offers
Informed customers are happy customers. Make sure to keep your customers up to date with relevant and engaging information such as offers, promotions, and new product launches. This is an excellent way to make your audience feel important and increase customer loyalty as a result. 
For example, send short promotional text messages and include a special price to attract customers. Make sure to include a link to your website in case the recipient needs more information.
2. Send Reminders in the Form of Text Messages
Stay in touch with your customers, reduce no-shows, and increase attendance rates with a simple text message reminder. Service-based companies rely heavily on appointments and reservations. 
Whether you are a restaurant owner, doctor, lawyer, or consultant, text reminders can positively influence your conversion rates. In fact, alerting your customers of upcoming appointments or reservations can reduce no-show rates by over 23%.
3. Send Timely Notifications
Keep your customers in the loop by sending timely notifications regarding an order, a booking, or any other form of activity. Most successful companies recognize the importance of sending notification messages. It is the driving force in attracting, retaining, and converting customers. 
There are various scenarios in which you can relay automated SMS messages to customers. For instance, you can send an order confirmation text message to an online shopper or perhaps let a recipient know that their meal order is in process. 
4. Announce Product Launches
Text campaigns can serve as a direct way to keep your subscribers up to date with new product or service launches. You can also offer early access to loyalty program members. Collecting relevant information about new leads can make this approach even more effective. 
Build your product and marketing to attract the right audience by figuring out which segments are interested enough to opt in. It also pays to know why they are interested. 
5. Request Feedback
If done right, SMS surveys and feedback requests are known to generate more responses than email marketing. This means keeping them simple and not longer than two or three multiple-choice questions. It's an excellent way to collect quantitative data that you can use to enhance the customer experience by pinpointing areas for improvement.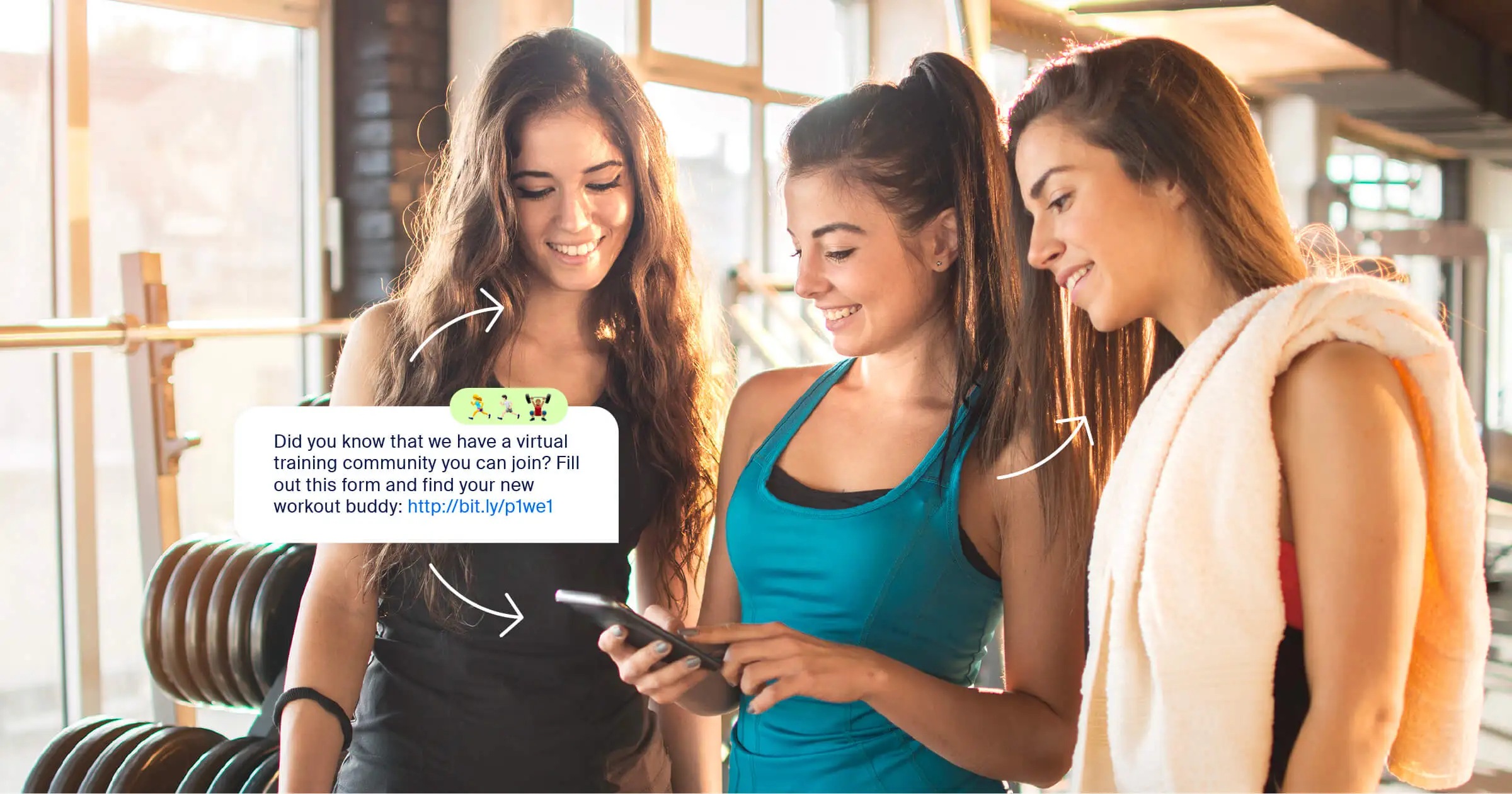 6. Become Your Customers' Trusted Guide in the Industry
Build trust with your customers and stand out as an industry expert by sending messages with periodic informative tips. This is especially relevant if your customer base is information-hungry. Become a trusted source of useful advice for your customers. For example, if you are a gym owner, you can send brief tips and tricks on muscle-gain meal plans.
7. Generate a Pop Quiz SMS Campaign
SMS is a personal and informal channel, making it ideal for entertaining campaigns. Boost customer engagement with a trivia question marketing campaign. Ask them questions about your company, brand, specific products, or trending topics associated with your brand. Offer special prices or discounts for those who answer the question correctly first.
This type of campaign SMS not only creates favorable interaction with your customers, but it also boosts customer loyalty rates.
8. Personalize Your SMS Marketing for Every Customer
When collecting customers' phone numbers, you'll most likely come across details like customer name, age, and gender. Use this data to your advantage and take a highly personal approach to each customer. Congratulate your customers' birthdays with a message and give them a special discount for the occasion; a little attention goes a long way.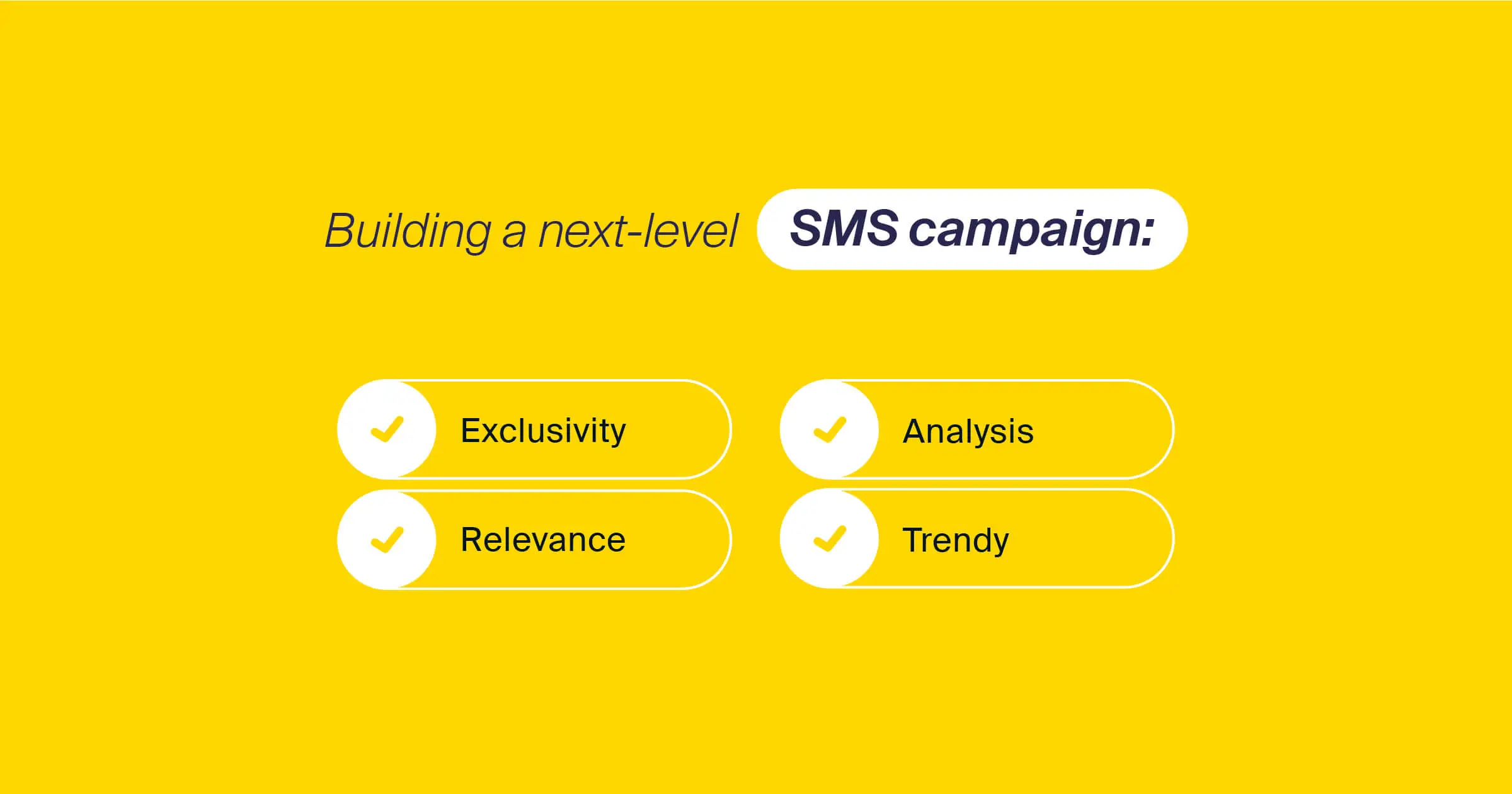 Top Text Marketing Campaign Best Practices
Both small and large enterprises make use of bulk SMS messaging to get their customers' attention quickly and cost-effectively. But you'll still need to take certain measures to ensure you're not bothering your customers with untimely or irrelevant text messages. These SMS marketing best practices show how you can make the most of your campaigns.
Be Exclusive 
Who doesn't like to be part of something special? Provide that sense of exclusivity to your customers and allow them to experience the thrill of feeling special via SMS offers. Make your recipients feel valued, unique, and not like they're just another name on your contact list.
Be Relevant
Ideally, you wouldn't send the same message to your new and existing customers. New customers, for instance, may prefer receiving promos while existing customers favor rewards from loyalty SMS programs. 
Audience segmentation enables you to divide your customers into groups based on common traits and send relevant SMS messages to each group. This raises the efficiency of your SMS and ensures a high response rate.
The KISS Principle
Implement a KISS strategy for an effective marketing campaign. And no, there isn't any physical contact involved in this strategy. KISS stands for "Keep it short and simple," meaning you should express your message in a clear manner and tell the recipient what to do next. And since SMS messages have a 160-character limit, you already have a restriction for conveying your message. 
Keep It Light and Fun 
People associate text messages with informal conversations; they use SMS messaging to communicate with friends and family. You want your SMS campaign to maintain that lightness and fun nature of texting. 
Apply a friendly tone and personalized approach to ensure better trust among customers. Specialists prefer to use texting abbreviations such as "fyi" and "aka" in their campaigns to make the interaction casual. This also helps prevent the text message from exceeding the character limit. 
Timing Matters
When it comes to developing a successful SMS marketing strategy, timing is everything. Consider the time of the day that's most appropriate to send SMS marketing messages. Ideally, aim to reach out on the weekdays from 11 a.m. to noon (during lunch hours) and from 5 p.m. to 7 p.m. (directly after work hours). 
It's also a good idea to define the optimal frequency of messages to send to your customers. Nothing drives away customers more than spamming them with endless waves of SMS text messages. 
Measure Campaign Effectiveness 
To maximize the potential of your SMS message campaign, you must understand the flaws and strengths of your marketing strategy. Analyze your customers' feedback and gather statistics to see how your campaign is performing. 
Low open rates indicate that something is wrong with your message. Perhaps you need to retarget your audience or try a different approach. Compare different metrics and shape your texts accordingly to drive the best results.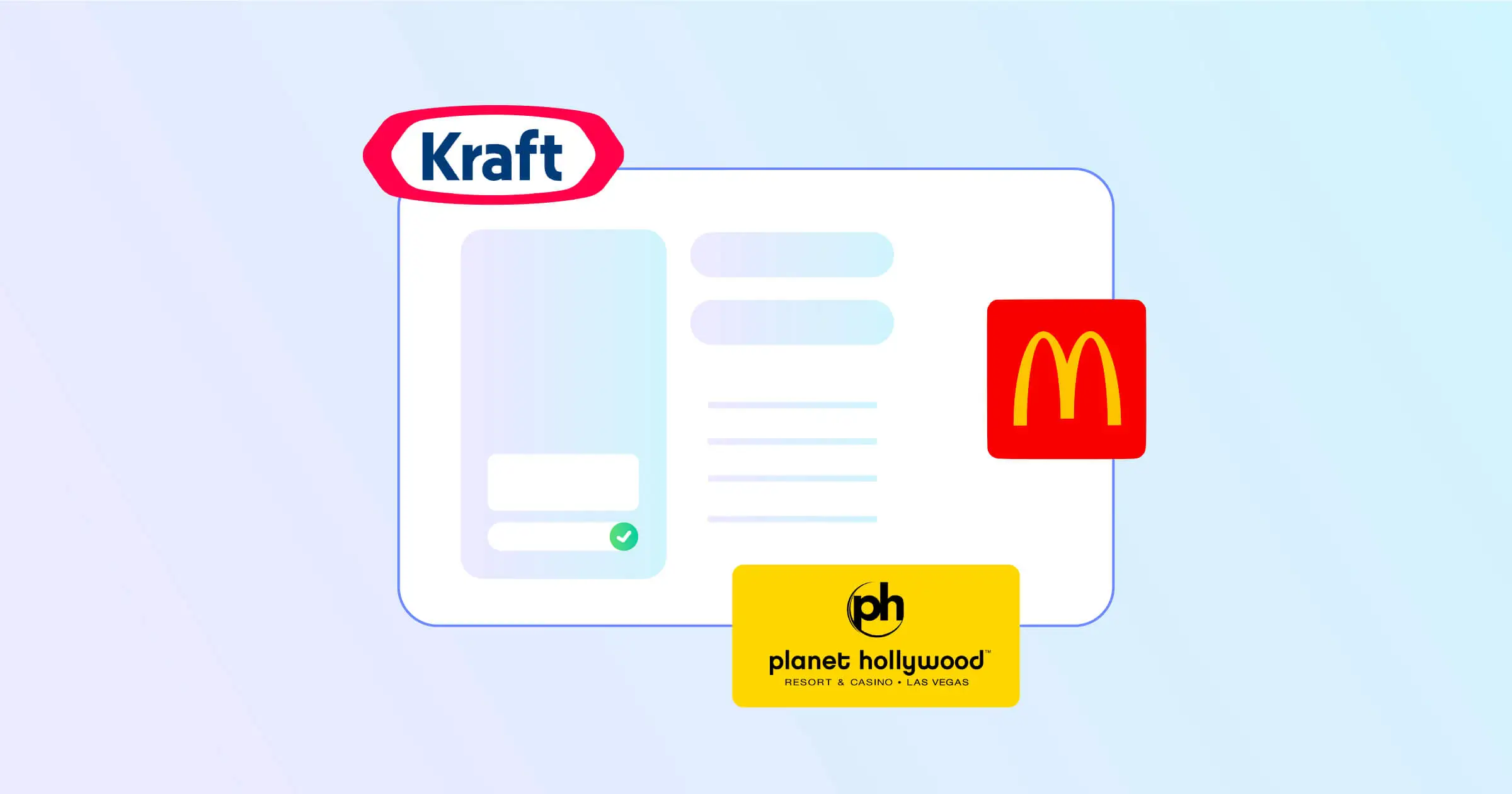 3 Text Marketing Campaign Examples
Some of the world's largest corporations have adopted text messaging as an integral part of their marketing efforts. These include innovative SMS marketing ideas that have proven to take text campaigns to the next level. Here are a few of the most notable text campaign examples to inspire you.
McDonald's
Fast-food giant McDonald's is famous for conducting successful marketing campaigns. One of their event campaigns titled "Merry Xmas" took place in Italy. The event actually resulted in 1.5 million people attending within five weeks; they learned about the event via SMS.
Planet Hollywood Resort and Casino in Las Vegas
Planet Hollywood Resort and Casino in Las Vegas is another company that greatly benefits from bulk text messaging. In a marketing campaign, Planet Hollywood offered prizes for customers who opted-in to receive their message and upgraded to an A-List Player's Club membership. As a result, they witnessed increased membership by 13% and a 70% success rate.
Kraft Foods
Kraft Foods used a bulk text campaign to highlight a new instant coffee they produced. They offered free samples to customers who signed up for their text messages. The results were truly astonishing; they had nearly 500,000 sample requests and more than 80,000 mobile message opt-ins for future campaigns.
Using an SMS Campaign Software
A high-quality software such as the Dexatel platform allows you to power your text campaign and implement marketing automation. You can use it to automatically reach your potential customers as well as existing ones. Distinctive features of a good SMS marketing platform include:
Mass group texting

Automatic text replies

Text message scheduling

Comprehensive analytics

Built-in link shortening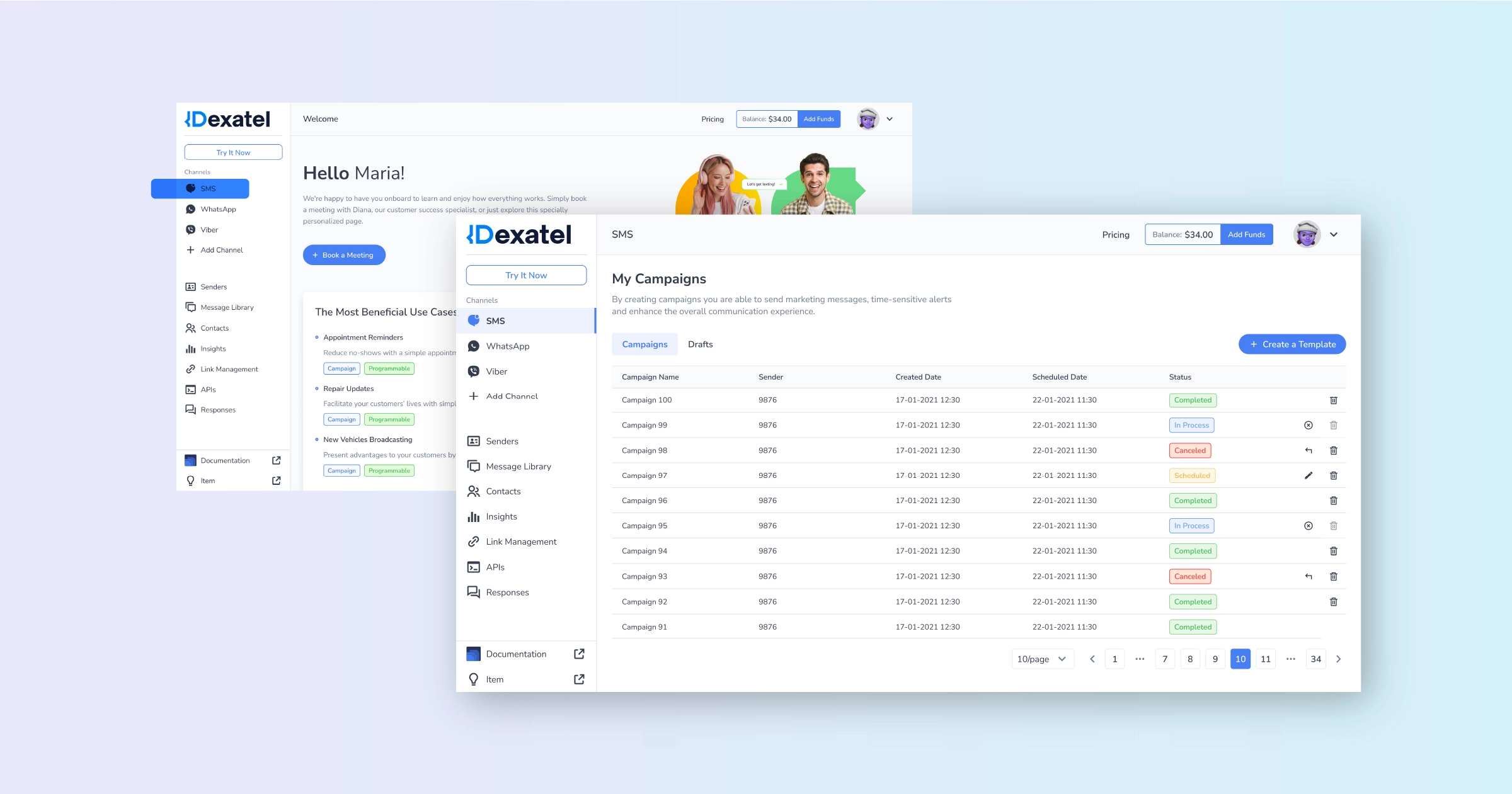 How To Create a Text Campaign With Dexatel
Dexatel's SMS platform features a Campaign tool that you can use to create and send SMS campaigns. It's a quick and straightforward process that doesn't involve any guesswork. Follow these steps and your campaign will be out there in no time:
From the navigation bar, select SMS as the communication channel

Click on  "Create Campaign" and enter a name for it

Write the campaign text, select a template you may have created previously, or choose one of Dexatel's default templates

Select "Sender Name," "Number," or "Short Code"

Select your list of recipients. Your options appear as follows:

- "Manually Add Number"

- "Add From Audience"

- "Upload File"

Select "Send Now" to launch your campaign immediately or "Schedule" to set it up for later