Nowadays, the usage of mobile devices goes far beyond receiving and making calls. We take photos, store data, share information with our mobile phones. Mobile technologies have an incredible influence on marketing. For example, an SMS marketing campaign is extremely effective. Let the data speak for itself.
Content Table
Statistics show that an average mobile user spends five and more hours on his/her smartphone daily. Moreover, recent studies reveal that 97% of Americans send or receive texts at least once per day (check more texting statistics here).
This makes SMS and messaging apps the most favorite and widely used apps on mobile devices. Needless to say that targeting your customers via their favored channel can positively affect your company's customer retention rates. Marketing experts have discovered the huge potential of SMS marketing as a fast, easy, and cost-effective marketing channel for reaching the targeted audience and converting leads into customers.
It has become the preferred channel of marketers, because a successful SMS marketing campaign provides a 98% open rate, compared to 20% of email messaging. Let's take a closer look at some creative text marketing campaigns and see how they can benefit your business growth. But before we dive into the advantages of the SMS campaign, it will be helpful to know what it is and how it works.

What is an SMS Marketing Campaign?
An SMS marketing campaign offers endless opportunities for delivering your company's message to your customers through mass texting. A well-planned bulk SMS campaign serves as a proven way for notifying customers of upcoming promotions, product launches, events, and sales. From a financial perspective, SMS message campaigns used to be cheap and timely means of reaching customers.
You can send out bulk SMS messages with a click of a button and communicate with millions of customers at the same time. So, why spend large amounts of money on distributing marketing content through other digital or print media? As a marketing channel, mobile SMS campaign is built to raise brand awareness, increase customer retention and consequently, boost sales through the use of text messages.

SMS Campaign Ideas
Using an SMS marketing campaign, you can get your promotional messages directly to your customers' texting inboxes. And be sure that it will be opened, as 82% of survey respondents admit to opening every text message they receive. If you already became a fan of SMS marketing and would like to implement it in your business effectively, here are some SMS campaign ideas that you can make the most of.
Let your customers know about your best offers.
Happy customers are, informed customers. Always keep your customers aware of your company's best offers, promotions, and products. This is a good way to make them feel important and thus, increase customer loyalty.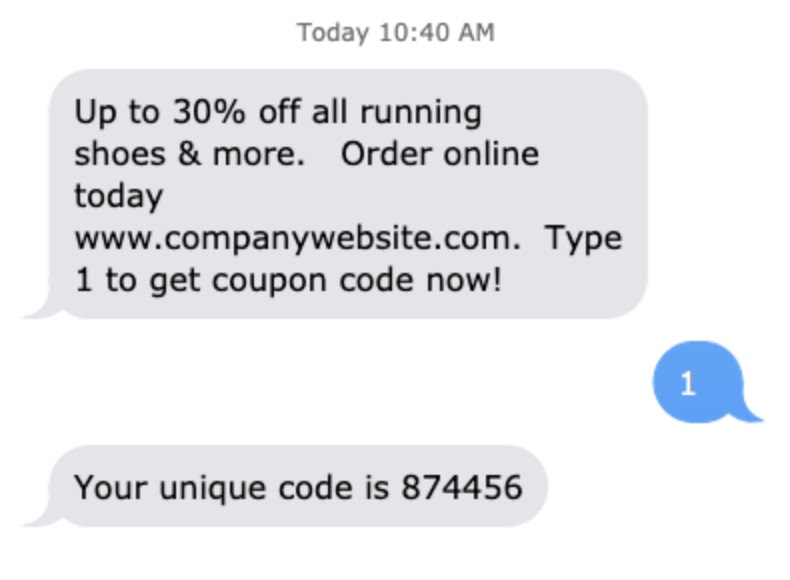 Use short promotional text and include the price to attract customers. Make sure to insert a link back to your website.
Send out text message reminders.
Stay in touch with your customers, reduce no-shows and increase attendance rates with a simple text message reminder. Service-based companies grow on appointments or reservations. If you are a restaurant owner, doctor, lawyer, or consultant whose ''business'' thrives on appointments and reservations, text message reminders can positively influence your appointment conversion rates.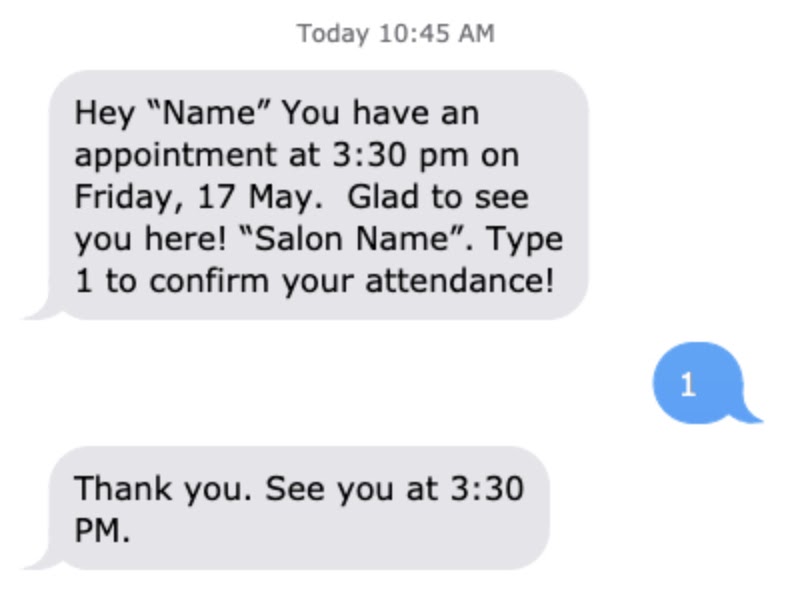 Alerting your customers of upcoming appointments or reservations can reduce no-show rates by over 23 percent.
Notify on specific actions.
Keeping your customers informed can have a huge impact on their perception of your business. Successful companies know that sending out notification messages is the driving force in attracting, retaining, and converting customers.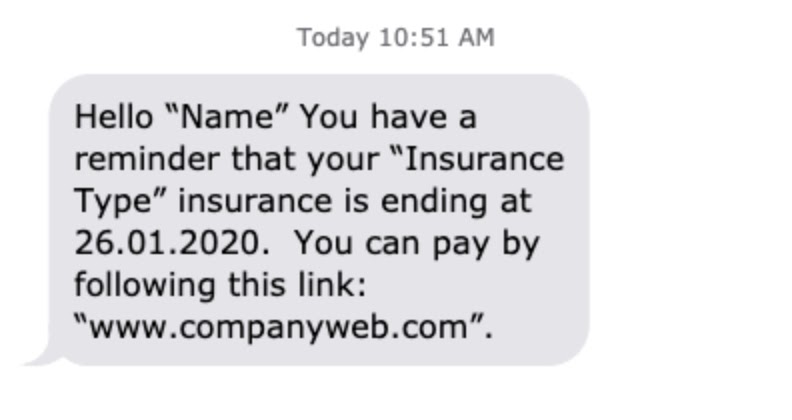 Relay automated SMS messages for specific customer actions, for instance, notify your customers of their latest purchase or let them know that their dinner prep is in progress.
Creative SMS Marketing Campaigns
The optimal number of characters in an SMS marketing message is 160. So, you have to fit your marketing text within 160 characters to get your customers' attention. Adding a creative touch to your SMS marketing message will provide better customer engagement. Below you can find some tips on making your SMS marketing campaign more creative and attractive for your potential and loyal customers.
Becoming your customer's trusted coach in the industry.
You can build trust with your customers and stand out as an industry expert by sending messages with periodic informative tips. Especially if your audience is information-hungry, you can become the trusted source of useful info for your customers. For example, if you are a gym owner, you can send out some weight loss tips to your customers on a regular basis.
Generating pop quiz SMS campaign.
Note that SMS marketing is a personal and informal channel. So, it's ideal for entertaining campaigns. Boost customer engagement with a trivia question marketing campaign. Ask them some questions about your company, brand, specific product, best practices, or other trending topics that can be associated with your brand. Offer special prices or discounts for the one who answers the question correctly first. This type of bulk SMS campaign will create good interaction with your customers and increase customer loyalty rates.
Personalizing your SMS marketing for each customer.
Use the data to show a highly personal approach to each customer. For example, congratulate your customers' birthdays with a message and give them a special discount on the day. Believe me, everyone will appreciate that.

SMS Marketing Campaign Best Tactics
When you want to get the attention of your potential customers fastly and cheaply, a bulk SMS is a right choice. Customers love this marketing channel. Most of the people asked to state that they prefer to contact support via SMS over all other channels. Here are some examples of effective text marketing campaigns that you can largely benefit from:
The KISS principle
Implement a KISS strategy to have an effective SMS marketing campaign. No, this is not the kiss you thought about. In marketing, KISS stands for Keep it Short and Simple.
Timing matters
When it comes to SMS marketing strategy timing is everything. Consider the time of the day that will be the most appropriate to send marketing messages. Also, define the optimal frequency of messages to reach out to your customers. The most popular times of weekdays that most marketers send messages are:
5 pm – 6 pm 21%
11 am – 12 pm 17%
6 pm – 7 pm 11%
Keep it Friendly and Fun!
Use your marketing strategy to deliver an exciting and memorable experience to your customers. Applying a friendly tone and personalized approach will ensure better trust among customers. For example, a lot of marketers, nowadays, prefer to use shortened texts in their campaigns, such as "ur" and "txt" (Check all texting abbreviations here). This makes the interaction more casual and informal.
Best SMS Marketing Campaigns
Many of the famous and successful companies have long realized and fully utilized the potential of a mobile SMS campaign. So, let's take a look at the best SMS marketing campaigns ever held and get inspired to start your own.
McDonald's
The fast-food giant McDonald's is known for conducting successful SMS campaigns. One of the campaigns, called Merry Xmas, was held in Italy. It resulted in 1.5 million people getting engaged in the event within 5 weeks. The people were notified about the event by SMS.
Planet Hollywood Resort and Casino in Las Vegas
Planet Hollywood Resort and Casino in Las Vegas is another company that greatly benefited from the bulk messaging. In an SMS campaign, Planet Hollywood offered prizes for the customers who opted-in to receive their message and upgraded to an A-List Player's Club membership. As a result, they witnessed increased membership by 13% and a 70% success rate!
Kraft Foods
Kraft Foods highlighted a new instant coffee they produced via a bulk SMS campaign. They offered customers who signed up for their mobile messages a free sample. The results were astonishing! 400,000+ sample requests and more than 80,000 mobile message opt-in offers.

Software for SMS Campaign
Use high-quality software to power your text marketing campaign. Good software allows reaching your potential customers easily and automatically. Here are the distinctive features of a good SMS marketing software:
Mass Group Texting
Automatic Text Replies
Text Message Scheduling
Comprehensive Analytics
Built-In Link Shrinking
So, increase customer retention rates, open up new sources of revenue, and experience a sales boom by adding messaging to your overall marketing strategy. This is an incredibly simple marketing channel with affordable prices to get the right message into the hands of the right people at the right time.
Here are 5 Actionable Steps for Creating Successful SMS Marketing Campaigns
Ask Permission Before Involving Customers into Your SMS Marketing Campaign
No matter what kind of splendid offer you have prepared for your customers or how urgent is your message, it is not wise to send text messages without the permission of recipients (check our anti-spam policy here). The rule of thumb is that your customers must want to get SMS from you. Otherwise, you are within the realms of possibility to be perceived as a spammer. This is not what we strive for, isn't it? So, do not chase your customers if they show no interest in your campaign, instead, give them an opportunity to opt-out.
Instill the Feeling of Exclusiveness Via Your Message
Who does not like to be part of something special and exclusive? So, give your customers the thrill of feeling special via an exclusive SMS offer. Create a sense as if they are being a part of something exclusive, and cool. Make sure that your recipients feel valued and unique, and not just another name on your lead list.
Segment Your Recipients to Send Relevant Marketing Messages
Generally, you can not send the same SMS to your new visitors and to your loyal customers. For instance, new visitors will be more prone to receive promos, while loyal customers will prefer rewards on loyalty programs. Segmentation enables you to divide your customers into groups based on their common traits and thus, send relevant SMS to each group. This raises the effectiveness of your SMS and ensures a high return rate.
Measure the Effectiveness of Your SMS Marketing Campaign
To improve your SMS message campaign and make it efficient you must understand the flaws and strengths of the campaign. For that, it is important to analyze customers' feedback and gather statistics. Low open rates signify that something is wrong in your message. Maybe you should try experimenting with incentives or making your call to action more clear. To put it in a nutshell, you should compare different metrics and shape your SMS marketing campaign accordingly to drive the best results.
Thus, you can reap the benefits of SMS marketing only if you have a well-planned, targeted, and effective plan. Do not miss out on the lucrative opportunities you could be making with an effective campaign. Start an SMS marketing campaign following the above-mentioned helpful steps to generate more sales and increase the exposure of your brand.