How to Send an SMS Over WiFi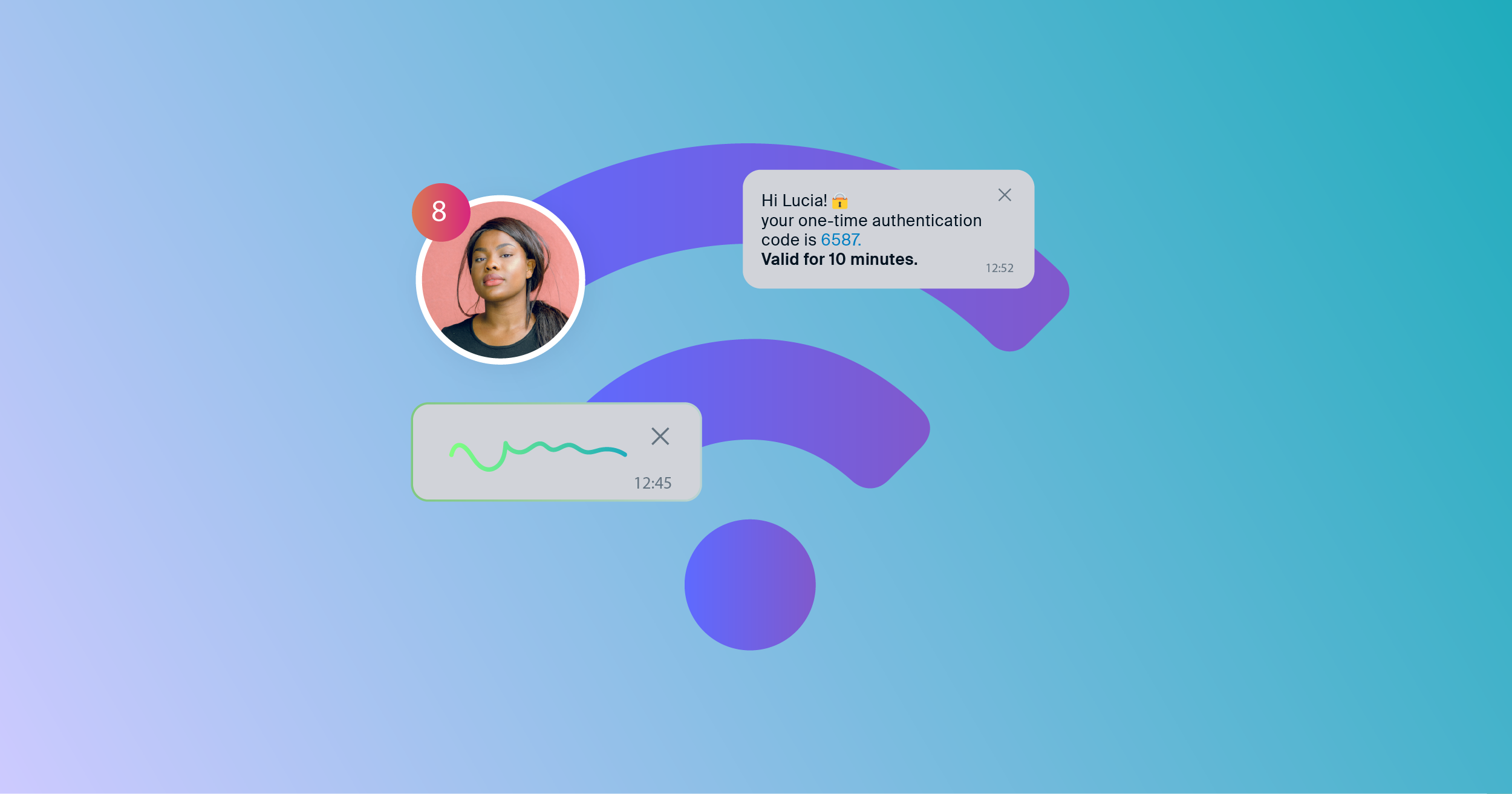 What's one of the biggest advantages that SMS has over other forms of communication? The answer is simple—you don't need WiFi or cellular data to receive text messages. Many people also favor it in professional settings; it's instant and briefer than emails (even though you can send an email as SMS). From sending alerts to receiving reminders, SMS is the most reliable means of communication available to everyone with a cellphone.
But what if we told you that you can send an SMS over WiFi? Yes, it's possible and quite practical for many users. If you're wondering whether you can send and receive SMS messages over WiFi, we're here to break it down.
Does SMS Work Over WiFi?
Traditionally, sending a regular SMS message is possible thanks to cell towers. But with so much reliance on cell towers, how do you send and receive SMS over WiFi? Present-day smartphones use fixed WiFi networks to send SMS instead of relying on mobile signals so there are no delays or undelievered messages. Sending and receiving SMS and MMS messages over WiFi also removes your chats from the cell network.
Ypu also need to ensure that your SMS messages are saved, and you can do so by using the best SMS backup app for you. 
Can I Send SMS Over WiFi?
Sending SMS messages over WiFi is indeed a viable option. But, its feasibility relies on the specific mobile device you possess and the cellular network provider you are subscribed to. The capability to make WiFi calls or send texts varies depending on the provider's support for such features. To put it simply: 
Can you send SMS texts over WiFi? Yes

Can you receive SMS messages over WiFi? Also yes
Get Started Now
Reach your clients now and claim your 30-day free trial. No credit card required.
Are Texts Free on WiFi?
Yes, receiving and sending SMS messages over WiFi is typically free of charge. While you may still incur charges from your mobile carrier for SMS messages sent over cellular networks, sending and receiving messages over WiFi does not usually involve any additional costs beyond your regular WiFi service fees. However, it's important to verify with your mobile carrier to confirm their specific pricing policies regarding SMS messages.
Why Should I Send SMS Over a WiFi?
Sending text messages traditionally involves transmitting them from one mobile phone to another through a mobile network. However, this method raises privacy concerns, prompting many individuals to opt for a more secure option: sending texts over WiFi, which employs end-to-end encryption to safeguard the content.
When it comes to traditional text messaging, the costs can quickly add up, depending on the mobile carrier's plan. Furthermore, certain geographical areas suffer from inadequate cellular coverage, making it even more challenging to rely solely on this method. Given these factors, it is understandable why business owners and marketers are exploring internet-based alternatives as a reasonable solution.
Sending SMS Over WiFi with iPhones
To enable sending SMS texts over WiFi on your iPhone, go to the iMessage app. This software is only compatible with Apple devices.
iMessage is also found in your regular Message app on your iOS device. You need a SIM card with a phone number and a subscription to the cellular network to use the SMS service.
You may send texts to non-Apple users via the SMS service. In this case, it doesn't matter whether or not they use Apple products. You will be charged by your cellular network service provider for sending SMS texts.
On the other hand, there are no fees associated with sending messages over iMessage. This is because iMessage enables WiFi message delivery to other Apple customers.
Your Apple ID or your mobile phone number is used to establish an account for iMessage. You may use the app with either WiFi or mobile data. If you don't have an internet connection, iMessage won't function.
Sending SMS Over WiFi with Android Phones
To send SMS over WiFi on Android phones, you must confirm that both your phone and your carrier support the feature. Almost all recent versions of cellphones offer this option. If both your mobile and cellular network provider offer this feature, you're good to go.
You must ensure two things to send free SMS over WiFi on an Android device:
Your phone is connected to a WiFi network
The receiving end of the text is also connected to a WiFi network
Open "Settings" on your Android device and select "Wireless & Networks" to activate WiFi texting. Toggle the option next to "Text Messages (SMS)" to "On" after tapping on the WiFi network you wish to use.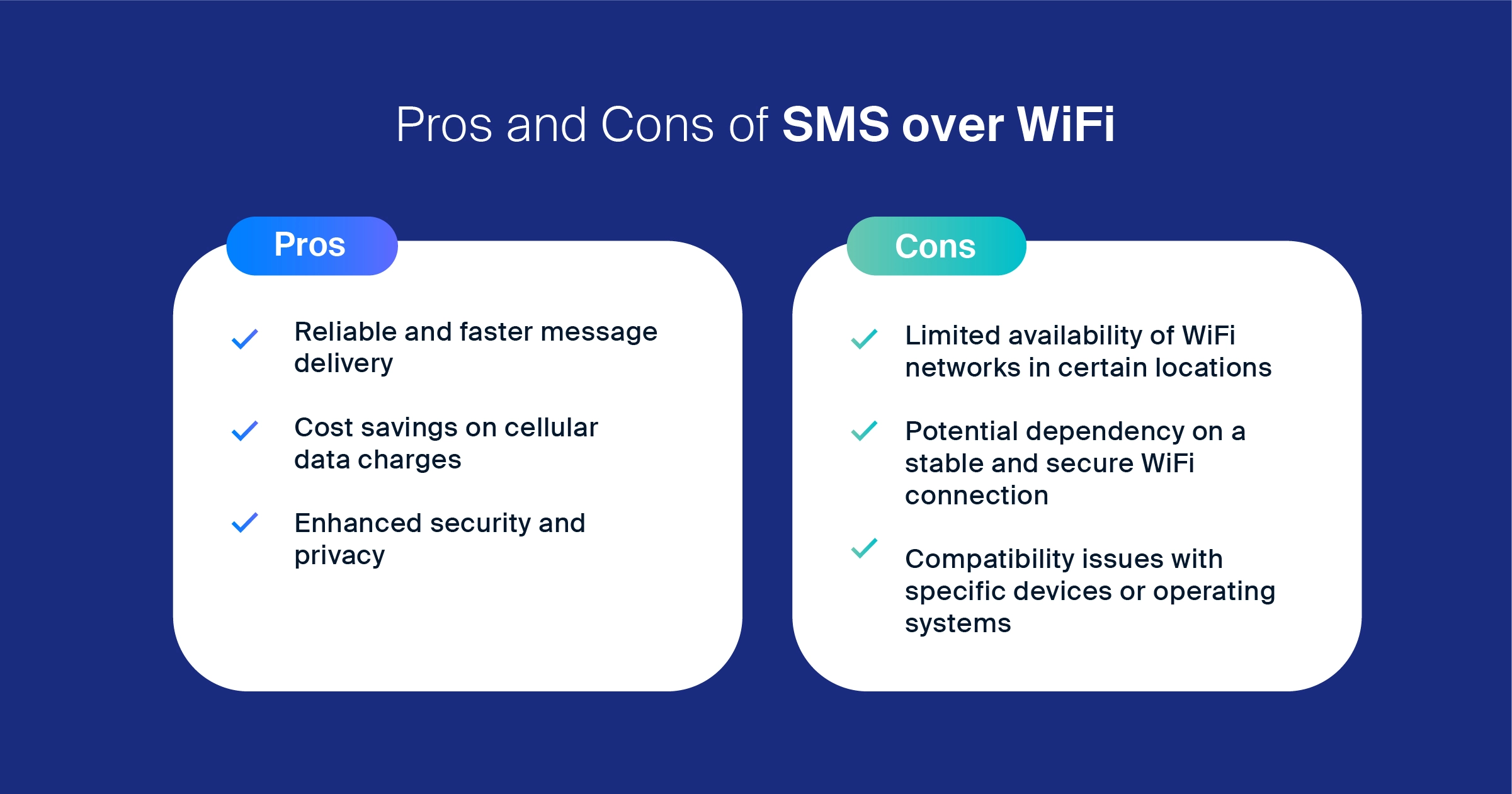 Sending SMS Texts Over WiFi: Pros and Cons
With expensive data plans around, WiFi calling and texting come to the rescue. You may use WiFi for calls and texts if cellular network service in your region is spotty and inconsistent. Poor mobile service can prevent you from sending or receiving important texts or calls.
Another advantage of SMS texts over WiFi applies greatly to frequent travelers. Nowadays, most tourist attractions and cafes offer WiFi. This means travelers don't have to rely on hotel networks or cell data consumption.
As for the cons, calls and texts depend solely on how strong your WiFi connection is. Your messages and calls will be of a certain quality depending on the signal strength and bandwidth.
There's no cost for sending SMS messages over WiFi. For international calls made through WiFi, though, certain cell providers may charge you. Make sure to verify with your cell provider to double-check if this applies to you.
Reasons Why SMS Won't Send Over WiFi
There are several reasons why you may still be having trouble sending and receiving texts.
First, check that you have a stable mobile network or internet connection. If your network service is not reliable, wait until the connection is working properly again. Another possible explanation for why SMS won't send over WiFi is an out-of-date version of the messaging app.
Your Message app may be having an issue that's preventing SMS or MMS from being delivered over WiFi. Force Stop the application to trigger an automated restart. Forcefully stopping it will cause it to resume on its own. Send a text over WiFi to check whether the problem has been fixed after restarting the app.
Restarting your phone usually resolves a problem. Check to see whether the message is being sent after restarting the phone.
You have one more option left to resolve the problem if even rebooting the phone didn't help. Reset the network configuration on your phone to send SMS texts over WiFi. Remember to have your login information on hand to successfully do this.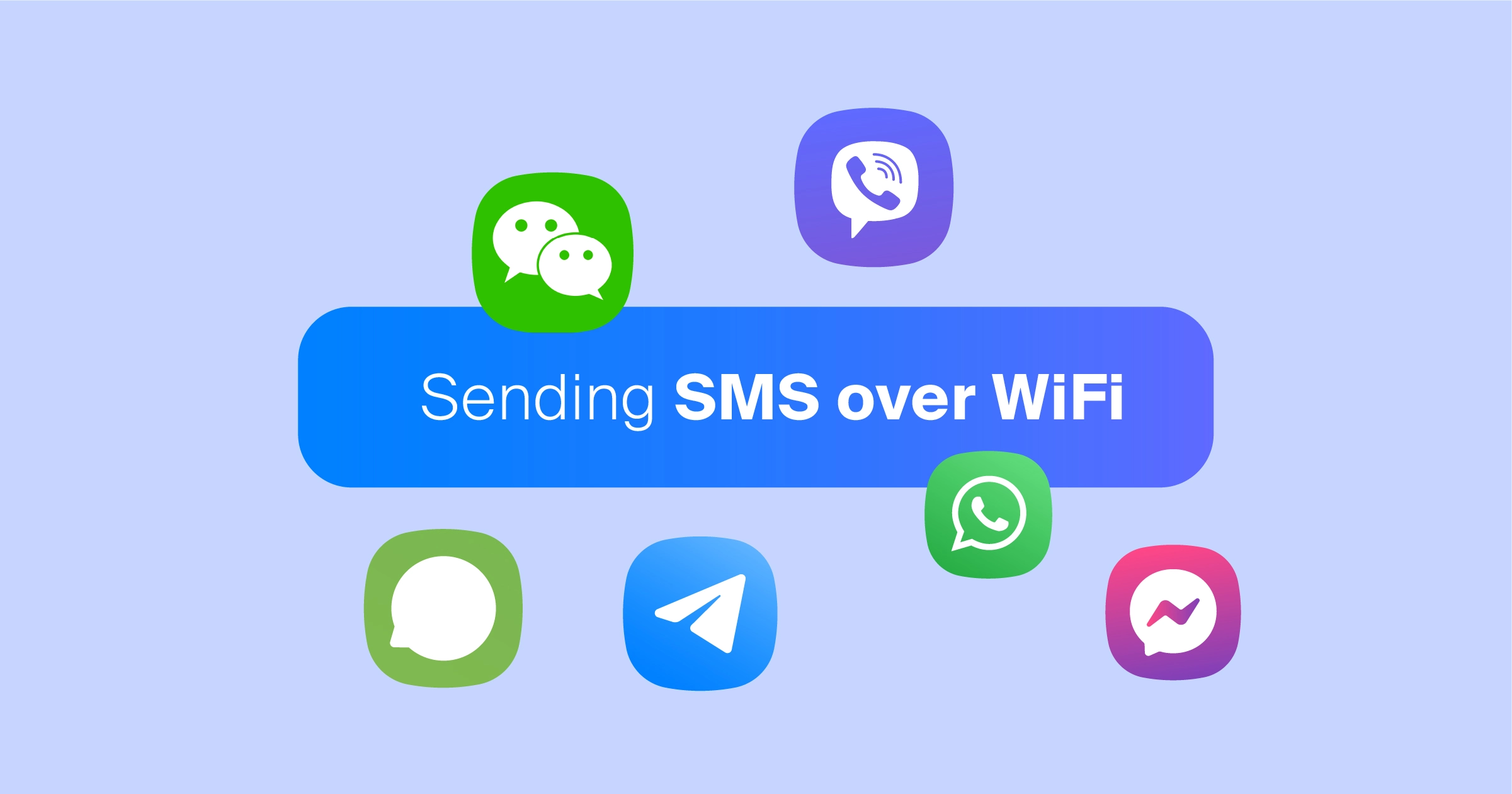 Apps To Send SMS Over WiFi
If you can't send SMS over WiFi via your phone's messaging app, you can resort to third-party applications. While these don't send SMS, they allow you to deliver text messages over WiFi.
1. WhatsApp
Perhaps the most popular messaging Android app worldwide, WhatsApp has roughly two billion users in more than 100 countries. Although it requires a phone number to sign up, all messages sent via the app are free of charge.
2. Viber
Similar to WhatsApp, Viber is used for instant messaging and requires a phone number to sign up. Apart from having conversations, you may send photos and videos, make individual and group calls, and get contacts to subscribe to your text message campaigns.
3. Facebook Messenger
The Facebook Messenger app started functioning separately as a standalone app. Messenger is used to communicate and trade files, pictures, stickers, and more with other users. Voice and video calls are also supported by the service. You may also play games with other users on Facebook Messenger.
4. Telegram
Telegram boasts an abundance of features, making it a highly useful app for individuals and organizations. Other than instant messaging, you can also engage in secret conversations, create polls, and so much more.
5. WeChat
WeChat is the number one instant messaging and social media app in China thanks to its myriad features. From location sharing to video conferencing, the app has more than one billion active users.