Internal communication enables all of the members of a community to work collaboratively on a common goal. It is the core element of each organization, especially those that pursuit some sort of profit—in other words, businesses.
Some company managers or employees think that internal communication strategy is only the responsibility of the HR department. Well, that's not entirely true.
The truth is that both the administrative and executive staff need to cooperate together to create a productive communications plan. Eventually, a company's success is directly related to its internal relations.
Some companies choose email as a channel of communication for their employees. However, emails have a couple of organizational downsides. They are usually opened late and require internet connectivity everywhere. Moreover, most workers open their emails on a computer, hence they don't receive sound or vibrating notifications.
Not many know they can regulate the communication with their departments and employees through internal SMS service. Text messaging covers all the weak points of emails, which can make internal communication much more efficient and productive.
What is Internal SMS?
Internal SMS is a channel that enhances communications through text messaging inside any community. It provides quick and effective interconnections between employees to get them on the same page at any moment.
Companies use it to deliver essential messages or alerts to their employees within seconds. It is one of the most convenient channels to reach out to an extensive number of recipients. Part of its functionality is due to the fact reaches people through devices that they carry with them most of the time—mobile phones.
Besides, text messages are a more personal channel of communication, which is why people pay attention to SMS notifications considerably more. This is reflected in the open rates of text messages. Having this in mind, let's get down to how companies can implement internal SMS in their communications strategy.
How to Use Internal SMS?
Every part of the organization communicates with other departments several times a day. Internal SMS can make this process much faster and easier. Here are some examples of how it would benefit companies' internal communications.
Urgent Alerts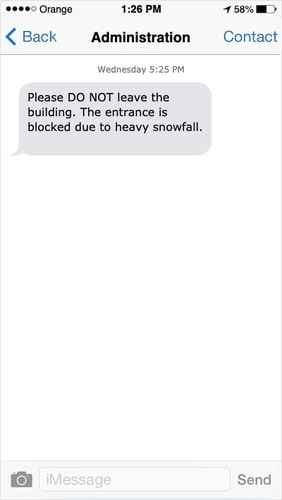 Unexpected incidents like severe weather conditions, system downtimes, or emergency cases may happen at any time. It is the responsibility of the company to agitate the news and get the staff ready to respond. Internal SMS comes in quite handy in situations like that. As opposed to emails, it is fast and can reach every employee within seconds. Besides, workers receive tons of emails daily, so they may not look at it right after they've received one.
Example
"Please DO NOT leave the building. The entrance is blocked due to heavy snowfall."
"Please be notified that the internal back offices will be down from 3:20 – 3:50 pm today. In case of any urgencies, please notify customers to contact later."
"Bobby & Co. staff, currently we're experiencing major issues with electricity. Please TURN OFF all the devices in the first section of the building."
Important Updates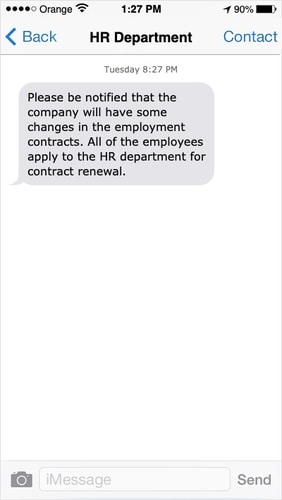 Usually, updates are comfortable to send through emails, but there are cases when text messages can have much better performance. By way of example, companies working 24/7 sometimes have critical updates to convey to their staff out of work. Admittedly, not too many employees check their emails out of the office.
Similarly, internal SMS may come in handy for employees that don't use a computer for work. There is no better channel to convey the updates than SMS. It reaches out to their phones, which are most likely with them at any moment.
Example
"Please be notified that the company will have some changes in the employment contracts. All of the employees apply to the HR department for contract renewal."
"Security guards from sections 2 to 9, please meet the head of the department in his office after the evening shift today."
Event Reminders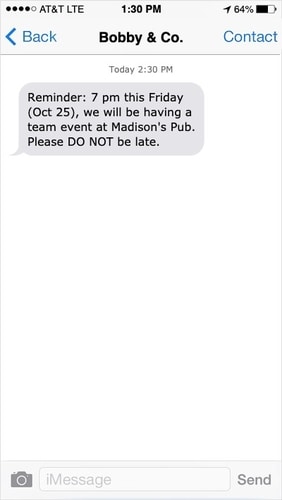 Holidays, team events, or day-offs need extra reminders to ensure each member of the staff is informed accordingly. Here again, the fact that every employee receives tons of emails daily makes SMS a more preferable channel for internal communications. Too many emails can mix up all of the information and cause undesirable incidents. Besides, since text messages are more personal for people, they are more likely to remember reminders via SMS.
Example
"Reminder: Monday, (Oct 14) is Columbus Day, and the office is closed. Have a good long weekend."
"Reminder: 7 pm this Friday (Oct 25), we will be having a team event at Madison's Pub. Please DO NOT be late."
Deadline Reminders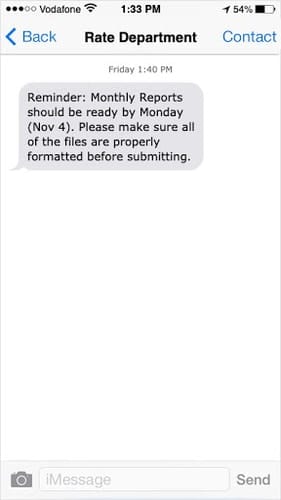 Although it is the direct responsibility of the employees to remember their deadlines, an additional reminder is still important for managers. They reduce the chances of missing deadlines and serve as supplementary guidance for workers. It surely benefits both the administrative and executive staff.
Example
"Reminder: Monthly Reports should be ready by Monday (Nov 4). Please make sure all of the files are properly formatted before submitting."
How to Get Started with Internal SMS?
Many companies avoid implementing an internal SMS strategy because of a lack of knowledge. In reality, getting started with internal SMS is dead simple.
Choose a reliable SMS provider (note that the same provider can also give you text blast services if your business needs it).
Register the workers' phone numbers into the partner's platform.
Divide the database into groups of different departments if needed.
Send internal text messages and enjoy the results.
On a side note, if you have no clue on how to register your worker's phone number into the platform, don't panic. For smaller companies, it shouldn't cause any difficulties since they can collect everybody's phone numbers easily.
However, if you have a larger company with more employees, the procedure is a little different, but still not difficult. You need to create a keyword for employees to send to a preset SMS short code and register for internal SMS updates.
When picking a keyword, make sure it's easy to spell and is associable with your company so that the employees don't confuse it. For example, if your company is specialized in notebook production, your keyword can be similar to "Notebook11."