Getting Familiar With SMS Recruitment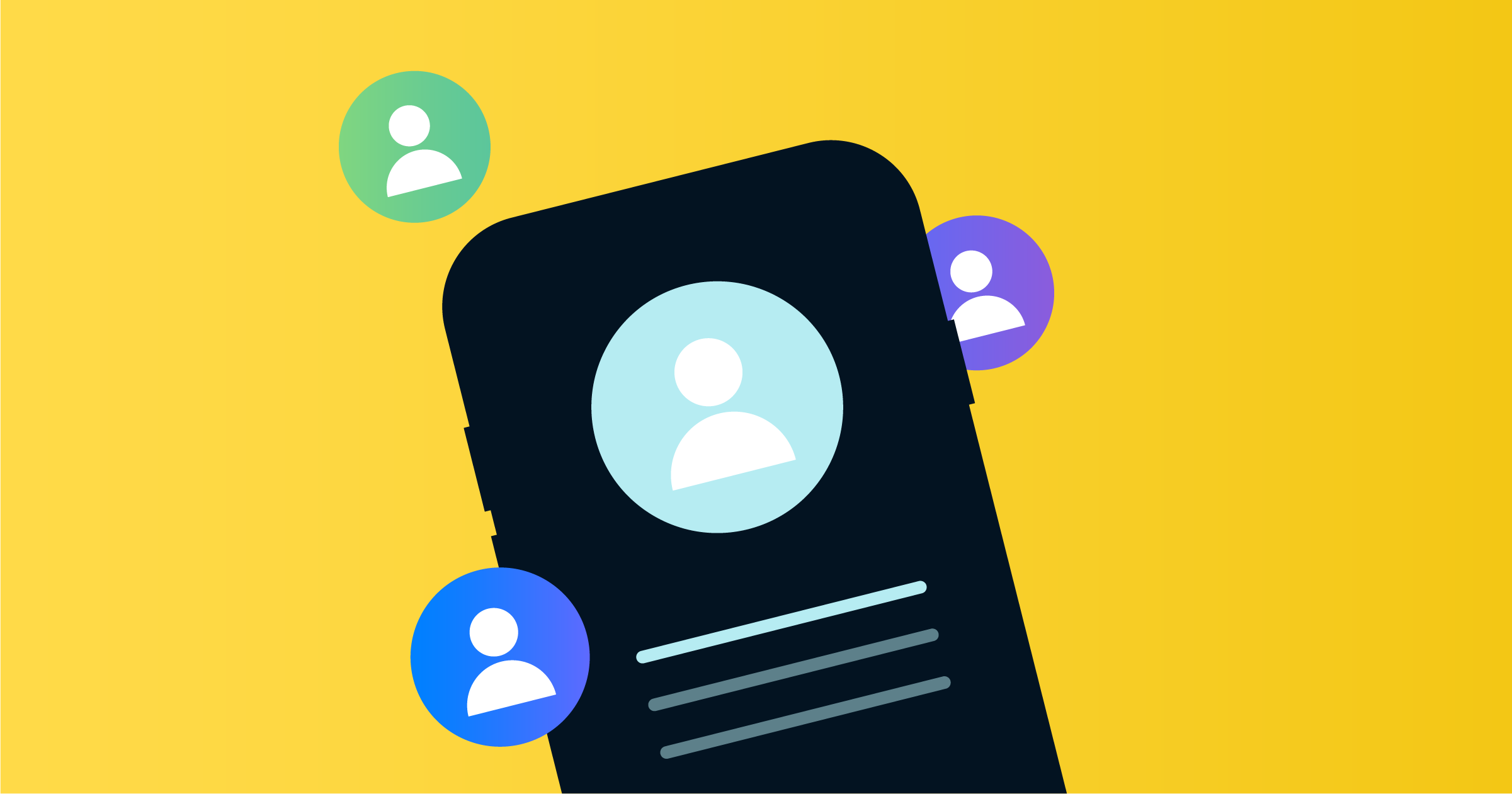 If you've ever worked in recruitment, you probably know how amazing it feels to land the right candidate. Finding someone who is ideal for an open position, however, can take a great deal of time, money, and effort when you use traditional methods. Posting job ads on various websites, for instance, can be quite costly, considering the various subscription fees you may be paying.
While those costs may eventually pay off, you can shift your resources towards contacting potential candidates directly. That's where SMS recruitment comes in. 
The process of reaching out to and hiring a candidate often takes weeks. And in many cases, you're likely competing with other companies for top talent. Text recruiting, however, gives you the competitive edge you need in the job market. 
While job seekers are swamped with everything from emails to direct messages, you can stand out of the crowd with a well-written SMS message. Here, we break down everything you need to know about text messaging to reach your recruiting goals.
What Is SMS Recruitment?
SMS text hiring is the process of utilizing messaging to reach candidates and bring talent into your company. Job seekers aren't always able to check emails or answer inbound phone calls, which is why replying to texts is much more convenient. 
Recruiting agencies and in-house talent acquisition specialists alike can use SMS for a number of purposes. These include scheduling interviews, sending reminders, addressing multiple candidates' questions, and keeping in touch with applicants throughout the hiring process. 
How Does SMS for Recruitment Work?
Not only is sending an SMS for recruitment a great way to make sure that qualified job candidates see the message, but it also allows you to build a connection and enhance the candidate experience. Essentially, you'd be texting the applicants individually to keep them in the loop. This allows you to connect with shortlisted applicants faster and speed up the whole recruitment process. 
Let's suppose one of the potential candidates left a great impression in the first interview and you want to take the hiring process to the next step. In this case, you would send them an SMS alert inviting them to a second interview. And when that second interview is right around the corner, you can send the shortlisted candidate an SMS reminder in advance to make sure they don't forget. This generally makes the whole process more convenient for both you and the applicant. 
Get Started Now
Reach your clients now and claim your 30-day free trial. No credit card required.
Top Reasons to Utilize Text Recruiting
Faster Process
Hiring employees can be somewhat tedious in many cases. And job seekers who are in high demand don't normally stay in the market for more than 10 days on average. That being said, a lengthy hiring procedure can ruin your chances of landing top talent. Considering that people often tend to respond to SMS messages right away, text recruiting can essentially streamline the process. 
Higher Response Rates
Needless to say, most people spend a considerable amount of time on their phones each day. This naturally contributes to higher response and open rates. You won't need to worry about the interview reminders getting lost in the spam folder.
The information you relay is practically going straight to the palm of the candidate's hand. And even if they don't respond, it's safe to say that they will almost always see the text. 
More Personal Connection
In the case of business-to-consumer marketing strategies, building a connection with customers goes a long way. The same concept holds true for hiring talent with business texting using the right recruitment strategy.
Texting basically humanizes the talent acquisition and recruiting process. When you send recruiting text messages to candidates, you automatically form a more personal connection with them and keep applicants updated. You can engage candidates by incorporating a friendly yet professional tone into the text.
Cost-Effective Choice
It's no surprise that posting a job opening and hiring an employee can cost a great deal of time and money. Text recruiting is a cost-effective option that helps you find the right person more efficiently. You'll also be able to reach more candidates, which in turn gives you a wider and more diverse talent pool to choose from. This further boosts your chances of landing a suitable candidate for the job.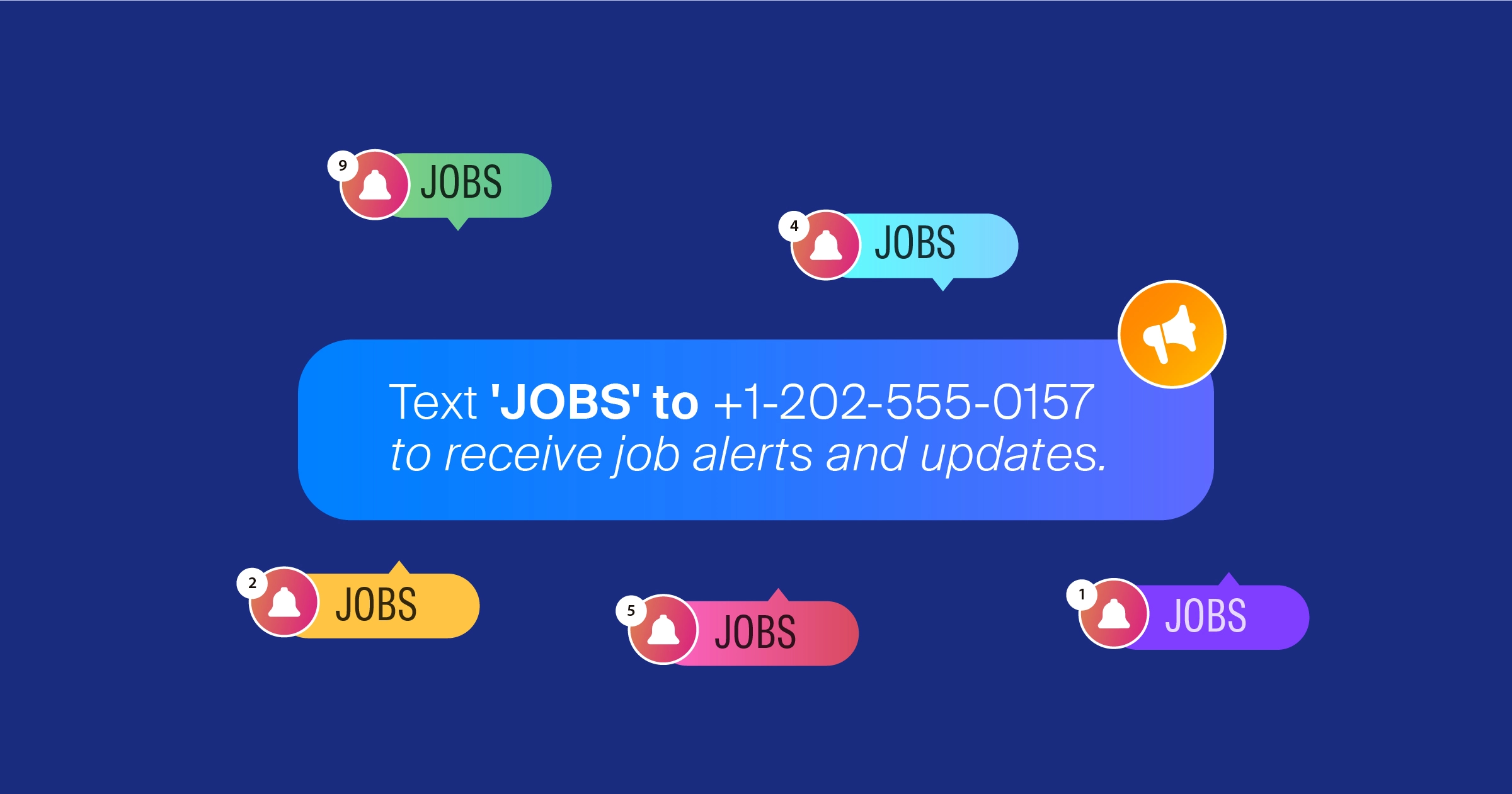 When Can Text Recruiting Come in Handy?
Reaching Out to Former Applicants
It's common for companies to have a long list of previous applicants who may not have had the right qualifications at the time. But, many of these applicants likely picked up a good deal of skills and experience since then. By reaching out to them through text recruiting, you can have a quick chat in real time to determine whether they'd be suitable for the current job. 
Contacting Former Employees
Employees often move on from a company in search of better job opportunities. Text message recruiting can be ideal for reaching out to those former employees to see if they'd be interested in a new position. You've already worked with them before, so knowing whether they'd be a good fit or not shouldn't be a problem. You will also want to include instructions for opting out, and make sure to mention your name in the initial recruiting text message to avoid appearing as spam. 
Establishing New Relationships
Before getting in touch or hopping on a call, text recruiting helps establish a relationship with new applicants and get more familiar with them. This allows you to scrape some time off the interview process and enables you to touch base should you be bringing in more people during the next recruitment window. It's also a great way to draw the attention of candidates—and motivate them to join the team—by sharing stories of happy employees. 
Having Prospective Employees Approach You
Anything from QR codes to text-to-apply methods can come in handy for engaging job seekers. While online job postings can do just fine, it can also be a good idea to set up signage in public spaces such as gyms, campuses, and community centers. The signage may, for example, include a text keyword that a potential hire can send to an SMS short code. This can be an effective way to attract those who may be looking for temporary job openings or part-time work.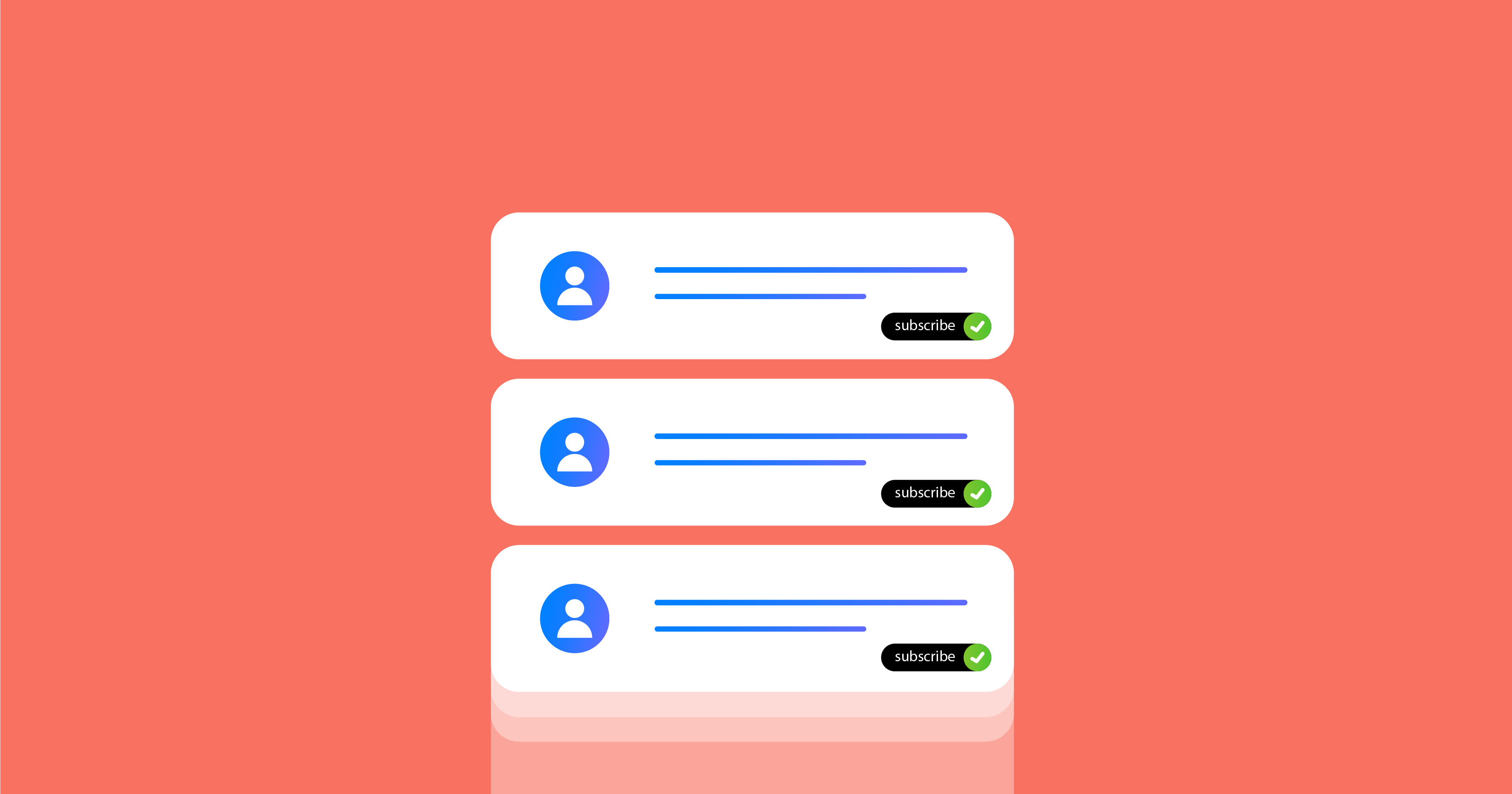 Making Use of Your Marketing List
In many cases, you wouldn't need to look further for potential talent than your own customers. You'd be surprised at how many of those who enjoy your products and services would love to work with you. You can use your SMS marketing service to inform your audience about seasonal job opportunities.
Offering incentives such as gift cards can also go a long way in getting potential candidates to engage. For instance, you can bring in passionate readers to work at your bookstore over the holidays, with the additional promise of flexible hours and special discounts on books. 
Trying Internal Referrals
A great source of job advertisements for your company can be your existing employees. You can use incentives such as referral bonuses and additional days off to encourage them to look into their connections for potential talent. An SMS campaign would make this strategy even more effortless. All that your employees need to do is pass the message on to people they know who might be interested. 
Effortlessly Covering a Shift
An extended workforce of temporary talent can be especially useful for filling up vacant shifts. When you need to cover a shift as soon as possible, sending an SMS alert to your seasonal employees often does the trick. You can ensure a response by offering incentives like bonus pay.
Suppose an employee called in sick and needed someone to cover for them. You can then send a text message offering a bonus to the first person who signs up for the empty shift. 
Reaching out About Opportunities Anytime
As your list of prospective hires grows, you can continue to deploy SMS marketing throughout the year, whenever you could use an extra pair of hands. This essentially prevents you from having to start a recruitment campaign from scratch each time things get busy. It's also a great way to establish yourself as a potential source of employment for your network of prospective hires. All you would have to do is send a simple text message informing them about the job opportunity—ideally mentioning the pay.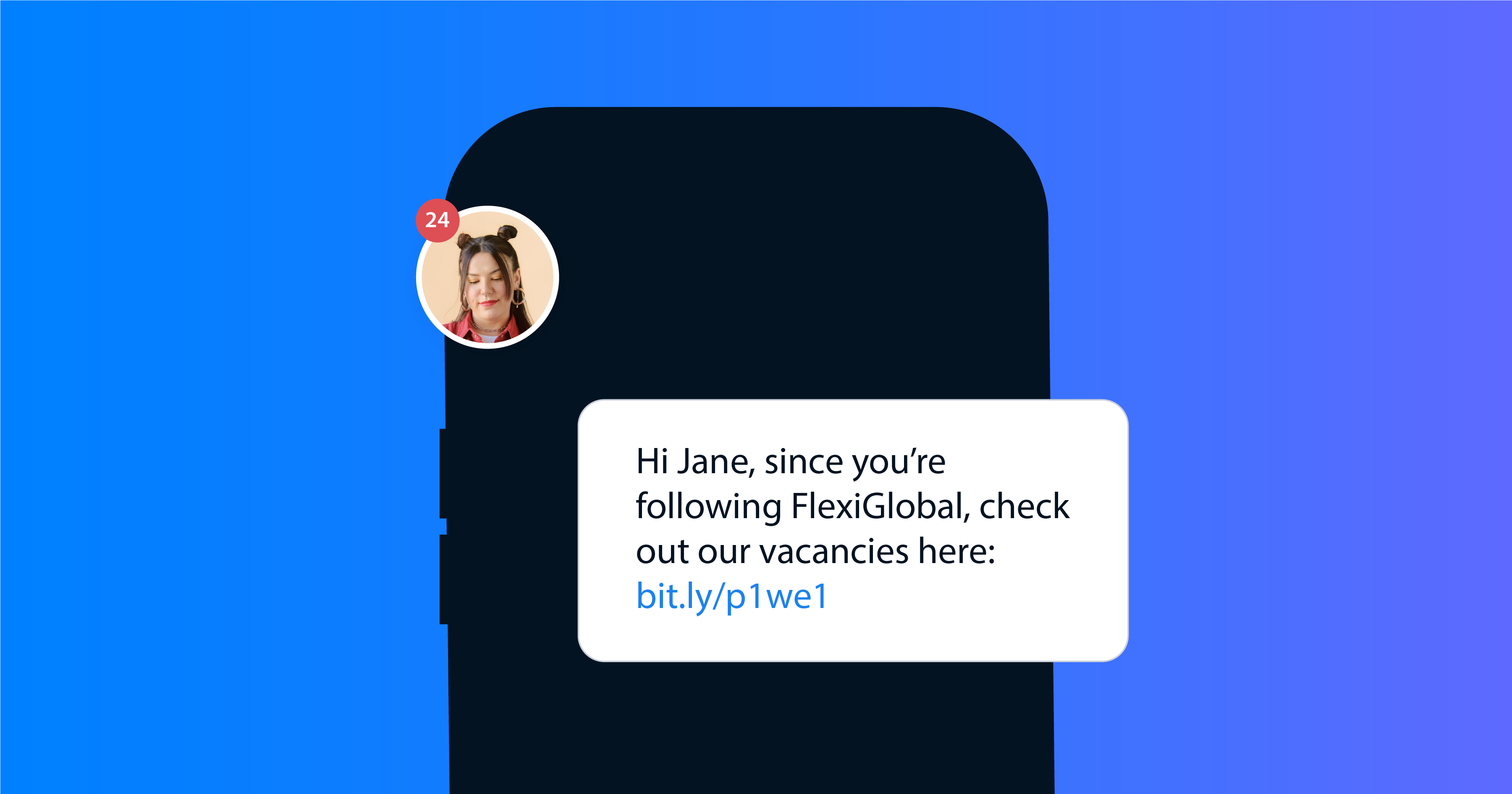 Helpful Tips for Using Text Message Recruitment
Avoid Spamming the Candidate
While SMS recruiting is a popular tool for talent acquisition, it only means that it's more common for businesses to abuse it by spamming entire contact lists with job application ads. As efficient as it may sound, doing this is actually annoying for the recipients and detrimental to your recruiting efforts. Whether you need to schedule interviews or remind candidates about a Zoom meeting, for instance, avoid overwhelming them with non-stop texts.
Include Directions for Opting Out
As with mass texting for marketing purposes, it's often a good idea to include SMS opt-out instructions in the recruiting text messages you send out. Doing so may seem inconvenient, but it can prevent your number from getting blocked. It's better if the recipient opts out rather than reports you. To make things easier, you can always create a reusable template for the opt-out directions. 
Reach Out to Recipients Within Business Hours
Separating work from personal life is undoubtedly important. For instance, you wouldn't normally send an internal SMS to a coworker in the evening. This also applies to text message hiring. Having said that, make sure to stick to business hours when you're sending SMS recruitment messages to candidates. 
While some people may not mind them, others tend to find them rather invasive and unprofessional. Besides the candidates, it's also important for your own work-life balance.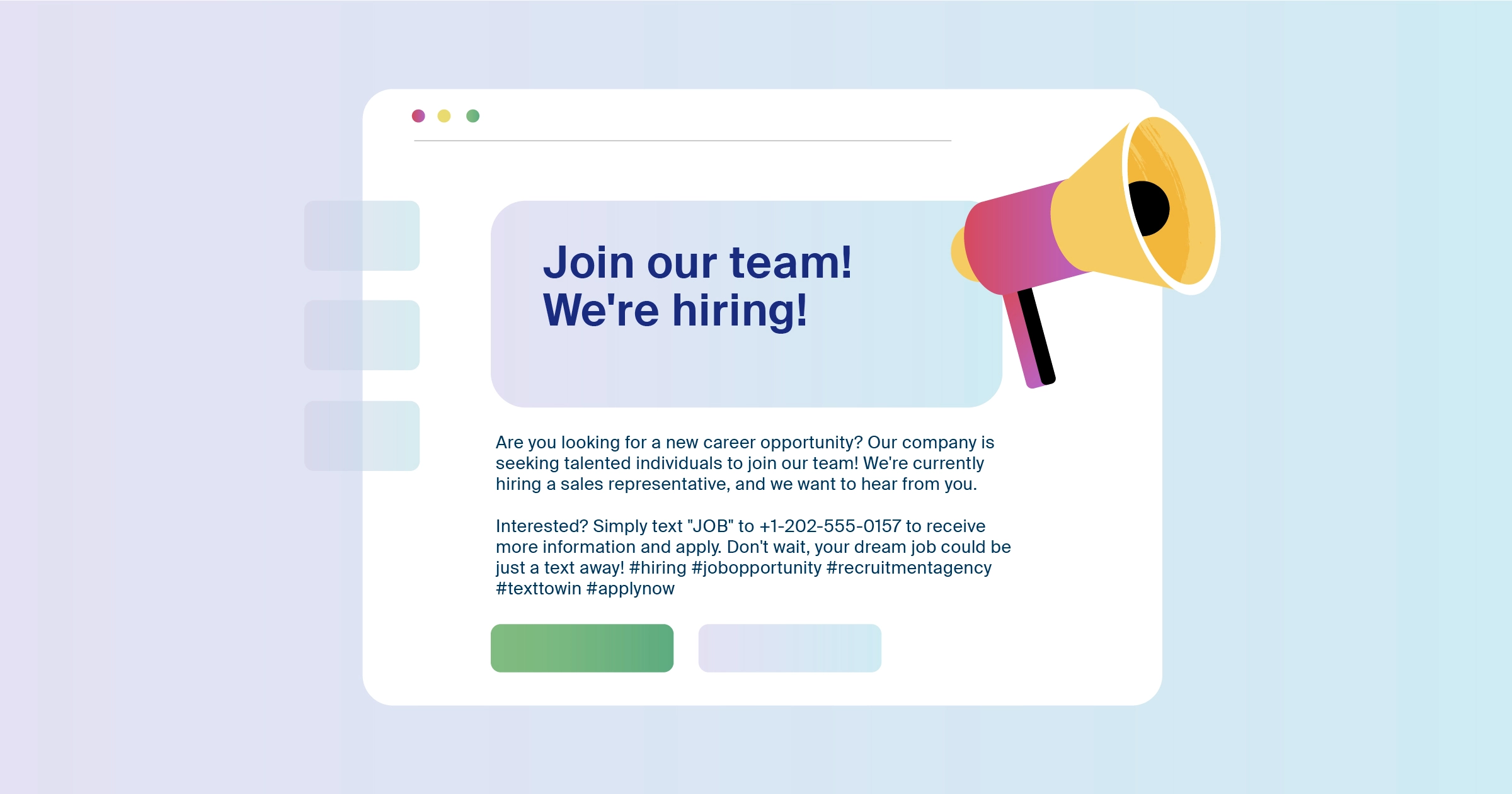 Use Social Media to Make the Initial Contact
Consider making the first contact via a social media platform such as LinkedIn. After finding and reaching out to a potential candidate through social media, you can suggest texting via SMS messaging. It's always a good idea to obtain their permission before you send messages to them.
Avoid using available phone numbers to randomly text potential candidates. Once you get the green light, make sure to let them know how often they'll be receiving text messages and what information you'll be relaying to them.
Target Your Recipients
If you have a list of contacts who have opted in, keep that database clean. Only target the recipients who have been responsive in the past. You can do this by filtering candidates by qualification and sending recruiting text messages to those who may fit the role.
As for cleaning your database, narrow down the contact list by asking some simple yes-or-no questions. For instance:
1. Is [recipient's name] still at this number?
2. Are you still interested in receiving SMS messages from [company name]?
3. Are you open for a new position?
Make Use of a Specialized Platform
You can engage in recruitment text messaging with your personal or business mobile phone. But handling dozens of replies and different conversations can be overwhelming—those numbers can even be in the hundreds, if not thousands. A specialized text recruiting software can take that weight off your shoulders. In most cases, bulk SMS service providers even allow you to conveniently manage your messages and replies via a dashboard.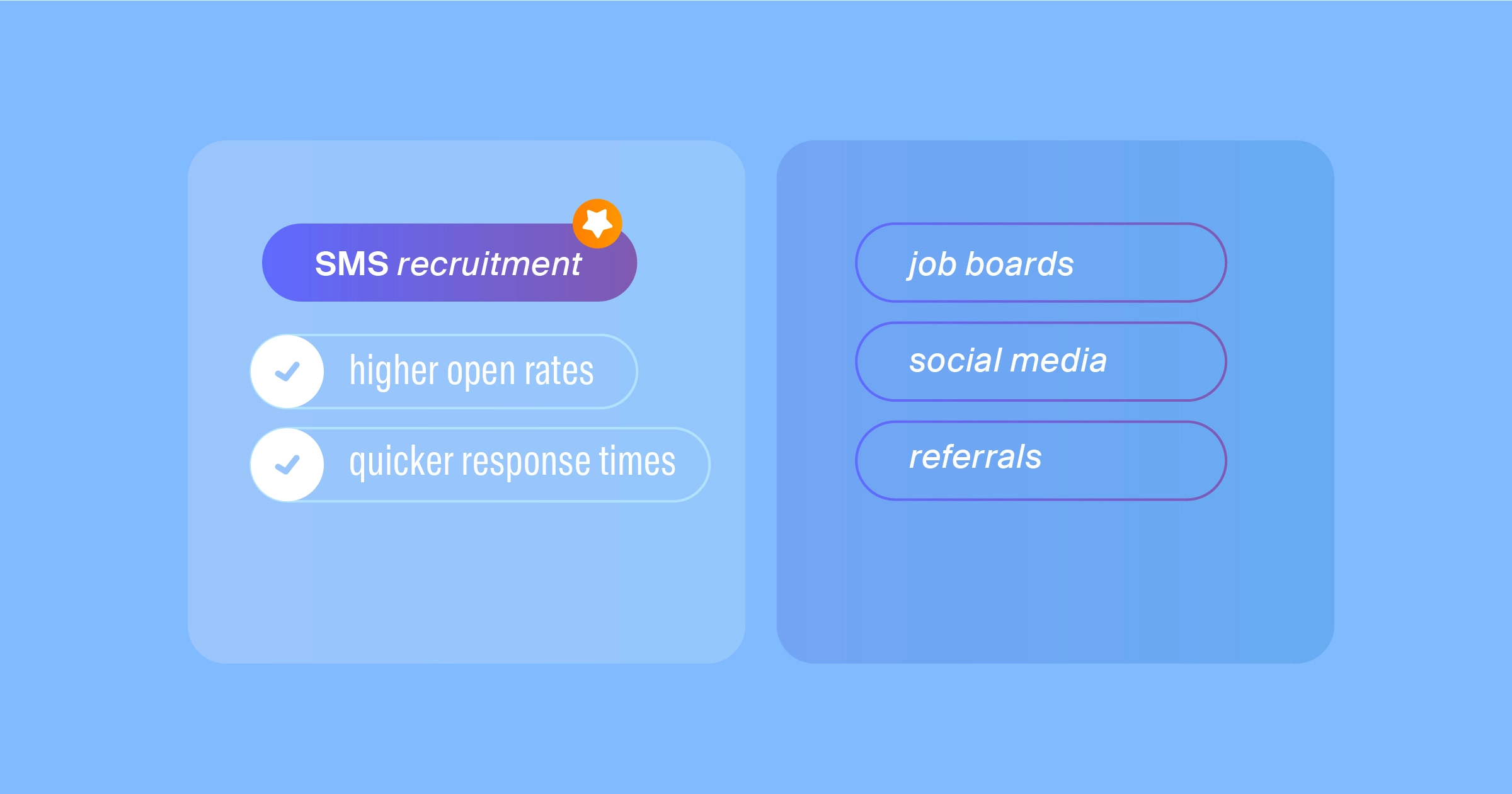 Is SMS Recruitment Better Than Other Options?
It goes without saying that certain recruitment strategies are always essential. That being said, you can't expect to replace all those approaches with text-based recruiting. Instead, SMS hiring enhances the talent acquisition process by helping you text candidates as quickly as possible. 
Should you be doing a lot of mass hiring, other recruitment efforts will still come in handy. These typically include emails, social media, job posting websites, and job fairs. Ultimately, you can consider text recruiting to be a part of the whole hiring process, allowing you to save time and money where possible. 
Text Recruiting With Dexatel
When it comes to sending alerts and reminders regarding interviews, new job openings, and the like, SMS software solutions by Dexatel can come in handy. Also a text marketing service, Dexatel provides a platform that helps you schedule messages for meetings, virtual events, notify about job openings, send applicants' updates, and integrate with your applicant tracking system, and more. You'll be able to personalize messages, use ready-made SMS templates, have one-on-one conversations with applicants, and monitor important details. Sign up now and enhance your text recruitment process.