Business Messaging: What is it and How You Can Use it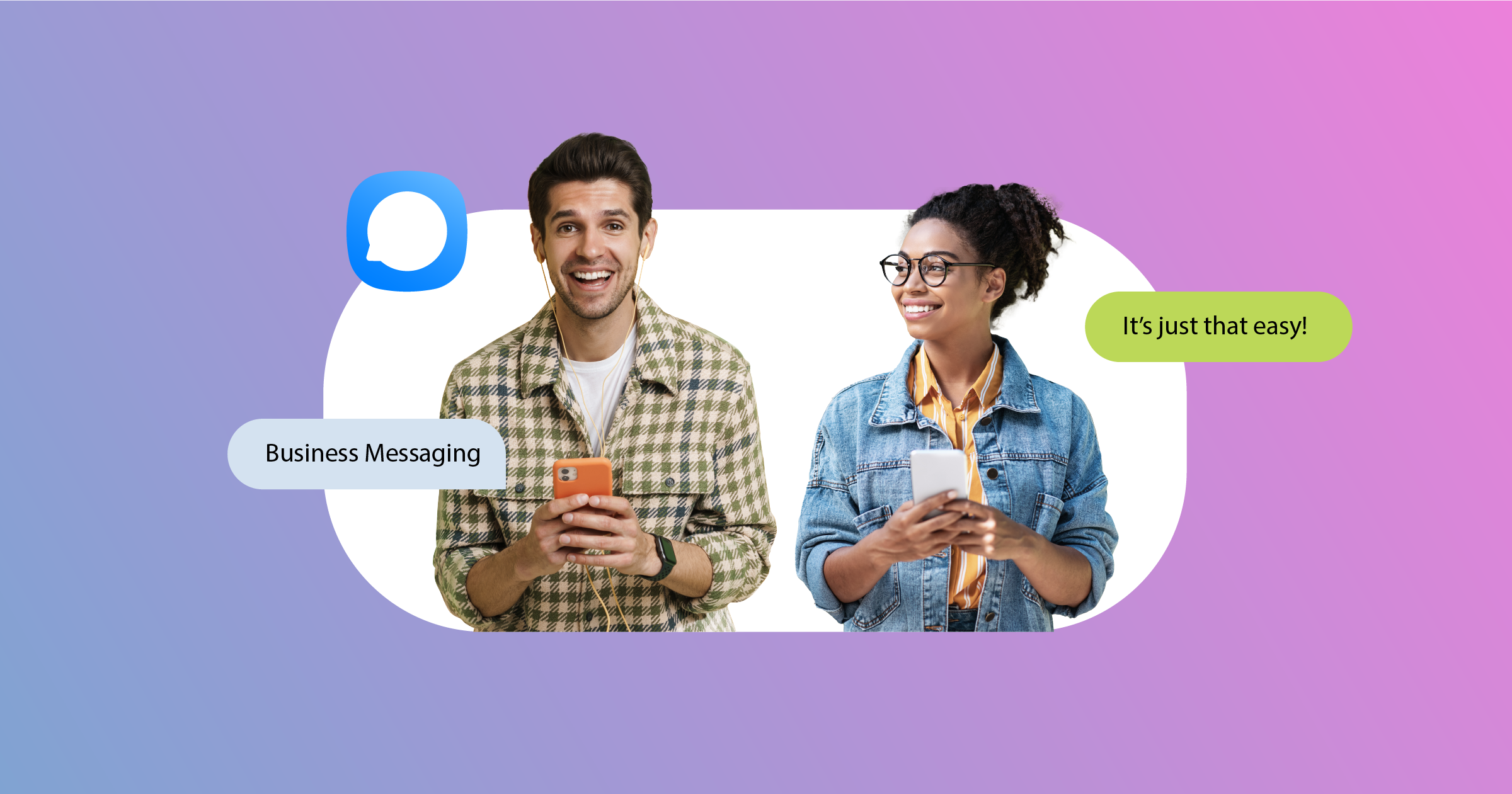 Business messaging is a new and innovative way for companies to connect with their customers, employees, and partners. With the rise of instant messaging applications and chatbots, businesses can now communicate with their clients in real time, providing faster and more efficient customer service. 
Whether you're a small business owner or part of a large corporation, business messaging can provide various benefits that help you stay competitive in today's fast-paced market. Customers want to bid phone calls goodbye and never hear the words "hold, please" again. And if you're ready to grant their wishes, here are all the benefits of business messages you didn't know you were missing out on.
What is Business Messaging? 
The concept of messaging for business involves the use of messaging channels that enable brands to connect with their customers for marketing, sales, or customer service purposes. It facilitates faster and more efficient support, collaboration, and communication management within a company and its third parties.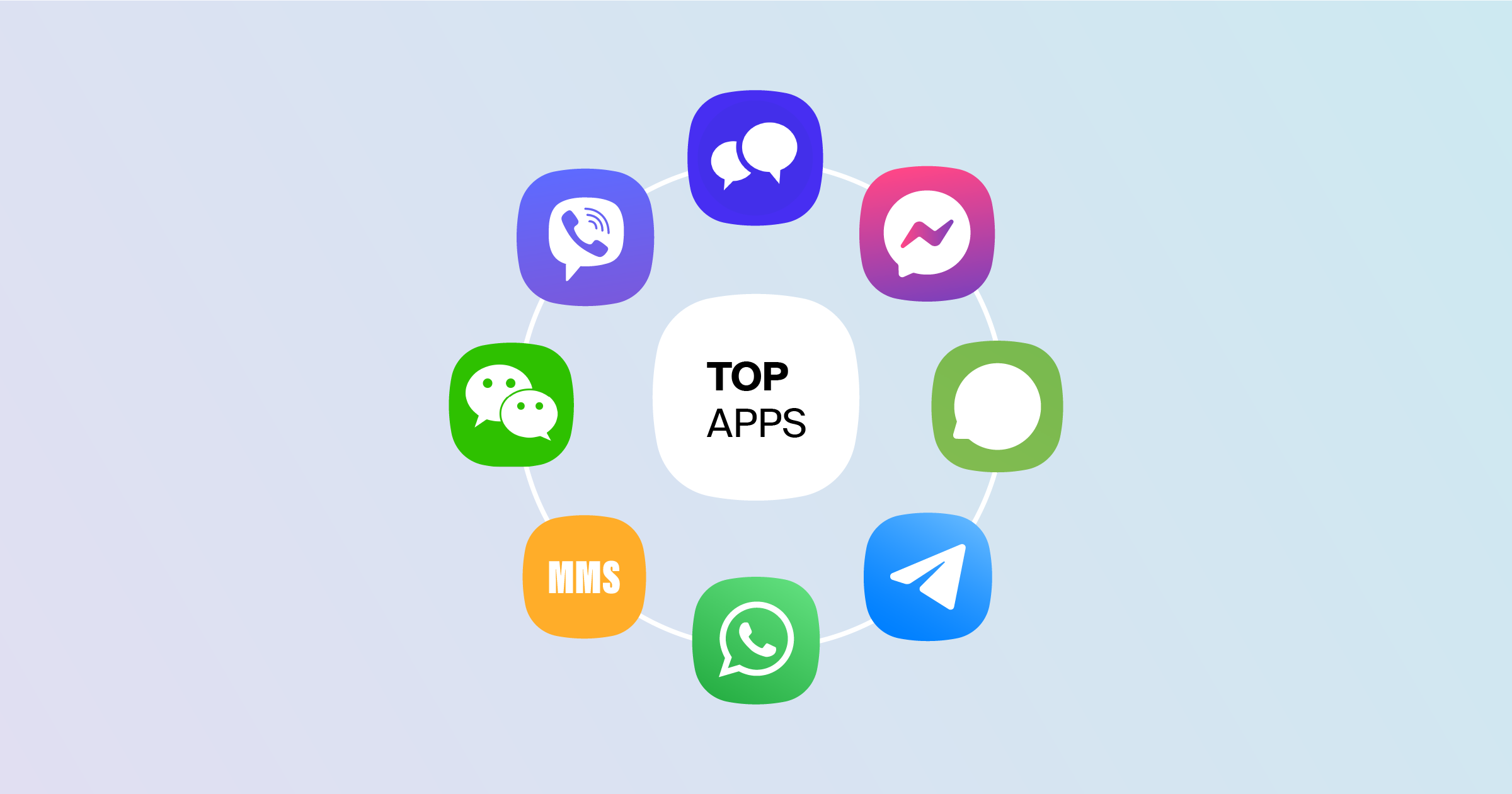 Top Business Messaging Applications You Can Use
SMS 
SMS is the most common way to reach mobile consumers. This communication channel allows you to send business text messages to customers directly to their phone numbers. SMS chat is a popular medium because it's widely accessible and can be used by anyone with a mobile phone and cell service.
If you're looking for a messaging channel that works in real time while keeping the process simple and easy, business SMS is the way to go. And if you don't know what exactly you want to send, you can always resort to SMS templates to help you out.
Get Started Now
Reach your clients now and claim your 30-day free trial. No credit card required.
MMS 
MMS—or Multimedia Messaging Service—is similar to SMS in many ways. But, as its name suggests, this messaging channel has the added benefit of allowing you to send multimedia content. This includes sending GIFs, images, videos, and audio files along with your text. 
MMS marketing is a great way for businesses to send visual content to their customers or convey information that's difficult to explain in text. And again, if you're not sure how to get started, opt for text message templates to paint a better picture of how to get in touch.
Webchat
Webchat offers businesses a way to communicate with customers through their website using a chat interface. This medium is commonly used to offer online customer service or sales assistance since it offers a convenient and quick way to communicate.
Facebook Messenger 
Facebook Messenger is a go-to option for businesses that have a strong social media presence and want to connect with consumers directly. This app also allows businesses to automate messages using chatbots, making it a great platform for managing customer service requests such as reservations and FAQ inquiries.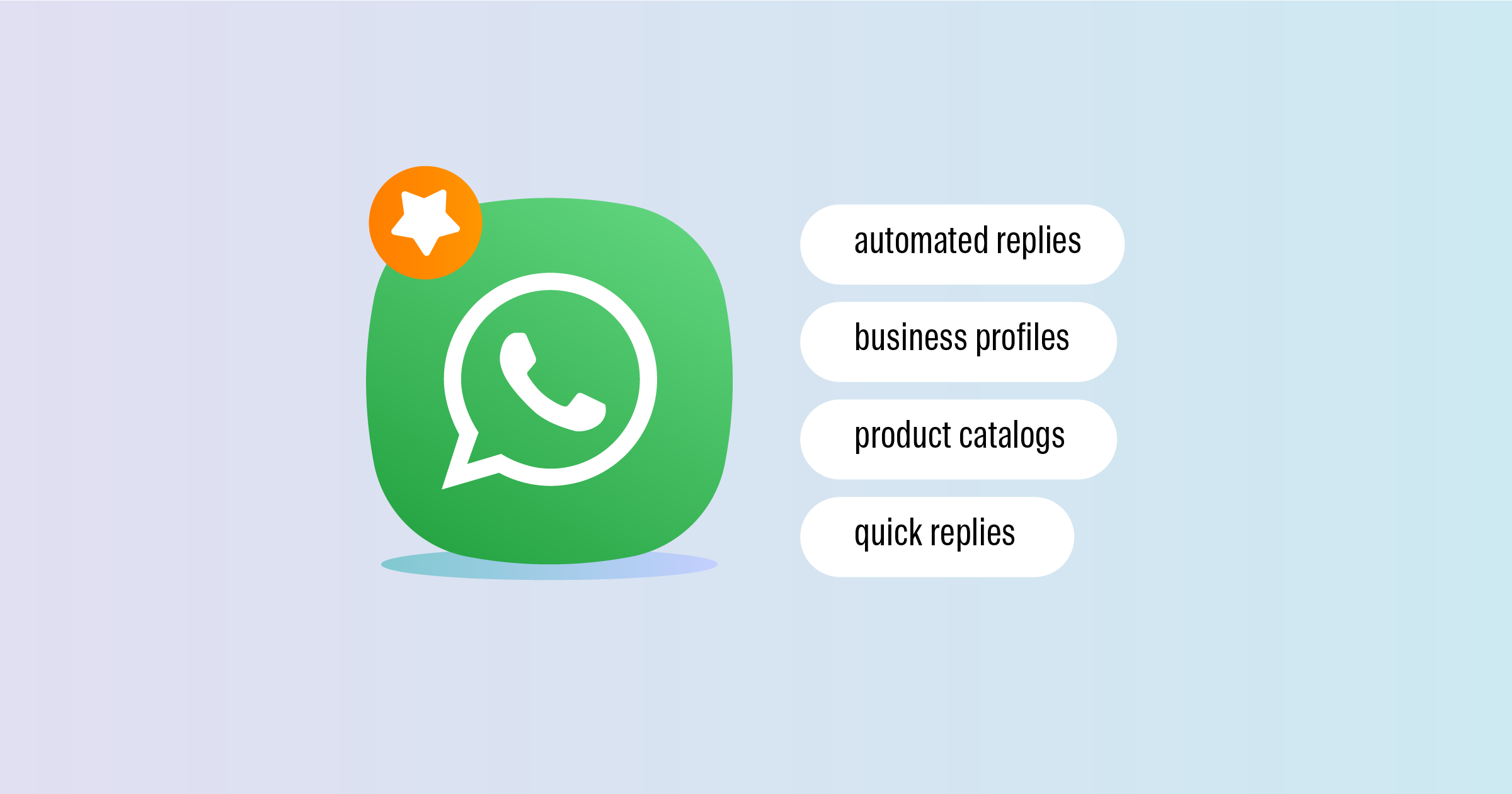 WhatsApp 
WhatsApp is another preferred messaging channel for larger businesses with mobile consumers. It's an excellent platform for businesses that want to connect with customers internationally, as it's widely used in many countries. You can even integrate the WhatsApp Business API to automate messaging and streamline customer service processes.
WhatsApp marketing also stands out for its personalizable nature. This business messaging application allows you to send multimedia content such as images, videos, or audio files, allowing you to stay ahead of the competition.
Google Business Messages 
Google Business Messages presents you with a way to communicate with customers directly through Google Search and Maps. This platform gives businesses the option to offer support and communicate with customers without the need for them to visit a website or download an app.
Telegram
If you're searching for a messaging application that securely allows you to communicate sensitive information with customers, Telegram might be the right choice. This platform offers end-to-end encryption, making it ideal for healthcare providers, financial institutions, and organizations with security concerns.
WeChat
If you're working with a large consumer base in Asia, WeChat is a business messaging application with over a billion active profiles.  Used extensively in China, it offers businesses the ability to create official accounts, provide customer service, and run ads.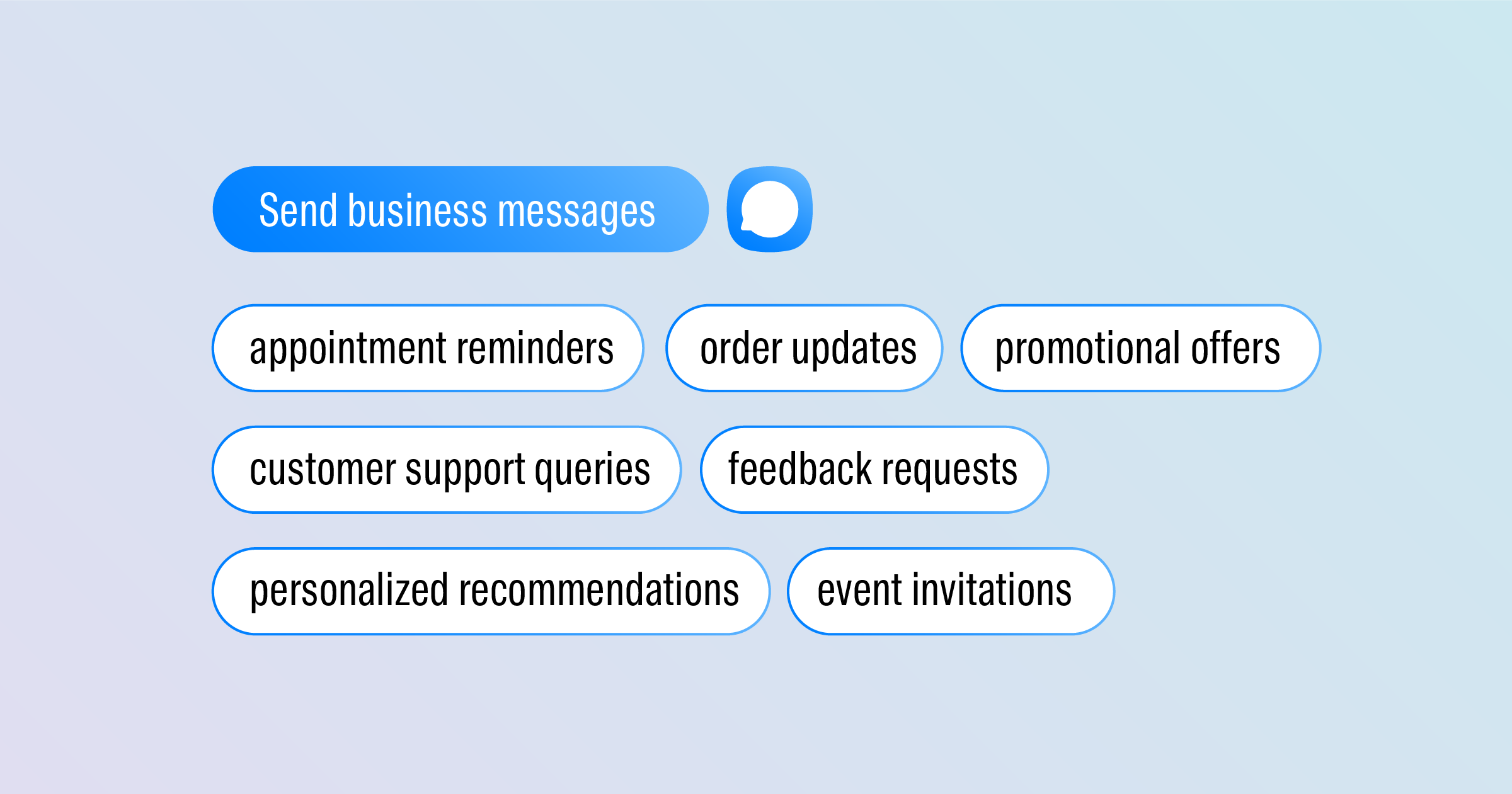 7 Business Text Message Examples 
Business messaging can be integrated into various SMS marketing and sales strategies to improve customer relations. Here are a few categories where you can reap the benefits of business texting.
Welcome Message 
Almost every business greets new customers and subscribers with an introductory message upon signing up. The goal of this transaction is to welcome the customer and provide them with information about the business or product.
Example: Welcome to The Full Cart, Clara! We're excited to have you as a new customer. Our team is here to help you with any questions or concerns you may have. Feel free to reach out to us at any time.
Order Confirmation
When making online purchases, customers want to receive a confirmation message in real time. This example has become mainstream and provides details about the order.
Example: Thank you for shopping with The Full Cart, Rebecca! Your order number is #123456. We'll send you an update when your order is shipped. If you have any questions, please don't hesitate to contact us.
Appointment Reminder
Service-based businesses can remind customers of upcoming appointments or reservations. This helps reduce no-shows and last-minute cancellations, which can impact the business's revenue and affect the overall schedule.
Example: Hi John! Just a friendly reminder that you have an appointment with Dealer&Dealt tomorrow at 10 AM. Please confirm your attendance by replying with YES. We're looking forward to seeing you!
Sales and Promotional Message 
One of the most common uses of business messaging in marketing is promotions or sales alerts. Examples in this category tend to be concise and eye-catching.
Example: Don't miss out on The Full Cart's Black Friday sale, Emma! Enjoy up to 50% off on all items. Shop now and save big!
Customer Support Message 
When it comes to customer service messages, clients need to know that they're in charge of the direction the conversation is going. This type of message is sent to customers to address their questions or concerns about a product or service.
Example: Hello, Eric! Thank you for contacting us. We're sorry to hear that you're having issues with your product. Our support team will contact you shortly to help you resolve the issue.
Feedback Request Message
This type of message is sent to customers to ask for feedback or a review about a recent purchase or experience. It could be especially beneficial when paired with smart conversational marketing tips and tricks. 
Example: Hi Jane, we'd love to hear your feedback about our product! Please take a few minutes to share your thoughts here: http://bit.ly/p1we1 
Re-Engagement Message 
To improve customer retention, send a message that gets to the root of what customers want. Target buyers who have been inactive for a certain time and find a way to encourage them to re-engage with your business, like a discount or a free trial.
Example: Hi Sally, we've missed you! It's been a while since you last visited our website. We wanted to offer you a special discount as a thank you for your past loyalty. Use code WELCOME10 to get 10% off your next purchase.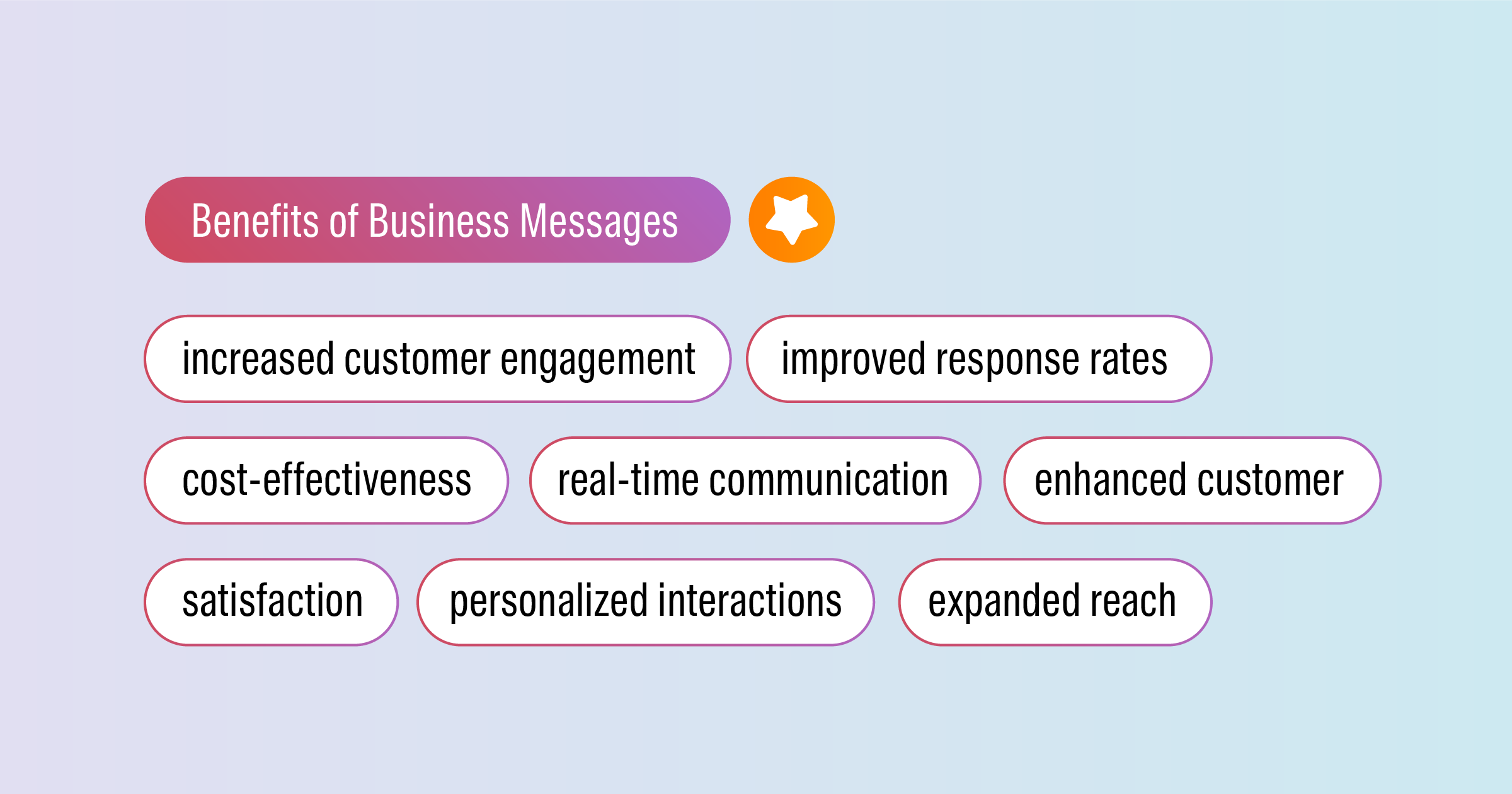 7 Benefits of Business Text Messages
Needless to say, the benefits of business texting are plentiful. Whether you're a small business or a large corporation, there's something new and meaningful that business messaging can provide for you.
Business text messages allow for instant communication between brands and customers. This can help resolve issues quickly and provide timely updates and information.

By removing the need to call or visit a physical location, business texting allows customers to communicate with brands at their convenience.

With the right messaging application, you can personalize your text to an individual customer, making them feel valued and increasing brand loyalty.

Business texts can help increase customer engagement and interaction with a brand, leading to increased sales and customer satisfaction.

Customer service can reap the benefits through automation. You can automate the process of addressing and resolving issues, resulting in a smooth customer journey.

Business texts can be used to collect valuable data on customer behavior and preferences, which can be used to improve marketing and sales strategies.

With a multi-channel approach, business texting allows brands to communicate with customers across multiple platforms and reach a wider audience.
How to Send a Business Text Message with Dexatel
If the idea of integrating business messaging into your strategy sounds good but you don't know where to start, we've got you covered. By utilizing Dexatel's Campaign tool for mass text messaging, you can easily send messages to a predetermined list of recipients. 
Follow these steps to create and manage bulk messaging campaigns with Dexatel:
Select the desired messaging channel (SMS, Viber Business, or WhatsApp Business) from the navigation bar

Click "Create Campaign" and give it a name

Give your message some context in the Campaign message slot

Choose the template you created or one of Dexatel's pre-made templates from the drop-down menu

Decide whether to show your "Sender Name," "Number," or "Short Code" along with the message

Choose the list of recipients either manually, from the "Audience," or by uploading a file

Click "Send Now" to send the message immediately, or "Schedule" to send it at a later date and time
Business messaging is an essential communication tool that can help businesses of all sizes improve their customer service, increase sales, and enhance the customer experience. By using the right messaging platforms, you can easily reach your target audience and provide the support and assistance they need. 
With its many benefits, it's no surprise that more businesses are incorporating it into their strategy. So, if you haven't already, it's time to embrace the power of business messaging and unlock the full potential of your marketing strategy with Dexatel.