Everything You Need to Know About SMS Payments
Published: Oct 19, 2022
Updated: Jul 13, 2023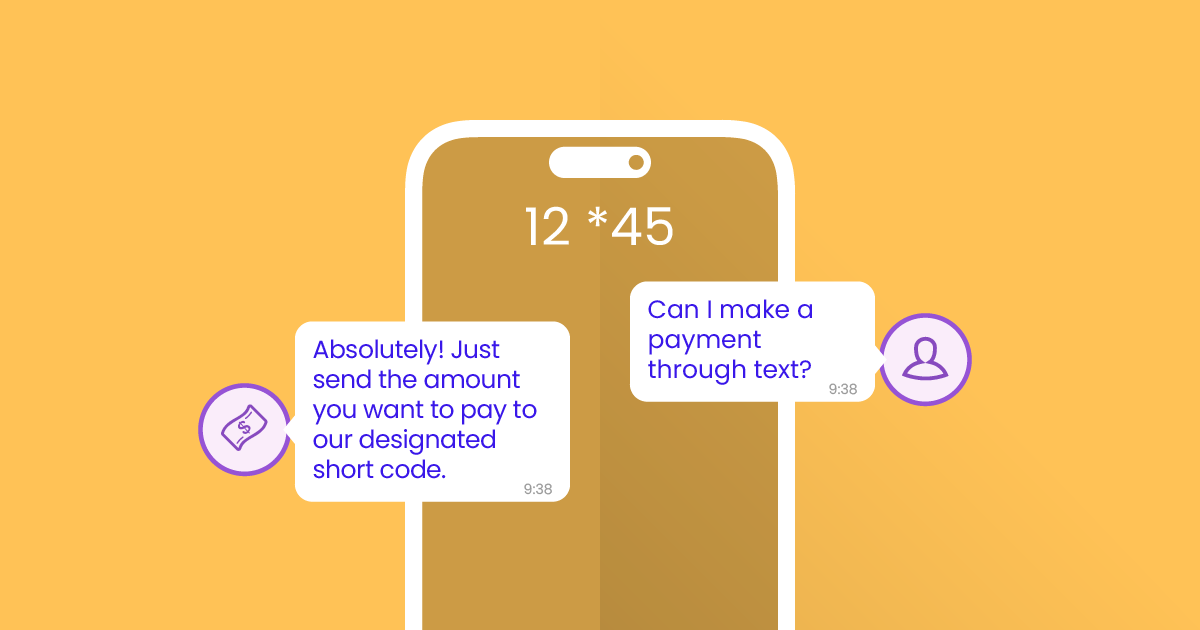 It's safe to say that time is money when it comes to transactions. Having said that, making payments via text message is one of the easiest and most convenient methods available. Customers can make a payment anytime, anywhere, and they don't even need to deal with complex, multi-step processes. SMS payment systems are becoming increasingly popular as they are quick, secure, and effortless. The global familiarity of text messaging helps, too. 
What Is an SMS Message Payment?
An SMS payment is a form of transaction that's done using a text message. Considered a more convenient platform for many, SMS payments work by sending text messages to a short code or by using a mobile payment app. The payment is then processed through the mobile network operator.
These payments are convenient as they can be made without the need for a physical card or cash. They are also useful for people who do not have a bank account or access to other forms of payment. This way, customers can send money and receive payments by simply having a mobile phone and an active cellular plan.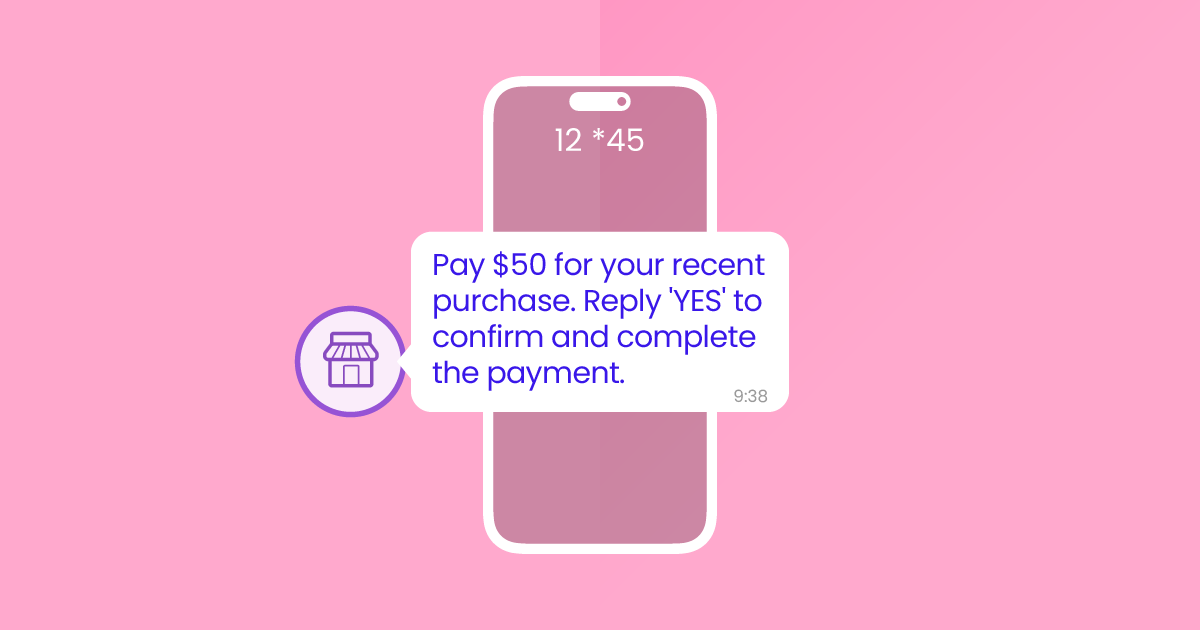 How Do Text Payments Work?
In order to complete payment by SMS, a customer first needs to register with a service provider. Once the customer's registration is complete, they can make a payment at any time by sending a text to a short code.
The SMS text will include a keyword or command as well as the amount of money that they would like to pay. The service provider will then process the payment and send a confirmation message to the customer.
It is important to note that text message payments are not the same as using apps or mobile wallets. With a mobile payment SMS system, the customer does not need to download anything onto their phone—they only need to have a text messaging plan. Mobile payment apps, however, require the customer to have enough space on their phone to download and make payments through the app.
SMS Marketing Pricing
We use a pay-as-you-go pricing model, meaning we charge per sent message. No monthly or sign-up fees. SMS marketing costs vary depending on your destination.
Top Industries That Benefit from Text Message Payments
Paying via SMS is suitable for a variety of industries, including retail, food and beverage, healthcare, and hospitality. They provide a convenient and easy way for customers to pay for goods and services, and it is especially beneficial for small businesses to collect payments through mobile phones using this means of communication.
Building Trust in Pay-by-SMS Systems
But before establishing any system, businesses should be PCI compliant when having customers pay with SMS. This way, businesses can help ensure that customer information is properly secured and not vulnerable to being compromised.
PCI compliance can help improve customer trust in a business. Customers may feel more comfortable conducting transactions with a business that is PCI compliant, knowing that their information will be properly protected.
Moreover, PCI compliance may be required by some financial institutions to process payments made via text message. Therefore, businesses that are not PCI compliant may be at a disadvantage when it comes to processing these types of payments.
Benefits of Payment by SMS
Establishing a system where customers can carry out payments using SMS texting can prove to be highly beneficial. It's essentially a win-win situation for both you and your customers. 
Speed and Convenience
Using a pay-by-text system is incredibly fast and convenient. All your customers need is a phone, and they can make a payment in a matter of seconds. This enables them to save a great deal of time as opposed to traditional payment methods like visiting physical locations—or even having to go through the process of entering credit card details. 
Secure Payment
Paying for a product or service through SMS is often considered more secure than other methods of payment, such as debit or credit cards. This is because financial information is not stored on mobile devices but is instead transferred directly to the bank. Additional layers of protection, like two-factor authentication, can help prevent the risk of fraud and unauthorized access. 
Low Fees
Many SMS payment providers charge low or no fees for making payments, which is great compared to other methods like wire transfers or credit card payments. This cost-effectiveness makes it an ideal option for individuals and small businesses looking to cut costs associated with transaction processing. 
Ease of Use
Completing transactions via the Short Message Service is extremely easy and user-friendly. Even those who are not tech-savvy can easily make a payment via a short messaging service without any issues. When businesses collect phone numbers to send SMS marketing messages, they may as well use text messaging to simplify payment processes.
Familiar and User-Friendly
Pay-by-SMS systems make use of a technology that practically everyone is familiar with. Needless to say, texting is a common practice, and integrating payments with this framework makes the process fairly simple. Customers won't need to get to grips with new software or have to deal with complex systems.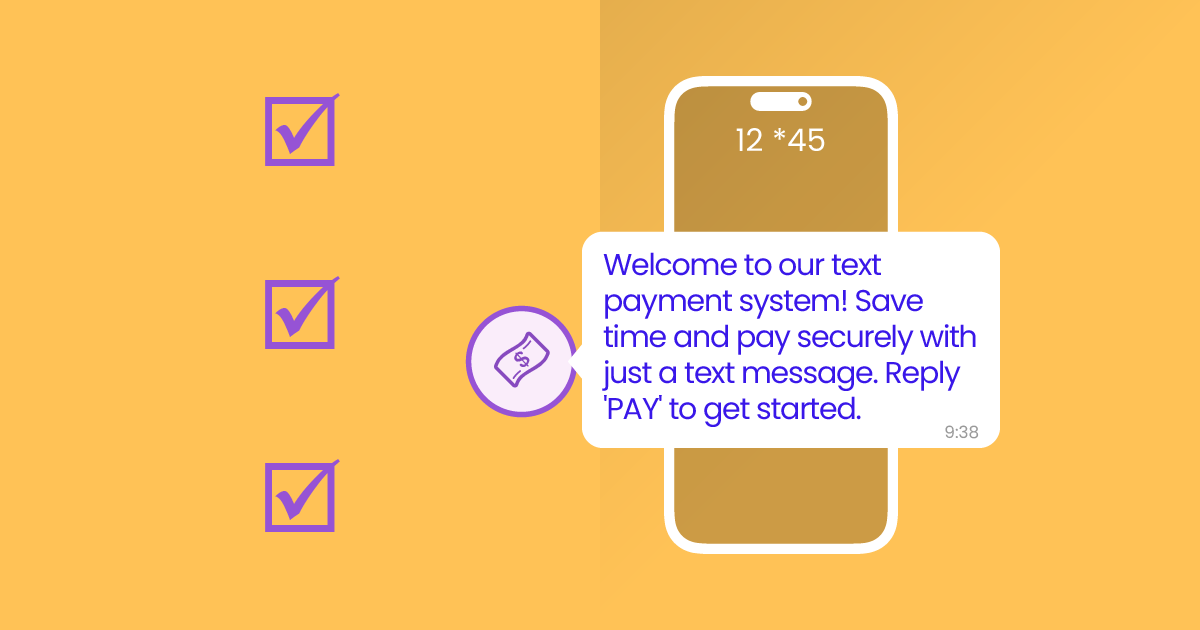 Best Practices for Setting Up a Text Payment System
Establishing and maintaining a quality text-to-pay system involves taking a handful of measures. These include:
1. Providing Clear Instructions
Make sure your customers know how to make mobile payments. This means providing relevant keywords, step-by-step instructions, and anything else the user may need to conduct a smooth transaction.
2. Offering a User-Friendly Experience
The SMS payment system should be straightforward to use. A complicated process with excessive steps may confuse or frustrate customers—and possibly result in mistakes.
3. Taking Security Measures
You'll want to have decent security measures in place to protect transactions and sensitive customer data. This involves abiding by industry standards, using encryption protocols, and regularly monitoring and updating those protocols.
4. Setting Up Personalized Responses
Provide personalized auto-replies that acknowledge payment success and give updates on transaction status. Don't forget to include relevant payment information like account details, transfer amount, date, and time.
5. Monitoring Transactions
Implement tracking and reporting features that let you monitor and analyze everything from transaction volumes to possible errors. You can use the information to pinpoint trends, enhance processes, and address any problems
6. Performing Thorough Testing
It's always a good idea to test out the SMS transaction system before launching it. Consider testing different scenarios, amounts, and user journeys to pinpoint any potential bugs
7. Enabling Clear Communication
Offer support channels where customers can ask questions related to their transactions. Keep in mind that clear communication fosters a positive customer experience and boosts customer loyalty
8. Improving As You Go
Remember to continuously assess the performance of your text-to-pay system while keeping an eye out for user feedback and new industry trends. Doing so will help you adapt to evolving customer needs and expectations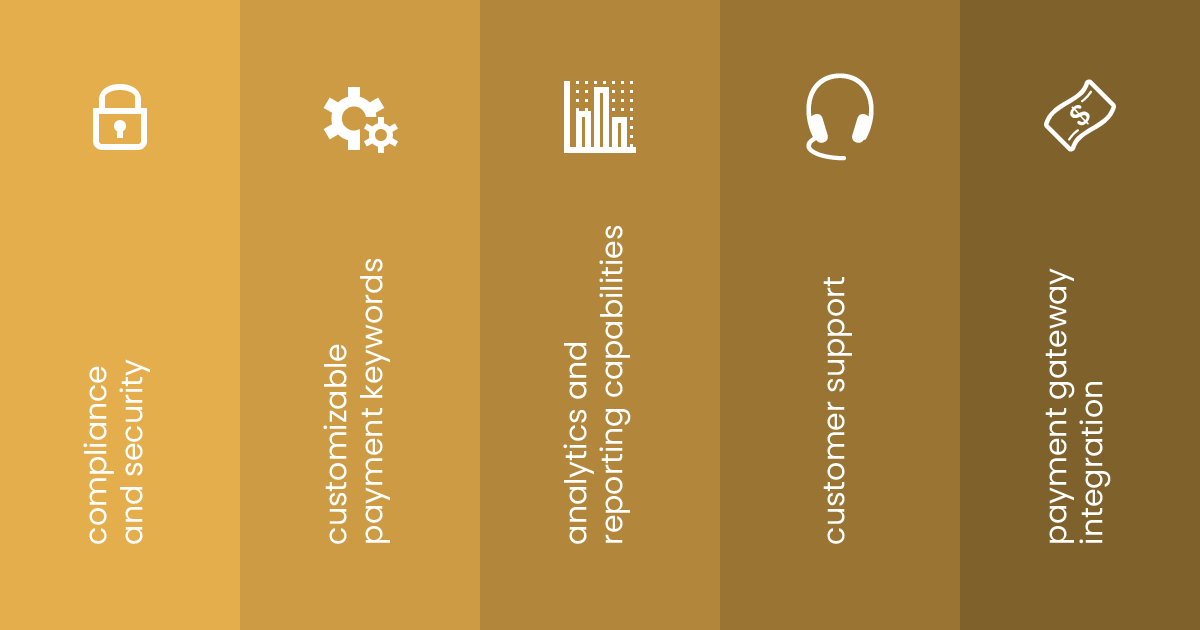 How to Choose a Pay-by-Text Software
To get started with a robust system that lets customers pay by SMS, you'll want the help of a software provider. Choosing one, however, involves considering several factors. These include:
Compliance and Security
You'll want to look for a pay-by-SMS app that is compliant with privacy, data protection, and financial regulations. This helps safeguard customer information and maintain accordance with the law. Keep an eye out for features like secure data transmission and compliance with industry standards. 
Customizable Payment Keywords
Opt for an application that lets you customize your payment keywords. You should be able to set up unique keywords that customers can use to make payments by SMS. Customizable keywords make the payment process more flexible and convenient for users engaging with the system.
Analytics and Reporting
Make sure the software you choose offers solid analytics and reporting capabilities. This lets you gain valuable insights into details like payment trends, customer behavior, and payment success rates. You'll be able to monitor performance and pinpoint patterns, in addition to making informed decisions to optimize the payment processing system. 
Customer Support
Does the software provider offer a good level of customer support and maintenance? You'll want customer support that you can rely on in case you have questions or come across any issues. Besides that, a reputable application will also provide maintenance, bug fixes, and regular software updates to ensure quality customer payment solutions. 
Payment Gateway Integration
Your text-to-pay software should integrate seamlessly with payment gateways that are popular and reliable. This enables the payment process to be fast, accurate, and reliable. Having said that, make sure to go for a gateway provider with a good reputation to guarantee a smooth customer experience.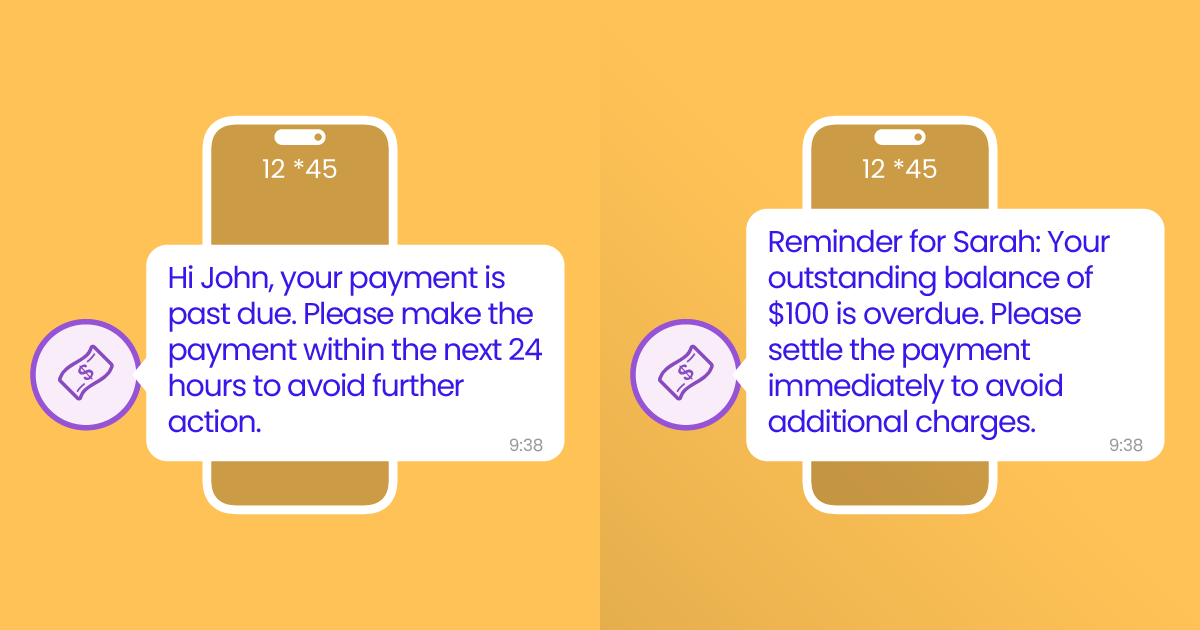 Overdue Payment Reminder SMS Templates
Hey Chris! We noticed that you haven't made a payment on your owed balance of $100. Please take care of this ASAP to avoid any late fees. Thanks!
Hi Mary! This is a reminder that you have an outstanding credit card balance of $200 that is overdue. Please make a payment ASAP to avoid disruption of service. Thanks!
Hello Jan! Just wanted to remind you that you have an overdue balance of $1200. Please make a payment at your earliest convenience. Thank you!
Hi Patty, this is a courtesy reminder that your payment of $300 is now overdue. Please arrange payment as soon as possible to avoid any penalties. Thank you.
John, we regret to inform you that your payment of $250 is overdue. Please arrange payment within the next 48 hours to avoid additional charges. Thank you.
Dear Sarah, this is a final reminder that your payment of $600 is overdue. We appreciate you arranging a payment immediately. Take care!