Reaching out to people today is easier than ever because of the abundance of mobile phones. A study conducted in the United States showed that 96% of Americans use mobile phones and 81% use smartphones.
U.S. Adults Who Own the Following Devices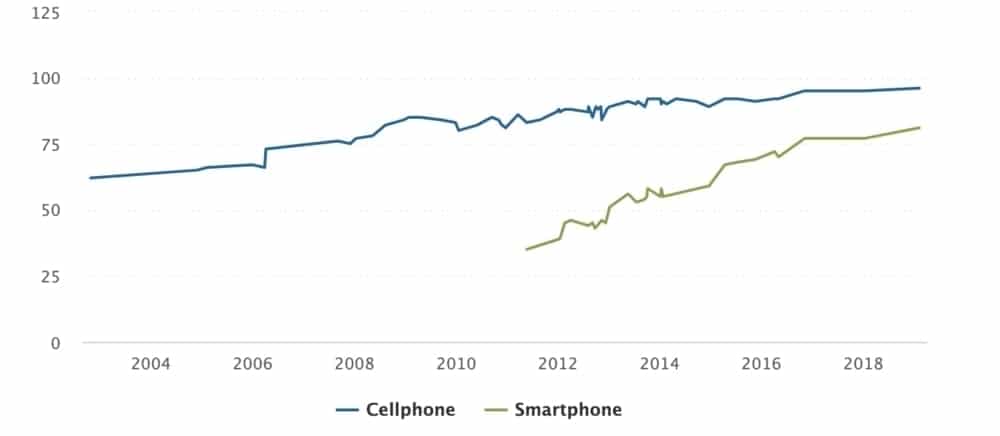 While it may be an asset that most people have a phone and are reachable much easier, it creates a solid ground for phishing crimes and spam messaging. Aside from being annoying for the recipients, those messages can also steal important personal information from the mobile devices.
Thankfully, app developers have created text blockers to ensure secure mobile experience for users. A text blocker, as its name suggests, blacklists text messages and calls from unwanted senders.
There are numerous text message blocking apps for both iOS and Android phones that are easy to find on app stores. Using one is essential if you want keep secret data on your phone. Below we've listed the best SMS blockers for Android and iOS devices.
Call and SMS Blocker for Android
Calls Blacklist is one of the best Android apps to block text messages and calls.

It has a wide variety of features. It particularly stands out with its flexible customization. Calls Blacklist allows you to block numbers with the same first few digits.
This is especially useful when you keep receiving spam calls from another country. Furthermore, this text blocker app has a feature to block numbers only on certain times of a day. You can use this in case you don't want those numbers to call you out of work or during a meeting.
Size: 3.5 MB
Requirements: Android 4.0 or higher
This is yet another SMS blocking app for Android that will keep you safe from unwanted messages.

It also helps to backup and restore messages, which is especially useful when you receive a lot of them.
Key Messages is the only text blocking app for Android that supports MMS features without any hassle. Amazing as it is, this app also clears annoying duplicated text messages. It can fully replace your default messaging app with its functionality. There are only a few free text blockers that can come close to being this practical.
Size: 19 MB
Requirements: Android 5.1 or higher
Call Blocker is a multifunctional call and text blocker app for Android.

It blocks calls and messages from unwanted numbers without any notification. Unlike most of its competitors, Call Blocker has a log for keeping blocked text messages and calls. Additionally, it can identify spam callers and block them by itself.
Size: 3 MB
Requirements: Android 7.0 or higher
If you are looking for a text blocker app for Android to keep your child's phone safe, this one is for you.

This app blocks all the calls and messages from anonymous numbers. You can create a blacklist of numbers manually or from your contact list. It is one of the best android text blockers with its interface.
Size: 2.9 MB
Requirements: Android 4.0.3
Call Control has rather the same text blocking features with most of the apps in this list.

You can choose the blocked calls to be either automatically rejected or picked up and rejected after. It has wildcard blocking and area code blocking features, which are useful for protection against international spammers.
Size: 16 MB
Requirements: Android 5.0 or higher
Blacklist has rather similar features with Calls Blacklist.

The difference is that it only blocks incoming calls. The app has a user-friendly interface and can block complete phone numbers, numbers starting with or containing particular digits. This text message block app will consume only a tiny bit of memory from your phone.
Size: 4.3 MB
Requirements: Android 4.4 or higher
Root Call SMS Manager is an Android text blocker app that supports dual SIM phones and has a built-in scheduler to block numbers on different times.

This SMS blocking app is the lightest in this list. Its system settings are a little complicated, yet the app page on Play Store includes clear instructions.
Size: 1.3 MB
Requirements: Android 2.2
Text Blocking Apps for iPhone
Mr. Number Lookup & Call Block
Mr. Number is the best text blocking app for iPhone.

Its key features include but are not limited to blacklist management, warnings for spam calls and text messages, call blocking based on location, spam call blocking before picking them up and so on. The app has a very convenient feature through which you can look up the numbers calling you in its massive database. The feature also tells you what the name of the caller is likely to be.
Size: 54.5 MB
Requirements: iOS 11 or later
Truecaller is an outstanding text message blocking app that you can use to make calls or even have a free group chat with your friends.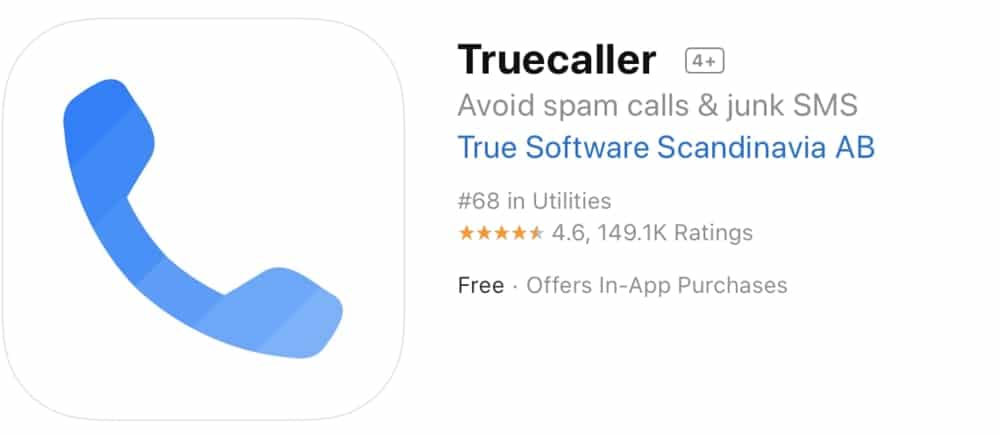 Aside from the very basic functions, this text blocker app allows you to check whether your contacts are on another call or not before calling them. Truecaller also has a database that you can use to look up a phone number and the name of the caller. However, most of these awesome features don't come free. The prices start from $2.99 and can reach up to $249.99. The size of the app is a little larger than the rest of its competitors and it works only with internet connection.
Size: 193.1 MB
Requirements: iOS 11 or later
Hiya is another feature-rich call and SMS blocker app.

It identifies robocalls, telemarketers, debt collectors and blocks them automatically. However, as opposed to the first two apps, you may receive the notification of the call with a spam warning on it. This text blocker has a reverse phone lookup option, which allows you to disclose unsaved numbers with their names. The app is cost-efficient for long term use. Yearly premium package only costs $14.99.
Size: 85.7 MB
Requirements: iOS 11 or later
SMS Shield is a free spam message blocker app for iPhone that finds junk messages with a high efficiency.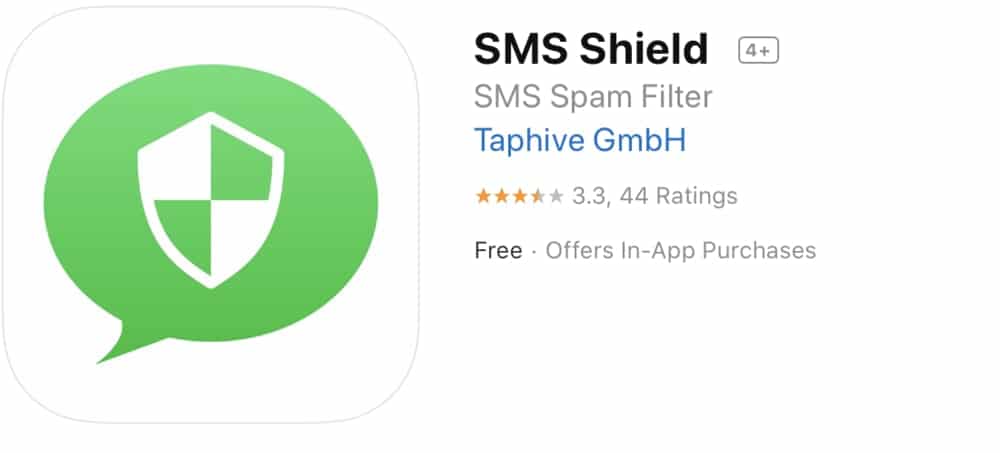 It has a unique feature called "Traveler Mode" for people who travel often. Turning this feature on prevents from receiving unwanted messages from different mobile operators in each country. The advantage of this feature is that it operates in different languages, and so does the whole app.
Size: 13.7 MB
Requirements: iOS 11 or later
VeroSMS is a free SMS blocking app for iPhone that has all of the most basic features for text message blocker.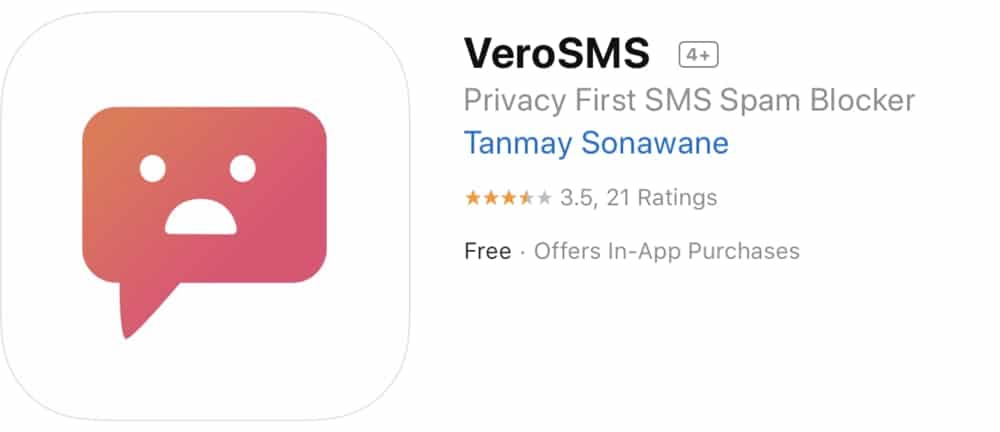 It is simple to use and has a user-friendly interface. The app is only for blocking text messages by keywords. VeroSMS gives unlimited keywords to blacklist or whitelist. You can set the app to automatically block text messages from anyone out of your contact list.
Size: 15.9 MB
Requirements: iOS 11 or later
This is a completely free text blocking app that is worth considering if you live in a non-English speaking country.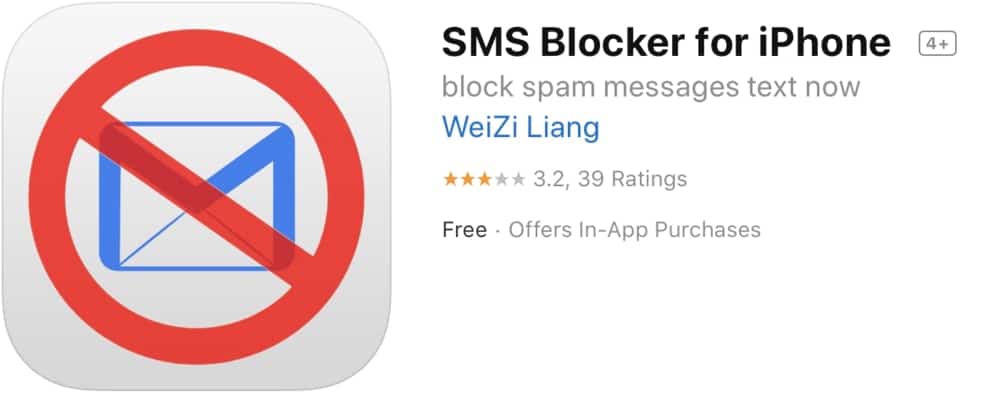 SMS Blocker for iPhone can block text messages in 25 different languages. It is lighter than most text blockers that work with iOS.
Size: 21.8 MB
Requirements: iOS 11 or higher
Call Bliss operates the same way that the rest of the apps above do.

The only difference is that it collects all of the rejected calls in a voicemail to make sure none of them are missed. Call Bliss is very light and easy-to-use. It is also useful for silencing unwanted calls whenever the user wants to concentrate on something else. The app costs only £9.99 for a lifetime subscription.
Size: 5.5 MB
Requirements: iOS 8.0 or later
Manually Block a Number on Android
In case you wonder how to block one number on Android phone without any additional applications, there is an easy way to do that. All Android phones have default call blocker function, which is very easy to operate.
Step 1: Open the phone app
Step 2: Tap and hold on the number you want to block
Step 3: Click on the "More" button
Step 4: Click on "Add to Blacklist/Block/Report Spam"
The call blocker option can be different depending on the device and its operating system version. If the steps above don't work for your phone, you can simply click on the number and look for a "Blacklist" button.
Once you've blocked a number, removing it from the blacklist is very intuitive. On most Android phones you just need to go into the phone app, click on settings (or the three dots), then on blacklist and on the number you want to unblock.
How to Block a Number on iPhone Manually
Similar to Android phones, iPhones also have a call blocker function built-in. It will take you half a minute to manually block a number on iPhone. Here are the 4 steps for it.
Step 1: Open the phone app
Step 2: Click on "Recents"
Step 3: Click on the "i" button next to the number you want to block
Step 4: Click on "Block this caller" at the bottom of the opened page
If you block someone accidentally, you can unblock them by going into Settings > Phone > Call Blocking & Identification. This will show you the list of blocked numbers. You can then tap on Edit button and unblock the necessary numbers.
According to the anti-spam policy of Dexatel, text messages are only sent to numbers that have opted into the system. This decreases the chances of unsubscriptions from SMS campaigns.