The Best SMS Backup Apps to Download Now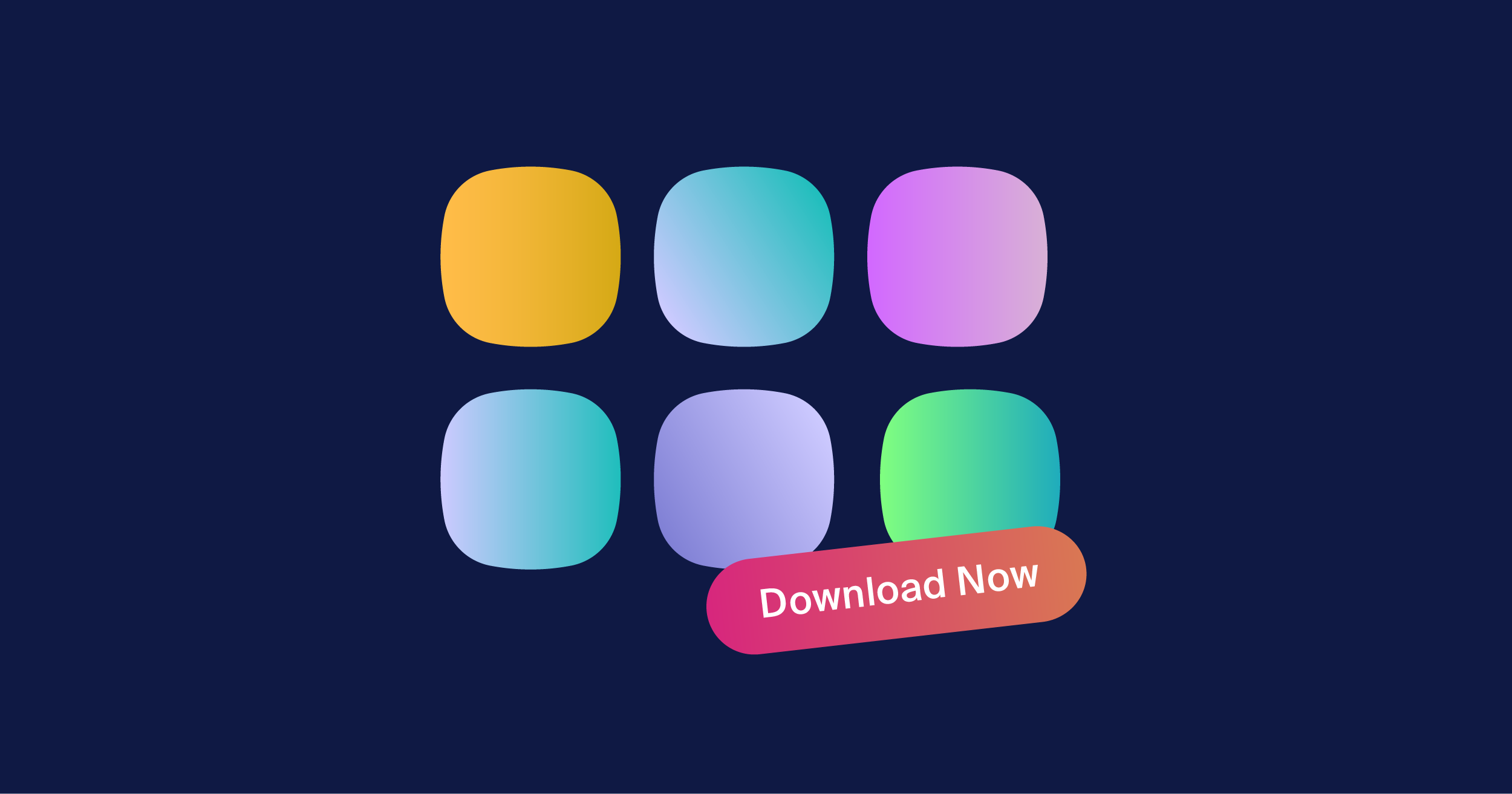 Why is it that when it comes to our mobile phones, we back up our files only when it's too late? Or we end up backing up our multimedia files but forget about text messages? Either way, you're losing important data you could have otherwise saved.
To prevent that from happening in the first place, you can easily download the best SMS backup apps on the market. These apps allow you to easily backup, restore, and transfer your text messages. You can also use these apps to backup multimedia files, call logs, and more. You can easily find the best messaging apps for Android on the Google Play Store. Next time you lose your text messages, you'll have a plan B in place to save the day.
Two Ways to Back up Your SMS Texts
Having access to your SMS texts is pretty important. The good news is, you've got a couple of options to back them up and restore them whenever you need to. 
First off, your trusty smartphone comes with built-in features that make it a breeze to back up your SMS messages. This means you can relax knowing that even if something goes wrong or you accidentally report a text as junk or delete it, you can easily bring it back to life. 
You can also explore the world of third-party apps that offer even more cool features. These apps not only let you back up your messages but also give you the power to pick and choose which ones you want to restore. 
Whether you stick to the built-in functionality of your phone or try out a third-party app, backing up and restoring your SMS messages is a smart move.
Why You Should Have a Plan for Automatic SMS Backup
Backing up your texts is a straightforward process that can be accomplished through your phone's native functionality or by downloading a reliable third-party app. The advantage of using a third-party app is the added flexibility of selectively choosing which SMS content to restore and having the ability to view your messages.
Regardless of the method you choose, it is highly recommended to establish automatic scheduled backups. Your texts hold not only important info but also cherished memories and personal exhcanges, which is why you should prioritize regular backups.
Get Started Now
Reach your clients now and claim your 30-day free trial. No credit card required.
How to Back up and Restore Text Messages on an Android Phone
For Android users looking to back up text messages and restore them, there are two common methods to do so. One method involves using your phone's built-in functionality. This is where you save your conversations on Google Drive. The other method is to use third-party apps.
Method 1: Using Google Drive
If you've ever used Google Workspace, you're probably familiar with Google Drive. It is where your data is automatically saved. This can also include all the restored SMS conversations you have on your Android device. 
1. Go to "Settings" on your phone's home screen
2. Scroll down and select "Google"
3. Tap on "Backup" 
4. Select "Backup now"
To restore text messages from your old smartphone to a new one, sign in to your Google account on your new phone. You should be able to see a prompt about restoring your backup files. Select "Restore" and you'll have access to your SMS messages. 
Method 2: Using a Third-Party App
There's no denying the usefulness of your phone's built-in functionality for backing up and restoring text messages. Be that as it may, it does have its limitations. Both iCloud and Google Drive backups, for instance, tend to expire if you don't use the apps for a certain period of time. That's where third-party applications enter the scene. 
These allow you to view the content of the SMS text messages you've backed up. They also give you control over what you want to restore. 
The Best SMS Backup and Restore Apps for Android
1. SMS Backup & Restore
Developed by SyncTech Pty Ltd., SMS Backup & Restore is perhaps the best free SMS backup app for Android versions. Not only does it restore both SMS and MMS messages on your phone, but it can also do the same for messages from existing backups. While the app doesn't exactly come with a game-changing interface, it boasts an abundance of features that many might find useful.
With an.xml file, you have the option of making backup copies of your SMS, text messages, MMS, and call history. The application allows automated backups to cloud services by connecting Google Drive, Dropbox, and OneDrive accounts. You may also restore backup copies fully or partially.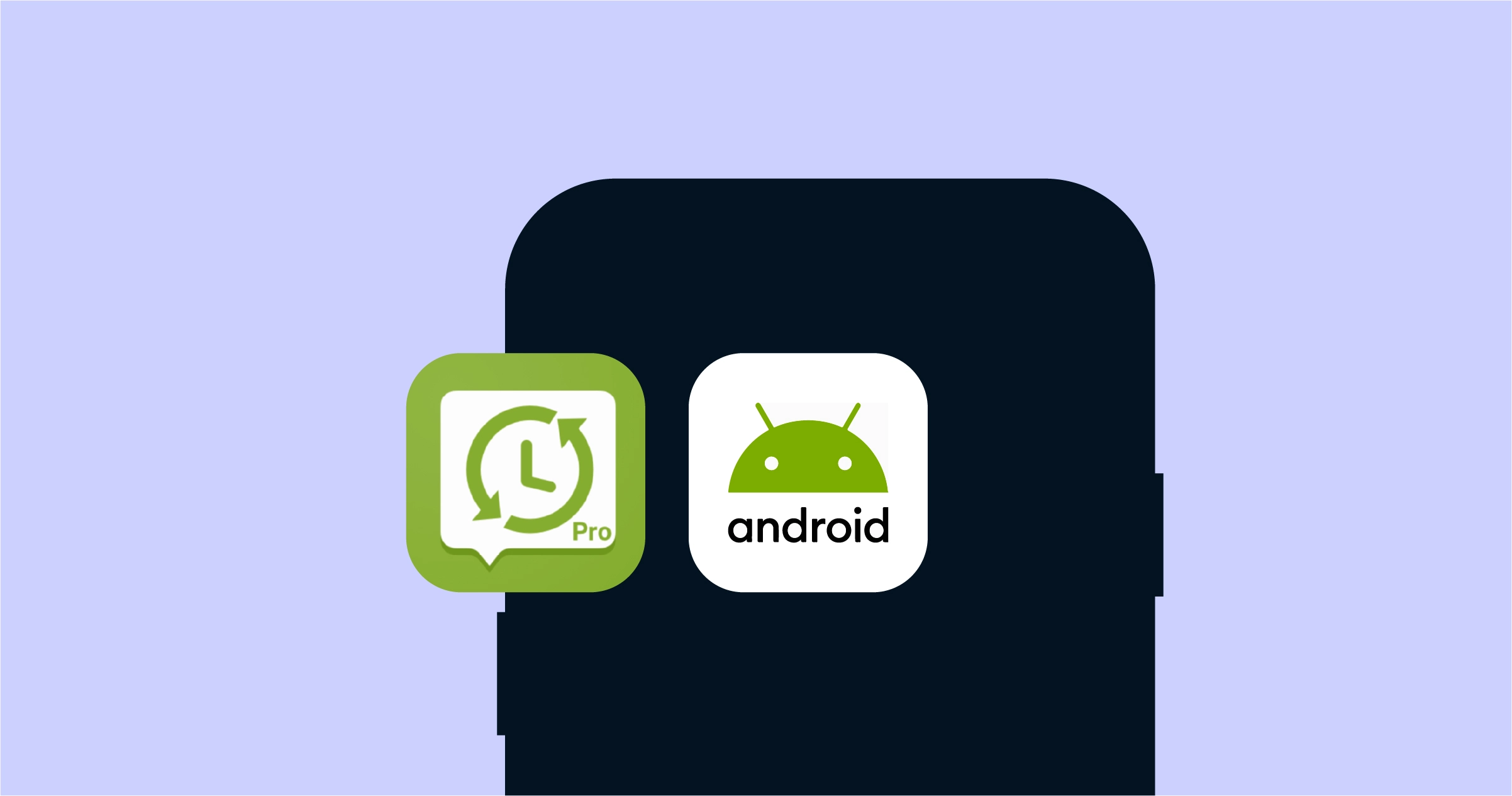 2. SMS Backup+
Another one of the best SMS backup and restore apps for Android, SMS Backup+ is one you can benefit from significantly. This app is connected to Gmail and Google Calendar, making the process all the more convenient. Google users are especially fond of this app because it automatically backs up text messages.
Upon configuring the settings, the app sends your backup file directly to your inbox. With SMS Backup+'s recent updates, you now get to use the app with light and dark themes, as well as experience reliable auto message backups. What's more, SMS Backup+ is free to download.
3. Recover Deleted Messages, Calls
With over 500,000 downloads, it goes without saying that Recover Deleted Messages, Calls is one of the best Android apps for SMS backup. Not only do you get to recover your text messages in one click, but you can also transfer them to your Google Drive.
Thanks to this app, you can search an entire directory of deleted messages hassle-free. Keep in mind that you cannot recover Android SMS messages that were already deleted prior to downloading the app. Your text messages and call logs must be backed up using the app—only then can you actually recover your deleted SMS and calls.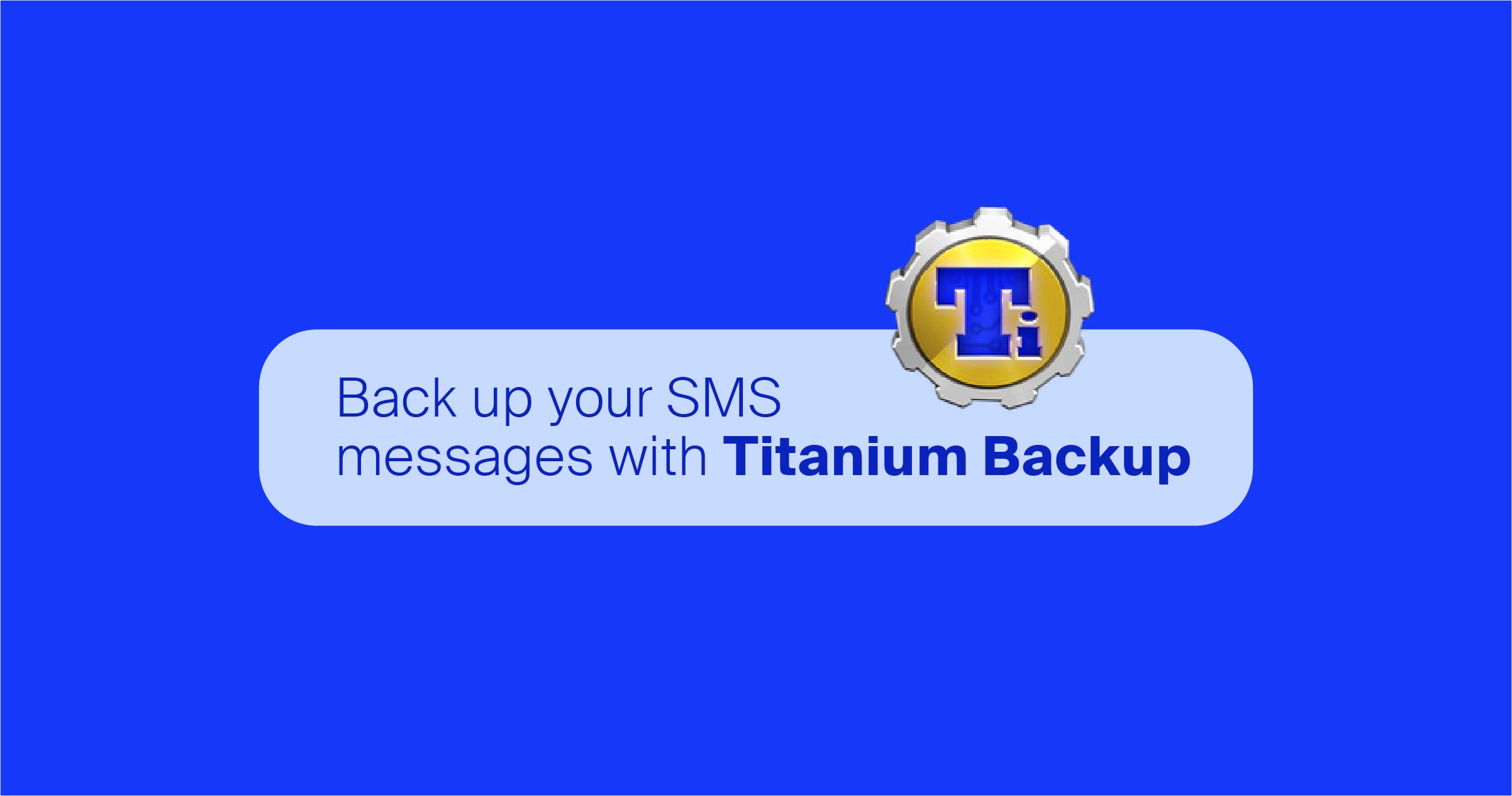 4. Titanium Backup
Titanium Backup is notorious for being the best app to back up SMS on Android phones. With the free version, you can back up your data from the phone's internal memory and SD card. These include backing up messages, contacts, logs, applications, and personal files. You may also take advantage of either full or partial backup.
However, Titanium Backup's paid version provides a more powerful and feature-rich experience. The premium version offers cloud restoration and backup, eliminating bloatware, app hibernation, and more. You may back up specific files, manage schedules, and transfer app data to an SD card. Boasting more than 10 million downloads and is the answer to what is the best SMS backup app for Android devices.
5. My Backup
For ease of use, you can always rely on My Backup, one of the best SMS and MMS backup apps for Androids. The free version allows you to back up to both your device and an SD card. You may also back up and restore with an OTG USB card while scheduling backups automatically. If you have root access, you can also back up data and APKS.
As for the pro version, you can back up data to Dropbox, Google Drive, Rerware Cloud, or simply to your computer if you have a WiFi connection. And with root access, you also get to wipe app cache and data, force close and uninstall apps, as well as freeze bloatware. Even if you don't make in-app purchases, this app is the best free SMS backup app for Android devices.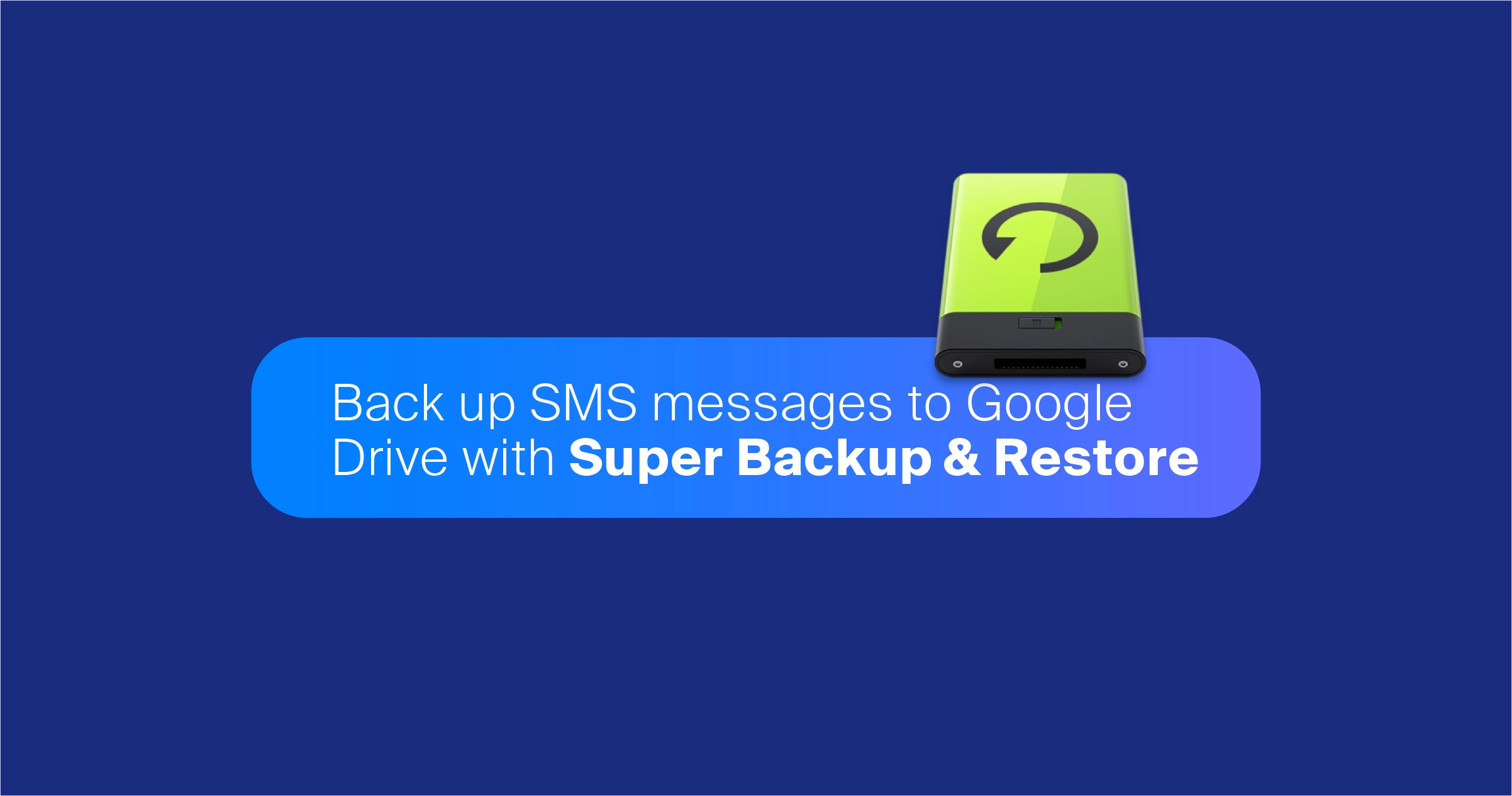 6. Super Backup & Restore
With Super Backup & Restore, you can always expect the best features. As one of the best SMS backup and restore apps on the market, it comes with a voice recording feature as well as a high working speed. Thanks to this app, you can back up SMS messages to Google Drive and even send a copy to the cloud. You may do this both manually and automatically.
Super Backup & Restore also offers voice call recording and saving, a feature that not all backup apps provide. It converts your calls into MP3, and you can listen to them any time you'd like.
7. mysms
Thanks to mysms, you can sync messages across your devices running any operating system. While backing up and restoring text messages isn't its main function, it is one of the features the app offers. When you get a call or message on your smartphone, the free version allows you to send notifications to your computer's browser.
The premium version, however, is the one that lets you back up and restore your text messages. You may also archive your MMS and SMS messages on Google Drive, Dropbox, and more. Additionally, your messages can also be fully exported from SMS to a.CSV file.
How to Back up and Restore Text Messages on iOS
If you're on team Apple, there are three different ways you can back up and restore text messages. The most common method is to use iCloud. Of course, this may require you to buy an iCloud plan, which starts at $0.99 for 50 GB. Other options involve using iTunes or a third-party app. 
Method 1: Using iCloud
Depending on the version of iOS your iPhone uses, there are a couple of different ways you can back up text messages to iCloud. You can either sync your messages without doing a full backup or carry out a full iCloud backup. If your iPhone is running iOS 11.4 or newer, you'll have the option to choose the first way by following these steps:
1. Go to "Settings" on your iPhone
2. Tap on your username at the top of the screen
3. On the Apple ID page, select "iCloud"
4. To initiate the syncing process, swipe down to "Message" and toggle it to the green switch
To restore text messages on your new iPhone, simply go through the setup and select "Restore from iCloud Backup" when the prompt appears. As for the second way, which is possible on any iPhone device with iCloud enabled, you'll be backing up your messages to the iCloud:
1. Check that your iPhone has a WiFi connection and is plugged in
2. Go to "Settings"
3. Tap on your username and then "iCloud" 
4. Select "iCloud Backup" and switch the toggle to green
Method 2: Using iTunes With Your Macbook 
You may be surprised to find out that iTunes is much more than just a music streaming application. It also comes in handy for backing up your iPhone. This includes everything from backup text messages to Whatsapp messages, with the exception of LINE messages. 
1. Connect your iPhone to your Macbook using a USB cable and launch iTunes
2. On the top left-hand corner, choose the device you're planning to back up and click on "Summary"
3. Scroll down to "Backups" and click on "Back Up Now" (make sure "This Mac" or "This computer" is checked)
Method 3: Using a Third-Party App
If you prefer to have complete access to your backed up SMS texts, your best bet is to use a third-party app like TouchCopy. This allows you to handpick which conversations you want to back up, and you'll be able to see them on your computer after doing so. 
1. Download the "TouchCopy" app on your Macbook or PC
2. Launch the app and connect your iPhone with a USB cable
3. Go to the "Messages" tab and find the conversations you want to back up
4. Select the conversations and choose a backup format to save them as 
5. Choose where you want to back up the conversation and click on "Continue"