The Ultimate Guide to Text Message Subscriptions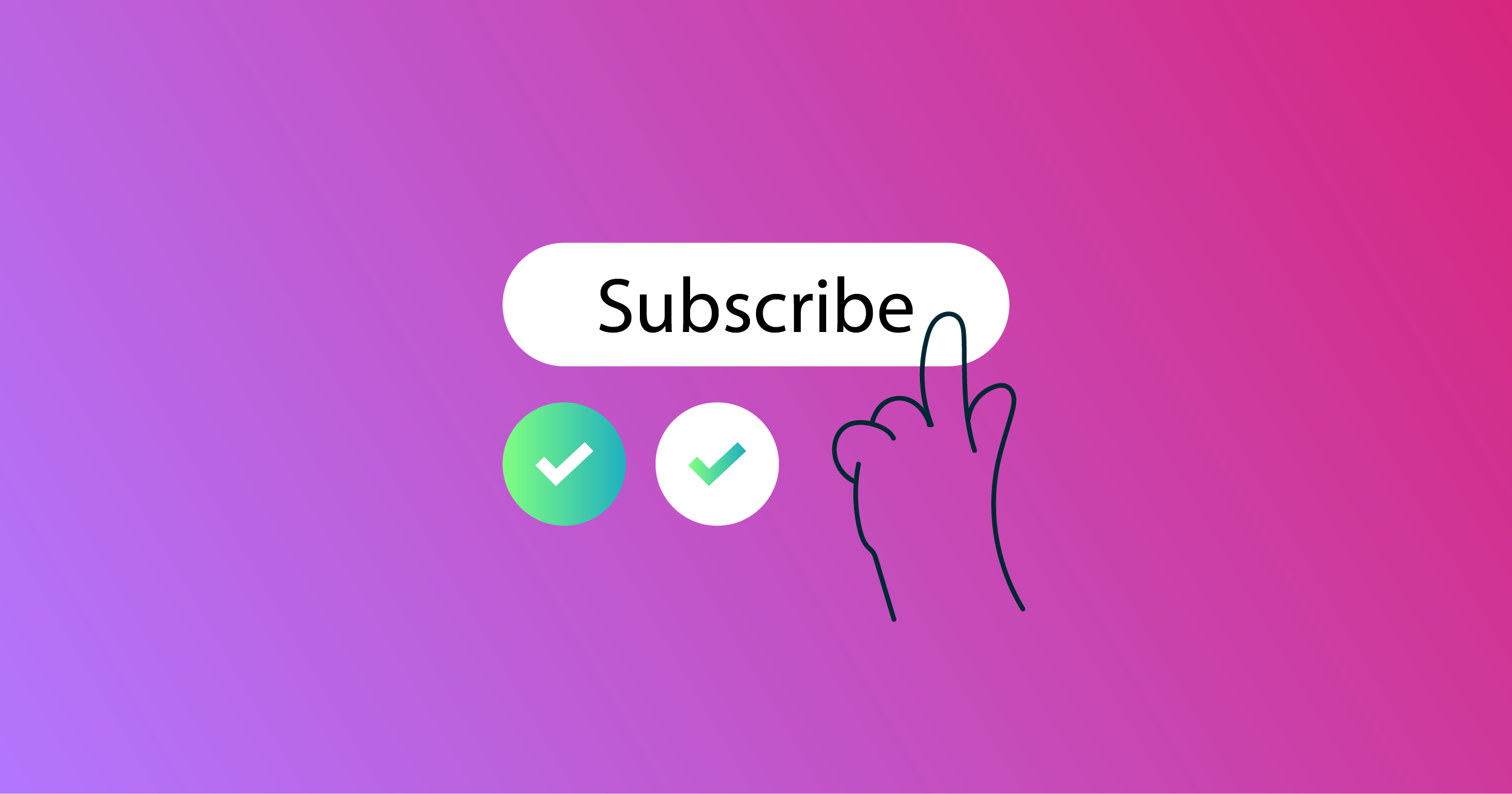 To attract and retain customers, businesses must do everything in their power to ensure the best customer experience. Personalization is the most important factor for delivering the best customer experience. Businesses easily reach their customers with personalized messages thanks to text message subscriptions.
Understanding Text Message Subscription
A business uses this service to create direct customer engagement, ensuring a personalized approach in the process. A customer subscribes to an SMS service to easily communicate with the business and simplify their lives. Advantages include:
Serving as a bridge
Improving communication
Personalizing messages
Building a list of phone numbers
Providing an individual approach
Consumers opt-in, thereby agreeing to receive SMS from a business. This allows businesses to send individual and group messages to clients to make the process straightforward.
According to statistics, 75% of clients prefer to receive marketing messages via SMS.
Businesses send newsletters, coupons, surveys, bookings, special offers, discounts, and more via SMS.
Things to Keep in Mind About Text Message Subscriptions
1. Only Send Messages to Users Who Opted in
Businesses can send and receive SMS only to recipients who have opted in for the listing. By opting in, the recipient permits you to send a message to them.
2. Send Messages During Work Hours
Did you know that certain areas prevent businesses from texting subscribers during specific periods? Refrain from sending messages in the early morning and late-night hours.
3. Create an Easy Opt-In and Opt-Out Process
Make sure to require minimum information for opt-in and make the process smooth. The rule of thumb is not to have more than three to five fields in the form.
The same thing goes for opt-out processes. Remember that businesses need to provide information on opt-out during the opt-in process.
How to Create Subscriptions for SMS
You can create and automate texting programs in a few steps:
No or minimal coding is required
Choose a payment processing platform
Connect the payment platform to your SMS provider
Use autoresponder
An SMS subscription service is helpful to your text marketing campaign. There are many platforms available that businesses can choose from.
Selecting a Platform Provider
1. Ease of Use
User-friendliness is a basic feature that every platform must provide. However, some platforms are relatively easier to use than others.
2. Two-Way Messaging
Most customers opt in to communicate with the business. Therefore, while selecting platforms, it's an absolute must that they provide two-way messaging.
3. Integration
Ensure that the platform has no issues integrating the product with other apps and services. This will come in handy for automating processes in the future.
4. Affordable pricing
The best solution for small businesses is a pay-as-you-go option. This means that you make the payment as you send the messages. There is no prior requirement or obligation involved.
SMS Marketing Pricing
We use a pay-as-you-go pricing model, meaning we charge per sent message. No monthly or sign-up fees. SMS marketing costs vary depending on your destination.
5. Scalability
Select a provider that will have no trouble taking care of your needs when your business grows.
Budgeting for SMS Subscriptions
If you ask us, it's best to allocate a budget for your services. Why?
If you want to provide an excellent customer experience, you can't do it if your customers can't connect with you. Hence, you need two-way messaging right off the bat. With services that provide free SMS, it's usually a one-way street.
In any case, before selecting a provider to work with, you need to research to see what works best for you. Determine the best one that suits your budget, marketing strategy, company goals, and what you can get out of it.
Free SMS Subscription Providers for Nonprofits
1. Twilio
$.0075 per message sent
$500 in-kind grants for nonprofits available
Allows custom message flows but requires knowledge of the platform to customize
2. Expert Texting
$0.0083 per message ($8.30 for 1,000 messages)
Unlimited keywords
Free to receive SMS
3. MoboMix
$50 per month for 2,000 messages
1 keyword
Free to receive SMS
4. Textmarks
Low-cost texting
$199 per month for 3,500 messages
10 keywords
Use credits to send and receive messages
5. EZ Texting
Free messaging tier up to 250 messages per month
$49 per month for 1,000 messages
1 keyword
Free to receive SMS
6. SimpleTexting
Starting at $45 per month for 1,000 messages
Unlimited keywords
Free to receive messages
7. BurstSMS
Available pricing volume discounts
$0.016 per sent message
3 keywords for a short shared code
Free to receive messages
Free Messaging Subscription Providers for Businesses
1. TextEm
Account creation required
No anonymity
Send free messages
Curate a list of frequently used contacts and get their replies back to your account inbox
Doesn't support bulk messaging
Send the same message to several numbers at the same time
Can't send messages outside North America
2. SendSMSnow
Account creation required
Generate phonebooks
Receive replies in your inbox
Paid group messaging
Works worldwide
3. OpenTextingOnline
Account creation not required
Send free messages
Works with carriers in over 50 countries
Supports pictures, videos, and audio content
Supports 140 characters per message
4. txtDrop
Account creation not required
Send free messages
Receive replies in your inbox
Available in the US and Canada
Offers a macOS widget
5. SendAnonymousSMS
Account creation not required
Send free SMS messages
Supports 145 characters per message
Available in over 80 countries
6. TextEmNow
Supports up to 300 characters
Send messages to any mobile number worldwide
7. Globfone
Account creation not required
Send free local, national, and international messages
Doesn't support receiving replies
Doesn't support pictures and videos
Additional Message Subscription Services
1. Skype
Skype doesn't charge you if someone sends you a message. The things to consider are the frequency of messages you send and your target demographic.
2. Bulk 
Bulk SMS messaging helps businesses send discounts, surveys, contests, and any other information deemed relevant. To do so, you must create a marketing list and automate the bulk SMS and mass texting features. Choose a provider with customization features to tweak the messages and target groups.
3. SMS Alert
SMS alerts come with a myriad of benefits. They work for all business types in any industry. From bookings and transactions to news and out-of-stock notifications, SMS alerts are helpful in more than one way. Not only does it automate communication, but it also integrates the alert system with your existing marketing channels.