Everything You Need to Know About Loyalty SMS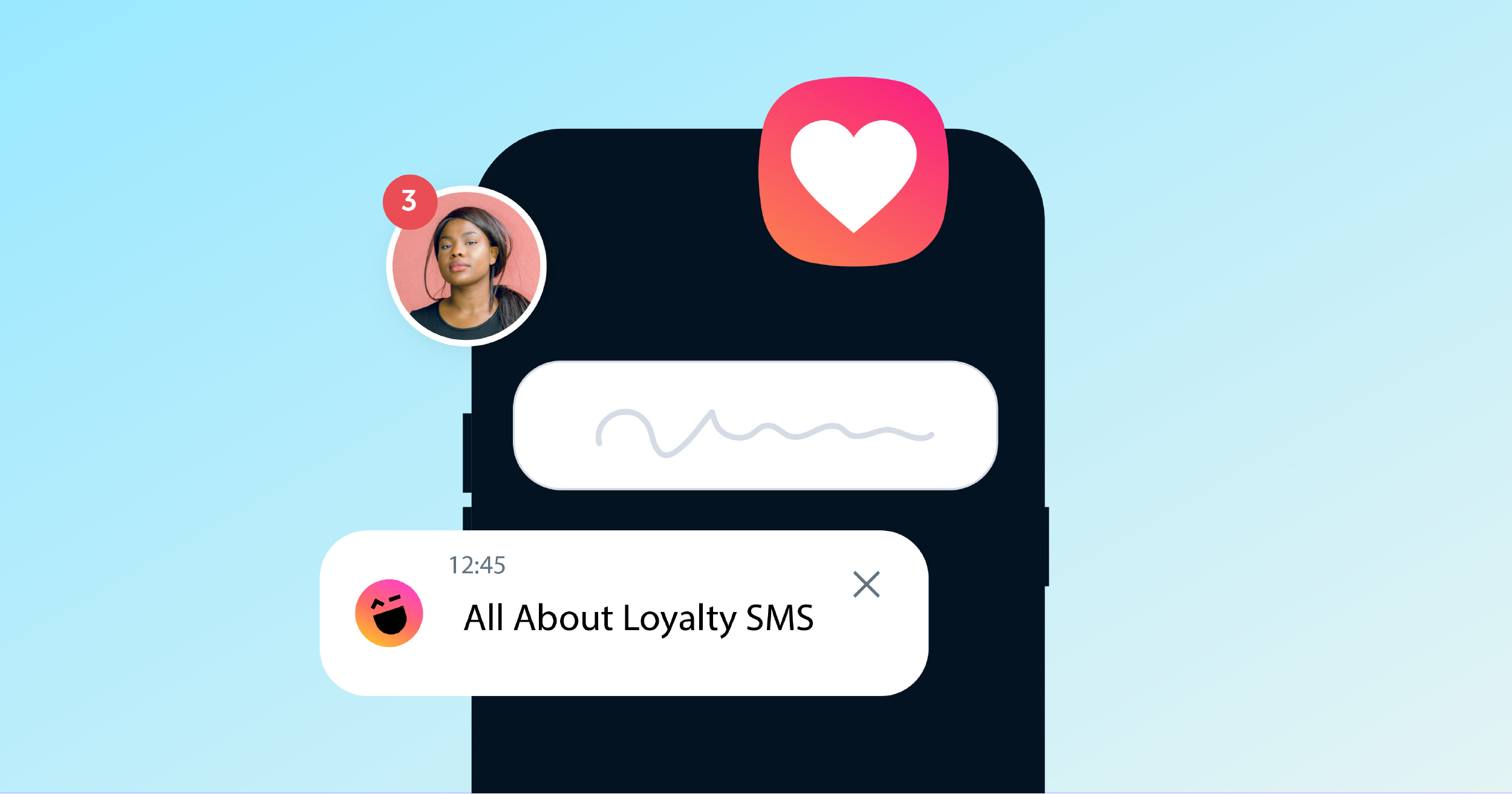 A loyalty SMS is a text message that businesses use to promote customer loyalty. This type of message typically offers a discount or incentive for customers who continue to do business with the company. By offering a loyalty SMS, businesses can encourage customers to keep coming back.
Some businesses use this marketing channel for customer retention as a way to keep them coming back. By sending texts with exclusive offers and coupons, businesses can make their customers feel valued and appreciated. Additionally, loyalty text messages can help businesses boost their sales and bottom line.
What is a Loyalty SMS Program?
Do you know how coffee shops have these punch cards where every fifth cup of coffee is free? Loyalty SMS is the modern version of that—it refers to a marketing strategy that uses SMS to engage and reward loyal customers. 
Customers usually opt-in to receive text messages from a particular business or brand. Once they have subscribed, they receive regular SMS updates about exclusive offers, discounts, promotions, new products, or any other relevant information from the business. These messages are often personalized and tailored to the specific preferences and behavior of each customer.
Why Loyalty Text Messages Should Drive Your Retention Strategy
It's no secret that customer loyalty is the key to a successful retention strategy—but how do you make sure your customers are loyal to you? SMS is a great way to nurture customer loyalty and keep your brand top of mind.
SMS loyalty programs are a powerful tool that should be a part of your retention strategy. SMS allows you to reach your customers with personalized, timely, relevant, and efficient messages. This helps ensure that your customers are loyal to you and that your brand is top of mind.
Get Started Now
Reach your clients now and claim your 30-day free trial. No credit card required.
Not only that, but they can also help generate leads by providing an incentive for customers to sign up for your text messaging service. Once a potential customer opts in to your SMS program, you can start building a relationship with them by sending exclusive offers and coupons.
By providing value to your customers, you can encourage them to purchase your products or services and help generate leads for your business. Here are four reasons why loyalty SMS should drive your retention strategy.
SMS is Personal
Customers appreciate businesses that take the time to send them personalized messages. SMS allows you to do just that—send a message directly to your customers' phones.
SMS is Timely
Unlike email or social media, SMS allows you to send a message to your customers at the moment they need it most. This allows you to provide them with the information they need, when they need it.
SMS is Relevant
Because SMS is so personal and timely, you can be sure that the messages you send are relevant to your customers. This helps ensure that your messages are seen and read, and that your customers are getting the information they need.
SMS is Efficient
Text messages are a great way to reach your customers without having to put in a lot of time or effort. You can send mass messages with just a few clicks, and you can be sure that your customers will receive them.
SMS is Inviting
Loyalty text messages are a great way to keep your customers coming back. By sending out regular messages, you can remind them of your specials and deals, and let them know about new products and services. You can also use loyalty text messages to thank them for their business and encourage them to refer others to your business.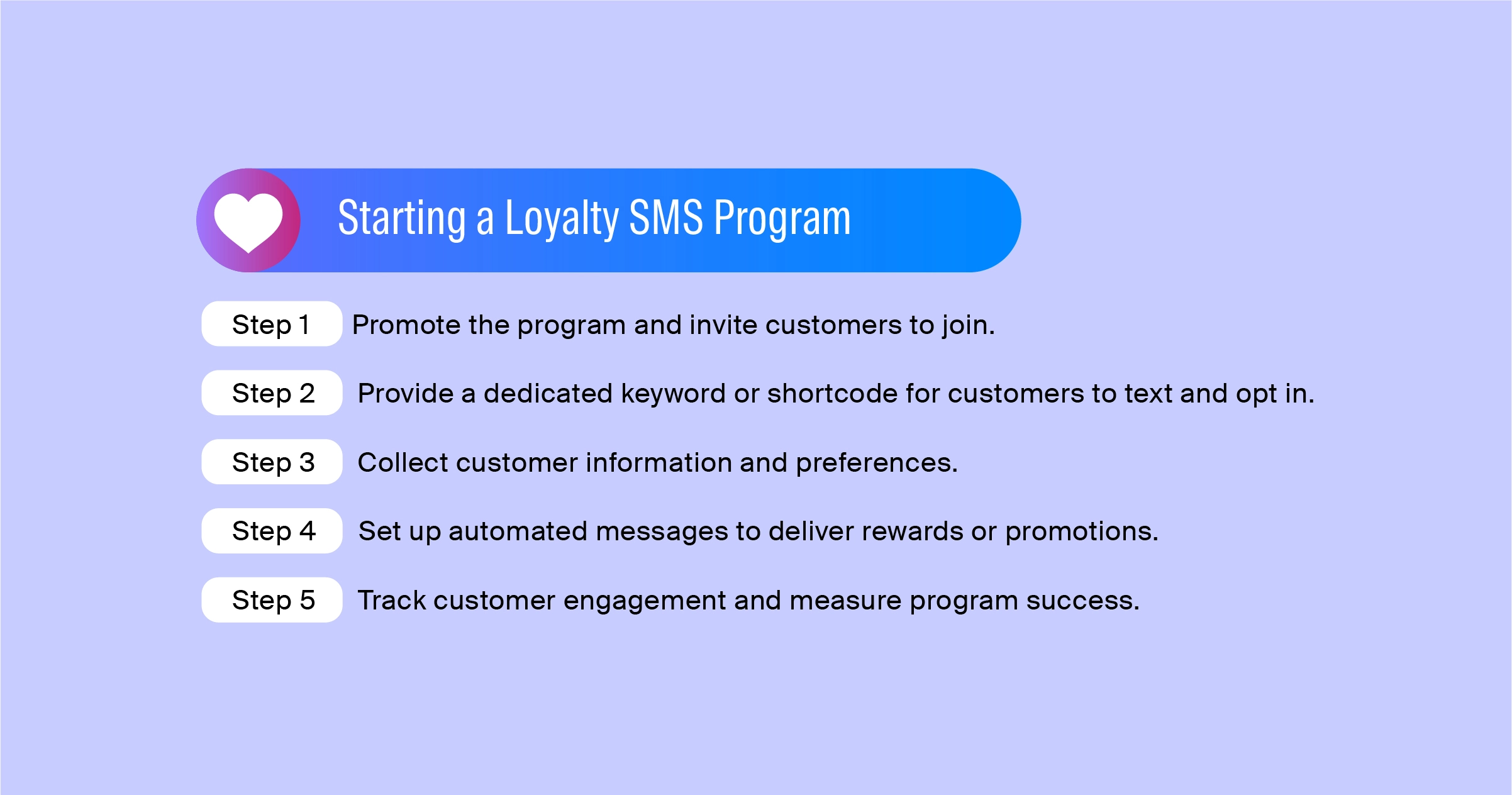 Starting a Text Message Loyalty Program
Define what kind of customer behavior you would like to track and reward.
Choose a catchy name for your text marketing loyalty program and create a hashtag.
Draft a compelling message explaining the benefits of joining the program. Include the hashtag in the message.
Set up an auto-response message to welcome new members and give them instructions on how to participate.
Use a mass text messaging platform to send the message to your customers. Include a link to sign up for the program.
Keep track of who signs up for the program. You can use an SMS loyalty program software to automate this process.
Send out regular messages to loyalty program members. Offer exclusive deals and discounts.
Set up a system to send customers redeemable coupons or rewards.
Use the data you collect from the program to improve your marketing efforts.
Promote your loyalty program to encourage customers to sign up.
Types of Messages For Your SMS Loyalty Programs
Welcome SMS
These are texts that are sent to a new customer or subscriber as a way of welcoming them to the service. It is usually sent from the company or service provider and often includes a promotional offer or discount.
Personalized SMS
These are messages that are crafted specifically for the individual customer. They could include a special offer or discount, a personalized message, or simply a thank you for being a loyal customer.
Engagement SMS
These are designed to encourage customers to interact with your brand and could include things like exclusive deals, invitations to events, discount codes, fun quizzes, or text-to-win games.
Customer Service SMS
These are vital for keeping customers happy and loyal and could include anything from responding to customer inquiries and concerns, to providing helpful information or troubleshooting advice.
Top Tips for a Foolproof Loyalty SMS Programs
Keep it Simple
Don't try to complicate things with too many offers or too much fine print.
Make Sure The Rewards Are Worthwhile
Your customers need to feel like they're getting something valuable in exchange for their loyalty.
Be Clear and Concise
Your customers should know exactly what they need to do to participate and what they'll get in return.
Promote Your Program Regularly
Make sure your customers are aware of your program and how to sign up for it.
Be Responsive to Customer Feedback
If your customers are unhappy with the program, make changes to address their concerns.
The Best Text Marketing Loyalty Programs
Some of the best examples of companies using customer loyalty programs include Starbucks, Dunkin' Donuts, Chick-Fil-A, Panera Bread, and Amazon. All of these companies have implemented loyalty programs that allow their customers to earn rewards for purchases made through their mobile app or SMS messaging system.
For example, Starbucks offers customers who enroll in their SMS marketing loyalty program the ability to earn stars for every purchase made through their app, which can then be redeemed for free drinks or food items.
Dunkin' Donuts offers a similar program, allowing customers to earn points for every purchase made through their app which can be redeemed for free coffee or donuts.
Chick-Fil-A offers a text-based loyalty program that allows customers to earn points for every purchase made through their app, which can be redeemed for free Chick-Fil-A meals.
Panera Bread offers a loyalty program that allows customers to earn points for every purchase made through their app, which can be redeemed for free food items or gift cards.
Amazon's SMS loyalty reward text messages allow customers to receive an SMS with exclusive offers and deals. These programs are a great way for Amazon to stay in touch with their customers and keep them coming back for more.
The Amazon SMS loyalty program is a great way to earn rewards and discounts on your favorite products. To participate, simply text the designated keyword to the designated number. You will then receive a link to opt-in to the program.
Once you're enrolled, you'll start earning points for every purchase you make. You can redeem your points for a variety of rewards, including Amazon gift cards and exclusive discounts.