The Complete Guide to SMS Opt-In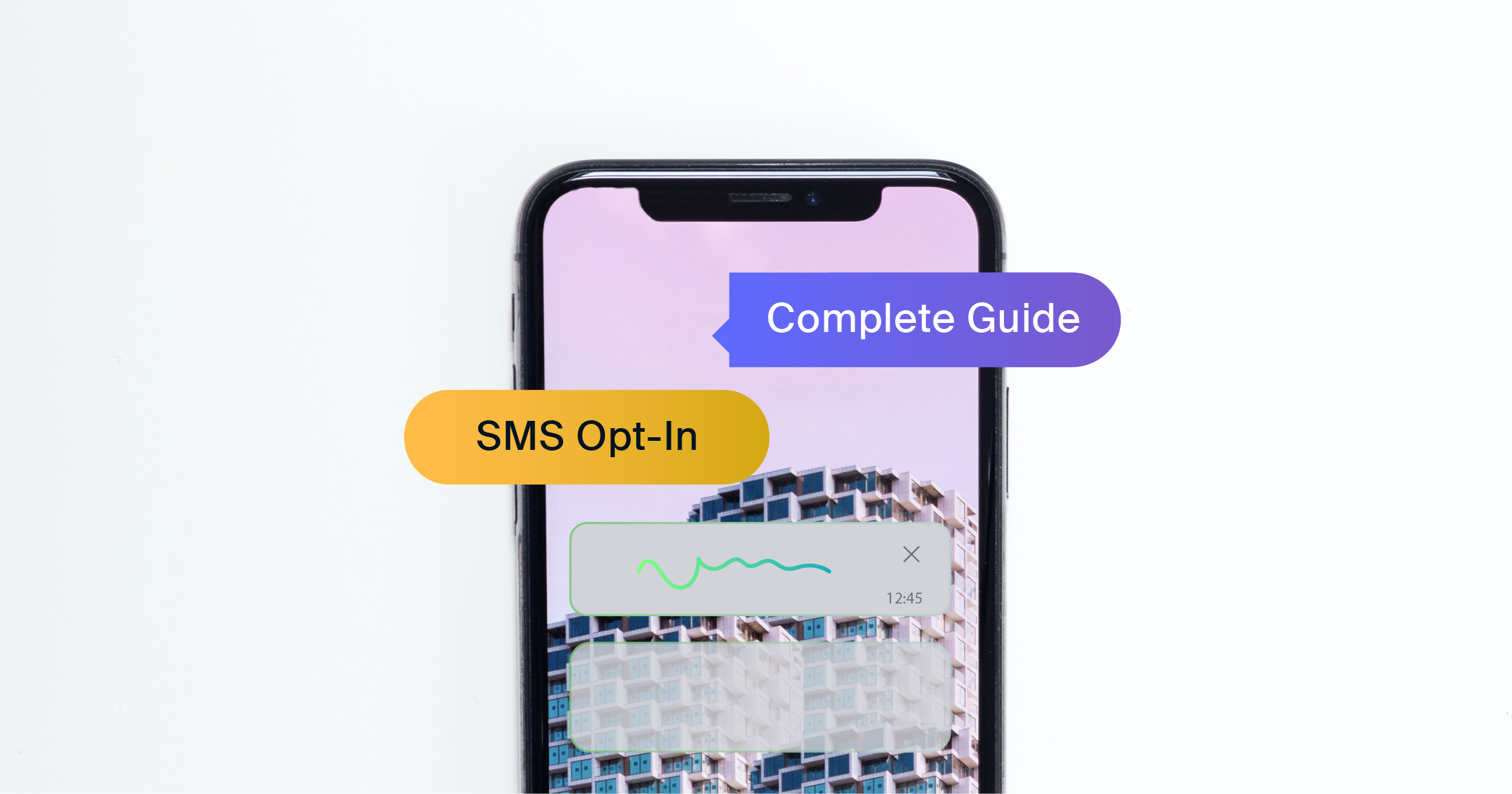 Sometimes it's a confirmation of an order or a shipping update—other times, it's a coupon or promotional offer. But regardless of the message, we all appreciate being kept in the loop by the businesses we've chosen to do business with. And to do this, there is the very first step—opting in.
We don't randomly receive these messages from businesses; it's us who usually request them to be sent. These are called SMS opt-in texts. And if you didn't provide your contact information to subscribe to the texts, these SMS messages are probably flagged as spam.
What Does "Opt" Mean In Text
Giving permission for something or selecting from a selection of possibilities is what the word "opt" denotes. Not clear yet? Here's what "opt" means in text messaging.
An SMS opt-in is the process of obtaining consent from a mobile phone user to receive SMS messages from a mobile phone carrier or another service provider.
The opt-in process typically involves the customer sending a text message to a short code or long code operated by the company, or replying "Y" or "YES" to an opt-in message. The business then gathers their phone numbers and uses them for text marketing campaign purposes.
This feature allows customers to sign up to receive text messages from a business. This can be an effective way to stay in touch with customers and promote special offers or discounts. Businesses can also use SMS opt-in messaging to remind customers of appointments or events.
There's also another concept called a double opt-in. An SMS double opt-in is a system used to confirm that a person who has signed up for something truly wants to receive information or updates from the entity they've signed up with.
For example, a person might sign up for a newsletter by providing their phone number. The organization they've signed up with would then send a confirmation message via text, and the person would need to reply to that message to confirm their sign-up. This two-step process helps to ensure that people only receive information that they actually want to receive, and helps to avoid spam.
Get in Touch With Our Experts
Streamline your efforts and centralize your channels with Dexatel's all-in-one platform. Talk to our experts and get all your questions answered.
SMS Opt-in Text Message Examples 
To opt in to exclusive offers and discounts, text JOIN to 55555.
Text MONKEY to 55555 to join our VIP text list & receive exclusive offers!
Get exclusive deals! Text VIP to 55555 to join our VIP text list.
Why Do You Need Opt-In Messages
Opt-in text conversations are important because they allow you to confirm that someone wants to receive your messages before they start receiving them. This can help to avoid annoyed recipients who didn't sign up for your messages, and it can also help to ensure that people who do sign up are more likely to be engaged with your content.
In general, it's a good idea to have an opt-in message any time you're going to be sending messages to a group of people. This way, everyone knows what to expect and can decide whether or not they want to receive your messages.
In this day and age, it is more important than ever for businesses to have an opt-in message in place. This is because opt-in texts offer a way for businesses to stay in touch with their customers and to build rapport with them.
There are a number of benefits that come with using an opt-in text message service for business purposes. For starters, it helps to ensure that customers actually want to hear from the business. This is because customers have to actively sign up to receive the message, which weeds out those who are not interested.
Another benefit is that it can help to build a customer database. This database can then be used for SMS marketing purposes, such as sending out targeted messages.
Overall, the use of SMS opt-in is beneficial for both large and small businesses. It helps ensure that customers actually want to hear from the business, and it can also help to build a database of customers.
How to Get Started With Opt-In Text Messaging
Start by creating a new contact or importing your contacts into an SMS platform like Dexatel. You may use it to send reminders, alerts, marketing messages, or any other purpose—as long as your customers have opted in.
Next, decide which keywords you want to use for your opt-in text marketing messaging campaign. Keywords should be short, descriptive, and easy to remember. For example, you might use "TEXT" as your keyword for a contest.
Now it's time to create your text message. The message should be clear and concise, and it should explain what the keyword is and what people need to do to opt in. For example, your message might say, "Please reply with the word 'TEXT' to 12345 to enter our contest." Do make sure to have a call-to-action in your message.
Finally, send your text message to your contacts and wait for the magic to happen!
SMS Opt-In Best Practices
Clearly and conspicuously disclose that the individual is agreeing to receive future commercial messages from you.
If you require an opt-in to send commercial messages, do not bury the message within your terms and conditions.
Do not make the individual log in or provide personal information in order to opt in.
Do not make the customer opt-in to receive other types of messages before they can opt in to receive commercial messages.
If you have already collected their contact information, do not require them to opt in again in order to receive commercial messages.
Do not use pre-checked boxes or other default settings that indicate that the customer agrees to receive commercial messages.
Do not use misleading or confusing language in your opt-in message.
Do not require an individual to opt-in to receive commercial messages as a condition of purchasing a good or service.
What Are Opt-Out SMS Messages
An opt-out SMS is a message that a customer can reply to in order to stop receiving future messages from a company. This could include marketing messages, appointment reminders, or other types of automated messages.
There are a lot of reasons why people might want to opt out of SMS messages. Perhaps they find SMS messages annoying and prefer to communicate in other ways. Whatever the reason, there should be an easy way to opt out of SMS texts.