Everything You Need To Know About SMS Vs. iMessage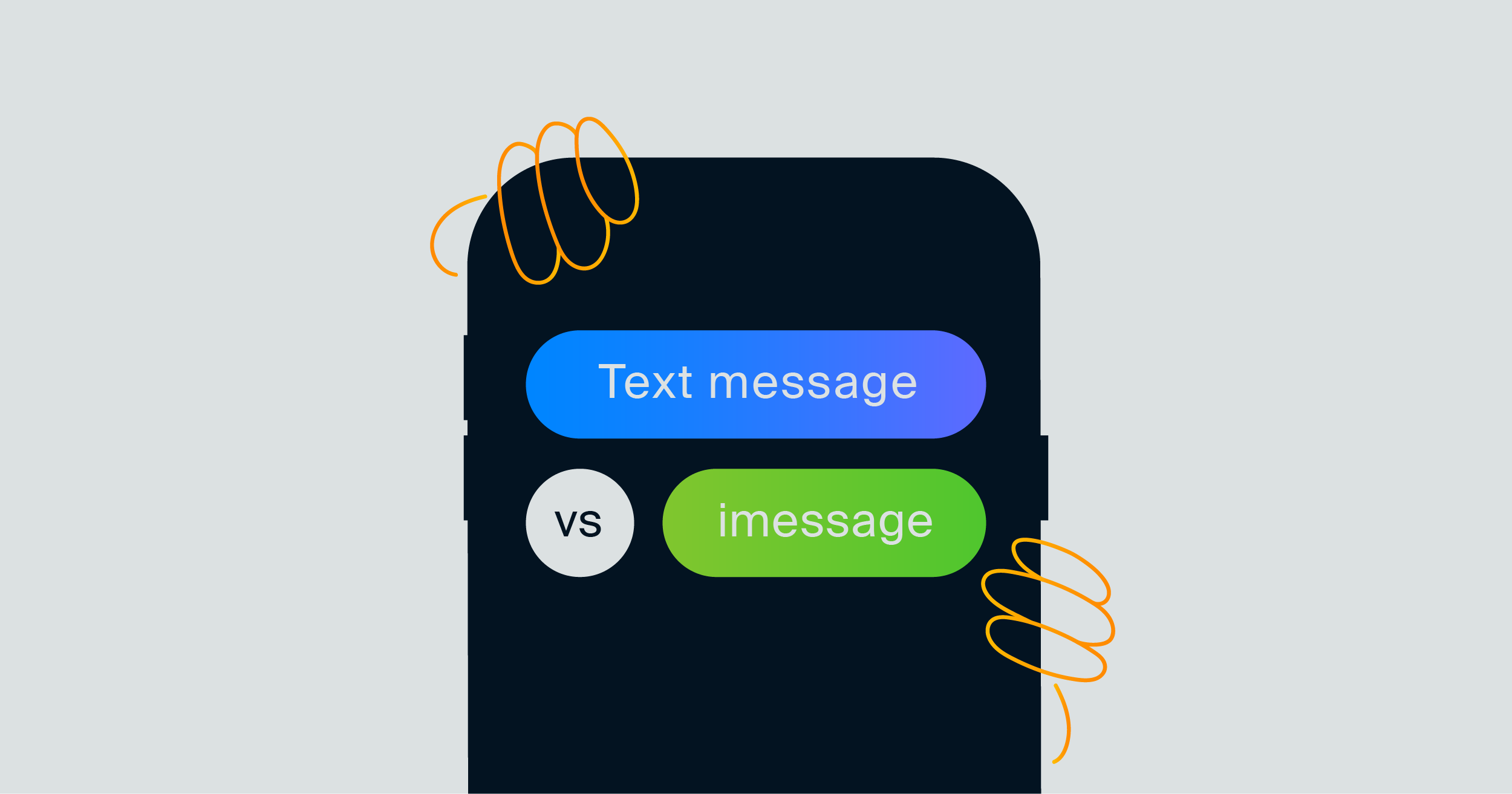 There's a growing demand for new communication methods that satisfy just about anyone. It only makes sense for companies to create communication strategies that will help select the best methods for their businesses. But before choosing a communication method, it's important to understand what strategies you need.
Any research you conduct will eventually provide the same answer: text messaging. Messaging provides fast, easy, and accessible prices to reach your target audience and increase conversion rates. Not only is it one of the fastest-growing sectors in technology, but it also comes with an abundance of advantages.
With countless texting apps on the market, finding the one that resonates with your purpose can be overwhelming. The most popular means of text messaging are SMS and iMessage.
Understanding Text Messaging
Text messaging is the act of sending a message over a cellular network—like SMS and MMS—requiring no WiFi or a data plan. The message is transmitted as a binary code from one cell tower to another. Since text messaging uses radio wave frequency, the sender and receiver don't need a smartphone to send messages—any cell phone will do the trick. However, if you want to send messages worldwide, you need a specific international carrier along with other necessities so your text messages aren't delayed.
Defining SMS
SMS stands for Short Message Service, which uses standardized communication protocols that let mobile devices exchange short text messages. SMS allows users to send and receive messages of up to 160 characters. Sending SMS messages doesn't require WiFi or a smartphone, although there are certain ways to send SMS over WiFi. The best part about SMS is that their open rate is as high as 98%, meaning the receiver almost always sees your text messages.
Get Started Now
Reach your clients now and claim your 30-day free trial. No credit card required.
Businesses opt for launching campaigns since it provides limitless chances to deliver messages via mass texting. A well-thought-out campaign is a tried-and-true method of informing clients about future promotions, product launches, events, and specials. SMS messaging marketing is an affordable and contemporary technique for connecting with clients from a financial standpoint.
Defining iMessage
iMessage is Apple's native instant messaging service that functions exclusively on Apple devices. With iMessage, you can send texts, photos, videos, and emojis to other Apple devices with WiFi or cellular-data networks. The messaging app on your iPhone allows you to create group chats, send multimedia files, and more to other iMessage users.
iMessage has a benefit that stands above all: Apple Business Chat. Businesses can integrate this feature into their communication strategy and reach their customers through the app. The advantages of Apple Business Chat include personalized customer service, placing orders, making transactions with Apple Pay, and using virtual assistants.
Difference Between SMS and iMessage
Devices supported
SMS is available on virtually every phone and tablet as long as it is attached to a phone number. Since SMS is a generic text message, the technology plays no decisive role in transferring the text message. Basically, you don't need a smartphone, Android phone, or iPhone to send an SMS. 
However, with the advent of smartphones and mobile apps, there are now more ways to send and receive text messages than ever before. In addition to the traditional SMS, there are many messaging apps for Android that offer more features and functionalities.
iMessage, on the other hand, is available on Apple devices. If an iPhone user sends a message on iMessage to a non-Apple device, it will be converted to an SMS.
Routes
SMS is sent over a cell phone network, bouncing from cell tower to cell tower. The device you're sending the SMS to doesn't necessarily have to be a smartphone as long as it has a cellular connection.
iMessage requires an internet connection. If you have neither WiFi nor a data plan, you won't be able to use the Apple messaging app.
Character Limit
SMS has a character limit of 160. If you send more than the limit, the system counts it as a second message and you'll be charged extra.
While iMessage doesn't officially have a character limit, some users have complained of having message errors when approaching 20,000.
Visibility
iPhone users will notice that some of the sent messages are in green and others are in blue. The colors indicate which message sent is a text message (in green) and which one is an iMessage (blue).
Takeaways
Essentially, the most important difference between iMessage and SMS is how the data is transferred.
With no character limits and the ability to send different types of messages, iMessage is a safe bet for businesses. Meanwhile, SMS has been around for a much longer time. Despite WiFi networks being available everywhere, SMS relies on cellular networks instead.
At the end of the day, the answer to this dilemma depends on the business needs. Whether the advantage would go to the SMS or iMessage, it all comes down to the company strategy, budget, and communication requirements.