30 Order Confirmation Text Message Examples You Can Borrow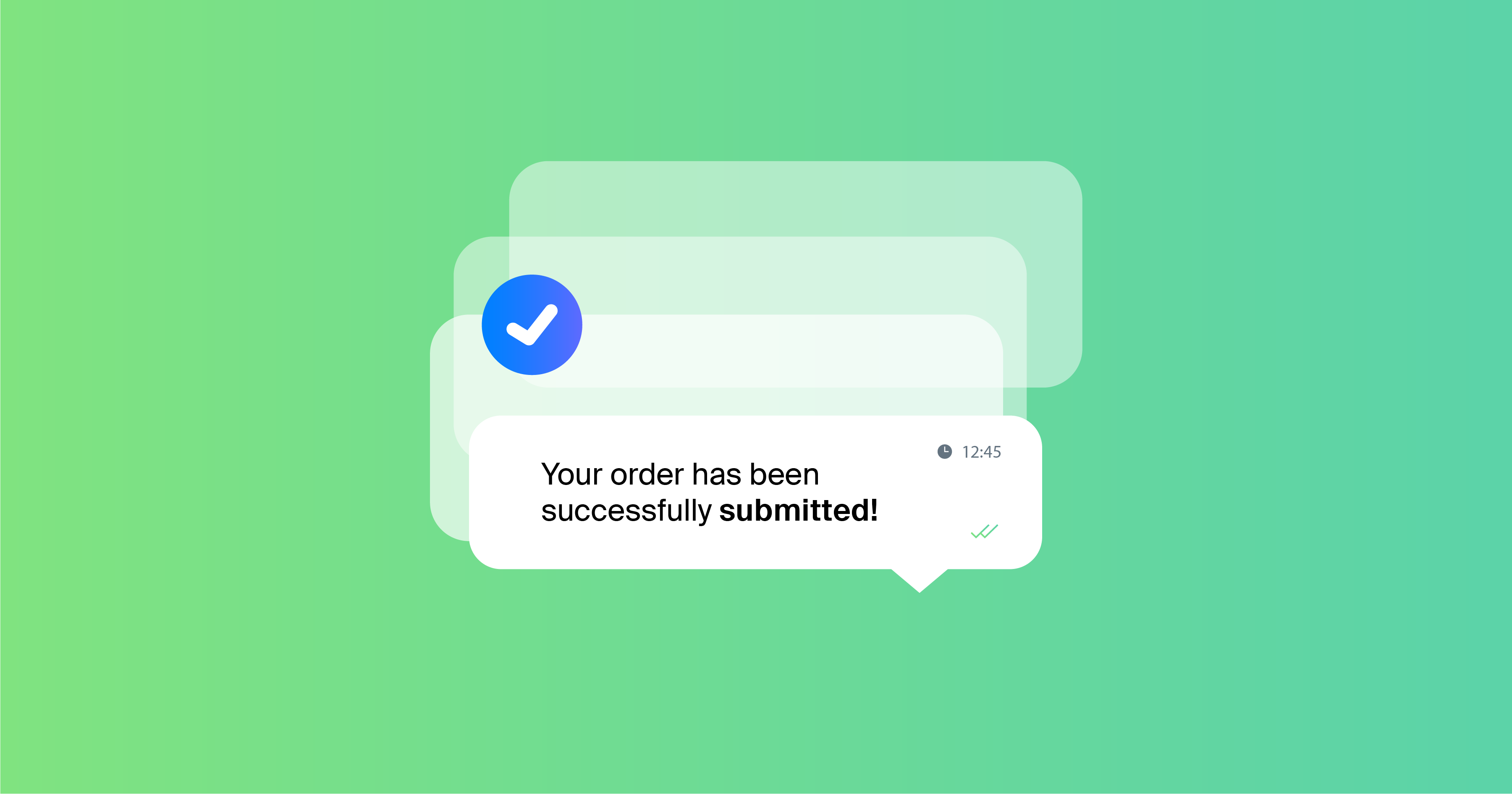 From order confirmation text messages to arrival alerts, transparency is essential in online retail. Customers want to know where their orders are throughout the whole eCommerce fulfillment process. The speed and efficiency of SMS messaging make it easier to keep customers up-to-date—even more so when there's a business text messaging service involved.
Let's not forget that writing an order confirmation SMS requires a personal approach. And to give you an idea, we've compiled a handy list of samples for your convenience. 
What Is an Order Confirmation Text Message?
An order confirmation text message refers to an SMS you send to a customer who has placed an online order with your store. You can automate these notifications by using a platform with your point of sale and order fulfillment systems. The platform sends a personalized automated SMS text every time an order takes place or changes its status. What makes order confirmation messages effective is that they have a significantly higher open rate than emails. 
Order Confirmation Text Message Samples
Following up with orders at every stage goes a long way in improving customer experience. This means letting the customer know when their order is confirmed and out for delivery. You'll also want to send SMS alerts regarding shipment updates and package arrivals. Here are some order confirmation SMS templates to get you started.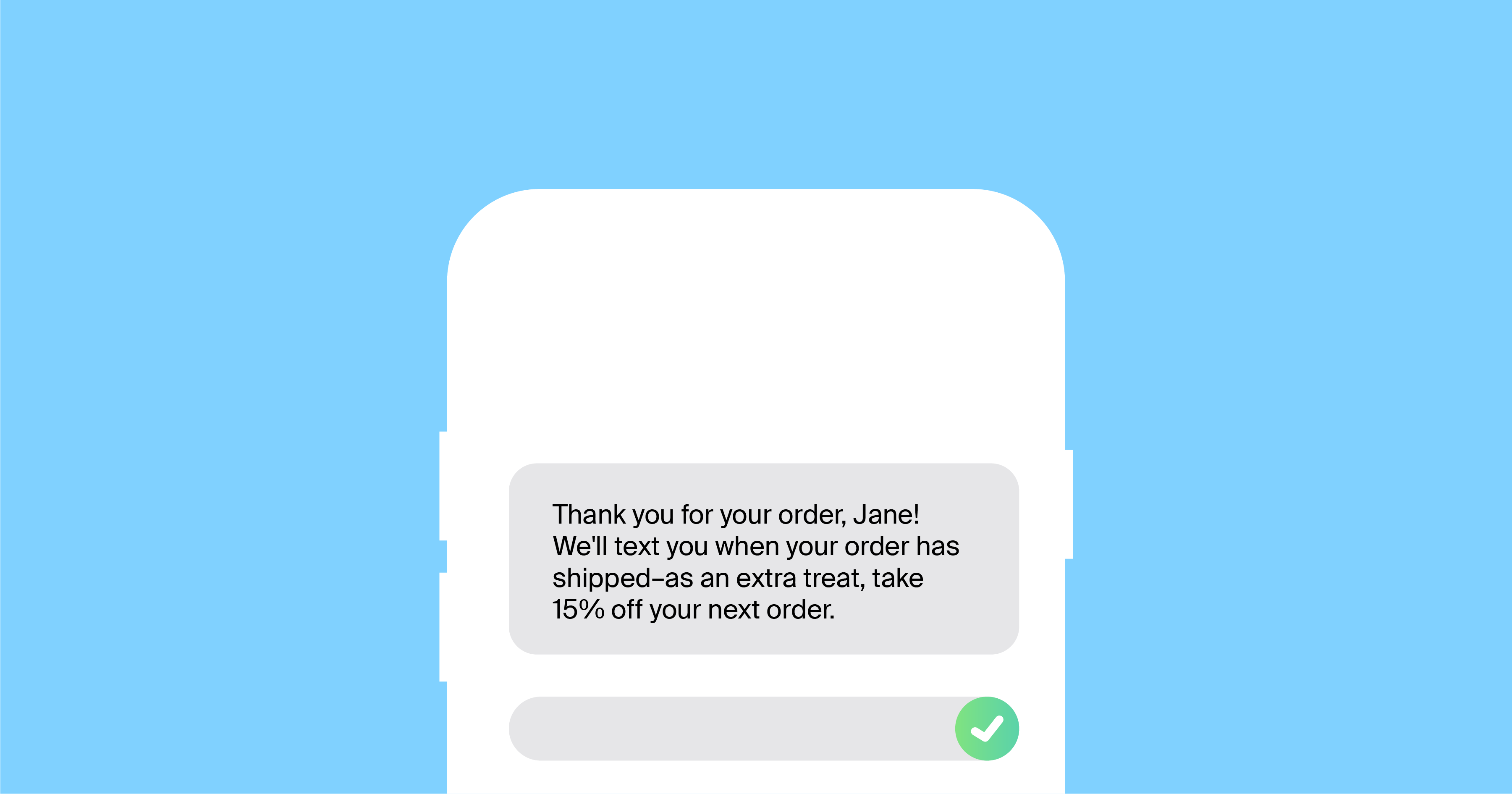 Order Confirmation SMS Examples
Once a customer makes a purchase, your first course of action is to send a customized SMS confirming the order. Some order confirmation text message samples include:
Hi Jennifer, thanks for placing your order with us. Your package is being processed and will be on its way soon. You can track your order at http://bit.ly/p1we1.

Hello David, we've received your Shirtera order number #123456. You'll get another text when it's out for delivery. Go to http://bit.ly/p1we1 for updates. 

Hey Albert, thank you for shopping at The Full Cart! Your order has shipped and its number is #123456. Here's your tracking link: http://bit.ly/p1we1

Thank you for placing an order at Cheeseburger, Patricia! We'll let you know when your meal is on its way. 

Congratulations, Paula! You've just placed your first order with Shirtera! As a thank you, we're giving you 20% off on your next order. 

Hey Alex, your order with The Full Cart is confirmed. We're preparing your package right now. Check for shipment updates here: http://bit.ly/p1we1 
Order Shipment SMS Examples
Next, you'll want to inform your customer when their order is out for shipment. Some automated text examples include:
Hi Helena, we've got some good news for you! Your order is packed and on its way. You can track your package here: http://bit.ly/p1we1 

Hello Clarice, We're happy to tell you that your order from The Full Cart has shipped. You should receive your package in 3-4 business days. 

Great news, Jim! Your package is out for delivery. To track your order, go to http://bit.ly/p1we1 

Hey Michael! We've sent out your order from Cheeseburger. Your driver, Tony, is on his way with your meal.  

Hi Angela! Your order from Shirtera is out for shipment! We've included a small gift too. Visit http://bit.ly/p1we1 to track your package.

Hello Karen! Your yoga mat is on its way and will arrive in 2-3 business days. For real-time tracking, go to http://bit.ly/p1we1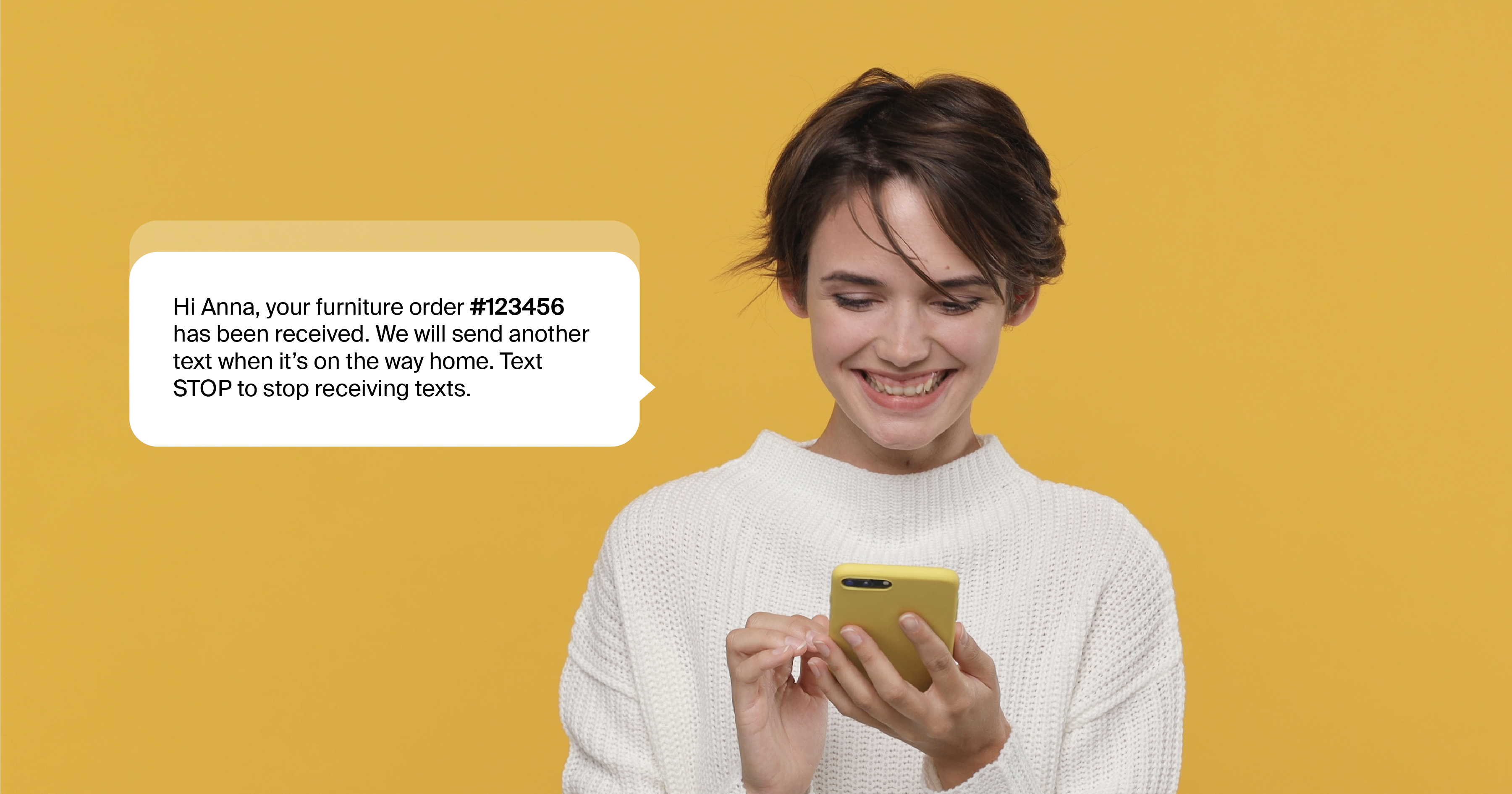 Transit Status SMS Examples
After sending order confirmation text messages and out-for-delivery notifications, it's also a good idea to keep your customer posted with updates during transit. You can send them messages like these:
Hey Natasha, your package from The Full Cart is expected to arrive tomorrow at 3 p.m. Stay tuned for updates. 

Hi Andy, your order has left the final checkpoint and is on its way to your doorstep. You can track the package right here: http://bit.ly/p1we1 

Hello, Kate! Your order from Shirtera is estimated to arrive today. Visit http://bit.ly/p1we1 for live tracking. 

Today's the day, Nicole! Expect to receive your package at around 3 p.m. Go to http://bit.ly/p1we1 to track its progress. 

Good news, Martin! You'll have your package by the end of the day. For more updates, go to http://bit.ly/p1we1 

Ready for your package, Tom? Delivery is scheduled for 8 p.m. Call us at +1-202-555-0157 if you have any questions
Order Delivered SMS Examples
Finally, make sure to let your customer know when their package has arrived. You can also ask them to leave feedback. Here are text message templates:
Hi Monica! Your package has been delivered. Let us know what you think by replying with a 1-5 rating. 

Hey Xavier, your order has been successfully delivered. We hope you like it! Don't forget to give us your feedback here: http://bit.ly/p1we1 

Great news, Peter! Your order from The Full Cart has arrived. Make sure to contact us if you have any questions.

Hey Eric, your Cheeseburger order has arrived. Enjoy your meal and remember to rate us here: http://bit.ly/p1we1 

Hello Jessica! Your package from Shirtera has arrived. We'd love to see your new fit on our social media. Don't forget to tag us!

Hi Samuel! We've received an update that your order has been delivered. Feel free to leave a review here: http://bit.ly/p1we1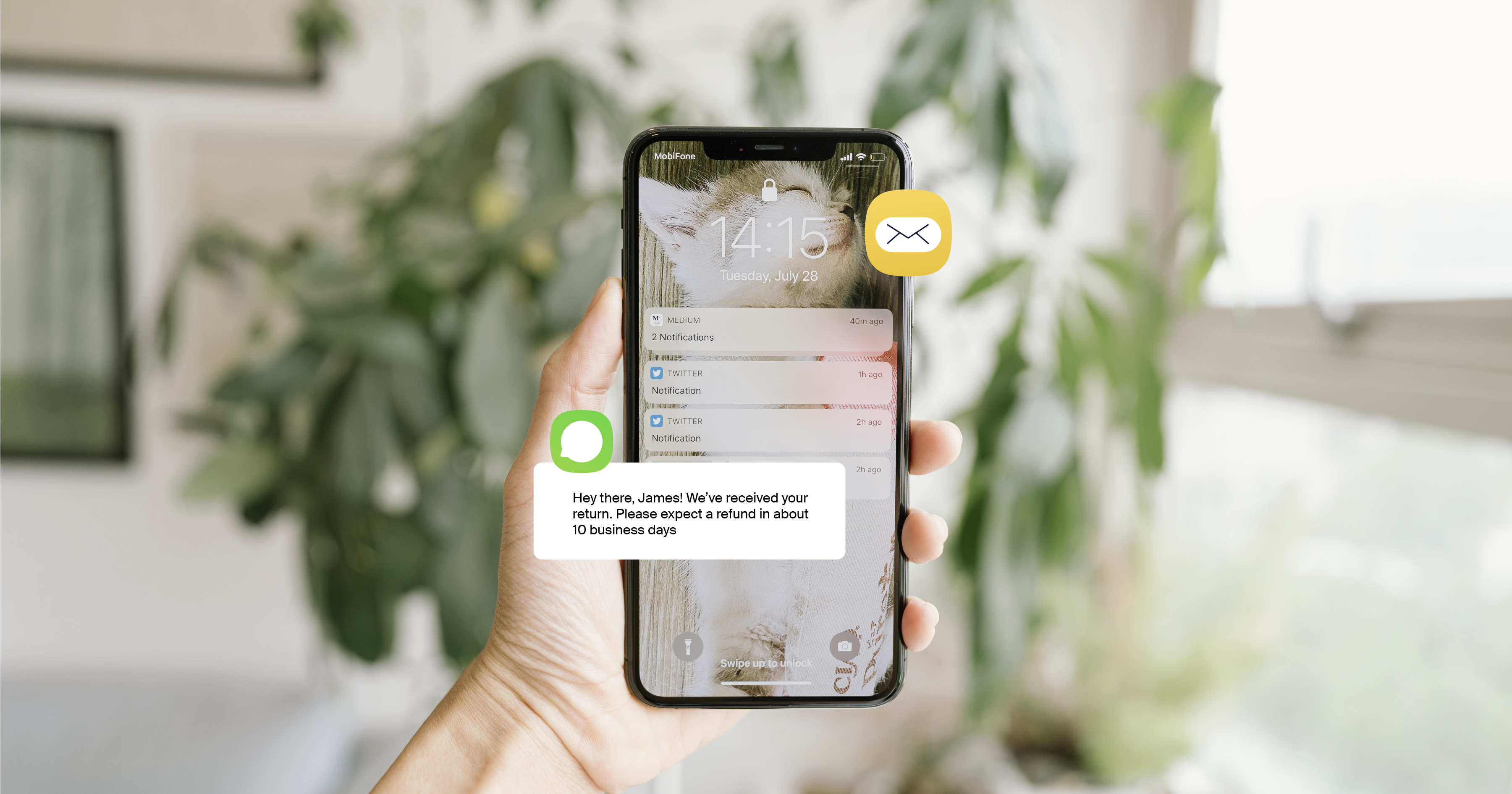 Return Status SMS Examples
There's always a possibility that your customer will want to make a return. In this case, offering a refund is a sign of good customer service. This includes sending updates about order returns and refunds, for instance:
Hey Suzan, we're sorry to hear you didn't like your order. Send your return within 15 days for a full refund and a 10% discount on your next order. 

Hi Bernard, we've received your return. Please allow 2-3 business days for your refund to be processed. 

We're sorry your Shirtera order didn't meet your expectations, Carl. For a full refund, ship it with our prepaid label within 20 days. Please reply if you have questions. 

Hello Diane, it's Mike from The Full Cart. I've issued a refund of $69.13 to your payment method. You'll receive it in 3-4 business days. 

Thank you for reaching out, Christine. We'll issue a refund once we're done processing your return. 

Hi Mark, your return has arrived at our facilities and is being processed. You'll receive a refund in 2-3 business days. Thank you for your patience. 
Tips for Writing the Perfect Order Confirmation Text Message
Order confirmation templates certainly come in handy when you're getting started with personalized messages. But may also want to keep these 3 simple tips in mind:
Always keep the message short and straightforward. Begin with a friendly greeting and inform your customer about their order's status.

In cases such as first-time orders, sweeten the deal with a special discount or an exclusive offer. 

Be quick with your notifications by sending them as soon as the order status changes. While SMS texting is efficient, what good is it if you don't send the updates at the right time?