Automated Text Messages: How to Set Them Up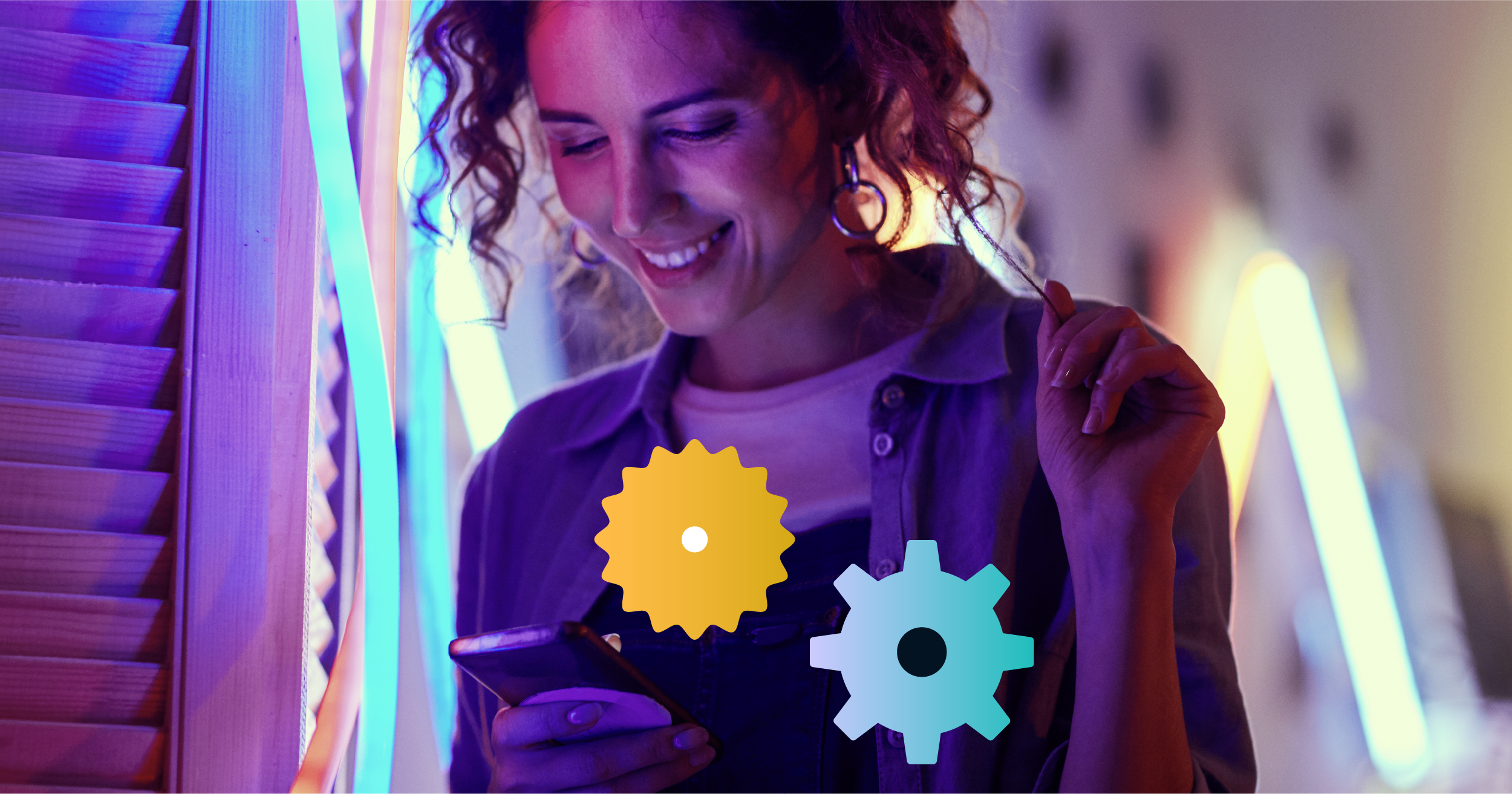 Carl's Jr. sent the following automated text message to thousands of hungry customers in just a second: "I know you're hungry! Show XXXXX promo code to any of Carl's Jr. restaurants and get the $6.00 burger and fries offer for only $2.99."
This text marketing campaign alone increased their sales for that month by over 10 times in one day, and it wouldn't have been possible without implementing automation. 
Not only was this an efficient way to reach out to a large number of people, but it significantly saved their time. This success story is a testament to the power of automation in marketing, not only in terms of its efficiency in reaching a large audience but also in the time and resources it saved for Carl's Jr.
What Is An Automatic Text Message?
Simply put, automated messages are pre-scheduled messages that can be sent to a large number of recipients at the same time. This technology has revolutionized the way businesses approach their marketing campaigns. 
By using automated messaging, marketers can plan their ads well in advance, saving them valuable time and resources. On top of that, it allows them to streamline their marketing efforts and focus on more important tasks, like analyzing data and strategizing future campaigns. 
With automation, businesses can react faster to unforeseen changes, and adjust their campaigns accordingly. Automated SMS messaging is not just a tool, it is a game-changer in the world of marketing. By allowing marketers to stay organized and efficient, it gives them the competitive edge they need to stay ahead of the curve. 
With automation comes the need for backup and security. Losing important text messages can be a nightmare, which is why having a reliable SMS backup app is essential. One emerging trend is the ability to backup and restore SMS messages over WiFi. 
Top Reasons Why Sending Automatic Text Messages Is a Good Idea
Higher Open Rates
Everyone knows by now that SMS messages have a higher open rate than emails, and most people read text messages within minutes of receiving them. 
Cost-Effective
Sending automated SMS messages is relatively inexpensive compared to other marketing channels. This way, you can save on printing, postage, and other costs associated with traditional marketing methods.
SMS Marketing Pricing
We use a pay-as-you-go pricing model, meaning we charge per sent message. No monthly or sign-up fees. SMS marketing costs vary depending on your destination.
Real-Time Communication
As a business, you want to be available to your customers at all times. Text messages allow for real-time communication between both ends, which is especially useful for customer service or support, where quick and timely responses are critical.
Mobile Optimization
Every other person has a smartphone (or two) with them at all times, but not everyone is walking around holding a laptop all day. Text messages are optimized for mobile devices, meaning you can reach your customers wherever they are. 
Why Do Businesses Send Automated SMS Messages?
Despite occasional delays in text message delivery, the benefits of SMS automation have proven to outweigh the drawbacks.
Customer Engagement 
Needless to say, text messages are a quick way for businesses to engage with customers and keep them informed about promotions, events, services, and more.
Sales and Marketing
Automated text messages can be used to promote sales, discounts, and limited-time offers, encouraging customers to make purchases and drive revenue.
Customer Support
Nowadays, texting is far more efficient than phone calls when it comes to providing customer support. You can easily send automated responses to common inquiries or updates about the status of an order or service request.
Appointment Reminders
Businesses can save time by using automated messages to remind customers about appointments or events, reducing no-shows and missed opportunities.
Feedback and Surveys 
Take advantage of automated SMS to collect customer feedback or conduct surveys and gather insights to improve your product or service.
Personalization
Personalization is a buzzword for a reason—you want to tailor your interactions and customize your SMS to build stronger customer relationships and boost loyalty.
How Do Automated Text Messages Work?
Collect Phone Numbers 
First, you need to collect the phone numbers of the people you want to send messages to. You can get these numbers from different sources, such as online forms, sign-ups, subscriptions, or customer databases. Make sure that the people you are sending messages to have opted in. 
Choose a Provider
Next, you need to choose a provider that offers an SMS API for sending text messages, such as Dexatel.
Create a Message
Now's the time to create the message you want to send to your recipients. Remember to personalize your message by using the recipient's name, location, or other information.
Set Up Automation
After creating the message, you need to set up automation rules that will trigger the message to be sent at a specific time or based on a specific event. For example, if you have a text message subscription service, you can set up an automated message to be sent to new subscribers after they make a purchase. This message could include a discount code for their next purchase or a welcome message introducing them to your brand.
Test and Send
Before sending the message, you need to test it to make sure it's working correctly. You can send a test text to verify that everything is working correctly. 
Analyze Results 
Track metrics such as open rates, click-through rates, and conversion rates to see how well your messages are performing. Then, use this data to optimize your message content, delivery timing, or automation rules for better results.
How to Send Automated SMS Messages With Your Smartphone
Sending automated text messages doesn't only apply to computerized platforms. You can use your smartphone for automated SMS marketing.
Certain apps help you plan messages beforehand and send them according to a schedule. Some phones—mostly Android—have an automatic text message sender app built into them.
Automatic texting services for smartphones typically don't come free of charge. However, they aren't expensive either. Most automatic texting apps cost anywhere between $2–$6 a month.
Automated text message senders can provide you with various options, depending on their price and type. Some apps will let you create a schedule and a list of recipients, and they'll send the messages accordingly. Other platforms are flexible enough to give you blacklisting, auto-replying, or SMS sorting.
Sometimes you can even set a short keyword in the app, which is then generated into a longer text. For example, you can type "busy" and the automatic text apps will change it to "Sorry, I'm busy right now. I will get back to you later."
Sending Automated Text Messages on iOS
iPhones don't come with a built-in message automation app. But, there are a couple of useful applications for sending automated SMS messages on an iPhone.
Two apps that stand out for their flexibility are Scheduled and SMS Scheduler. Scheduled allows you to integrate your calendar—the app detects birthdays or other important occasions and suggests templates to send. Scheduled also has a feature to send birthday wishes automatically.
You can also integrate Scheduled with other apps like WhatsApp, Telegram, iMessage, Twitter, and more. The app can serve as a reminder for other events like office meetings or school parent-teacher meetings.
SMS Scheduler is also a great tool for setting reminders. Not only does it remind you to send text messages, but it also sends the messages for you. You can set the app to continuously send messages on a certain day of the week or month.
The app has ready-to-go templates for different events. Based on your appointment reminders, it can detect and suggest what automated text messages to send. Small businesses can use this feature to send abandoned cart reminders.
Automatic Forward Text Messages on iOS
iPhones used to have a feature that allowed you to choose your contact list and automatically forward messages. However, the newer iOS versions don't seem to include that option anymore. Fortunately, you can download apps like Forward SMS or Group SMS to help you automate SMS forwarding and utilize customized services.
Forward SMS is a simple and free app that helps you forward your text messages to a limited number of phones. It is most helpful when you need to forward your message from one phone to another.
Group SMS can help you forward messages to more recipients. It can also group recipients, which is especially useful when you need to separate family members, friends, and colleagues to send group texts. There is a free version of Group SMS called Group SMS Lite, which provides you with the basics of the app.
Sending Automated Text Messages on Android
Unlike iOS, Android phones have a wider choice of automated text message apps. Both SMS Scheduler and Scheduled are available on Google Play as well. There are messaging apps exclusive to Android devices. The top two options are Auto-Reply and Tasker.
Auto-Reply offers a large range of options like setting templates for certain contacts. The app sends recipients automatic replies without you having to pick up your phone. The same applies to calls. You can set certain numbers for the app to reject and send automatic text messages.
Another app that Android phones can use is Tasker. The app allows you to schedule messages and sets a time to send them. In addition, Tasker can wake you up with random songs from your playlist, change your phone wallpaper and screensaver based on your set time, and so much more.
How To Send Automated Text Messages With Dexatel
You can send automated text messages through Dexatel's portal by registering and depositing money on your balance. When you first enter your account, the system provides special blank windows to fill in the sender ID, destination phone numbers, and text messages. But, if you want to send transaction messages automatically, you can do that by integrating our SMS API.
Go to your account on the dashboard

Click on "Connections"

Click on "Add"

Name your connection

Fill in your IP address

Choose the currency

Click on "Save Connections"
Once you've successfully added the API connection, the system will give you a username and password, which you'll use in the HTTP template later.