What is Omnichannel Customer Support: A Detailed Guide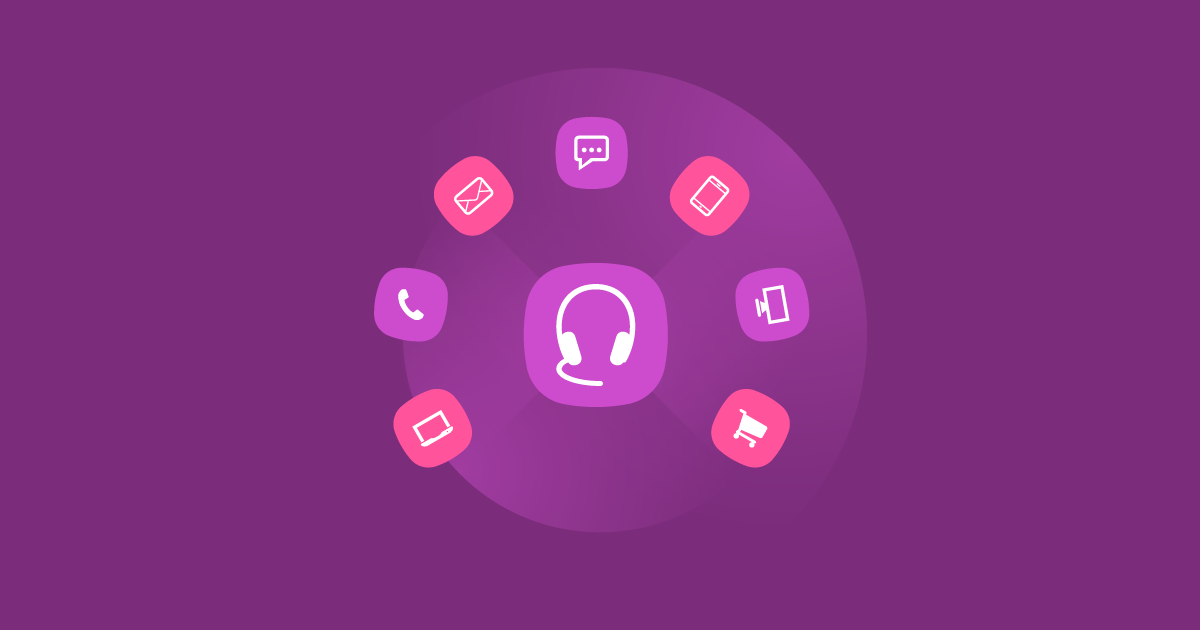 Customer service has the potential to be the greatest asset for a company. No customer wants to go through an obstacle course just to request help or ask a question. Waiting on hold only to be redirected from one agent to another is just inconvenient and often not worth getting the answer. There's got to be a better way. Fortunately, there is, and it's called omnichannel customer support.
This highly effective customer service strategy gives consumers the choice to connect with a business in any way they want. In other words, it tailors support to customer preferences The result is increased satisfaction and brand loyalty. But what is omnichannel customer service? Read on to find out.
Understanding Omnichannel Support
Omnichannel customer support is the advice and assistance businesses provide to their customers across a unified network of devices and applications. Having a robust omnichannel strategy can help you maintain a positive and consistent experience for your audience, no matter which communication channel you're using. 
With the progress of digital channels and the introduction of new technologies, businesses can embrace an omnichannel approach to customer service. This gives them the ability to coordinate interactions across several channels like SMS, email, call centers, social media, and live chat. Customers can transition between multiple communication channels smoothly without disrupting their journey with your brand. 
Questions and requests for assistance you receive from your existing or potential customers flow into one track; the customer service agent will receive relevant customer context, and the customer will get a quality experience. 
Benefits of Omnichannel Customer Service
Tailored Customer Experience
Omnichannel service makes it possible to give customers the exact support and answers they need, at the time and place they need them. More and more companies are making use of the customer insights they collect from omnichannel communications. This helps them determine pain points and customer behavior and offer a personalized experience. 
Enhanced Customer Satisfaction
By using omnichannel for customer service, you get to assist customers on their preferred channels. Your customer support team can answer questions more efficiently if they have access to customers' cross-channel conversation history. This means customers won't need to explain their issues all over again when they switch to another channel. As a result, you'll end up with happier and more loyal customers. 
Higher ROI for Less
An omnichannel strategy allows you to maximize the potential of your customer service team and increase the return on investment while minimizing costs. It facilitates streamlined customer support interactions and boosts productivity. 
A unified interface gathers all the channels and information you need, and you won't have to toggle between applications. With features like automation, you can boost cost-efficiency even more by responding to basic questions with pre-programmed answers. This way, your team can focus on more complicated interactions. 
Get Started Now
Reach your clients now and claim your 30-day free trial. No credit card required.
Faster Channel Activation
Omnichannel customer engagement preferences are constantly shifting. Being able to address them quickly is essential in this fast-paced digital landscape. The right omnichannel messaging tool lets you meet your customers' needs by adding more channels to your customer support strategy whenever necessary.
Unified Brand Voice
Consistency is key to developing a strong brand voice. Customers should have the same experience whether they're interacting via email, social media, or any other communication channel. A unified view of customer interactions allows you to deliver a streamlined brand voice and offer the same digital customer experience at every touchpoint. 
Standing Out 
Research shows that 42% of consumers prefer a cross-channel experience. Be that as it may, there are many businesses that don't offer that option. Taking the initiative to provide multiple channels is a great way to set your business apart from the competition. You'll also be able to deliver consistent service while gaining your customers' trust through integrated touchpoints. 
Moreover, an omnichannel support system lets you carry out omnichannel marketing. This means using the same method to boost brand awareness and demonstrate your customer-centric approach. 
Use Cases
On-Demand Services
With the popularity of apps that provide on-demand services, the standard for customer convenience is much higher today. Customers can find just about anything they need on their mobile devices in a matter of seconds. With that in mind, customers expect similar access to on-demand services from other brands. And that's where omnichannel customer service software becomes useful. 
Financial Services
Customers should be able to trust financial institutions with their money and sensitive information. Thanks to solutions like verification APIs and digital banking systems, customers can have access anytime and anywhere. These solutions also safeguard customers' accounts and information. Banks and financial institutions that adopt an omnichannel service system get considerable returns on investment. For example, they can use SMS to send notifications about bank transfers and other transactions. 
Retail and eCommerce
Offering personalized experiences allows retail and eCommerce businesses to stand out from the crowd. As a matter of fact, customers prefer to buy from a company that takes a tailored approach to good customer service. Communication channels that use conversational AI (artificial intelligence) can help you interact with customers in real time and provide 24/7 tailored support.  
Food and Beverage
Restaurants and coffee shops allow customers to place orders in multiple ways. For example, they can order in person, via a web browser, via a mobile app, or via phone call. You can then log the order history of customers for future ordering and to make it easier to provide personalized support. 
Creating an Omnichannel Customer Service Strategy
Know Your Customers
By figuring out your customers' needs and favorite channels, you can orchestrate each customer lifecycle accordingly. Start by using customer data to map the customer journey and find out which channels your customers prefer for various needs. For example, they'll be using a mobile app for shopping and Facebook Messenger for asking questions. In addition to being available on those channels, it's also important that the experiences are consistent across each of them. 
Offer Self-Service
With self-service options, customers can get the answers they need on the spot. Common ways to offer customer self-service options include FAQs, tutorials, documentation, support forums, and knowledge bases. By having these options available for customers, you'll be saving time for them and your support team. You'll also want to make sure the self-service tools are easy to find and use. 
Enable Seamless Experiences
With the abundance of ways to reach your customers, it makes sense to maximize the possible touchpoints. Failing to do so can result in dead ends in the customer journey. Let's suppose a customer using a chatbot doesn't get the answers they need. Ideally, a live support agent should take it from there. 
Certain businesses prefer to address customers' needs more immediately through other communication channels like SMS, email, and instant messaging apps. Integrate all these channels together to ensure a seamless customer experience for your audience. 
Prioritize the Entire Customer Journey
There's more to the customer journey than just the sales funnel. Consider going beyond purchases and customer service to cover the whole journey and boost loyalty. This means using your company's communication tools to their full potential to empower your support agents with a complete picture of the customer's interaction history. It's also a good idea to offer cost savings to strengthen customer relationships. 
Optimize Communications With New Technology
Customers often don't mind providing personal information if it means receiving high-quality service. That data is key for delivering customer service and enhancing the omnichannel customer experience. Adopt tools that provide tailored service by leveraging personal data. Take advantage of technologies like AI and IVR (interactive voice response) to optimize your communication efforts. For example, this allows customers to receive online assistance at night when the support team isn't available. 
Make Sure the Service Is Mobile-Friendly
Experts predict that the number of smartphones will surpass 18 billion by 2025. In addition to communicating via SMS, voice, and instant messaging, mobile device users get access to an abundance of information at their fingertips. You can use the growing popularity of mobile devices to your advantage by optimizing your customer service resources for mobile—whether it's a chat widget, a self-service tool, or a link to support email. 
Differences Between Omnichannel and Multichannel Customer Support
It's not uncommon for people to use the terms omnichannel and multichannel interchangeably. But there's a fundamental difference between them. 
Multichannel customer service is when you provide several different channels for customers to get in touch with you. Whichever channel they choose, your multichannel support team can be available to help them. But here's the catch: the channels are separate and disconnected from each other. And each channel most likely has its own team, process, and objectives. 
This can result in inconsistencies among support teams. Siloing hinders effective communication between departments, and customers will need to explain their issues all over again when they reach out. As a result of this, two or more customer service agents can possibly end up working on the same case or even giving the customer contrasting information. 
On the other hand, omnichannel retail or customer support takes multiple channels and integrates them together. This way, the customer gets the same brand experience, whichever platform they use to connect with you. Suppose a customer contacts you via phone call. They can then follow up via email and resume the interaction later on WhatsApp Business. Plus, their engagement history will follow them from one platform to the next, creating a seamless experience. 
Overcoming Challenges of a Successful Omnichannel Approach
Maintaining Price Transparency
Challenge: Customer expectations involve transparent and consistent pricing across every channel in an omnichannel space. Any mismatch in pricing can lead to confusion and damage trust. 
Solution: Apply unified pricing strategies and solutions that guarantee consistency across all channels, whether online or offline. Make sure to update customers about any changes in pricing. Leverage technology to deliver price information in real time and offer price-matching policies where possible. Transparency is key to building trust and fostering customer loyalty.
Coordinating Inventory
Challenge: Managing your inventory across channels can be complex, and providing inaccurate stock information can compromise the customer experience.
Solution: Implement a reliable inventory management system that you can integrate with your omnichannel services. By using data analytics, you can predict demand and adjust inventory levels accordingly. Track inventory in real-time to deliver accurate stock information to customers, whichever channel they contact you from. And with options like in-store pickup or cross-channel inventory transfers, you can meet customer needs instantly. 
Training a Customer-Centric Team
Challenge: Are your customer service reps empathetic, well-informed, and capable of providing consistent service across various channels?
Solution: Train your support team on a regular basis, emphasizing the importance of customer-centricity and omnichannel communication skills. Encourage the team to listen actively and to be empathetic. Make sure they get familiar with the technology and tools they need to work with multiple channels effectively. You'll also want to identify any areas for improvement by monitoring and measuring customer satisfaction as well as agent productivity. 
Managing Data Across Channels
Challenge: Contact center analytics give access to large volumes of data and statistics about channels, usage, agents, and more. Using this information can be tricky and overwhelming for those who don't have enough experience with contact centers. 
Solution: Start with only the channels that your audience will use the most. Starting with more channels than you can handle can be counterproductive. Begin with a basic structure, like email, voice calls, and live chat. Over time, you can integrate more channels and track the performance of each while capitalizing on the most successful one. 
Maintaining a Personal Experience
Challenge: Chatbots, IVR, and other self-service options are essential for an omnichannel support strategy. But these tools often sacrifice the human, personal tone of real agents. 
Solution: Keep automated tools for handling basic, repetitive, or routine customer inquiries. For each scenario, create separate conversation paths within the IVR or chatbot. Make sure customers can smoothly switch from self-service to interacting with a human agent.