Everything You Need to Know About B2B Lead Generation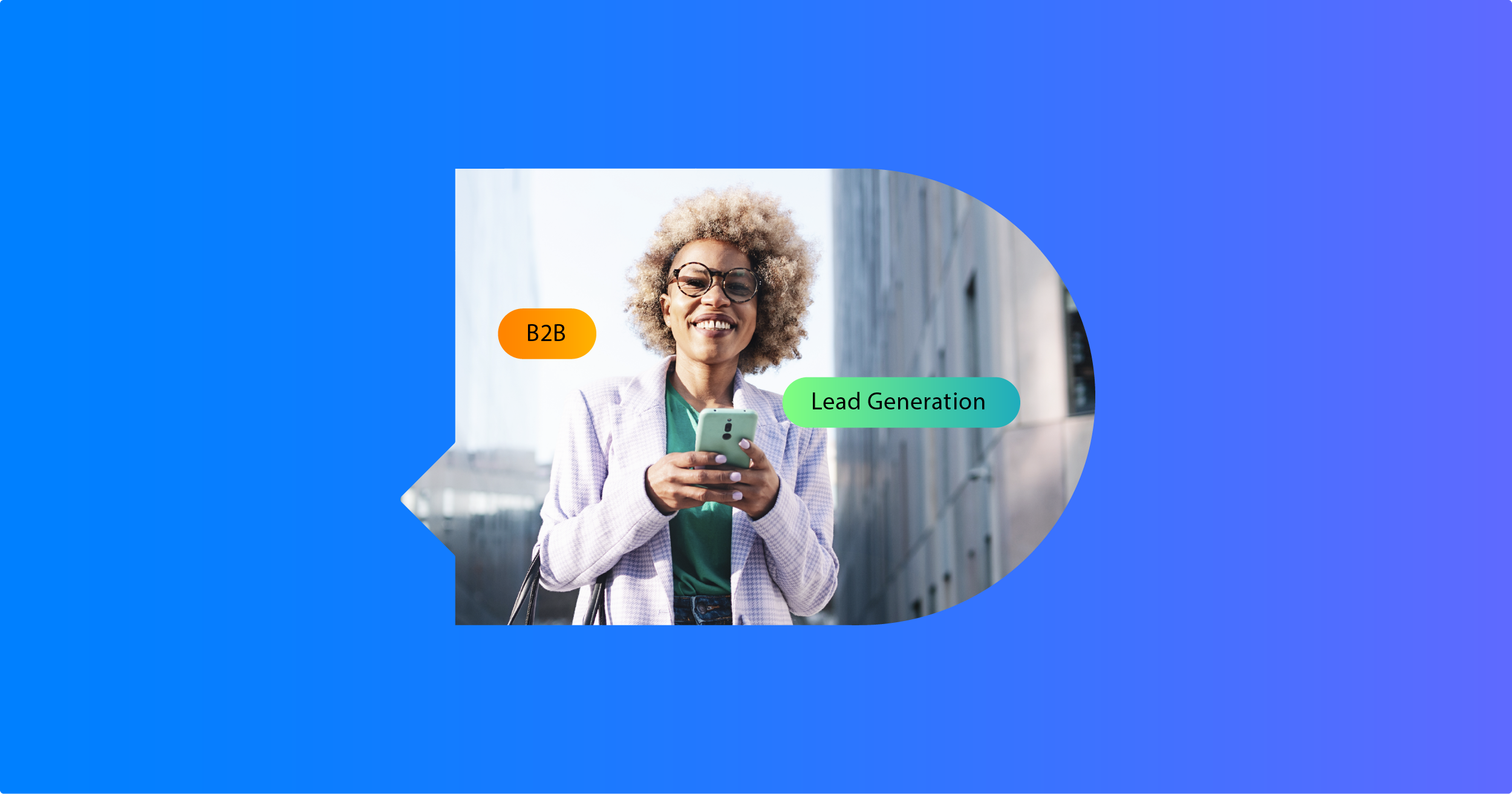 There's a reason why generating leads is all the rage in the sales industry. Pinning down a specific formula for a B2B lead generation guide is out of the question.
Why, you ask? Unfortunately, lead generation is a concept that businesses may never completely figure out. But, that doesn't mean you're going to wing it out the entire time.
You'll encounter an abundance of templates when it comes to lead nurturing, but it's the initial phase that's the most challenging—gathering them. And while there is no one-size-fits-all formula, you'll find that there are a few strategies with proven results.
What is B2B Lead Generation
If you're wondering what B2B lead generation is, here's the process broken down.
The very first step a business must take before making sales is figuring out potential customers. This means a business must understand who its target audience is and whether or not they're interested in its product or service—you want your customers to be engaged. Only then can a business gather relevant information from these contacts to convert a potential customer into a lead with a sale.
Generally, every B2B company has its own standards regarding sales qualified leads. It is based on what industry your company operates in and what services or products you promote. Businesses rely on a number of channels to do this. Common ones include content marketing, email marketing, and social media, as well as offline channels.
A user-friendly website is one important factor to consider in present-day sales lead generation. Businesses must fully optimize their websites for search engines and make sure they are catered to potential customers who show interest in their products or services.
Get Started Now
Reach your clients now and claim your 30-day free trial. No credit card required.
Advantages of Lead Generation for B2B
B2B lead generation comes with a myriad of benefits. The right strategy will help you achieve your goals by driving potential customers, attracting target audiences, and more. If you can't implement the process on your own, you can always rely on an agency. As to why you should get into this, here are the advantages.
1. Cost-Effective
It's easy to spend thousands of dollars to display your ads at major events. Even now, with the rise of social media, cooperating with bloggers and influencers can end up breaking the bank. But, lead generation doesn't have to be the same way. This way, you can focus on evergreen content creation, which can last as long as it needs to, instead of seasonal ads and marketing material.
2. Brand Awareness
How many people do you know who shop at random stores? Now, how many people do you know who buy consistently from brands they trust? To gain the trust of potential customers, you must build a reputation and establish brand visibility both online and offline.
You may create a blog post section dedicated to niche topics, generate a following on social media platforms, and more. The key is to get people to view you as an expert and rely on your insights and tips.
3. Opportunities for Sales
Both sides benefit from B2B lead generation. On the one hand, you're attracting customers and prospects to your company. On the other hand, customers are receiving crucial information about their issues and potential fixes. Here is why you should consider the demands of your prospects in all of your B2B lead gen initiatives.
4. High-Quality Leads
Thanks to SEO, PPC ads, and advanced tools, you can have more control over who gets to view your content. This means that you can successfully target people who are interested in your product or service. You may do this based on their interests, requirements, industry, age, and more.
When you create a relevant database, you can use the info to drive high-quality leads. You may opt for SMS leads, use mobile marketing automation, or any other tools or tips to help you.
5. Revenue
One of the greatest things about this is that instead of pursuing leads, you get them to come to you. This way, you don't depend too much on manual efforts. On the contrary, you may possibly drive hundreds of poential customers and automate the sales process. All this and more helps you grow your sales tremendously.
How to Generate B2b Leads
1. Establish Relationships
As easy as it is to depend only on your online content, you need to establish relationships to actually generate high-quality leads. When it comes to sales, you want people to trust you. If they come to you with questions, do not simply send a link—humanize the interaction; walk through the process.
2. Create A Targeted List of Leads
Having a targeted list to generate B2B sales leads can help you reach out to potential customers with cold emails. Make sure your list is devoid of outdated, irrelevant, or converted contact information. Having a software can help you with this process.
3. Automate Marketing Processes
Automating marketing campaigns can exponentially increase marketing productivity. You may segment customers with targeted messages, send personalized emails, and nurture them into sales qualified leads.
4. Get Reviewed
Online reviews are the new word of mouth. Nowadays, most people read about other people's experiences before purchasing a product. Get your customers to leave positive reviews of your product or service to generate more potential customers.
5. Answer Questions Online
Conduct research on the industry you operate in and find out what issues people are facing. Then, provide the solutions to these problems by answering questions on online forums or Q&A websites.
6. Create Ads on Social Media Platforms
You can collect email addresses on Facebook and Twitter by creating ads. Remember to direct users from social media to specific landing pages where they may sign up for emails. Another strategy to get email addresses is to accept newsletter signups from your social media pages.
7. Optimize Your Website
A landing page that is particular to a keyword search should be the destination of a click. Each landing page should provide the precise answer the visitor is seeking. A call to action in conversion optimization will help generate more sales.
You won't improve your website's SEO rating if you use a landing page from a third party. Ensure that your landing pages are hosted on your own server so visitors are directed to your website.
8. Start a Blog Section
The content on blogs should be compelling enough to draw people in. If you have a high-quality blog, you can produce sales leads and backlinks by publishing on other websites. You may also keep in touch with your existing clients by creating a newsletter.
9. Constantly Build Your Network
Most people have a specific purpose in mind when they network since it is an investment. When others can help them, people tend to give generously in return. Be inventive in how you can assist the people you meet, so they will be eager to assist you in achieving your goals.
10. Get Customer Recommendations and Referrals
When a consumer has a positive experience, they could recommend your company to their friends and coworkers. These client recommendations frequently lead to B2B sales leads. They make confident purchasing decisions when they see that other people trust your product or service.
How to Generate B2B Leads on LinkedIn
Investing in LinkedIn B2B lead generation is something a business can greatly benefit from. You may do this from either your corporate or personal profile. Upon deciding which page you'll be proceeding with, you must set up a profile and clearly state your role at the company or what the company does.
Next is connecting with them—always post relevant content on your profile and get in touch with the people you connect with. Mention why you're interested in establishing a connection and include their name in your message.
Make sure your LinkedIn profile provides value. This means your feed should include thought leadership posts, tips and tricks, and useful insights.
Every action you perform should be tracked and evaluated so you can improve upon it later. Analyze your page statistics to see what generates the most engagement from your audience.\
What Are The Benefits of Using B2B Lead Generation Software
Increased Efficiency
B2B lead generation software automates and streamlines the process of identifying and capturing leads, saving businesses time and resources.
Better targeting
Not only do these tools allow businesses to target their ideal customers based on specific criteria, but they also increase the likelihood of generating high-quality leads.
Improved Lead Nurturing
Many software solutions include lead nurturing features that help businesses build relationships with potential customers and move them through the sales funnel.
Enhanced Analytics
Businesses gain access to detailed analytics and reporting that can help optimize their strategies and improve their overall sales performance.
Scalability
Lead generation software can easily scale to meet the needs of businesses of all sizes, from small startups to large enterprises.
Top Types of Lead Generation You Need to Know About
There are two primary types of lead generation: outbound and inbound. Businesses use these methods to identify and attract potential customers.
Outbound  involves proactively reaching out to potential customers through various channels, such as phone calls, direct mail, email marketing, paid advertising, events and tradeshows, and more. Its is to reach a large number of potential customers and introduce them to the business's product or service.
One of the main advantages of outbound lead generation is that it allows businesses to reach a large audience. However, it can also be more expensive and time-consuming than inbound. There is a risk of annoying potential customers if the approach is too aggressive or not well-targeted.
Inbound lead generation, on the other hand, focuses on attracting potential customers to the business through various channels. This includes creating blog posts, whitepapers, and ebooks, and optimizing website content to improve search engine rankings. It also entails promoting on social media platforms, encouraging customers to refer to new ones, and hosting webinars to educate potential customers.
The goal of inbound is to attract potential customers who are already interested in the business and build trust and credibility with them over time. Inbound lead generation can be more cost-effective than outbound methods, and it can help businesses build long-term relationships with potential customers. But, it requires ongoing investment in content creation and marketing.
Outbound Lead Generation
Cold calling: Reaching out to potential customers via phone to introduce the product or service.

Direct mail: Sending physical mail, such as letters or postcards, to potential customers.

Email marketing: Sending targeted emails to potential customers to promote the product or service.

Paid advertising: Placing ads on search engines, social media platforms, or other websites to reach potential customers.

Events and tradeshows: Attending or hosting events and tradeshows to promote the product or service to potential customers.
Inbound Lead Generation
Content marketing: Creating valuable and informative content, such as blog posts, whitepapers, and ebooks, to attract potential customers.

Search engine optimization (SEO): Optimizing website content to improve search engine rankings and attract organic traffic.

Social media marketing: Promoting the product or service on social media platforms to attract potential customers.

Referral marketing: Encouraging satisfied customers to refer new customers to the business.

Webinars: Hosting webinars to educate potential customers about the product or service and generate leads.
How to Choose the Best B2B Lead Generation Software
Choosing the best software can be a daunting task, so here are some steps to follow:
Identify Your Needs
Define what you want to achieve with the B2B lead software. Consider your budget, target audience, and desired features to determine which software aligns with your specific business objectives.
Research And Compare Different Software Options
Look for a B2B lead generation tool that offers features that align with your goals and target audience. Compare the software based on pricing, functionality, ease of use, and customer reviews.
Evaluate The Quality of Leads
Determine how the software defines and qualifies leads. It is important to select software that generates high-quality ones that are likely to convert into paying customers.
Check For Integrations
Ensure that the software can integrate with your existing tools and systems, such as CRM, marketing automation, and sales software.
Look for Customer Support
Choose a software provider that offers good customer support. This includes access to technical support, training resources, and a knowledge base.
Consider Scalability
Choose software that can scale with your business growth. Make sure that the software can handle an increase in leads and provide support as your business expands.
Test The Software
Many software providers offer a free trial period or a demo. Take advantage of this to test the software and evaluate if it is a good fit for your business.
The Best B2B Lead Software  
You know leads are important and that generating them is one of the most challenging parts of sales and marketing, that's why you're here. From website lead capture to SMS marketing, these services will help you automate your sales pipeline and generate leads like never before. 
Some are free or have free trials, but the best ones are paid. It's well worth the small investment to have the best tools available to find leads for you.
LinkedIn Sales Navigator 
LinkedIn is the king of business networking. And, with most professionals across various industries having a presence on the platform, it's also one of the best places to generate B2B leads.
Sales Navigator is LinkedIn's flagship product for sales teams. It enables reps, managers, and ops leaders to inform their approaches and strategies. They can take advantage of the full breadth of LinkedIn's expansive data, insight, and relationship-building tools.
HubSpot Sales Hub
HubSpot Sales Hub is a powerful software that helps teams close more deals, deepen relationships, and manage their pipeline. It's a complete CRM package that combines customer data, tools, and teams to help your small business grow.  
Hootsuite 
Everyone's on social media, including your business leads. Hootsuite is a top social media management platform that will help you optimize your social media presence, posts, and ads. That's a lot of potential customers just waiting to be captured.
SEMrush  
If you want to have leads come to you, you need to have your SEO game on point. SEMrush is a popular SEO tool that specializes in keyword research, competitor analysis, and Google Ad Campaign optimization. It will also help you with content marketing and social media to boot. 
Zendesk Sell
Zendesk Sell is a sales CRM tool that enhances productivity, processes, and pipeline visibility for sales teams. As one of the best tools out there, it does this by putting everything you need on one simple platform, including contact and deal management, as well as activity tracking. Plus, you can set up triggers and automate tasks to keep reps on target.
Pardot by Salesforce 
Pardot is a marketing automation platform from SalesForce offering email automation, targeted email campaigns, and management for sales and marketing. Pardot automates common marketing tasks like customer behavior tracking and landing page management.
LeadPages 
LeadPages is a website and landing page creation software that helps small businesses connect with an audience and close sales. You can easily build websites, custom landing pages, pop-ups, alert bars, and more.
Leadfeeder 
Leadfeeder is a B2B visitor identification and analytics software that tracks and identifies companies that visit your website, how they got there, and what pages they clicked. Doing so, it helps you optimize your marketing strategies.
OptinMonster
OptinMonster is a robust customer acquisition and lead generation application that allows you to create highly effective opt-in forms and pop-ups for your website visitors. It offers an intuitive drag-and-drop builder.   
Unbounce 
From pre-optimized templates to instantly generated copy, Unbounce uses AI to help you create beautiful, high-performing landing pages faster than traditional builders. It takes your ideas and transforms them into effective campaigns.
Aeroleads
Aeroleads is a powerful lead prospecting software that finds emails from businesses and the people working for those businesses. Build a reliable email list using a database of 425M+ real-time validated prospects. 
Pipedrive 
Pipedrive is a web-based sales CRM and pipeline management software that enables businesses to plan their sales activities, monitor deals, and get more qualified leads. Pipedrive automatically generates high-quality leads through its AI engine and provides a targeted list of prospects.
Callpage
Callpage offers top-rated callback automation for your website that helps you connect with buyers faster. The software allows you to generate more sales calls from your website, decrease lead response time, and provide fast customer service.
Prospect.io 
Prospect.io is a multi-channel sales automation and lead generation platform that assists in running outbound campaigns, from starting conversations to closing deals. With their Overloop software, users can build lead lists, enrich prospects, and increase outbound sales team productivity.
D&B Hoovers 
D&B Hoovers is a sales acceleration solution that provides a faster path from a prospect to a profitable customer relationship. B2B sales professionals can engage with customers faster by using insights and actionable information about US and global companies.
Hunter.io 
Hunter lets you find professional email addresses in seconds and connect with the people that matter to your business. Simply enter a domain and find contact information associated with it in seconds. This is especially useful for companies that use cold emailing.
Zapier
Zapier is a tool that helps you automate repetitive tasks between two or more apps with no code. When an event happens in one app, Zapier can tell another app to perform a particular action. With Zapier, you can quickly connect your sources, keep them organized, and reduce data mistakes.
Constant Contact 
With Constant Contact, you can create effective email and other online marketing campaigns. Drive sales, engage your audience, and track what's working all from one place. Constant Contact lets you send out email campaigns with hundreds of branded templates, launch and track social ads, grow your customer list with landing pages, and more.
ActiveCampaign
B2B businesses can manage relationships and drive growth through ActiveCampaign's automation and CRM platform. It lets you connect with your customers at the right time in their buying cycle, with outreach personalized just for them.
ClickFunnels 
ClickFunnels is a website and sales funnel builder for entrepreneurs and decision makers. Create simple sales funnels that capture your visitors' contact information, so you can generate new leads to follow up with even after they leave your page.
Mailchimp 
Like Survey Monkey, Mailchimp is so popular it may not even need reminding. Its all-in-one marketing, automation, and email marketing platform can help you capture more leads using built-in insights and expert advice.
Intercom 
With its all-in-one customer communications platform, Intercom offers next-generation solutions for sales, marketing, and support teams. With various departments working together, businesses may convert prospects into paying customers, engage customers throughout their journey, and provide nurturing support.
ProProfs 
ProProfs is an online tool that offers quizzes and training. It intelligently feeds back the results with analytics so that your business can correctly qualify leads. These can then be funneled into segmented email lists through integrations with popular email marketing tools.
Another of ProProfs' tools, Qualaroo, makes it easy to survey specific users in context while they are looking at your product, service, and brand. You can get actionable user insights based on user behavior and adjust your strategy based on the results.  
Cognism 
Cognism provides sales and marketing teams with high-quality, globally compliant contact data. It gives you unrestricted access to personal and company-level data, so you always have enough prospects to go after and emails and phone numbers to connect with.
Dexatel 
Dexatel is a business text messaging platform that can help your company use its existing lead database and opted-in phone numbers to connect and nurture. They do this through a more personal and effective channel than email, but less intrusive than a phone call. Dexatel easily integrates with many other lead generation software and tools to make text marketing of your customer acquisition process. 
Imagine having direct access to your leads all the time and being able to grab their attention and spur immediate action—that's the power of SMS marketing automation.
FAQ 
What Is Lead Generation Software?
Lead generation software is a tool used to automate and streamline the process of identifying and capturing potential customers for a business. It typically includes features like tracking, scoring, and nurturing.
How To Generate Leads For Businesses?
There are several ways to generate leads for businesses, such as creating valuable content, offering incentives, using social media and search engine optimization, attending events and webinars, and utilizing email marketing and referral programs.
How To Generate Software Leads?
Generating software leads involves identifying potential customers who may be interested in your software product. Effective strategies include targeted advertising, social media marketing, attending software-specific events and conferences, and partnering with other software vendors.
How To Source Leads?
To source leads, businesses can utilize a variety of methods such as networking, referrals, advertising, email marketing, search engine optimization, and attending industry events and conferences. It's important to tailor the approach to the specific target audience and industry.
How To Get Lead Generation Clients?
Acquiring them entails utilizing tactics like networking, referrals, offering free plans and consultations, showcasing case studies, success stories, and using targeted advertising campaigns.
How To Generate Leads For A Software Company?
Generating leads for a software company involves identifying potential customers who may be interested in the company's software products. Effective strategies include targeted advertising, social media marketing, attending software-specific events and conferences, and partnering with other software vendors.