How to Use the Dexatel Extension for Pipedrive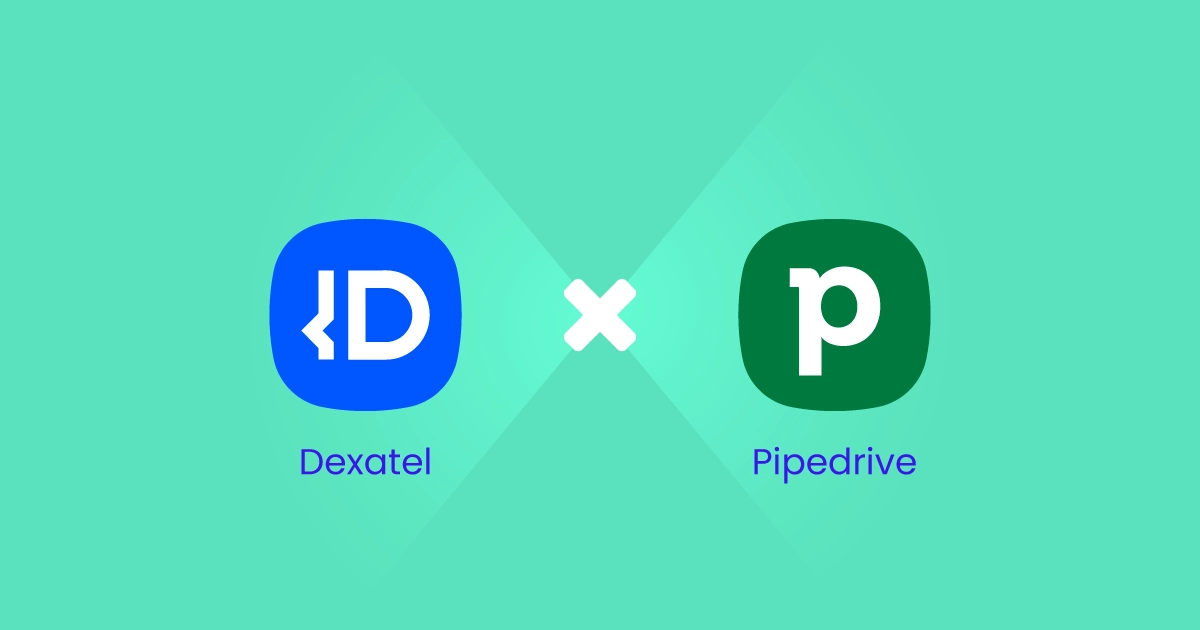 Recently, Dexatel entered a partnership with Pipedrive, an online CRM software provider with a wealth of features. This strategic collaboration means that Dexatel has an extension for Pipedrive users to install and make use of. It's a win-win situation for everyone involved; Dexatel expands its user base, Pipedrive adds to its abundant list of integrations, and users get access to top features. 
Understanding the Pipedrive Integration
Dexatel's extension for Pipedrive allows you to instantly connect with your audience wherever they are, whether it's an individual lead, a group of customers, or your entire contact list. Send special offers, order confirmations, appointment reminders, time-sensitive updates, and more while easily managing your communications from one place. By integrating your Pipedrive SMS workspace with the Dexatel platform, you can:
Send SMS messages to individual Pipedrive contacts

Send mass texts to your Pipedrive contact list through filters

Customize your sender ID to enhance brand awareness

Compose Pipedrive text messages in any language or alphabet
What You Can Do With Pipedrive's Dexatel Extension
1. Reach Out to Individual Contacts
Pipedrive SMS integration with Dexatel makes sending and receiving individual messages easy. Whether you're delivering payment reminders, updating a customer about an order, or trying to drive a prospect through the sales pipeline, Dexatel's platform guarantees that your text message reaches its destination quickly and efficiently. 
Immediately get in touch with potential customers after they show interest, making sure they stay engaged and boosting the chances of conversion

Remind clients about their upcoming payments and confirm successful transactions

Send a follow-up text to your customers, thanking them for their time or providing additional information after a call or a meeting

Keep customers posted about their orders, requests, or any updates in the sales process

Send reminders for booked appointments, scheduled meetings, or product demonstrations 
Get Started Now
Reach your clients now and claim your 30-day free trial. No credit card required.
2. Reach a Massive Audience
Pipedrive texting via Dexatel's SMS platform allows for sending bulk messages to a wide audience. Deliver general updates, promotional messages, urgent alerts, and more directly from your Pipedrive account. 
Let your audience know about discounts, limited offers, or new product releases to drive sales and build customer loyalty

Keep customers in the loop regarding scheduled maintenance, service interruptions, and other important information

Invite contacts to attend webinars, workshops, product launches, and other events that might interest them

Get in touch with inactive leads and regain their attention with special offers 

Inform customers about point balances, loyalty program updates, or special deals that are exclusive to VIP members
4. Customize Your Sender Name
Dexatel's SMS platform lets you choose a custom sender name for text messaging campaigns. This boosts the effectiveness of your SMS marketing strategies. It also helps in maintaining compliance with texting regulations that require being transparent with your identity.
Build trust and credibility by allowing recipients to recognize the source of the text

Assure recipients that they are communicating with a known entity instead of a generic one

Minimize the chances of your messages being mistaken for spam by going for a sender name that your recipients can associate with your business

Use A/B testing to figure out which sender name works best 

Boost your localized marketing efforts by using a sender ID that is relevant to a specific location

Use district sender names to differentiate your messaging if you have multiple brands or services within your company

Prevent confusion if the name of your company is different from its legal entity or trading name

Convey authority and expertise in your industry with your sender name, making your recipients more receptive to your SMS communications
5. Choose Any Language or Alphabet
With Dexatel, you can compose your messages in any language or alphabet. This allows you to tailor your communications to global audiences and widen your marketing horizons while catering to cultural and linguistic diversities. 
Break down language barriers and expand your marketing reach

Show respect for specific cultural preferences and differences

Create a more personalized experience by writing messages in the recipients' native tongue

Boost conversion rates by sending messages that recipients can understand and possibly act upon

Enhance your brand image by portraying your business as inclusive and international

Gain a competitive advantage by being able to communicate in multiple languages

Make all your customers feel valued and acknowledged, regardless of what language they speak

Increase customer satisfaction by providing multilingual customer support
How to Set Up and Use the Dexatel Extension
Before you start sending Pipedrive text messages with Dexatel, you will need to have active accounts with both Pipedrive and Dexatel. You must also have a stable internet connection to ensure a smooth and uninterrupted service. Here is what you will need to do:
Step 1: Start by Creating Your Free Dexatel Account
Head over to https://dashboard.dexatel.com/sign-up/ and create an account

Once you sign up, verify your email address. This is essential for security and access to the services

Verify your phone number to make sure you can send and receive SMS text messages

With the previous steps out of the way, submit the form to activate your 30-day free trial account
Step 2: Install the Dexatel App on Pipedrive
From the Pipedrive Marketplace page, go to the "Apps" tab toward the top left corner of the screen

Use the search bar to find Dexatel. You can also browse for it by scrolling down

After entering the Dexatel page, Click on "Install now". This completes the Pipedrive integration with Dexatel and you can start using the features
Step 3: Send Individual or Bulk Messages from Your Pipedrive Account 
Select who you want to send your message to from your contact list

Click on "Send Dexatel SMS"

Choose a sender name and compose your text message

Deliver your SMS by clicking on "Send"
Pricing
Dexatel offers a pay-as-you-go pricing model, allowing businesses to scale their text messaging as they grow. This also means that you only pay for the features you use. You can start with a 30-day free trial and test out the services before investing in the platform. Moreover, you can benefit from ongoing loyalty discounts for committed use.
Customer Support
Dexatel's customer-centric approach guarantees a seamless customer experience, with dedicated support to assist you every step of the way. Make sure to reach out to [email protected] for any questions, feedback, or support needs you may have.