Marketing is an important part of every successful business. It plays a huge role in starting, sustaining and ultimately expanding a business. But marketing comes at a cost, sometimes creating a financial burden for most companies. To create a sound and financially stable environment, most businesses allocate a portion of their firm budget as a marketing budget.
Marketing budgets can range from small to astronomical amounts depending on the scale of the business. It is, however, a fair assumption that marketing budgets have increased exponentially over time. With digital marketing becoming more prominent, thus increasing the number of marketing channels all across, there has been a consistent and noticeable surge in costs.
Marketing expenses are not set in stone, though. Rarely can companies know exactly how much money they are going to spend on marketing. Most of the time, it all comes down to rough estimates. A lot of what you are going to spend on marketing depends on what kind of marketing activities you will be engaging in and which channels you will be using.
Expected Percent Change in Marketing Budgets in Next 12 Months

Figure 1. Courtesy of Cmosurvey.org
In the last decade or so, marketing budgets have remained consistent with small increases year-over-year. Marketing spend is expected to increase over previous years as well in 2019 and 2020. Interestingly enough, as marketing spend experiences a steady increase every year, the marketing budgets remain fairly consistent as a percent of the firm budget.
Though, marketing spend tends to fluctuate when accounted as a percentage of company revenue, hovering around 6.5% to 8.5%. To what extent, percentage-wise, companies allocate marketing budget (considering firm budget and company revenues) vastly depends on what kind of business they are. The following table illustrates the differences in marketing spend for different types of businesses.
| | | |
| --- | --- | --- |
| Business Type | % of Firm Budget | % of Company Revenues |
| Business-to-Business (B2B) Product | 9.2% | 6.3% |
| Business-to-Business Service | 8.9% | 6.9% |
| Business-to-Client (B2C) Product | 16% | 9.6% |
| Business-to Client Service | 14.9% | 11.8% |

Since marketing now has two forms, traditional and digital, it is important to understand how marketing spend differs between the two. The offline marketing space has been experiencing steep decline for years now, dropping single-digit percentages every year. In contrast, the online marketing space is experiencing incredible growth, with percentages in double digits each year.
Percent Change in Traditional Advertising Vs Digital Marketing Spend in Next 12 Months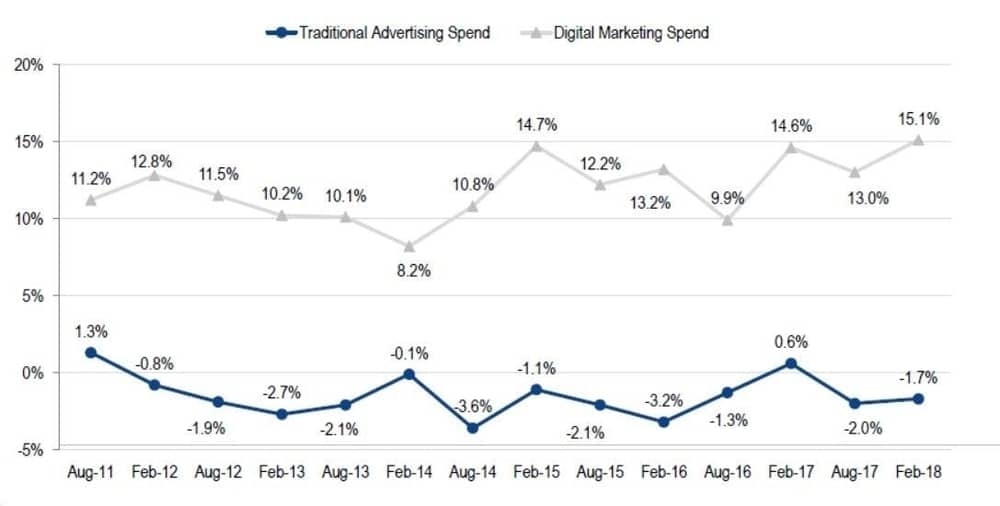 Figure 2. Courtesy of Cmosurvey.org
What this entails is that businesses are slowly shifting their attention, and consequently financial means, from traditional forms of marketing (e.g. TV, radio, newspapers, billboards, etc.) to the digital ones. An eMarketer report shows that in 2017 digital ad spend surpassed TV ad spend for the first time in US history: $72.01 billion or 35.8% of total ad spend for TV and $77.37 billion or 38.4% of total ad spend for digital.
The report also estimates the gap will only get bigger with time, with digital ad spend being 36% bigger than TV by 2020. Moreover, it is totally possible that by the end of 2019 digital ad spend will surpass all traditional media ad spend combined. That is not all, though. The growth of digital ad spend does not end there. By 2023, it will account for around 67% of total media ad spend, capturing two-thirds of the market.
Marketing Budget Breakdown
We all know what a marketing budget is: a percentage of a business's total budget that is dedicated to marketing and advertising. But let's break it down even further to understand what it is comprised of.
Here is a marketing budget breakdown, showcasing what expenses you should expect when planning your own marketing budget.
Direct expenses of marketing activities
Social media
Marketing employees
Marketing analytics
Marketing research
Marketing training
Sales employees
Other costs associated with marketing
A Gartner study conducted in 2018 shows that marketers intend to spend 29% of their marketing budget on new marketing techniques such as email marketing platforms, web content management, and digital marketing analytics platforms.
Clearly, marketing technology is seen as the highest priority for high profile marketers and is as such the number one area of investment due to its ever-growing importance.
The following figure shows what expenses companies usually include in their marketing budgets.
Expenses Included in Marketing Budgets (% of Companies)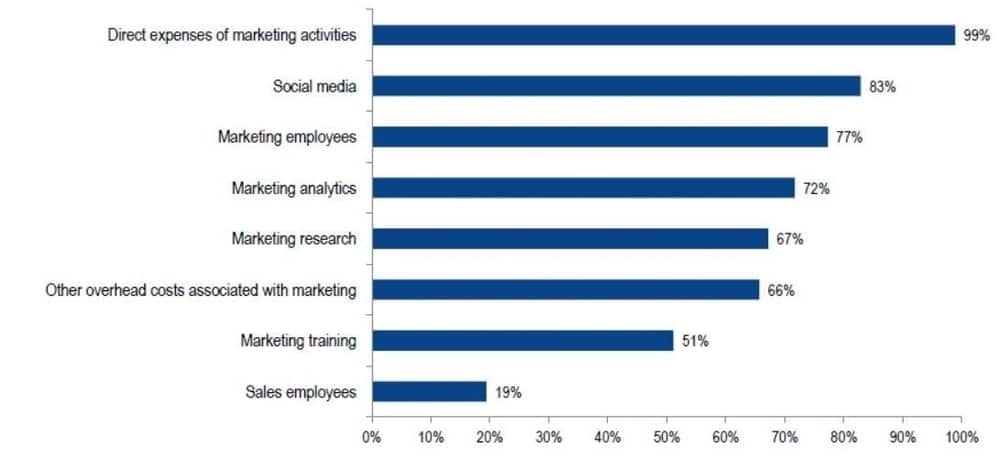 Figure 3. Courtesy of Gartner.com
But a marketing budget breakdown goes way beyond surface level expenditures. What constitutes "direct expenses of marketing activities" are a series of financial investments made across various marketing channels. Marketing channels can be of two kinds, offline and online.
Nevertheless, with traditional media forms suffering huge declines every year, it is in every business's best interest to allocate most of their marketing budget towards the online/digital channels.
Here are some key findings from Forrester Research and eMarketer reports that show how marketing budgets were allocated across different marketing channels, and include estimations for future reference.
In 2018, the average business allocated 42% of their total marketing budget to online channels, a number that is expected to grow to 45% by 2020.
Search engine marketing has captured the largest share of online spend, with online display marketing coming as a close second.
Online video marketing has the potential for the highest growth among all channels and is estimated to have double the investments [from 2016] by 2021.
Social media advertising continues to grow with 17% compound annual growth and represented 25% of total online marketing ad spend in 2018.
Digital marketing has an 11% compound annual growth rate.
Mobile marketing's share in total marketing budgets has risen almost 8% since 2017, from 3.7% to 11.2% in 2019.
By 2021, 46% of all ad spend will be comprised of investments in paid search, display advertising, online video advertising, email marketing, and social media marketing.
The digital space is full of marketing channels. When allocating your marketing budget, what you should consider is which channel will prove to be the best bang for your buck and have the highest return on investment (ROI).
A recent survey shows that email marketing has the highest ROI results for digital marketers, followed closely by social media marketing. The following figure shows an exact breakdown of all channels in terms of delivered results for over 2,500 digital marketers.
Marketing Channel ROI Across Industries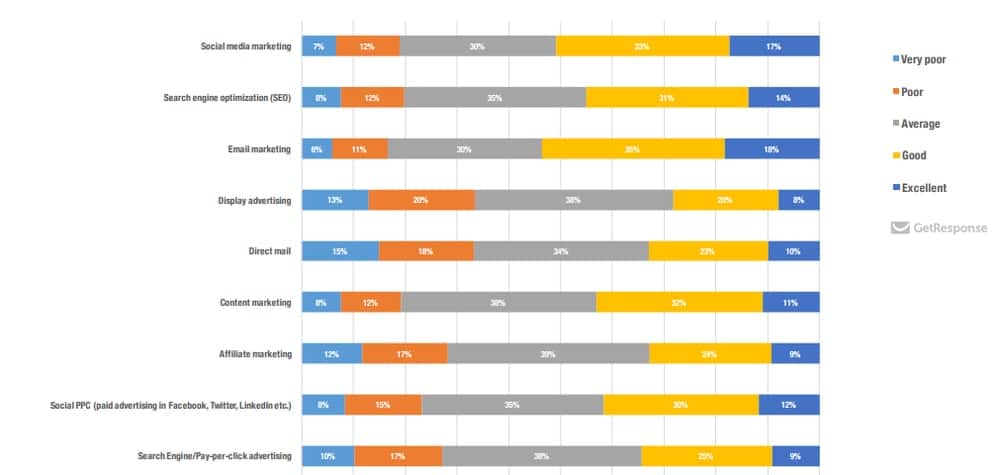 Figure 4. Courtesy of Getresponse.com
As far as digital platform investments go, a report by Hanapin Marketing found that 62% of marketers planned to increase their PPC (pay-per-click) budgets in the future, with Google Ads leading the way as a PPC platform planned to be invested in. Following Google Ads is Facebook's own ad platform—the only true competitor to paid search platforms—which is expected to see 66% more investments by marketers.
However, since other social media networks fall behind in terms of paid marketing and advertising opportunities, paid search channels still remain at the top spot over social media channels in terms of marketing investments.
Ultimately, how marketing budgets are allocated is contingent upon what channels are planned to be used and how much of financial investment is to be made. And the numbers, despite only being estimates, can change based upon industry, business type, and target demographics as well as marketing objectives.
Marketing Budget Percentage by Industry
The average marketing budget differs from one industry to another. However, that does not mean there is not any data showing marketing budget percentage by industry. In fact, a 2018 study done by Gartner fully breaks down marketing spending by industry.
Marketing Spending as Percent of Company Revenues by Industry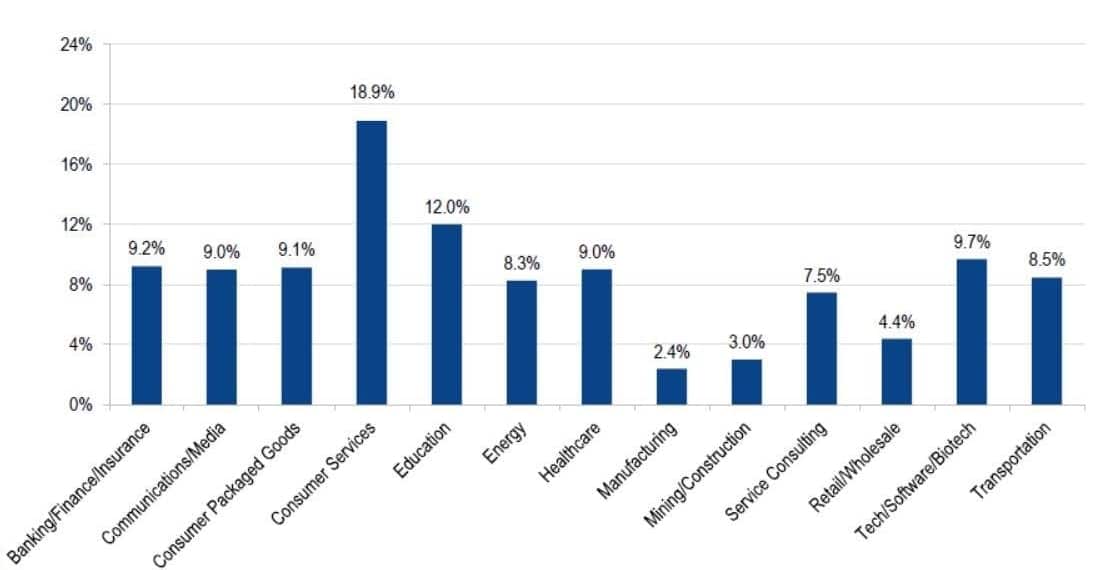 Figure 5. Courtesy of Gartner.com
Businesses that fall under the category of "Consumer Services" lead the way in marketing spend, devoting almost 19% of their company revenues to the marketing budget. Perhaps unsurprisingly, manufacturing and mining/construction allocate the least amount of money for marketing.
Furthermore, the study also found the biggest companies—those with more than $10 billion annual revenue—tend to spend the most on digital advertising. Digital advertising aside, the marketing budgets (as a percentage of total revenue) of these companies can range from 20% all the way to a staggering 50%.
To some extent, there is a direct correlation between huge marketing budgets and increased annual revenues. Companies that spend more on marketing, tend to generate more revenue, as evidenced by the largest businesses around the world.
How Much Do Companies Spend on Marketing?
The numbers vary across industries, so there is no exact number one can report for how much money companies spend on marketing. The common recommendation for businesses of any background and scale is the 5% rule—that is dedicating 5% of your revenue to your marketing budget. But that is a one-size-fits-all approach that may or may not suit a lot of businesses.
The US Small Business Administration, on the other hand, suggests spending 7-8% of gross revenue on marketing (for companies with <$5 million annual revenue and net profit margin of 10-12%).
Other such research studies conducted on marketing budgets have come up with a general percentage margin:
New Companies – 12-20% on marketing of gross revenue.
Established Companies – 6-12% on marketing of gross revenue.
Marketing Budget Template
Developing a marketing budget is an overwhelming and tedious task. When you are in the process of planning a marketing budget, there are a lot of things to be considered and if you forget anything by chance, it can have catastrophic results. This is where you need a marketing budget template, one that can comprehensively include and summarize any and all expenses you plan to encounter on the way. Using a marketing budget template can serve as a roadmap or a guideline and will help you a lot in terms of financial planning and preparation for the future.
Thankfully, there are a great number of resources on the Internet that provide free marketing budget templates that you can use. It is a good start for those who are not particularly great or excel at developing budgets on their own.
Here are a couple of marketing budget templates that you can use for reference.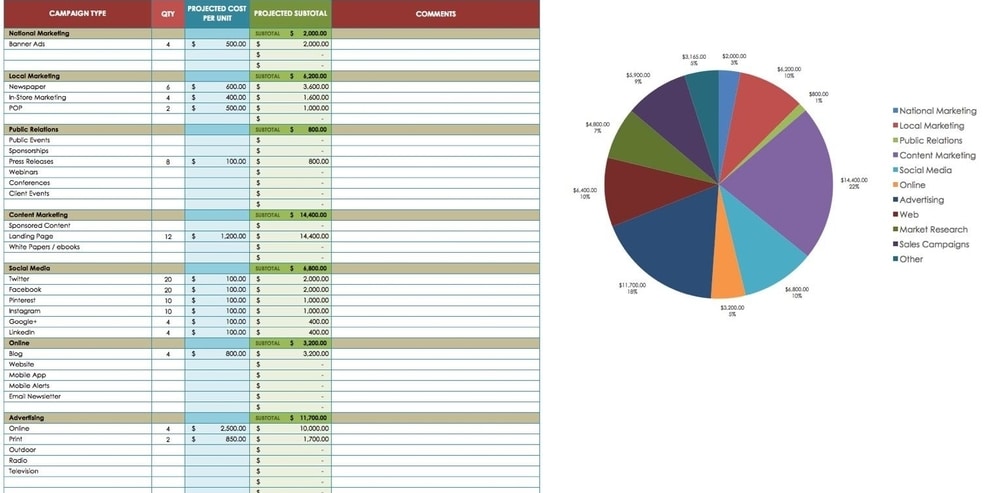 Marketing Budget Plan (Download)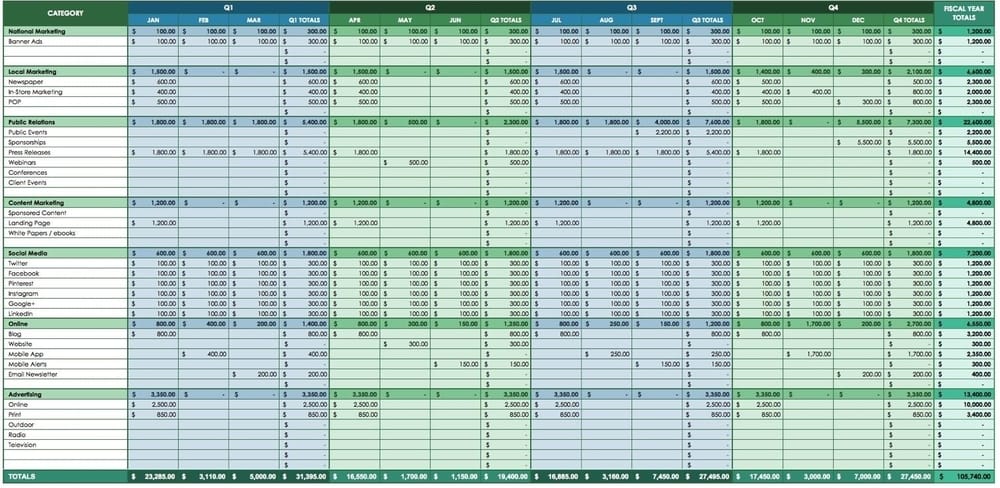 Annual Marketing Budget Plan (Download)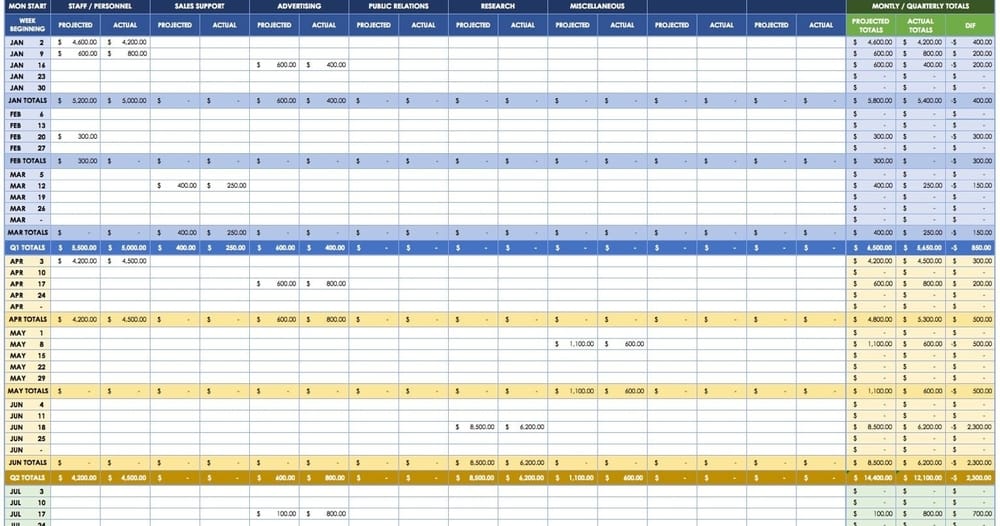 Simple Marketing Budget (Download)
Digital Marketing Budget Template
Digital marketing budgets are a little bit different from standard marketing budgets. Some of them are pretty comprehensive and include a lot of categories of digital marketing that you would otherwise forget or fail to include.
Here is a good example of a digital marketing budget template that you can use to build a single strategic budget plan for a digital marketing campaign.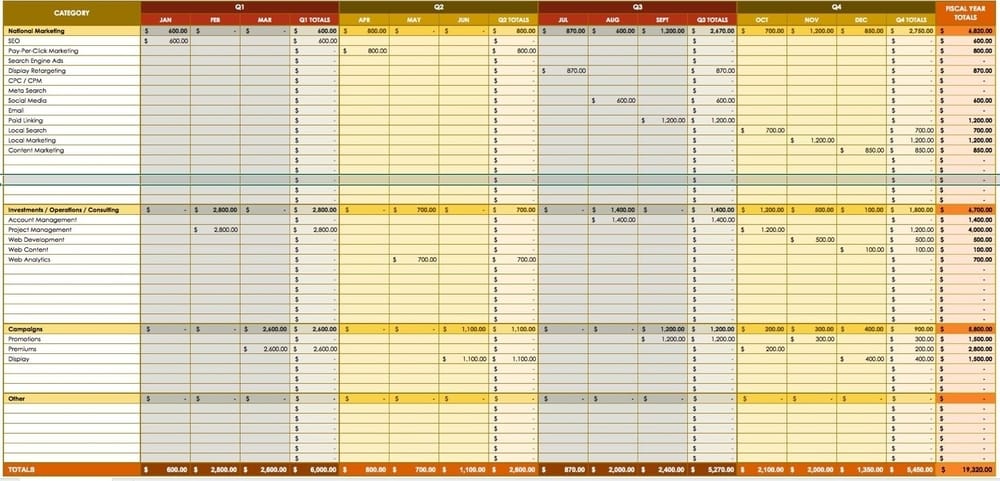 Digital Marketing Budget Plan (Download)
In case your marketing campaign is focused on social media, here is a template that is geared more towards such use. You can put down your current expenses, make projections and track the remaining budget on monthly or yearly basis.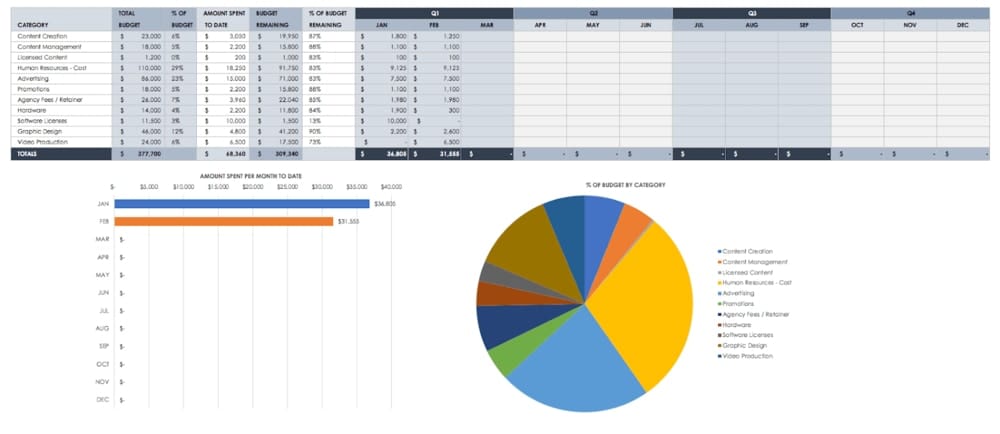 Social Media Marketing Budget Plan (Download)
Additionally, if you need help with calculations, there are plenty of calculators on the web that can assist you with that task. WebStrategies offers a marketing budget calculator for free, all you need to do is register on their website to start using it.
Marketing Budget Example
Even with all the ready-made templates and calculators available, it may be hard to envision how to form your own marketing budget. Don't worry, we have you covered in that department too. The following is a sample marketing budget that will give more insight into the marketing budget breakdown from a financial standpoint.
But before we get started, let's get clear on a couple of points. Prior to putting together your marketing budget, you should try to answer the following questions:
What your priorities are?
What your objective is?
What marketing channels you are going to use (traditional and/or digital)?
Whether you have the necessary resources to follow through?
If you have the answers to all those questions, you have the green light to start forming your marketing budget. With that said, let's go over our hypothetical marketing budget to give you a better overview of how it is done.
So let's say you have a total $100,000 budget for marketing. Here is how you can portion the budget for multiple marketing activities.
Email Marketing: 5-10% ($5,000-$10,000)
Inbound Content Marketing: 20-25% ($20,000-$25,000)
Company Website: 10-15% ($10,000-$15,000)
Public Relations and Influencer Marketing: 20-25% ($20,000-$25,000)
Social Media Ads, SEM (Search Engine Marketing) and PPC (Pay-per-click): 20-25% ($20,000-$25,000)
Traditional Media Marketing: 10-15% ($10,000-$15,000)
The list again is completely hypothetical and only serves to be an example of how you can allocate your marketing budget. In the end, it completely depends on what channels your business plans to use and what marketing activities you will be engaging in.
Marketing Budget for Small Business
Launching a small business, or maintaining one for that matter, comes with a multitude of hurdles that need to be handled. At this point, it may seem like beating a dead horse but it needs to be said that marketing is more often overlooked by small businesses.
Whether it is because of financial issues or other tasks piling up on owners, there can be many reasons stopping small businesses from ever engaging in marketing.
But, after all, how are customers ever going to find out about your small business if they have no idea it exists? Marketing is an absolute must in this day and age where even that little bit of edge can get you ahead of your competitors, more so when talking about small businesses.
No one is suggesting to spend more than you can afford on marketing. In fact, marketing on a small budget is absolutely a thing among small businesses. The good part is that a lot of highly effective marketing channels (that also boast good ROI rates) are pretty affordable for the most part.
The marketing budget is usually based on a certain percentage of total company revenue. According to the Small Business Administration, the average marketing budget for small businesses to be around 7-8% of your total revenue. This number leans on the safer side and comes with the assumption that the small business' net profit margin hovers around 10-12% range. However, small business marketing budgets are also predicted to increase on a yearly basis.
A Statista report states that SMEs (Small to Medium Enterprises) in the United States indicate heavy usage of digital and social media for marketing purposes due to couple of factors such as low costs, potential reach, and referral potential. With a limited budget for marketing, it is obvious that social media would take the top spot as the most preferred marketing channel by small businesses.
As far as small business marketing budget statistics are concerned, a similar report by Statista found that almost half of the businesses in the United States dedicated less than $10,000 to their marketing budgets. The following figure shows the results of the survey.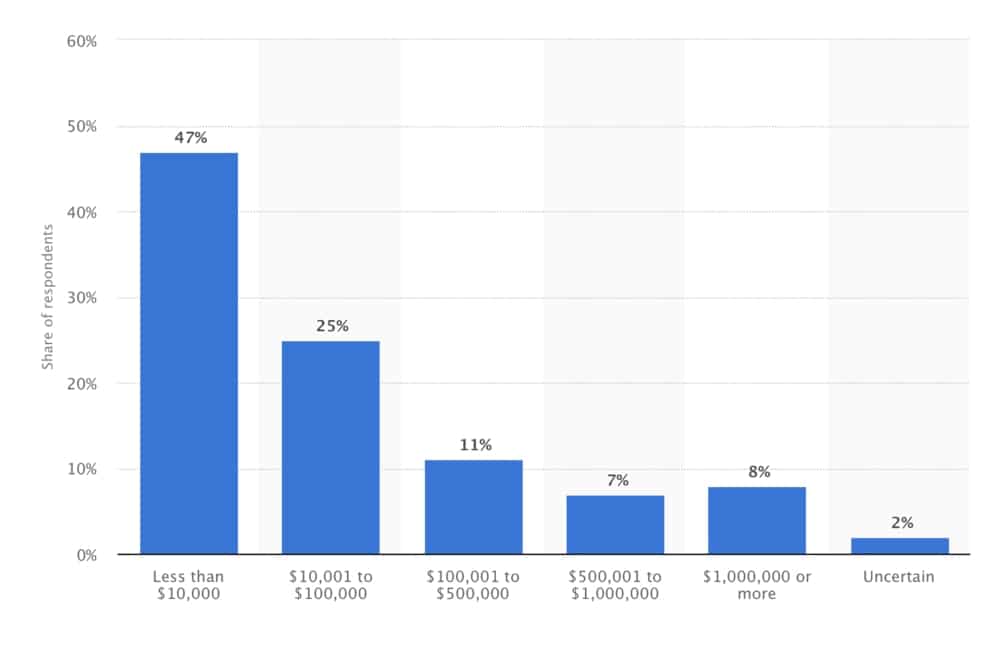 Figure 6. Courtesy of Statista.com
Startup Marketing Budget
Startup companies are very much similar to small businesses when it comes to marketing budgets. In order to grow the company, logically startups have to invest money in marketing to earn money. The problem lies in the fact that most startups are barely scraping by, having no spare money to spend on things that are not absolutely necessary for their survival.
Some other challenges that startups usually face are how and where to market their company as well as how much money to spend during the process. Strategic planning is vital in this regard because when a company is low on cash, every penny counts. Splurging money on marketing just for the sake of it will not yield any positive results for startups. In a way, having an aimless marketing strategy is just about equal to having no marketing at all.
Having established that, one way a startup marketing budget can be calculated is through estimating the gross projected revenue of the company and then using the 10-20% monetary equivalent of the projected figure. A typical marketing budget for a startup (that is 1-5 years old) is around 12-20% of their total revenue, whilst the figure is twice lower for more established companies (1-10%). It is recommended that startups go big with marketing in the beginning, thus devoting more funds to marketing spend, to generate market share and interest. The marketing-related expenditures can then be scaled back to be more in line with the industry average.
Movie Marketing Budget
Movie marketing budgets can be hectic. There are so many factors that ultimately determine how huge the budget can end up being. Especially when talking about Hollywood produced movies that are also marketed overseas, the P&A (Prints and Advertising) costs can get astronomical pretty quick.
Since there is no exact data when it comes to movie marketing costs, specifically for international movies, we will cover the marketing budgets for movies produced in the United States. It also has to be mentioned that P&A costs in the United States do not represent the industry standard. To put this into perspective, the average Hollywood blockbuster according to Hollywood Reporter has a $200 million dollar P&A budget, whereas the whole British film industry as a whole spent around £230 million for P&A in 2017 (Nielsen Media Research).
A medium-sized movie produced in the United States has a marketing budget north of $40 million. Big blockbuster marketing budgets can range from $150-$250 million easily since they are marketing the movies to overseas markets too. While generally movie marketing budgets are not released to the public, it is fair to assume that the typical movie produced in the United States has a seven-figure marketing budget, if not many times more.
The P&A costs (or marketing spend) of a movie can be broken down to five categories.
TV commercials
Outdoor posters, billboards, and adverts
Press adverts
Radio commercials
Online/Digital marketing
Nonprofit Marketing Budget
Like any other organization, nonprofits also engage in marketing, even though the general trend suggests that most nonprofits spend no dime on marketing. These budgets are significantly smaller when compared to companies in the private sector.
An interesting fact is that over 20% of nonprofits do not have a firm marketing budget at all and only spend money on marketing when the need arises. Yet this is the reason that nonprofits go under pretty quickly. Marketing helps create fundraising opportunities and attract new partnerships, all of which can raise funding on their own.
There is no data available about marketing budgets for non-profit organizations which makes it hard to track their marketing spend or what percentage of their total funds is devoted to marketing.
B2B Marketing Budget
As we have already discussed earlier, B2B marketing budgets tend to be slightly lower than B2C marketing budgets. However, depending on what type of B2B business we are talking about, the marketing budget can vary ever so slightly.
B2B Product businesses have a marketing budget that accounts for 9.2% of total firm budget, or 6.3% of total company revenue.
B2B Services businesses have a marketing budget that accounts for 8.9% of total firm budget, or 6.9% of total company revenue.
Restaurant Marketing Budget
The restaurant industry is particularly tough and has arguably the highest failure rate across all industries. When the going gets tough and revenues stagnate, most establishments make the mistake of cutting down on marketing costs or abandoning it altogether. In reality, the sensible decision here is to increase the marketing budget by as much as 10% to attract new business and get your restaurant over of the hump.
Restaurant marketing budgets can range from 10-20% of total firm budget but it is generally advised to dedicate around 25-30% of your total budget to marketing for a brand-new restaurant and only then scale down to 12-18% for an established and growing restaurant. Generally speaking, the more money you dedicate to your marketing budget, the more revenue your restaurant will start to gain.
Real Estate Marketing Budget
Realtors do not spend much money on marketing, thus marketing budgets in the real estate industry lie on the lower side of the spectrum. In fact, a study conducted by Real Estate Webmasters discovered that in 2017 53% of realtors dedicated less than $5,000 to their annual marketing budget.
Most of the marketing budget is invested in online channels, where most of the leads are generated. The following chart shows annual marketing spend for the real estate industry (2017).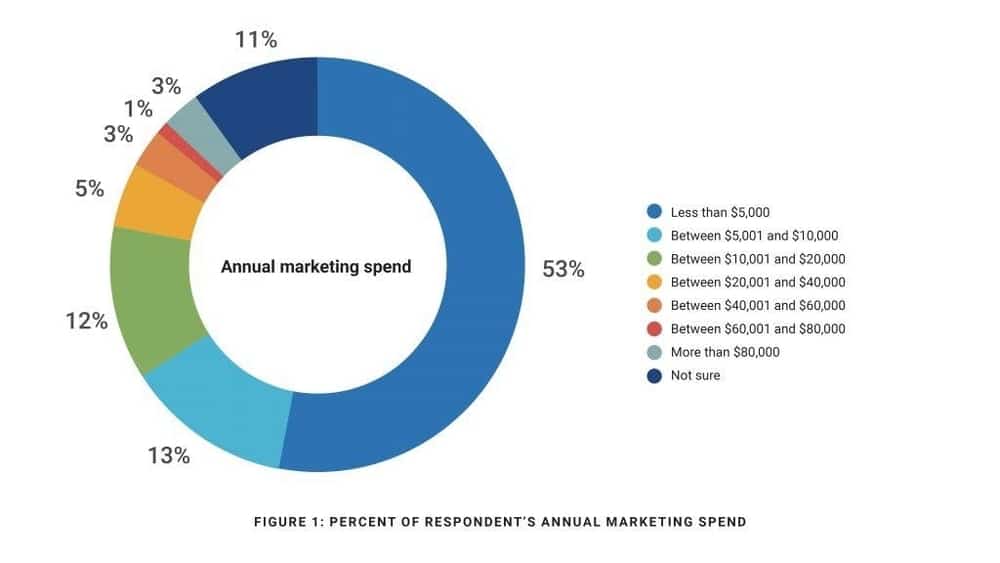 Figure 7. Courtesy of Realtrends.com
Marketing Budgets of Top Companies
All of the biggest companies in the world have one thing in common—they spend a lot of money on marketing. Below we have listed some of the more notable examples of companies going big with marketing, which helps them cement their place as industry leaders.
Nike
Nike is one of the largest apparel brands on the planet, with their total annual marketing budget trumping most business' annual gross revenues by a wide margin. Since 2014, their marketing budget has increased from $3.03 billion to $3.75 billion (almost 20% increase). Nike invests huge sums of money into its promotional campaigns and sponsorship agreements with high profile athletes, raising the marketing budget consistently on yearly basis.
Adidas
Along with Nike and Puma, Adidas is one of the top three players in the sports apparel industry. However, its marketing spend does not even come close to Nike's supremacy, with the latter having an annual marketing budget almost ten times the size of the former. Adidas Group's marketing budget has been growing steadily from the 2013-2017 period, peaking at $438 million in 2017.
Apple
Apple is one of the best examples of a company experiencing tremendous growth thanks to increasing their marketing spend. The company was in the spotlight in 2015 when they increased their marketing budget by 50%, devoting a total of $1.8 billion to marketing. Their reasoning at the time was that marketing and advertising were crucial in developing and consequently selling new, innovative products. As a result, the company netted $53.4 billion in profits on turnover of $233.7 billion that year.
Coca Cola
Coca Cola has remained fairly consistent in their marketing budget over the last couple of years, with an average of $3.8 billion annual budget for worldwide advertising. Over 20% of that budget (accounting for a total of $899 million) was spent in the United States in 2017 alone. Interestingly enough, with so much cash injected into their marketing efforts, the company's net revenues dropped by 30% in 2018, amounting to $31.9 billion in the end.
McDonald's
McDonald's annual marketing budget has been hectic for the last decade, with no sign of consistency shown in between. It has had both its ups and downs on yearly basis. The global fast food franchise spent $808.2 million in marketing expenses in 2014 but since then the number has drastically dropped to $532.9 million in 2017.
Amazon
Amazon is a global giant of a corporation and, unsurprisingly enough, their marketing spend in the fiscal year 2018 amounted to over $13 billion, having an increase of $3 billion from 2017. Most of the marketing costs were comprised of targeted online advertising, TV ads, sponsored search and third party referrals.
Costco
The retail giant spends next to nothing on marketing and advertising, which may come as a surprise to most. Instead, their whole marketing model is based on attracting clients through wholesale discounts. In this regard, their business model is eerily similar to Inditex—the parent company of Zara and the biggest fashion retailer in the world—which also does not spend anything on marketing, yet experiences tremendous business growth.
Geico Marketing Budget
GEICO's marketing budget is the largest in the auto insurance industry by a long distance. The Berkshire Hathway-financed company had a marketing budget of $1.18 billion in 2013, placing them in the top five most advertising brands in any industry in the United States.
Red Bull
Red Bull's marketing expenditures amount to a total of $2.1 billion, which might not seem much at first glance (considering the size of the company and its dominance in the US market), but is shockingly high when you take into account that the amount represents 84% of their gross profits.
Credit Union
Not much data is available on how much the marketing budget is for credit unions, though it is estimated that they have a marketing budget close to $500 million annually.