WhatsApp OTP: Introducing Meta's Special Feature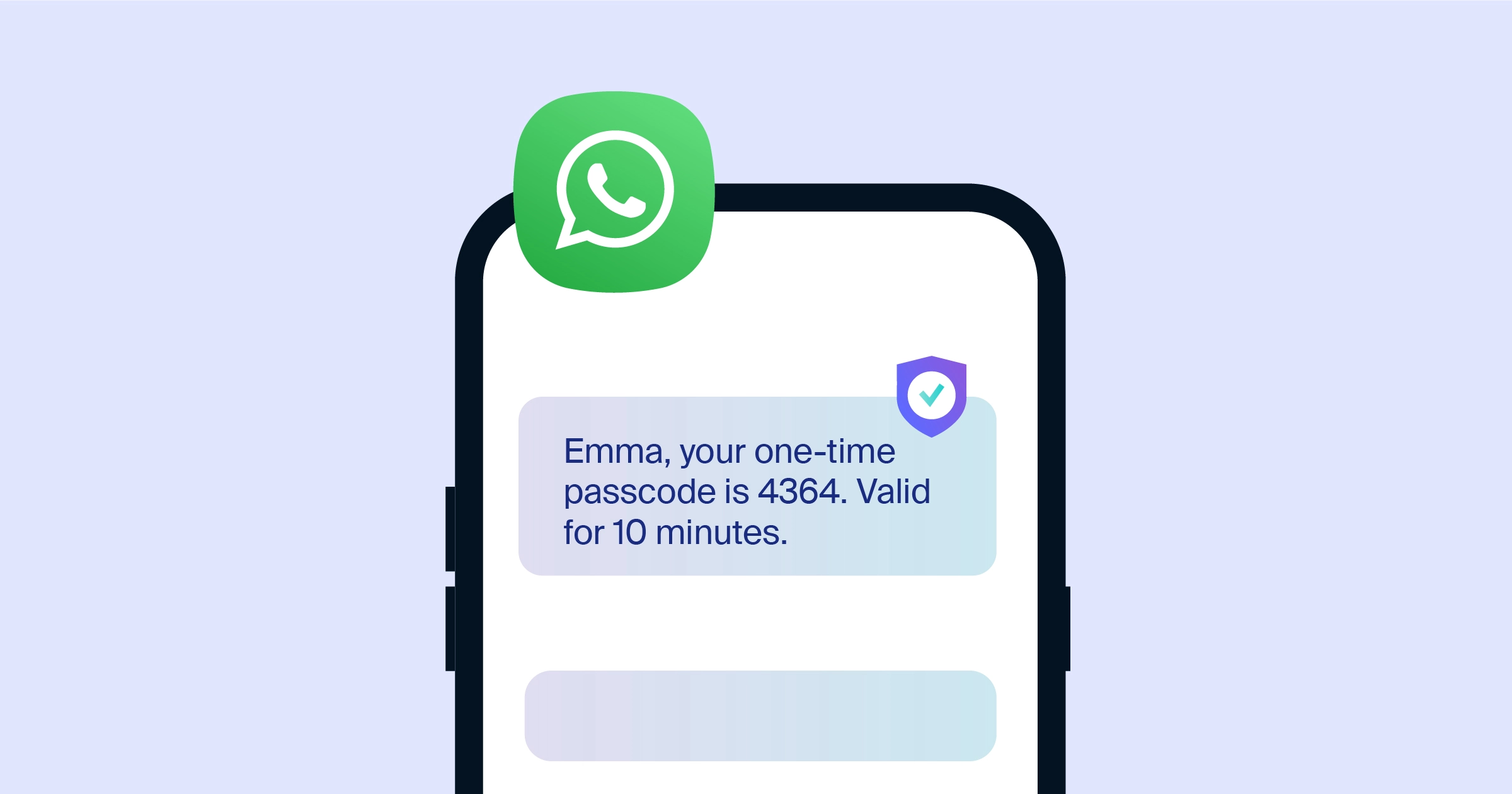 Whether you're verifying an account, resetting credentials, or perhaps authenticating a transaction, security is key. While many verification processes are known for being unnecessarily long and inconvenient, one-time passwords offer just as much security—but often at the click of a button. 
For quite some time, SMS has been the standard for OTP verification. But this reign could very well come to an end with the advent of WhatsApp OTP codes. This new feature by Meta is believed to be a reliable way to authenticate online activity—perhaps more so than SMS. 
What is WhatsApp OTP?
WhatsApp One-Time Password (OTP) is a system of authentication that uses the WhatsApp messaging platform to send a unique, temporary code known as an OTP. The OTP is sent to a user's registered WhatsApp phone number, and the user is required to enter this OTP to verify their identity and proceed with transactions or logins. This method leverages the security and widespread use of WhatsApp to provide a seamless and safe authentication process.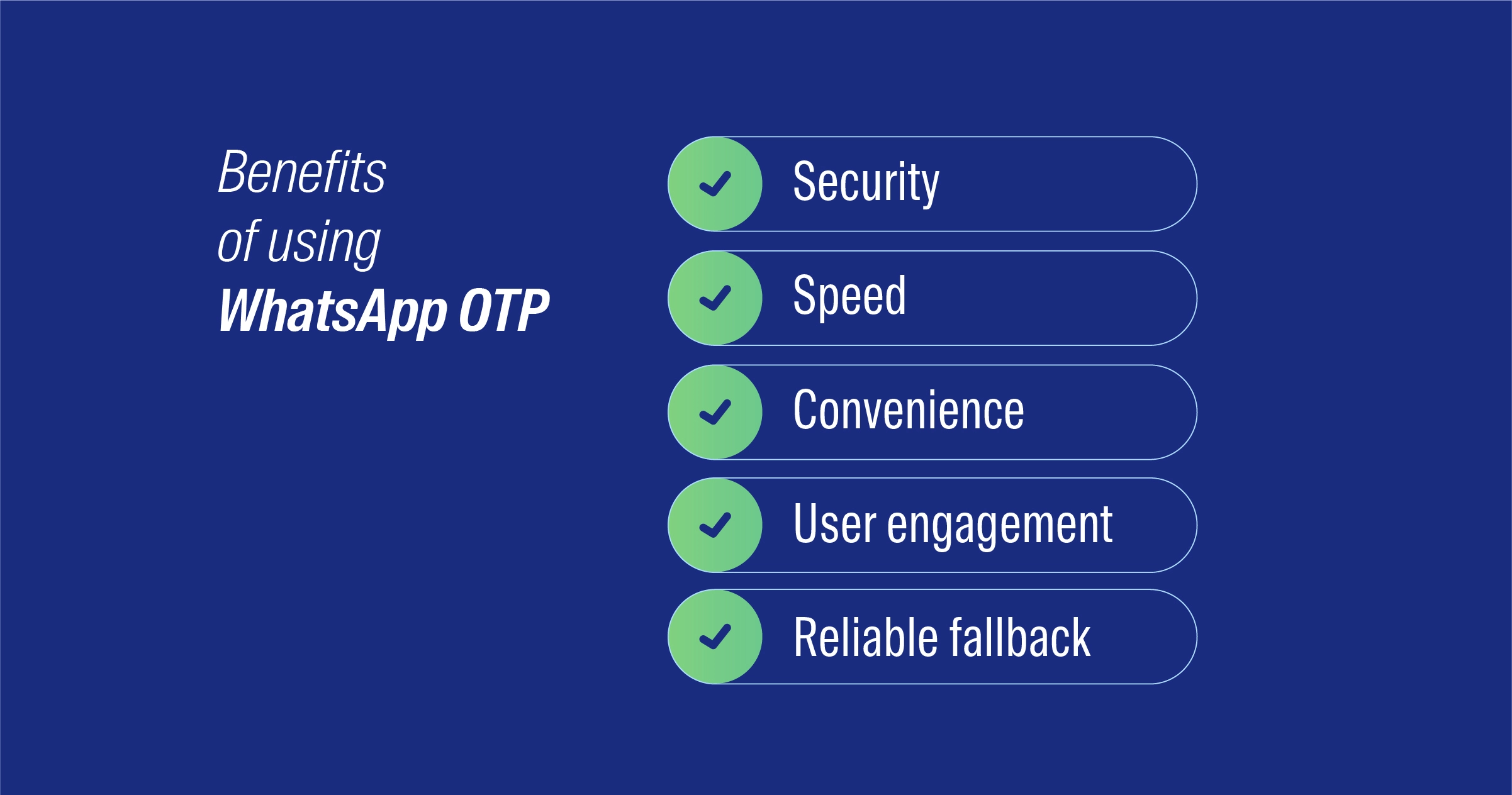 Why Use WhatsApp OTP?
There are several reasons to make use of OTP authentication via WhatsApp. These include but are not limited to, the platform's end-to-end encryption, high delivery rates, cost-effectiveness, and excellent user experience. 
End-to-End Encryption
WhatsApp messages, including OTPs, come with end-to-end encryption. This means that only the intended recipient can read the OTP message. The security text that the app displays at the top of every WhatsApp chat—including those triggered by two-factor authentication—clearly informs the user that the message they received is fully encrypted every step of the way.
Two-Way Communication
WhatsApp's two-way communication feature enables smooth interaction between businesses and users. This may not always be possible with SMS texting, particularly with notifications that you can't reply to. WhatsApp users, on the other hand, can easily reach businesses should they encounter any issues. The fact that they can do so enhances the overall user experience of the app, which in turn validates its use by businesses. 
Cost-Effective
Sending OTPs on WhatsApp is more cost-effective than traditional SMS codes, particularly for businesses that have customers abroad.Using the WhatsApp API also gives you access to 1,000 free messages per month. This makes the channel especially perfect for businesses that have a small audience; the application becomes virtually free to use. 
High Delivery Rates
Sending a one-time password requires the recipient to have access to a cellular signal. This may not always be possible for those in areas with poor coverage. Unlike SMS, WhatsApp messages have a near 100% delivery rate—through either Wi-Fi or mobile data. It's also worth noting that using WhatsApp to send OTPs doesn't involve the possibility of having to deal with multiple carriers. 
High Level of Trust
There's no denying that SMS is a great communication channel to work with. But it's not always easy to tell whether a text message is from a credible source or not. And while having a sender ID with your brand name can prove authenticity, many recipients may still not fully trust it.
On the other hand, WhatsApp only allows you to send messages using the API after it verifies your business. This means the recipient can guarantee that any OTP they receive via WhatsApp is credible. 
Reliable Fallback
As widespread as WhatsApp is, there are still people who don't use the app or don't open WhatsApp messages. That's where SMS comes in handy as a fallback. Should the recipient not be able to receive the WhatsApp message for whatever reason, the OTP goes through via SMS instead. All this is possible thanks to the ability to integrate WhatsApp with SMS. 
Option to Block
While many SMS messages give you the chance to opt out, that option is not always available. Both WhatsApp and WhatsApp Business, however, allow users to block a contact that sends unsolicited messages. This makes it ideal for reaching out to your audiences with their guaranteed permission, whether it's for sending verification codes, marketing messages, or any other form of business communication.  
OTP WhatsApp Vs. SMS
While SMS has traditionally been the standard medium for sending OTPs, WhatsApp offers numerous advantages over SMS. These include full encryption for enhanced security, higher rates of delivery, and a better user experience.
On the other hand, SMS is more likely to be associated with spam. It also requires a stable signal for the OTP text to reach the user. Moreover, WhatsApp's two-way communication feature allows users to quickly and easily address any issues they may encounter, which is not possible with traditional SMS OTP. 
How to Start Sending OTP with WhatsApp API
To begin sending WhatsApp OTP codes, you will need a WhatsApp Business account and access to the WhatsApp API. The entire process is fairly straightforward. Here's a quick rundown of how to get started with setting up and sending them: 
1. Create a WhatsApp Business Account 
Fill in your business details in the form provided by your business messaging service. Once you enter all the required information, simply wait for WhatsApp to verify your business
2. Set up Facebook Business Manager 
Log into your Facebook account and access the Facebook Business Manager. Under 'Business Settings', select 'Accounts' and then 'WhatsApp Accounts'. Add your WhatsApp business account.
3. Generate and Send the OTP
Use the WhatsApp API to generate an OTP and send it to the user's WhatsApp number.
4. Verify the OTP
Once the user enters the received OTP, use the API to verify it. If the OTP is valid, the user can proceed. If not, display an error message and prompt the user to try again.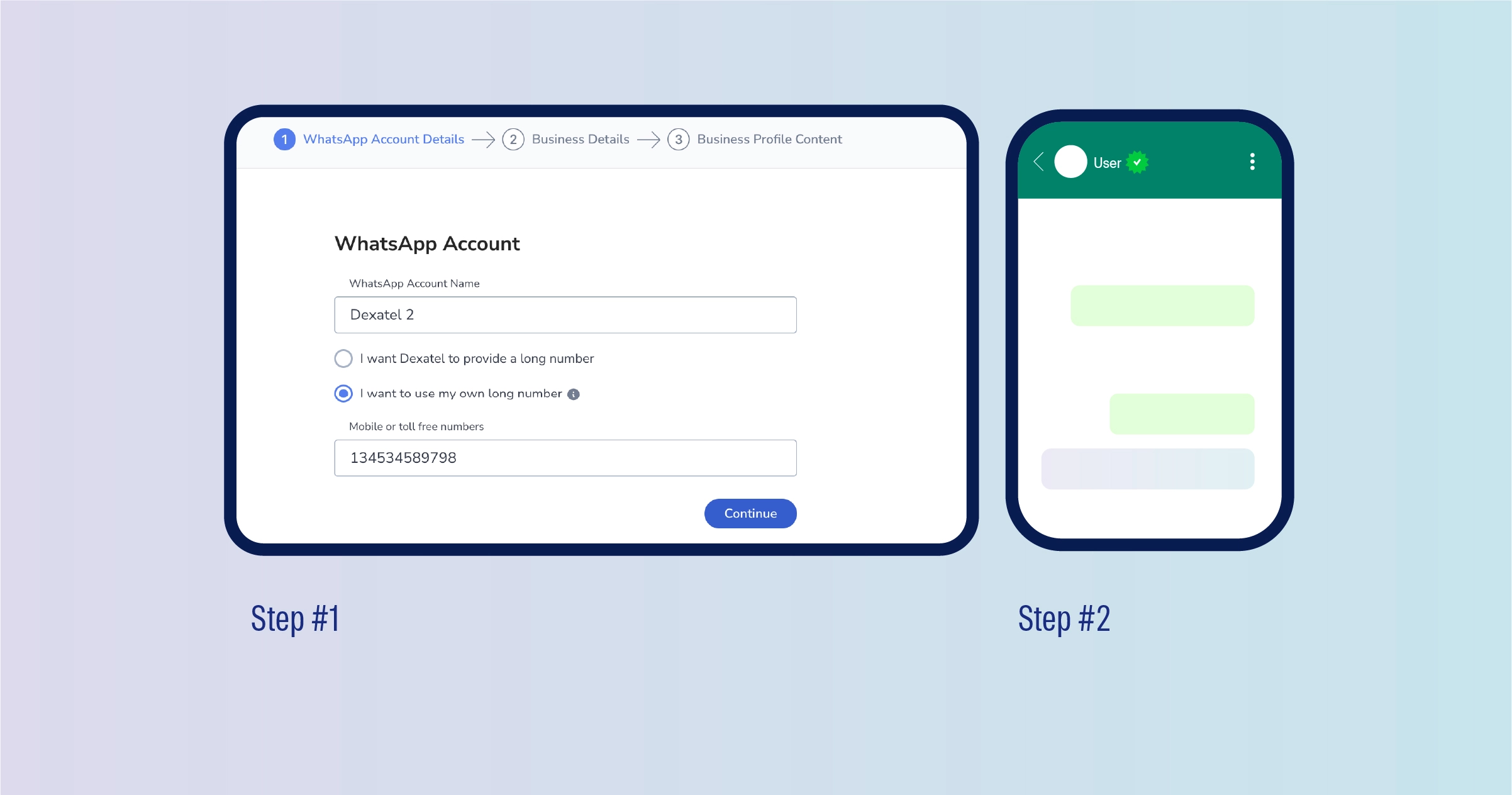 How to Send an OTP Code With Dexatel
Meta announced that it will roll out WhatsApp OTP verification as a separate feature on June 1, 2023, with different pricing across countries. The feature will automatically be available on Dexatel on the same day.
As a leading provider of business messaging solutions, Dexatel offers WhatsApp API integrations that allow businesses to benefit from the vast user base of the instant messaging app. The following steps outline the process of sending an OTP code via Dexatel's platform. 
You'll need to create an account on Dexatel and fill in the form stating that you want to use WhatsApp

The system will monitor that information and verify it with Meta

You'll get a profile with a verified badge and you'll be able to send OTP messages 

Using the WhatsApp Business API, you can automate OTP texts and set triggers based on use cases

The pricing is based on delivery status. That is to say, if the recipient doesn't have WhatsApp or an internet connection, the OTP WhatsApp message will not be charged