WhatsApp Vs. Texting: Which Platform is Better?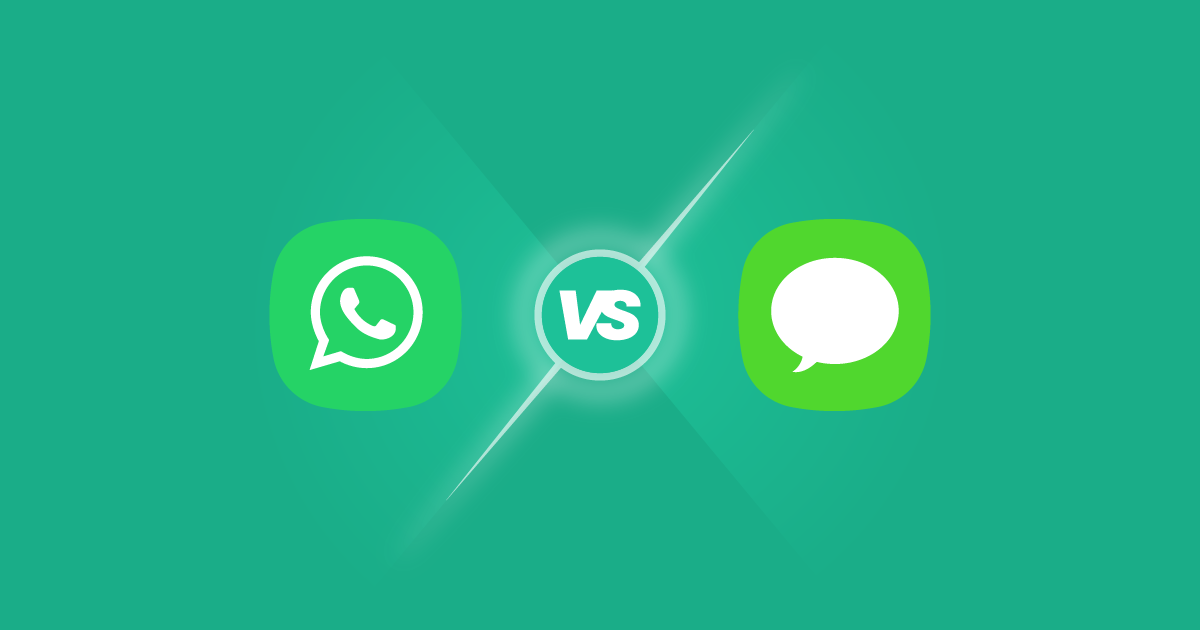 In the ever-evolving digital landscape, the way we communicate has undergone significant transformations. Among the myriad communication platforms available today, WhatsApp and traditional texting have emerged as popular choices. 
This comprehensive guide aims to look into the comparison between WhatsApp vs.SMS. We explore key features, benefits, and potential drawbacks, and provide insights to help you find answers to questions like, "Why is WhatsApp better than texting?"
Hint: it's a matter of personal or business needs and preferences.
Understanding WhatsApp
WhatsApp is a free instant messaging app that has revolutionized the way we communicate. It offers a plethora of features beyond just sending and receiving text messages. People use it to send photos, videos, documents, and even make voice and video calls. All you need is a smartphone and an active internet connection.
The messaging platform is completely free, which is one of the reasons it has more than 2 billion users.
The app's user-friendly interface and rich feature set have made it a popular choice for both personal and business communication. It allows for real-time communication, making it a great tool for staying connected with friends, family, and colleagues.
Furthermore, with the introduction of WhatsApp Business and Meta WhatsApp Cloud API, companies can now interact with their customers directly. This way, you provide a more personalized and efficient customer experience through WhatsApp marketing.
The app has also been instrumental in bridging the gap between different countries. With its ability to send messages to international phone numbers without any additional cost, it's the preferred choice for those who aren't in their home countries. It has truly made the world a smaller place by connecting people across continents. 
On top of these features, it also offers a range of other functionalities that enhance the user experience. These include the ability to mute conversations, archive chats, star important messages, and customize notifications.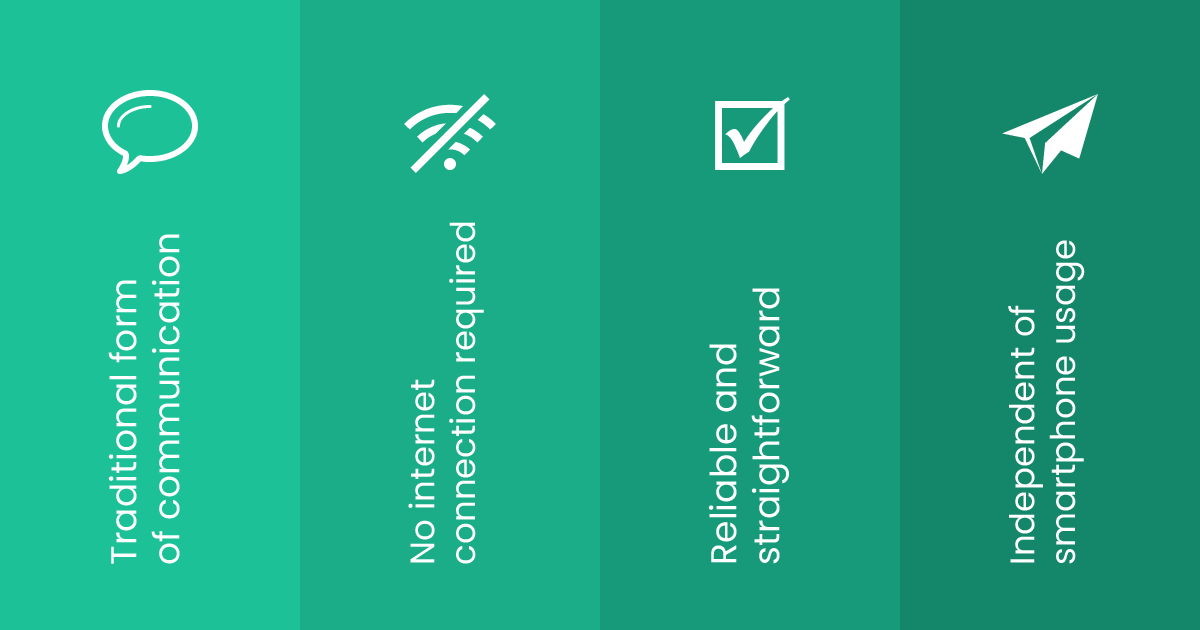 Understanding SMS 
SMS is a traditional form of communication that has been around for decades. It allows users to send and receive text messages via cellular networks. It doesn't require an internet connection or a smartphone. You can send an SMS from any mobile phone, making it universally accessible.
While it lacks the advanced features that WhatsApp offers, texting is still widely used due to its reliability and simplicity. It's a straightforward method of communication that works on any phone, regardless of its features or capabilities. It's particularly useful in areas with limited internet connectivity or for individuals who use basic mobile phones.
Get Started Now
Reach your clients now and claim your 30-day free trial. No credit card required.
SMS also holds a significant place in business communication. Many businesses use SMS for sending transactional messages, alerts, and promotional offers. Despite the rise of internet-based communication platforms, SMS continues to be an efficient communication channel for businesses.
Moreover, texting has a certain nostalgic charm to it. For many, it brings back memories of the early days of mobile communication, making it a preferred choice for those who appreciate the simplicity and straightforwardness of traditional forms of communication.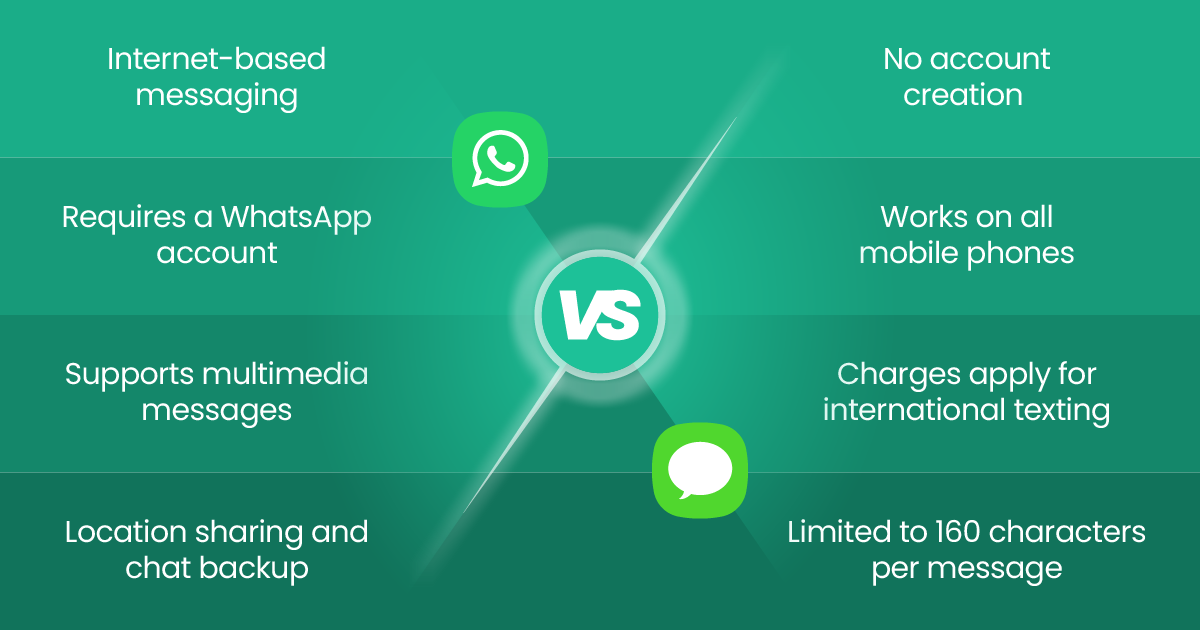 WhatsApp and Texting: A Detailed Comparative Analysis
Cost Implications
One of the main reasons why WhatsApp has gained popularity over traditional texting is its cost-effectiveness. The former requires only an active internet connection, and all its features are free to use. On the other hand, the latter usually incurs charges per message sent, especially for international messages. This cost factor makes the app a more economical choice for users who frequently communicate with people in different countries.
However, it's important to note that while the app itself is free, it does require an internet connection. These could incur data charges, especially when you're sharing videos. That being said, the actual cost-effectiveness can vary based on the user's data plan and usage. 
User Interface and Customer Preference
WhatsApp offers a more intuitive and feature-rich user interface. It allows users to send media-rich messages, including images, videos, and documents. Moreover, with features like group chats and voice or video calls, it provides a more engaging communication platform.
On the other hand, the simplicity of texting can be a benefit for those who prefer a straightforward communication method. It doesn't involve learning new features or navigating through different options. This makes it a convenient choice for users of all ages.
Security
In terms of security, WhatsApp provides end-to-end encryption, which is especially useful if you want to send WhatsApp OTP messages, ensuring that only the sender and the receiver can read the messages. This level of security is not available in traditional SMS, making it a more secure platform for communication.
While the app's end-to-end encryption offers a high level of security, it's not foolproof. So, you may still want to practice caution when sharing sensitive information and keep an eye out for potential security risks.
It's also worth mentioning that WhatsApp is owned by Facebook, which has faced criticism over its handling of user data. Having said that, concerns about data privacy still remain, even though it does provide end-to-end encryption. 
Usefulness in Marketing
SMS is an effective tool that comes in handy for marketing purposes. You can use it for two-way communication with customers in addition to sending mass automated texts. WhatsApp, on the other hand, has strict rules when it comes to bulk and automated messaging. Failure to comply with these rules can result in a profile ban. 
Be that as it may, WhatsApp Business offers other benefits in return. It allows you to set up portfolios, branded and verified profiles, as well as product or service catalogs with photos and descriptions. Both existing and potential customers can see all of this within the app.
Texting offers a similar feature in the form of Verified SMS, essentially allowing you to brand your profile. And instead of creating portfolios or product catalogs, you would simply add a link to your website landing pages. 
Bulk Messaging
Bulk messaging is key to reaching a wide audience. But not all mobile communication channels allow this. WhatsApp, being one of those channels, has warned against using the app to send out bulk or automated messages. This poses an issue for businesses looking to boost brand awareness and maximize customer engagement as efficiently as possible via WhatsApp.
While workarounds like pre-approved templates do exist, other restrictions make the app less ideal for mass messaging. 
SMS, however, is perfect for bulk texting. And while you need an SMS platform for this purpose, most CPaaS providers offer mass messaging as part of their services. You can even personalize your bulk messages by segmenting your target audiences and addressing recipients by their names.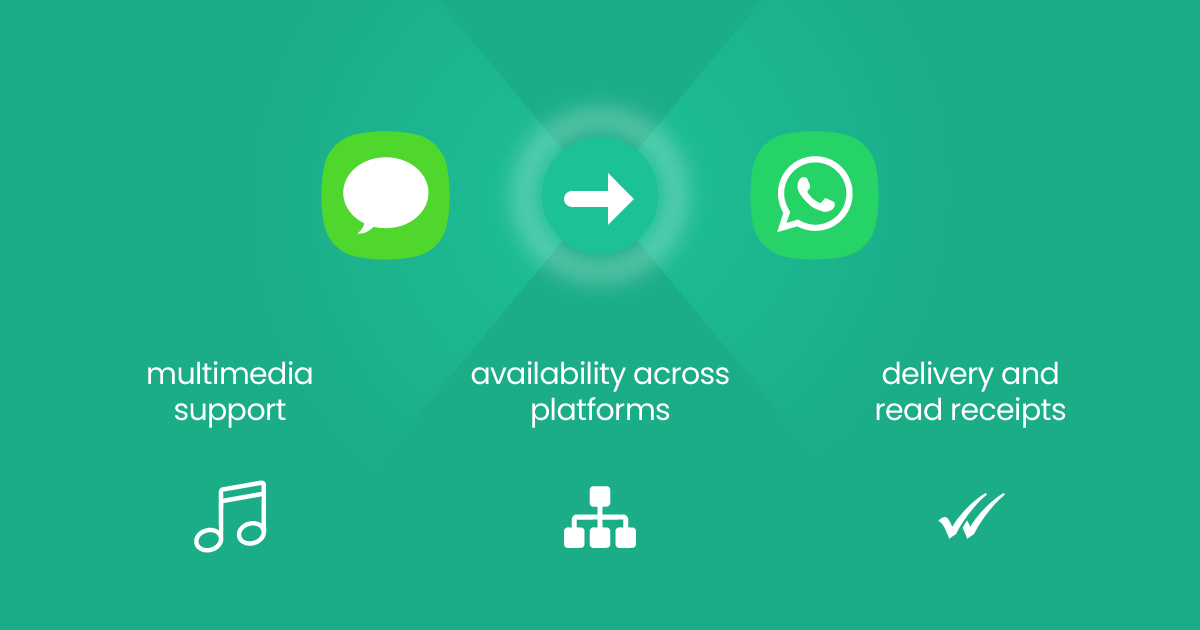 The Shift from SMS to WhatsApp
The advent of smartphones and the internet has resulted in a significant shift from SMS to WhatsApp. Sending media-rich messages along with the cost-effectiveness and user-friendly interface of the app are reasons behind this shift. This trend is particularly noticeable among younger generations, who prefer using modern and versatile communication platforms. 
Despite the growing popularity of the messaging app, SMS still maintains relevance to this day. This is especially true in areas with limited internet connectivity or among users who prefer a more traditional form of communication. This is a testament that while new technologies can offer more features, they cannot completely replace the older ones.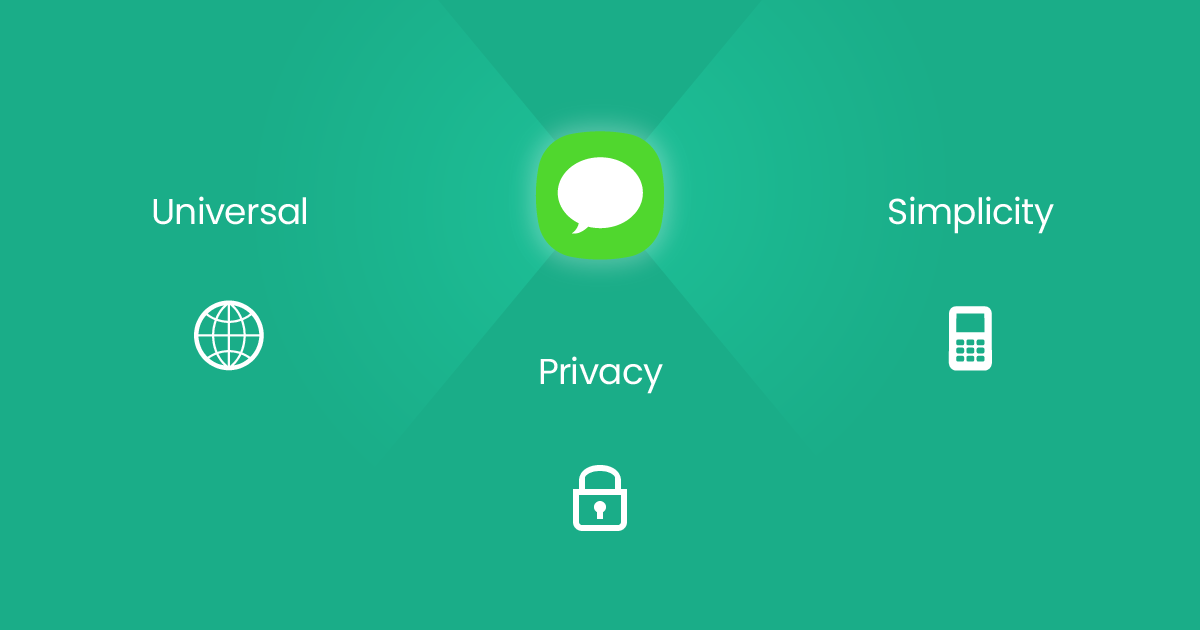 Benefits of Using WhatsApp Over Texting
Media Sharing  
The app allows you to send multiple types of media, including pictures, files, audio files, and documents. This feature is particularly useful for sharing memorable moments with friends and family or exchanging important documents for work.
Read Receipts
With WhatsApp, you can check if the person you sent the message to has received and opened it. This feature provides a sense of assurance that your message has been seen, which is not available in traditional texting.
Group Chats
WhatsApp allows you to create or join group chats, making it easy to communicate with multiple people at once. This feature is great for coordinating with teams, planning events with acquaintances, or staying connected with family members.
Voice and Video Calls 
In addition to text messages, it allows you to make voice and video calls. This feature is especially useful for long-distance communication, as it allows you to have real-time conversations without additional costs.
Status Updates
WhatsApp allows you to share status updates, which can be viewed by your contacts. This feature is a fun way to share what you're up to or express your thoughts and feelings.
End-to-End Encryption
A major difference between the app and texting is end-to-end encryption. Messages are encrypted from end to end, which means that the chat is only accessible to the sender and receiver. This provides a high level of security and privacy for your conversations. 
Benefits of Using Texting Over WhatsApp
Despite the rise of WhatsApp, traditional messaging still holds its ground in certain areas. Here are some of the key advantages:
Universal Accessibility 
Texting doesn't require an internet connection and is therefore more reliable in areas with poor or no internet connectivity. It's also universally accessible, as it doesn't require a smartphone or any app installation. In other words, any mobile phone will do. 
Simplicity 
SMS is straightforward and easy to use. It doesn't come with the learning curve associated with new apps. This makes it a convenient choice for users who prefer to keep things as simple as possible.
Privacy
By default, WhatsApp requires users to share their online status and last seen information—unless the user chooses not to. SMS, on the other hand, offers more privacy as it doesn't reveal any of that information, to begin with. 
Reliability 
SMS texts are sent and received via cellular networks. As such, texting is a more reliable communication channel in situations where internet connectivity is unstable or unavailable.
Business Perspective: WhatsApp vs SMS 
From a business perspective, both offer unique advantages and communication APIs for developers. Businesses can leverage its rich features and global popularity. You can evem have a professional presence on the platform, complete with a business profile and automated responses.
On the other hand, SMS marketing is a powerful tool for reaching a wide audience quickly and reliably. Despite the limitations in features, the high open rates of SMS make it an effective channel for promotional messages and alerts.
Moreover, SMS is not dependent on the recipient having a specific app installed. This means businesses can reach their customers regardless of the type of phone they use or the apps they have installed. This universal reach makes SMS a valuable tool for businesses to connect with their customers.