Discord Vs. WhatsApp: Which One to Choose?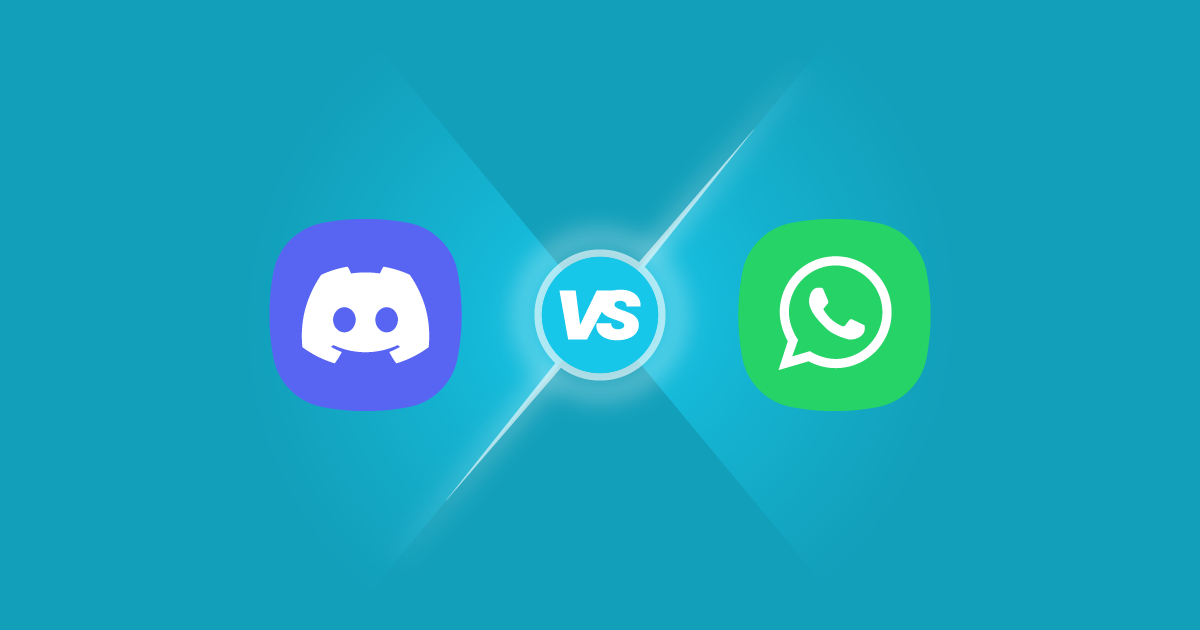 Are you struggling to choose between Discord vs. WhatsApp for your messaging needs? Look no further. These two apps have distinct features that make them stand out. The decision to pick either of the platforms can be daunting, especially if you're not familiar with the differences between them.
If you're a business owner searching for the best communication app, we're here to set the record straight.
Understanding Discord and WhatsApp: A Brief Overview
Discord and WhatsApp are two popular messaging apps that have become ubiquitous in the digital world. While both platforms have similarities, they offer different features and are used for different purposes.
Discord is primarily aimed at gamers and communities, while WhatsApp is a more general instant messaging app. The former allows users to create servers where they can voice chat and share files with others. It also offers various customization options, such as custom themes, and has built-in integrations with gaming platforms.
On the other hand, WhatsApp is an instant messaging app that focuses on private communication. It has features like end-to-end encryption, voice and video calling, location sharing, and creating group chats. On top of that, the emergence of WhatsApp marketing has made it a more versatile platform. Businesses leverage this to improve their customer experience.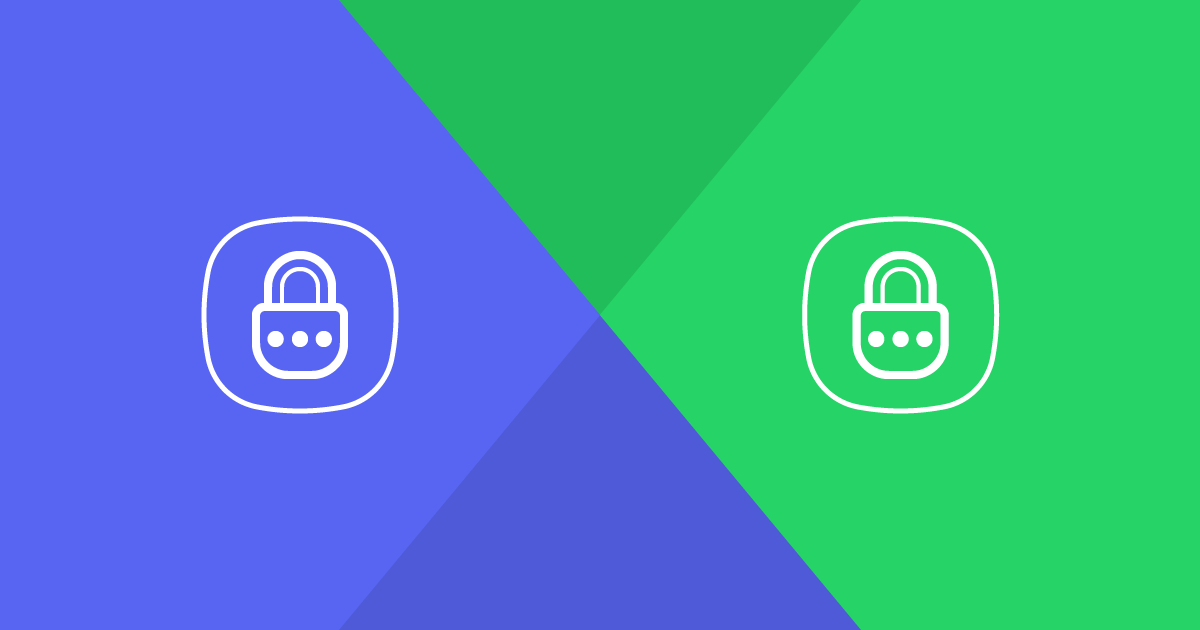 Is Discord Encrypted Like WhatsApp?
When it comes to security in the WhatsApp vs. Discord debate, both use different encryption methods to protect user data. WhatsApp uses end-to-end encryption. This means that messages are encrypted on the sender's device and can only be decrypted by the intended recipient. This ensures that only the sender and receiver can read the messages, and not even WhatsApp can access them.
On the other hand, Discord uses SSL/TLS encryption to protect user data in transit. Messages are encrypted when they are sent over the internet, but they are decrypted when they reach Discord's servers. While Discord does not use end-to-end encryption, it still provides a good level of security for its users' data.
It's important to note that while encryption provides a layer of security, it's not foolproof. Users should still take precautions to protect their data, such as using strong passwords and enabling two-factor authentication.
Get in Touch With Our Experts
Streamline your efforts and centralize your channels with Dexatel's all-in-one platform. Talk to our experts and get all your questions answered.
Features of Discord and WhatsApp Compared: What You Need to Know
Messaging and Chat 
Discord is known for its extensive chat features, including the ability to create servers and channels for different topics and communities. Users can join or create servers to chat with others and create private channels for more intimate conversations. Discord also offers voice and video chat features, which are especially popular among gamers.
WhatsApp, on the other hand, is more focused on traditional messaging features. It offers text communication, voice and video calling, and the ability to send messages and media files like GIFs, stickers, and photos. WhatsApp also offers a feature called "WhatsApp Web," which allows users to access their messages on a desktop computer.
Customization Option
Discord allows users to customize their server's appearance with custom emotes, server banners, and themes. Users can also customize their profiles with avatars and status messages. Discord also offers a range of third-party integrations, which allow users to share music and videos with their friends.
Simultaneously, WhatsApp has a more limited range of customization options. Users can customize their profile picture, status message, and notification settings. WhatsApp also offers a few chat customization options, such as the ability to change chat wallpapers.
Privacy and Security
Privacy and security are important considerations when choosing a messaging app. Both Discord and WhatsApp offer different levels of protection for their users' data. 
WhatsApp is known for its strong privacy features and offers two-factor authentication. It also allows users to control their privacy settings, such as who can see their profile picture and status. Discord also offers two-factor authentication. Users can control their privacy settings, such as who can see their online status and what info is visible.
Integration with Apps and Services
When it comes to integration with other apps and services, Discord and WhatsApp offer different options.
Discord has built-in integrations with various gaming and social media platforms like Steam, Twitch, and YouTube. This allows users to connect their accounts and live stream directly from those platforms within Discord. It also offers an API that developers can use to create custom integrations with other apps and services.
While WhatsApp does offer some integrations, they are not as extensive as the integrations by Discord. However, WhatsApp has focused more on integrating with business tools and services. For example, the WhatsApp Business API allows companies to integrate the app into their customer support and communication systems.
Data Usage
As for the Discord vs. WhatsApp data usage question, the latter is known to compress every image, audio, and video file that is sent out. Although this affects the quality of the media, it also saves a great deal of data. Discord, on the other hand, keeps everything in their full size when sending them. This maintains the quality but consumes a lot of data.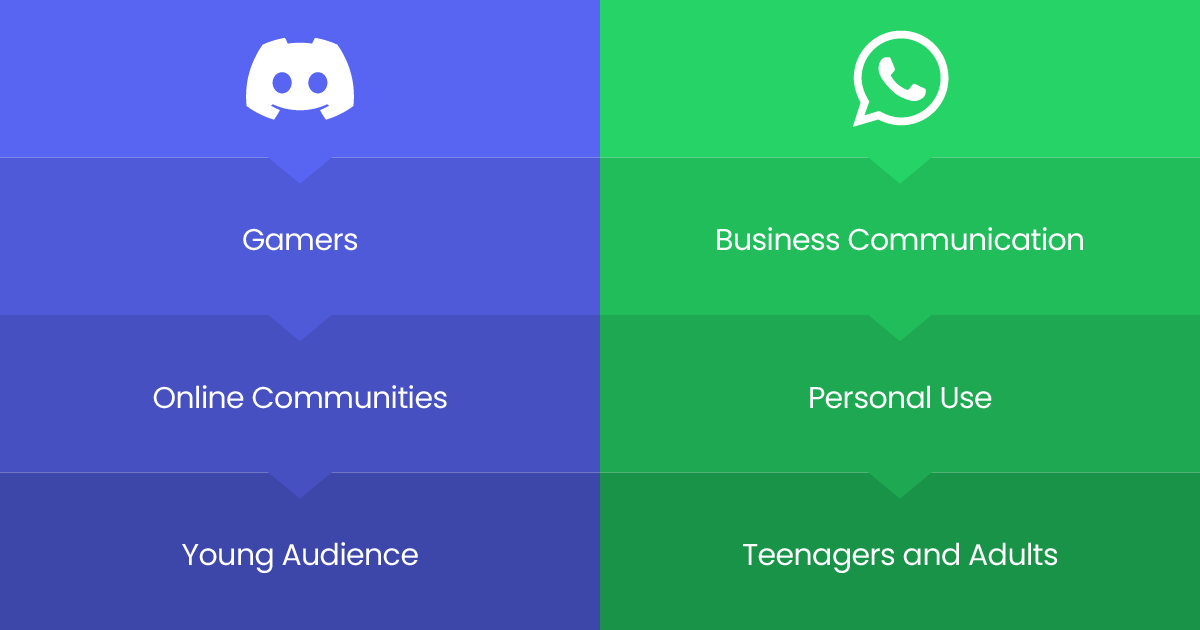 User Base: Who Uses WhatsApp and Discord
Both Discord and WhatsApp have unique demographics and user behaviors. And while they have particular user bases, demographics, and behaviors, they are designed for different purposes. Choosing between the two apps depends on your specific needs and what you value most in a messaging app.
Discord's User Base
Discord's user base is primarily made up of gamers and online communities. It's popular among younger users, with a large portion of its user base falling between the ages of 13 and 24. It is also known for being a platform that encourages anonymity, which can be appealing to certain users. Additionally, Discord has a strong international presence, with users from all over the world.
WhatsApp's User Base
WhatsApp's user base is more diverse, with users ranging from teenagers to older adults. It's particularly popular in countries like India and Brazil, where it's used for both personal and business communication. WhatsApp also has a reputation for being a secure and reliable messaging app, which has contributed to its popularity among users.
Which App Fits Your Needs Better
Ultimately, the choice between Discord vs. WhatsApp depends on your specific needs and preferences. If you're a gamer or part of an online community, Discord might be a better option. However, if you're looking for a more general messaging app that's used by a wide range of people. And particularly for business communication, WhatsApp might be the better choice.
Pros of Discord
Robust communication features: Discord offers a range of communication features, including voice and video calls, text chat, and screen sharing

Customization: Discord allows users to customize their servers, chat rooms, and profiles with a range of features and settings

Third-party integrations: Discord has built-in integrations with various gaming platforms like Steam, Twitch, and YouTube

Free to use: Discord is completely free to use, and there are no subscription fees or hidden costs
Cons of Discord
Steep learning curve: Discord can be overwhelming for new users; it can take some time to understand all the features and settings

Anonymity: While anonymity can be a pro for some users, it can possibly lead to harassment, trolling, and other negative behavior

Limited user base: While Discord has a dedicated user base, it's not as widely used as other messaging apps
Is Discord Good for Private Chats?
While Discord is known for being a platform for group communication and online communities, it also offers private messaging features. Users can send direct messages to individuals or create private group chats, which are encrypted end-to-end for added security. 
It's worth noting that while Discord is primarily designed for socializing and gaming, it may not be the best option for everyone. Users who prioritize privacy and security over customization and socialization may prefer messaging apps like WhatsApp or Telegram. These apps are specifically designed for private messaging and offer robust encryption features to protect user data.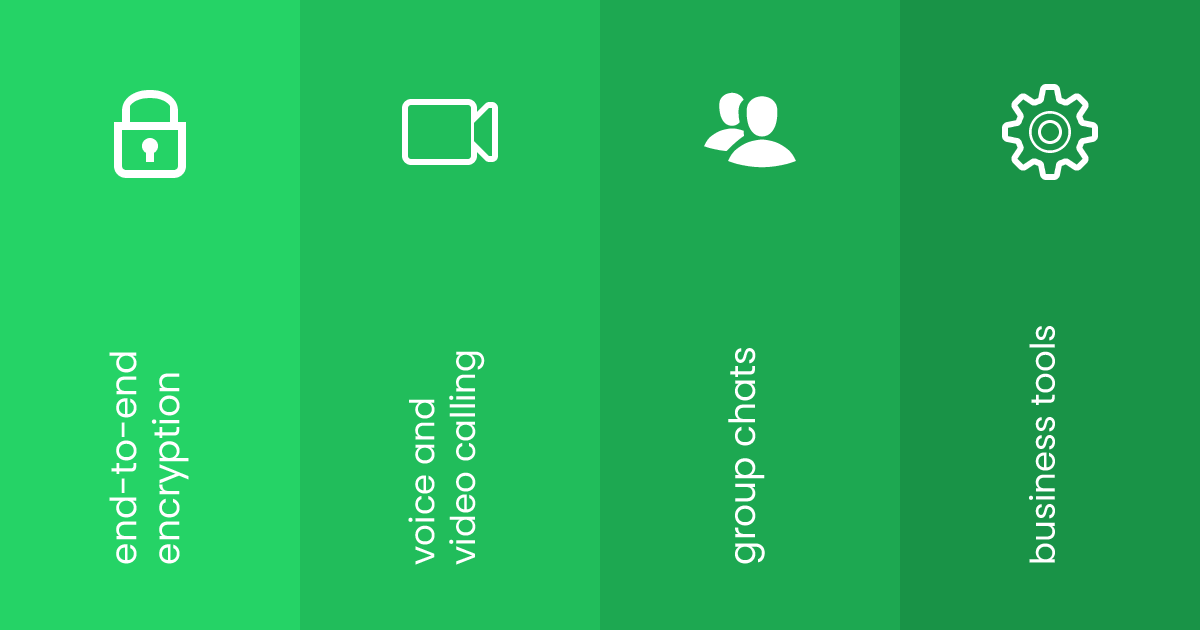 Pros of WhatsApp
End-to-end encryption: WhatsApp uses end-to-end encryption to protect user privacy and prevent unauthorized access

Large user base: With over 2 billion active users, WhatsApp has one of the largest user bases of any messaging app

Rich media sharing: WhatsApp allows users to share various media files, including photos, videos, and documents
Cons of WhatsApp
Limited customization: Unlike Discord, WhatsApp offers limited customization options for profiles and chat rooms

Group chat limitations: Users can only add up to 256 members to a group, and managing large groups can be challenging

Facebook integration: WhatsApp is owned by Facebook, and some users are uncomfortable with Facebook's access to their WhatsApp data

Dependency on internet: WhatsApp requires a stable internet connection to send and receive messages
Which App Is More Accessible?
In terms of accessibility, both WhatsApp and Discord have advantages and disadvantages.
WhatsApp is a more accessible messaging app, as it is available on both mobile and desktop platforms. It can be downloaded from the app store, and users can also access it through their web browsers. This makes it easy to use on different devices, and users can switch between them seamlessly.
Discord is primarily designed for desktop and mobile gaming, and it is available on Windows, macOS, Linux, iOS, and Android. It can also be accessed through a web browser. While it is more accessible than some other gaming platforms, it may not be as familiar to non-gamers.
Which is Better: Discord or WhatsApp?
When it comes to Discord vs. WhatsApp, it ultimately depends on the user's needs and preferences. Discord is a more customizable platform that offers features like voice channels and screen sharing. WhatsApp is a more traditional messaging app with a focus on privacy, boasting features like location-sharing.
Both platforms have their strengths and weaknesses, and users should consider all factors before making a decision. In the end, the best choice between Discord vs. WhatsApp is the one that aligns with the user's needs and expectations.