What Are WhatsApp Communities: A Guide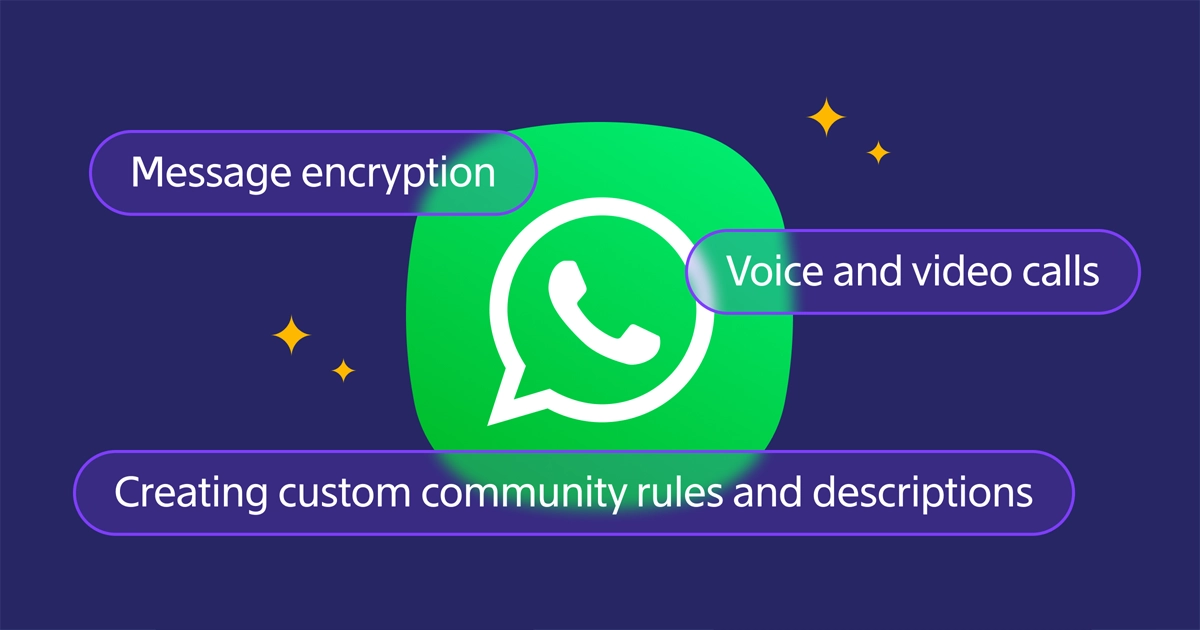 Did you ever notice that new tab on your WhatsApp home page? It's the all-new WhatsApp Communities feature that the instant messaging app announced not very long ago. The aim is to facilitate smooth communication on a larger scale.
This major update keeps WhatsApp in nose-to-nose competition with its rivals, which have been introducing updates of their own. Whether you're a society leader or a brand trying to reach out to your audience, the Communities option will prove to be a central part of your efforts. 
What is a WhatsApp Community?
Chances are you came across this new feature and found yourself asking, "What is a WhatsApp Community?" It is an option that allows users to organize and gather multiple groups that matter under one umbrella. Community admins can easily reach all the subgroup members with important announcements, while members stay connected by chatting in the subgroups. It is essentially a parent group that can consist of several discussion groups and their members.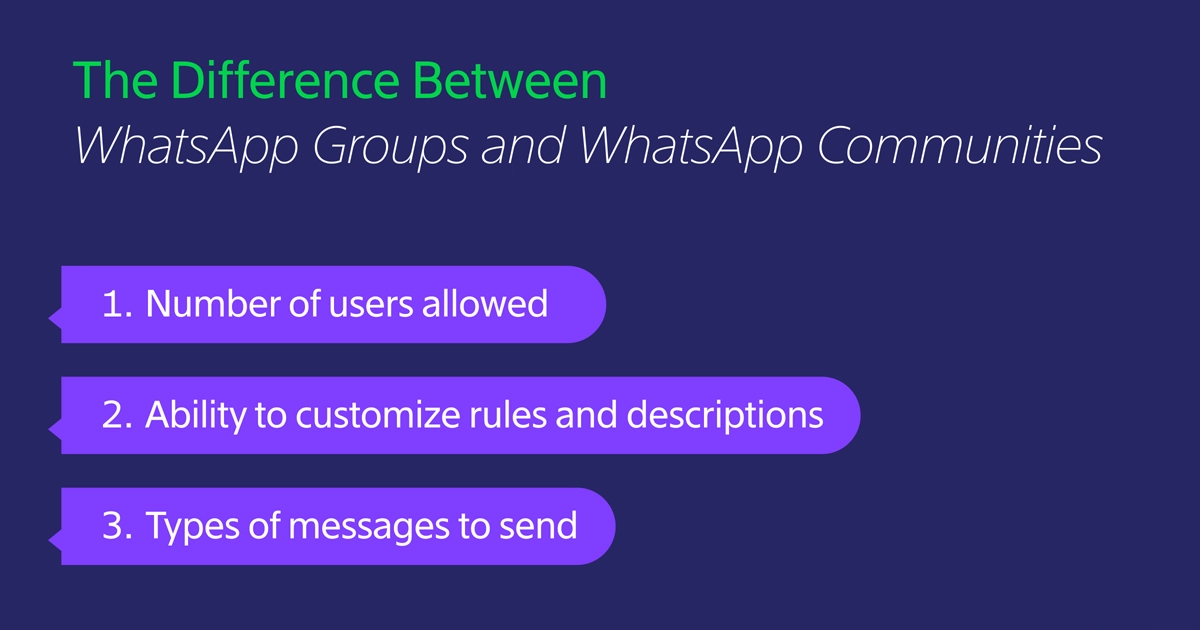 The Difference Between WhatsApp Groups and Communities
At its core, WhatsApp Communities are different from WhatsApp groups. The latter is a chat room where you can bring multiple contacts together. Everyone in a group can interact with each other in several ways like chatting, sharing media, and sending voice notes. Other capabilities of a WhatsApp group include initiating group conversations, voice and video calling, file sharing, and in-chat polls.
On the other hand, a WhatsApp Community is designed for sharing announcements with individual subgroups from one channel.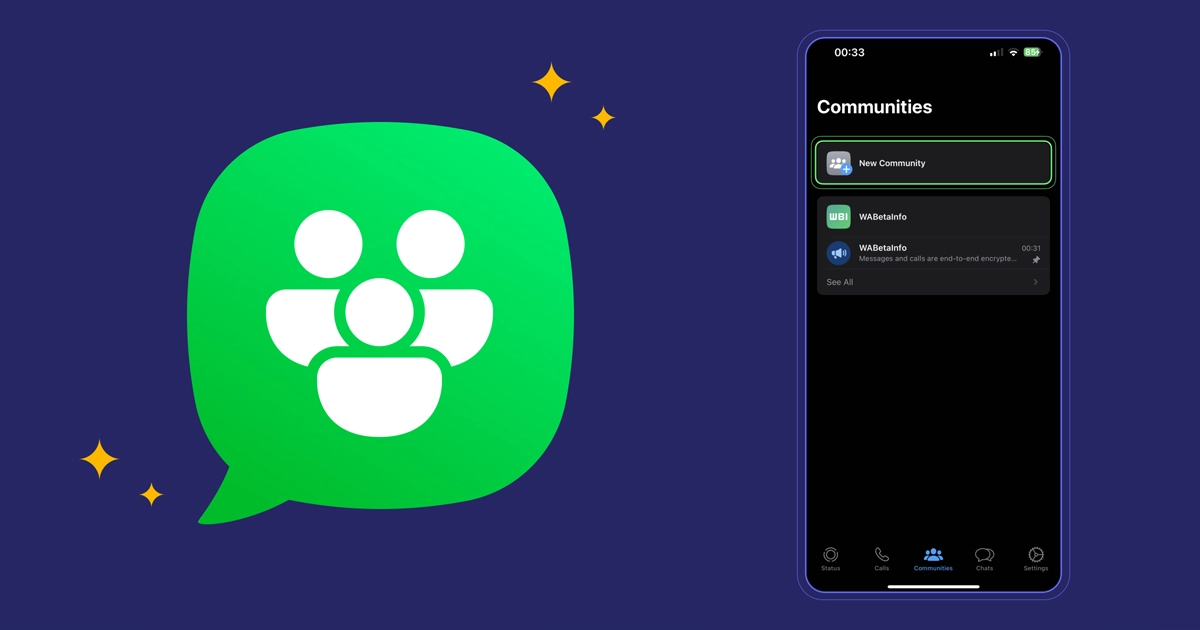 How Do Communities on WhatsApp Work?
Not only do WhatsApp Communities have admins, but they also have group members. Admins can add a total of 50 groups to a Community, which can hold up to 5,000 members. When you start a Community, the app automatically creates a default announcement group for posting news and updates. 
While only admins can send messages in the Community announcement group, both admins and group members can take part in conversations within subgroups. They can also switch between subgroups using the switcher next to the name of the group chat they're currently in. 
Get Started Now
Reach your clients now and claim your 30-day free trial. No credit card required.
All messages in a WhatsApp Community have end-to-end encryption, which means that nobody other than Community members can see them. This security measure is designed to protect sensitive information among private groups, businesses, and organizations. Also, the phone numbers of individual members are only visible to Community admins and other members of the same group. 
Community members can only join via invitation from admins, and there's no option to search for communities. Whereas, anyone who uses the WhatsApp personal app can create Communities, but the feature is yet to be available for the WhatsApp Business API. 
However, WhatsApp has announced that Communities will be globally available in the coming months. If you don't see the feature, make sure your app is up to date or check back later; WhatsApp is still rolling it out, and many countries don't have it yet.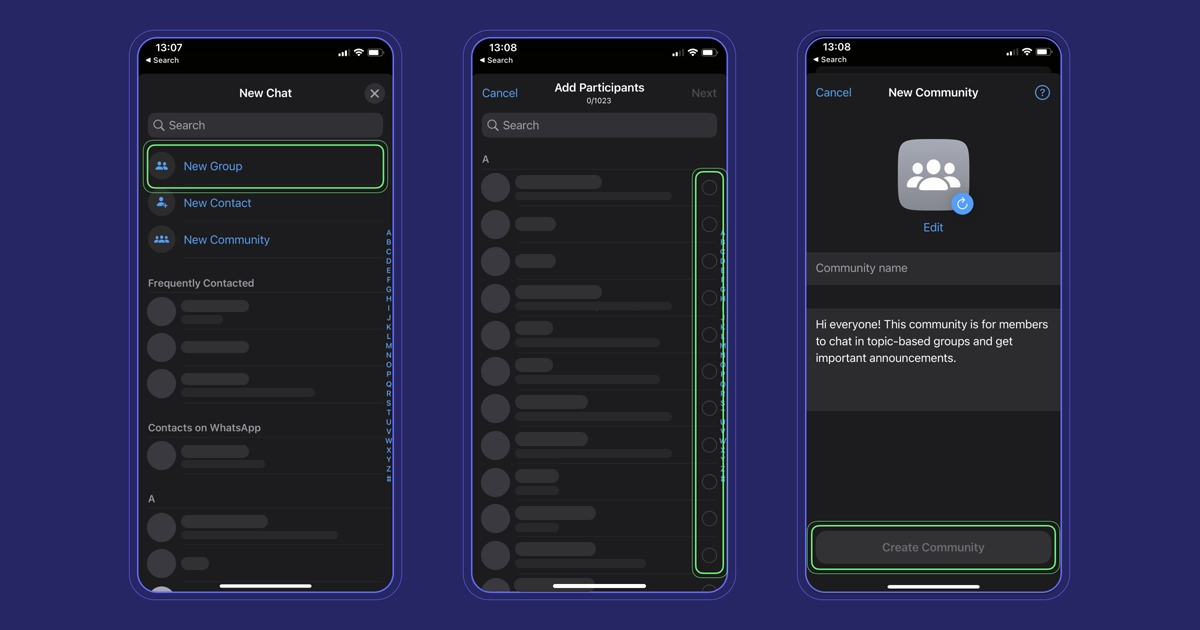 How to Create a Community
Now that you know about the update, you'll also want to know how to create Communities on WhatsApp. Luckily, the process is as simple and straightforward as it gets. You can open an entire Community in just a matter of minutes by following these easy steps:
Go to the Communities tab towards the top left corner of your WhatsApp main page (on iOS, the tab appears on the bottom

Tap on "New community" (or "Start your community" on iOS) and provide a community name, description, and profile image

Select "Add existing group" or "Create new group". Keep in mind you can only add groups you're an admin of, but not ones where you're just a member

Once you're done adding or creating groups, create a Community by tapping on the green check mark. You may now invite more members to the Community, add more groups, and share announcements
How Can the Community Feature Help Businesses?
With the slew of features they offer, WhatsApp Communities can serve as an excellent tool for mobile marketing—one that you can apply to your WhatsApp marketing strategy. Businesses can reach out to a dedicated audience through a single channel, which can benefit them in various ways. WhatsApp Community features include:
Boosting audience engagement: Companies can use the new Polls feature (within subgroups) to get valuable insights and increase customer engagement

Streamlining company voice: As a business, you can use the Community announcement group to streamline your voice 

Building a brand community: Creating a closely knit Community on WhatsApp where members enjoy exclusive access enables you to build customer loyalty