What Is

A2P?

A2P stands for application-to-person messaging, meaning a person receives a message sent from an application. In most cases, this is done through CPaaS or OPaaS platforms or API integration.
A2P messaging involves the use of a software application to send or respond to text messages. This is useful for various types of messages such as reminders, two-factor authentication codes, and marketing messages. It is an increasingly common tool for businesses that want to reach out to their audience more efficiently without expecting a reply. Many website chatbots are also known to make use of application-to-person messaging.
Understanding A2P Messaging in Depth
Text messaging is a powerful communication tool that leverages the ubiquity of mobile devices to deliver messages directly from applications to individuals. It is a key component of many business operations, enabling seamless and efficient communication with customers, employees, and other stakeholders.
The technical process of A2P messaging involves sending messages from an application, through an SMS gateway, to a mobile user. The gateway translates the message into a format that can be understood by the mobile network, which then delivers the message to the recipient's device. This process allows for high-volume, automated messaging, making it an ideal solution for businesses that need to communicate with large audiences.
How A2P Texting Works?
Businesses use application to person messaging to communicate with consumers, authenticate users, and deliver time-sensitive alerts in three technical modes:
Through a web-based application or software that directly sends mass texts by importing receivers' numbers
Through an API when businesses integrate communication solutions into their existing CRMs or any other type of system
Through ready-made integrations on popular platforms such as downloading the Dexatel plugin on WordPress
In the first mode, businesses use a web-based application or software to send mass texts. They import the receivers' phone numbers into the system, create the message, and then send it out. This is a great way for businesses to send out marketing messages, appointment reminders, and other types of one-time messages.
In the second mode, businesses integrate communication solutions into their existing systems using an API. This allows businesses to automate the sending of SMS based on certain triggers or events. For example, a business could set up their system to automatically send a text message to a customer when their order has been shipped.
In the third mode, businesses use ready-made integrations on popular platforms. For example, a business could download the Dexatel plugin on WordPress to enable A2P messaging. This is a convenient option for businesses that already use these platforms for their operations.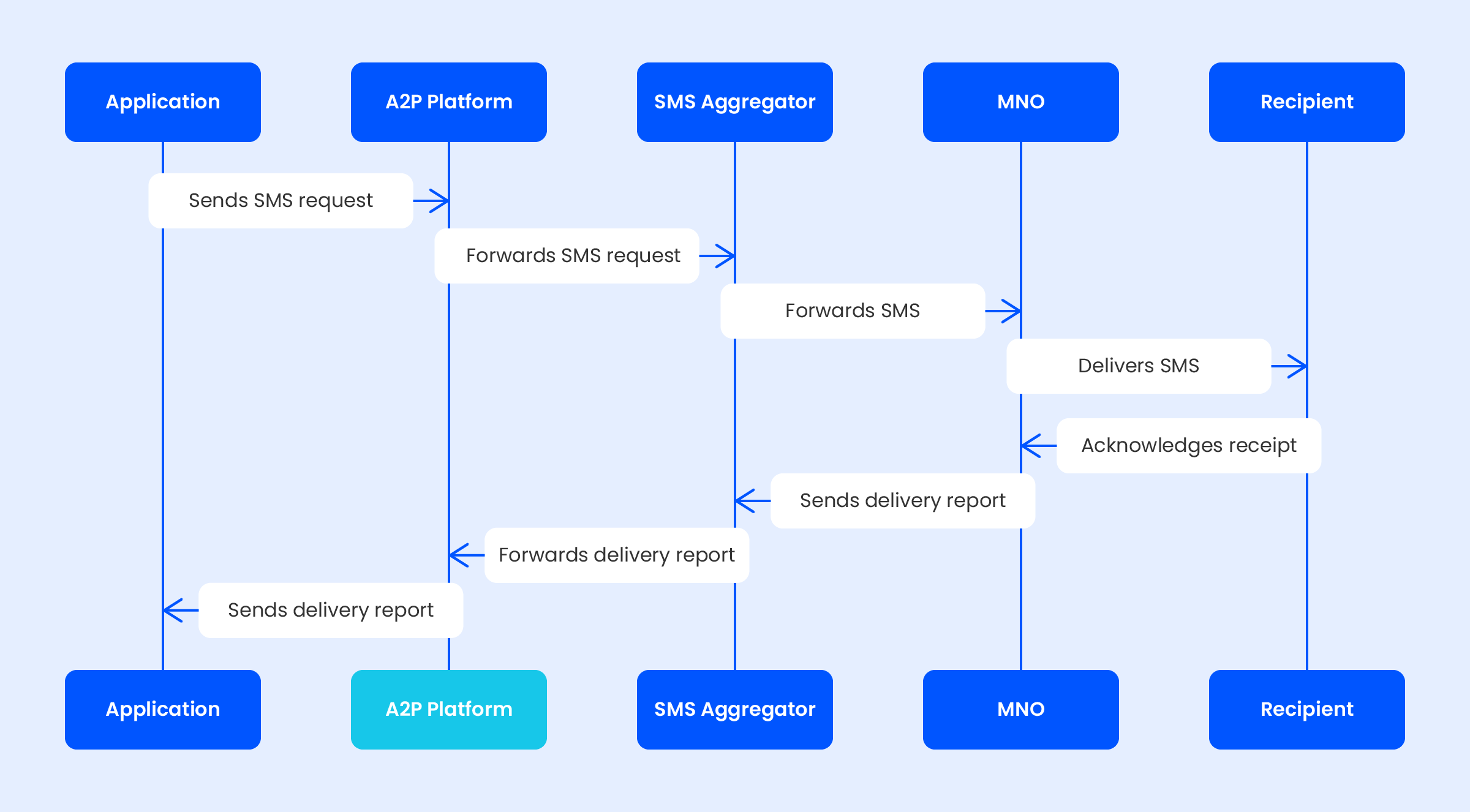 Examples and Diverse Use Cases of A2P Messaging
A2P messaging is versatile and can be used in a variety of sectors and for various purposes.
Here are some examples:
An SMS message with the account balance from the bank
A special discount code from an online shop
An appointment reminder from the dentist
A confirmation message for a flight ticket
Shipping notifications regarding delivery updates
Reminders of hotel or restaurant reservations
Billing updates for changes in upcoming payments
Emergency alerts from local authorities or service providers
And here are some diverse use cases:
Healthcare: Appointment reminders, health tips, medication reminders, and lab results can be sent via A2P messaging.
Education: Schools and universities can use A2P messaging to send notifications about schedule changes, reminders about assignments and exams, and updates about campus events.
E-commerce: Online retailers can use A2P messaging to send order confirmations, shipping updates, and promotional offers.
Hospitality: Hotels and restaurants can send reservation confirmations, check-in instructions, and special offers via A2P messaging.
Financial Services: Banks and financial institutions can use A2P messaging to send transaction alerts, fraud alerts, and account updates.
A2P Messaging for Business Communications
A2P SMS is not just a communication tool, but a powerful driver of business outcomes:
Improved Customer Engagement: With instant, personalized messaging, businesses can engage customers more effectively, leading to increased customer satisfaction and loyalty.
Increased Sales: Promotional messages and special offers delivered via SMS message can drive sales and revenue growth.
Better Customer Service: With timely notifications and updates, businesses can provide superior customer service and resolve issues quickly.
Enhanced Operational Efficiency: By automating routine communications, businesses can save time and resources, leading to improved operational efficiency.
Benefits of A2P Text Messaging
1. Speedy Delivery
An application-to-person SMS has a higher delivery speed than email messages, which tend to linger in inboxes for longer periods of time. This makes it a great tool for companies that want to send important messages to their customers, and it is especially ideal for mass texting.
2. Cost-Effective Method
Marketing campaigns can often be costly. When comparing the amount of money that goes into certain digital channels to the end results, it would seem that some of those channels aren't very cost-effective. A2P SMS has a higher return on investment and has proven to be the most affordable marketing tool.
2. Streamlined Communication
With the help of application to person messaging providers, companies can reach out to their audience in just a few seconds. The entire process is automated, with minimal need for human intervention. Companies can also customize the messages so that customers get individualized information about upcoming appointments.
A2P SMS Market Size and Trends
Business Wire estimated that the global application to person SMS market was valued at $66.72 million in 2020 and is expected to reach $90.22 million by 2027. The compound annual growth rate (CAGR) is predicted to be 4.39% from 2020 to 2027. Large enterprises zealously adopted this technology to reach their customers directly and efficiently during the pandemic. These numbers are expected to grow significantly in the near future.
The A2P SMS market size is also experiencing rapid development due to virtual advancements, which have brought forth an increase in digital transactions. The ever-growing popularity of AI and analytics integration is only going to positively impact the market.
In any case, it's impossible to imagine what the market will look like in a few years—so many businesses are choosing to go digital with their means of communication. Simultaneously, OTT messaging providers like WhatsApp and Viber are becoming businesses' top choices thanks to their rich media features.
Prior to the COVID-19 outbreak, the market was expected to reach $50.1 billion by 2023 with a CAGR of 4.6% during the forecasting period—but, nobody could predict a global pandemic.
North America is the most prominent market. This is due to the technological developments and text messaging applications for different end-user segments that contribute to the highest revenue globally. In the meantime, the Asia-Pacific (APAC) region is experiencing significant economic growth—particularly in the construction sectors—that's increasing the demand for these services.
The A2P messaging market is dynamic and rapidly evolving. Here are some key statistics and trends:
Growing Adoption: With the increasing digitization of business operations, more and more businesses are adopting A2P messaging as a key communication tool.
Emerging Use Cases: New use cases for A2P messaging are emerging in sectors such as healthcare, fintech, and e-commerce, driving market growth.
Technological Advancements: Advances in AI and machine learning are enhancing the capabilities of A2P messaging, enabling more personalized and contextually relevant messages.
Regulatory Changes: Changes in regulations and standards for A2P messaging are impacting market dynamics and shaping the future of the industry.
Frequently Asked Questions
What Is the Difference Between A2P and P2P SMS?
The main difference between A2P and P2P messaging has to do with the purpose as well as the send volume. P2P messages normally take place between two individuals for personal reasons. On the other hand, application to person messaging is a tool for commercial and marketing purposes and can go out to thousands of recipients at a time.
What Are the Different Types of Application to Person Messaging?
There are 3 different types, based on the kind of phone number companies use. These are short codes, 10-digit long codes (or 10DLC), and toll-free messaging, each of which varies from the other in cost, functionality, and deliverability.
What Is A2P Compliance?
An A2P-compliant business is one that has registered its brand and campaigns for application to person messaging via local 10DLC numbers. The registration normally takes place with a third-party organization that works with carriers and SMS providers.
How secure is A2P messaging?
A2P messaging is highly secure, especially when used for two-factor authentication (2FA) and other security-related communications. However, like any digital communication tool, it's important to follow best practices to ensure the security and privacy of your messages.