What Is

an SMS Aggregator?

An SMS aggregator is a middleman between businesses and mobile operators and is responsible for managing the delivery of SMS messages to various mobile networks.
These entities play a crucial role in enabling businesses to send and receive messages to and from their customers across multiple wireless carriers.
A significant aspect of business communication is SMS messaging, as it provides quick, reliable, and direct connections with customers. The success of this channel is heavily reliant on the efficiency of text aggregation.
Role of Aggregators in Business Communication
In the realm of carrier networks, sending and receiving text messages across various providers can be challenging. This is where SMS aggregation steps in, acting as a crucial intermediary that enables efficient, cross-network communication.
Understanding Text Message Aggregation
The Role of a Text Aggregator in SMS Delivery
The primary role of an SMS aggregator is to consolidate SMS traffic. Businesses send their messages to these entities, which then distribute them to the appropriate mobile networks. This service is crucial in SMS marketing campaigns, making sure that messages reach a wide audience.
How SMS Aggregation Works
SMS aggregator companies form direct connections with mobile operators, utilizing these links to distribute the SMS texts. They offer businesses the rights reserved to send and receive messages to their customers across multiple networks, thereby improving the reach and efficiency of business communication.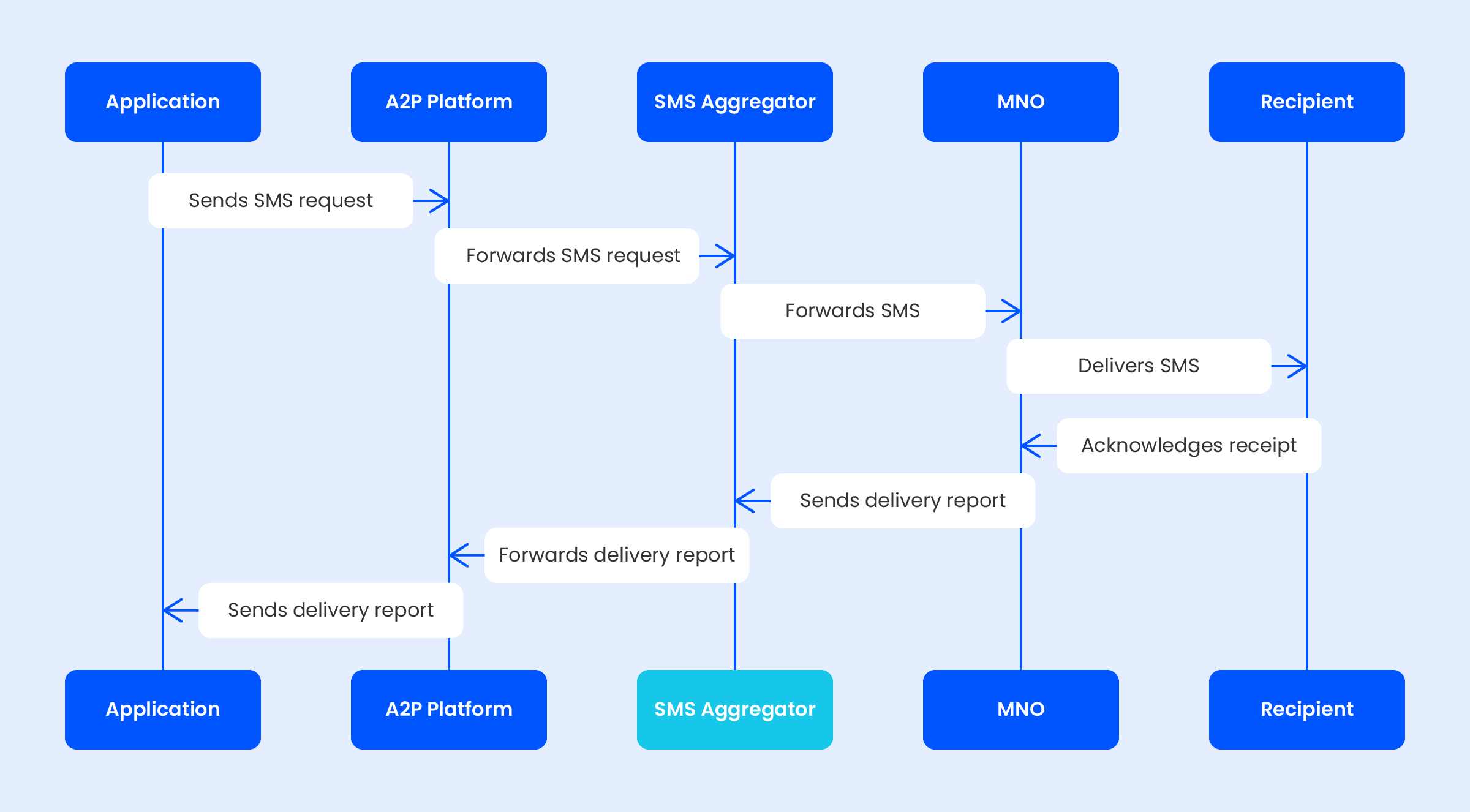 The SMS Delivery Process
The Role of Message Aggregators in SMS Delivery
In the SMS delivery process, text message aggregators occupy the middle ground, connecting businesses to the appropriate carrier networks. They manage the distribution of messages and facilitate communication between various entities.
The Role of Mobile Networks in SMS Delivery
Mobile networks receive the SMS traffic from the aggregators and deliver it to the correct recipients. They work closely with aggregation services to ensure the seamless delivery of messages across different networks.
The Role of SMS Software Providers in SMS Delivery
SMS software providers offer the technology required to facilitate the aggregation process. They enable the efficient sending of text messages, making them essential partners for messaging aggregators.
The Benefits of SMS Text Aggregators
Ensuring Correct Route for Text Messages
By working directly with mobile networks, mobile aggregators ensure that each message follows the correct route, reaching its intended recipient promptly and efficiently.
Providing Reliability and Speed in Delivery
The direct connections established by aggregators guarantee the reliable and fast delivery of messages, which are crucial factors in the efficiency of business communication.
Upholding High-Security Standards
Security is a key concern in the digital age, and text aggregators allow for the protection of data through secure transmission channels, upholding the high-security standards required in business messaging.
Enforcing Carrier Compliance and Regulations
Mobile aggregation ensures that the messages delivered comply with the rules and regulations of each mobile network, thereby preventing any possible legal issues.
Provisioning Sender Numbers
Aggregators also provision sender numbers, allowing businesses to maintain their identity across various networks and guaranteeing consistent branding in communication.
What to Expect When Working Directly with a Text Aggregation Service
Working directly with an aggregator can provide numerous benefits, such as faster delivery times and better service quality. However, it may also present challenges such as managing cost implications and ensuring seamless integration with existing systems.