8 Cloud Contact Center Providers To Know About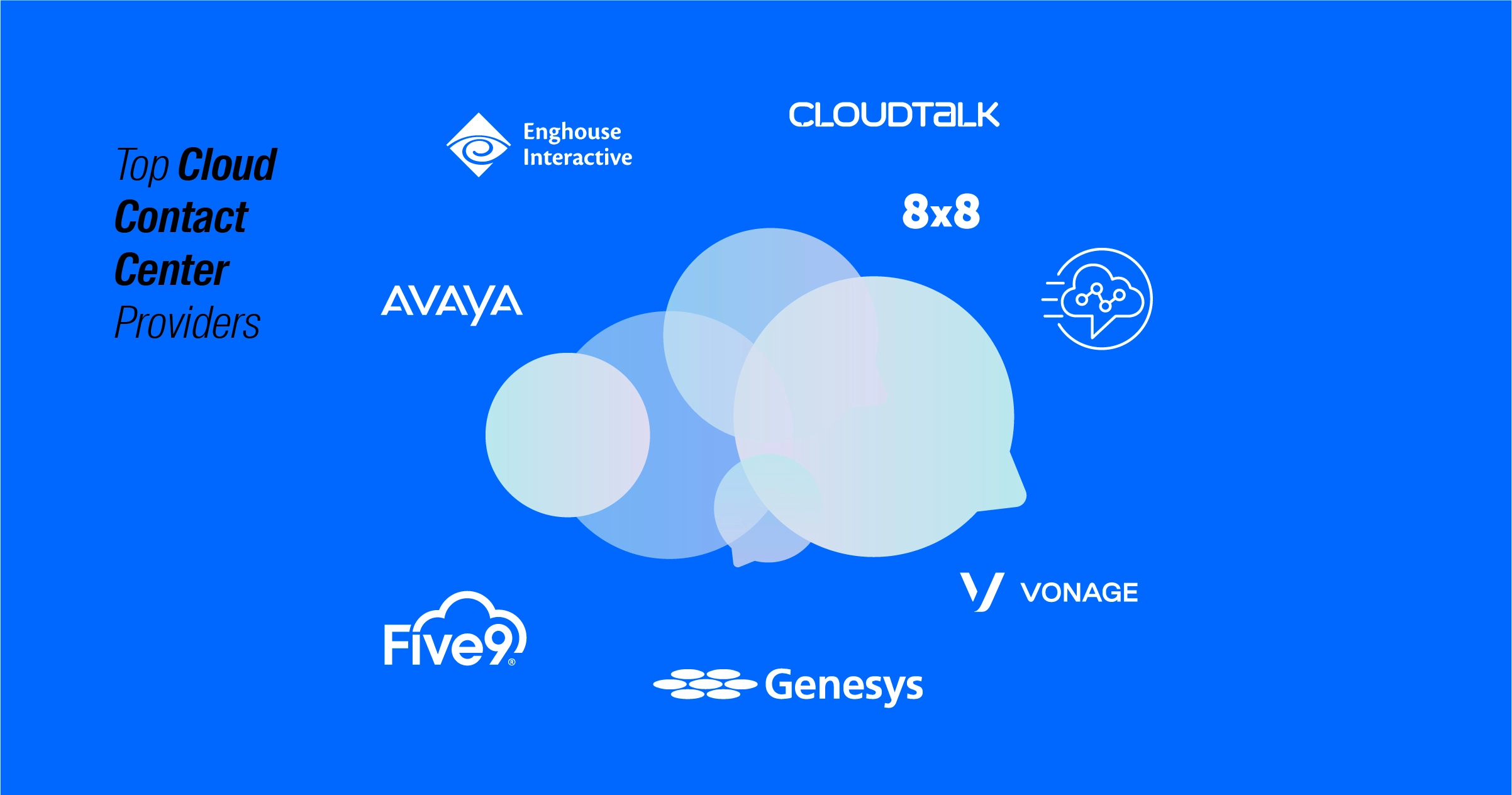 Companies have never been so grateful for technology that facilitates customer communication and improves the customer service experience. The pandemic has forced companies to reevaluate the way they do business and has shined a spotlight on the importance of customer service. Cloud contact center providers have seen a surge in popularity in recent years. This is largely due to the flexibility and scalability that they offer businesses of all sizes. 
With the right software software, businesses can easily add or remove agents as needed, without having to make any major changes to their infrastructure. This makes it an ideal solution for companies that experience spikes in customer service and support volume on a regular basis. Not to mention, these providers typically offer a number of advanced features that can help improve the customer experience.
What Is A Cloud-Based Contact Center
A cloud contact center is a type of software that uses cloud computing technology to manage customer interactions. In a cloud-based contact center, all of the components of the center are hosted by a third-party provider and accessed by the contact center over the internet.
These include traditional phone systems, customer relationship management (CRM) systems, and other applications. Providers often have features that an on-premise system may not have, such as artificial intelligence and omnichannel capabilities.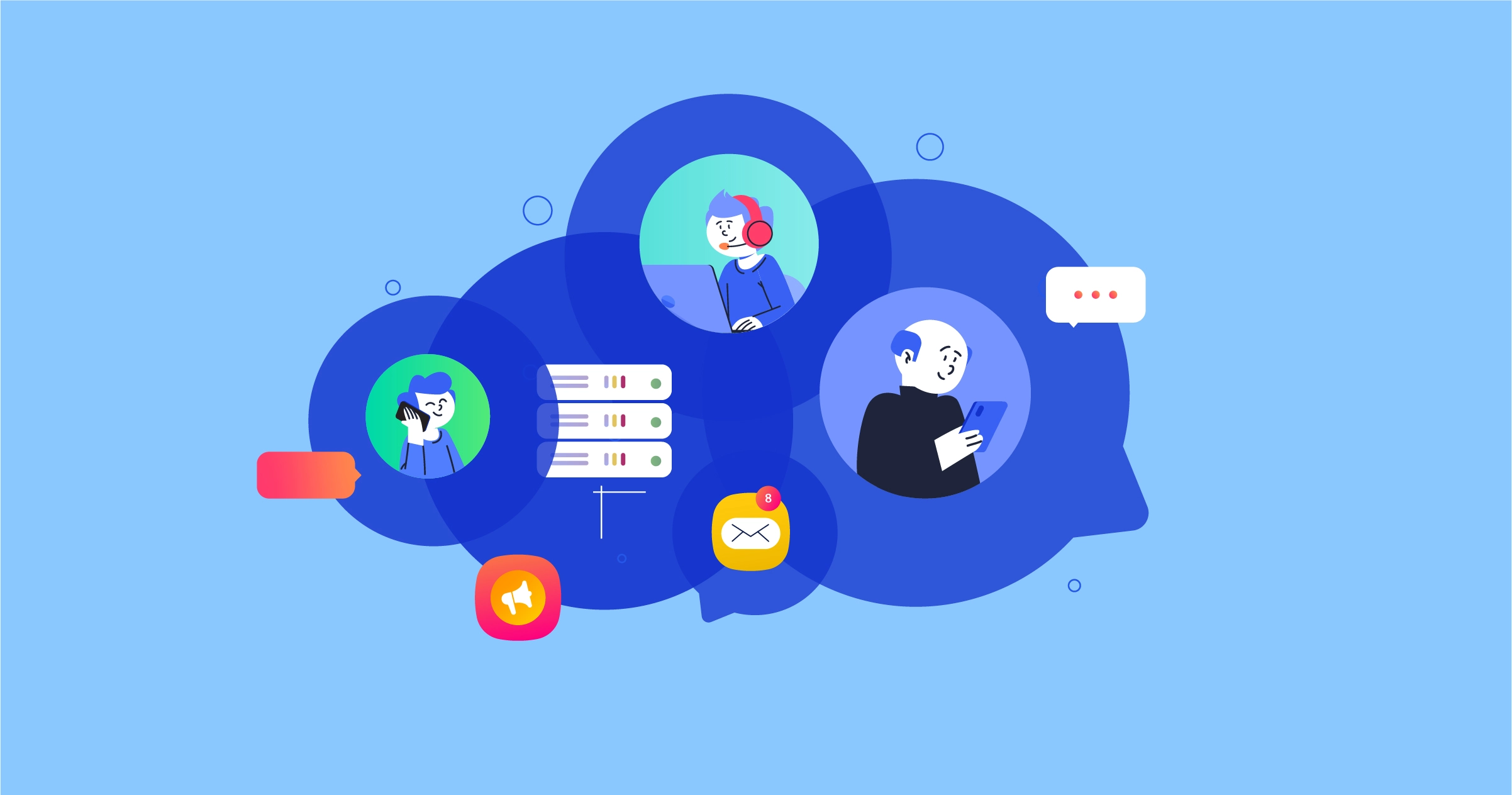 How Does Cloud Contact Center Software Work
The center software works by routing customer calls and interactions to contact center agents who can best handle them. The software uses a variety of algorithms and data points to determine the best agent for each request and can also take into account the agent's workload and skills.
The software also includes a range of features to help agents handle calls effectively, such as identification, recording, and monitoring. These features can be used to help agents improve their performance and provide a better experience for customers.
What Are The Main Benefits of a Contact Center Solution
A handful of advantages indicate how a call center software can benefit your business. These include scalability, flexibility, and cost-effectiveness. Cloud solutions also allow for remote work as well as other fundamental capabilities. 
Scalability 
These systems can easily scale up or down to meet the changing needs of your business. This is especially helpful if you have seasonal spikes in requests or if you need to add more agents to your team during a busy time. An on-premise operation, on the other hand, will need an expensive and time-consuming upgrading of physical hardware as well as software. 
Flexibility
A cloud contact center gives you the ability to quickly change your contact center configuration as your business needs change. This includes adding or removing features, changing your call routing, or even using a different provider if you are not happy with your current one.
Cost-Effectiveness
Not only that, but they can save you money by eliminating the need for expensive on-premise hardware and software. In addition, you only pay for the services you use, so you can save even more money by only using what you need. And by benefiting from key features like real-time analytics, you can minimize further costs by enhancing your operations.
Text Message API Service Pricing
Dexatel employs a pay-as-you-go approach that charges you per sent message. This is the most affordable SMS gateway pricing model, and the service costs are free of setup, monthly, or any other fees.
Remote Work 
One of the many perks they have is the possibility of remote work. Agents can simply log in from their homes via Wi-Fi and carry out their work like they would in the office. All they would need is a decent internet connection, the required bandwidth, and a headset. 
Multichannel Capabilities
Cloud solutions offer integrations with various communication channels like email, voice, social media, and business text messaging. This allows customers to reach out to customer support centers via their preferred channel. With an on-premise contact center, multichannel capabilities would often require a major software upgrade.
Simple Upgrades
As a user, you'll have access to software upgrades as part of the service you pay for on a monthly basis. The call center solution provider would carry out the updates on a regular basis with minimal to no interruption to the service. This isn't usually the case the with on-premise contact center, which often require you to plan the upgrades and pay extra fees for them.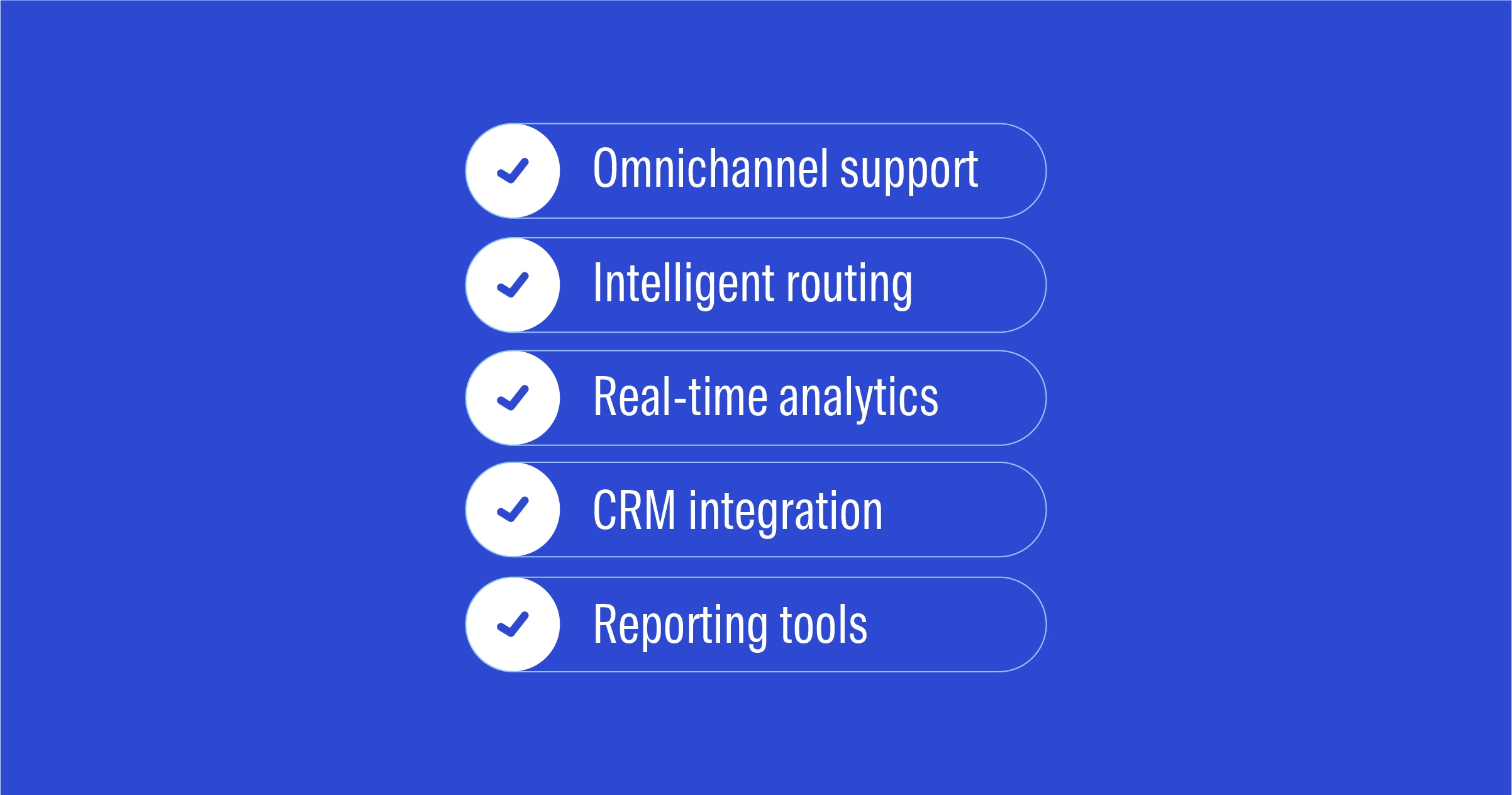 Must-Have Features to Keep in Mind
With the amount of contact center software vendors available, it's worth having an idea what to look for. That being said, there are certain key features you'll want to account for when choosing a platform. These include: 
Flexible Pricing
Perhaps the biggest downside of on-premise contact centers are the fixed costs—in addition to other expenses like maintenance and in-house technical staff training. Cloud-based contact center platforms, on the other hand, don't involve any of these costs.
Having said that, you should be able to benefit from a pay-as-you-go pricing model. This gives you the flexibility to scale up or down whenever you need to. And you shouldn't need to worry about any maintenance, server hardware, and in-house staff. 
AI-Powered IVR
Another feature to look for is AI-powered IVR. With traditional IVR (short for interactive voice response) lacking flexibility and the ability to provide a personalized experience, many customers tend to find it rather frustrating. It also fails to account for the context of calls.
AI-powered IVR, on the other hand, uses advanced technologies like speech-to-text, text-to-speech, automated speech recognition (ASR), and Google Dialogflow to offer a tailored AI experience for customers. Its sentiment analysis feature even takes customer satisfaction to another level by detecting the intent and emotions of the caller. 
Omnichannel Routing
Imagine having to reiterate your concerns to a call center multiple times, even after reaching out to the company via, let's say, email or WhatsApp. Needless to say, you'd most likely be discouraged and take your business elsewhere.
This wouldn't be the case with omnichannel automated call routing, a feature that creates a seamless process for callers by unifying every channel into a single dashboard. Using an API, you can integrate your software into CRM marketing systems and monitor all customer interactions—regardless of which platform the initial touchpoint was from. 
Customizable Dialer
A customizable dialer allows you to boost your agents' efficiency. Predictive dialing, for instance, places outbound calls from your contact list automatically and in sequence. This functionality makes use of predictive statistical algorithms to make outbound calls based on the availability of agents and the duration of calls. 
With machine-learning technology, the dialer essentially predicts how long the next call would be. It also guesstimates the percentage of contacts who are likely to pick up the phone. Moreover, you can customize the feature to suit the needs of your contact center company. 
AI-Powered Chatbot
Chatbots help in streamlining business-to-customer communications and improving efficiency in handling customer inquiries. And not only do they enhance the customer experience, but they also reduce operational costs by a considerable margin.
With that in mind, AI chatbots have proven to be an indispensable part of cloud contact center platforms. These technologies use machine learning to understand customers, match inquiries, and provide the most suitable response. Having an AI-powered chatbot in places allows agents to focus on more complex calls that require a human touch. 
Live Analytics
Understanding the needs of customers is crucial when it comes to optimizing inbound and outbound calls. An excellent way to do so is through effective reporting and data analysis. This involves monitoring metrics like first-time resolution rate per agent, satisfaction rating from customers, and other insights. The best solutions normally come with built-in analytics including contact history as well as real-time monitoring. 
Public API
When choosing a platform, you'll want to make sure that it allows for effortless integration with payment solutions, CRM software, and other applications. These integrations can do wonders in boosting productivity, minimizing wasted time, and facilitating future growth.
You'll want to go for a solution with a public API that offers web services for everything from calling to recording, as well as transferring and reporting. Certain platforms even integrate with popular apps like Slack, Zoho, WhatsApp Business, and Facebook Messenger among others.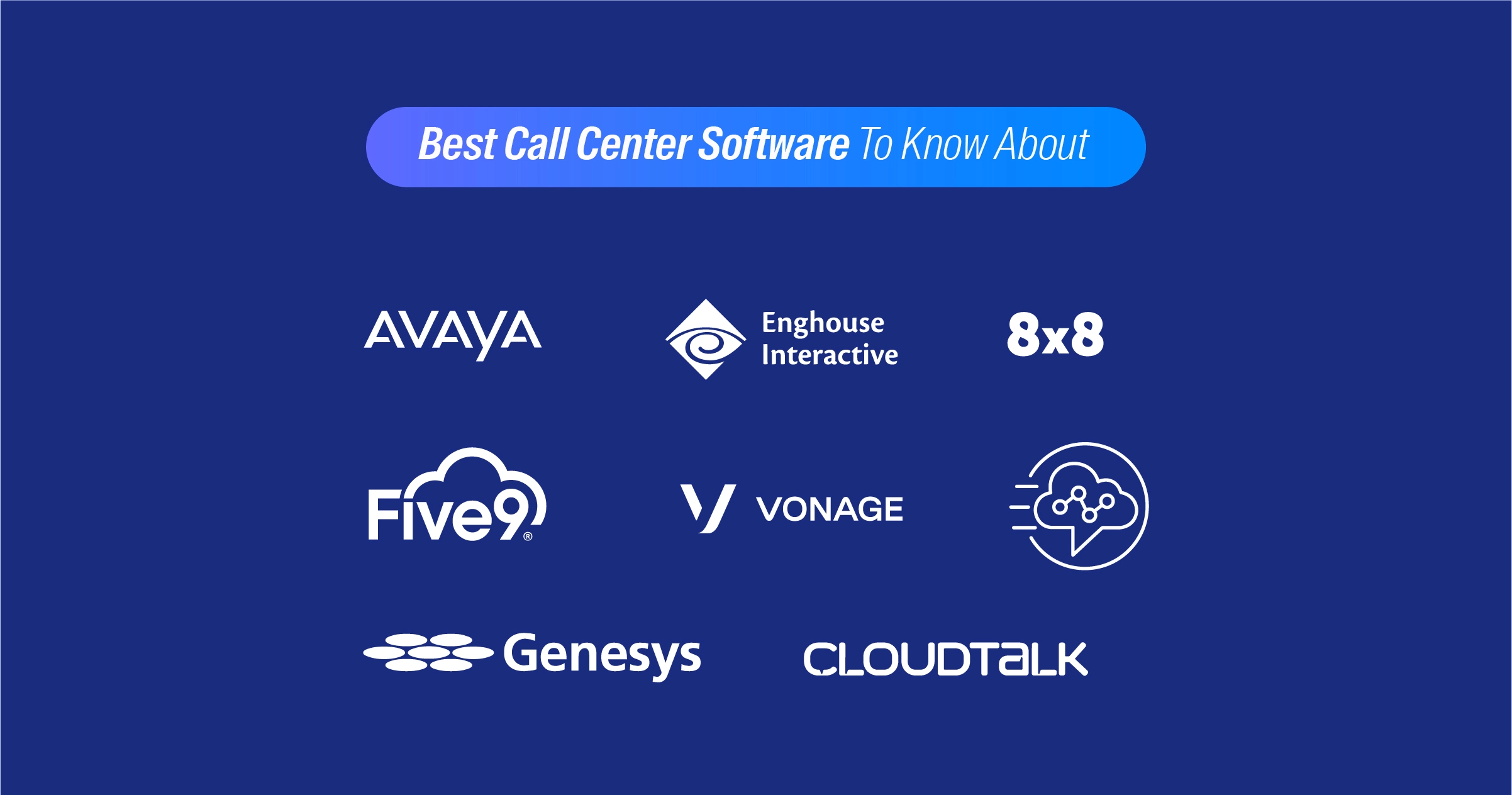 These Are The Best Call Center Software To Know About
When it comes to picking the right solution, the number of options are numerous. To narrow down your search, here are the best call center software providers you should definitely consider:
1. Genesys
In a rapidly evolving market, contact center software vendors are looking to the cloud to meet the needs of their customers. Genesys is one of the best contact center software, offering a suite of solutions that are reliable, scalable, and easy to use.
Genesys provides cloud-based and on-premise solutions, but their omnichannel contact center platform for cloud deployments is Genesys Cloud CX. Moreover, the business offers Genesys VX, an AI-powered customer experience solution.
With Genesys, you get comprehensive omnichannel support for social media, email, chat, and phone. You also get to manage workforce engagement to increase agent output, as well as real-time reports and analyses. Not to mention, Genesys also provides a VoIP service and UC system integration for agent cooperation.
2. Five9
Five9 is a cloud-based contact center company best used for workforce engagement and performance management, as well as customer communications and engagement analytics. It employs AI for complex capabilities like the majority of others.
Thanks to Five9, businesses can take advantage of inbound and outbound telephony, UC system integration, and omnichannel support across different channels. It also provides advanced analytics-based and gamified management of workforce engagement.
3. 8x8
8x8 is a cloud contact center platform that offers omnichannel services, sophisticated speech, engagement, and interaction analytics for customers. Each agent license supports open APIs for connecting to external systems as well as CRM integration. 
Key features include omnichannel routing, queued and online callback, integrated voice, web chat, email, and social networking. The biggest advantage of 8x8 is that it provides a high level of uptime and several CRM connectivity possibilities.
4. Enghouse
Designed specifically for Microsoft Teams, Enghouse was one of the first companies to offer a native Skype for Business. For channels including voice, email, online chat, social media, video, co-browse and screen sharing, SMS, and chatbots, Enghouse offers omnichannel support.
Enghouse can be made available on-premises, in the cloud, or via a hybrid strategy. In fact, you may purchase the contact center solution's individual components to suit your specific needs.
5. Avaya
Avaya is a cloud contact center provider for businesses of all sizes who want to improve the experiences of their employees and clients. It offers voice and digital channel customer engagement, as well as sophisticated self-service automation.
You also get assistance and consultation from the staff as part of your subscription—not to mention, workforce management capabilities are available to use.
6. CloudTalk
Call-based assistance is the focus of the business phone and call center software solution, CloudTalk. It has no on-premises alternative and is totally cloud-based. However, it lacks omnichannel features like chat or customer assistance via video calls.
But, this contact center software does come with its advantages. For one, it has strong call management, including voicemail, recording, and queueing. You get real-time client cards and other advanced features to help service representatives, and AI-powered advanced call monitoring and analytics. 
7. Amazon Connect
Everyone is familiar with Amazon, but did you know that it has a cloud contact center? Amazon Connect is a self-composable CCaaS that you can develop without the requirement for prolonged sales processes or extensive implementation times because it is built on Amazon's own cloud.
Amazon Connect is centered on machine learning. The data you generate is transmitted into the AWS cloud, where it is analyzed to give insights into the operation of your contact center and recommendations for future improvements.
8. Vonage
UC systems and CPaaS APIs are all part of Vonage's offering. A natively integrated CRM with the Vonage cloud contact center assists with skill-based routing and intelligent dialing for outgoing phone calls. Gamification is also available to boost agent productivity.
As with other providers, you get true omnichannel support across SMS, voice, video, chat, and email. And for intelligent interactions, Vonage offers a dedicated AI solution. On top of the standard call recording, there are screen recording options, and you also get customizable dashboards with historical and real-time analytics.