The Ultimate Guide to Hotel Mobile Marketing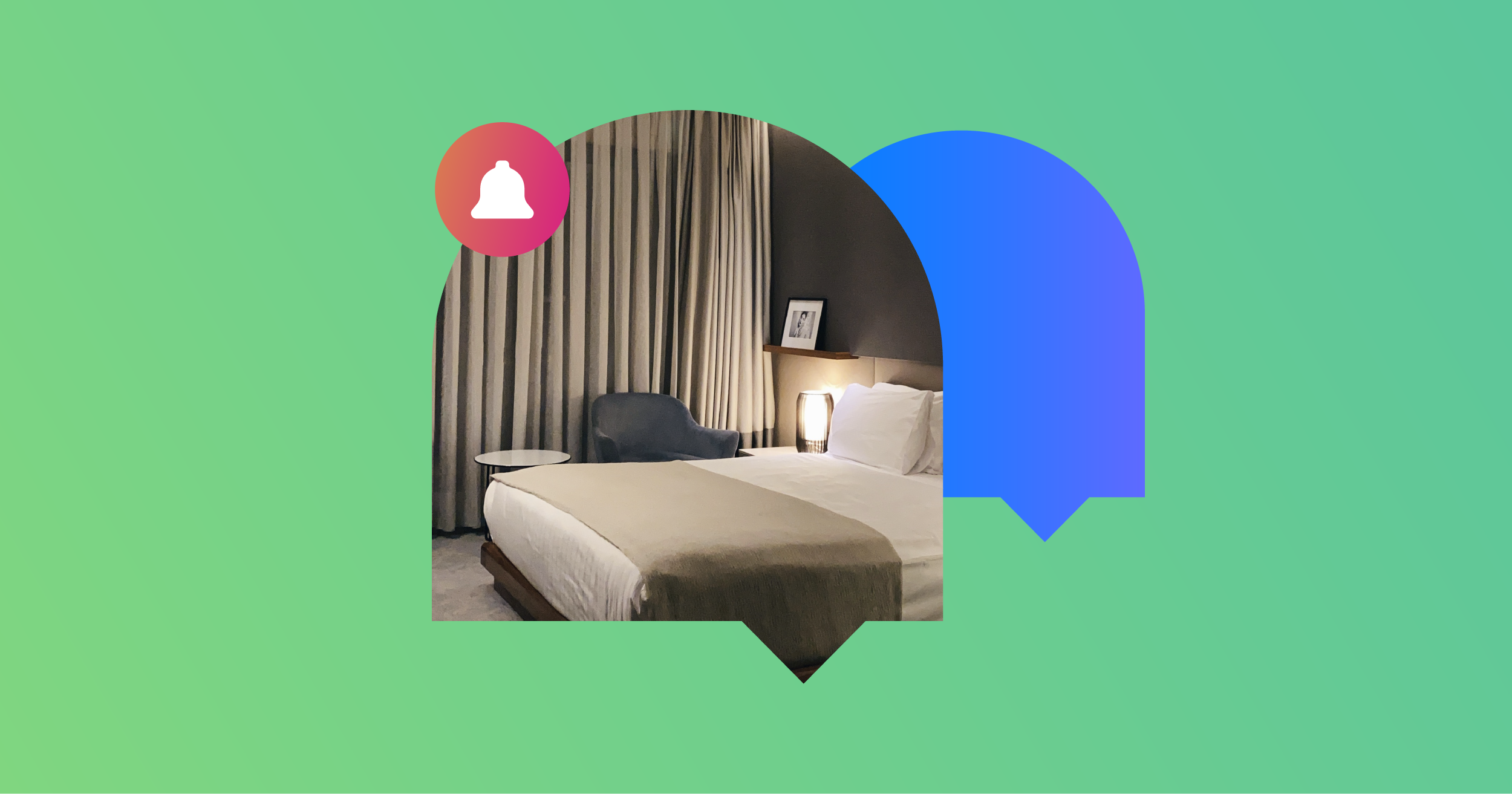 The COVID-19 pandemic may have put a big dent in the travel and hospitality industries, but where there is change, there is also a new opportunity. With the right mobile marketing strategy, hotels can reinvent the guest experience and redefine hospitality for the new decade and beyond.
If you want your business to grow, go digital. If you want to have customer growth, go digital. If you want to be adaptable and quickly respond to changes… You get the idea.
Hotels are no exception here. A study conducted across 75 hotels and 56,000 guests showed that engaging customers through a digital strategy can result in a 40% higher guest loyalty rate and increase ROI by 564%.
Understanding Hotel Mobile Marketing
90% of people who own multiple devices use an average of three different combinations each day. This means that hotel marketing strategies for hotels are no longer an option, but an absolute necessity. People switch between their devices to access information, and what businesses need to do is ensure a seamless experience.
For instance, when using Amazon, you go to the website via a desktop browser and add an item to a cart or a wishlist. You use the mobile app the next day, and everything you added to your cart on your laptop is still there. That's seamlessness.
Whether one likes it or not, mobile technology has been making and will undoubtedly continue to make fundamental changes to the way people browse and book their accommodations.
Hotel mobile marketing allows hotels to easily and directly connect with guests and provide them with an advanced customer experience.
Common Use of Mobile Marketing For Hotels
1. Communicate With Guests
Hotel mobile marketing allows establishments to communicate with their guests quickly, effectively, and affordably through business messaging. Since text messaging doesn't require an internet connection, you can deliver your message to those who don't always have a network available.
Get Started Now
Reach your clients now and claim your 30-day free trial. No credit card required.
Here are the most common use cases of text messages:
Campaigns
New menu or new address updates
Two-factor authentication service
Surveys and reviews
Check-ins and arrivals
Welcomes and thank yous
2. Use Mobile Apps Throughout Their Stay
An app is a helpful tool for hotels to establish communication with guests through a single channel. This makes data collection more accessible. In addition, hotels collect customer data to analyze and provide a better and enhanced personalized marketing experience. Furthermore, an app is a valuable tool for sending hotel and geo-location ads.
You can collect:
Messages
Preferences
Demographic info
Stay history
Reviews
Suggestions
3. Use a Mobile Messenger
A messenger can serve as an excellent alternative to an app since not all guests will download it. They can use Facebook Messenger or WhatsApp to offer hotel chatbots.
Chatbots are also a fantastic way to inform customers of your latest promotional offers, new destination ideas, and fast answers to frequently asked questions.
Using messenger apps as the primary means of communication improves customer satisfaction and support, as well as the hotel's digital marketing and promotional strategies.
4. Enhance Website With a Responsive Web Design
Over 70% of travelers say that a hotel's website and app impact their decision to book a stay. That's a lot of potential rooms filled, and as hotels know best, the hardest part is getting a customer through the door. Enhance your website and app to ensure:
Both platforms operate smoothly
Navigation features are easily accessible
Videos and photos are functional
Photos and videos are resizeable to the needs of the devices' screens
Mobile-friendly web design is a must
A user-friendly booking engine is available
Include short and informative content
Top Tips for Hotel Mobile Marketing
1. SEO is Your Best Friend
Since most guests search for hotels on mobile devices, the establishments need to have solid SEO to show up in mobile results. Make sure to:
Use researched and targeted keywords
Focus on title tags and meta description
Create valuable and helpful content
Make geo-location easily accessible
Focus on page speed
Use high-quality audio and video content
2. Don't Underestimate Social Media
Over 2.3 billion people use some form of social media, and nearly 2 billion of them do it via mobile phones. Hotels need to have a solid social media presence; you can use it for customer support and to share experiences and news. According to stats, 45% of travelers visit social sites to research destinations.
Here's what you can do to optimize the marketing campaign for social media:
Keep sales-y posts to a minimum
Incorporate user-generated content into your platforms
Create campaigns that encourage travelers to share travel experiences
Create shareable videos
3. Content is Your Anchor
Creating text and visual content is an absolute must to attract potential customers and direct them to take action. Content consists of:
Creating blog posts
Sharing expertise and helpful tips
Creating visuals and videos
4. Landing Pages Are Your First Impression
Remember to optimize your landing pages for mobile as well:
Keep it short
Use bullet points
Don't overload with videos and images
Don't set videos to autoplay
Use compressed images
Include a call-to-action
Hotel Mobile Marketing Strategies
1. Mobile Check-Ins
Hotels can use mobile apps to communicate with loyal customers and potential ones. Mobile apps offer convenience, and hotels can use them to simplify the check-in process for travelers.
Hilton was one of the first to provide guest check-ins via mobile devices. The industry frontrunner upgraded its app functionality, allowing guests to check in remotely and go to their rooms without even stopping at the front desk.
2. Enhanced Functionality
COVID-19 set a lot of rules for us, including the hotel industry. Establishments need to incorporate new functionalities like setting the room temperature via an app, functioning online hotel maps, and so forth.
3. Local Mobile Search Ads
Ads help hotels capture even last-minute customers. Statistics show that almost 25% of availability searches on mobile hotel sites occur for either same-day or next-day check-ins.
Google has a new Local Search Ad option and a new AdWords design that accommodates a mobile-first world. The latest version also has a function called Promoted Pins.
When you navigate a trip via Google Maps, these promoted pins are enlarged and visible to the user with the logos and locations of the establishments. You can use this opportunity to advertise your business page and promote special deals.
5. Mobile-Friendly Email Marketing
A large number of customers use mobile phones for their hotel accommodation journeys, meaning anything related to email should be optimized accordingly.
Remember to write a brief and concise email. According to research, email readers spend around 15–20 seconds going through an email. That makes about 50 words, so make an effort to write the best email there is.
Use creative designs and ad visuals. You can go for the newsletter style. Also, pay a great deal of attention to headlines—write something eye-catching and interesting.
6. Easy Online Bookings
Test out your website and app for online bookings before launching it. Ensure a smooth and straightforward experience so that guests can complete an online booking process with a few clicks.
7. Online Reviews
Encourage former guests to leave online reviews on review sites such as TripAdvisor. The key is to not delay in sending the review request. Instead, you can send them an email or a text message with the request after their check-out.
8. Travel Guide
Enhance your user experience by sharing interesting information about the city or area and travel opportunities around it. By doing this, you become an information hub that guests and users turn to. You can provide your visitors with:
Blog posts
Articles
Guides
How-tos
9. Text Messaging
Think about the queries, questions, and advice that your guests asked hotel staff:
Fresh towels
Tours around the city
Information about the nearest drug store
Cheapest stores to buy gifts
Some of the options you can use text marketing and messaging for include:
In-room dining and restaurant reservations
Room service requests
Send offers and promotions
Booking and other reminders
TripAdvisor review requests
Top Hotel Mobile Marketing Trends
1. Branding
Your business's success depends on your brand. The target audience needs to recognize you, and you constantly need to keep your presence at the forefront; one way to do this is through SMS branding.
Marriott, Taj Hotels & Resorts, and Le Meridien are some of the most vivid examples of recognizable hospitality brands with strong identities.
2. Personalization
Each customer wants to feel as if the brand has taken the time to approach them individually.
Personalization involves leveraging guest data and analysis and research to target specific preferences and tailor hotel services and offerings.
3. User-generated content
User-generated content isn't everyone's cup of tea, but it is a popular method of harnessing the power of community.
UGC should always reflect the business. As users tag businesses to attract attention, it becomes more and more popular. It also helps businesses reduce their content creation workload and build stronger connections with customers.
4. Chatbots
Chatbots are one of the most helpful tools businesses use to personalize real-time communication with customers. With AI-powered SMS chatbots, all you need to do is create an opt-in form and deploy it to your live chat. It's a two-in-one situation where the customer is satisfied, and businesses can spend that time monitoring and analyzing the collected data.
5. Influencer Marketing
One of the most popular marketing trends in 2022 is the popularity of influencers. Hotels can consider influencer marketing and use celebrities, public figures, and well-known individuals on social media to promote their hotels.
Whether invited, hired, or staying on their own accord, hotels can seize the opportunity and promote their stay on social media.
6. Content Marketing
Quality content is everything. Businesses must engage with customers and potential leads on multiple platforms—from websites to social media to blog posts and newsletters. The more you invest in building valuable content, the better for your business.
7. Visual Marketing
When looking for a hotel, you access the gallery and watch available videos to get the best possible understanding. The more immersive experience hotels can provide through visuals, the more visitors will opt in. Video marketing is a great way to introduce potential customers to the message you want to deliver in the fastest way.
8. Multichannel Marketing
The purpose of this trend is to promote your hotel across multiple platforms—websites, social media, online travel agencies, and meta-search engines. In addition, content and visual marketing will serve as valuable tools to determine what to publish and where.
9. Local Marketing
Most businesses forget about the opportunity they have with local guests. COVID-19 did open a significant chapter for this in particular. Think about it, where does someone go when they need to be isolated from an ill family member?
10. Automated Marketing
Chatbots aren't the only way to implement automation. You can also automate:
Booking processes
Welcome emails
Updates on rates and news
Surveys and reviews
Testimonials
Reminders
11. Mobile Marketing
The central aspect of mobile marketing for hotels is the app. Smartphones are the most commonly used devices, so hotels must have a mobile-friendly, fully working app to make matters easy for guests. Over 85% of travelers use a mobile phone to book hotels.