SMS Branding 101: Everything You Need to Know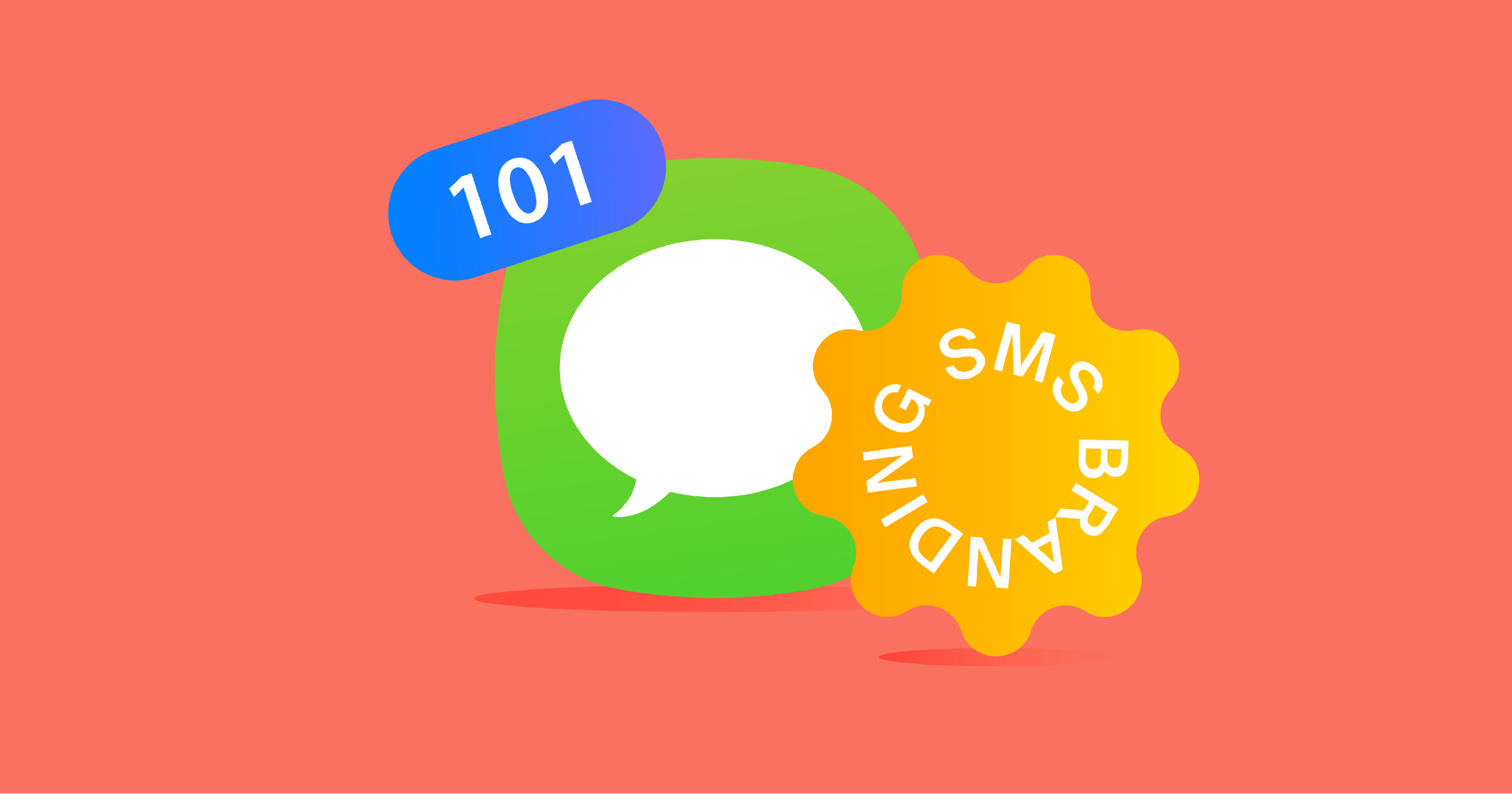 We all get texts from brands we use, but we may not always appreciate them. We may view them as intrusive, especially if we're not interested in the product or service. Or we may simply view them as another form of marketing that we're bombarded with on a daily basis.
But there are some benefits to receiving texts from brands we use. For one, it can be a convenient way to stay up-to-date on sales, new products, or coupon codes. It can also be a way to receive personalized messages or recommendations based on our previous interactions with the brand.
In some cases, we may even opt in to receive texts from brands we use, which can further tailor the messages we receive. Ultimately, whether or not we appreciate texts from brands we use is a personal preference. But it's worth considering the benefits before writing them off entirely.
When done properly, SMS branding can greatly benefit your business. In fact, it is a cost-effective way for businesses of all sizes to reach and engage with their customers. By incorporating SMS into their marketing strategy, businesses can benefit from increased brand awareness and exposure, higher customer engagement rates, and improved customer loyalty.
What is SMS Branding
SMS branding is the process of using text messaging to promote a brand or product. This can be done in a number of ways, such as sending promotional messages to customers or potential customers or sending messages that include a brand's logo or name. Branded texts can be a powerful marketing tool, as it allows businesses to reach a wide audience with a personal message.
Get Started Now
Reach your clients now and claim your 30-day free trial. No credit card required.
Why Branded SMS Marketing Matters
SMS marketing is one of the most efficient and effective ways to reach out to potential and current customers. In a world where we are constantly bombarded with marketing messages, SMS allows businesses to break through the noise and reach their target audience directly.
There are a number of reasons why branded SMS marketing campaigns matter for businesses. First, an SMS text is an extremely personal form of communication. When a customer receives an SMS from a business, they are more likely to read it and pay attention to it than if they received an email or saw an ad.
Furthermore, SMS marketing is highly effective in terms of ROI. Studies have shown that SMS campaigns have a conversion rate of around 4%, compared to 1% for email marketing. This means that for every $1 spent on SMS marketing, businesses can expect to see a return of $4.
Lastly, SMS marketing is very versatile. It can be used to promote sales and special offers, remind customers of appointments, or even simply send a message of thanks. No matter what the purpose, an SMS marketing program is an effective way to reach out to customers and promote your business.
The Importance of Having a Branded SMS Service
A branded SMS service is a valuable asset for any business. It allows the owner of a business to send out text messages to customers and prospects using a personalized sender ID. This can be the business owner's phone number or a custom brand name.
A branded text messaging service is an excellent way to stay in touch with customers and keep them updated on new products, services, or special offers. It's also a great way to build relationships, create a sense of loyalty, and elevate the customer experience.
When customers see a message from a business they know and trust, they're more likely to open it and read it. This can lead to more customers taking advantage of the offers and services available from the business.
Branded SMS services are affordable and easy to set up. They can be an extremely valuable tool for any business owner who wants to improve customer communication and relationships.
Have a Goal in Mind With Your Branded SMS Service
Setting goals with branding messages can help simplify and streamline your marketing efforts. By using a consistent message and call to action across all of your marketing channels, you can ensure that your customers know what you want them to do and how to do it. Additionally, having a clear and concise call to action can help increase customer engagement and conversions.
There are a few things to keep in mind when you're setting up goals for a successful branded texting campaign:
Keep it simple—your goals should be specific, measurable, attainable, realistic, and time-based.
Make sure your goals align with your overall brand strategy.
Be realistic about what you can achieve with branding SMS—remember that it's just one part of your marketing mix.
Set a timeframe for your goals—this will help you measure and track your progress.
Have a clear call-to-action in mind for your SMS messages—this will help you convert your leads into customers.
Keep track of your results—this will help you adjust your goals as needed and measure your success.
Top Tips for Brand SMS Marketing
1. Keep Your Messages Short And Sweet
Most SMS marketing best practices encourage sending short texts because it allows businesses to concisely communicate their message to customers. This can be helpful in creating a brand identity that customers will remember. Short texts can be more easily read and understood than longer ones, making them more effective in conveying information. People are more likely to read and respond to an SMS that is brief and to the point.
2. Make Sure Your Brand Is Easily Recognizable In Your SMS
If people can remember your brand, they are more likely to think of it when they are in need of the products or services you offer. Being easily recognizable can help build trust with potential customers. If people see your brand regularly, they will be more likely to trust it. Use your company logo or name in your messages so people can quickly identify who is sending them.
3. Use SMS To Send Out Special Offers, Coupons, Or Discounts
People are more likely to take advantage of deals if they are sent directly to their phones. Discounts and coupons are a key part of branding SMS because they provide an incentive for customers to take action. By offering discounts, coupons, and text-to-win contests, businesses can encourage customers to try their product or service, which can lead to repeat business and brand loyalty. Moreover, they can help businesses stand out in a competitive market.
4. Use Keywords And Targeted Phrases To Get Your SMS Noticed
SMS marketing is a great way to reach a specific audience with a targeted message. If you want customers to remember your brand, then you need to make sure your keywords are memorable. By making your keywords part of your brand, you'll make it easier for customers to find you—and to remember you.
5. Timing Is Everything
Sending out SMS messages at the right time can make a big difference in whether or not people read and respond to them. Timing your messages to coincide with a key event or moment in your customer's day can help ensure your brand stays top of mind.
6. See What Your Competitors Are Doing
By looking at how your competitors are doing their branded texts, you can learn from their successes and failures. One way to do this is to sign up for their text messaging service. This way, you can see how they are using SMS to promote their business.
Another way is to look at their social media accounts. Often, businesses will post screenshots of their text messages on social media to show off their branding.