6 Types of Messages People Use Today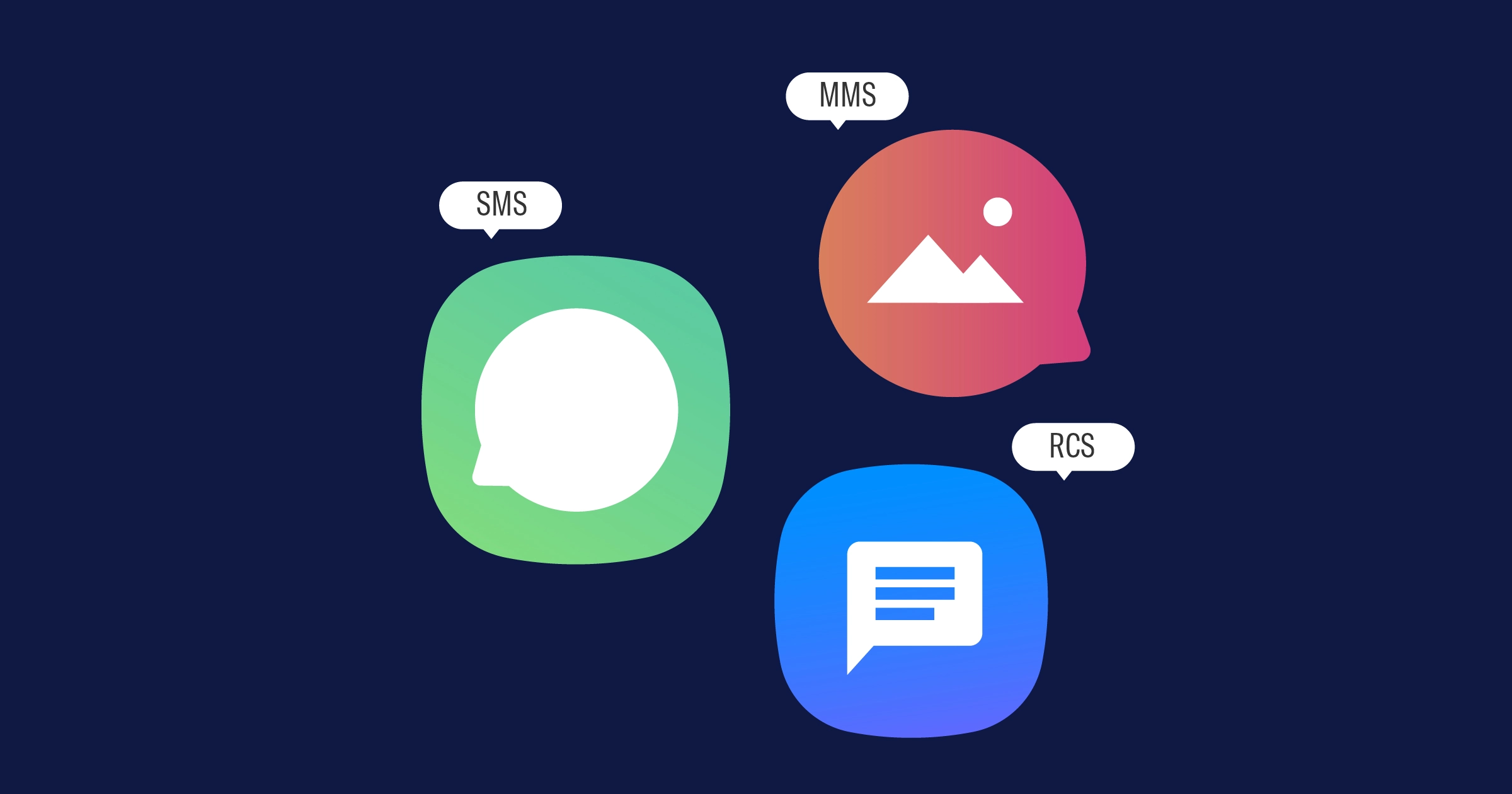 With the types of messages available today, staying connected is as simple as ever. Mobile messaging is fast, accessible, and offers an enhanced user experience. This makes it a great tool for individuals and businesses alike—whether it's something as basic as an SMS text or a well-crafted MMS campaign. The difference between each form of messaging essentially depends on how you use them and what you use them for. 
What Are the 6 Common Types of Text Messages?
Mobile messaging comes in many forms. Each of these different types of messages is useful in its own unique way. From simple SMS texts to in-app messages, let's take a look at each type of mobile messaging channel.
Short Message Service
Among the most basic forms of mobile messaging is SMS, or short message service. It's a technology that dates back all the way to the early 80s and one that's still as popular as ever. To send an SMS text, all you need is a cellular network, a signal, and a functioning mobile phone. This type of message has a limit of 160 characters and is completely text-based. 
SMS Marketing Pricing
We use a pay-as-you-go pricing model, meaning we charge per sent message. No monthly or sign-up fees. SMS marketing costs vary depending on your destination.
SMS messaging serves as a handy tool for two-way communication with friends, family, customers, businesses, and more. Even without an unlimited messaging plan, sending a text message doesn't cost more than a few pennies. The efficiency and high open rate of SMS messaging even make it a great marketing tool for businesses to connect with their customers.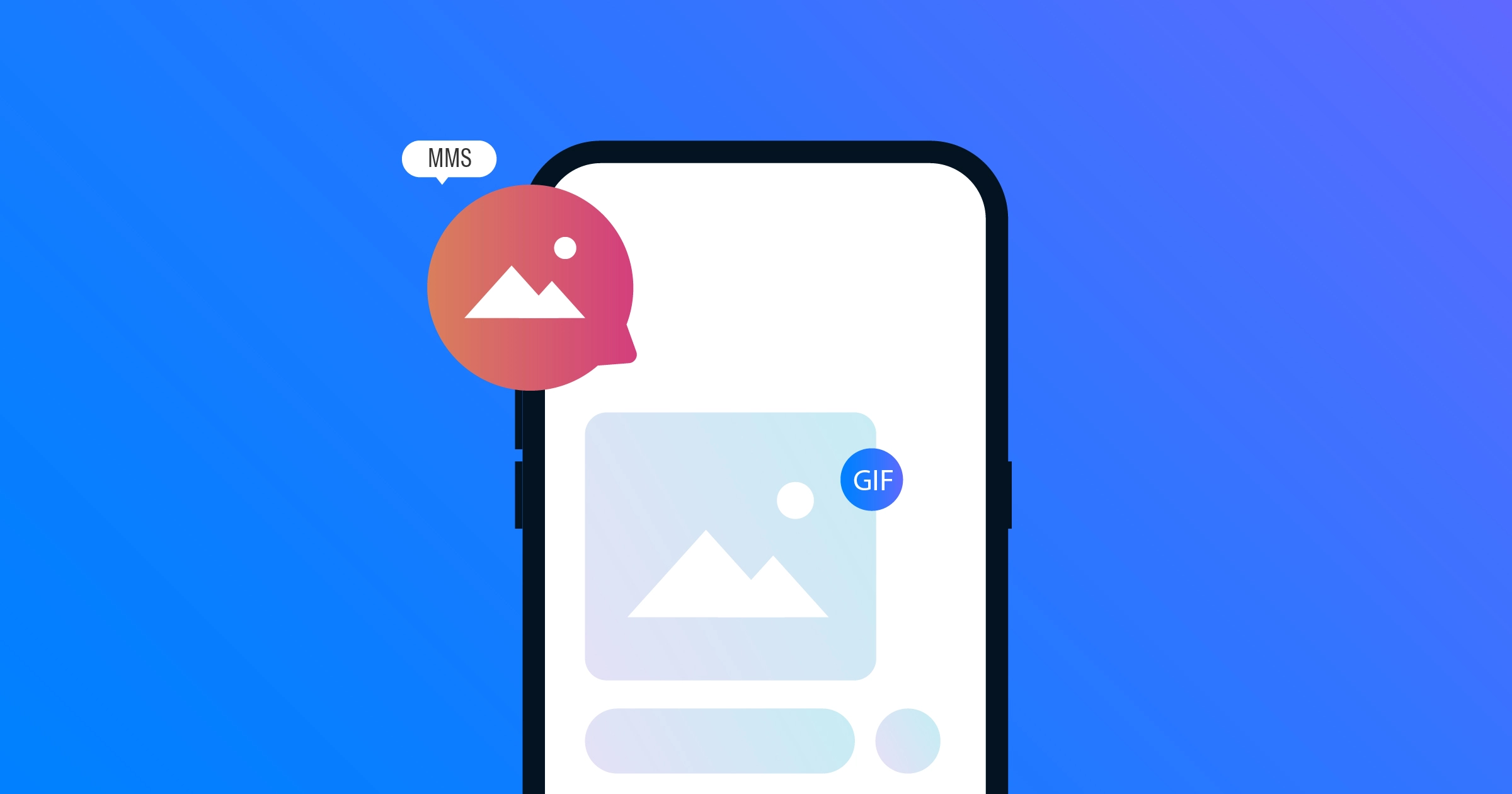 Multimedia Message Service
Much like SMS, MMS makes use of a cellular signal to transmit messages. But the main difference is that multimedia messaging service texts accommodate media files such as images, videos, and links.
Another distinction is that the 160-character limit doesn't apply to MMS texts. Instead, they have a limit of 1600 characters and 5 MB. However, MMS uses more data than other types of text messages—sending MMS messages also costs a bit more than SMS. 
MMS messaging is a common way for consumers to interact with each other and with businesses. Companies are also known to use MMS for marketing strategies as it allows them to introduce their products visually. This, in turn, helps them engage their audiences more effectively. 
Instant Messaging
As opposed to SMS and MMS—both of which use cellular signals—instant messaging takes place over the internet. Examples of instant messaging apps for Android and iOS include Whatsapp, Telegram, Viber, and Facebook Messenger. And unlike the two, these messages don't have a character limit. 
It's needless to say that both users need to have the same mobile app. But it is possible to send instant messages from tablets, laptops, and desktop computers, and not just smartphones. Instant messaging enables users to send and receive photos, videos, GIFs, links, and files.
Businesses can use instant messaging to chat directly with customers across the globe. Apps like Whatsapp also support voice and video calls. This allows users to communicate globally without getting slapped with a huge cellular bill.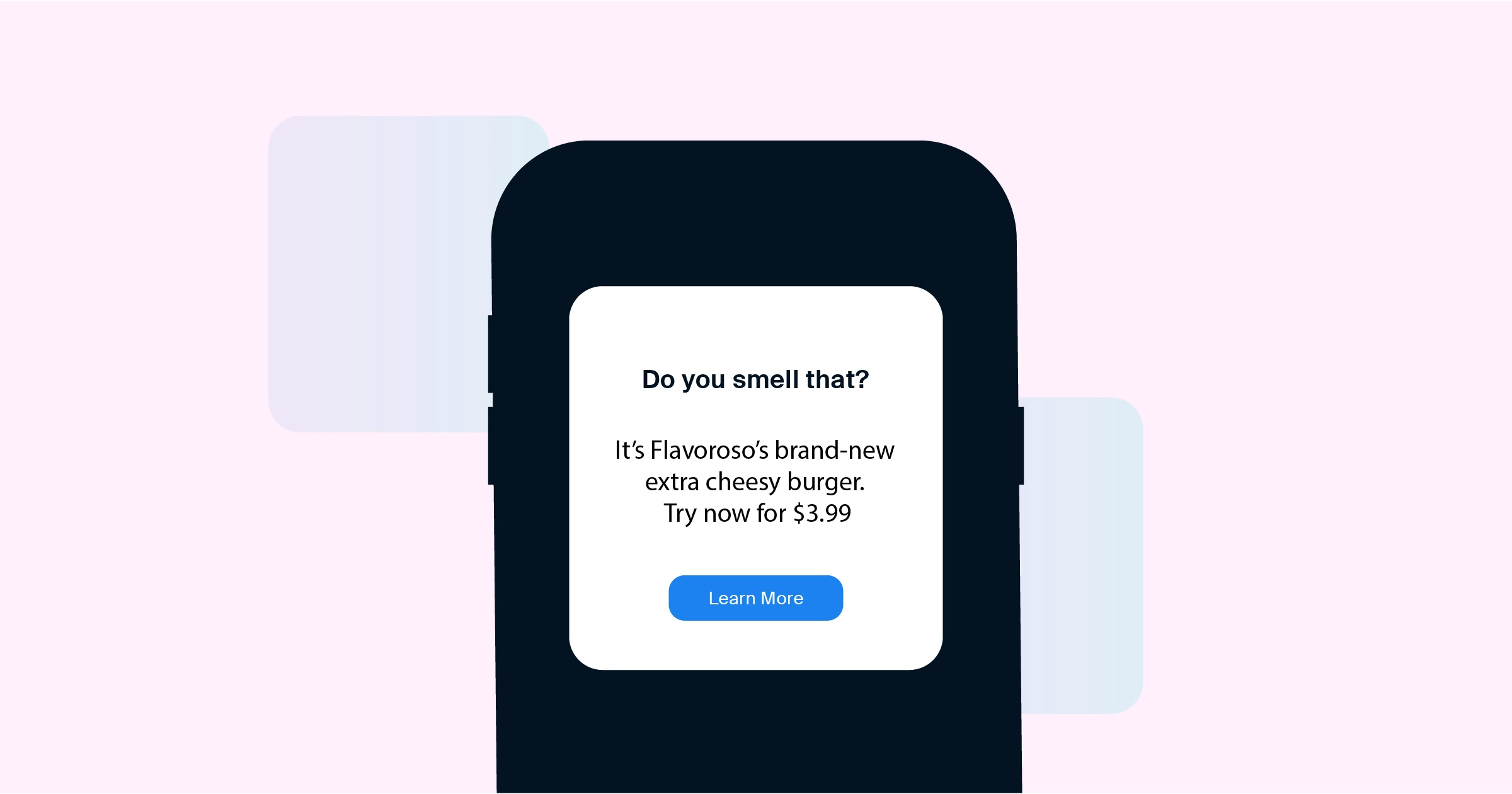 Push Notifications
Push notifications are short pop-up messages that appear on the lock screen or while you're using your smartphone. In most cases, you'll need to enable these messages for an application to send them. A push notification doesn't appear in the app itself; it is a tool that businesses use in mobile marketing to prompt users into entering and engaging with the app. 
The main types of push notifications are banner notifications and badge notifications. Banner notifications are the ones that pop up and disappear shortly afterwards. You'll see these on your phone's home screen or lock screen.
Badge notifications, on the other hand, are those tiny red circles with numbers that appear on the corner of an app's icon. They let you know how many messages or notifications you have in that app. 
Rich Communication Services
Short for Rich Communication Services, RCS is a messaging platform from Google that serves as an alternative to traditional text messaging. The purpose of this technology is to provide users with an app-like texting experience—similar to Whatsapp and Facebook Messenger—with their phone's built-in messaging system.
RCS allows users to interact with each other in a richer and more engaging way. This includes sharing high-quality images and seeing read receipts. When it comes to SMS marketing, companies would have more creative freedom regarding how they interact with their audiences. 
Interestingly enough, Google developed RCS to counter Apple's iMessage. This is because of the substandard text messaging experience between iPhone and Android users. In a website campaign, Google puts pressure on Apple to implement RCS as a solution.  
In-App Messages
In-app messages are ones you would only receive when you're actively using the application. The main purpose of these types of marketing messages is to boost and maintain user engagement. Once you enter an app, you may see a welcome message informing you about a new deal or an update.
Companies may also add side messages that encourage you to upgrade your account, sign up for a loyalty program, or cash in on special offers. One example is when Duolingo sends a message in-app, welcoming users back who haven't used the app for a while.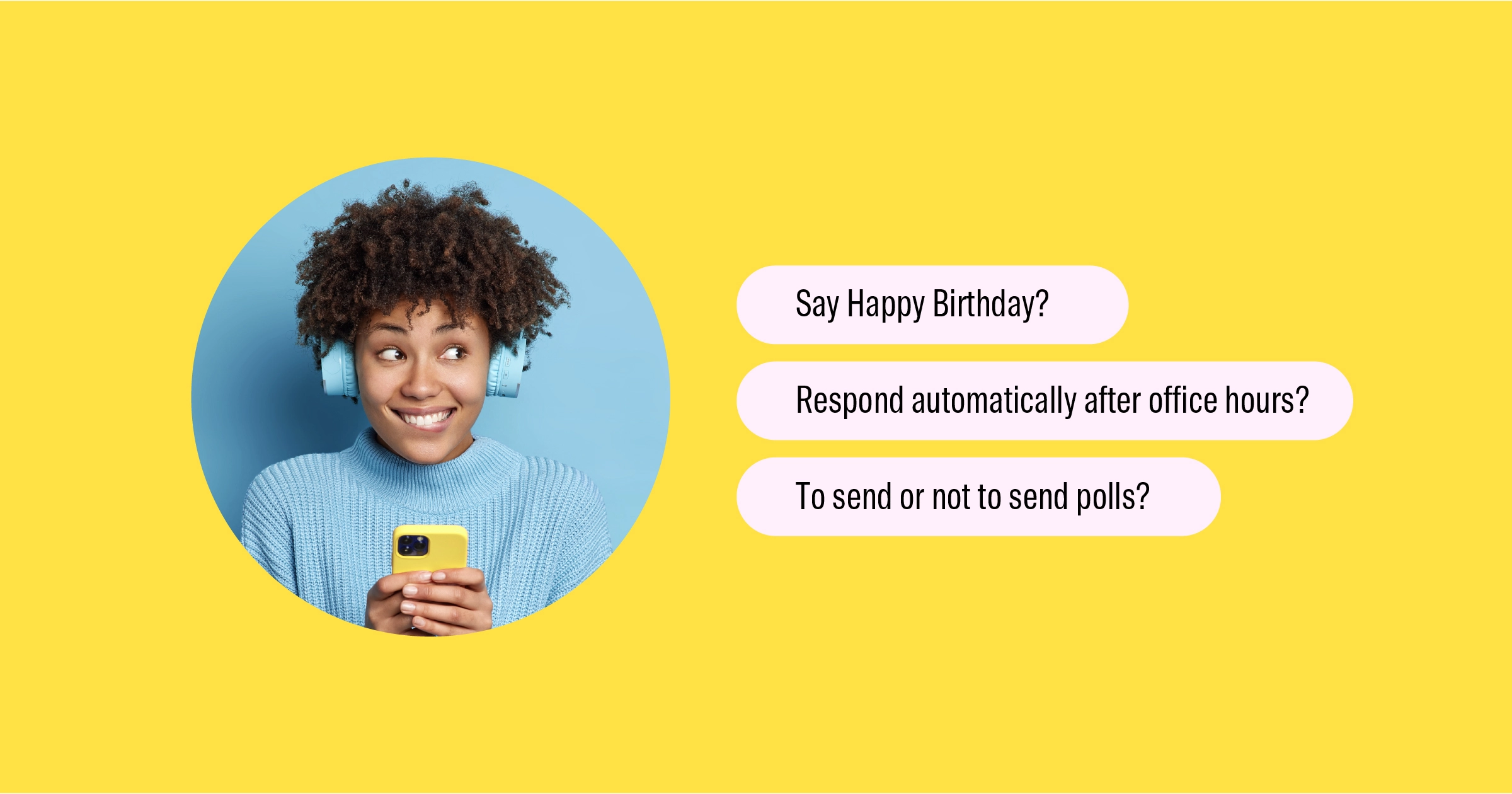 What You Can Do With SMS and MMS
Now that you're familiar with the different types of text messages, let's shift our focus to the two main forms of texting: SMS and MMS. These are the two primary tools that make up text message marketing. But of course, there's more to text marketing than just exchanging messages. 
This is where an SMS platform comes in, allowing businesses to significantly expand the potential of SMS and MMS. This includes sorting customer lists, automatically filtering phone numbers, personalizing messages, and sending mass texts, just to name a few. Other examples include:
Triggers
In cases when timely responses are important, triggers enable you to automate instant responses to frequently asked questions. The trigger would reply with a preset answer whenever a customer texts a keyword. For example, you can create a "CONTACT" trigger that will send your contact information every time a customer texts that keyword. 
Polls
To do a survey, you would most probably send a question to a group of contacts, wait for their replies, count the answers, and report the results. A marketing software will help you text a poll to hundreds of contacts in a matter of seconds. You'll also be able to see the results in real time. 
Templates
Templates allow you to save time that you would otherwise spend typing the same messages over and over again. For instance, you could select a pre-written template for an order confirmation SMS and send it whenever a customer places an online order. Templates will also help you avoid making typing mistakes that may occur when rewriting messages.
Autoresponders
Autoresponders are a set of staggered messages that you automatically space out and send over a period of time. These automated texts go out to contacts who have subscribed to your SMS campaign. This helps you keep your customers engaged and can be an easy way to boost conversions. You can also use autoresponders along with customer segments to set up drip campaigns. 
Scheduled Messages
Being on your phone 24/7 to keep up with your SMS campaigns isn't practical. It can also keep you from planning your next marketing strategy. As for scheduled texts, you can set them in advance to go out after days, weeks, or even months. 
Birthday Texts
It's hard enough to remember the birthdays of your friends and relatives—imagine having to keep up with the birthdays of customers and business partners. Why waste time checking for that information and sending out wishes when you can automate it? Birthday texts are one of the many features that SMS platforms offer, and they're a great way to make your customers feel valued.