23 Best SMS Marketing Platforms for Businesses in 2023
Published: Nov 21, 2022
Updated: May 23, 2023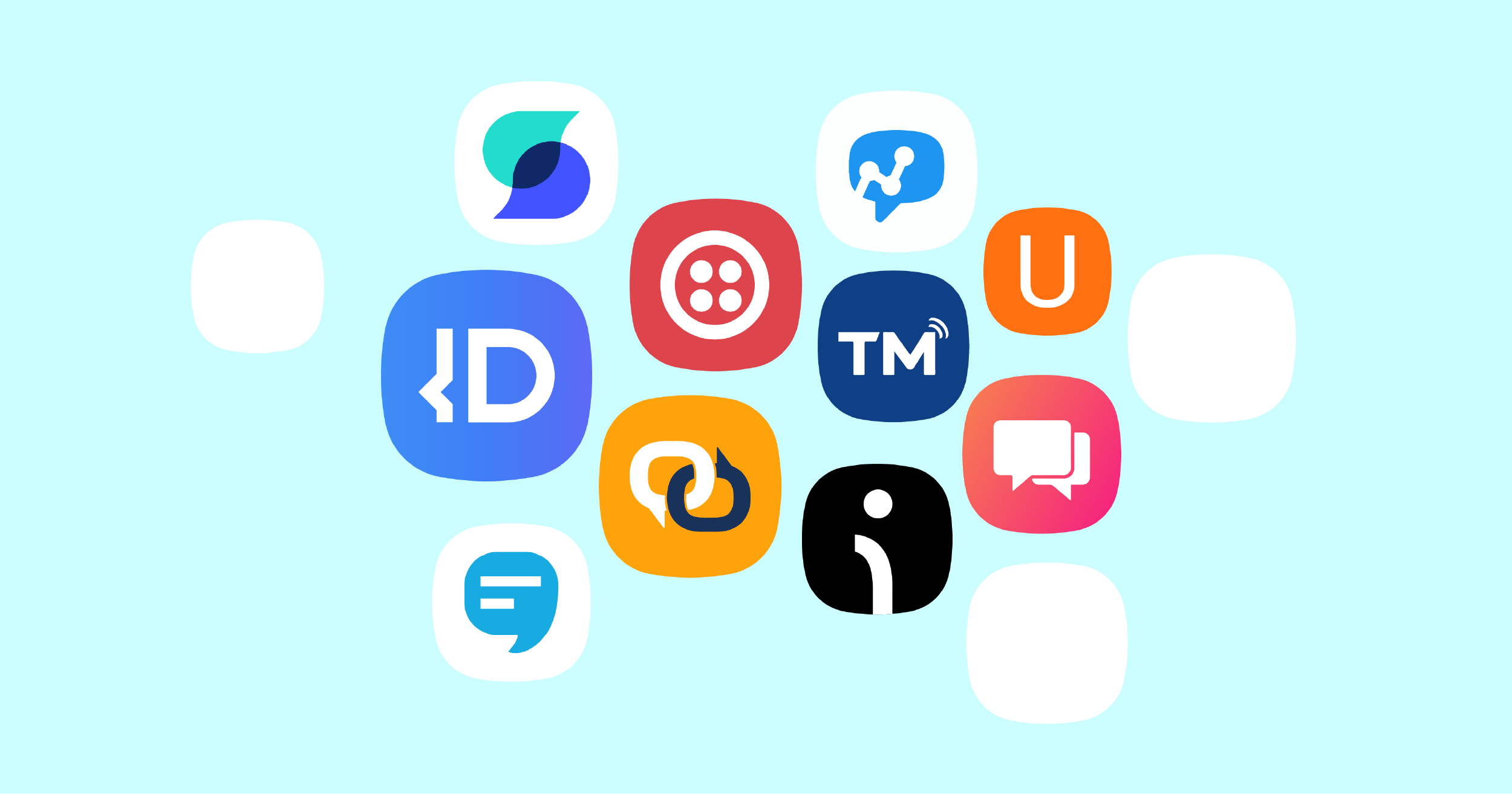 With the ubiquity of smartphones, more businesses are using SMS marketing platforms to reach their target audiences. These offer a variety of features, including the ability to send SMS texts, schedule campaigns, and track real-time results. They also tend to be fairly affordable, making them a cost-effective way to reach a large audience. 
When choosing one of the best ones, there are certain features you need to factor into your decision. This article highlights the must-have features of cloud communications platforms and presents a list of the top companies that provide those services. 
Why Do Businesses Need SMS Platforms?
Businesses use SMS platforms to reach out to their customers and promote their products or services. They allow businesses to send mass SMS messages to communicate with their customers. Audiences can opt in to receive these messages and opt out at any time.
Businesses also use them to reach out to potential customers. They use SMS to send texts, coupons, special offers, promotional material, appointment reminders, or exclusive content. This can help drive sales and attract new customers.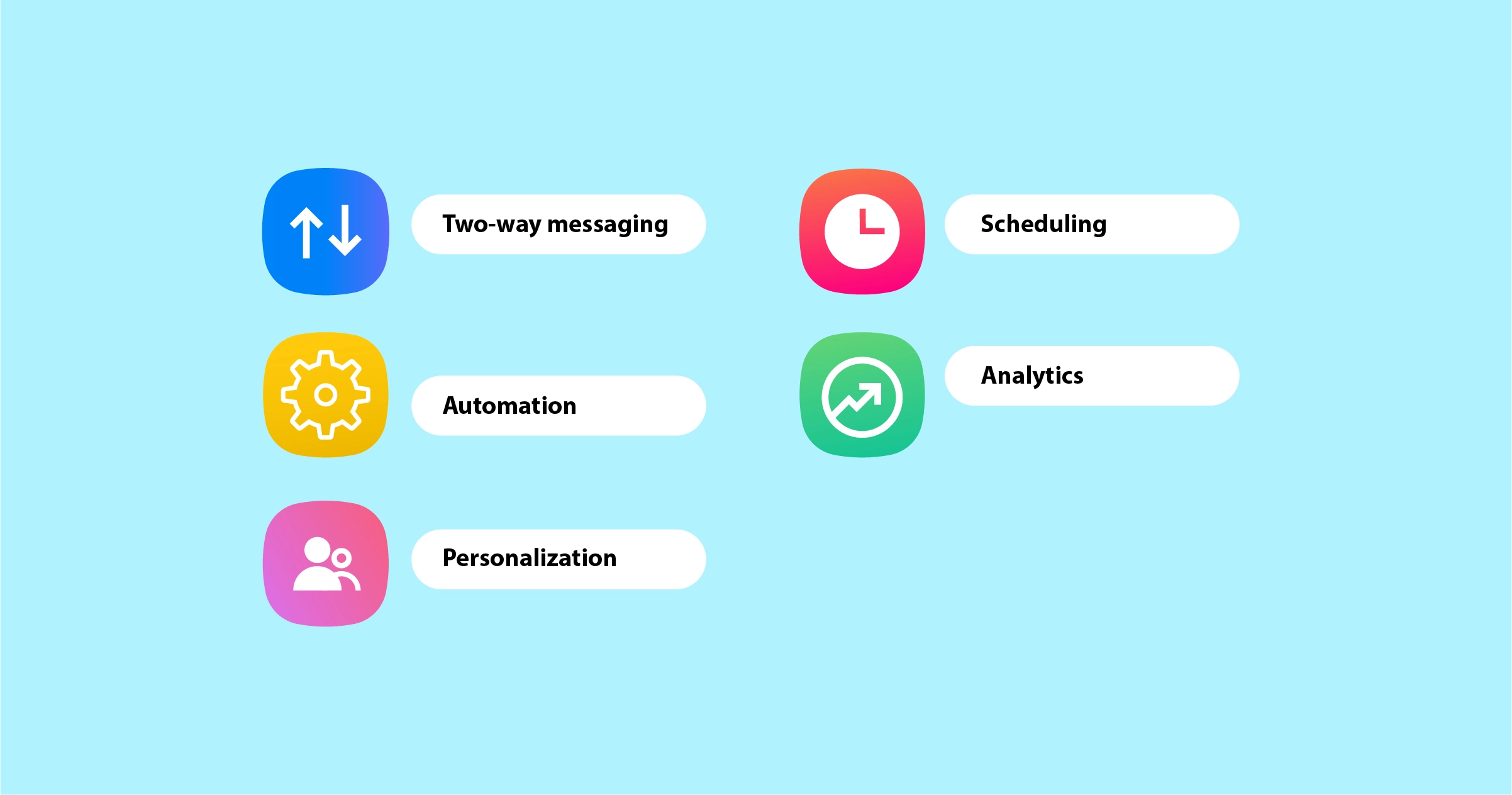 Must-Have Features of SMS Platforms
In addition to standard and expected capabilities like bulk text messages, contact management, mass text campaigns, and contact lists, the best ones will have an arsenal of must-have features available for businesses to benefit from. These include:
1. Textable Number
Among the most fundamental features of a platform are textable numbers. These will ideally include dedicated short codes as well as 10-digit toll-free numbers to which recipients can text a custom keyword. Textable numbers essentially enable two-way texting between businesses and their customers. 
2. Text to Landline
Another useful feature that they should provide is landline text messaging. As the name implies, a text-to-landline service allows customers to send text messages to an SMS-enabled landline instead of a mobile number. Businesses using this service will receive SMS texts in the form of voice messages. 
3. Two-Way Texting
As mentioned previously, SMS messaging platforms should enable two-way texting. Your customers should, in many cases, be able to respond to your SMS campaigns. With two-way texting, you can make that possible and offer a quality customer experience in the process. This essential feature also goes hand in hand with custom keywords. 
4. Automated Campaigns
Campaign automation is the go-to solution when it comes to saving time and effort while enhancing SMS campaign productivity. You can use autoresponders for anything from confirming payments to sending scheduled promotional SMS messages. Being able to schedule campaigns with automation especially comes in handy for reminding your audience about events, appointments, and more.
Get Started Now
Reach your clients now and claim your 30-day free trial. No credit card required.
5. Automated Workflows
An SMS marketing tool will ideally make it possible to automate the mechanical aspects of your workflow. This minimizes the need for carrying out repetitive tasks manually and allows your team to focus on more important matters. Pre-built workflows basically make your job more efficient and effortless. 
6. Link Tracking
Many SMS marketing services offer short trackable URLs that allow you to monitor link clicks. With link tracking, you can nurture leads by segmenting recipients who entered the URL and restrategizing for those who didn't. The best ones will provide detailed URL tracking down to the minute the recipient opens the link.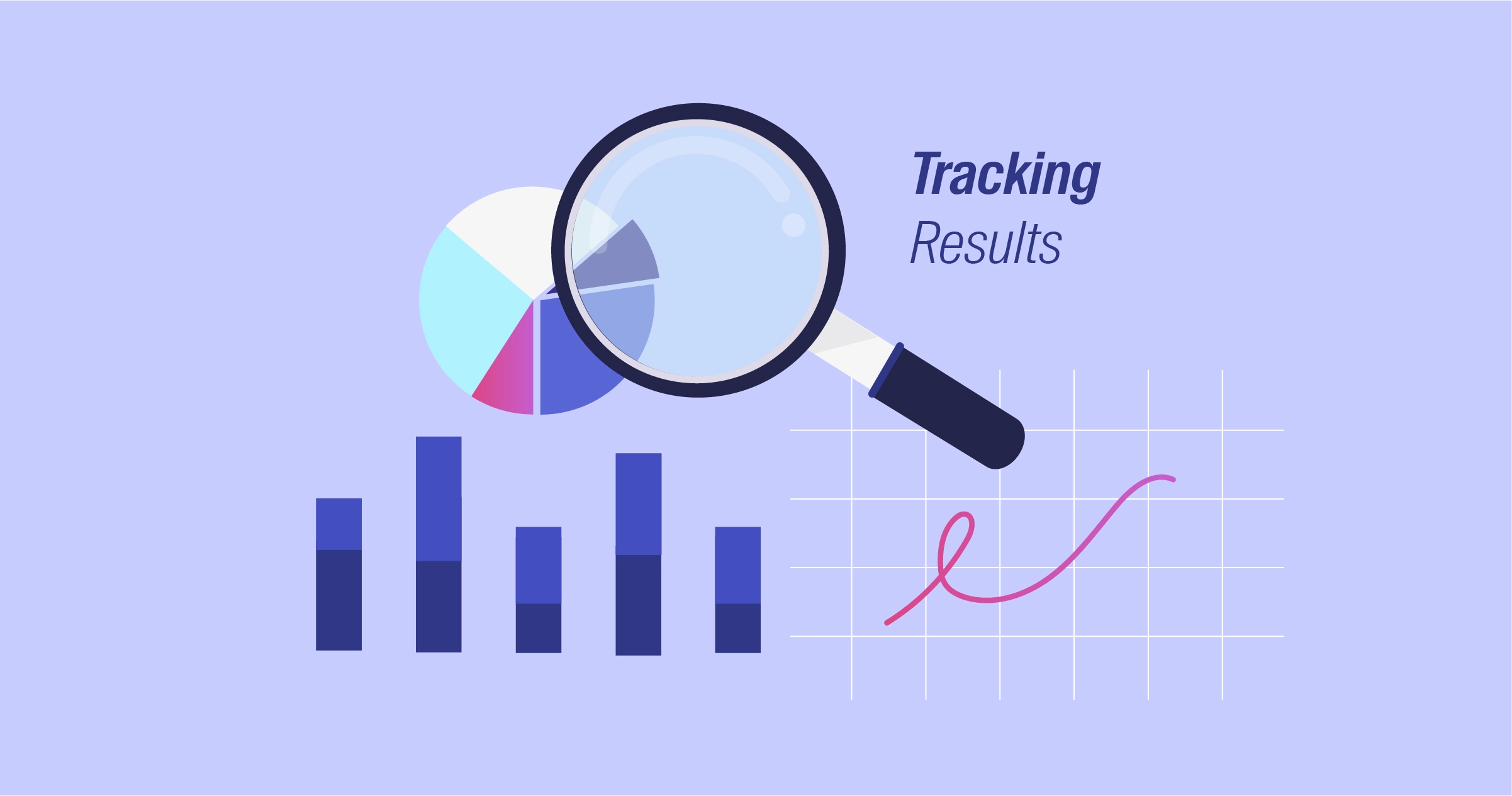 7. Tracking Results
Analytics is a crucial part of strategy. Having said that, a software should give you the ability to measure the performance of your SMS campaigns in real time. This includes metrics such as the number of recipients who opened your SMS message. 
8. SMS API and Third-Party Integrations
A text message marketing service should offer an application programming interface (API) alongside its SMS platform. This enables you to integrate your channel with third-party systems. For instance, you can use an API to send an SMS message via your email client. 
9. Opt-Out Management
It's absolutely important that recipients can easily opt out of an SMS campaign. With an SMS marketing tool, you can provide an SMS opt-out option by including a link or a keyword that your customers can either enter or text in order to unsubscribe from your contact list. 
10. Subaccounts
Subaccounts are another useful feature of text marketing services, allowing you to set up numerous sub-users with different levels of accessibility. Each of your team members will be able to launch their own SMS campaigns while you monitor them from the main account. 
11. Personalized Text Messages
SMS marketing campaigns are most effective when you connect with your audience on a personal level. With this software, you should be able to send personalized text messages to your customers. Sending personalized text messages is a great way to boost engagement and build customer loyalty. 
12. MMS Messaging
Short for Multimedia Messaging Service, MMS makes it possible to include images, videos, and audio files in your messages. It's an excellent way to make your campaigns more appealing to recipients. Chances are, the best platform will offer the option to send multimedia text messages. 
13. Other Channels
SMS doesn't necessarily have to compete with other channels in terms of usefulness. As a matter of fact, it's best if you use it as part of an omnichannel messaging approach. Look for vendors that provide the integration of various channels like WhatsApp Business, Apple Business Chat, Instagram Business, Facebook Business, and RCS (Rich Communication Systems).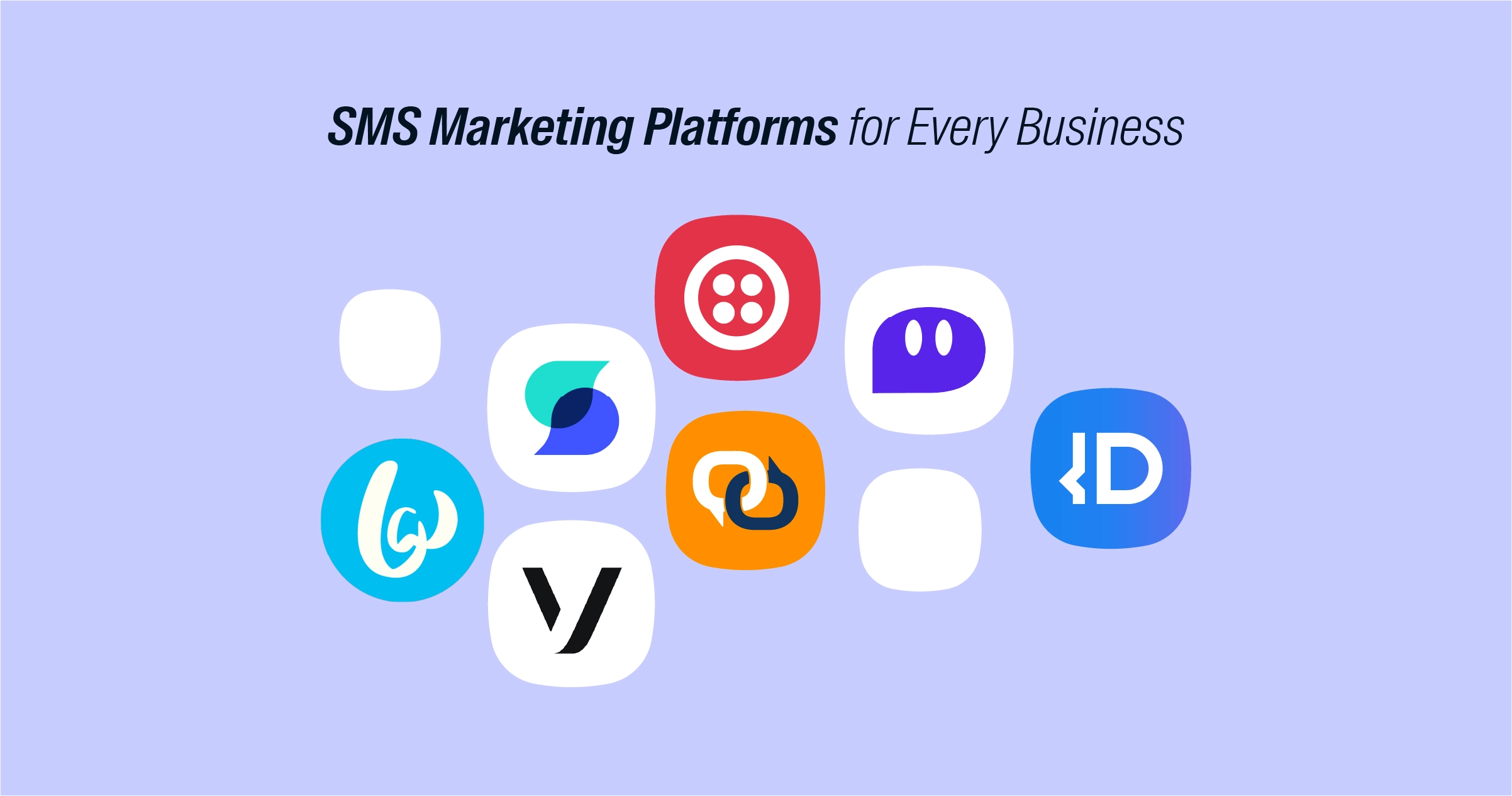 The Best SMS Marketing Platforms for Every Business
As a business of any size, you're spoiled for choice when it comes to finding the best ones on the market. Among other factors, your decision will depend on the features that serve your needs as well as the pricing structure that you're comfortable with. You'll want to choose one that simplifies your marketing efforts while guaranteeing a personalized experience for your customers. 
For Enterprises
1. Twilio
Twilio provides the ultimate texting platform—it features robust automation and segmentation tools, as well as APIs and connectors to link SMS to any of your workflows, apps, or websites. With the use of a visual workflow builder, you can also link to other channels such as WhatsApp and email for a complete omnichannel experience. Depending on the product, Twilio offers custom pricing for your specific needs as well as a pay-as-you-go model. 
2. Vonage
Originally a residential telecommunications service provider that uses VoIP, Vonage now serves more than 100,000 enterprises across the world. The New Jersey-based company provides a flexible cloud communications platform that helps global businesses connect with their audiences on a personal level.
It offers communication SMS API gateways as well as APIs for MMS, Viber, WhatsApp, and Facebook Messenger—all in one place and with monthly pricing. Other features include interactive video broadcasting in addition to video chat embeds. 
3. Bandwidth
Bandwidth helps businesses worldwide face the challenges of telecommunications with integrations, enterprise-class APIs, and a large variety of other SMS marketing tools. Using it, you can automate workflows, integrate channels, and provide a top-notch experience for your customers, wherever they are.
Bandwidth boasts many high-profile customers like Zoom, Google, and Microsoft. The company's direct-to-carrier pricing ensures that you get the best quality for the best cost. 
4. Telnyx
As one of the best SMS marketing service providers, Telnyx empowers businesses with a communication infrastructure that facilitates connectivity and simplifies workflows. You can have access to products like SMS and voice APIs, SIP trunking, and cloud object storage—all with pay-as-you-go pricing.
One of the company's special features is the IoT SIM card, which combines smart device connectivity with scalability. With Telnyx, you can send SMS messages to your customers, knowing they'll get value from your campaigns.
5. Plivo
Plivo's range of solutions and APIs enable businesses everywhere to simply tailor their communications with customers. The company has APIs for text messaging, MMS, and voice service, allowing you to engage your customers effortlessly and cost-effectively. And when it comes to pricing, you can start with a pay-as-you-go method and benefit from discounts as you scale. 
6. UplandSoftware
UplandSoftware delivers flexible communication solutions that are not only cost-effective but also add value. Besides SMS marketing tools, the company has a large and comprehensive variety of products to offer. These include but are not limited to email marketing, CRM phone integration, as well as software for content operations, project portfolio management, and much more. 
For Small Businesses
7. EZ Texting
EZ Texting is one of the top SMS marketing platforms, with over 165,000 clients. Businesses can contact and interact with their mobile audiences thanks to their messaging solutions. You can use dedicated 5–6-digit numbers, which provide unrestricted keyword usage, guaranteed delivery, and affordable business messaging costs. Additionally, you can have a 10-digit toll-free number that is specific to your brand. The company presents both monthly and annual pricing packages for its services.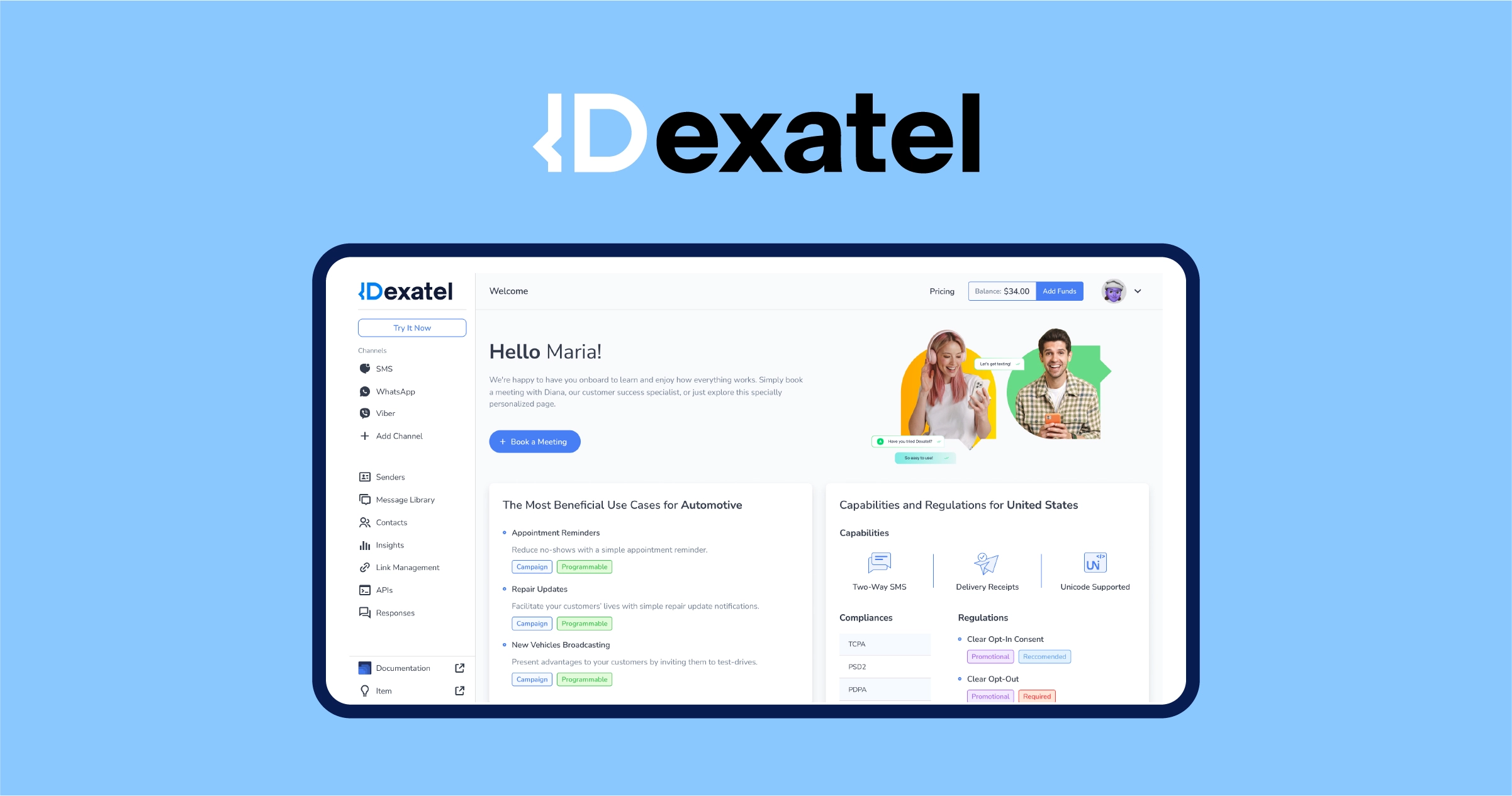 8. Dexatel
Dexatel's SMS platform is a cloud-based software solution that enables businesses to send and receive text messages using their brand name as well as an existing landline or VoIP number. The SMS marketing platform includes a web-based interface and a messaging API that allow businesses to manage their contacts, create and send SMS messages, and view message delivery reports.
Dexatel also offers a pay-as-you-go pricing model, which is the right one for small businesses that prefer to start without any contracts.
9. Textedly
Another popular SMS marketing software with several useful features is Textedly. The finest business texting platforms' typical features, such as bulk texting, two-way messaging, auto-responders, drip campaigns, in-depth analytics, and even MMS messages, are all available here—with monthly and annual payment plans.
What makes Textedly stand out as a business SMS platform is its integration with Instagram. It allows you to add a "text us" button to your profile so your followers can easily reach out to you.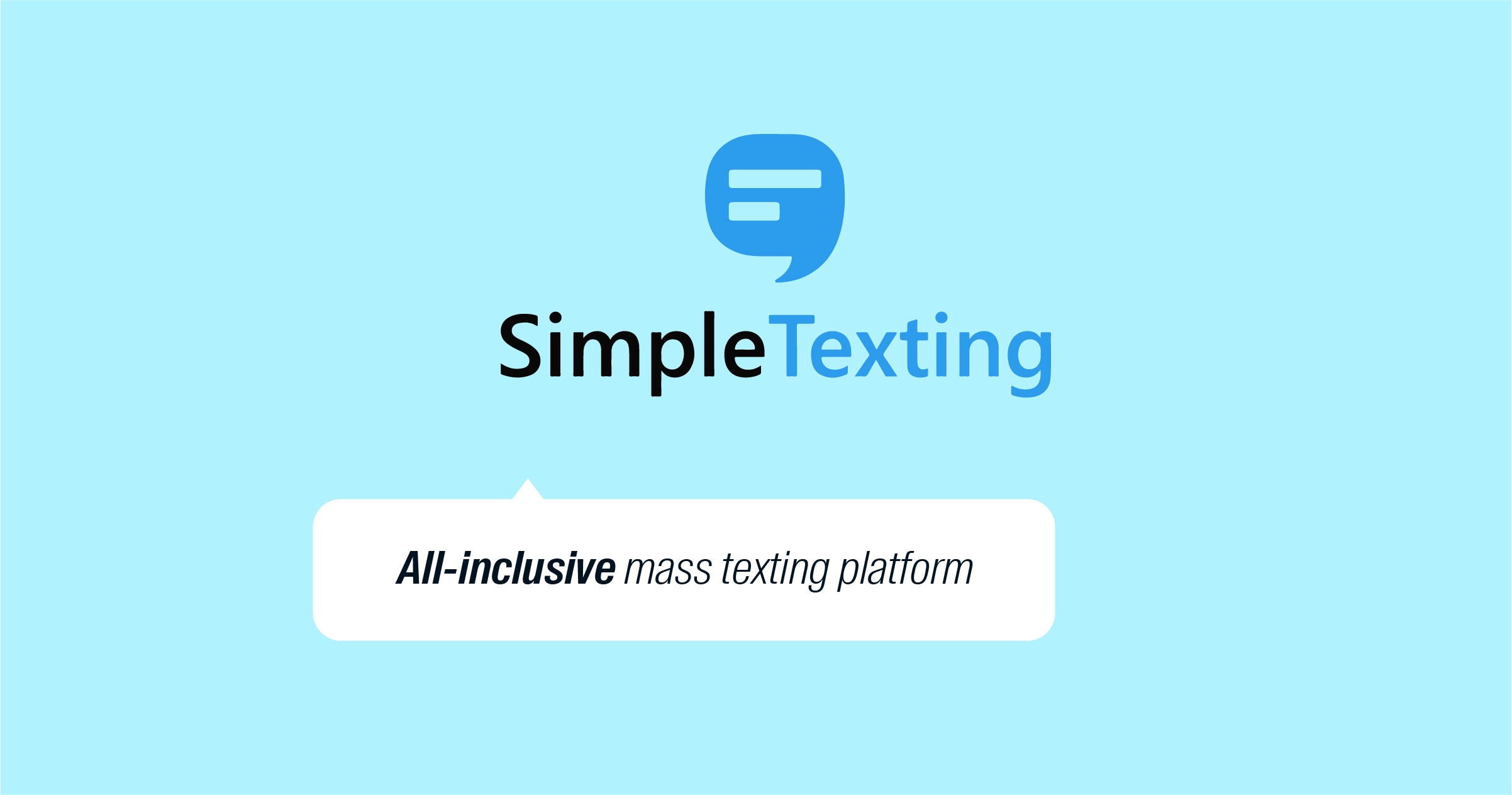 10. SimpleTexting
SimpleTexting is an all-inclusive mass texting platform that offers every standard SMS marketing feature. When using their SMS messaging platform, your URLs are automatically replaced with short links down to only 20 characters.
Moreover, you can have numerous keywords for your mobile numbers with SimpleTexting's monthly plans at no extra cost. This amount is often capped for base plans on other platforms.
11. TextMagic
The distinctive quality of TextMagic is its worldwide coverage—it's what makes it one of the best ones out there. By using their pricing calculator, you can get a quote for your SMS marketing campaigns in no time.
Through the validation service and API that TextMagic provides, you may quickly discover any phone numbers or email addresses that are invalid. By doing this, you'll increase delivery and cut expenses. As for pricing, Textmagic lets you pay as you go.
12. SlickText
One of the most reputable industry leaders in SMS marketing, SlickText can help you use this solution to grow your business. It has several features that enable you to use the platform effectively, and it functions well on all devices.
There are no obligations or hidden costs with SlickText, and you are always free to upgrade or cancel your monthly plan. This enables you to reach consumers immediately, especially with the high open rate of text messages.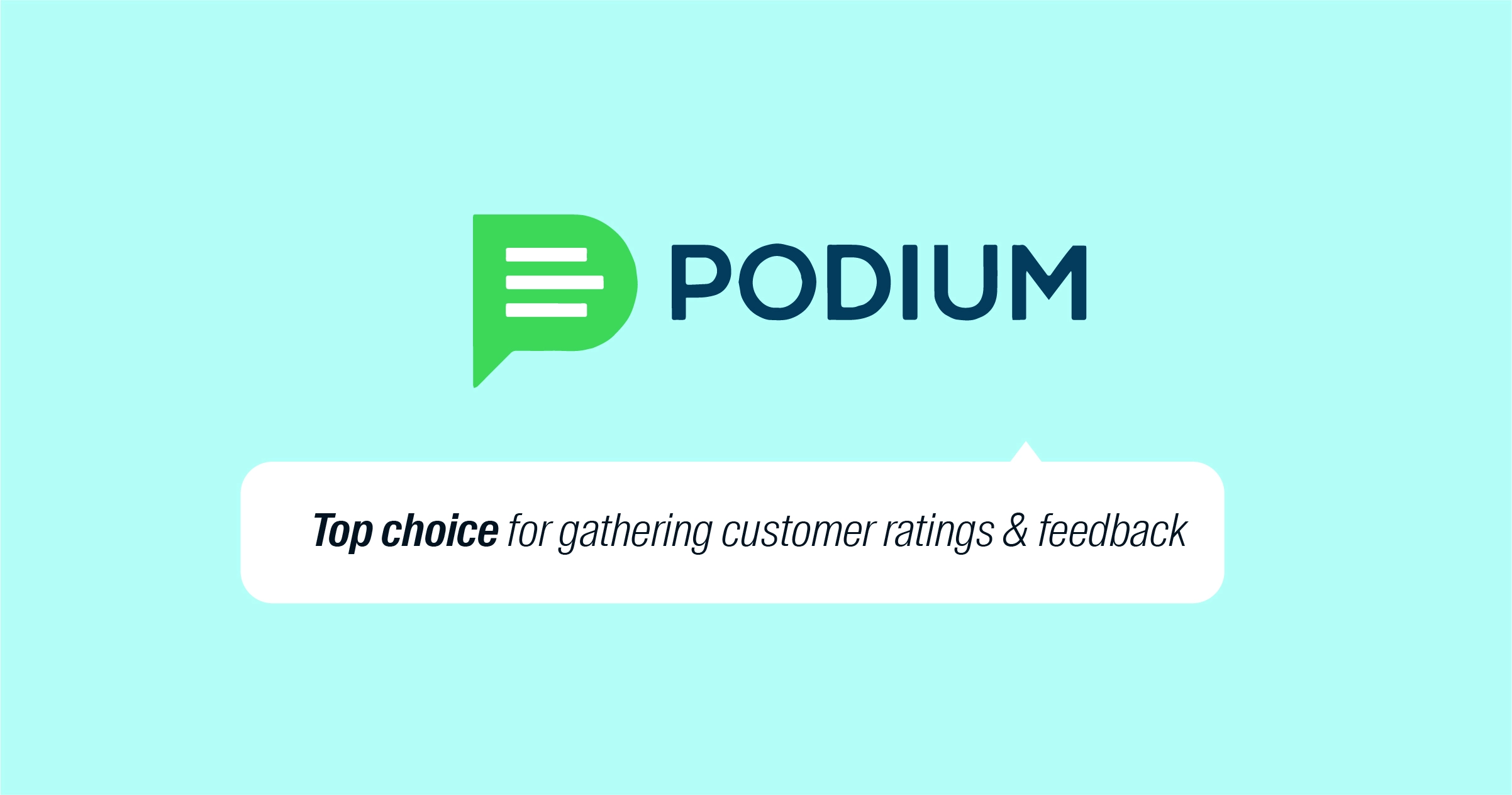 13. Podium
Podium is a user-friendly SMS marketing tool that focuses on gathering customer ratings and feedback. When you ask for customer reviews through Podium, they are shown on your Google page right away since both Podium and Google Business are fully integrated.
You can add the webchat widget from Podium to your website and ask for payments from customers directly from your inbox, strengthening your interactions through text-based invoicing and payments. In terms of pricing, Podium has both monthly and annual subscription plans. 
14. Attentive
Led by experts in the technology industry, Attentive helps innovative businesses rethink their SMS interactions with audiences. The SMS marketing platform has a notable feature: the Attentive AI, which allows you to power your workflow with the help of artificial intelligence. Among other solutions, the company's arsenal also includes integration with a slew of systems like Salesforce, Zendesk, and BigCommerce. 
For Shopify Users
15. SMSBump
An effective text marketing and automation solution for BigCommerce stores is SMSBump. With the help of this software, you can quickly build campaigns and analyze their success while sending text messages using templates. You can also plan campaigns and make last-minute adjustments.
Take advantage of scaleable list growth with appealing pop-ups, branded keywords, and more. Over 90,000 businesses choose SMSBump as their go-to tool to interact with their consumers. As for payment, the company offers several monthly subscription plans that you can cancel at any time.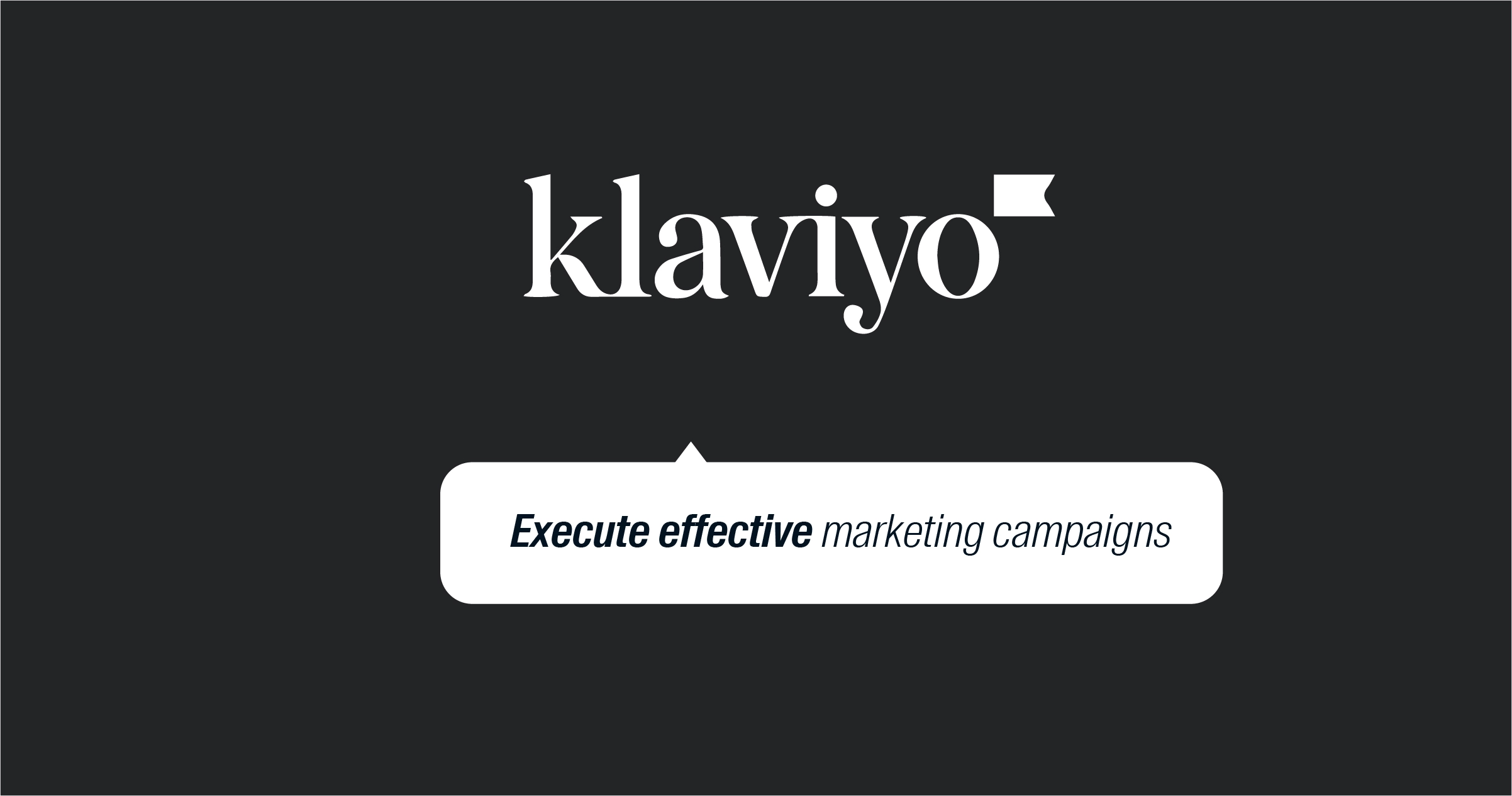 16. Klaviyo
To keep your consumers happy with your SMS marketing services, Klaviyo can assist you in obtaining your toll-free number. You can expand your revenue and cultivate commercial ties with your devoted consumers. Klaviyo interfaces with over 200 eCommerce tools and platforms.
This allows you to welcome subscribers, wish them a happy birthday, exchange purchase information for any product, let them know how much stock is left, send brief reminders, and much more—and pay with a monthly subscription-based plan. 
17. PostScript
As one of the top SMS marketing platforms for businesses that use Shopify, Postscript offers a bunch of useful features for eCommerce stores. Its integration with Shopify allows you to leverage the program for your SMS messaging campaigns.
You'll have access to result-based analytics, custom coupon generation, and customer and order level segmentation—just to name a few. As for payment, the company has subscription plans as well as custom pricing for enterprises.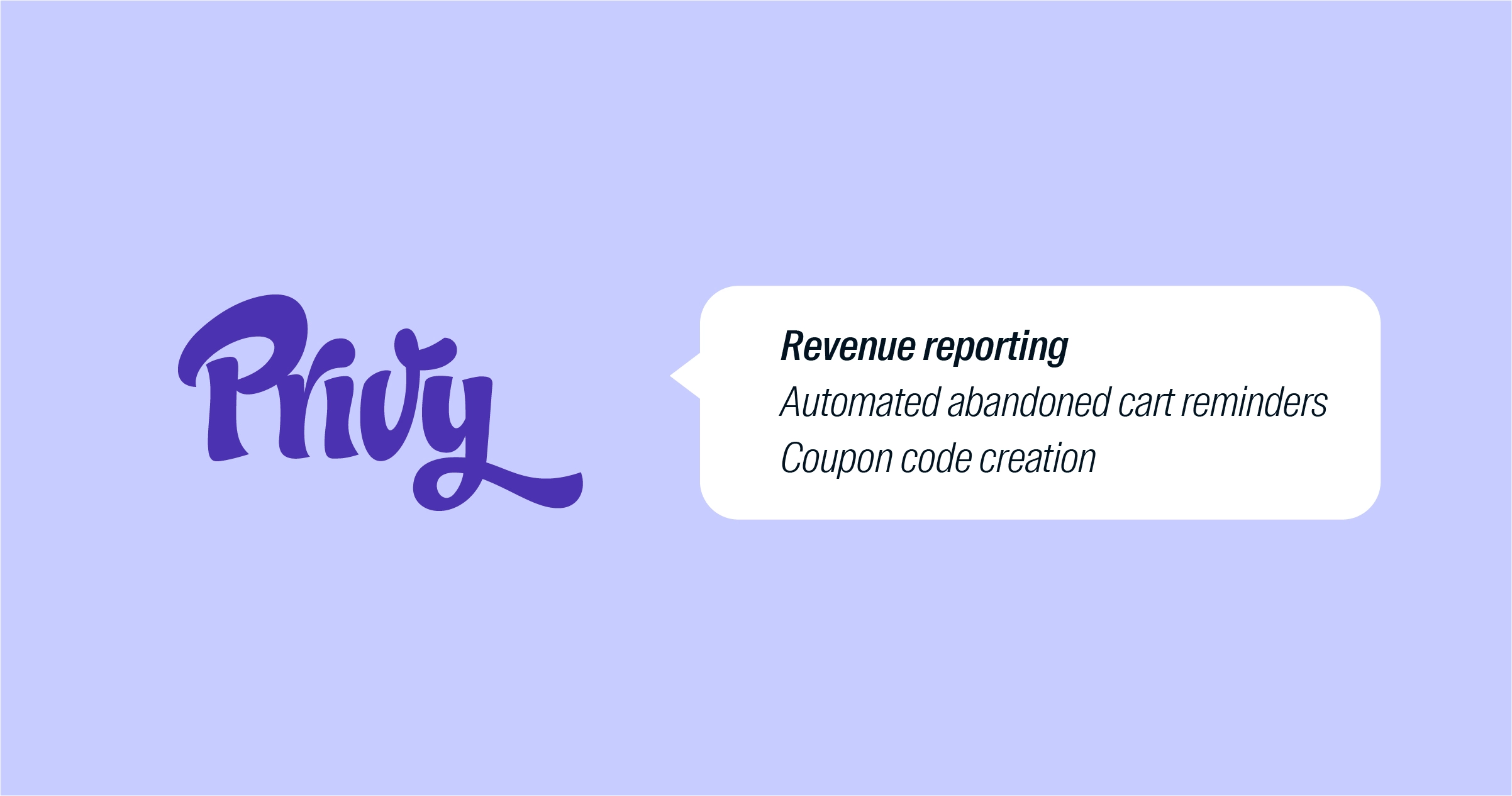 18. Privy
Another excellent choice for Shopify users is Privy. The Massachusetts-based company grants access to SMS, email, and conversion tools that enable you to drive your online sales and turn casual visitors into paying customers.
By seamlessly integrating with Shopify, Privy offers simple revenue reporting, automated abandoned cart reminders, coupon code creation, and more. The company also has holiday email templates that you can customize for your seasonal campaigns. In regards to pricing, Privy uses subscription-based plans you can choose from according to your needs.
19. ProofFactor
When it comes to integrations, ProofFactor is possibly the best SMS marketing company you can find. Topping the list of eCommerce platforms it integrates with is Shopify, followed by WooCommerce, BigCommerce, and others. ProofFactor also makes your life easier by providing automation for your SMS and email campaigns.
You can even take customer engagement to the next level with the company's Fortune Wheel feature, which you can use to offer discount coupons to your subscribers.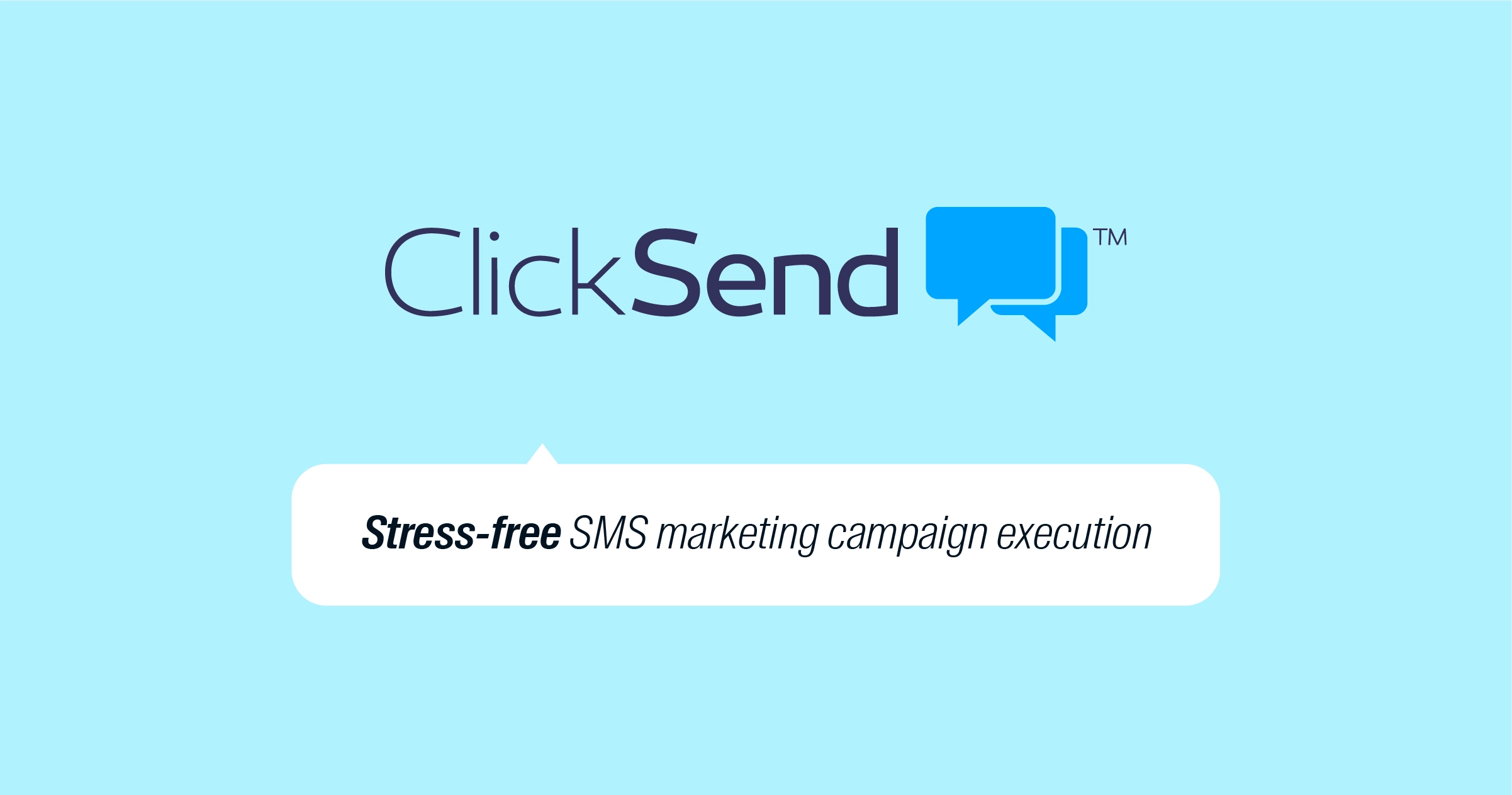 Non-USA Providers
20. ClickSend
ClickSend, one of the best SMS platforms outside the US, allows you to take your initial steps into the text marketing field. This becomes possible through a web-based SMS portal or an SMS gateway. You can communicate with one or more contacts using an online SMS gateway API.
For both your company and your clients, the experience is enjoyable and stress-free. A web-based SMS portal also allows a seamless connection with virtually any email marketing campaign, and you only pay for what you use. 
21. Sinch
By scaling communications across email, voice, and text messaging, Sinch helps you provide unified and customized experiences for your audience, regardless of the channel they prefer. Sinch's most notable products include MMS, RCS, and verification APIs, as well as various channels like Viber, WhatsApp, and Telegram.
The company also offers in-app video calling that allows you to set up a video experience in your mobile or web application. 
22. Infobip
With numerous offices across the globe, Infobip is designed with speed, scale, and deliverability in mind. You'll be able to benefit from API integrations with a variety of programmable channels, including but not limited to RCS, WhatsApp Business, Instagram, and in-app messaging.
The company also holds high-security standards by offering multi-factor authentication for each of the channels.
23. MessageBird
Providing an omnichannel automation platform for APIs is what MessageBird specializes in. The company facilitates the process of automating and personalizing communications with customers. It does so through API integration across various channels, including SMS, voice, and WhatsApp.
High-profile enterprises that have chosen MessageBird as a communication platform include Glovo, Aramex, and Uber. Its pricing depends on the product you're using. While certain products have custom pricing available, others are on a pay-as-you-go basis.