Top Tips for Android SMS Recovery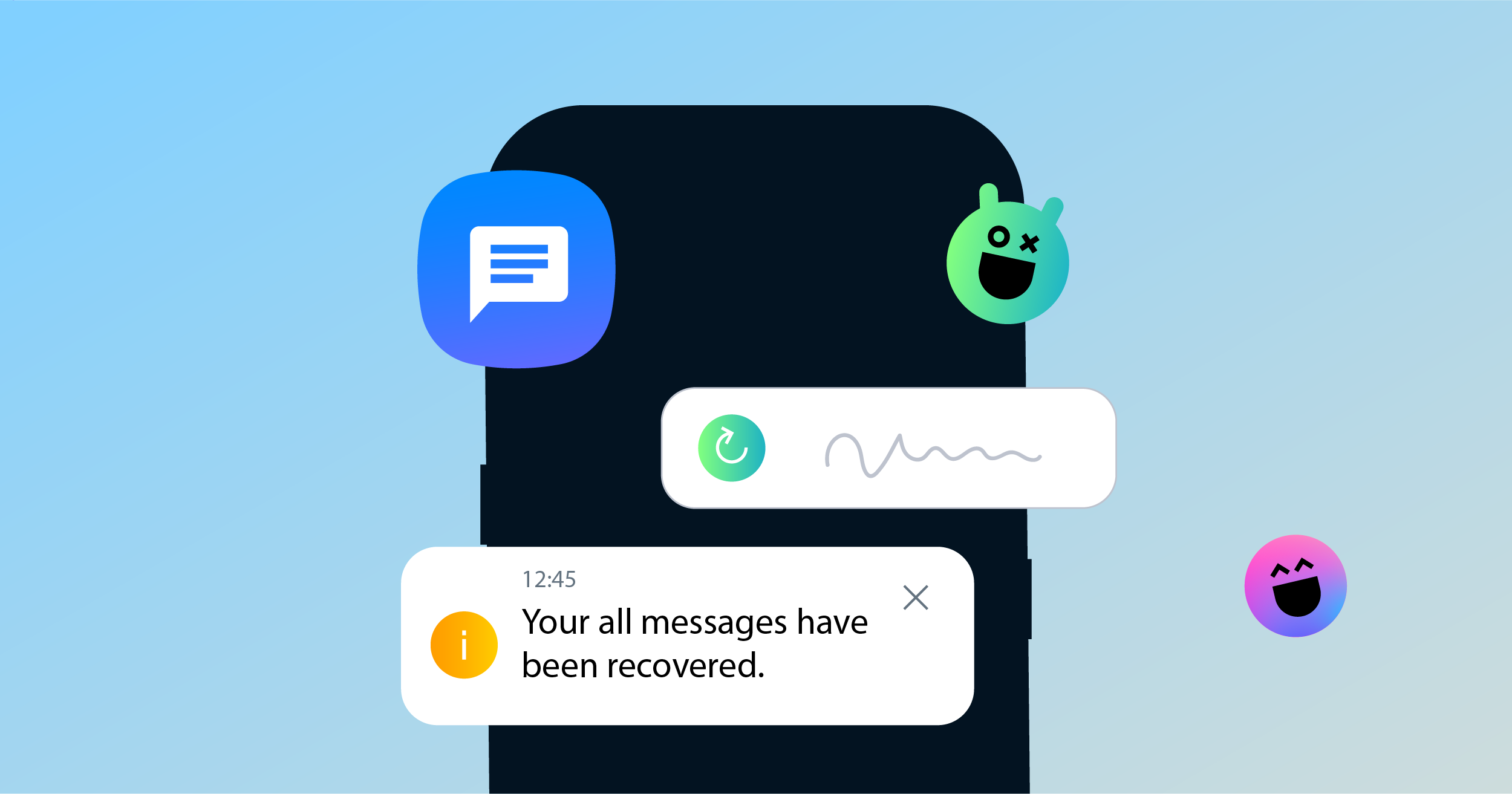 Losing messages is never good. Whether you accidentally deleted an important message, went on a cleanup purge, factory reset your phone, or (gasp!) have had an unexpected system crash, it can be a heart-sinking feeling desperately trying to retrieve deleted text messages.
Fortunately, not all is lost.
While you may not be able to access deleted messages on Android easily, they don't necessarily disappear forever. Yes, Android SMS recovery is possible, and there are multiple ways you can go about it such as downloading SMS backup apps. Lost data is still retained on your phone memory, but not forever, so let's get moving.
Whatever your reason for wanting to recover deleted text messages on an Android device, these tips will help you retrieve lost messages. They're not foolproof and there's no guarantee that you'll get all or any of them back, but each option is worth a try depending on your circumstances.
First things first, if the messages you're trying to recover were recently deleted, stop using the phone now. That means no more messaging, picture taking, or downloading. The more new data is generated and overwritten, the harder it is to retrieve deleted text messages if you go the data recovery software route.
Top Options for  Recovering SMS Texts on Android 
1. Google Drive Backup
If you've enabled Google Drive or Google One backups, you're in luck. But, you will have to reset your phone before restoring your backup. Make sure to save anything important that hasn't been backed up since the point in time you are going back to.
Go to your phone settings, then to Google settings, where you should see a Backup option under Services. Sign in to your Google account and go from there.
2. Other Cloud Backup
Many Android phone manufacturers like Samsung have their own cloud backup option. So even if you haven't backed up on Google Drive, you may have had auto-backup enabled on your phone. Go to your device's settings and look for Cloud, Backup, or Restore options (this will depend on your model) and follow the instructions.
Get Started Now
Reach your clients now and claim your 30-day free trial. No credit card required.
3. Ask the Sender
If the sender is somebody you know, ask them to look through their own sent messages and send them to you again. Messages are saved on the sender's device and probably visible on their side of the conversation unless they've deleted them too.
4. Ask the Carrier
This won't always work, but you can contact your mobile provider and see if the SMS is still accessible on their end. They won't or can't always provide you with this information. And, in any case, you will have to prove your identity and possibly go through a long and complicated legal process.
Whether your cellular provider retains the content of the text message and for how long depends on the carrier and the regulations in your jurisdiction. But, it's worth inquiring about if it's something you're keen on.
5. Use an Android Text Recovery App
If all else fails, you can resort to third-party apps that recover deleted messages, both paid and free. Make sure you do your due diligence and pick one that is reputable and trustworthy. Check online reviews and remember to exercise caution when downloading and installing unfamiliar programs or apps. Popular SMS recovery apps for Android include:
· Coolmuster Android SMS Recovery
· FonePaw Android Text Recovery
You can also find tools for Android text recovery without root. Similarly, if you want to do it without a computer, some apps work directly through your phone.
Tips for Recovering SMS on Android
1. Change Your Settings for Auto-Deletion of Messages
Phones have a setting to auto-delete text messages after a certain period or number of messages. Go to Settings in your Messages app and see if "Delete old messages" is toggled on. If you have the storage space, opt to retain old messages. While hoarding all messages doesn't always make sense, you never know when you may need them.
2. Back Up to Google Drive or Other Cloud Storage
If you didn't already catch on, always back up your phone—Google Drive backup is easy. It varies from device to device, but generally, you can find the backup option either under Google services or System in your Settings.
And if G-Drive free storage space isn't enough for you, Google One has more paid plans. This is an excellent cloud storage option that guarantees that you can still recover your messages, pictures, and more even if the phone is lost or damaged.
Do keep in mind that Google One doesn't automatically back up the media sent through your phone's native texting app. You need to manually save any attached media to Google Photos, which is automatically backed up if you enable the Photos and Video backup option during installation.
However, you can use Google's Messages app as your default messaging client, and Google One will automatically back everything up. But, if you use Samsung's app to text media, you can install Google's client and set it as the default to back up that media.
Alternatively, there are other cloud storage options like Samsung Cloud integrated into your phone or reliable third-party ones like Microsoft OneDrive. If you're using a messaging app for Android or iOS, you can set them up to be backed up automatically after a certain period of time. 
3. Back Up to a Computer Regularly
If you don't wish to use cloud storage or want something in conjunction, you can also hook up your phone to your computer and sync your data that way. The caveat is that it won't be done seamlessly like with cloud storage, and you will have to do it yourself at regular intervals. Nonetheless, there are programs that can help you with that.