The Ultimate Guide to CRM Marketing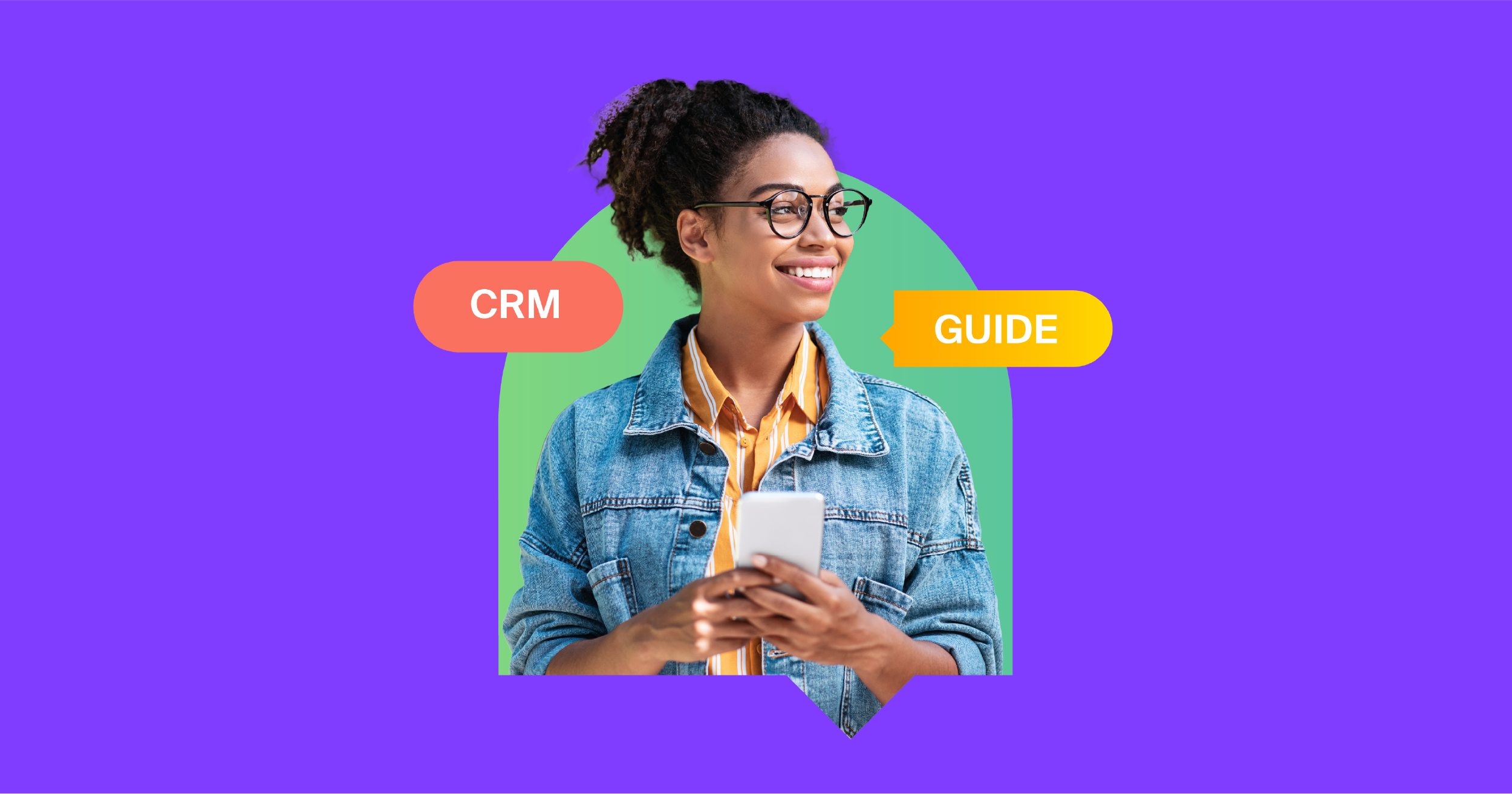 Customer relationship management (CRM) has eased all actions linked with online businesses, especially in marketing. Collecting leads, understanding insights, sending personalized emails—a good CRM system involves these features and more. These tactics help marketers maintain relationships with their clients throughout the customer journey.
No more having a sales team with sales reps physically traveling from one place to another. You can do all this and more with the help of CRM marketing.
What Is CRM Marketing?
CRM is a tool that allows marketers to analyze, plan, and implement their tactics and strategies. Tools like email marketing, sales tracking, and lead management are involved in a decent system. Naturally, with different purposes come different tactics. CRM solutions, by definition, are intended to offer a full perspective of your clients. This guarantees that your team has real-time access to the same information. 
In addition to that, SMS integration can further enhance a CRM system's capabilities. By incorporating it through an SMS API, marketers can seamlessly communicate with their clients using text messaging, enabling personalized and instant interactions. This not only improves customer engagement but also streamlines lead nurturing processes, ultimately driving revenue growth and maximizing the effectiveness of efforts while keeping costs in check.
Customer Overview
The best CRM tools provide information about customers, including their industry, company size, preferences, and so on.
Email Marketing
There are a lot of great tools for email marketing, but a good one includes up-to-date features. These include personalization, template designs, and more features.
Event Management
Plan and organize your events in the fastest way possible with CRM marketing.
Get in Touch With Our Experts
Streamline your efforts and centralize your channels with Dexatel's all-in-one platform. Talk to our experts and get all your questions answered.
Top Tools for CRM
Almost everyone worked on Hubspot, Mailchimp, and Zendesk—or at least heard about it. Why do you think they are very popular among businesses? Business owners and marketers long for CRM solutions that make their lives easier and provide real value to companies. A good CRM service should provide customer data, tasks, and communication in one central hub.
Dynamics 365 Marketing
Microsoft Dynamics 365 Marketing provides fully integrated customer journey and customer service solutions. It helps you send the right messages at the right time based on customers' experiences. The tool's A/B testing feature defines which messages have a high open rate to improve your messaging tactics. Target the right audience and focus on high-priority leads with Dynamics 365's customer insights.
ActiveCampaign
ActiveCampaign connects different platforms to help you manage everything in one place. You can integrate more than 280 tools, including Zendesk, Unbounce, Gmail, Facebook, and other social media accounts into the CRM. And, unlike Dynamics 365 Marketing, ActiveCampaign is affordable, which is ideal for small businesses.
Zoho Marketing Automation
Zoho Marketing Automation has a large client base for good reason. The CRM service provides a detailed behavioral profile of the targeted audience. The app understands how clients interact with products and generates ideas that interest them most.
Moreover, Zoho is a great lead generation tool—the integrated AI system analyzes all prospects and chooses the right ones to target.
SharpSpring
SharpSpring also provides diverse and useful solutions, one of which is VisitorID. This solution allows you to identify visitors twice as opposed to other CRMs that do it once. This is a great tool for behavioral-based tracking and understands why the prospect clicks the buttons.
Another feature that SharpSpring offers is readable and actionable reports. This helps generate custom reports to review the campaign performances and share them with clients and employees.
Marketo
Created by Adobe, Marketo provides the Adobe Experience Cloud, which helps double leads keep existing customers engaged and loyal. This is a super easy tool for analyzing your campaigns and understanding how each channel generates revenue.
Mautic
Mautic helps you run campaigns on an individual level. The tool analyzes customer interaction and provides clear marketing solutions for potential customers. Moreover, it can build landing pages on WordPress or Drupal websites.
Things To Know When Setting up CRM Marketing Automation
Using a CRM marketing automation software to personalize your communications can help you target your audience and ensure lead conversion. Your CRM platform transmits demographic data to your automation solution, which may assist your staff by decreasing time-consuming activities. This information may then be used by your marketing team to target campaigns and sponsored ads.
According to research, the faster a lead gets a response, the more likely they are to become a client. Lead scoring can make the workflow faster and more effective. This is done by identifying users who are most valuable to your organization and likely to convert. You can then send tailored materials to the leads.
Make sure your automation and CRM software aren't overlapping in responsibilities; this may lead to frustrated and exhausted clients. Combining them might indeed result in coherent data and quick access. However, it can also result in unintentional duplicate work such as inputting a customer's information twice. Make it a habit to check your system for duplicates regularly.
You might encounter problems after integrating your systems. Make a plan for identifying, implementing, and fine-tuning improvements to your marketing and sales activities.
Understanding CRM and Email Marketing
Email marketing systems and CRM platforms may be used in conjunction to manage contacts, execute campaigns, and preserve customer data. This entails using CRM tools to involve personalized practices and provide customers with an individual approach.
The advantages of adopting this software ental having a central database for leads and customers, delivering targeted content, and tracking consumer interaction quickly. And with lead scoring, you can assess the chance of a visitor becoming a client.
What Is Email Marketing with CRM?
As the name suggests, this is email marketing that uses CRM tools to provide a more personalized approach to reaching business goals. Businesses employ these type sof campaigns to build relationships with customers and potential clients, generate leads, and communicate directly with the user base.
And while this task seems quite daunting at first sight, there are ways to automate the process to save time and accelerate your campaigns to the next level. This helps businesses:
Save time by scheduling everything in advance
Follow up with customers using reminders and trigger CTAs
Automate sales cycles
Remind about abandoned shopping carts
Personalize content to give an in-person impression
Advantages of Combining CRM and Email Marketing
Segmentation and Personalization
To send highly targeted emails, use your assembled data to segment your audience by gender, location, interest, and behavior. Statistics show that segmentation improves click rates by a whopping 65%. Meanwhile, personalized emails have six times higher transaction rates. At its core, personalization builds a stronger customer relationship and increases loyalty.
ROI
For every $1 spent, email marketing generates $42 in ROI. The return rate helps businesses better assess the situation and make adjustments to their overall email strategy.
High-Tech
Technology is a constantly evolving science, and every new invention brings a new email tool that simplifies sales processes. Naturally, this also means that advanced automation technologies and AI emerge. These automation platforms help make CRM email marketing more data-driven, up-to-date, and far more effective.