21 Effective Marketing Sample Text Messages to Customers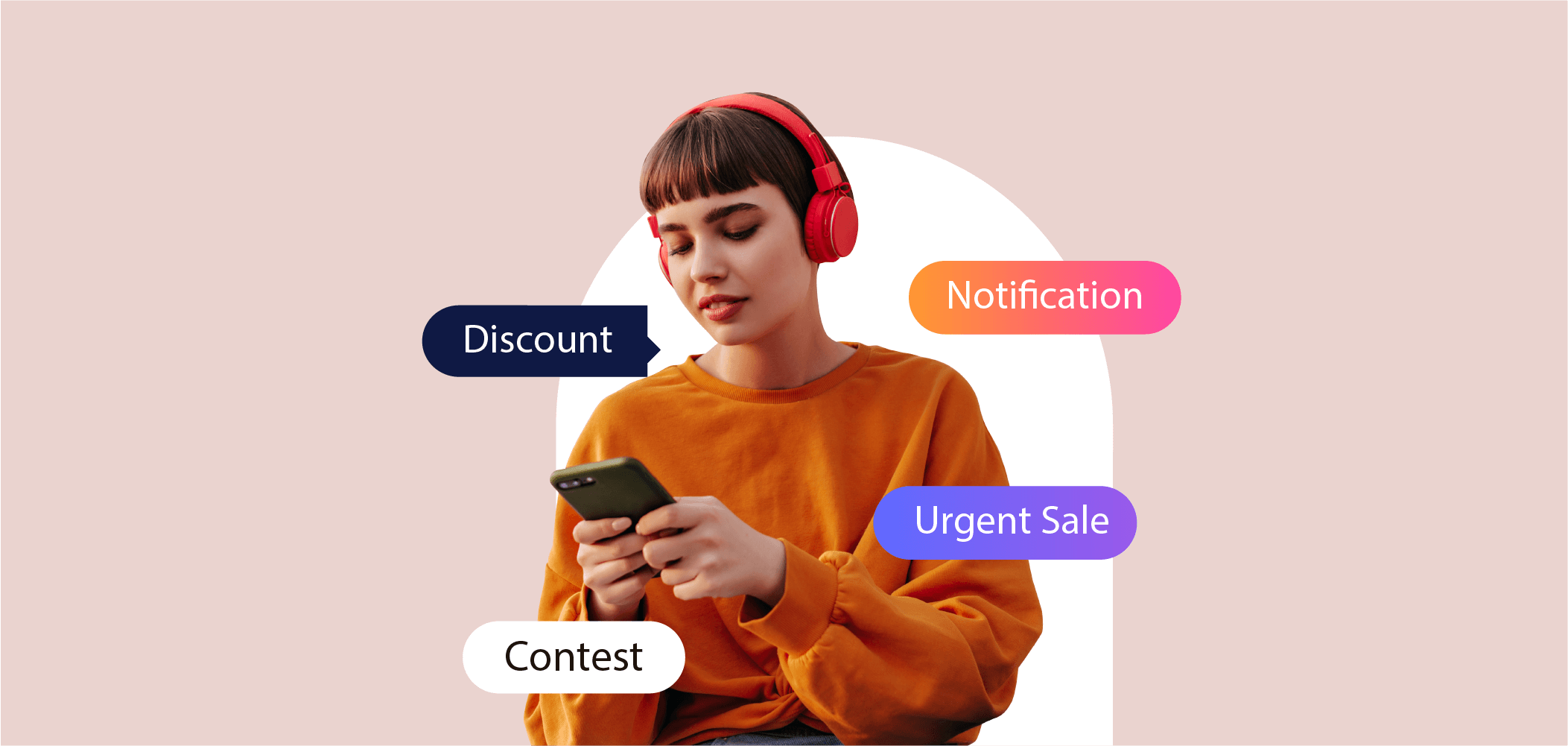 Can't come up with ideas for your new SMS campaign? That's okay—you can always see what others are doing based on their SMS templates.
When you have marketing sample text messages to go by, it becomes much easier to come up with ideas. You'll have something to work off of and be able to base your own thoughts on what has already been done. This can help spark your creativity and come up with SMS messages that are both original and effective.
How Marketing Sample Text Messages to Customers Help You
SMS marketing is a powerful tool that allows you to reach out to your customers and subscribers in a way that is personal, immediate, and interactive. They have high open rates, and you get the chance to send messages directly to phone numbers instead of email addresses.
However, it can also be a bit tricky to get right. After all, you only have a limited number of characters to work with, and you need to make sure your message is clear and concise.
One of the best ways to make sure your SMS marketing strategy is on point is to take a look at some promotional SMS examples. These can show you what works well and help to give you some inspiration for your own SMS marketing campaign.
1. Urgent Sale
If you've got a sale or promotion that you need to get people's attention, SMS is the perfect platform. You can send out a mass text blast to your list with all of the details, and people can act fast. Just make sure you don't overdo it with urgency; you don't want to seem desperate.
2. Event Notification
If you're hosting an event, whether it's a live music show, a sale, or something else, you can use SMS to let people know. You can even include a link to buy tickets or get more information. You'll find plenty of text message templates for these types of SMS texts.
Get in Touch With Our Experts
Streamline your efforts and centralize your channels with Dexatel's all-in-one platform. Talk to our experts and get all your questions answered.
3. Exclusive Coupon or Discount
People love getting discounts and coupons, so why not use SMS to offer them? You can send out a text with a special code that people can use to get a percentage off their purchase, or you can include a link to an exclusive coupon page. Not only does this increase customer loyalty, but you'll notice high engagement rates.
4. New Product Announcement
If you've got a new product or service to promote, SMS is a great way to get the word out. You can send out a mass text blast with all of the details, and people can check it out at their leisure.
5. Contest or Giveaway
Who doesn't love a good contest or giveaway? You can use SMS to promote your contest or giveaway, and people can enter to win right from their phones. Give them a chance to win a free trial of your service or any other product you're offering.
There are endless possibilities when it comes to SMS marketing. These are just a few examples to get you started. With a little creativity, you can come up with some great SMS marketing ideas of your own.
Top Tips for Creating the Best Sample SMS Marketing Messages
1. Keep Your Message Short and Sweet
The average person's attention span is shorter than that of a goldfish, so it's important to keep your SMS campaigns concise. Keep your messages no longer than 160 characters, and make sure they're to the point.
2. Use Strong Calls to Action
Just like any good marketing campaign, your SMS campaigns should have a strong call to action that encourages your recipients to take the desired action. Whether you want them to click through to your website, sign up for your newsletter, or make a purchase, make sure your CTA is clear and specific.
3. Personalize Your Messages
Sending mass marketing messages is a surefire way to turn people off, so make sure you personalize your SMS campaigns. Use your recipients' names whenever possible, and segment your list so you can send targeted messages that are relevant to their interests.
4. Timing is Everything
When you send your SMS campaign can be just as important as what you send. Avoid the temptation to blast your entire list at once—instead, consider sending messages at different times of the day or week to see what gets the best response. You can also use SMS to send time-sensitive offers or information that will expire if not used promptly.
5. Use Tracking and Analytics
As with any marketing campaign, it's important to track your results so you can see what's working and what's not. Most SMS marketing platforms offer built-in tracking and analytics, so you can see how many people opened your message, clicked on your CTA, and more. Use this data to adjust your future campaigns for even better results.
Promotional Sample Marketing Messages for Retail
Hi Jan, 15% off in-store purchases this Friday only! Want to be the lucky one? Show this text in-store and get 15% off your purchase.
Hi John, don't miss your chance to get an extra 20% off all collections only this week! Check out our products right here: bit.ly/p1we1.
Hey Mary, we have a brand new Body Stackers Union Full-Zip Hoodie in stock. Get yours now before they sell out!
Hello Chris, Nike T-shirt, code 7856 has been sold out for months, but they're back now. Grab it before they sell out again! bit.ly/p1owe1.
What is the United States' favorite holiday destination? Text the correct answer to +1-202-555-0157 and win a pair of sunglasses!
SMS Marketing Templates for Education
Dear Diana, this is Edgewood reminding you to attend the parent-teacher meeting on 07.06.22 at 3:00 pm.
Dear Sam, your physics assignment is due tomorrow evening. Submit it on time to avoid a deduction of marks.
Dear Karen, please be informed that Edgewood will be closed on 07.06.22 due to a national holiday.
Hello James, you have an Environmental Ethics and the Real World class to attend on 07.06.22 from 3:00 pm to 4:00 pm.
Text Message Marketing Examples for Financial Services
Dear Annie, your transaction verification code is 7856. Valid for 10 minutes.
State Holdings Bank: Your current balance is $0.06 and at risk of going overdrawn. Please call +1-202-555-0157 to clarify the issue.
Noah, We've detected unusual activity in your account. If you did not initiate it, please call +1-202-555-0157. Find out more at bit.ly/p1owe1.
Dear Olivia, your money is being processed. Please note that it would take up to 3 hours for funds to appear.
Business Marketing Sample Text Messages to Customers by Restaurants
Hi Lucas, it's your lucky day! Show this SMS for free coffee or tea with any purchase at Flavoroso. Bon appetit!
Hi Isabela, there's nothing sweeter than free dessert. Buy dinner for two and get a free sweet treat every Friday at Flavoroso. Reserve now: bit.ly/p1we1.
Hi Liam, your reservation at Flavoroso is on 07.06.22 at 8:00 pm. To make changes, contact us: +1-202-555-0157
Thinking about lunch, Sophia? Book your table at Flavoroso and try the newest dishes on our menu. Beware: the photos are tempting bit.ly/p1owe1.
Marketing Messages to Customers in Real Estate
Hi Charlotte! Thank you for subscribing to our newsletter. Are you looking to sell or purchase a property?
Hi William, the Willow Avenue property is hosting an open house today from 3:00 pm–4:00 pm. Please register on our website before noon. See you there!
Hi Emma, a 307-square yard property like your previous one is available for rent on Willow Avenue. Contact us for more details: +1-202-555-0157
Dear Ben, thank you for choosing Redwood Realtors. Share your experience with us by filling out this survey: bit.ly/p3we3. Have a nice day!