Top SMS Marketing Ideas to Increase Sales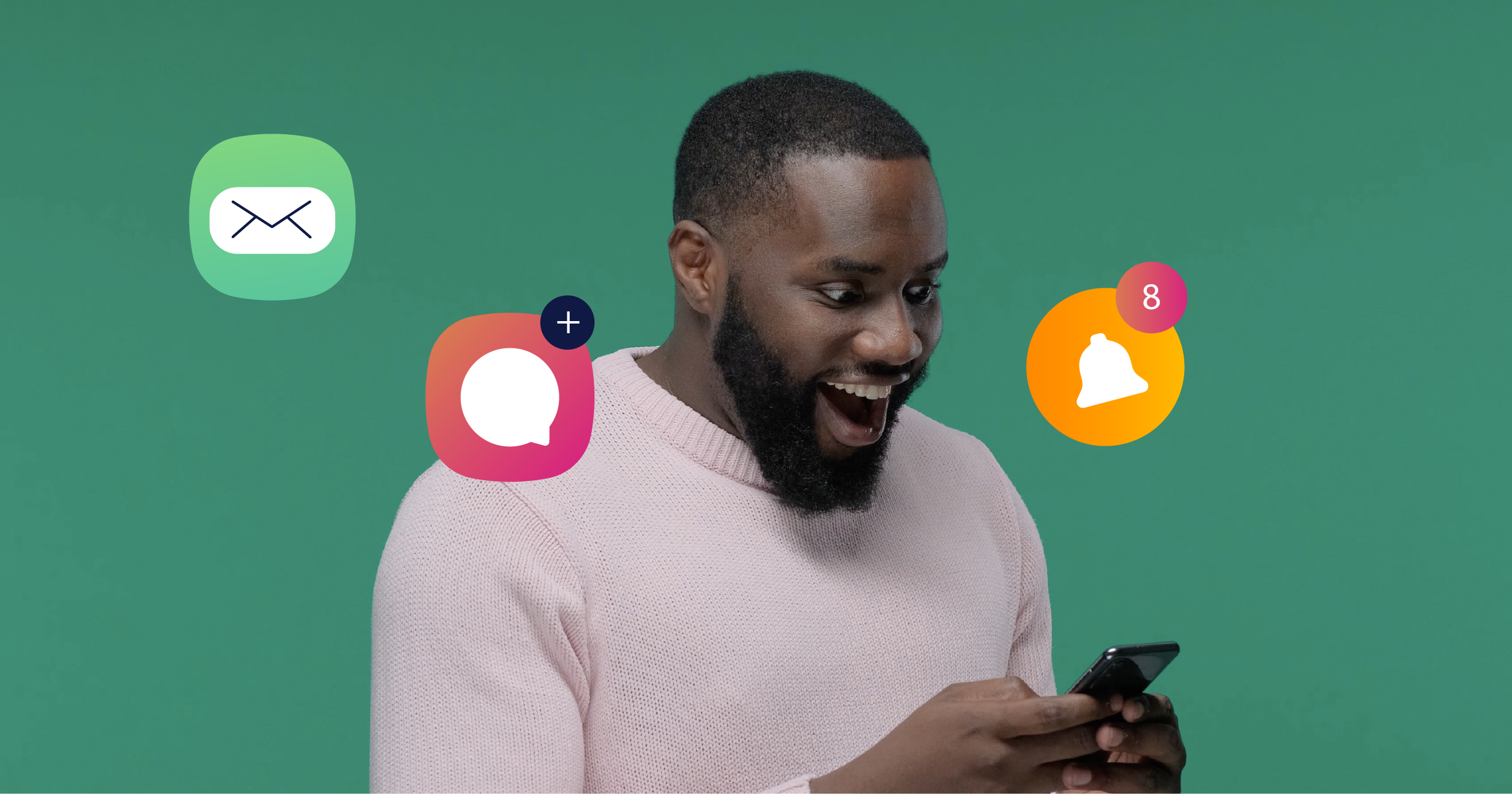 In an increasingly competitive marketplace, businesses are looking for text marketing ideas to help them stand out from the crowd. SMS marketing can be an effective way to reach customers and promote your products or services. With high open and response rates, there's no denying that an SMS marketing strategy easily tackles email marketing when it comes to sending time-sensitive texts to SMS subscribers.
From reminding customers of upcoming events to sending follow-up messages, you can reap the benefits of this marketing channel in more than one way. By using SMS to send personalized messages, promote special offers, and remind customers about upcoming events, you can connect with customers on a deeper level and create a loyal customer base.
If you're looking for SMS campaign ideas to maximize your ROI, here's a list of best practices across several industries.
SMS Campaign Ideas for Retail
1. Flash Sale
Send an SMS blast to your entire contact list announcing a new sale or promotion. It's a quick and easy way to reach a large number of people at once. This way, you get to generate excitement and get people in the door. Moreover, an SMS blast is an easy way to track who is taking advantage of the sale.
2. Targeted Texts
Use SMS to send targeted messages to specific groups or customers. For example, you can send a message to customers who haven't been to your store in a while. Or better yet, you can shoot a text to customers who live in a certain area if you wish to target that location.
Get Started Now
Reach your clients now and claim your 30-day free trial. No credit card required.
3. Upcoming Events
This SMS campaign idea is pretty popular in a number of industries and not just retail. Businesses opt for SMS to send reminders about upcoming events, such as a sale, new product launch, or marketing texts regarding a pop-up shop.
4. Discount Codes
Many businesses use an SMS platform to send mass VIP or coupon codes to select customers because it is an efficient and cost-effective way to reach a large audience. Unlike other marketing channels, SMS allows businesses to target a specific group of customers with a personalized message. This helps to ensure that the message is received and redeemed by the intended recipient.
5. Notifications
In recent years, SMS notifications have become a popular way for businesses to communicate new products or services to their customers. With SMS, businesses can reach a large audience quickly and easily.
Text Marketing Ideas for Healthcare
1. Upcoming Appointments
Sending SMS reminders to patients about their upcoming appointments is a great way to boost attendance rates. Patients are more likely to remember their appointment and show up on time. This can be especially helpful for busy patients who may have trouble keeping track of their appointments.
2. Medication Reminders
Some patients forget to take their medications, which can be dangerous. Doctors are now using SMS text messaging to help remind patients to take their medications. With SMS reminders, patients will receive a text message on their phones reminding them to take their medication. This text marketing idea can be a great way to help patients stay on track with their medication schedules.
3. Health Screenings and Vaccinations
You can use SMS to remind patients of important health screenings and vaccinations. A recent study found that SMS reminders resulted in a significant increase in the number of people getting screened for cervical cancer. The study showed that they are a cost-effective and feasible way to improve screening rates.
4. Tips and Advice
Use SMS to educate patients about disease prevention and healthy living. You could send out educational messages about the importance of handwashing, healthy eating, and exercising. You could also include links to articles or videos about these topics.
5. Community Health Services
With SMS, healthcare professionals can provide patients with info about helpful resources, such as support groups or community health services. Patients can quickly and easily receive information about where to find these resources and how to access them. This can be especially helpful for patients who may not be able to access the internet or who may not know where to look for these resources.
6. Healthcare Updates
Using SMS to keep patients updated on new developments in treatments and medications is highly recommended. Patients can stay informed and up-to-date on the latest developments in their care. This, in turn, helps ensure that they stay on track with their treatment plan and avoid missing important steps or updates.
7. Patient Feedback
Sending SMS messages to patients to solicit feedback about their experiences with your practice or facility is a great way to get honest feedback in a timely manner. It also allows patients to provide feedback anonymously, which can be helpful in getting honest feedback.
Text Message Marketing Ideas for Education
1. Communication With Guardians
Many schools are now using SMS messages to communicate with parents and guardians. This is a great way to keep them up to date on events, news, and any emergencies. Whether it's parent-teacher conferences or alerts to pick up students, SMS can be a game-changer for parents.
2. Assignment Reminders
SMS can also be used to remind students of upcoming tests or assignments, especially those in university. When students deal with too many assignments, they can lose track of which ones to prioritize. SMS helps solve that issue by sending reminders.
3. On-Site Activities
Some schools are using SMS to send out daily or weekly updates on campus activities. You may keep students updated regarding after-school activities and even reach out to prospective students in the process. This is a great way to keep them informed about open houses and campus life.
SMS Text Marketing Ideas for Real Estate
1. Promote New Listings
You can send an SMS blast to your contact list when you have a new listing. Not only is it a quick and easy way to let everyone know about the new listing, but it also ensures that everyone is aware of the new listing and can check it out if they are interested. This way, you can build interest and generate leads.
2. Announce Open Houses
SMS blast can come in handy when you want to notify your contact list of upcoming open houses. It is a great way to ensure that they don't miss out on potential customers and that their open houses are top of mind for potential buyers.
3. Website Traffic
Include a link to your website or blog in your SMS campaigns and encourage recipients to click through. By including a link to your website or blog, you are making it easy for recipients to find your content. And content marketing can help increase traffic to your site, which can lead to more customers and conversions. It wouldn't hurt to include social media to promote your content either.
4. Generate Leads
Send an SMS blast to your contact list encouraging them to provide their contact information if they're interested in learning more about your listings. You can easily target specific demographics and not waste your resources.
5. Regular Updates
This SMS text marketing idea is an excellent way to keep your customers up-to-date on the latest news and information about the real estate market, such as new listings, open houses, and more.
SMS Marketing Campaign Ideas for Financial Services
1. Transaction Updates
Send SMS updates on account balances and recent transactions to your customers' phone numbers. By doing this, you build customer trust by being transparent about fees.
2. Exclusive Deals
Offering exclusive deals and promotions via text messages is a wonderful SMS marketing campaign idea for this industry. Those who opt in to your campaign can receive deals and promotions, encouraging them to be loyal customers.
3. Payment Reminders
Send reminders for payments and upcoming deadlines. Customers would be less likely to overdraw their accounts if they knew when their payments were due. This would also help banks keep track of their customers' account balances and activity, as well as reduce the number of customer service inquiries regarding account balances and payment due dates.
4. Customer Service
Allow customers to text questions or requests and receive prompt responses. Since phone calls with banks or financial institutions usually take longer than expected, SMS allows customers to communicate with bank representatives without having to make a phone call. This is especially beneficial for customers who are hard of hearing or who have trouble speaking on the phone. Not only that, but it also opens up another avenue of high-quality customer service.
5. Financial Tips
Provide valuable money-saving tips and financial advice via SMS messages. You may educate customers on financial planning and investing. They will resort to you when it comes to overcoming financial difficulty—you can offer budgeting and money management tricks and similar advice. You may even keep customers updated on changes in interest rates, new products, and services.
Text Campaign Ideas for Restaurants
1. SMS Discounts
This text campaign idea is quite simple and easy to execute. Send an SMS message to loyal customers offering discounts if they show their waiter the SMS message sent from your business.
2. Special SMS Deals
Start a campaign by promoting a new menu item with SMS deals. For instance, you may give a free appetizer to customers who mention your restaurant in an SMS message. Not only will you be promoting a new dish, but you'll also be raising brand awareness.
3. Opt-In Coupons
Any SMS marketing guide will tell you that this idea is always a winner—provide an SMS coupon for a percentage off the bill for customers who sign up for your restaurant's SMS list.
5. Reservation Reminders
This is a great way to ensure that guests remember their reservation and are not left disappointed when they arrive to find the restaurant fully booked. Reminders provide an opportunity for the restaurant to upsell guests on additional items such as drinks or appetizers. They can help to reduce the no-show rate, which can be a significant problem for restaurants. You may also employ SMS for sending order confirmations.
6. Birthday Specials
SMS birthday specials are a great way to show your customers that you appreciate them. It's a simple way to enhance customer loyalty and keep them coming back to your restaurant.
Text Message Campaign Ideas for Hospitality
1. Booking Reminders
Send an SMS to customers when they book a room, reminding them to pack their suitcase and travel checklist. You may also confirm their stay with a text message.
2. Regular Updates
Use SMS to keep in touch with customers during their stay. Send them updates on events and activities happening at the hotel or nearby attractions. If there are seasonal events, make sure your customers are informed.
3. Follow-Up Texts
Upon check out, send an SMS to customers thanking them for their stay and inviting them to come back again soon.
4. Promotional Messages
Your business may use SMS to send promotional offers to customers, such as discounts on future stays or special rates for certain dates.
5. Customer Feedback
Thanks to SMS, you can collect feedback from customers after their stay. This can help you improve your hotel's services and make guests feel valued.