The Most Common Text Abbreviations To Use Now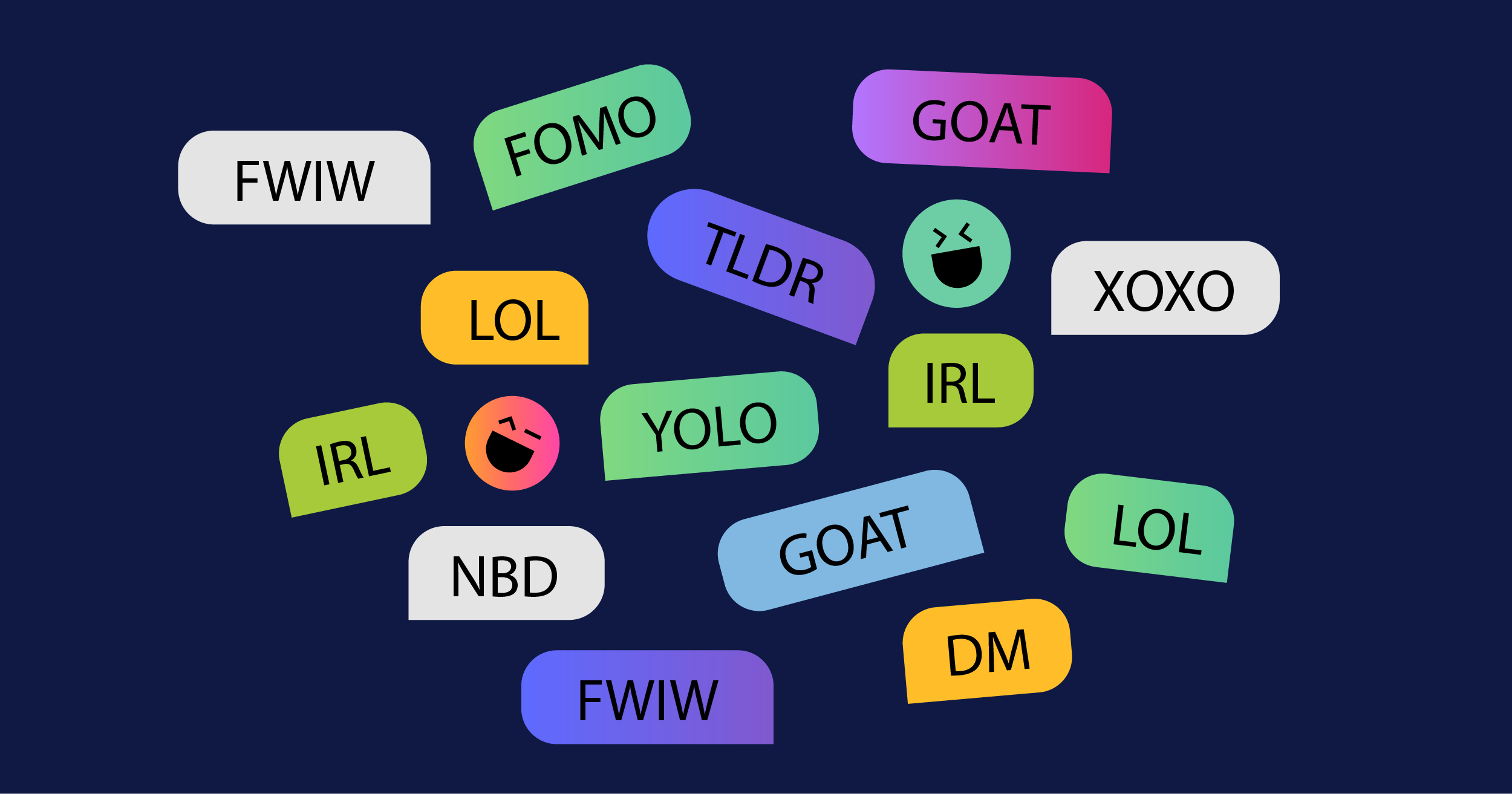 Text abbreviations are shortened versions of words to compose a message without exceeding character limits. They make text message communication faster and easier. While only a small demographic used text acronyms a decade ago, everyone in the world now actively uses them.
As texting became more popular, abbreviations followed suit. While they were developing, SMS had already proved to be a fast and convenient communication channel. As a result, abbreviations and acronyms complemented instant messaging.
Although SMS is one of the best communication channels, it always had one major drawback. Each text message is limited to only 160 characters. If exceeded, the text is sent as two messages and charged additionally. Text acronyms solve this problem by cutting down characters and giving room for more words.
Another common issue with SMS is text message delay. Sometimes, SMS messages can take longer than expected to be delivered. This can be caused by a number of factors, including network congestion, technical issues, or even weather conditions.
The tendency of using the shorter forms of words, phrases, or sentences evolved from text messages to social media platforms. While these apps have no character limit, text abbreviations still remain popular. They save time and make typing on smaller keyboards a comfortable process.
Aside from helping people, acronyms for texts also help businesses in their text message marketing campaigns. Each SMS comes at a cost—albeit affordable—and they can use abbreviations to save money. Why type a full phrase when you can use common abbreviations in your business texts? In our humble opinion, it's much better to send internet acronyms, text slang, or any other text acronyms in one message than send two separate messages to the customer.
When it comes to sending multimedia messages on your phone, you have two options: SMS vs. MMS. If you're sending via MMS, you may as well stick to memes and GIF lingo.
Common Text Abbreviations
The number of text abbreviations grows every day as language is constantly evolving. Most of the time, their meanings are clear from the start. Common examples include SMH (shaking my head), ROFL (rolling on the floor laughing), TYT (take your time), TBH (to be honest), ICYMI (in case you missed it), and more.
SMH example: "Did you see the game last night? I can't believe the Lakers lost to the Phoenix Suns. SMH."
ROFL example: "You should've seen his face when he hit his head on the pole. ROFL."
TYT example: "I've got to catch up with my homework, do you mind if we talk later? Yeah, TYT"
TBH example: "The class was super-boring today. TBH, I was about to fall asleep."
ICYMI example: "Sending you the new Coachella performance ICYMI."
List of English Text Abbreviations
| | |
| --- | --- |
| Abbreviations | Meaning |
| @TEOTD | At The End Of The Day |
| #FF | Follow Friday |
| 10Q | Thank You |
| 10X | Thanks |
| 142N8LY | Unfortunately |
| 14AA41 | One For All And All For One |
| 1CE | Once |
| 1DAFUL | It Means Wonderful |
| 1DR | I Wonder |
| 2B | To Be |
| 2B@ | To Be At |
| 2BZ4U | Too Busy For You |
| 2D4 | To Die For |
| 2DAY | Today |
| 2EZ | Too Easy |
| 2G2B4G | Too Good To Be Forgotten |
| 2G2BT | Too Good To Be True |
| 2M2H | Too Much To Handle |
| 2MI | Too Much Information |
| 2MOR | Tomorrow |
| 2MORO | Tomorrow |
| 2N8 | Tonight |
| 2NITE | Tonight |
| 2QT | Too Cute |
| 2U2 | To You Too |
| 4AO | For Adults Only |
| 4EAE | Forever And Ever |
| 4EVER | Forever |
| 4NR | Foreigner |
| A2D | Agree To Disagree |
| AA | As Above |
| AAMOF | As A Matter Of Fact |
| AAMOI | As A Matter Of Interest |
| AAR8 | At Any Rate |
| AAS | Alive And Smiling |
| AAYF | As Always, Your Friend |
| AB/ABT | About |
| ABD | Already Been Done |
| ABH | Anywhere But Here |
| ABT | About |
| ABT2 | Meaning 'About To' |
| ABTA | Meaning Good-Bye (Signoff) |
| ABU | All Bugged Up |
| AC | Acceptable Content |
| ACC | Actually |
| ADBB | All Done Bye Bye |
| ADD | Address |
| ADIH | Another Day In Hell |
| ADIP | Another Day In Paradise |
| ADMINR | Administrator (Government) |
| ADN | Any Day Now |
| ADVD | Advised |
| AEAP | As Early As Possible |
| AF | April Fools |
| AFAGAY | A Friend As Good As You |
| AFAIAA | As Far As I Am Aware |
| AFAIC | As Far As I'm Concerned |
| AFAICS | As Far As I Can See |
| AFAICT | As Far As I Can Tell |
| AFAIK | As Far As I Know |
| AFAIR | As Far As I Remember |
| AFAIU | As Far As I Understand |
| AFAIUI | As Far As I Understand It |
| AFAP | As Far As Possible |
| AFAYC | As Far As You Are Concerned |
| AFFA | Angels Forever, Forever Angels |
| AFIAA | As Far As I Am Aware |
| AFJ | April Fool's Joke |
| AFPOE | A Fresh Pair Of Eyes |
| AGIG | American Girl Instagram |
| AGKWE | And God Knows What Else |
| AH | At Home |
| AIAMU | And I'm A Monkey's Uncle |
| AIGHT | Alright |
| AIH | As It Happens |
| AIMB | As I Mentioned Before |
| AIMP | Always In My Prayers |
| AIR | As I Remember |
| AISB | As It Should Be |
| AISE | As I Said Earlier |
| AISI | As I See It |
| AITR | Adult In The Room |
| AKA | Also Known As |
| ALAP | As Late As Possible |
| ALCON | All Concerned |
| ALOL | Actually Laughing Out Loud |
| ALTG | Act Locally, Think Globally |
| ALW | Ain't Life Wonderful |
| AMA | Ask Me Anything |
| AMAP | As Much As Possible |
| AMBW | All My Best Wishes |
| AML | All My Love |
| AMOF | As A Matter Of Fact |
| AMOSC | Add Me On Snapchat |
| AMP | Accelerated Mobile Pages |
| ANGB | Almost Nearly Good Bridge |
| AOAS | All Of A Sudden |
| AOB | Abuse Of Bandwidth |
| AOC | Available On Cell |
| AOM | Age Of Majority |
| AON | Apropos Of Nothing |
| AOR | Agency On Record Or Album-Oriented Rock |
| AOTA | All Of The Above |
| AOYP | Angel On Your Pillow |
| AP | Apple Pie |
| APAC | All Praise And Credit |
| APP | Appreciate |
| APU | As Per Usual |
| AQAP | As Quick (Or Quiet) As Possible |
| AR | Action Required Or Augmented Reality |
| ARC | Archive (Compressed Files) |
| ARE | Acronym Rich Environment |
| ARG | Argument |
| ASAMOF | As A Matter Of Fact |
| ASAP | As Soon As Possible |
| ASAYGT | As Soon As You Get This |
| ASIG | And So It Goes |
| ASMR | Autonomous Sensory Meridian Response |
| AT | At Your Terminal |
| ATB | All The Best |
| ATC | Any Two Cards |
| ATEOTD | At The End Of The Day |
| ATM | At The Moment |
| ATSITS | All The Stars In The Sky |
| ATSL | Along The Same Line |
| ATST | At The Same Time |
| ATWD | Agree That We Disagree |
| AUNT | And U Know This |
| AUNTM | And U Know This Man |
| AWESO | Awesome |
| AWLTP | Avoiding Work Like The Plague |
| AWNIAC | All We Need Is Another Chair |
| AWOL | Away Without Leaving |
| AWS | Awesome |
| AWTTW | A Word To The Wise |
| AX | It Means Across |
| AYC | Aren't You Clever Or Aren't You Cheeky |
| AYCE | All You Can Eat |
| AYDY | Are You Done Yet? |
| AYEG | Are You Even Goth? |
| AYK | As You Know |
| AYMM | Are You My Mother |
| AYOR | At Your Own Risk |
| AYS | Are You Serious? |
| AYSOS | Are You Stupid Or Something |
| AYT | Are You There? |
| AYTMTB | And You Are Telling Me This Because |
| AYW | As You Want / As You Wish |
| AZN | Asian |
| B | Back |
| B-DAY | Birthday |
| | Back At You |
| B/C | Because |
| B/F | Boyfriend |
| B/G | Background (Personal Information Request) |
| B/W | Between |
| B& | Banned |
| B&E | Breaking & Entering |
| B&F | Back And Forth |
| B2W | Back To Work |
| B4 | Before |
| B4N | Bye For Now |
| B4U | Before You |
| B4YKI | Before You Know It |
| B9 | Boss Is Watching |
| BABY | Being Annoyed By You |
| BAE | Before Anyone Else |
| BAO | Be Aware Of |
| BASOR | Breathing A Sigh Of Relief |
| BAU | Business As Usual |
| BAY | Back At Ya |
| BB | Be Back |
| BB4N | Bye Bye For Now |
| BBB | Bye Bye Babe Or Boring Beyond Belief Or Big, Beige & Boring |
| BBBG | Bye Bye Be Good |
| BBIAB | Be Back In A Bit |
| BBIAF | Be Back In A Few |
| BBIAM | Be Back In A Minute |
| BBIAS | Be Back In A Sec |
| BBIAW | Be Back In A While |
| BBL | Be Back Later |
| BBN | Bye, Bye Now |
| BBQ | Bar-B-Que Or Barbeque |
| BBR | Burnt Beyond Repair |
| BBS | Be Back Soon |
| BBT | Be Back Tomorrow |
| BC | Because |
| BCBS | Big Company, Big School |
| BCNU | Be Seeing You |
| BCO | Big Crush On |
| BCOS | Because |
| BCOY | Big Crush On You |
| BD | Big Deal Or Baby Dance Or Brain Drain |
| BDAY | Birthday |
| BDC | Big Dumb Company Or Big Dot Com |
| BDOA | Brain Dead On Arrival |
| BEG | Big Evil Grin |
| BF | Boyfriend |
| BF4L | Best Friends For Life |
| BFAW | Best Friend At Work |
| BFFW | Best Friends Forever Work |
| BFN | Bye For Now |
| BG | Be Good |
| BGBC | Be Glad Be Cheerful |
| BGF | Best Girlfriend |
| BGWM | Be Gentle With Me |
| BHAG | Big Hairy Audacious Goal |
| BHG | Big Hearted Guy Or Big Hearted Girl |
| BHL8 | Be Home Late |
| BHOF | Bald Headed Old Fart |
| BI | Business Intelligence |
| BI5 | Back In Five |
| BIB | Boss Is Back |
| BIBI | Bye Bye |
| BIF | Basis In Fact Or Before I Forget |
| BIH | Burn In Hell |
| BIL | Brother-In-Law Or Boss Is Listening |
| BIO | I'm Going To The Bathroom (Or) Bathroom Break |
| BION | Believe It Or Not |
| BITD | Back In The Day |
| BITMT | But In The Meantime |
| BIZ | It Means Business |
| BKA | Better Known As |
| BL | Belly Laughing |
| BM&Y | Between Me And You |
| BME | Based On My Experience |
| BMGWL | Busting My Gut With Laughter |
| BMOC | Big Man On Campus |
| BMOF | Bite Me Old Fart |
| BN | Bad News |
| BNDN | Been Nowhere Done Nothing |
| BNF | Big Name Fan |
| BO | Bug Off Or Body Odor |
| BOAISY | Bend Over And I Will Show You |
| BOAT | Bust Out Another Thousand |
| BOL | Best Of Luck |
| BOLO | Be On The Lookout |
| BON | Believe It Or Not |
| BOOMS | Bored Out Of My Skull |
| BOT | Back On Topic |
| BOYF | Boyfriend |
| BPLM | Big Person Little Mind |
| BR | Best Regards |
| BRB | Be Right Back |
| BRD | Bored |
| BRH | Be Right Here |
| BRL | Belly Roll Laughs |
| BRNC | Be Right Back, Nature Calls |
| BRO | Be Right Over |
| BRT | Be Right There |
| BRUF | Big Requirements Up Front |
| BSF | But Seriously, Folks |
| BSTS | Better Safe Than Sorry |
| BT | Bite This |
| BTA | But Then Again Or Before The Attacks |
| BTD | Bored To Death |
| BTDT | Been There Done That |
| BTFLDY | It Means Beautiful Day |
| BTHOOM | Beats The Heck Out Of Me |
| BTI | Bash Twitter Idiocy |
| BTN | Better Than Nothing |
| BTR | Better |
| BTTE | Brothers To The End |
| BTTP | Back To The Past |
| BTW | By The Way |
| BTWBO | Be There With Bells On |
| BTYC | Better Than You Can |
| BTYD | Better Than You Do |
| BW | Best Wishes |
| BWDIK | But What Do I Know |
| BWI | But What If |
| BWL | Bursting With Laughter |
| BWO | Black, White Or Other |
| BWTM | But Wait, There's More |
| BYAM | Between You And Me |
| BYKI | Before You Know It |
| BYKT | But You Knew That |
| BYOC | Bring Your Own Computer |
| BZ | Busy |
| C | It Means See, It's Also A Programming Language |
| C YA | See Ya |
| C-P | Sleepy |
| C-T | City |
| C/S | Change Of Subject |
| C&G | Chuckle And Grin |
| C4N | Ciao For Now |
| CAAC | Cool As A Cucumber |
| CAD | Short For Canada/Canadian |
| CAKEDAY | Meaning Birthday (Reddit) |
| CAL | Cyberathlete Amateur League |
| CAM | Camera |
| CAS | Crack A Smile |
| CB | Coffee Break |
| CBB | Can't Be Bothered |
| CBD | It Stands For Cannabidiol, A.K.A. Cbd Oil |
| CBM | Covered By Medicare |
| CD9 | Code 9 – It Means Parents Are Around |
| CFS | Care For Secret? |
| CFV | Call For Vote |
| CFY | Calling For You |
| CHK | Check |
| CHLN | It Means Chilling Or To Be Chill |
| CICO | Coffee In, Coffee Out |
| CICYHW | Can I Copy Your Homework |
| CID | Consider It Done Or Crying In Disgrace |
| CIL | Check In Later |
| CINBA | Clad In Naught But Air |
| CIO | Check It Out |
| CITO | Cache In, Trash Out |
| CLAB | Crying Like A Baby |
| CLD | Could |
| CM | Call Me |
| CMB | Call Me Back |
| CMF | Count My Fingers |
| CMIW | Correct Me If I'm Wrong |
| CMON | Come On |
| CMSU | Cracking Myself Up |
| CMU | Crack Me Up |
| CN | Can |
| CNP | Continued In Next Post |
| COB | Close Of Business |
| COD | Change Of Dressing |
| COF$ | Church Of Scientology |
| COFS | Church Of Scientology |
| COL | Chuckle Out Loud Or Chortling Out Loud |
| COO | Short For Cool |
| COS | Because |
| COT | Circle Of Trust |
| CQRT | Security |
| CQTS | Chuckling Quietly To Self |
| CR8 | Create |
| CRAP | Cheap Redundant Assorted Products |
| CRAT | Can't Remember A Thing |
| CRB | Come Right Back |
| CRBT | Crying Real Big Tears |
| CRD | Caucasian Rhythm Disorder Or Deficiency |
| CRE8 | Create |
| CRTLA | Can't Remember The Three-Letter Acronym |
| CRZ | Crazy |
| CSL | Can't Stop Laughing |
| CSN | Chuckle, Snicker, Grin |
| CT | Can't Talk Or Can't Text |
| CTC | Care To Chat? |
| CTMQ | Chuckle To Myself Quietly |
| CTN | Can't Talk Now |
| CTO | Check This Out |
| CU | See You |
| CU2 | See You |
| CUA | See You Around |
| CUL | See You Later |
| CUL8R | See You Later |
| CUNS | See You In School |
| CUNT | See You Next Time |
| CUPL | Couple |
| CUZ | Because |
| CWOT | Complete Waste Of Time |
| CWYL | Chat With You Later |
| CX | Meaning "Correction" |
| CY | Calm Yourself |
| CYA | See You |
| CYAL8R | See You Later |
| CYE | Check Your Email |
| CYL | See You Later |
| CYM | Check Your Mail |
| CYO | See You Online |
| CYOH | Create Your Own Happening |
| CYT | See You Tomorrow |
| D | Dad Or It Means The |
| D/L | Download |
| D&M | Deep & Meaningful |
| D2D | Developer-To-Developer Or Day-To-Day |
| D8 | Date |
| DA | Meaning "The" |
| DAE | Does Anyone Else? |
| DAM | Don't Annoy Me |
| DBA | Doing Business As Or Don't Bother Asking |
| DBAU | Doing Business As Usual |
| DBBSWF | Dream Boat Body, Shipwreck Face |
| DBD | Don't Be Dumb |
| DBEYR | Don't Believe Everything You Read |
| DBMIB | Don't Bother Me I'm Busy |
| DC | Disconnect |
| DD | Dear (Or Darling) Daughter |
| DDAS | Don't Do Anything Stupid |
| DDG | Drop Dead Gorgeous |
| DEGT | Don't Even Go There |
| DERP | Stupid, Silly |
| DETI | Don't Even Think It |
| DF | Dear Friend |
| DFIK | Darn If I Know |
| DGA | Don't Go Anywhere |
| DGT | Don't Go There |
| DGTG | Don't Go There Girlfriend |
| DH | Dear Husband |
| DHU | Dinosaur Hugs |
| DHYB | Don't Hold Your Breath |
| DIAF | Die In A Fire |
| DIC | Drunk In Charge |
| DIKU | Do I Know You? |
| DINR | Dinner |
| DITR | Dancing In The Rain |
| DIY | Do It Yourself |
| DJM | Don't Judge Me |
| DK | Don't Know |
| DKDC | Don't Know Don't Care |
| DL | Download |
| DLTM | Don't Lie To Me |
| DM | Doesn't Matter |
| DMI | Don't Mention It |
| DMNO | Dude Man No Offense |
| DMY | Don't Mess Yourself |
| DN | Down |
| DNBL8 | Do Not Be Late |
| DND | Do Not Disturb |
| DNF | Did Not Find |
| DNR | Do Not Resuscitate |
| DNT | Don't |
| DOA | Dead On Arrival |
| DOC | Drug Of Choice |
| DOE | Depends On Experience |
| DOG | Depend On God |
| DOH | An Expression For Frustration |
| DOIN | Doing |
| DORBS | Meaning "Adorable" |
| DOS | Dad Over Shoulder Or Dozing Off Soon |
| DP | Domestic Partner |
| DPS | Damage Per Second |
| DPUP | Don't Poop Your Pants |
| DQMOT | Don't Quote Me On This |
| DQYDJ | Don't Quit Your Day Job |
| DR | Didn't Read |
| DRIB | Don't Read If Busy |
| DSL | Digital Subscriber Line Or Dick Sucking Lips |
| DTK | Down To Kill |
| DTR | Define The Relationship |
| DTRT | Do The Right Thing |
| DTS | Don't Think So |
| DTTD | Don't Touch That Dial |
| DUI | Driving Under The Influence |
| DUM | Do You Masturbate? |
| DUNA | Don't Use No Acronyms |
| DUNNO | I Don't Know |
| DUPE | Duplicate |
| DUR | Do You Remember? |
| DUSL | Do You Scream Loud? |
| DUST | Did You See That? |
| DV8 | Deviate |
| DW | Don't Worry |
| DW2H | Don't Work Too Hard |
| DWB | Don't Write Back |
| DWBH | Don't Worry Be Happy |
| DWEET | Drunk Tweet |
| DWH | During Work Hours |
| DWS | Driving While Stupid |
| DWYM | Does What You Mean |
| DXNRY | Dictionary |
| DYD | Don't You Dare |
| DYFI | Did You Find It? |
| DYFM | Dude You Fascinate Me |
| DYHAB | Do You Have A Boyfriend? |
| DYHAG | Do You Have A Girlfriend |
| DYJHIW | Don't You Just Hate It When… |
| DYLI | Do You Love It? |
| E1 | Everyone |
| E123 | Easy As One, Two, Three |
| E2EG | Ear To Ear Grin |
| E2HO | Each To His/Her Own |
| EG | Evil Grin |
| EGOT | Emmy, Grammy, Oscar, Tony |
| EHE | Emos Hate Everyone |
| EI | Eat It |
| EIP | Editing In Progress |
| ELI5 | Explain Like I'm 5 |
| ELOL | Evil Laugh Out Loud |
| EM | Excuse Me |
| EMA | E-Mail Address |
| EMBM | Early Morning Business Meeting |
| EMI | Excuse My Ignorance |
| EML | Email Me Later |
| EMSG | E-Mail Message |
| ENUF | Enough |
| EOD | End Of Day |
| EOL | End Of Lecture |
| EOM | End Of Message |
| EOS | End Of Show |
| EOT | End Of Thread/Text/Transmission |
| EOW | End Of Watch |
| ES | Erase Screen |
| ESG | Environmental, Social, Governance |
| ESH | Experience, Strength, And Hope |
| ESO | Equipment Smarter Than Operator |
| ETA | Edited To Add |
| ETLA | Etla Extended Three-Letter Acronym (That Is, An Fla) |
| ETX | End Of Text |
| EVA | Ever |
| EVERY1 | Everyone |
| EVO | Evolution |
| EVRE1 | Every One |
| EWG | Evil Wicked Grin (In Fun, Teasing) |
| EYD | Enjoy Your Day |
| EZ | Easy |
| EZY | Easy |
| F | Friend |
| F/U | It Means To Follow Up |
| F2F | Face To Face |
| F2T | Free To Talk |
| F4F | Follow For Follow |
| FAB | Fabulous |
| FAE | Finally An Explanation |
| FAF | Find A Friend |
| FAITH | Forsaking All, I Trust In Him |
| FATM | Foaming At The Mouth |
| FAV | Favorite |
| FAWC | For Anyone Who Cares |
| FBB | Meaning "Facebook Buddy" |
| FBC | Facebook Chat |
| FBF | Flashback Friday |
| FBFR | Facebook Friend |
| FBM | Fine By Me |
| FBOW | For Better Or Worse |
| FC | Fingers Crossed |
| FC'INGO | For Crying Out Loud |
| FCFS | First Come, First Served |
| FCOL | For Crying Out Loud |
| FCS | First Customer Ship |
| FDGB | Fall Down Go Boom |
| FDU | Fresher Than You |
| FE | Fatal Error |
| FFA | Free For All |
| FFT | Food For Thought |
| FHO | Friends Hanging Out |
| FIFO | First In, First Out |
| FILO | First In Last Out |
| FILTH | Failed In London, Try Hong Kong |
| FIMH | Forever In My Heart |
| FIRE | Financial Independence, Retire Early |
| FISH | First In, Still Here |
| FOAF | Friend Of A Friend |
| FOC | Free Of Charge |
| FOE | Family Over Everything |
| FOFL | Falling On Floor Laughing |
| FOGC | Fear Of Getting Caught |
| FOL | Fond Of Leather |
| FOMC | Fell Off My Chair |
| FOMO | Fear Of Missing Out |
| FOUO | For Official Use Only |
| FPO | For Placement Only |
| FROG | Fully Rely On God |
| FRT | For Real Though |
| FRZN | It Means Freezing |
| FS | For Sale |
| FSBO | For Sale By Owner |
| FSR | For Some Reason |
| FTR | For The Record |
| FTTB | For The Time Being |
| FTW | For The Win |
| FW | Forward |
| FWB | Friends With Benefits |
| FWD | Forward |
| FWIW | For What It's Worth Or Forgot Where I Was |
| FWM | Fine With Me |
| FWP | First World Problems |
| FYA | For Your Amusement |
| FYC | For Your Consideration |
| FYE | For Your Edification |
| FYEO | For Your Eyes Only |
| FYF | From Your Friend |
| FYI | For Your Information |
| FYM | For Your Misinformation |
| G | Grin |
| G/F | Girlfriend |
| G2CU | Good To See You |
| G2G | Got To Go |
| G2R | Got To Run |
| G2TU | Got To Tell U (You) |
| G4C | Going For Coffee |
| G4I | Go For It |
| G4N | Good For Nothing |
| G9 | Genius |
| GA | Go Ahead Or Good Afternoon |
| GAB | Getting A Beer |
| GAC | Get A Clue |
| GAHOY | Get A Hold Of Yourself |
| GAL | Get A Life |
| GALGAL | Give A Little Get A Little |
| GALHER | Get A Load Of Her |
| GALHIM | Get A Load Of Him |
| GANB | Getting Another Beer |
| GAS | Got A Second? |
| GB | Goodbye |
| GBG | Great Big Grin |
| GBH | Great Big Hug |
| GBTW | Get Back To Work |
| GBU | God Bless You |
| GC | Good Crib |
| GD | Good |
| GDR | Grinning, Ducking, And Running |
| GDW | Grin, Duck And Wave |
| GF | Girlfriend |
| GFI | Go For It |
| GFN | Gone For Now |
| GFR | Grim File Reaper |
| GFTD | Gone For The Day |
| GFTU | Good For The Universe |
| GG | Gotta Go |
| GGN | Gotta Go Now |
| GGOH | Gotta Get Out Of Here |
| GIAR | Give It A Rest |
| GIC | Gift In Crib |
| GIDK | Gee I Don't Know |
| GIGO | Garbage In, Garbage Out |
| GIRL | Guy In Real Life |
| GIT | Got It, Thanks |
| GJ | Good Job |
| GJP | Good Job Partner |
| GL | Good Luck Or Get Lost |
| GLA | Good Luck All |
| GLAWD | Good Luck And Well Done |
| GLB | Good Looking Boy |
| GLG | Good Looking Girl |
| GLGH | Good Luck And Good Hunting |
| GLWS | Good Luck With Sale |
| GM | Good Morning Or Good Move |
| GMAB | Give Me A Break |
| GMH | Gives Me Hope |
| GMILY | Good Morning I Love You |
| GMV | Got My Vote |
| GN | Good Night |
| GNA | Good Night All |
| GNE1 | Good Night Everyone |
| GNIGHT | Good Night |
| GNITE | Good Night |
| GNOC | Get Naked On Cam |
| GNS | Gangnam Style |
| GOAT | Greatest Of All Time |
| GOI | Get Over It |
| GOK | God Only Knows |
| GOL | Giggling Out Loud |
| GOMB | Get Off My Back |
| GORK | God Only Really Knows |
| GOTP | Get/Getting On The Piss |
| GOWI | Get On With It |
| GOYHH | Get Off Your High Horse |
| GR8 | Great |
| GRAS | Generally Recognized As Safe |
| GRATZ | Congratulations |
| GRL | Girl |
| GROBR | Good Riddance Of Bad Rubbish |
| GRRLZ | Girls, Also Seen As Grrl |
| GRRR | Growling |
| GRWG | Get Right With God |
| GRX | Gracias |
| GS | Good Shot |
| GSC | Gimme Some Credit |
| GSOH | Good Sense Of Humor |
| GSTG | Get Set To Go |
| GSW | Gunshot Wound |
| GT | Good Try |
| GTG | Got To Go |
| GTGB | Gotta Go Bye |
| GTGP | Got To Go Pee |
| GTH | Go To Hell |
| GTK | Good To Know |
| GTL | Gym, Tan, Laundry |
| GTM | Giggle To Myself |
| GTP | Game Transfer Phenomenon |
| GTRM | Going To Read Mail |
| GTSY | Glad To See You |
| GWI | Get With It |
| GWOT | Glorified Waste Of Time |
| GWS | Get Well Soon |
| GYPO | Get Your Pants Off |
| H | Hug |
| H-BDAY | Happy Birthday |
| H-FDAY | Happy Father's Day |
| H-MDAY | Happy Mother's Day |
| H&K | Hugs And Kisses |
| H2CUS | Hope To See You Soon |
| H2S | Here To Stay |
| H4U | Hot For You |
| H8 | Hate |
| H8TTU | Hate To Be You |
| H9 | Husband In Room |
| HADVD | Have Advised |
| HAG1 | Have A Good One |
| HAGD | Have A Great Day |
| HAGN | Have A Good Night |
| HAGO | Have A Good One |
| HAK | Hugs And Kisses |
| HALP | Help (Discord) |
| HAND | Have A Nice Day |
| HAR | Hit And Run |
| HAU | How About You? |
| HAVE | However |
| HAY | How Are You? |
| HB | Hug Back |
| HBB | Hip Beyond Belief |
| HBD | Happy Birthday |
| HBTU | Happy Birthday To You |
| HBU | How About You? |
| HD | Hold |
| HDM | Honest Direct Message |
| HEA | Happily Ever After |
| HF | Have Fun |
| HFAC | Holy Flipping Animal Crackers |
| HHFO | Hell Has Frozen Over |
| HHH | Hip Hip Hooray |
| HHOJ | Ha Ha, Only Joking |
| HHOK | Ha Ha, Only Kidding |
| HHOS | Ha Ha, Only Serious |
| HI 5 | High Five |
| HIFW | How I Felt When… (Used With Photo Or Gif) |
| HIG | How's It Going? |
| HIH | Hope It Helps |
| HIOOC | Help, I'm Out Of Coffee |
| HITAKS | Hang In There And Keep Smiling |
| HMFIC | Head Mofo In Charge |
| HML | Hit My Line |
| HMOT | Hit Me On Twitter |
| HMU | Hit Me Up Or Hook Me Up |
| HNL | (W)Hole Another Level |
| HNTI | How Nice That/This Is |
| HNTW | How Nice That Was |
| HNY | Happy New Year |
| HO | Hang On Or Hold On Or Head Office |
| HOAS | Hold On A Second |
| HOHA | Hollywood Hacker |
| HOIC | Hold On, I'm Coming |
| HOWRU | How Are You |
| HOYEW | Hanging On Your Every Word |
| HR | Human Resources Or Human Reaction |
| HRCN | It Means Hurricane |
| HRU | How Are You? |
| HSAY | How Single Are You? |
| HSIAB | Haven't Seen It All Before |
| HSIK | How Should I Know |
| HT | Hi There Or Hat Tip Or Heard Through |
| HTH | Hope This (Or That) Helps |
| HU | Hook Up |
| HUD | How Are You Doing? |
| HV | Have |
| HW | Homework |
| IB | I'm Back |
| IC | I See |
| ICAM | I Couldn't Agree More |
| ICBW | It Could Be Worse |
| ICEDI | I Can't Even Discuss It |
| ICFILWU | I Could Fall In Love With You |
| IDBI | I Don't Believe It |
| IDC | I Don't Care |
| IDK | I Don't Know |
| IDTS | I Don't Think So |
| IDUNNO | I Don't Know |
| INV | Invite |
| IOMH | In Over My Head |
| IOW | In Other Words |
| IRL | In Real Life |
| IRMC | I Rest My Case |
| ISLY | I Still Love You |
| ISO | In Search Of |
| ITAM | It's The Accounting, Man (Financial Blogs) |
| ITT | In This Thread |
| ITYK | I Thought You Knew |
| IUSS | If You Say So |
| IWALU | I Will Always Love You |
| IWAWO | I Want A Way Out |
| IYO | In Your Opinion |
| IYQ | Meaning "I Like You" |
| IYSS | If You Say So |
| JAM | Just A Minute |
| JAS | Just A Second |
| JC (J/C) | Just Checking |
| JDI | Just Do It |
| JELLY | Meaning "Jealous" |
| JFF | Just For Fun |
| JIC | Just In Case |
| JJ (J/J) | Just Joking |
| JJA | Just Joking Around |
| JK (J/K) | Just Kidding |
| JLMK | Just Let Me Know |
| JMO | Just My Opinion |
| JV | Joint Venture |
| JW | Just Wondering |
| K | Okay |
| K8T | Katie |
| KEWL | Cool |
| KEYA | I Will Key You Later |
| KEYME | Key Me When You Get In |
| KFY | Kiss For You |
| KIA | Know It All |
| KIT | Keep In Touch |
| KK | Knock, Knock |
| KMK | Kiss My Keister |
| KMT | Kiss My Tushie |
| KNIM | Know What I Mean? |
| KOC | Kiss On Cheek |
| KOL | Kiss On Cheek |
| KOS | Kid Over Shoulder |
| KOTC | Kiss On The Cheek |
| KOTL | Kiss On The Lips |
| KOW | Knock On Wood |
| KPC | Keeping Parents Clueless |
| KSC | Kind (Of) Sort (Of) Chuckle |
| KT | Katie |
| KUTGW | Keep Up The Good Work |
| KWIM | Know What I Mean? |
| KYFC | Keep Your Fingers Crossed |
| KYNC | Keep Your Nose Clean |
| KYPO | Keep Your Pants On |
| KYR | Know Your Rank |
| KYS | Kill Yourself |
| L?^ | Let's Hook Up |
| | Laughing At You Or Laughing About You |
| L/M | Left Message |
| L&R | Love And Respect |
| L2G | Like To Go? |
| L2K | Like To Come |
| L2P | Learn To Play |
| L8R | Later |
| L8RG8R | Later, Gator |
| L8TR | Later |
| LA | Laughing Aloud |
| LAGO | Life Always Goes On |
| LAOJ | Laughing At Own Joke |
| LB | Like Back |
| LB?W/C | Like Bondage? Whips Or Chains |
| LBAY | Laughing Back At You |
| LBH | Let's Be Honest |
| LBS | Laughing But Serious |
| LBVS | Laughing, But Very Serious |
| LD | Later, Dude |
| LEMENO | Let Me Know |
| LESM | Law Enforcement Social Media |
| LFD | Left For Day |
| LFTI | Looking Forward To It |
| LG | Life's Good Or Long Gone |
| LGMAS | Lord Give Me A Sign |
| LGTM | Looks Good To Me |
| LGY | Little Girl Yeah |
| LH | Laughing Hysterically |
| LHK | Love Hugs Kisses |
| LHM | Lord Help Me |
| LHO | Laughing Head Off |
| LHU | Let's Hook Up |
| LI | Linkedin |
| LIB | Lying In Bed |
| LIC | Like I Care |
| LIFO | Last In, First Out |
| LIG | Let It Go Or Life Is Good |
| LIMT | Laugh In My Tummy |
| LINS | Laugh, I Nearly Shat |
| LIR | Let It Rest |
| LIS | Laughing In Silence |
| LJBF | Let's Just Be Friends |
| LKITR | Little Kid In The Room |
| LL | Living Large |
| LLAP | Live Long And Prosper |
| LLGB | Love, Later, God Bless |
| LLOM | Like Leno On Meth |
| LLT | Looks Like Trouble |
| LMFO | Let Me Find Out |
| LMHO | Laughing My Head Off |
| LMIRL | Let's Meet In Real Life |
| LMK | Let Me Know |
| LMNK | Leave My Name Out |
| LMR | Like My Recent |
| LMS | Like My Status (Facebook) |
| LMSO | Laughing My Socks Off |
| LMTA | Like Minds Think Alike |
| LMTC | Left A Message To Contact |
| LMTCB | Left Message To Call Back |
| LNT | Meaning Lost In Translation |
| LOA | List Of Acronyms |
| LOAL | Life Of A Local |
| LOB | Lying On Bed |
| LOK | Lots Of Kisses |
| LOL | Laughing Out Loud |
| LOLA | Laugh Out Loud Again |
| LOLH | Laughing Out Loud Hysterically |
| LOLO | Lots Of Love |
| LOLZ | Lots Of Laughs |
| LOML | Love Of My Life |
| LONH | Lights On, Nobody Home |
| LOOL | Laughing Outrageously Out Loud |
| LOOMM | Laughing Out Of My Mind |
| LORE | Learn Once, Repeat Everywhere |
| LOTI | Laughing On The Inside |
| LOU | Laughing Over You |
| LOVE | Lots Of Voluntary Effort |
| LQTM | Laughing Quietly To Myself |
| LRF | Little Rubber Feet |
| LRT | Last Retweet |
| LTD | Living The Dream |
| LTHTT | Laughing Too Hard To Type |
| LTIC | Laughing Till I Cry |
| LTIO | Laughing Til I Orgasm |
| LTM | Laughing To Myself |
| LTNS | Long Time No See |
| LTNT | Long Time, No Type |
| LTOD | Laptop Of Death |
| LTOTD | Last Tweet Of The Days |
| LTR | Long Term Relationship |
| LTS | Laughing To Self |
| LTTIC | Look The Teacher Is Coming |
| LU | Locked Up Or Laughing Uproariously |
| LUK | It Means Good Luck |
| LULT | Love You Long Time |
| LULU | Locally Undesirable Land Use |
| LUMTP | Love You More Than Pie |
| LUMU | Love You Miss You |
| LUSER | Loser |
| LUSM | Love You So Much |
| LUV | It Means Love |
| LVL | Level |
| LVM | Left Voice Mail |
| LWOS | Laughing Without Smiling |
| LWR | Launch When Ready |
| LWU | Laughing With You |
| LWYS | Look What You Started |
| LY | Love You |
| LY4E | Love You Forever |
| LYA | Love You All |
| LYAAF | Love You As A Friend |
| LYB | Love You Babe |
| LYL | Love You Lots |
| LYLAB | Love You Like A Brother |
| LYLAS | Love You Like A Sister |
| LYLB | Love You Later Bye |
| LYLC | Love You Like Crazy |
| LYMI | Love You, Mean It |
| LYSM | Love You So Much |
| LYWAMH | Love You With All My Heart |
| M | Mom |
| M$ | Microsoft |
| M2NY | Me Too, Not Yet |
| M4C | Meet For Coffee |
| M4M | Men For Men Or Male For Male |
| M8 OR M8S | Mate Or Mates |
| MA | Mature Audience |
| MAGA | Make America Great Again |
| MAMIL | Middle Aged Men In Lycra |
| MAYA | Most Advanced Yet Accessible |
| MB | Mama's Boy |
| MBF | Must Be Following |
| MBN | Must Be Nice |
| MBS | Mom Behind Shoulder |
| MC | Misconnect |
| MCM | Man Crush Monday |
| MDMS | Million Dollar Mindset |
| MDR | Mort De Rire |
| MFBTY | My Fans Better Than Yours |
| MFG | Mit Freundlichen Gruessen |
| MFI | Mad For It |
| MFRC | My Fingers Are Crossed |
| MFW | My Face When |
| MGB | May God Bless |
| MGMT | Management |
| MIA | Missing In Action |
| MIH | Make It Happen |
| MIHAP | May I Have Your Attention Please |
| MIL | Mother-In-Law |
| MINS | Minutes |
| MIRL | Me In Real Life |
| MIWI | Makes It Worth It |
| MKAY | Meaning "Mmm, Okay" |
| MKOP | My Kind Of Place |
| MLA | Multiple Letter Acronym |
| MLAS | My Lips Are Sealed |
| MLM | Meaning Give The Middle Finger |
| MLYLT | Me Love You Long Time |
| MM | Market Maker Or Merry Meet |
| MMHA2U | My Most Humble Apologies To You |
| MMK | Meaning Okay? (As A Question) |
| MML | Made Me Laugh |
| MMYT | Mail Me Your Thoughts |
| MNC | Mother Nature Calls |
| MO | Move On |
| MOF | Matter Of Fact |
| MOMPL | Moment Please |
| MOO | My Own Opinion |
| MOOC | Massive Open Online Course |
| MOP | Moment Please |
| MORF | Male Or Female |
| MOS | Mom Over Shoulder |
| MOV | My Own Views |
| MRA | Moving Right Along |
| MRM | Men's Rights Movement |
| MRPH | Mail The Right Place For Help |
| MRW | My Reaction When… (Used With Photo Or Gif) |
| MSG | Message |
| MSM | Mainstream Media Or Men Who Sleep With Men |
| MSMD | Monkey See Monkey Do |
| MSNUW | Mini-Skirt No Underwear |
| MSTA | Must See To Appreciate |
| MSTM | Makes Sense To Me |
| MTBF | Mean Time Before Failure |
| MTF | More To Follow |
| MTFBWU | May The Force Be With You |
| MTFBWY | May The Force Be With You |
| MTLA | My True Love Always |
| MU | Miss You |
| MUAH | Multiple Unsuccessful Attempts (At/To) Humor |
| MUAH OR MWAH | The Sound Of A Kiss |
| MUBAR | Messed Up Beyond All Recognition |
| MULC | Miss You Like Crazy |
| MUSM | Miss You So Much |
| MVA | Motor Vehicle Accident |
| MVA NO PI | Motor Vehicle Accident With No Personal Injury |
| MVA W/PI | Motor Vehicle Accident With Personal Injury |
| MVO | Moving On |
| MVTO | It Means Thank You |
| MWAH | Meaning "Kiss" (It Is Is The Sound Made When Kissing Through The Air) |
| MWBRL | More Will Be Revealed Later |
| MWS | My Wife Says |
| MYL | Mind Your Language |
| MYO | Mind Your Own (Business) |
| MYOB | Mind Your Own Business |
| MYT | Meet You There |
| MYWB | Make Your World Bigger |
| N | No Or And |
| N/A | Not Applicable Or Not Affiliated |
| N/M | Nothing Much |
| N/T | No Text |
| N1 | Nice One |
| N2M | Nothing Too Much |
| NAB | Not A Blonde |
| NAGB | Nearly Almost A Good Bridge |
| NAGI | Not A Good Idea |
| NALOPKT | Not A Lot Of People Know That |
| NAMAILU | Not As Much As I Love You |
| NANA | Not Now, No Need |
| NASCAR | Non-Athletic Sport Centered Around Rednecks |
| NATC | Not A Text Conversation |
| NATCH | Naturally |
| NATO | No Action, Talk Only |
| NAVY | Never Again Volunteer Yourself |
| NAZ | Name, Address, Zip (Also Means Nasdaq) |
| NB | Nota Bene |
| NB4T | Not Before Time |
| NBD | No Big Deal |
| NBFAB | Not Bad For A Beginner |
| NBFABS | Not Bad For A Bot Stopper |
| NBG | No Bloody Good |
| NBIF | No Basis In Fact |
| NBLFY | Nothing But Love For You |
| NC | Nice Crib Or No Comment |
| NCBD | New Comic Book Day |
| NCG | New College Graduate |
| ND | No Date |
| NDN | Indian |
| NE | Any |
| NE-WAYZ | Anyways |
| NE1 | Anyone |
| NE14KFC | Anyone For KFC? |
| NE2H | Need To Have |
| NEF | Not Even Funny |
| NEJ | Not Even Joking |
| NESEC | Any Second |
| NEV | Neighborhood Electric Vehicle |
| NEWEETER | New Tweeter |
| NEWS | North, East, West, South |
| NFBSK | Not For British School Kids |
| NFM | Not For Me |
| NFS | Not For Sale |
| NFWS | Not For Work Safe |
| NG | New Game |
| NGB | Nearly Good Bridge |
| NGH | Not Gonna Happen |
| NGL | Not Gonna Lie |
| NGO | Non-Governmental Organization, A.K.A. Ngos |
| NH | Nice Hand |
| NHOH | Never Heard Of Him/Her |
| NI | Not Interested |
| NI4NI | An Eye For An Eye |
| NICE | Nonsense In Crappy Existence |
| NIDL | Not Interested, Dislike |
| NIGI | Now I Get It |
| NIH | Not Invented Here |
| NIM | No Internal Message |
| NIMBY | Not In My Back Yard |
| NIMJD | Not In My Job Description |
| NIMQ | Not In My Queue |
| NIMY | Never In A Million Years |
| NINJA | No Income, No Job Nor Assets |
| NINO | Nothing In, Nothing Out Or No Input, No Output |
| NISM | Need I Say More |
| NITL | Not In This Lifetime |
| NJAPF | Not Just Another Pretty Face |
| NLB | Non Linear Behavior |
| NLL | Nice Little Lady |
| NLT | No Later Than |
| NLTBRO | Not Likely To Be Run Over |
| NM | Nothing Much |
| NM, U | Not Much, You? |
| NME | Enemy |
| NMH | Not Much Here |
| NMHJC | Not Much Here, Just Chilling |
| NMJC | Nothing Much, Just Chilling |
| NMM | #Nomakeupmonday |
| NMP | Not My Problem Or Not My President |
| NMTE | Now More Than Ever |
| NMU | Not Much, You? |
| NN | Not Now Or Need |
| NNR | Need Not Respond |
| NNWW | Nudge, Nudge, Wink, Wink |
| NO | Not Online |
| NO1 | No One |
| NOA | Not Online Anymore |
| NOFI | No Offense Intended |
| NOOB | Also Seen As: N00B Or Nub Or No0Blet |
| NOS | New Old Stock Or Not Outside Sales |
| NOWL | Meaning "Knowledge" |
| NOY | Not Online Yet |
| NOYB | None Of Your Business |
| NP | No Problem |
| NQA | No Questions Asked |
| NQOCD | Not Quite Our Class Dear |
| NQT | Newly Qualified Teacher |
| NR | Nice Roll |
| NRG | Energy |
| NRN | No Reply Necessary |
| NS | Nice Set Or No Show |
| NSA | No Strings Attached |
| NSB | Not Sure But |
| NSFL | Not Safe For Life |
| NSFW | Not Safe For Work |
| NSISR | Not Sure If Spelled Right |
| NSTLC | Need Some Tender Loving Care |
| NT | Nice Try |
| NTA | Not This Again |
| NTABOM | Now That's A Bunch Of Malarkey |
| NTB | Not Too Bright |
| NTBM | Not To Be Missed |
| NTBN | No Text Back Needed |
| NTH | Nothing |
| NTIM | Not That It Matters |
| NTIMM | Not That It Matters Much |
| NTK | Nice To Know |
| NTL | Nonetheless |
| NTM | Not That Much |
| NTMU | Nice To Meet You |
| NTS | Note To Self |
| NTTAWWT | Not That There's Anything Wrong With That |
| NTW | Not To Worry |
| NTYMI | Now That You Mention It |
| NUB | New Person To A Site Or Game |
| NUFF | Enough |
| NVM | Never Mind |
| NVNG | Nothing Ventured, Nothing Gained |
| NVR | Never |
| NW | No Way |
| NWAL | Nerd Without A Life |
| NWO | No Way Out |
| NWOT | New Without Tags |
| NWR | Not Work Related |
| NWT | New With Tags |
| NYC | Not Your Concern |
| NYCFS | New York City Finger Salute |
| O | Meaning "Hugs" |
| O_O | Confused |
| O4U | Only For You |
| OAO | Over And Out |
| OATUS | On A Totally Unrelated Subject |
| OAUS | On An Unrelated Subject |
| OB | Oh Baby |
| OBE | Overcome By Events |
| OBO | Or Best Offer |
| OBS | Obviously |
| OBTW | Oh By The Way |
| OBV | Obviously |
| OBX | Old Battle Ax |
| OC | Original Character Or Own Character |
| OCD | Obsessive Compulsive Disorder |
| OD | Online Date |
| OF | Old Fart |
| OFAP | Old Fart At Play |
| OFC | Of Course |
| OGIM | Oh God, It's Monday |
| OH | Overheard |
| OHF | Oh Heck Friends |
| OI | Operator Indisposed |
| OIB | Oh, I'm Back |
| OIC | Oh, I See |
| OICU812 | Oh I See, You Ate One Too |
| OIRWIS | Oh I Remember What I Said |
| OJ | Only Joking |
| OL | Old Lady |
| OLL | Online Love |
| OLLI | One Life, Live It |
| OLN | Online Netiquette |
| OLO | Only Laughed Once |
| OM | Oh, My |
| OMB | Oh My Buddha |
| OMDB | Over My Dead Body |
| OME | Oh My Evolution |
| OMG | Oh My God |
| OMGYG2BK | Oh My God, You Got To Be Kidding |
| OML | Oh My Lord |
| OMS | On My Soul (Meaning "Promise") |
| OMW | On My Way Or Oh My Word |
| OMWT | On My Way Too |
| ONID | Oh No I Didn't |
| ONL | Online |
| ONNA | Oh No, Not Again |
| ONNTA | Oh No, Not This Again |
| ONUD | Oh No You Didn't |
| OO | Over And Out |
| OOAK | One Of A Kind |
| OOC | Out Of Character Or Out Of Control |
| OOF | Out Of Facility |
| OOH | Out Of Here |
| OOI | Out Of Interest |
| OOMF | One Of My Followers |
| OOO | Out Of Office Or Out Of Commission |
| OOS | Out Of Stock |
| OOT | Out Of Touch |
| OOTB | Out Of The Box Or Out Of The Blue |
| OOTC | Obligatory On Topic Comment |
| OOTD | One Of These Days |
| OOTO | Out Of The Office |
| OOTT | Out Of The Loop |
| OOYF | One Of Your Followers |
| OP | On Phone |
| ORLY | Oh Really? |
| OST | On Second Thought |
| OT | Off Topic |
| OTASOIC | Owing To A Slight Oversight In Construction |
| OTB | Off To Bed |
| OTC | Over The Counter |
| OTF | On The Floor Or On The Fone |
| OTFL | On The Floor Laughing |
| OTH | Off The Hook |
| OTL | Out To Lunch |
| OTOH | On The Other Hand |
| OTP | On The Phone |
| OTS | On The Scene Or On The Spot Or Off The Shelf |
| OTT | Over The Top |
| OTTOMH | Off The Top Of My Head |
| OTW | On The Way Or Off The Wall Or Otherwise |
| OUSU | Oh You Shut Up |
| OVA | Over |
| OYO | On Your Own |
| OZ | Australia |
| P | Partner Or Pretty |
| P-ZA | Pizza |
| P/U | Pick Up |
| P&C | Private & Confidential |
| P2C2E | Process Too Complicated To Explain |
| PAL | Parents Are Listening Or Peace And Love |
| PAP | Post A Picture |
| PART | Partial Retweet |
| PATT | Party All The Time |
| PAW | Parents Are Watching |
| PAX | Passengers |
| PB | Potty Break |
| PBB | Parent Behind Back |
| PCM | Please Call Me |
| PDH | Pretty Darn Happy |
| PDQ | Pretty Darn Quick |
| PDS | Please Don't Shout |
| PEEPS | People |
| PIAPS | Pig In A Pantsuit |
| PIC | Picture |
| PIF | Paid In Full |
| PIMPL | Peeing In My Pants Laughing |
| PIR | Parent In Room |
| PISS | Put In Some Sugar |
| PIX | Pictures Or Photos |
| PL8 | Plate |
| PLD | Played |
| PLMK | Please Let Me Know |
| PLO | Peace, Love, Out |
| PLOKTA | Press Lots Of Keys To Abort |
| PLOS | Parents Looking Over Shoulder |
| PLS | Please |
| PLU | People Like Us |
| PLUR | Peace, Love, Unity, Respect |
| PLZ | Please |
| PLZTLME | Please Tell Me |
| PM | Personal Message Or Private Message |
| PMF | Pardon My French |
| PMFI | Pardon Me For Interrupting |
| PMFJI | Pardon Me For Jumping In |
| PMHT | Pardon My Hashtag A.K.A. #Pmht |
| PMJI | Pardon My Jumping In |
| PML | Pissing Myself Laughing |
| PMN | Picking My Nose |
| PMP | Peeing My Pants |
| PMSL | Pissed Myself Laughing |
| PND | Possibly Not Definitely |
| PO | Piss Off |
| PO-MO | Post-Modern |
| POA | Plan Of Action |
| POAHF | Put On A Happy Face |
| POD | Print On Demand Or Play Others Downtime |
| POIDH | Picture, Or It Didn't Happen |
| POMS | Parent Over My Shoulder |
| PONA | Person Of No Account |
| PPL | People |
| PPU | Pending Pick-Up |
| PROBS | Probably |
| PROLLY | Probably |
| PRT | Party |
| PRW | Parents Are Watching |
| PS | Postscript |
| PSA | Public Service Announcement |
| PSE | Porn Star Experience |
| PSO | Product Superior To Operator |
| PSOS | Parent Standing Over Shoulder |
| PSP | Playstation Portable |
| PTAT | People Talking About This |
| PTH | Prime Tanning Hours |
| PTL | Praise The Lord |
| PTMM | Please Tell Me More |
| PTO | Personal Time Off |
| PTOYED | Please Turn Off Your Electronic Devices |
| PTP | Pardon The Pun Or Pity The Poor |
| PTPOP | Pat The Pissed Off Primate |
| PU | That Stinks |
| PUH | Personal Umbrella Handler |
| PUSH | Praying Until Something Happens |
| PW | Password |
| PWAS | Prayer Wheels Are Spinning |
| PWAT | Pay With A Tweet |
| PWCB | Person Will Call Back |
| PWNT | Owned |
| PWOMS | Parent Watching Over My Shoulder |
| PWP | Plot, What Plot? |
| PXT | Please Explain That |
| PYOP | Pray Your Own Prayer |
| PYT | Pretty Young Thing |
| PZ | Peace |
| PZA | Pizza |
| Q | Queue Or Question |
| Q2C | Quick To Cum |
| Q4U | Question For You |
| QAP | Quickly As Possible |
| QB | Quarterback |
| QC | Quality Control |
| QED | Quod Erat Demonstrandum |
| QFE | Question For Everyone |
| QFI | Quoted For Irony |
| QFMT | Quoted For More Truth |
| QI | Quite Interesting |
| QIK | Quick |
| QIX | Quick |
| QL | Quit Laughing |
| QLS | Reply |
| QOTD | Quote Of The Day |
| QOTP | Quote Of The Post |
| QS | Quit Scrolling |
| QSL | Reply |
| QSO | Conversation |
| QT | Cutie Or Quiet |
| QTPI | Cutie Pie |
| R | Meaning "Are" |
| R U DA? | Are You There? |
| R U GOIN? | Are You Going? |
| R U THERE? | Are You There? |
| R&D | Research & Development |
| R&R | Rest & Relaxation |
| RAFO | Read And Find Out |
| | Right Back At Ya |
| RBAY | Right Back At You |
| RBTL | Read Between The Lines |
| RDV | Reader's Digest Version |
| RE | Regards Or Reply Or Hello Again |
| REDLYFE | Repeat Every Day Lifestyle |
| REHI | Hi Again |
| RESO | Reservation |
| RFD | Request For Discussion |
| RFP | Request For Proposal |
| RGDS | It Means Regards |
| RHIP | Rank Has Its Privileges |
| RHK | Roundhouse Kick |
| RI&W | Read It And Weep |
| RIMJS | Really I'm Just Saying |
| RINO | Republican In Name Only |
| RIYL | Recommended If You Like |
| RKBA | Right To Keep And Bear Arms |
| RL | Real Life |
| RLCO | Real Life Conference |
| RLF | Real Life Friend |
| RLRT | Real Life Retweet |
| RLY | Really |
| RM | Remake |
| RMB | Rings My Bell |
| RME | Rolling My Eyes |
| RMMA | Reading My Mind Again |
| RN | Right Now |
| RNN | Reply Not Necessary |
| RNY | Rainy |
| ROFL | Rolling On Floor Laughing |
| RSN | Real Soon Now |
| RTBM | Read The Bloody Manual |
| RTBS | Reason To Be Single |
| RTFAQ | Read The Faq |
| RTH | Release The Hounds |
| RTHX | Retweet Thanks |
| RTMS | Read The Manual, Stupid |
| RTS | Read The Screen |
| RTSM | Read The Silly Manual |
| RTSS | Read The Screen Stupid |
| RTTSD | Right Thing To Say Dude |
| RU | Are You? |
| RU/18 | Are You Over 18? |
| RU\\18 | Are You Under 18? |
| RUH | Are You Horny? |
| RUMOF | Are You Male Or Female? |
| RUMORF | Are You Male Or Female? |
| RUNTS | Are You Nuts? |
| RUOK | Are You Okay? |
| RUS | Are You Serious? |
| RUSOS | Are You Sos (In Trouble)? |
| RUT | Are You There? |
| RUUP4IT | Are You Up For It? |
| RW | Real World |
| RX | Regards |
| RYB | Read Your Bible |
| RYFM | Read Your Friendly Manual |
| RYO | Roll Your Own |
| RYS | Read Your Screen |
| S | Smile |
| S'OK | It's Okay |
| S/N | Serial Number |
| S/S | Shout-Out For Shout-Out |
| S^ | What's Up? |
| S2G | Swear To God |
| S2R | Send To Receive |
| S2S | Sorry To Say |
| S2U | Same To You |
| S4L | Spam For Life |
| SAHM | Stay At Home Mom |
| SAL | Such A Laugh |
| SANM | Starting A New Message |
| SAT | Sorry About That |
| SB | Should Be |
| SBI | Sorry Bout It |
| SBIA | Standing Back In Amazement |
| SBT | Sorry Bout That |
| SBTA | Sorry, Being Thick Again |
| SBUG | Small Bald Unaudacious Goal |
| SC | Stay Cool |
| SCNR | Sorry, Could Not Resist |
| SCOTUS | Supreme Court Of The United States |
| SCUICHT | So Coked Up I Can Hardly Type |
| SD | Sweet Dreams |
| SDC | Saturday Drinking Club |
| SDFS | Second Day First Show |
| SDMB | Sweet Dreams, My Baby |
| SED | Said Enough Darling |
| SEP | Somebody Else's Problem |
| SERPT | Soul Eater Role-Playing Team |
| SETE | Smiling Ear To Ear |
| SFAIAA | So Far As I Am Aware |
| SFAIK | So Far As I Know |
| SFLA | Stupid Four Letter Acronym |
| SFP | Sorry For Partying |
| SFTW | Sorry For The Wait |
| SFX | Sound Effects Or Stage Effects |
| SGTM | Sounds Good To Me |
| SH | Same Here |
| SH^ | Shut Up |
| SHT | So Hot |
| SIA | Say It Again |
| SIG2R | Sorry, I Got To Run |
| SIL | Sister-In-Law |
| SIN | Stop It Now |
| SIP | Skiing In Powder |
| SIS | Sister |
| SIT | Stay In Touch |
| SITD | Still In The Dark |
| SITUBI | Say It Til You Believe It |
| SIY | Search Inside Yourself |
| SJ | Strong Jaws |
| SJW | Social Justice Warrior |
| SK8 | Skate |
| SKYE | School Kills Your Entertainment |
| SL | Second Life |
| SLAP | Sounds Like A Plan Or Speak Like A Person |
| SLT | Something Like That |
| SM | Social Media |
| SMH | Shaking My Head Or So Much Hate |
| SMTH | Something |
| SN | Side Note |
| SNH | Sarcasm Noted Here |
| SNIF | Simple Nice Index File |
| SO | Significant Other |
| SOIC | So I See |
| SOK | It's Okay |
| SOL | Sooner Or Later |
| SOME1 | Someone |
| SOMY | Sick Of Me Yet |
| SOS | Meaning Help |
| SOT | Short On Time |
| SOTMG | Short On Time, Must Go |
| SOW | Speaking Of Which |
| SOWM | Someone With Me |
| SOZ | Sorry |
| SPEET | Spam Tweet |
| SPK | Speak |
| SPST | Same Place, Same Time |
| SPTO | Spoke To |
| SQ | Square |
| SRSLY | Seriously |
| SRY | Sorry |
| SS | So Sorry |
| SSDD | Same Stuff, Different Day |
| SSIF | So Stupid It's Funny |
| SSINF | So Stupid It's Not Funny |
| ST&D | Stop Texting And Drive |
| STBX | Soon To Be Ex |
| STG | Swear To God |
| STH | Something |
| STHU | Shut The Hell Up |
| STR8 | Straight |
| STS | So To Speak |
| STYS | Speak To You Soon |
| SU | Shut Up |
| SUITM | See You In The Morning |
| SUL | See You Later |
| SUP | What's Up? |
| SUYF | Shut Up You Fool |
| SWDYT | So What Do You Think? |
| SWEET<3 | Sweetheart |
| SWF | Single White Female |
| SWIM | See What I Mean? |
| SWIS | See What I'm Saying |
| SWIT | Sit And Sweat |
| SWL | Screaming With Laughter |
| SWU | So What's Up |
| SWYP | So What'S Your Problem? |
| SXE | Straight Edge |
| SYK | So You Know |
| SYL | See You Later |
| SYS | See You Soon |
| SYT | See You Tomorrow |
| SYY | Shut Your Yapper |
| T:)T | Think Happy Thoughts |
| | Talk At You Later |
| T+ | Think Positive |
| T2GO | Time To Go |
| T2UL | Talk To You Later |
| T2UT | Talk To You Tomorrow |
| T4BU | Thanks For Being You |
| T4P | Thanks For Posting |
| TA | Thanks A Lot |
| TAF | That's All, Folks |
| TAFN | That's All For Now |
| TAH | Take A Hike |
| TANK | Meaning Really Strong |
| TAP | Take A Pill |
| TAS | Taking A Shower |
| TAU | Thinking About U (You) |
| TAW | Teachers Are Watching |
| TAYN | Thinking About You Now |
| TB | Titty Bar |
| TBA | To Be Announced Or To Be Advised |
| TBC | To Be Continued |
| TBE | Thick Between Ears |
| TBH | To Be Honest |
| TBL | Text Back Later |
| TBT | Throwback Thursday |
| TBU | Thinking Bout You |
| TBYB | Try Before You Buy |
| TC | Take Care |
| TCB | Trouble Came Back Or Taking Care Of Business |
| TCK | Third Culture Kid |
| TCOB | Taking Care Of Business |
| TCOY | Take Care Of Yourself |
| TDM | Too Darn Many |
| TEOG | The Edge Of Glory |
| TFDS | That's For Darn Sure |
| TFH | Thread From Hell |
| TFN | Thanks For Nothing Or Til Further Notice |
| TFS | Thanks For Sharing Or Three Finger Salute |
| TFTT | Thanks For The Thought |
| TFTU | Thanks For The Update |
| TFW | That Feeling When |
| TG | Thank Goodness |
| TGFAD | Thank God For Another Day |
| TGIC | This Girl Is Crazy |
| TGIF | Thank God It's Friday |
| TGIM | Thank God It's Monday |
| THNQ | Thank You |
| THOT | That Ho Over There |
| THT | Think Happy Thoughts |
| THX / TX / THKS | Thanks |
| TIA | Thanks In Advance |
| TIAD | Tomorrow Is Another Day |
| TIAIL | Think I Am In Love |
| TIC | Tongue In Cheek |
| TILII | Tell It Like It Is |
| TILIS | Tell It Like It Is |
| TIME | Tears In My Eyes |
| TIMITI | Try It Measure It Tweak It |
| TINWIS | That Is Not What I Said |
| TIR | Teacher In Room |
| TISC | This Is So Cool |
| TISL | This Is So Lame |
| TISNC | This Is So Not Cool |
| TISNF | That Is So Not Fair |
| TISNT | That Is So Not True |
| TJBNJ | This Job Beats No Job |
| TK | To Come |
| TKO | Technical Knockout |
| TKU4UK | Thank You For Your Kindness |
| TL | Too Long |
| TLDR | Too Long; Didn't Read |
| TLA | Three Letter Acronym |
| TLC | Tender Loving Care |
| TLGO | The List Goes On |
| TLITBC | That's Life In The Big City |
| TLK2UL8R | Talk To You Later |
| TLTR | Too Long To Read |
| TM | Trust Me |
| TMA | Take My Advice |
| TMB | Text Me Back |
| TMI | Too Much Information |
| TMOT | Trust Me On This |
| TMTH | Too Much To Handle |
| TMTT | Too Much To Type |
| TMWFI | Take My Word For It |
| TMYL | Tell Me Your Location |
| TNA | Temporarily Not Available |
| TNC | Tongue In Cheek |
| TNLN | Took Nothing, Left Nothing |
| TNO | Tell No One |
| TNT | Till Next Time |
| TNTL | Trying Not To Laugh |
| TNX | Thanks |
| TOBAL | There Oughta Be A Law |
| TOBG | This Oughta Be Good |
| TOJ | Tears Of Joy |
| TOM | Tomorrow |
| TOMTB | Taking Off My Training Bra |
| TOON | Cartoon |
| TOS | Terms Of Service |
| TOT | Tons Of Time |
| TOTES | Totally |
| TOU | Thinking Of You |
| TOY | Thinking Of You |
| TPC | The Phone Company |
| TPIYP | To Put In Your Prayers |
| TPM | Tomorrow P.M. |
| TPS | That's Pretty Stupid |
| TPT | Trailer Park Trash |
| TPTB | The Powers That Be |
| TQM | Total Quality Management |
| TQRT | Thanks For The Retweet |
| TRAM | The Rest Are Mine |
| TRP | Television Rating Points |
| TSH | Tripping So Hard |
| TSIA | This Says It All |
| TSIF | Thank Science It's Friday |
| TSNF | That's So Not Fair |
| TSTB | The Sooner, The Better |
| TSTL | To Stupid To Live |
| TT | Big Tease |
| TTBOMK | To The Best Of My Knowledge |
| TTFN | Ta Ta For Now |
| TTG | Time To Go |
| TTIOT | The Truth Is Out There |
| TTKSF | Trying To Keep A Straight Face |
| TTLY | Totally |
| TTMF | Ta Ta Mofo |
| TTS | Text To Speech |
| TTT | That's The Ticket Or To The Top Or Thought That Too |
| TTTH | Talk To The Hand |
| TTTT | To Tell The Truth |
| TTUL | Talk To You Later |
| TTYL | Talk To You Later Or Type To You Later |
| TTYL8R | Talk To You Later |
| TTYLXOXO | Talk To You Later, Hugs And Kisses |
| TTYOB | Tend To Your Own Business |
| TTYS | Talk To You Soon |
| TTYT | Talk To You Tomorrow |
| TU | Thank You |
| TUI | Turning You In |
| TURNT | Turn Up |
| TW | Tweet |
| TWD | Texting While Driving |
| TWHE | The Walls Have Ears |
| TWIT | That's What I Thought |
| TWITA | That's What I'M Talking About |
| TWIWI | That Was Interesting, Wasn't It? |
| TWSS | That's What She Said |
| TWTR | Twitter |
| TWU | That's What's Up |
| TXS | Thanks |
| TXT | Text |
| TXT IM | Text Instant Message |
| TXT MSG | Text Message |
| TY | Thank You |
| TYCLO | Turn Your Caps Lock Off |
| TYFF | Thank You For Following |
| TYFYC | Thank You For Your Comment |
| TYG | There You Go Or Thank You God |
| TYL | Text You Later Or Thank You Lord |
| TYS | Told You So |
| TYSO | Thank You So Much |
| TYT | Take Your Time |
| TYVM | Thank You Very Much |
| U | You |
| U UP | Are You Up? |
| U-L | You Will |
| U2 | You Too |
| U4E | Yours Forever |
| U8 | You Ate? |
| UAYA | Use As You Are |
| UBS | Unique Buying State |
| UCMU | You Crack Me Up |
| UDK | You Don't Know |
| UDM | You Are The Man |
| UFN | Until Further Notice |
| UG2BK | You Have Got To Be Kidding |
| UGTR | You Got That Right |
| UKTR | You Know That's Right |
| UL | Upload |
| UMK | You Must Know |
| UN4TUN8 | Unfortunate |
| UNA | Use No Acronyms |
| UNCRTN | Uncertain |
| UNOIT | You Know It |
| UNT | Until Next Time |
| UNTCO | You Need To Chill Out |
| UOK | Are You Ok? |
| UPOD | Under Promise Over Deliver |
| UR | You Are |
| UR2YS4ME | You Are Too Wise For Me |
| URH | You Are Hot |
| URSAI | You Are Such An Idiot |
| URSKTM | You Are So Kind To Me |
| URTM | You Are The Man |
| URW | You Are Welcome |
| URWS | You Are Wise |
| URYY4M | You Are Too Wise For Me |
| USBCA | Until Something Better Comes Along |
| USU | Usually |
| UT2L | You Take Too Long |
| UTM | You Tell Me |
| UV | Unpleasant Visual |
| UW | You Are Welcome |
| UWIWU | You Wish I Was You |
| UWM | You Want Me |
| V | Very |
| VAT | Value Added Tax |
| VBD | Very Big Deal |
| VBG | Very Big Grin |
| VBMG | Very Big Mischievous Grin |
| VBS | Very Big Smile |
| VC | Voice Chat |
| VFM | Value For Money |
| VGN | Vegan Or Vegetarian |
| VIM | Very Important Member |
| VM | Voice Mail |
| VMA | Very Much Alive |
| VN | Very Nice |
| VOD | Video On Demand |
| W | With Or Working |
| W WULT | What Would You Like To Talk About |
| W'S^ | What's Up? |
| W@ | What? |
| W/ | With |
| W/B | Welcome Back |
| W/E | Weekend |
| W/O | Without |
| W8 | Wait |
| W9 | Wife In Room |
| WABI | What A Bright Idea |
| WAD | Without A Doubt |
| WAEF | When All Else Fails |
| WAFS | Warm And Fuzzies |
| WAGS | Wives And Girlfriends Of Sports Stars |
| WAH | Working At Home |
| WAI | What An Idiot |
| WAJ | What A Jerk |
| WAK | What A Kiss |
| WAM | Wait A Minute |
| WAN2 | Want To? |
| WAN2TLK | Want To Talk |
| WAREZ | Meaning Pirated (Illegally Gained) Software |
| WAS | Wait A Second |
| WAT | What |
| WATI | What A Terrible Idea |
| WATN | Where Are They Now |
| WAWA | Where Are We At? |
| WAWI | What A Wonderful Idea |
| WAY | Where Are You? |
| WAYD | What Are You Doing? |
| WAYF | Where Are You From? |
| WAYN | Where Are You Now? |
| WB | Welcome Back Or Write Back |
| WBOS | We Build Our Society |
| WBS | Write Back Soon |
| WBU | What About You? |
| WC | Welcome |
| WCA | Who Cares Anyway |
| WCKD | It Means Wicked |
| WCW | Woman Crush Wednesday |
| WD | Well Done |
| WDALYIC | Who Died And Left You In Charge? |
| WDDD | Woopie Doo Da Dey |
| WDILY | Why Do I Love You? |
| WDR | With Due Respect |
| WDT | Who Does That? |
| WDYJS | What Did You Just Say? |
| WDYK | What Do You Know? |
| WDYM | What Do You Mean? |
| WDYMBT | What Do You Mean By That? |
| WDYS | What Did You Say? |
| WDYT | What Do You Think? |
| WE | Whatever |
| WEG | Wicked Evil Grin |
| WF | Way Fun |
| WFH | Work From Home |
| WFM | Works For Me |
| WG | Wicked Grin |
| WILCO | Will Comply |
| WIM | Woe Is Me |
| WIP | Work In Process |
| WIT | Wordsmith In Training |
| WITP | What Is The Point? |
| WITW | What In The World |
| WIU | Wrap It Up |
| WK | Week |
| WKD | Weekend |
| WKND | Weekend |
| WKYP | Will Keep You Posted |
| WL | Whatta Loser |
| WLU | Wicked, Love You |
| WLU2 | Wicked, Love You Too |
| WOA | Work Of Art |
| WOG | Wise Old Guy & Non-Scientologist |
| WOM | Word Of Mouth Or Word Of Mouse |
| WOOF | Well Off Older Folks |
| WOT | Waste Of Time Or- It Means What |
| WRK | Work |
| WRT | With Regard To Or With Respect To |
| WRU | Where Are You? |
| WRU@ | Where Are You At? |
| WRUD | What Are You Doing? |
| WSU | What Say You? |
| WT | Without Thinking Or What The Or Who The |
| WTAS | Wanna Take A Shower? |
| WTB | Want To Buy Or What To Buy |
| WTG | Way To Go |
| WU | What's Up |
| WUBB | What's Up Baby Boy |
| WUBG | What's Up Baby Girl |
| WUCIWUG | What You See Is What You Get |
| WUD | What Are You Doing? |
| WUF | Where You From |
| WUP | What's Up? |
| WUT | Meaning "What" |
| WYD | What (Are) You Doing? |
| WYP | What's Your Problem? |
| WYRN | What's Your Real Name? |
| WYS | Whatever You Say |
| WYT | Whatever You Think |
| WYTB | Wish You The Best |
| X | Kiss |
| XBF | Ex-Boyfriend |
| XD | A Really Hard Laugh |
| XL | Extra Large |
| XLNT | Excellent |
| XLR8 | Meaning "Faster" Or "Going Faster" |
| XQZT | Exquisite |
| XYZ | Examine Your Zipper |
| Y | Meaning Yawn |
| Y? | Why? |
| Y2K | You Are Too Kind |
| YA | Your |
| YD | Yesterday |
| YF | Wife |
| YG | Young Gentleman |
| YGBK | You Gotta Be Kidding |
| YGG | You Go Girl |
| YGLT | You Are Gonna Love This |
| YGM | You Have Got Mail |
| YGTBK | You Have Got To Be Kidding |
| YGTI | You Get The Idea |
| YIU | Yes, I Understand |
| YKW | You Know What? |
| YKWIM | You Know What I Mean |
| YLH | Your Loving Husband |
| YLLO | You Lie Like Obama |
| YLW | Your Loving Wife |
| YM | Your Mother |
| YMAK | You May Already Know |
| YMAL | You Might Also Like |
| YMBKM | You Must Be Kidding Me |
| YMMD | You Make My Day Or You Made My Day |
| YMMV | Your Mileage May Vary |
| YNI | You Name It |
| YNK | You Never Know |
| YOCO | Your Only Cute Online |
| YOFO | You Are Only Famous Online |
| YOLO | You Only Live Once |
| YOYO | You Are On Your Own |
| YR | Yeah Right Or You Or Your |
| YRO | Your Rights Online |
| YS | You Stinker |
| YSAN | You Are Such A Nerd |
| YSIC | Why Should I Care? |
| YSK | You Should Know |
| YSYD | Yeah, Sure You Do |
| YT | Youtube |
| YTB | Youth Talk Back |
| YTG | You Are The Greatest |
| YTTL | You Take Too Long |
| YTTM | You Talk Too Much |
| YTTT | You Telling The Truth? |
| YVW | You Are Very Welcome |
| YW | You Are Welcome |
| Z | Zero |
| Z% | Zoo |
| ZERG | To Gang Up On Someone |
| ZH | Sleeping Hour |
| ZMG OR ZOMG | Oh My God |
| ZOT | Zero Tolerance |
| ZUP | What's Up? |
| ZZZ | Sleeping, Bored, Tired |
List of Spanish Text Acronyms
| | | |
| --- | --- | --- |
| Abbreviations | Spanish | Meaning |
| 100PRE | Siempre | Always |
| A10 | Adiós | Goodbye |
| A2 | Adiós | Goodbye |
| AC | Hace | Form Of Hacer |
| AKI | Aquí | Here |
| AMR | Amor | Aove |
| AORA | Ahora | Now |
| ASDC | Al salir de clase | After Class |
| ASIAS | Gracias | Thanks |
| B | Bien | Well, Good |
| BBR | Beber | To Drink |
| C | Sé, Se | I Know |
| CAM | Cámara | Camera |
| CDO | Cuando | When |
| CHAO, | Chau, adiós | Goodbye |
| D | De | From, Of |
| D2 | Dedos | Fingers |
| DCR | Decir | To Say |
| DFCL | Difícil | Difficult |
| DIM | Dime | Tell Me |
| DND | Dónde | Where |
| EMS | Hemos | We Have |
| ERS | Eres Tú | You Are, Are You? |
| EXO | Hecho | Act |
| EYS | Ellos | They |
| INDE | Fin de Semana | Weekend |
| FSTA | Fiesta | Party |
| GRRR | Enfadado | Angry |
| HL | Hasta Luego | See You Later |
| HLA | Hola | Hello |
| IWAL | Igual | Equal |
| K | Que, qué | That, What |
| KBZA | Cabeza | Head |
| KLS | Clase | Class |
| KM | Como | As, Like |
| KNTM | Cuéntame | Tell Me |
| KO | Estoy Muerto | I'm In Big Trouble |
| KYAT | Cállate | Shut Up |
| M1ML | Mándame un Mensaje Luego | Send Me A Message Later |
| MIM | Misión Imposible | Mission Impossible |
| MSJ | Mensaje | Message |
| MXO | Mucho | A Lot |
| NPH | No Puedo Hablar | I Can't Talk Now |
| NPN | No Pasa Nada | Nothing's Happening |
| PA | Para, Padre | For, Father |
| PCO | Poco | A Little |
| PDT | Piérdete | Get Lost |
| PF | Por favor | Please |
| Q | Que | That, What |
| Q ACS? | Qué haces | What Are You Doing? |
| QAND, | Qando, Cuándo | When |
| QDMS | Quedamos | We Are Staying |
| Q PLOMO! | Qué plomo | What A Drag! |
| Q QRS? | Qué quieres? | What Do You Want? |
| Q RISA! | Qué Risa! | What A Laugh! |
| Q SEA | Qué Sea | Whatever |
| Q TAL? | Qué Tal | What's Happening? |
| SALU2 | Saludos | Hello, Goodbye |
| SBS? | Sabes? | Do You Know? |
| SPRO | Espero | I Hope |
| T | Te | You |
| TAS OK? | Estás bien? | Are You Ok? |
| TB | También | Also |
| TQ | Te Quiero | I Love You |
| TQI | Tengo Que Irme | I Have To Leave |
| UNI | Universidad | University, College |
| VNS? | Vienes? | Are You Coming? |
| VOS | Vosotros | You (Plural) |
| WPA | Guapa! | Sweet! |
| XDON | Perdón | Sorry |
| XFA | Por favor | Please |
| XO | Pero | But |
| XQ | Porque | Because, Why |
| YMAM, YMM | Llámame | Call Me |
| ZZZ | Dormir | Sleeping |