The Basics of Writing a Formal Text Message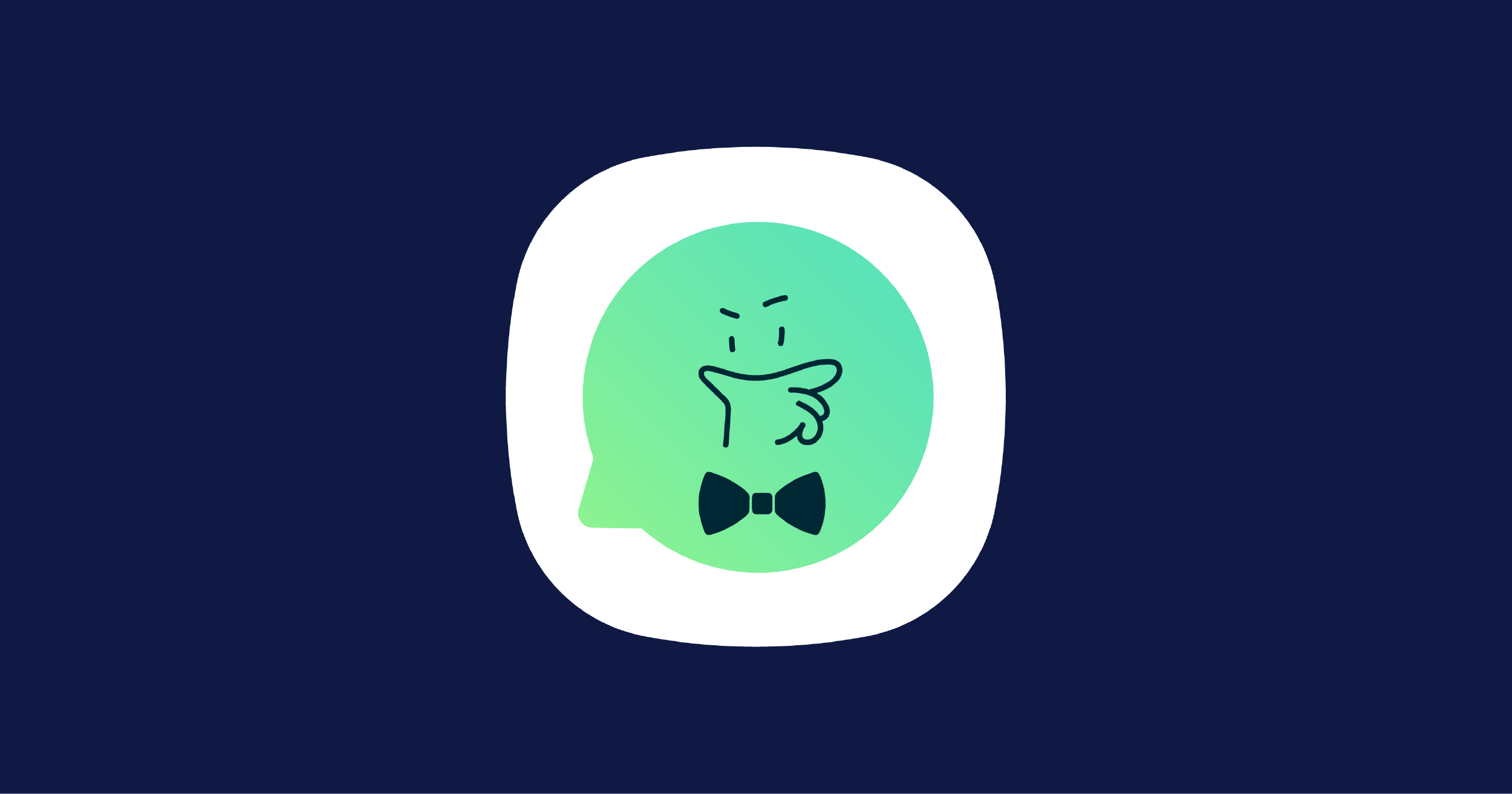 Professional text messages can be difficult for some people because they aren't used to writing professionally. It can be hard to know what to say and how to say it in a way that is respectful and professional.
Some people might start out fine but then struggle when it comes to ending the message, or they might use too many abbreviations. Most of the time, people use templates or SMS examples to help them get started. From promoting their products or services to improving customer service, SMS marketing comes in handy since it has high response rates. If you're still wondering how to write a formal text message, we have you covered.
What is a Formal Text Message?
Texting is an intimate exchange that creates an informal and private atmosphere, fostering connections on a personal level. Conversely, formal texts originate from businesses, serving as a channel for communicating information related to their products, services, mission, or news.
For businesses seeking to leverage the personal nature of SMS, it becomes vital to strike a delicate balance in both tone and content. Tread carefully to ensure that recipients' boundaries are respected and not overstepped. By finding the right equilibrium, businesses can establish a rapport that resonates with their audience while maintaining professionalism and integrity.
When Should You Employ Business Texting?
While you may be texting your friends and family more often than once, businesses cannot approach this in the same way. If you message your customers too much, chances are they'll opt out of your campaign, ignore the message, or worse, deem it spam. 
When it comes to formal business text messages, exercising discretion and thoughtfulness is paramount. It is essential to reserve their usage for situations that demand immediate attention or when the recipient stands to gain from receiving prompt updates. To put it short, don't overuse them. 
By adopting this strategic approach, you ensure that formal text messages retain their significance and impact, effectively conveying important information while maintaining a sense of professionalism and efficiency.
How To Start A Formal Text Message: What To Know Beforehand
Customers should always get texts from you in a professional manner. Since you're interacting with them on a personal level, it's crucial to avoid being rude or intrusive. Although there are many occasions when you can text a client, certain issues are better addressed in person or over the phone.
1. Use Proper Grammar And Spelling
This will ensure that your message is taken seriously and comes across as polished and professional.
2. Avoid Abbreviations And Slang
Again, this will ensure that your message is taken seriously and doesn't come across as too casual.
3. Be Clear And Concise
Formal messages should get straight to the point without any unnecessary details. You only have 160 characters, so make them count.
4. Choose Your Words Carefully
Formal messages should be well thought out and use language that is polite and respectful.
5. Keep It Professional
Remember that formal messages are not the place for jokes or personal commentary.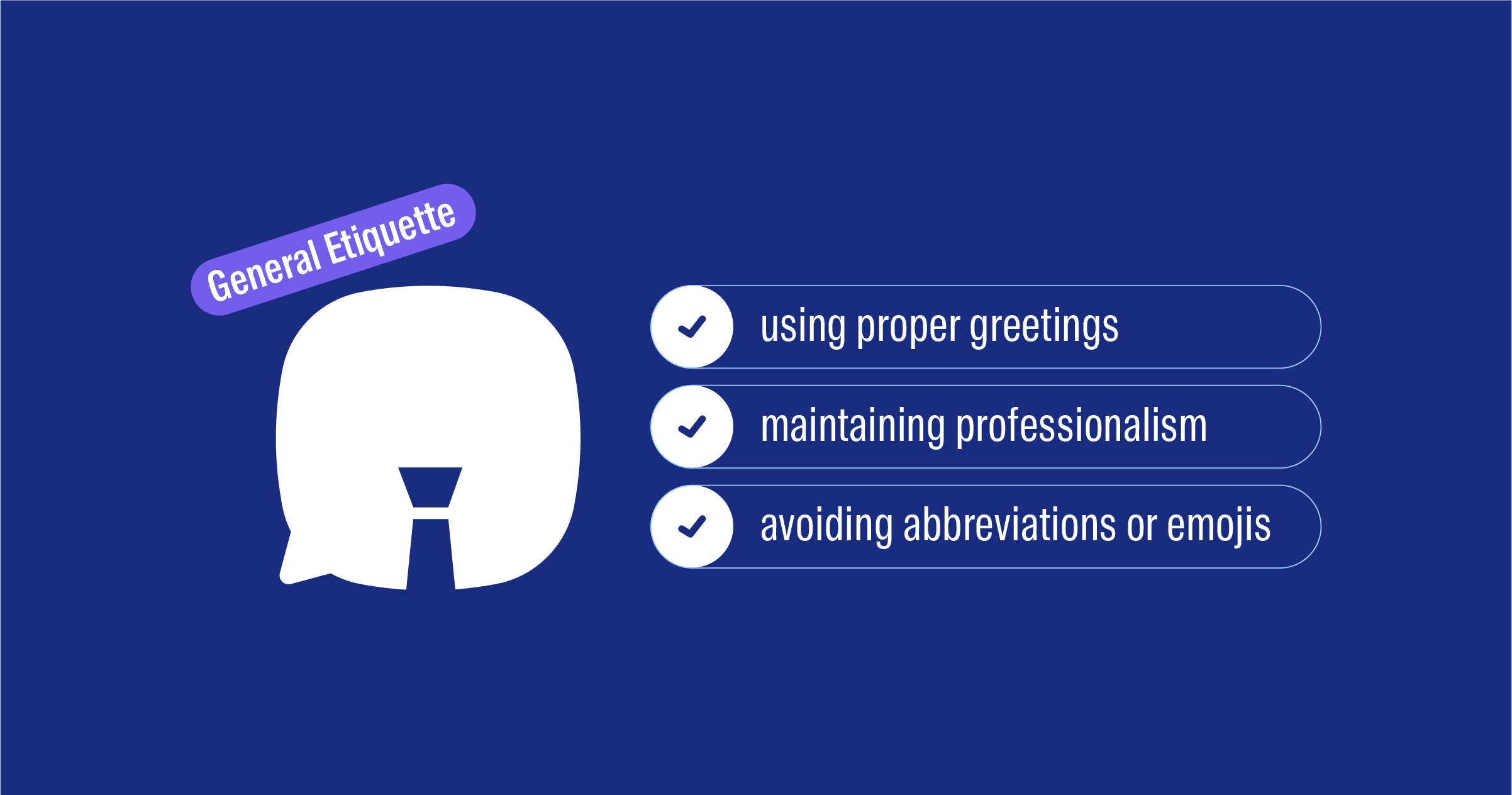 How To Send A Formal Text: General Etiquette
1. Get Their Consent
Sending texts to recipients who haven't opted in can annoy them and impose significant fines. Businesses are not allowed to send unsolicited bulk texts to recipients. Before messaging your customers, ensure that you have their explicit permission.
2. Make It Simple
Recipients should be able to read your message easily without any big, fancy words. Business text messages should ideally contain 1–3 sentences.
3. Don't Overdo It
If you mute personal group chats when they send too many messages, imagine how many people would block your number if you send one too many texts. The ideal time to send professional SMS texts is during business hours. You ought to refrain from sending more than one SMS at a time.
4. Provide Easy Response
Your readers should understand exactly what action you want them to take after reading your message. Therefore, make it simple for them to respond with a simple "YES" or "NO" when you ask them a question.
5. Create a Short And Memorable Signature
Your text signature must be brief and to the point, unlike email signatures, which provide you space to include your name, contact information, website, and more. Make sure your company name appears in every text.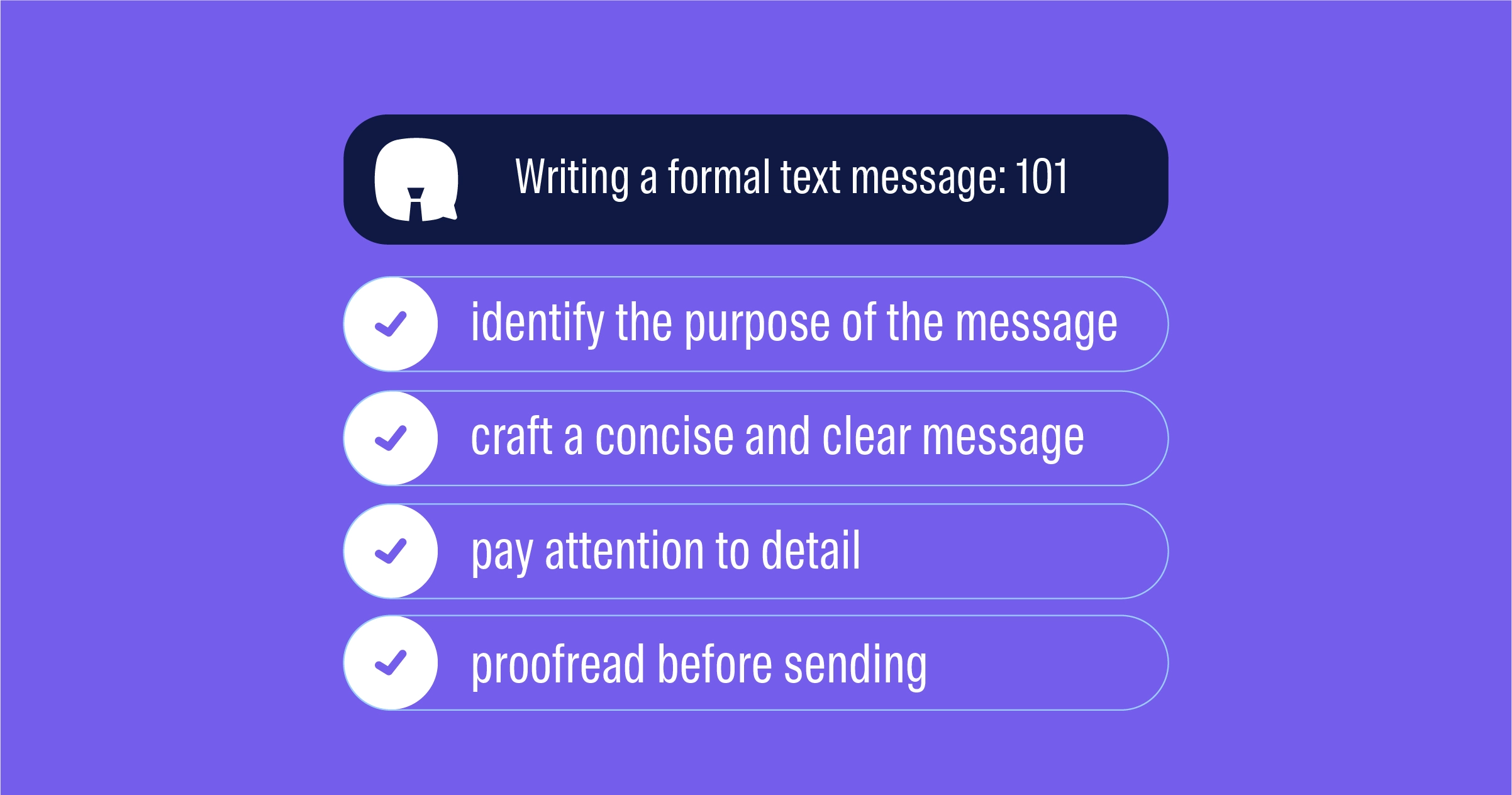 How To Write A Formal SMS: A Step-by-Step Guide
Step #1
As with any type of writing, get your thoughts down in a first draft beforeformal texting. This will help to ensure that your message is clear and concise.
Step #2
Filler words, fluff, and confusing phrases can make the text message look unprofessional and sloppy. Edit them out so your text is clear and easy to understand. Make sure to also include a call to action so your text marketing efforts are not in vain.
Step #3
A short message helps to keep the text focused and on track. Do not use abbreviations for a formal text. If it's getting too long, it's best to send an email instead.
Step #4
Add your signature at the end of the text message. This helps identify the sender of the message and adds a level of professionalism. It also adds a personal touch to a formal SMS, which can be appreciated by the recipient.
Step #5
Scan your message for typos, spelling, and grammar mistakes because errors in your message can easily change the meaning of what you are trying to communicate. These can also make you look unprofessional, which can hinder your ability to build relationships and trust with others.
Step #6
Check the tone of your writing to ensure that your message will be interpreted the way you intend. You may do this by reading it out loud to yourself.
Step #7
When you're formal texting, double-check the recipient to make sure that the message is going to the intended person. This is especially important when sending sensitive or confidential information like credit card or other financial-related issues. This way, you can help prevent the message from being seen by someone who should not have access to it.
Step #8
And then comes the question of whether or not the recipient has opted in to receive messages from you. It is of the utmost importance to confirm that the recipient has willingly provided their phone number to receive texts from you. This can help prevent any potential misunderstandings or unwanted interruptions. Asking for consent means you respect the recipient's privacy and show that you value their time.
Step #9
Spam texts are annoying and can clutter up someone's phone. If you send a formal text more than once, you run the risk of being seen as a spammer.
Step #10
If you don't get a response to your initial text message, it is acceptable to follow up with a phone call or an email. Keep in mind that you have to be persistent when trying to communicate with someone, but you should also be respectful of their time and not become a nuisance, especially when you're sending payment reminders or confirmation texts.
Formal Text Message Examples to Use for Your Campaign
Remember, when sending professional text messages, always ensure that they are concise, clear, and provide value to the recipient.
1. Marketing
Exciting news, Jane! Our annual sale starts tomorrow! Show this text message to the cashier in the next 72 hours to get 40% off. See you at our store!
Dear James, we're thrilled to introduce our latest product line of headphones. Discover the cutting-edge features and elevate your experience today!
2. Sales
Limited-time offer: 20% off on all items in-store and online at The Full Cart. Use code SALE20 at checkout. Don't miss out, Emma!
Hello, Sam! Our new collection just arrived, and it's flying off the shelves. Visit us now to get the first pick of the trendiest styles.
3. Banking
Dear Mr. Brown, a friendly reminder that your mortgage payment is due in three days. Please ensure timely payment to avoid any inconvenience.
Important update, John: We have enhanced our mobile banking app with new security features. Update now for a seamless and secure experience.
4. Internal Communication
Ella, please be advised that the weekly staff meeting has been rescheduled for tomorrow at 10:00 AM in the conference room. Thank you for your understanding.
Attention all employees: Our company picnic will take place this Saturday at the local park. Don't forget to RSVP and join in on the fun!
5. Reminder
Hi Sally! Just a friendly reminder that your appointment with Dr. Smith is tomorrow at 2:30 PM. Please arrive 10 minutes early. See you soon!
Don't forget, Gina: Our webinar on effective time management starts in one hour. Click the link provided in the invite to join the session. See you there!
6. Alert
Emergency alert: Due to inclement weather, our store will be closed today for the safety of our customers and staff. Stay safe!
URGENT: We have detected unauthorized activity on your account, Luke. Please call our customer support immediately to resolve the issue.