What Happens if You Accidentally Report a Text as Junk?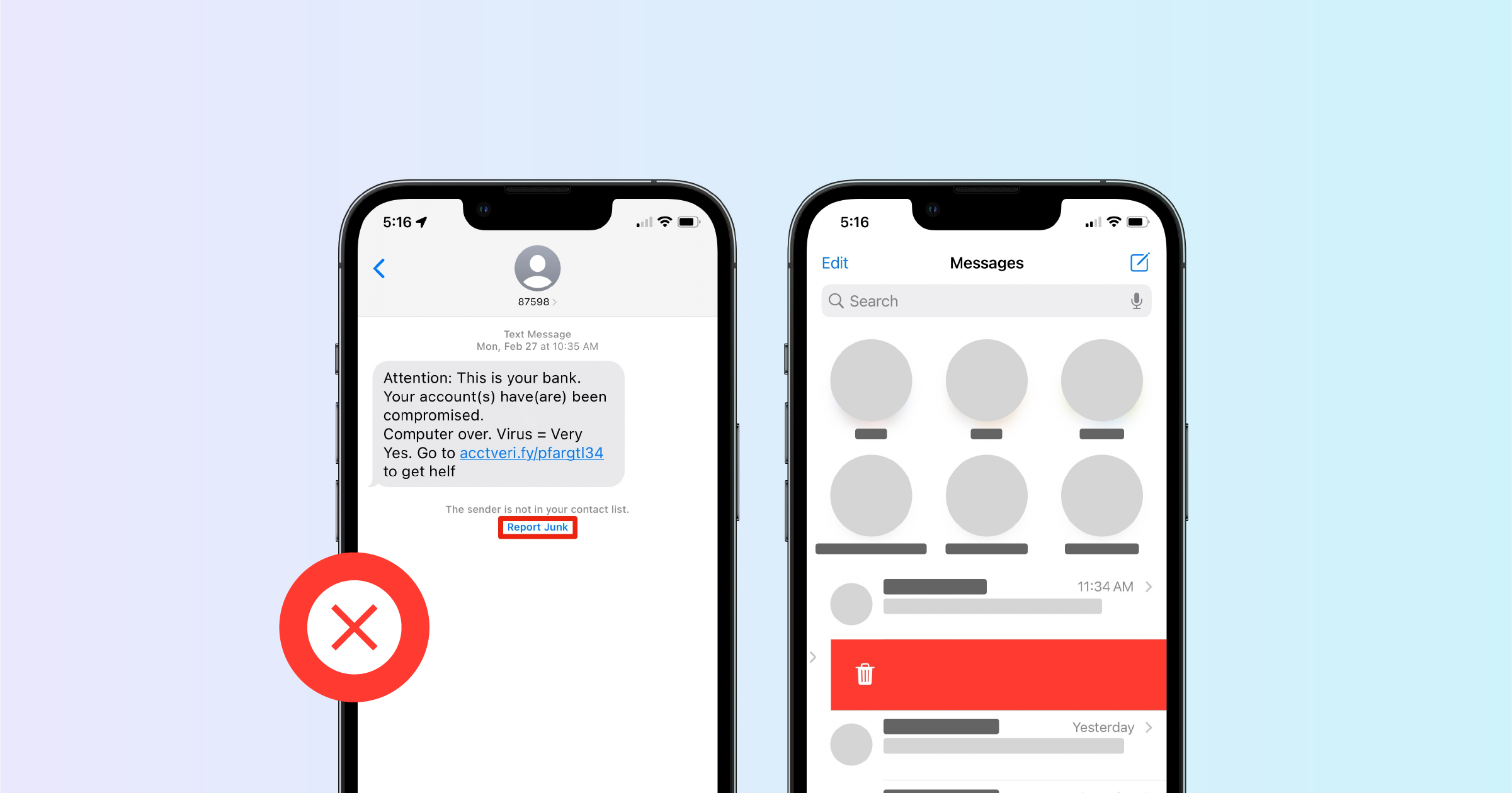 The iOS 16 update has generally been well-received by iPhone users everywhere. Many of those users, however, have had an awkward experience with the "Report Junk" pop-up. This is due to various cases where people have accidentally reported a text as junk. 
When you're deleting a text message on a device that runs iOS 16, another pop-up appears with the option to report that message as junk. Normally, you would just swipe left on the thread you want to erase and simply select "Delete." A pop-up would then appear where you would confirm your choice to delete the conversation from your device, with the other option being "Cancel."
With iOS 16, selecting "Delete" leads to another pop-up that asks if you want to report the text as junk. Including this additional step isn't the main issue. What's more awkward is that the more common option, "Don't Report as Junk," appears below "Report Junk." 
This is what's resulted in many users flagging important messages as spam by accident. Such messages may often include SMS authentication messages, text reminders from banking apps, SMS alerts regarding order shipments, and messages you'd receive from text message marketing campaigns. Although you would typically delete these messages when you don't need them anymore, you wouldn't exactly consider them junk or spam. 
Get Started Now
Reach your clients now and claim your 30-day free trial. No credit card required.
What Does It Mean to Accidentally Report a Text as Junk?
Accidentally reporting a text as junk is when you mistakenly mark a text message as spam or unwanted. In many cases, this happens due to confusion or selecting the wrong option as a result of rushing through the process. Accidental reports are especially common with the iOS 16 spam report setting, which has been known to be misleading.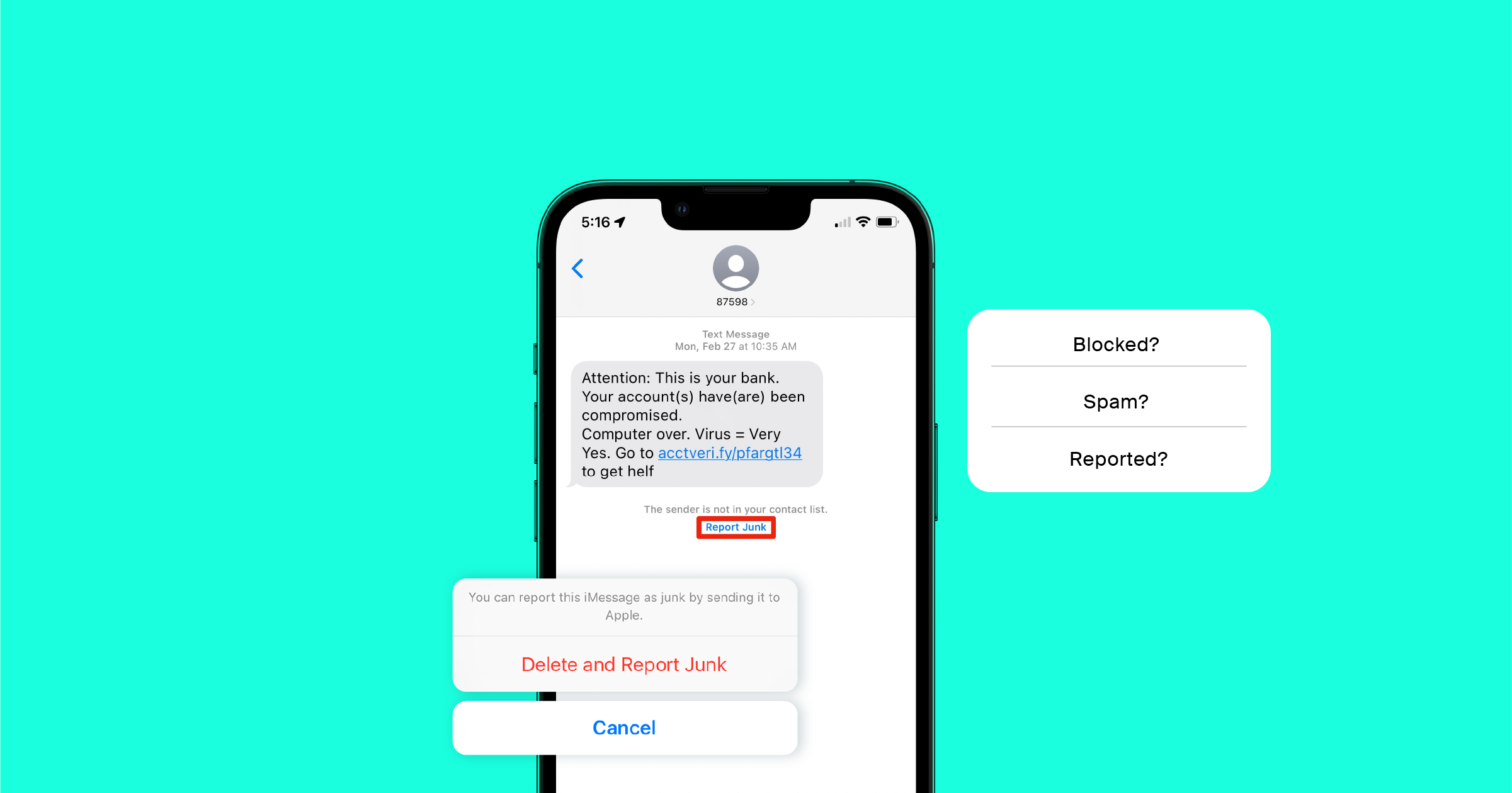 What Happens if You Report a Text as Junk?
When you report a text as junk on iMessage—whether intentionally or by mistake—the system permanently deletes the message, removing it from the inbox. It also sends the thread along with the sender's phone number to both your carrier and Apple. This helps them to pinpoint the numbers that are associated with spam and allows them to be more effective when it comes to preventing people from sending spam messages. 
If you happen to be using an iPad instead of an iPhone, the report only goes to Apple since the carrier is not involved in this case. 
By accidentally tapping the "Report Junk" option once, you won't be damaging the sender's ability to contact others. Both Apple and carriers are experts at distinguishing spam numbers. The "Report Junk" button simply helps them improve their efforts. They only take further action when multiple users report a specific number. 
This scenario also holds true if one of your contacts reports you as junk. You won't need to worry because a single report is not going to put your iMessage account at risk. Unless you're spamming people left and right, your iMessage account should be safe. 
Will You Still Receive Messages from That Number?
Suppose you got distracted and mistakenly reported a text message as junk. You may be worried that you've permanently blocked the sender.
While reporting a text message also deletes the entire thread, it does not stop the contact from still sending you messages. The only way you can avoid receiving messages from a certain number is by blocking the contact. 
To block a number from reaching you, there are a few steps you need to follow:
Select the number on top of the message screen

On the new page that opens, go to "Info" under the contact's number

Select "Block This Caller"

On the pop-up, tap the "Block Contact" option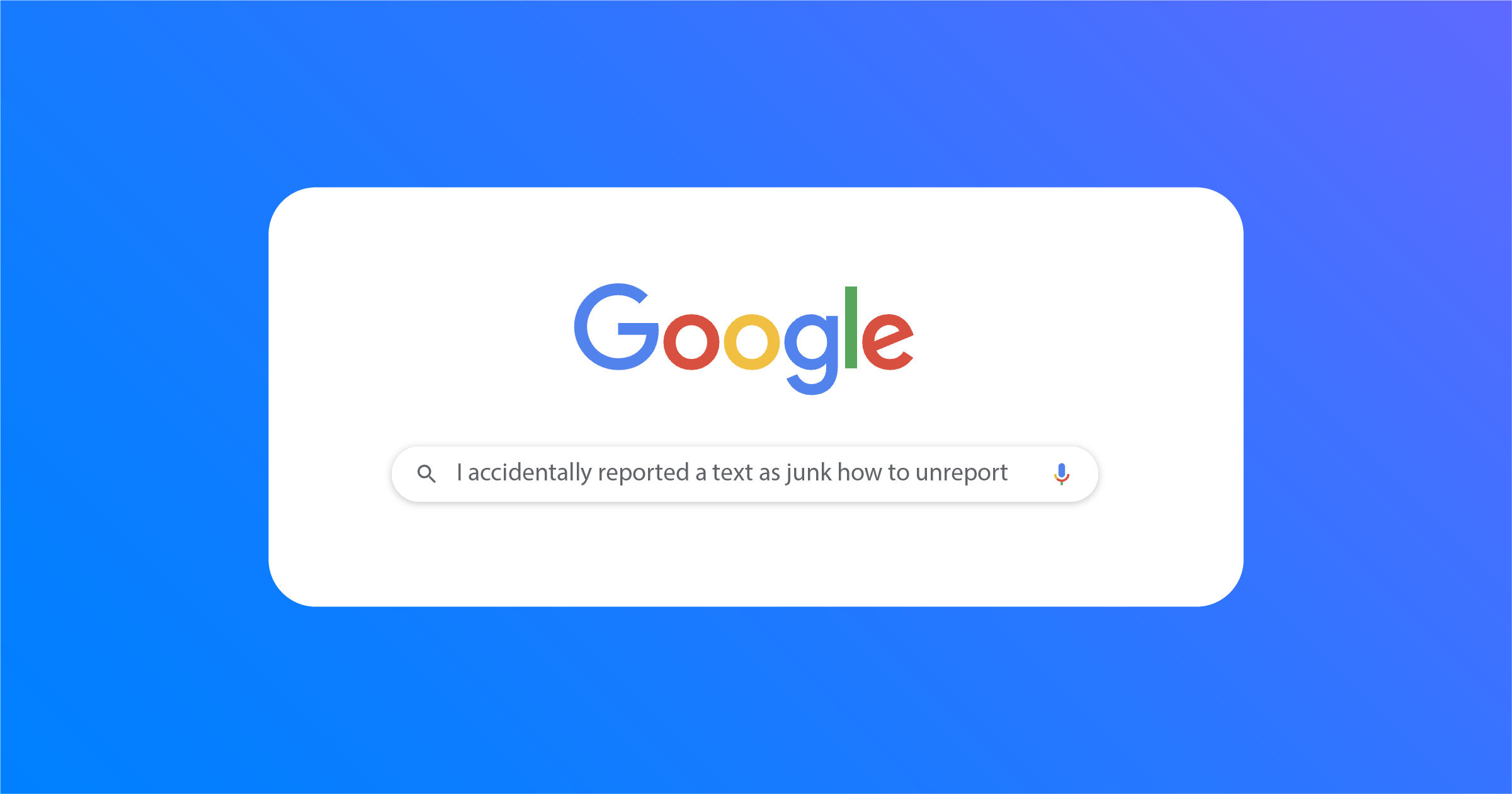 Is It Possible to Unreport a Text as Junk?
Accidentally reporting a message as junk is nothing serious, and you'll still be able to communicate with the contact via iMessage. But you may be wondering if you can undo your mistake. After all, something like a text appointment reminder means no harm whatsoever, especially considering that such messages are often sent via legitimate SMS platforms.
Unfortunately, it is not possible to unreport a text message—at least not yet. But, you can do "damage control" by texting the contact to prove that they are a safe and legitimate number. You can also have backup apps for your SMS texts to prevent this from happening in the future. 
How to Avoid Accidentally Reporting a Message as Junk
A common complaint among iPhone users is that the force of habit has led them to tap the "Report Junk" option by mistake. In any pop-up, the usual choice would commonly be the primary option, which is ideally "Don't Report as Junk." Yet, iOS 16 has made "Report Junk" the primary option and "Don't Report as Junk" the secondary option.
The most practical solution in this scenario would be to avoid tapping any of the options. When you see the pop-up, simply tap anywhere outside of it. This will prompt the pop-up to go away, and the messages will be deleted. 
Another solution would be to simply upgrade your device to iOS 16.1, where "Delete" and "Report Junk" are two different options. When you select "Delete," a confirmation prompt offers three options: "Delete," "Delete and Report Junk," and "Cancel." This makes it a lot less likely for users to report messages by mistake. 
Apple has even acknowledged that iOS 16's user interface can result in accidental junk reports. And with the release of iOS 16.1, they have made the changes to the UI accordingly.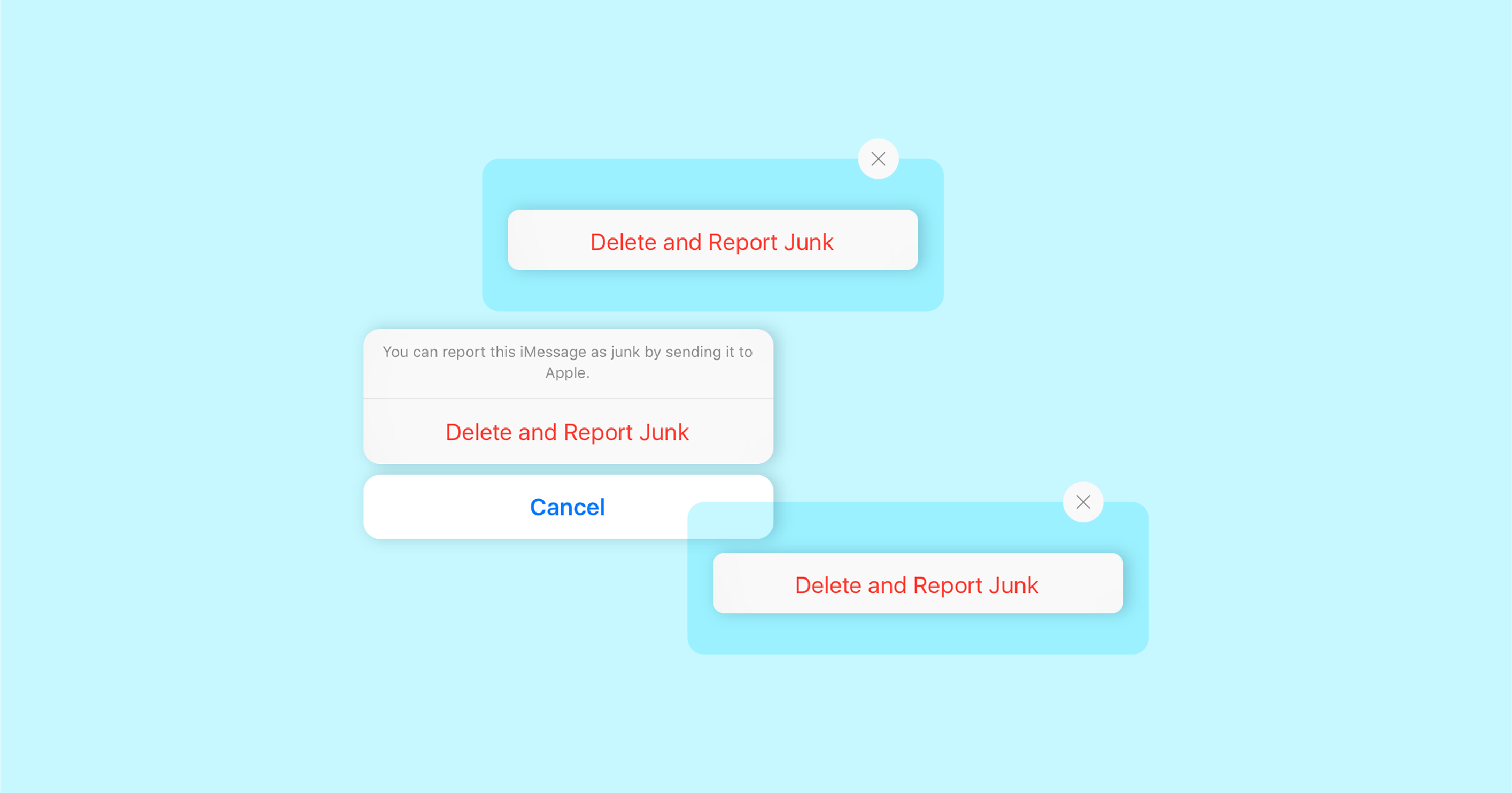 Is It Possible to Disable the "Report Junk" Pop-Up?
You may be hoping that there's an option where you can disable the additional "Report Junk" pop-up altogether. Doing so might seem like the ideal solution to this whole problem. Sadly, Apple does not offer this option in the settings, so you can't prevent the pop-up from opening. 
It's worth mentioning that the "Report Junk" prompt only appears on iPhones that run iOS 16 in the United States. And the only carriers that offer this feature are T-Mobile, AT&T, and Verizon. 
If your iPhone happens to be running iOS 16 and you don't see a prompt after tapping on "Delete," it could be because of one of two reasons. You may either be living in a region where the "Report Junk" feature isn't supported or you aren't subscribed to any of the carriers mentioned above. 
Can You Retrieve a Message You Reported as Spam?
Reporting a text message or a conversation as junk permanently erases it from your device. Unfortunately, it is not possible to undo this action. The iMessage app then forwards the message, as well as the sender's contact information, to Apple and the carrier you're subscribed to.
Not being able to restore the messages is the only actual consequence of flagging them as junk by mistake. The only instance where you can retrieve deleted messages on iOS or recover Adroid SMS texts is if you erased them without reporting.