Advantages of Texting: 12 Reasons to Choose SMS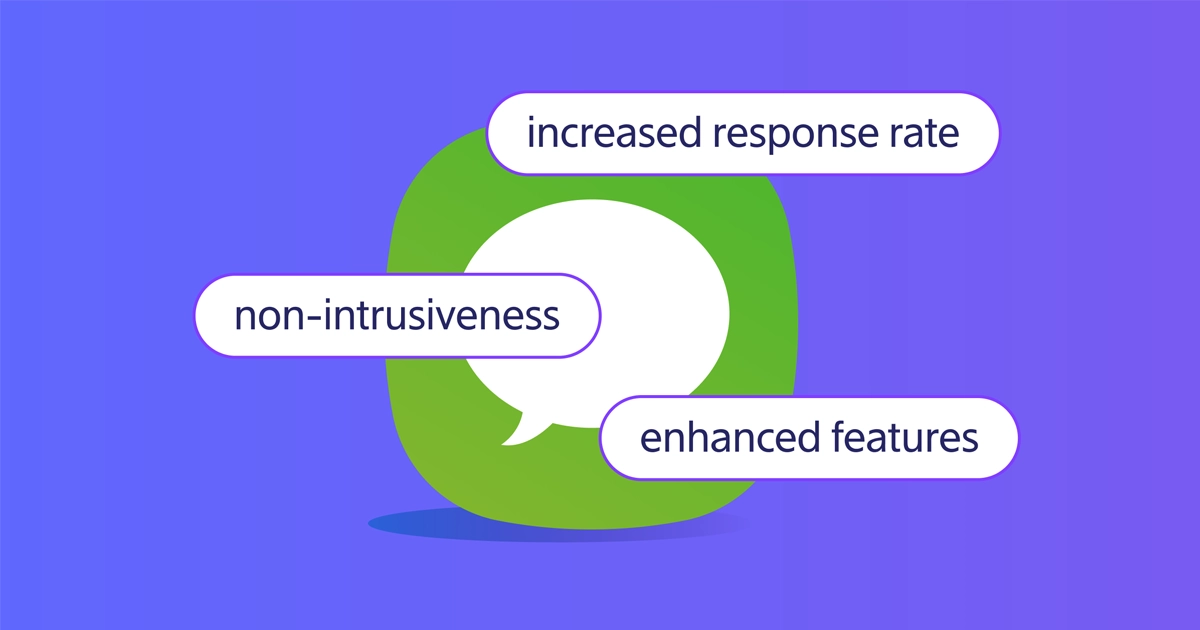 Communication is key when it comes to maintaining personal and professional relationships. While phone calls have been the preferred mode of interaction for the longest time, the many advantages of texting have come to challenge that. 
With the rise of smartphones and messaging apps, the pros of texting have become more evident than ever before. Ready to discover the benefits of text messaging for your business? Here's all you need to know.
Why is Texting Good for Businesses?
It's hard to grasp the benefits of texting right off the bat. In short, when you send and receive messages as a routine part of your business interactions, you open the door for instant communication. This also encourages high open rates, is cost-effective, improves engagement, and offers efficient customer support. Therefore, by using mobile phones correctly, you can develop a convenient way to connect with customers, employees, and partners.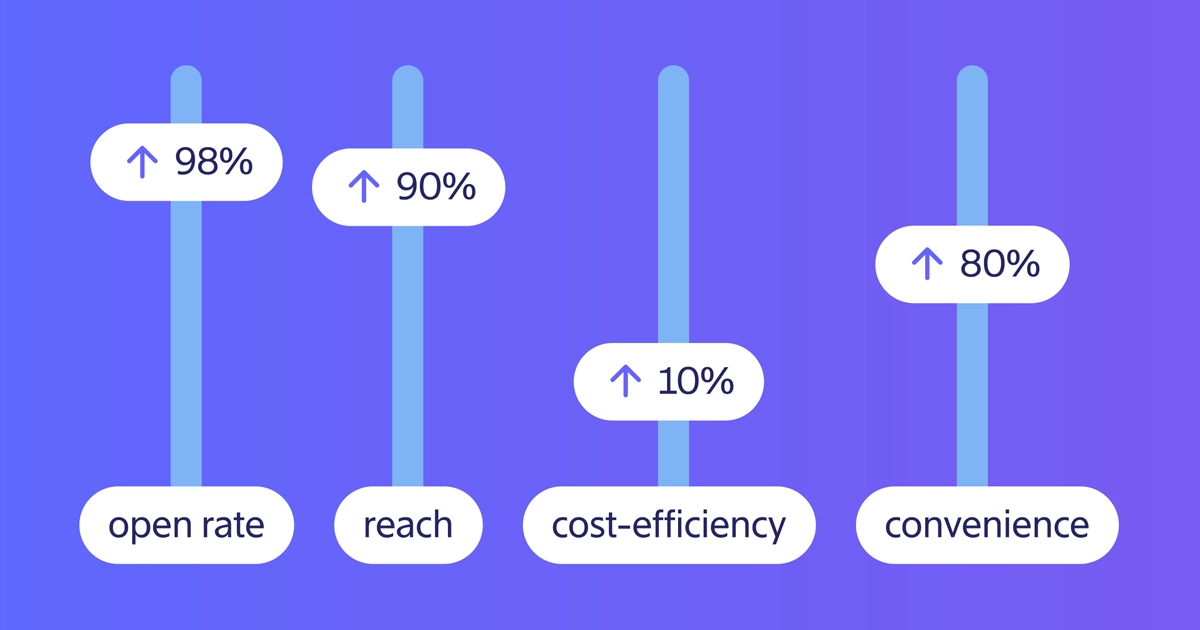 12 Benefits of Texting You Didn't Know About
1. Efficient and Time-Saving Communication
One of the most significant text benefits is its efficiency and time-saving possibilities. Answering phone calls often requires finding a suitable time for both parties. But, you can send text messages at your convenience. With the ability to craft a message and respond whenever, text messaging allows for effective communication without immediate cooperation.
2. High Open Rates
Text messages have significantly high open rates, especially when they adhere to certain best practices associated with text marketing. This makes texting an ideal choice for time-sensitive messages, ensuring that your communication is seen promptly by many people.
Get Started Now
Reach your clients now and claim your 30-day free trial. No credit card required.
3. Wide Reach
Almost everyone owns a mobile phone, and text messaging is a feature available on virtually all smart devices. This widespread adoption of business texting makes it a reliable communication channel to reach a broad audience.
4. Cost-Effective Solution
SMS text messages offer a cost-effective mode of communication, particularly when compared to calls. Many service providers offer affordable or even unlimited text messaging plans, making it an economical choice for individuals and businesses alike. Therefore, when you use text, you can save on communication costs while still maintaining effective and reliable relationships with customers.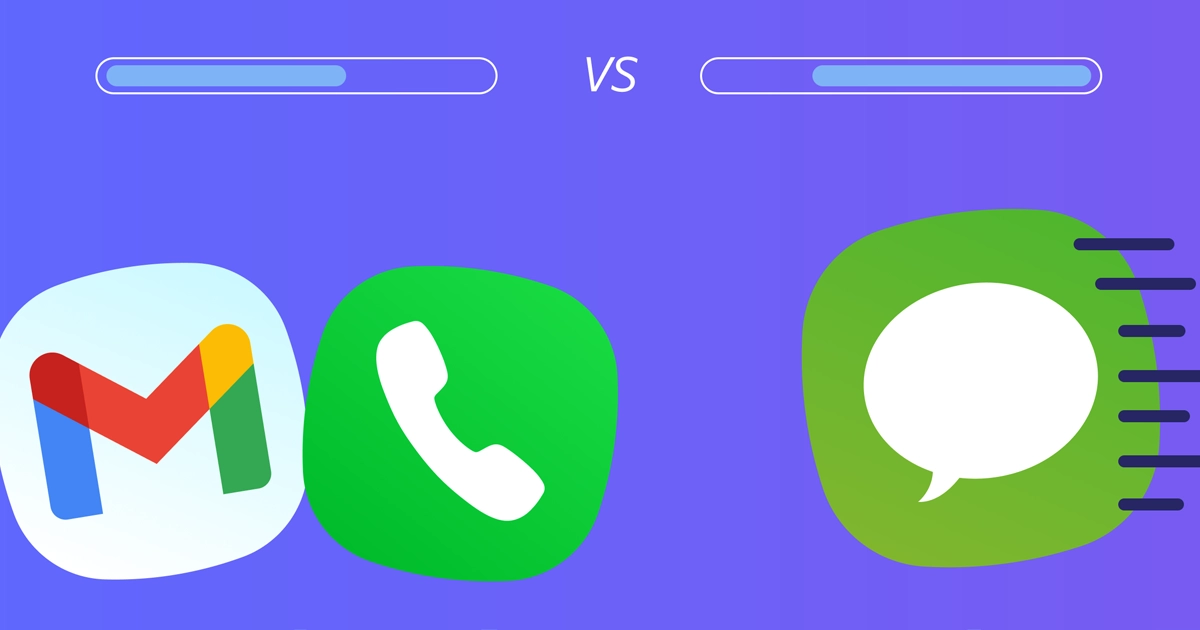 5. Increased Response Rates
One of the biggest benefits of messaging is its relatively high engagement rates. Text messages often elicit quick responses due to their convenient nature. People tend to check their SMS inbox frequently and are more likely to respond promptly. This results in higher response rates compared to other forms of communication.
SMS is beneficial for businesses that want to save time as well as those who rely on customer feedback.
6. Convenience and Flexibility
Conversational text marketing offers unparalleled convenience and flexibility. With text messages, you can send and receive messages from anywhere, anytime, as long as you have a cell phone. This flexibility makes texting a convenient choice for businesses that need to communicate with their customers regardless of location.
7. Non-Intrusive Communication
Unlike calls that can catch someone at an inconvenient time, text messages allow for non-intrusive communication. They provide the recipient with the freedom to respond when they are available, eliminating the pressure of an immediate conversation. This makes SMS marketing a respectful yet effective choice for both parties involved.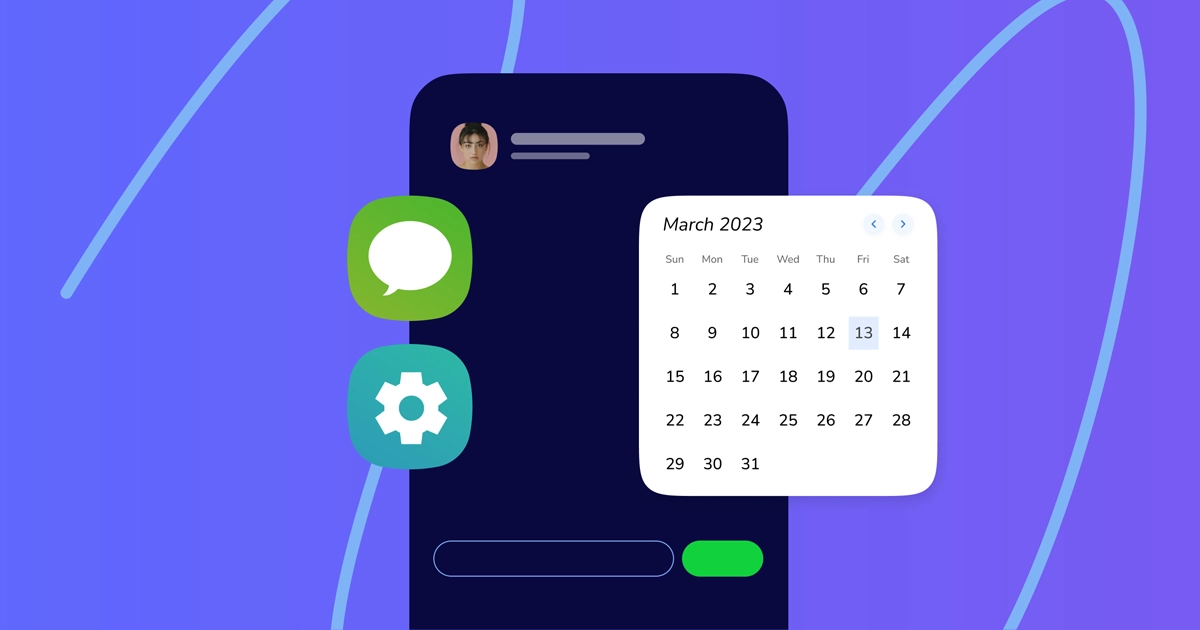 8. Efficient Business Communication
The pros of texting are many in business settings. They allow for quick communication with employees, clients, and customers, reducing the need for lengthy calls or face-to-face meetings. Additionally, businesses can leverage SMS marketing to reach their target audience directly and effectively.
9. Enhanced Documentation
Text messages serve as a written record of communication, providing an advantage over calling, which relies on memory or note-taking. With business texts, important details, instructions, or agreements can be easily referenced and retrieved when needed. This documentation can be particularly useful in helping to avoid miscommunication or misunderstandings.
10. Multiple Communication Options
Text marketing is more than just the ability to send plain text. Many messaging platforms and apps support multimedia features, allowing users to send GIFs, photos, videos, audio messages, and even documents. This versatility expands the range of communication options available, making texting a comprehensive and engaging medium for communication.
11. Convenient Notifications and Reminders
Want to keep your products and services fresh in your clients' minds? Send notifications and reminders in the form of sms texts. Whether it's an appointment reminder, delivery notification, or event update, messages provide a reliable and convenient way to keep individuals informed. 
12. Enhanced Instant Messaging Features
Beyond traditional SMS, various instant messaging apps have gained immense popularity. These apps take text benefits to another level. They provide additional features such as read receipts, typing indicators, group chats, and the ability to share location or contact information. These features enhance the communication experience and make texting an even more appealing choice for many people.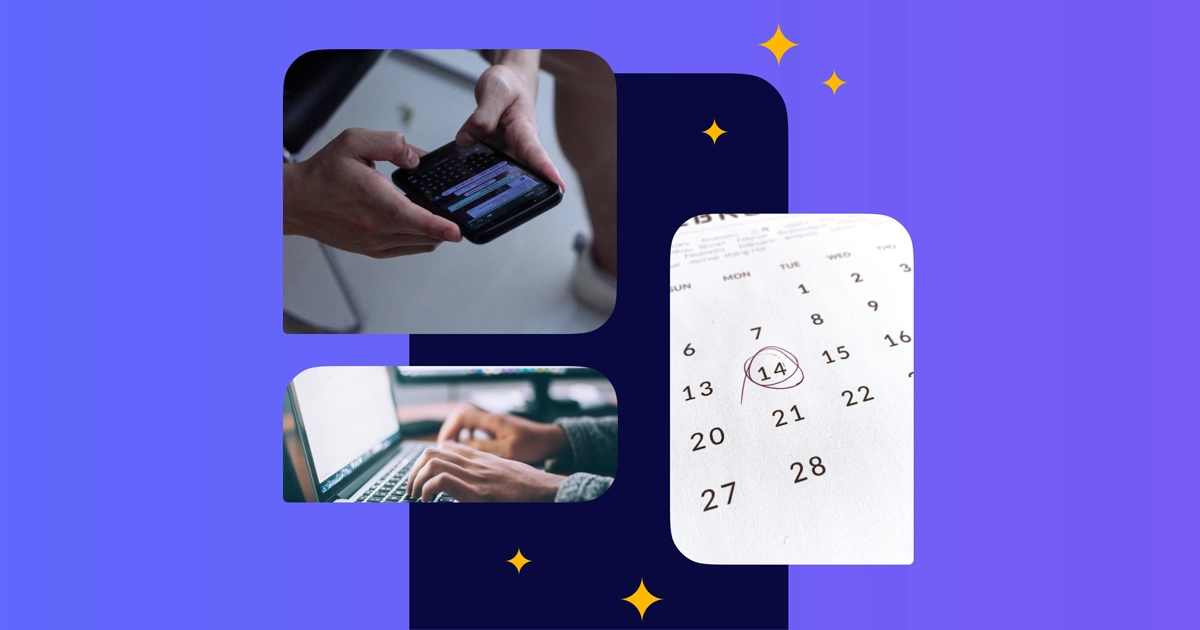 8 Instances Where you can Reap the Benefits of Messaging
While text messaging can be integrated into your business communication, certain uses have proven to work wonders.
1. Customer Communication
Businesses use SMS to communicate with customers for order confirmations, appointment reminders, delivery notifications, and customer support.
2. Marketing and Promotions
Text messaging is also commonly utilized for marketing campaigns, such as sending promotional offers, discounts, or exclusive deals to customers.
3. Internal Communication
Text messages are often employed for internal communication among employees, providing quick updates, coordinating schedules, or sharing important information.
4. Sales and Lead Generation
Looking to increase sales via SMS? Use text to engage with potential customers, follow up on leads, and nurture relationships through personalized messages and targeted communication.
5. Appointment Scheduling
Simplify scheduling appointments by sending reminders, allowing customers to confirm or reschedule, reducing no-shows, and optimizing business operations through messaging platforms.
6. Notifications and Alerts
Use text to send alerts or notifications to employees or customers, such as service disruptions, emergencies, or account updates.
7. Payment Reminders
Text messaging can be utilized for sending payment reminders to customers, facilitating timely payments, and improving cash flow.
8. Order Updates
Utilize text messages to keep your customers informed about the status of their orders by providing tracking information or notifying them about any delays or changes.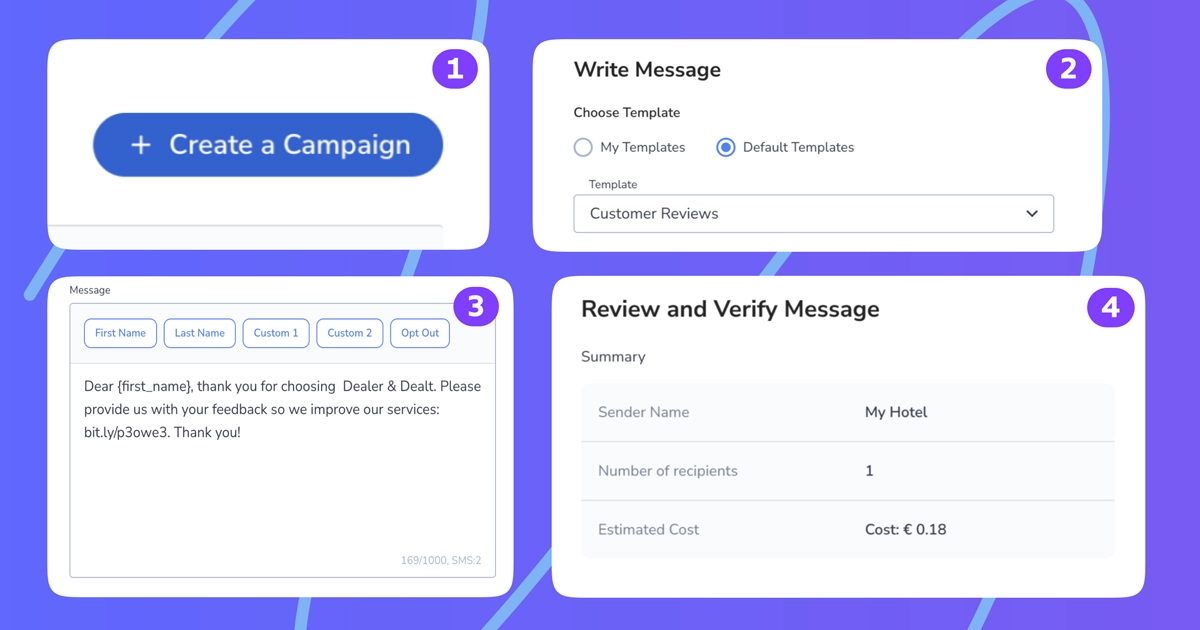 How to Use Dexatel for Mass Texting
So you're convinced that business text messaging is right for you but don't know where to start? Dexatel is here to help. Follow these simple steps to create and manage effective marketing campaigns with Dexatel's text message software. 
First, select the messaging channel of your choice (SMS, Viber Business, or WhatsApp Business) from the navigation bar.

Secondly, click "Create Campaign" and give it a name.

Give your text message some context in the Campaign message slot.

Choose the template you created or one of Dexatel's pre-made templates from the drop-down menu.

Next, decide whether to show your "Sender Name," "Number," or "Short Code" along with the SMS message.

Choose the list of recipients, either manually, from the "Audience," or by uploading a file.

Finally, click "Send Now" to send the message immediately, or "Schedule" to send it at a later date and time.
The perks of texting are undeniable. From efficiency and time-saving to high open rates and widespread reach, texting offers numerous benefits over other methods of communication. Consult Dexatel and embrace the benefits of SMS messaging, enhance communication strategies, and effectively connect with others. We'll let the results do the talking.