The Ultimate Guide to B2B SMS Marketing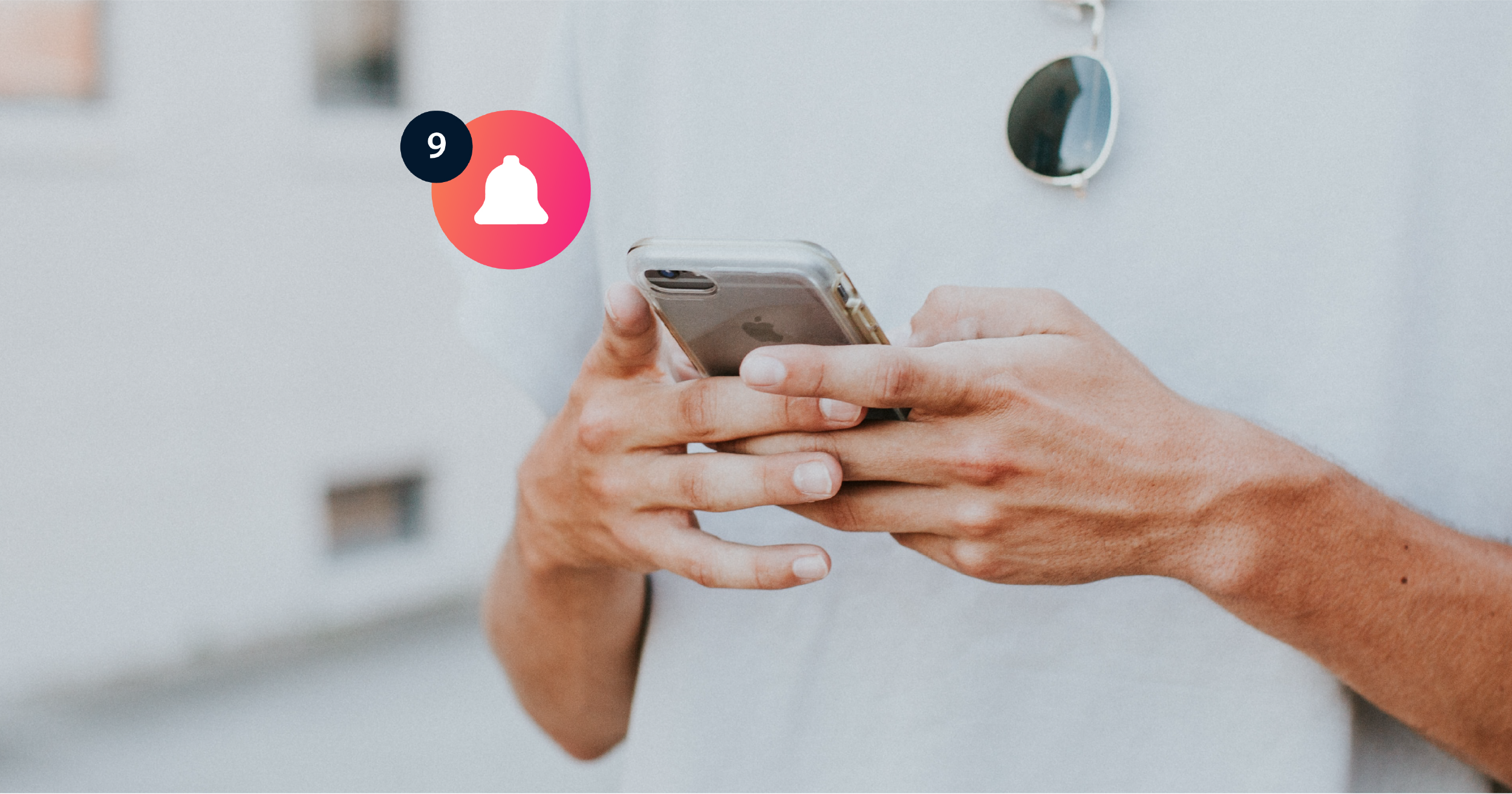 SMS marketing has been on the rise in recent years as a way for businesses to reach their target audiences. More and more businesses are using SMS to communicate with their customers and prospects, and the results are often very positive. People are more likely to read and respond to text messages than emails or social media posts. And even though mobile marketing is also gaining popularity, no other channel comes close to what SMS can accomplish.
What is B2B SMS Marketing?
B2B SMS is a form of direct marketing that allows businesses to communicate with potential and current customers via text message. Businesses can use B2B text messaging to promote deals, offer incentives, and provide customer support.
This type of marketing can be traced back to the early days of text messaging when businesses started to use this new form of communication to reach out to potential customers. SMS marketing has since become an essential part of many businesses' marketing strategies, as it provides a quick and effective way to reach a large audience with a personalized message.
The use of SMS for marketing communications in a B2B setting can be highly effective due to the immediacy of the medium and the fact that almost everyone has a mobile phone these days.
How Do Marketers Use B2B Text Messaging?
B2B marketing is a great way for businesses to stay in touch with their customers and clients. It allows them to send out timely reminders about upcoming events or sales, as well as provide exclusive coupons and discounts. Text messaging also gives marketers the ability to track opens and click-throughs, which can be extremely valuable for gauging interest levels and tracking ROI.
Here are a few ways that marketers can use B2B text messaging to their advantage:
Reach out to B2B buyers who have opted in to receive messages.
Use B2B text messaging to send timely, relevant information such as appointment reminders, special offers, or new product announcements.
Create a sense of urgency in your SMS texts and encourage customers to take action by offering time-sensitive deals or limited-time promotions.
Increase customer loyalty and engagement by sending thank-you messages, birthday greetings, or other personalized communications.
Drive traffic to their website or blog by sharing links to new content or sales and special offers.
Get feedback from customers by conducting surveys or polls via text message to grow your SMS marketing list.
Keep their brand top of mind by sending periodic update messages about company news, industry developments, or other topics of interest.
Benefits of SMS Marketing for B2B
1. Increased Reach
SMS has a 98% open rate, which means that your message is more likely to be seen by your target audience than if you were to use other marketing channels.
2. Timely Delivery
SMS messages can be delivered almost instantly, which means that your target audience can receive your message in a timely manner.
3. Personalized Messages
SMS allows you to personalize your messages, which can help you better connect with B2B businesses with text marketing.
4. Greater Engagement
SMS messages have a high response rate, which means that you are more likely to engage your target audience with your marketing message.
5. Cost-Effective
SMS campaigns are a cost-effective marketing tool, which means that you can reach your target B2B companies without breaking the bank.
Top Tips for SMS B2B Marketing to Drive Sales
1. Keep It Professional
While SMS marketing is a powerful tool, it should be used in a professional manner. This means avoiding excessive use of exclamation points, emojis, and slang.
2. Use Short, Descriptive Messages
Keep your B2B messages short and use descriptive language that will give your customers a good sense of what you're offering.
3. Create a Sense of Urgency
Use phrases like "act now" or "limited time only" to create a sense of urgency and encourage customers to take action.
4. Personalize Your Messages
Address your target audience by name and include other personalization elements like birthdays or anniversaries to make your messages more personal.
5. Use CTAs
Include calls-to-action in your B2B messages to encourage customers to take the next step, whether it's visiting your website or making a purchase.
6. Test It Out
Always test your SMS messages before you send them out to a large group of people. This will help you avoid any embarrassing mistakes.
7. Monitor Your Results
Keep track of your results so you can see what's working and what's not. This will help you fine-tune your SMS marketing strategy over time.
B2B SMS Marketing Use Cases
1. Lead Generation
B2B SMS marketing can be an extremely effective way to generate leads for your business. By sending targeted, personalized messages to your potential customers, you can quickly build interest and encourage them to take action.
To maximize your results, make sure you target your messages carefully. Identify your ideal customer and send them messages that are relevant to their interests. You can also use segmentation to send different messages to different groups of customers based on their demographics or behavior. You may also use B2B lead generation software and tools to drive more results
2. Scheduling Appointments
When it comes to business-to-business SMS marketing, there are a few different ways that you can use text messages to schedule appointments with potential clients.
One way is to simply send out a mass text to all of your potential clients, letting them know that you have open appointment times available and asking them to reply if they are interested in scheduling a time. This can be a great way to quickly fill up your appointment calendar.
Another way to use B2B SMS marketing for scheduling appointments is to send out more targeted texts to potential clients who you think might be interested in a particular product or service that you offer. For example, if you are a catering company, you might send a text to all of the businesses in your area that have recently hosted events, letting them know that you are available to cater their next event.
3. Reminders
B2B SMS marketing can be a great way to remind your customers about upcoming deadlines, appointments, or events. By sending a text message directly to their phone numbers, you can be sure that they'll see your reminder and can act on it accordingly. Plus, SMS marketing is a highly personalized form of communication, so your customers will appreciate the extra effort.
4. Content Sharing
While SMS marketing is typically used to promote B2B sales and special offers, it can also be used to drive traffic to a company's website or blog. By sharing helpful, informative content, businesses can build relationships with their target audience and establish themselves as industry leaders.
When used correctly, B2B SMS marketing can be an incredibly effective way to promote content sharing. By providing valuable information, businesses can stay top-of-mind and strengthen their relationships with their target audience.
5. Drip Marketing Campaigns
Just like with email drip campaigns, B2B SMS drip campaigns can be set up to automatically send out a series of texts over a period of time. This allows you to stay in front of your audience without having to manually send out texts each time. When done correctly, B2B SMS drip campaigns can be a great way to nurture leads and keep your business top of mind.
6. Two-Way Messaging
By utilizing two-way SMS messaging, businesses can send out mass texts to promote sales or events, and then follow up with customers who respond. This interactive approach can help spark customer interest and loyalty.
7. Follow-Ups
Consider using SMS marketing in order to successfully follow up with your B2B contacts. This type of marketing allows you to easily keep in touch with your leads and customers while also providing a quick and easy way for them to contact you.
If you're not sure what to say in your SMS marketing messages, consider using a template. This can help you stay on track, while also ensuring that your messages are personal and relevant to each contact.
8. Customer Surveys and Feedback
This method can be especially beneficial for businesses that operate in a B2B setting, as it can help you collect data and gauge customer satisfaction in a timely manner.
Make sure the questions are clear and concise. You want to make it easy for customers to respond, so they won't be discouraged from taking the survey. Offer an incentive for completing the survey, such as a discount or free shipping. This will help increase response rates.