What is the Difference Between Promotional and Transactional SMS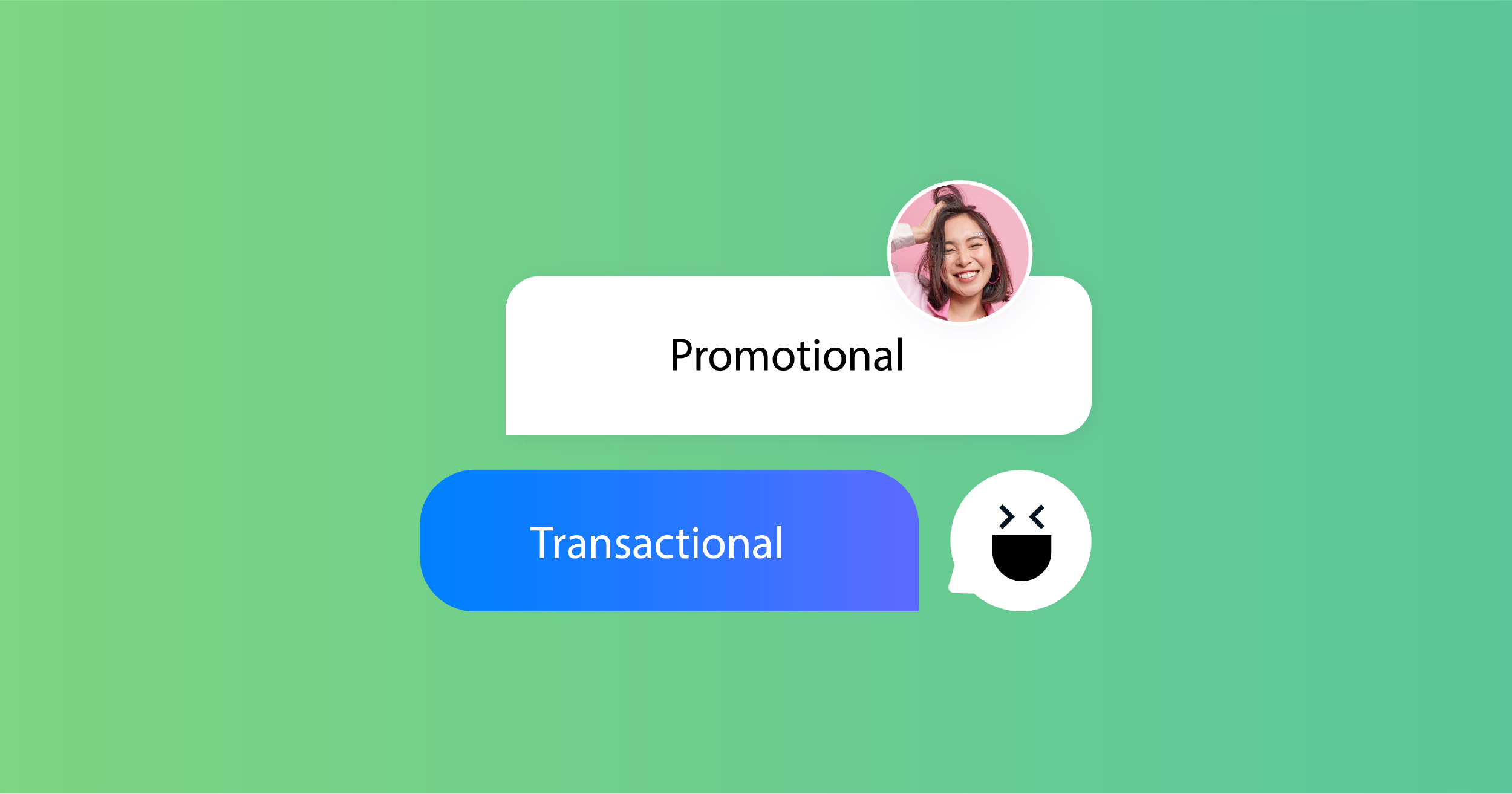 Just started business text messaging? That's great for your company. With so much to discover, you'll come across several questions, one of which is about transactional and promotional SMS. You may be slightly confused about the difference between promotional and transactional SMS messages.
Despite using them exclusively, you won't encounter many instances that require utilizing both. And if you're still unclear about the key differences, we've underlined the disparities between the two concepts.
Promotional SMS
A promotional message is when you send to promote your brand and the products or services it offers. These include marketing, sales, or any text messages that contain an offer or a sales promotional coupon.
Transactional SMS
Transactional messages deliver urgent information or confirmations to customers. Businesses can contact subscribers directly to deliver vital info that isn't linked to promotional activities. These include order status, delivery alerts, and more.
Get Started Now
Reach your clients now and claim your 30-day free trial. No credit card required.
Differences Between Promotional and Transactional SMS
Promotional and transactional SMS messages serve different purposes. And while they both seem pretty straightforward, there is more than meets the eye. Businesses in various industries use both types of SMS messages. Let's delve into the details of the differences between promotional and transactional SMS.
Purpose
Promotional texts contain offers, discounts, sales coupons, or similar material. Both new and existing customers receive these messages. In any case, it's best to send SMS messages to customers who have opted in to your text marketing campaign.
Transactional SMS messages contain alerts, order details, one-time passwords (OTP), and payment updates for automated billing. Only registered customers receive these types of messages.
Recipients
Non-DND (Do Not Disturb) phone numbers and opt-in customers receive promotional SMS
All registered customers despite their DND status receive transactional SMS
Timing
Customers receive promotional SMS messages usually between 9 a.m. to 9 p.m.
Yet, the timing mostly depends on the regulations governing the practice in a given jurisdiction.
As for transactional SMS, customers receive informative messages at any moment without any restrictions.
Examples of Promotional Vs. Transactional SMS
Now that we know what promotional and transactional SMS messages are in theory, it's time to see them in practice. It's important to note that a company may send both types of messages. They are not mutually exclusive, nor do they get in the way of each other.
Transactional SMS
Bank delivery notification
"Ms. Smith, your new credit card will arrive soon. For activation, contact us at capitalbank.com/activation once you receive it."
Bank account status
"Mr. Smith, your account at Capital Bank has been activated. To start using our online banking, click here: capitalbank.com/accounts."
Promotional SMS
Sales
"Receive discounts on tasty lunch specials. Text "YUM" to +1-202-555-0157 for a 20% discount on your next order. Your Daily Food."
Store opening hour
"No more running out of the office at 4 p.m. on Fridays for a new dress! Lucy's Closet is now open until 8 p.m. Find your closest store: lucy.com/stores".
Click here for more examples of promotional and transactional SMS templates.