A Guide to Sending an Email to SMS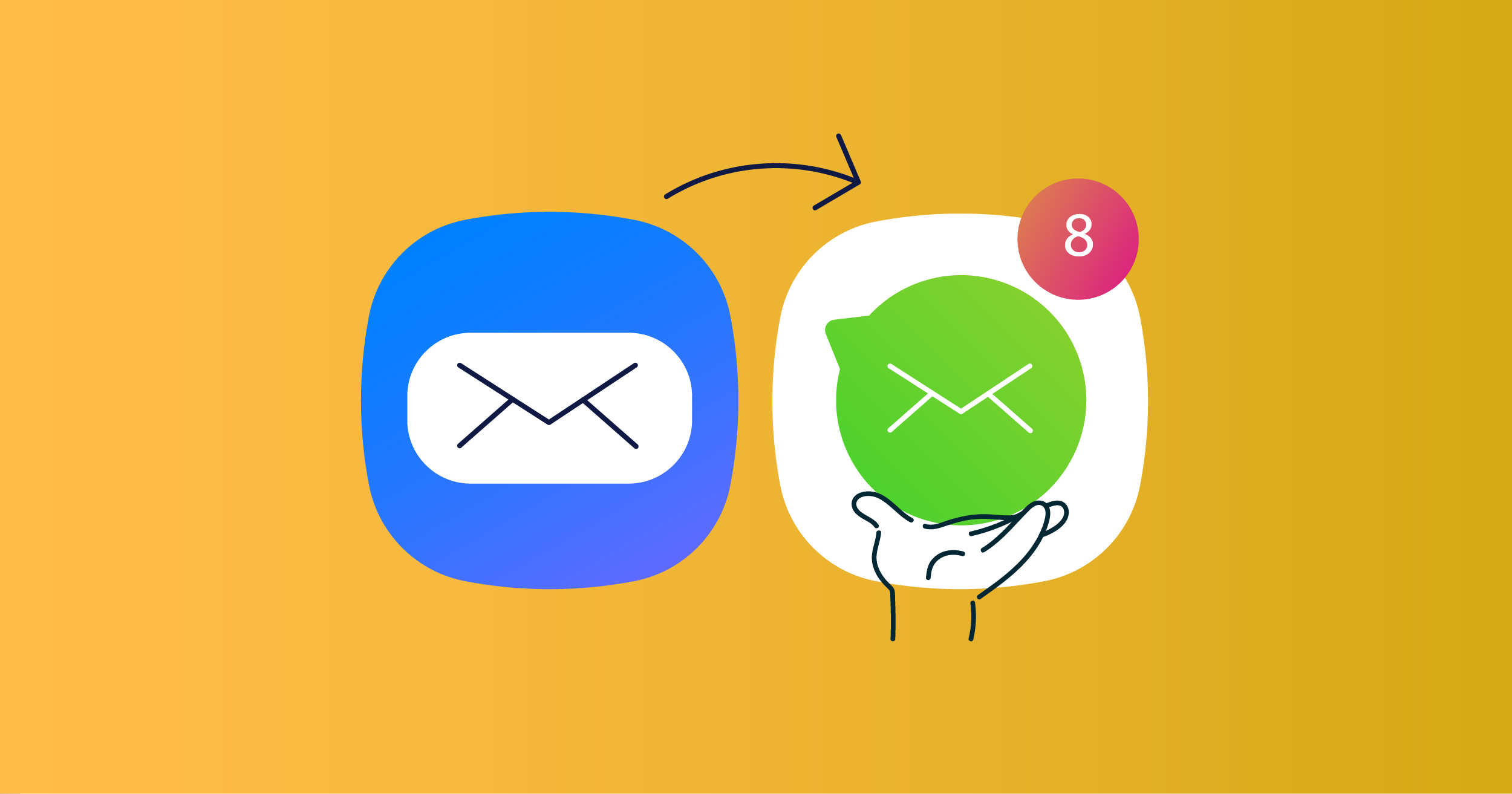 Despite having low open and response rates, a lot of people still prefer communicating via email. It's fast, free, provides unlimited opportunities, and continues to have ne of the highest ROIs of all mobile marketing channels. 
While all this sounds pretty convincing, imagine the following situation. You're on your laptop working and there is an urgent issue to discuss with your colleagues, who are outside the office. Calling them one by one is time-consuming, and texting them individually is a hassle. But what if we told you that you can text someone through email? 
Fortunately, there are easy solutions available that can help you email texts to your colleagues.  If you're wondering how to email texts, you'll find several solutions to convert your email to SMS.
What Happens if You Text to an Email Address?
When you text to an email address, the message you send is typically converted into an email and delivered to the recipient's email inbox. This process involves utilizing various methods to bridge the gap between SMS and email communication. You can use email-to-SMS services, browser extensions, telecom operator gateways, or online platforms to achieve this conversion.
How to Send Email to SMS
If you're looking for ways to send an SMS from email, there are several options available:
Browser extension

Telecom operator gateway

Online platforms
Get in Touch With Our Experts
Streamline your efforts and centralize your channels with Dexatel's all-in-one platform. Talk to our experts and get all your questions answered.
Sending emails as texts via a browser extension is quite useful, especially when you are in a low coverage zone when there's the chance of getting messages delayed or undelivered. First, add an email-to-SMS extension to your browser. With a bit of research, you'll find one that works best for you. Upon adding the extension, you'll see a mobile phone symbol near the send button or subject line.
Afterwards, open your inbox and compose a message. Texts with attachments and longer than 160 characters will be converted into MMS messages.
Once you've written your message, click on the phone symbol. The system will open up a window for you to enter the destination phone numbers. Note that most providers will give you a room for just one or two phone numbers on their free trials.
Once you've added the phone numbers, click the send button, and voila—recipients will receive the email as a text. They will see a phone number or gateway email address, depending on their telecom operator.
You can also send emails as SMS via a telecom operator gateway. First, open the email app on your phone and compose your message. Write the cell phone number of your recipient in the "To" field, then type "@gateway address" next to the phone number.
Note that gateway addresses are different for each telecom operator. To do this, you need to know which operator the recipient is using.
Sending an Email as Text
Sending an email as a text can help you when you don't have cellular service but are connected to WiFi. You can also do it the other way around by sending SMS over WiFi.
Open the SMS messaging app on your phone and type your text. In the "To:" field, type the email address instead of the phone number. Send your message, and your telecom operator will convert it into an email.
Once you send the email via text, your recipient will get it from a coded sender. Your phone number and provider gateway email will appear in the sender section.
It's important to note that your phone needs to support not just SMS, but also MMS services to send an email by text. If your MMS service is on but you can't send an email, check with your telecom operator.
Forwarding an SMS to Email
The biggest advantage of email over texting is its flexibility. It gives users a lot of space for organizing their messages, attachments, and more. In addition, it also allows forwarding SMS to email, which makes it even more practical. If you have an important message on your phone, you can forward it to your email to keep it in the cloud.
Moreover, if you ever wondered "can I forward texts?", the answer is yes. Many smartphones allow you to forward a specific text to an email address. This is useful if you need to keep a record of important conversations or have a backup of your SMS messages.
On the other hand, you can also forward Gmail messages to your phone as texts. This is a great feature for those who are always on the go and need to stay updated with their emails. To do this, you can set up Gmail forwarding rules to forward important emails to your phone as texts. This way, you can receive and read your emails even when you don't have access to a computer or internet connection.
SMS to Email for Android
Forwarding SMS to email on Android phones is pretty simple. Open the messaging app on your phone and choose the messages you want to forward to your email. Click the "Forward" or "Share" button and select the messages. Then, enter the email address you want to forward the messages to and tap "Send."
You'll also find several applications on Google Play to forward SMS on Android. These apps work when the phone is connected to the internet. You can set specific filters for messages that you need to forward. Some of them can even forward the text to more than one email or phone number.
Email to SMS Services
An email to SMS service allows you to send an email message to a corresponding email address, which is then converted into an SMS message and delivered to the recipient's mobile phone. This means that you can send a text to anyone with a mobile phone, regardless of whether or not you have a mobile phone yourself.
The process of sending an email to an SMS message is straightforward. All you need to do is compose an email message as you would normally and then send it to the recipient's corresponding email address. The email-to-SMS service will then convert it into an SMS and deliver it to the recipient's mobile phone.
In addition to sending texts, some email-to-SMS services also support sending multimedia messages, such as video messages. This allows you to share videos and other multimedia content with your contacts via SMS.
The main difference you might find is that some providers have their own gateway email addresses. This means that when you send an email to a phone number with these providers, you need to write the phone number and the app's gateway instead of the telecom operator.