25 Ideas for a Small Business Thank-You Message to Customers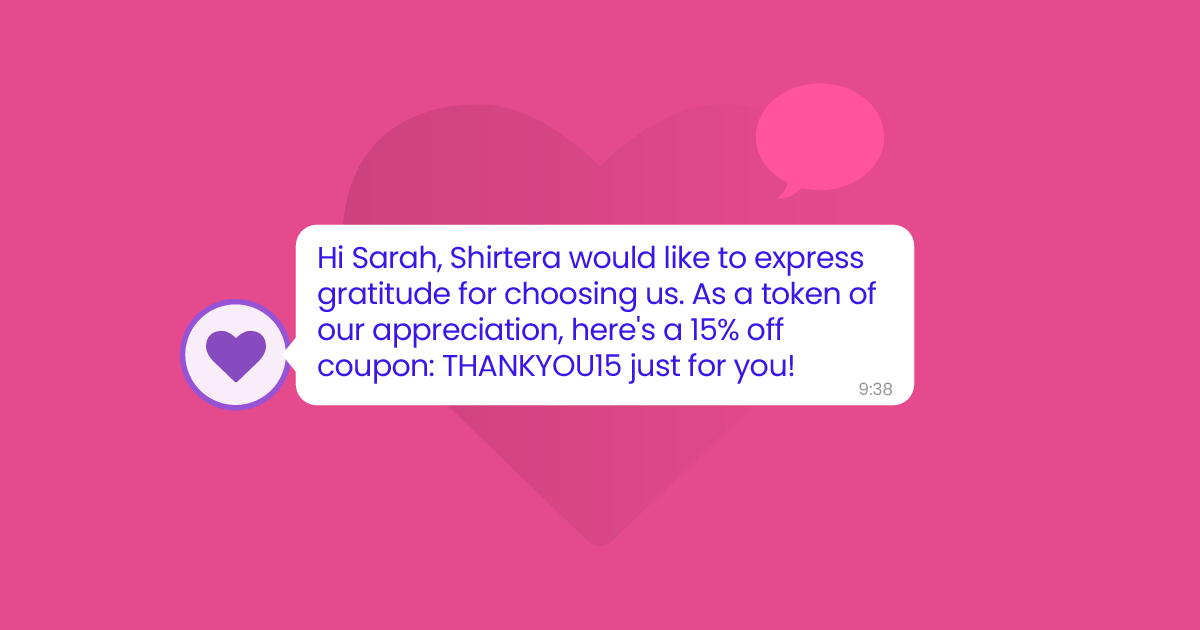 Research shows that 87% of customers will buy again if they have a positive experience. While this has to do with a variety of factors like product quality and customer service, a show of appreciation goes a long way. It's a great way to stand out, especially since not many companies go the extra mile to thank their customers.
Your loyal customers are your biggest asset if you're a small business owner. And making sure they feel appreciated ensures that they stay loyal. There are many ways you can thank your customers. To get you started, here's how to write a small business thank-you message to customers, along with a list of 25 customizable templates you can use.
The Power of Thanking Your Loyal Customers
Behind every successful business is a loyal customer base. Building strong relationships with customers is the most effective way to foster that level of loyalty. This includes expressing gratitude to your new and returning customers.
When you consistently thank your valued customers, you're not just appreciating their patronage but also showing that you value them as individuals. This personal touch helps form a type of emotional connection, and customers are more likely to keep coming to you instead of shopping elsewhere.
When customers feel appreciated, they tend to be more forgiving when mistakes happen. They can also be willing to provide constructive feedback, which is crucial for improvement. As a result, your business can evolve in ways that align with the needs and preferences of your customer base.
Thanking customers, therefore, is not just a courtesy. It's a strategic way to build a solid foundation of customer loyalty that can lead your small business to success. Many customers also tend to be more supportive of small business owners.
Long-Term Benefits of Thank-You Notes from a Small Business
Building a Loyal Community Around Your Business
Expressing appreciation to customers can foster a sense of business loyalty. When customers feel valued, they are more likely to become advocates for your small business and join a community of dedicated supporters. These community members can be a powerful asset for your brand. 
Boosting Trust and Brand Recognition
Showing gratitude to your customers regularly helps create a positive image for your brand and a generally positive experience for customers. When customers associate your business with respect and appreciation, it builds trust. This is a crucial aspect of brand recognition because, needless to say, customers are more likely to buy from a brand they actually have faith in.
Get Started Now
Reach your clients now and claim your 30-day free trial. No credit card required.
Driving Repeat Business
Customers who feel valued are more likely to stay with you down the line—they won't be compelled to explore alternatives. Not only that, but showing appreciation can boost the chance of repeat business; satisfied customers will return and continue to support your brand.
Promoting Referrals and Word-of-Mouth
A satisfied customer is more inclined to share their positive experiences with their friends, family, and colleagues. When you consistently thank your audience, expect the word about your business to reach far and wide. Positive referrals and word-of-mouth can bring in new customers, expanding your customer base and business growth.
Crafting the Perfect Small Business Thank-You Message
Why Are You Thanking Your Valued Customer?
The aim of a thank-you business message shouldn't be to get customers to buy more—it is to make them feel valued and appreciated. If done right, it can trigger all the right emotions and build customer loyalty, which automatically boosts customer retention.
Make sure to mention the reason why you're thanking the recipient, whether it's a recent purchase, a referral, a positive review, or continued support for your brand. Suppose you're running a local vegan coffee shop; chances are you'll have some returning customers or even devoted supporters from around town. You'll want to thank them every now and then for their support.
Who Exactly Are You Thanking? A Loyal Customer?
Make sure you know who you're thanking. Are they first-time customers, long-time customers, high-value ones, or perhaps anyone who buys from you? Defining the audience segment you're sending small business thank-you notes to is key to crafting the right message. By categorizing your customers into segments, you can compose tailored appreciation for purchase messages that recipients can relate to. 
Be Genuine and Add a Personal Touch
To make a lasting impression with your thank-you messages, avoid being generic. Instead, personalize the text as much as possible—a tried and true way to boost customer satisfaction.
Let's say a customer has bought from you consistently for one year. You can celebrate the milestone with them by sending a nice thank-you message with your company name not only to show gratitude but also to increase your brand voice. It shows them that you actually pay attention to these details and that you appreciate loyalty.
You'll want to refrain from using generic terms like "dear customer," as they sound thoughtless. Address them by their names to show that the message is meant for them, and watch your customers' appreciation soar.
Best Practices for "Thank You for Your Business" Messages
Convey Positivity
Your message should have a positive and appreciative tone that expresses genuine enthusiasm for your customers' support. A positive thank-you note can demonstrate amity and make a lasting impression. 
Offer Support
Let the customer know you're available to help them with any concerns, questions, or other needs. This shows that you're committed to ensuring satisfaction and helping build strong and lasting customer relationships. 
Request Feedback 
After voicing your gratitude, encourage your customers to leave their thoughts or suggestions. By asking for feedback, your audience will see that you value their opinions and that you're open to enhancing your products or services based on their input. Not only can this help you make tweaks to your product or service, but it's also a chance to create user-generated content for marketing.
Avoid Upselling
Make sure you focus on showing appreciation instead of trying to sell an additional product. Remember that the whole purpose of the message is to thank your customers and not make a sales pitch.
Be Formal Yet Conversational
There should be a balance between formality and a conversational tone in your "thank you for your business" message. Be polite and professional, but also genuine and approachable to establish a formal yet friendly bond.
Set a Suitable Budget 
The budget of your customer appreciation or loyalty program depends on how many people you're reaching out to. But even if you're planning to thank your entire customer base, there's no need to break the bank with exclusive deals. After all, it's the thought that counts. Sometimes, a quick note to valued customers can do wonders for customer retention and business loyalty.
Create a Repeatable Process
Choose a repeatable process for delivering your tokens of customer appreciation to your audience, whether you're DMing, sending out gifts, or placing thank-you notes in packages. You don't need to automate the process, but a structure can come in handy.
How to Share Your Small Business Thank-You Note
Social Media
People love public appreciation, and what better place to give them that than social media? Make use of social media platforms like Instagram and X to publicly thank and acknowledge your customers. Instant messaging apps like Telegram and WhatsApp Business are also great for reaching out to customers 
Create a shout-out post to express your gratitude, and remember to tag the loyal customer you're thanking. You can also respond to DMs or comments with a personalized thank-you message or handwritten note. For a greater impact, consider sharing a photo or a video along with the appreciation message.
SMS
Since SMS is a cost-effective communication channel, you want to use it to send personalized appreciation notes to your customers. Remember to address the recipient by their name and mention specific information about their interaction with you—what did they buy? When did they visit your store?
Another great idea is to send "thank you for your business" messages directly after a transaction or successful interaction. The immediacy of SMS can make your gratitude appear more sincere. 
Email
You can launch a marketing email campaign to express gratitude to a bunch of high-value customers. Consider including discount codes for future purchases or free gifts. This can do wonders for customer engagement. Email gives you more room to express your gratitude. You'll be able to elaborate on the reasons for your customer appreciation. Make sure to use a memorable opener and an appropriate closing—an attractive design also goes a long way.
Packaging
Using customized packaging that includes a handwritten "thank you for supporting my small business" note or card is a beautiful way to show your appreciation. It makes the unboxing experience all the more special. You can also throw in a small gift, free samples, or a discount code. Gestures like these can delight the customer and encourage them to buy from you again.
Examples of Thank-You Messages for Small Businesses
Here's a list of email, social media, and text message templates for thank-you notes for small businesses. You can also send them as handwritten notes inside packages. 
"I'm truly thankful to have awesome and loyal customers like you who support my local business. Your trust in my products has been a driving force behind my success, and I appreciate your patronage. Thank you for choosing Shirtera."

"Hey Emily! Your purchase has once again brought a smile to our faces. Thank you for supporting my small business."

"Hi Mark! Your repeat purchases always make our day. Thank you for being part of our exciting journey."

"A simple thank you doesn't begin to express our genuine gratitude, so we decided to include a special gift. We hope you'll love it."

"Hey Natasha! We're glad you loved the hoodie. Thank you for giving us a chance. Feel free to reach out if you have any questions."

"Welcome to the Flavoroso community, Pierre. As a thank you for taking a bet on us, we're giving you a 30% discount on your next meal. Just show this message to the waiter."

"A special shout-out to you for sticking with us ever since we opened. Your patronage is greatly appreciated. Drop by our little shop today for a free gift."

"Paula, I'd like to extend our heartfelt thanks to you for supporting my small business. You're sincerely a valued customer, and your support means the world to me."

"Yay! You just placed your 10th order with us. As a thank you, we're offering you a whopping 60% customer loyalty discount on your next purchase."

"Thank you for joining the Full Cart family, Nadine! And congrats on your first purchase. We can't wait for you to try out more of our products. Here's a 20%-off coupon for your next purchase."

"You just made our day, George. Now, let us make yours. We're adding 100 bonus points to your account and giving you early access to new releases."

"We can't thank you enough for your continued support. But maybe these amazing deals with 50% off will do it."

"Hi Moe! We sincerely appreciate your confidence in our services. We can't wait to see you again."

"Hey Jim! Your continued business means everything to us. As a token of our sincere appreciation, we're giving you two tickets to the NBA Final. We're proud to be serving you."

"Hey Jerome! Loyal customers like you are always on our minds. To show how much we appreciate you, we have a gift waiting for you."

"Hi Sarah, our entire team does a little victory dance every time you place an order. Thank you for supporting our online store."

"Alejandra, your support is our source of pride and joy. Muchos Gracias. You complete us."

"Hey Kim! This is just a reminder of how thankful we are to have you as a valued customer. Expect a special gift with your order."

"Thank you for shopping with us today, Oliver. We hope you like your new beard shampoo. Let us know what you think."

"Thanks a million for your support, Camille. Our small business wouldn't be the same without you."

"Hi Eugene! Thanks for buying from us again. Your order has been successfully processed. Since repeat customers like you have a special place in our hearts, we added a little extra gift for you."

"Jennifer, your continued patronage during such a tumultuous year has been the cornerstone of our success. We want to extend our sincerest thanks to you."

"Hey Madeline! We're truly grateful to have you as a customer. Your loyalty drives us to provide the best products, and only the best."

"Dear Samantha, your choice to shop with us means so much, and you have our gratitude. We're looking forward to serving you again."

"Hi Shonda! We're lucky to have loyal customers like you, and we're genuinely grateful for your confidence in our small business. Here's a coupon code for your next purchase."