13 Thanksgiving Mass Text Message Templates You Can Use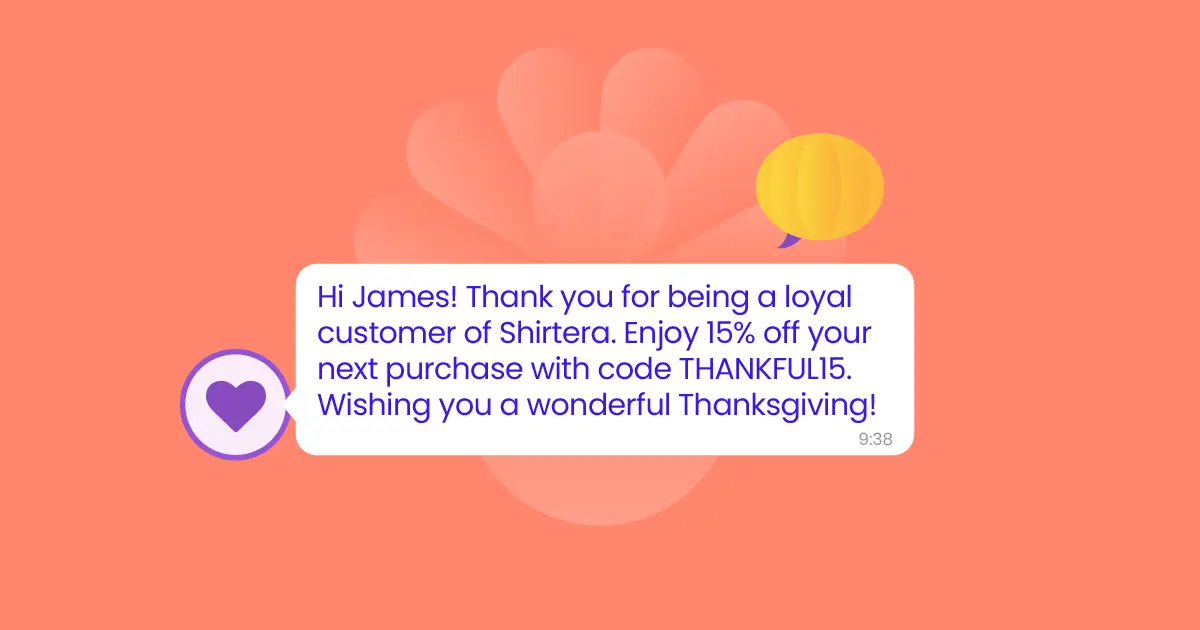 The Thanksgiving holiday is right around the corner. As a marketer, you're probably planning on sending a nice message to your business contacts. Inboxes will most likely be crowded with overflowing emails, especially this time of year with Black Friday discounts and other holiday promotions. 
Enter mass texting—a less saturated way of reaching out to people. Expressing your gratitude via text makes it all the more personal and genuine. And with Thanksgiving text templates to get you started, you're sure to win people's hearts.
Why Send Thanksgiving Text Messages?
Childhood memories, happy family games, turkey plump, greeting card—a memorable Thanksgiving has it all. But how does a business establish a direct connection with its customer base without being invasive during family time? The answer is Thanksgiving greetings via text.
Sending Thanksgiving messages is a personal way to express gratitude and send warm wishes to your customers, employees, and partners. By taking a moment to appreciate the relationships that make your business thrive, you foster a positive experience for everyone involved. 
These messages serve as a heartfelt 'thank you' for their support or collaboration, strengthening both trust and loyalty.
Get Started Now
Reach your clients now and claim your 30-day free trial. No credit card required.
Types of Thanksgiving Greetings You Can Send
Messages for Customers
Messaging your customers on Thanksgiving can serve as an occasion to show appreciation for their support and loyalty. These messages can be sincere and personal, thanking customers for choosing to buy from you. You can use the opportunity to offer exclusive deals, discounts, or promotions as a token of gratitude.
Messages for Employees
Employee "Happy Thanksgiving" messages allow you to recognize and thank your team for their hard work and commitment. The text needs to convey genuine appreciation for their contributions to your company's success. You can further personalize your SMS message by mentioning specific achievements the team members have reached and expressing your commitment to their professional growth.
Messages for Partners
Messages for business partners should reflect the importance of the partnership and the value it brings to your brand. Show gratitude for their confidence in your company, mention joint accomplishments, and say that you're looking forward to continued collaboration.
Short Messages for Everyone
Short and sweet Thanksgiving messages are great for sending to a wider audience. These can include customers, employees, partners, and even social media followers. Since the text targets everyone, make sure to acknowledge the multifaceted nature of Thanksgiving, highlighting unity and diversity in your business community.
How to Craft the Best Thanksgiving Message
Be Concise
Simplicity is key when sending happy Thanksgiving wishes. Overly detailed messages can be confusing to read. Recipients are more likely to read and appreciate a concise message.
Be Genuine
Thanksgiving card messages are nothing without authenticity. Make sure your gratitude is genuine and comes from the heart. Avoid using AI-generated content and stick with real-life, human-generated greetings instead. You can even mention the specific ways your recipient contributed to the success of your small business. Personal touches like these add a sincere sentiment to the Thanksgiving text. Inspirational quotes are a great idea as well.
Be Inclusive
Make sure to be inclusive in your Thanksgiving message. This means acknowledging the fact that Native Americans observe the National Day of Mourning on Thanksgiving day (both holidays fall on the fourth Thursday of November). Recognize the different narratives associated with Thanksgiving and promote unity while expressing your appreciation for the diversity that enriches your community.  
Tips for Writing Thanksgiving Wishes
Personalize the Text
Personalization is essential to making your Thanksgiving text stand out. Address your recipients by their names and highlight their contributions to your business. This not only makes the message more meaningful but also shows that you went the extra mile to acknowledge and appreciate their efforts and individuality—whether they're customers, employees, or partners. 
Add a CTA
While the primary purpose of a Thanksgiving text is to give thanks, you can't go wrong with a subtle call to action. For example, encourage recipients to benefit from a special Thanksgiving discount, or post their dinner photo under your social media post to win a gift.
Encourage a Donation
Since Thanksgiving day is a time of giving, you can use your business messaging to encourage recipients to participate in charity. Consider suggesting a donation to a local food bank, a nonprofit organization, or a cause that aligns with your company values. If you sell pet accessories, for example, you can encourage donating to a local animal shelter. By taking the opportunity to raise awareness, your audience will appreciate your commitment to social responsibility.
Happy Thanksgiving Messages for Inspiration
Thinking of crafting the perfect message? These examples are an amazing opportunity for inspiration when you're looking to send mass text messages with Thanksgiving wishes. Use them as social media posts, Thanksgiving cards, or simply create fun messages for family members to enjoy with the holiday's mouth-watering food.
"Hi Denise! A very happy Thanksgiving to you. We cherish your continued support for our business. Here's a 40% off coupon for a delicious pie as a token of our gratitude for this joyous holiday season. Best wishes to you and more blessings to come!"

"Pumpkin pie tastes delicious, but do you know what's better? Giving back to society! We invite you to join Shirtera's annual clothes drive event. Call this number for more info."

"Hey Charles! We've grown so much this year, and it's because of loyal buyers like you. We're celebrating this wonderful holiday by giving you 20% off your next order. May your dinner table be rich and your blessings abundant."

"Hi Debra! With Thanksgiving day just around the corner, I'd like to know that I'm deeply thankful to have you on the team. Your hard work and dedication are the driving factors behind our success. I wish you good health and many blessings."

"A very blessed and happy Thanksgiving, Stanley! Our success wouldn't be possible without you. Enjoy your harvest of blessings with a good dinner, your favorite food with loving company, and may your Thanksgiving table be bountiful."

"A blessed Thanksgiving from the Redwood Realtors team to our clients, partners, and followers. We'd also like to pay our respects to the Native Americans who are observing the National Day of Mourning on this day."

"May this Thanksgiving season bring an abundance of wonderful things, positive energy, spread happiness, and renewed gratitude for the blessings you have."

"This Thanksgiving time, we invite you to celebrate gratitude for your blessings with family and friends. And let's not forget to pay our respects to the Native Americans who commemorate their tragic history on this day."

"A very happy Thanksgiving to everyone who's expressing their gratitude and celebrating with family and good friends. We hope you enjoy your Thanksgiving dinner stay. While we count our blessings, let us also be mindful of the Native Americans who observe the National Day of Mourning at this time."

"Happy Stuffed Turkey Day to everyone who's filling their tummies. And don't bother counting calories today—none of your fun colleagues are!"

"Happy Thanksgiving! We hope just your blessings are enough for a thankful heart. May you have a bountiful Thanksgiving with friends and family, a grand feast, and not have to face Monday morning blues!"

"May this holiday bring a prosperous vision and a harvest of blessings good. Happy Thanksgiving from Ross & Rogers."

"Happy Thanksgiving, everyone! May your family enjoy a bountiful table, and may the grateful hearts be as warm as the autumn glow this holiday season."