How to Send a Mass Text Using Various Platforms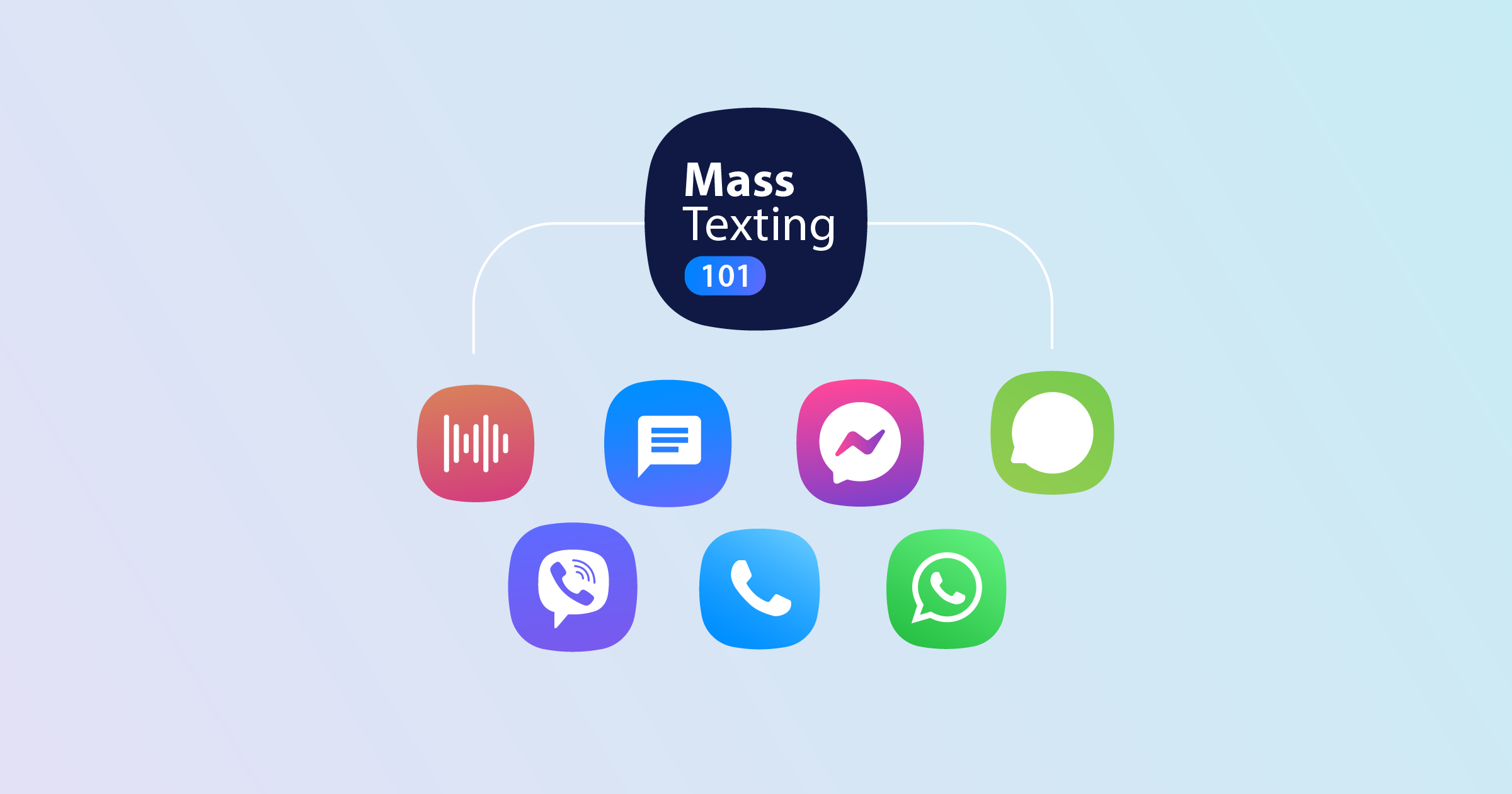 Knowing how to use mass texting is an essential part of business communication. Whether you're running an online store, asking for customer feedback, or anything else, you'll want to connect with your audience as efficiently as possible. While one-on-one messaging with individual customers is ideal for responding to inquiries, it's far from practical when it comes to reaching out to multiple groups of people at once. That's why you have bulk text messaging. 
Sending a mass text message is a fairly straightforward process that takes just a few minutes. It generally involves opening the messaging platform, selecting the recipients, composing the text, and scheduling it to go out. The exact procedure depends on the service, application, or operating system that you're using. And the best part? Texting is a lot more proactive than other marketing channels.
How to Send Mass Texts on iPhone
The process of bulk messaging largely depends on the platform you're using. This includes the device and operating system; the steps slightly vary between iOS and Android. Here's how you can send mass text messages on an iPhone using the default SMS (Short Message Service) feature and a third-party mass texting application: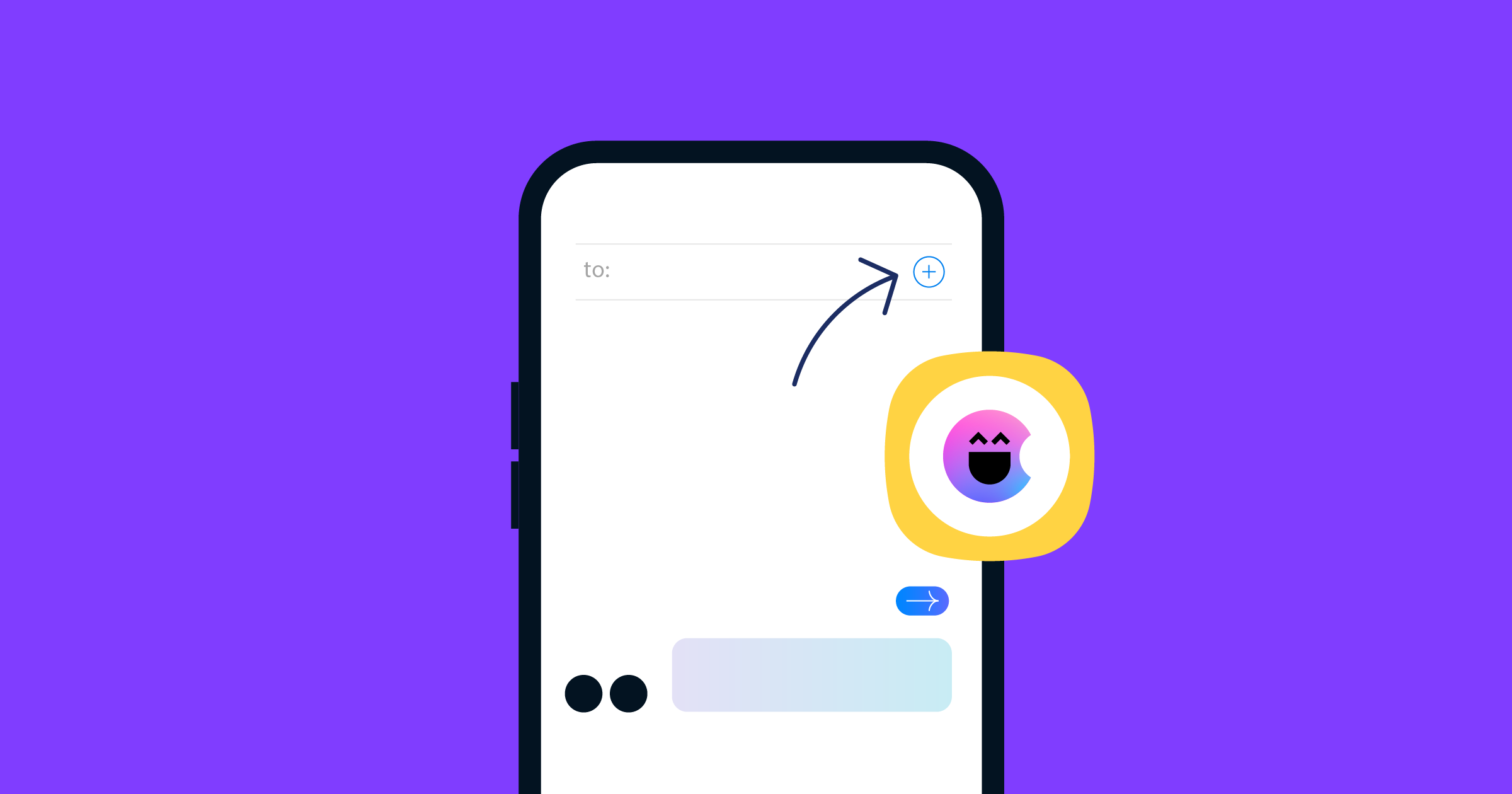 Using the Native Messaging Functionality
Before sending messages from your iOS phone, you'll first need to switch off iMessage. To do this, go to "Settings," select "Message," and tap on "Turn off iMessage." You can now move on to sending a mass text. 
Open the native messaging app on your iPhone

Select "New Composition" in the top right corner

Enter the first recipient in the "TO:" field and tap on the plus icon to add more from the "Contacts" list

Compose your message and hit the send button
Get Started Now
Reach your clients now and claim your 30-day free trial. No credit card required.
Using a Separate App
While the default messaging app is simple to use, it doesn't allow you to personalize your messages. Mass texting apps like Hit Em Up offer that capability. Simply download the app from the App Store and follow these steps:
Open the app and choose the recipients from the "Contacts" list. You also have the option of creating a group within the app

Type your message and personalize it by inserting tags like "[firstname]" and "[lastname]"

Tap on "Preview/Send" 
From the recipients' end, the group messages you send using Hit Em Up will appear as ordinary SMS text messages. And any response you get will come individually. 
Your recipients will not be able to see each other, whether you send the same message via group texting or not. The only difference is that creating a group allows you to reach out to the same recipients whenever you need to without having to select the contacts all over again. 

How to Set Up Mass Text Messaging on Android
Figuring this out is just as easy if you're using an Android device. The process is generally the same but with a few different steps. And much like an iPhone, you can either use the native messaging feature or download a third-party Android messaging app to send one message to the masses.
Using the Default App
Sending bulk SMS messages using an Android mobile device doesn't take more than a few minutes. Much like sending one with an iPhone, it involves using the phone's default messaging app. 
Open the native messaging app on your Android device

Tap on the three dots in the top right corner 

Select "Settings," go to "Advanced," and then "Group messaging"

Choose "Send an SMS reply to all recipients and get individual replies (mass text)"

Go back and tap on "Start chat"

Select "Create group," add recipients, and select "Next"

Choose a name for the group or tap on "Skip"

Enter your message and tap the send icon
Using a Foreign App
Much like the native messaging app on iOS, Android's default SMS feature has its limitations. This includes a cap of 20 or 30 recipients (depending on the phone) and no room for personalization. Specialized mass texting apps such as Multi SMS Sender and Hit Em Up remove those restrictions.
With Multi SMS Sender, you can text multiple people—over 6,000 recipients, to be exact. The easy-to-use app also allows you to import multiple contact lists that you may have in a CSV or Excel file. Other features include the option to personalize your texts, create and manage templates, and delay the messages. Plus, you can choose to either select recipients manually or collate them in a group. 

Sending Mass Texts Via Instant Messaging Apps
Besides using SMS as a business texting channel, it's also worth setting up mass texting through instant messaging apps. Keep in mind that these apps have millions of active users worldwide, which is ideal if you want to meet your audience where they are. 
Mass Texting Through WhatsApp
Both WhatsApp and WhatsApp Business have a feature that you can use to reach out to a maximum of 256 recipients on their mobile devices at the same time. It is a quick and easy mass texting process that involves creating a broadcast list. Here's how to send mass messages on WhatsApp:
Tap on the three vertical dots on the top right corner of the main screen and select "New broadcast"

Choose your recipients and hit the tick icon

Type your message and hit the send button. Each of your recipients will receive the group text message as an individual conversation
This WhatsApp marketing feature is excellent for connecting with customers who already use the platform, which shouldn't be much of a problem considering the app's vast user base. However, recipients need to have your phone number saved so that you can add them to the broadcast list. WhatsApp's Communities feature may also come in handy for bulk messaging. And while it involves creating and adding groups, you can reach a much wider audience. 
Mass Texting Through Viber
There are two ways you can send a mass text using Viber: Channels and Broadcast lists. While the Broadcast feature is ideal for reaching out to a limited group of people as quickly as possible, Channels are the optimal choice for bulk messaging with Viber. It allows you to convey your message to an unlimited audience and have access to various admin tools. These include message scheduling as well as message statistics. 
Open Viber and tap on the New chat icon toward the bottom right corner

Select "New Channel" and tap on "Create a Channel"

After naming your Channel, select the tick icon in the top right corner. 

Select your recipients and tap on the tick icon again

Type your message and hit send
As for sending mass text messages with the Broadcast option, here's what the process looks like:
Select the New chat icon from Viber's main page

Tap on the Broadcast icon in the top right corner next to the search icon

Choose up to 50 recipients and tap on the tick icon

Compose your message and send it out
Mass Texting Through Telegram
Telegram doesn't fall behind when it comes to sending mass text messages. The instant messaging app has its very own Channels feature that enables users to connect with a large audience as effortlessly as possible.
Telegram boasts 700 million monthly active users and is one of the top five most downloaded apps in the world—only from personal recommendations. If your target audience consists primarily of Telegram users, it would make perfect sense to use it as part of your mobile marketing efforts. Here are the instructions:
Launch the app and tap on the pencil icon in the bottom right corner of the screen

Select "New Channel" 

Enter a name and optionally choose a photo and description for your channel

Tap on the tick icon and select the Channel type. Should you opt for "Public Channel," you'll need to set a public link as well

Tap on the tick icon once again and add contacts. Choosing "Public Channel" in the previous steps will also allow other people to find your channel and join it

Select the right arrow icon and send your first message
Best Practices for Effective Mass Text Messaging
When it comes to sending mass text messages, following best practices ensures your messages are well-received and effective. Whether you're using the same text for promotional messages, appointment reminders, or good old-fashioned business texting, these guidelines will help inform customers and boost customer engagement.
1. Segment Your Audience
To foster personalized conversations and engage your audience effectively, segment your recipient list based on their preferences and behaviors. This strategic approach allows you to send more messages that are precisely tailored to the specific interests and needs of each group.
2. Personalization is Key
Use the recipient's name or other personalized details to make your text notifications stand out. Personalized SMS messages foster a sense that the message is intended only for them.
3. Clarity in Emergency Alerts
When sending emergency notifications, ensure your messages are clear and concise. In emergencies, every word counts, and recipients need to understand the situation quickly.
4. Compliance is a Must
Both the sender and recipient need to adhere to SMS notification regulations. Obtain proper consent for sending texts, and allow recipients to opt out when they wish.
5. Text-Enabled Phone Number
Use a text-enabled number as the sender. This not only adds credibility but also provides recipients with a recognizable sender.

How to Send Mass Text Messages With Dexatel
No matter how many benefits they offer, the above methods come with their fair share of limitations. A mass text messaging service like Dexatel, however, allows you to connect with a wide audience on their mobile phones without any challenges.
You can use Dexatel's Campaign tool to send mass texts to contact groups or your entire contact list as part of your SMS marketing, and each person will receive the same message. The bulk SMS service provider offers a free trial to get you started. As part of the many features, you can personalize messages by addressing each recipient by their first name.
Before you start sending bulk text messages, make sure the recipients have opted in. This ensures your bulk texting SMS campaigns are compliant with text message privacy laws like the Telephone Consumer Protection Act (TCPA). Using the platform, you can send promotional messages, appointment reminders, emergency alerts, and more. You can even schedule messages to send them later.
To create and send bulk SMS messaging campaigns with Dexatel's mass texting service, follow these steps:
From the navigation bar, select the channel through which you want to send messages (SMS, Viber Business, Facebook Messenger, WhatsApp Business) 

Click on "Create Campaign" and choose a name for it

Enter your Campaign message

From the dropdown, choose the template you have created or select one of Dexatel's default templates 

Choose whether to display your "Sender Name," "Number," or "Short Code"

Select the list of recipients. You can either do this manually, from the "Audience," or by uploading a file

Click "Send Now" to send the mass SMS message on the spot or select "Schedule" to send it later