How to Unsubscribe From Texts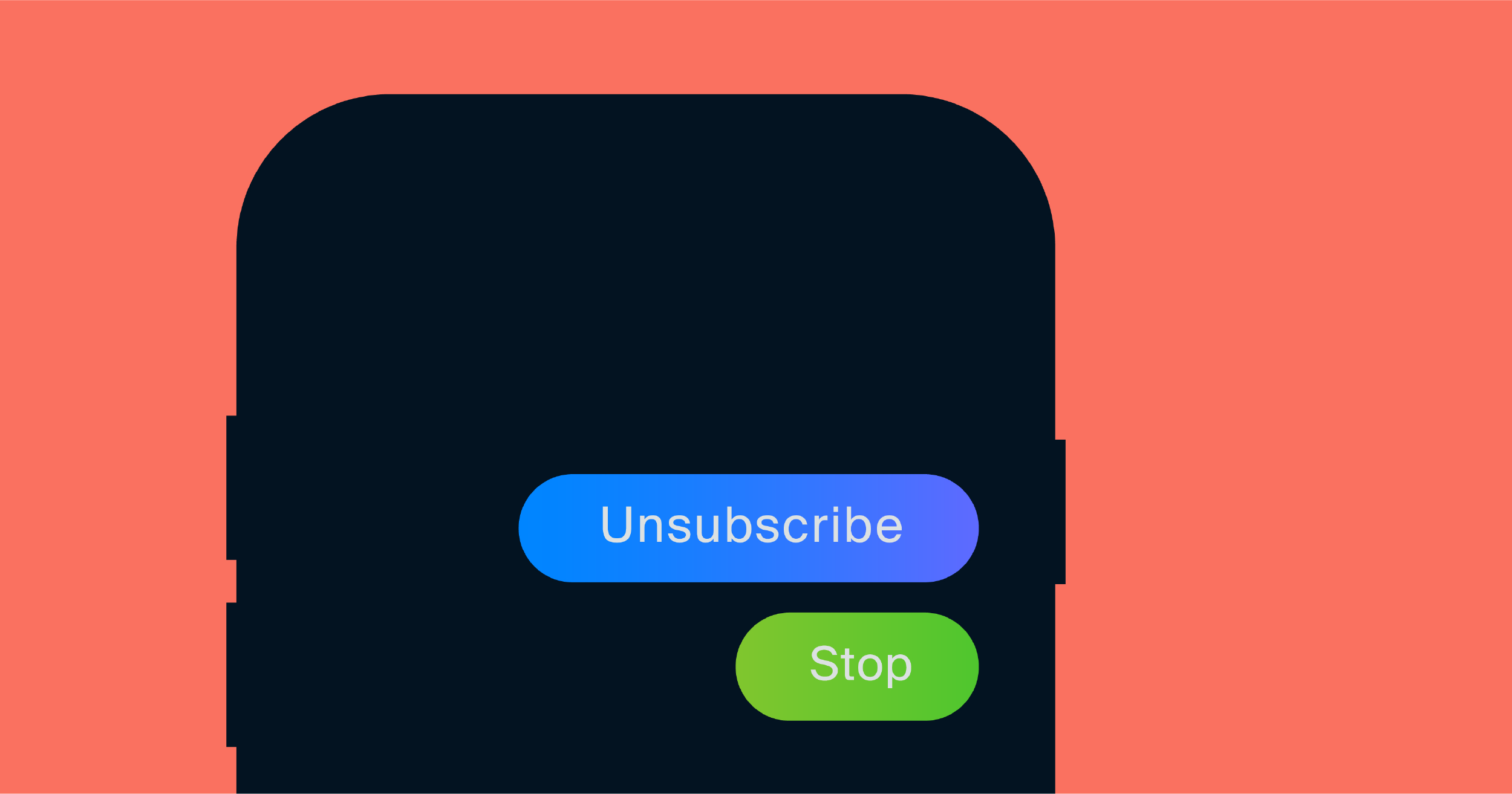 As a business messaging solutions provider, we're big proponents of SMS marketing and sending out important reminders and alerts through texts. But we get it—sometimes, you want to stop receiving promotional text messages from companies or are no longer interested in updates. Whatever your reasons, read how to unsubscribe from text messages further below and learn how businesses can minimize their unsubscribe rate.
Overview of Text Message Marketing 
Businesses leverage the power of text message marketing to effectively promote their offerings to a curated audience of consumers who willingly subscribe to this form of communication. It's crucial to note that SMS marketing is subject to stringent regulations in most countries, strictly prohibiting businesses from sending promotional texts to individuals who haven't explicitly provided their written consent.
Text message marketing encompasses a diverse range of content, including exclusive deals, enticing discounts, valuable coupons, timely notifications about limited-time sales, requests for reviews, and convenient automated alerts. By embracing this direct and personalized channel, businesses can forge stronger connections with their target audience while maintaining compliance with relevant regulations.
SMS Marketing Pricing
We use a pay-as-you-go pricing model, meaning we charge per sent message. No monthly or sign-up fees. SMS marketing costs vary depending on your destination.
What Does it Mean to Unsubscribe from Text Messages?
SMS is a strict opt-in marketing channel, which means that recipients need to sign up and agreed to receive text messages from a company or organization. Only then can brands send offers, promotions, order updates, booking reminders, alerts, and other messages that may be of use to the recipient. But if the recipient decides to no longer receive these communications, they may unsubscribe from text messages and will be taken off the recipient list.
If you choose to unsubscribe, be weary that you may miss important updates or time-sensitive information. While it's okay to miss a flash sale notification, be careful when unsubscribing from something like a meteorological service that texts you inclement weather warnings.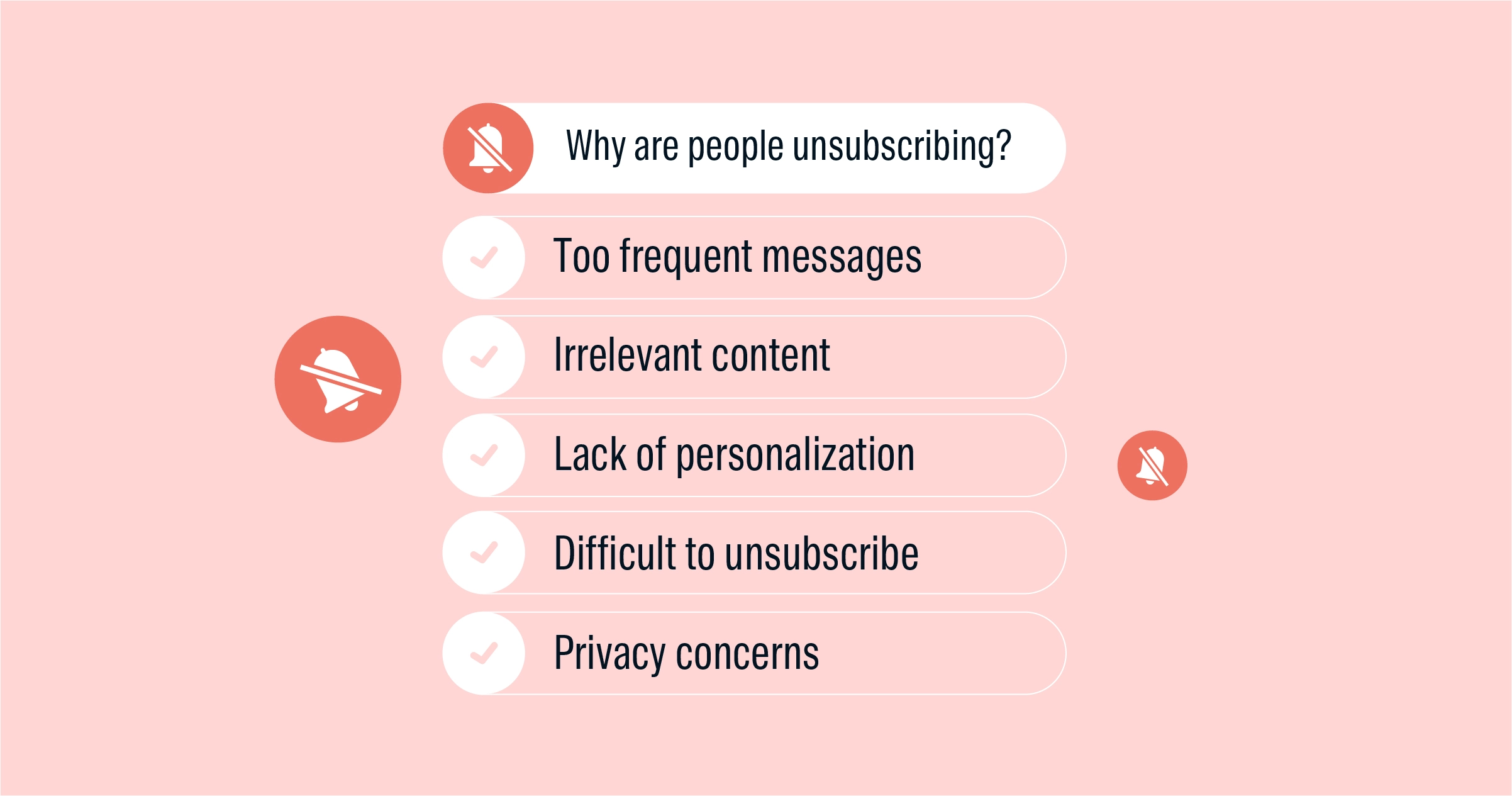 Top Reasons Why People Unsubscribe from SMS
SMS marketing laws exist to protect consumers from spammy messages and unwanted automated texts for good reason. If we want to maintain the effectiveness of SMS marketing, it should be used responsibly and not abused, and people's communication preferences should be respected. Here are some of the top reasons why people unsubscribe from SMS and what you can do to lower your opt-out rate.
Too many messages
Messages are not relevant or valuable
Not interested in your brand anymore
Only opted in for a temporary promotion
Doesn't even remember opting in
When Does Unsubscribing From Text Messages Become An Issue For Businesses?
Even if you're seemingly doing everything right with your SMS marketing, there are times when you'll get unsubscribes. This is expected—in any marketing campaign, unsubscribing happens. A percentage in the low single digits after a text campaign is pretty normal. But if you notice a sudden spike in opt-outs, it's time to dig deeper and get to the bottom of why people are unsubscribing.
If your targets are opting out of your subscriber list, you may want to rethink your strategy and try out different tactics. A high opt-out rate can signify problems with wrong content, wrong audience, wrong timing, or just sending too many messages.
But remember, as a business, you must allow subscribers to opt out of your text message alerts and give them a reasonable way to do so. This is part of ensuring that you adhere to all legal guidelines when communicating with customers and avoid any compliance problems.
How to Avoid Unsubscriptions from Promotional SMS
Some reasons for unsubscriptions, you can't do much about. Maybe someone didn't mean to opt in or just wanted to get a promo code or enter a contest and doesn't want any further messages. These are standard cases that leave your hands tied. However, there are ways to tackle unsubscribes for the other reasons mentioned.
You should evaluate your unsubscribe rate after each promotional SMS campaign you send. This can help you identify what works and what doesn't and clue you into some of the reasons.
In order to find out what information your recipients find most valuable, you can poll them. You can send a survey by SMS and segment your audience into different recipient groups based on the results. This way, each person will receive only what they are interested in.
Aside from addressing message frequency and sending relevant content, the best thing you can do to keep your customers engaged is to personalize your messages. Even if you send out mass texts, making your messages feel one-on-one and connecting on a personal level goes a long way. Promotional messages can get monotonous, make people lose interest, and worse—get annoyed. If your messages feel more personal, your customers may just choose to receive more of them.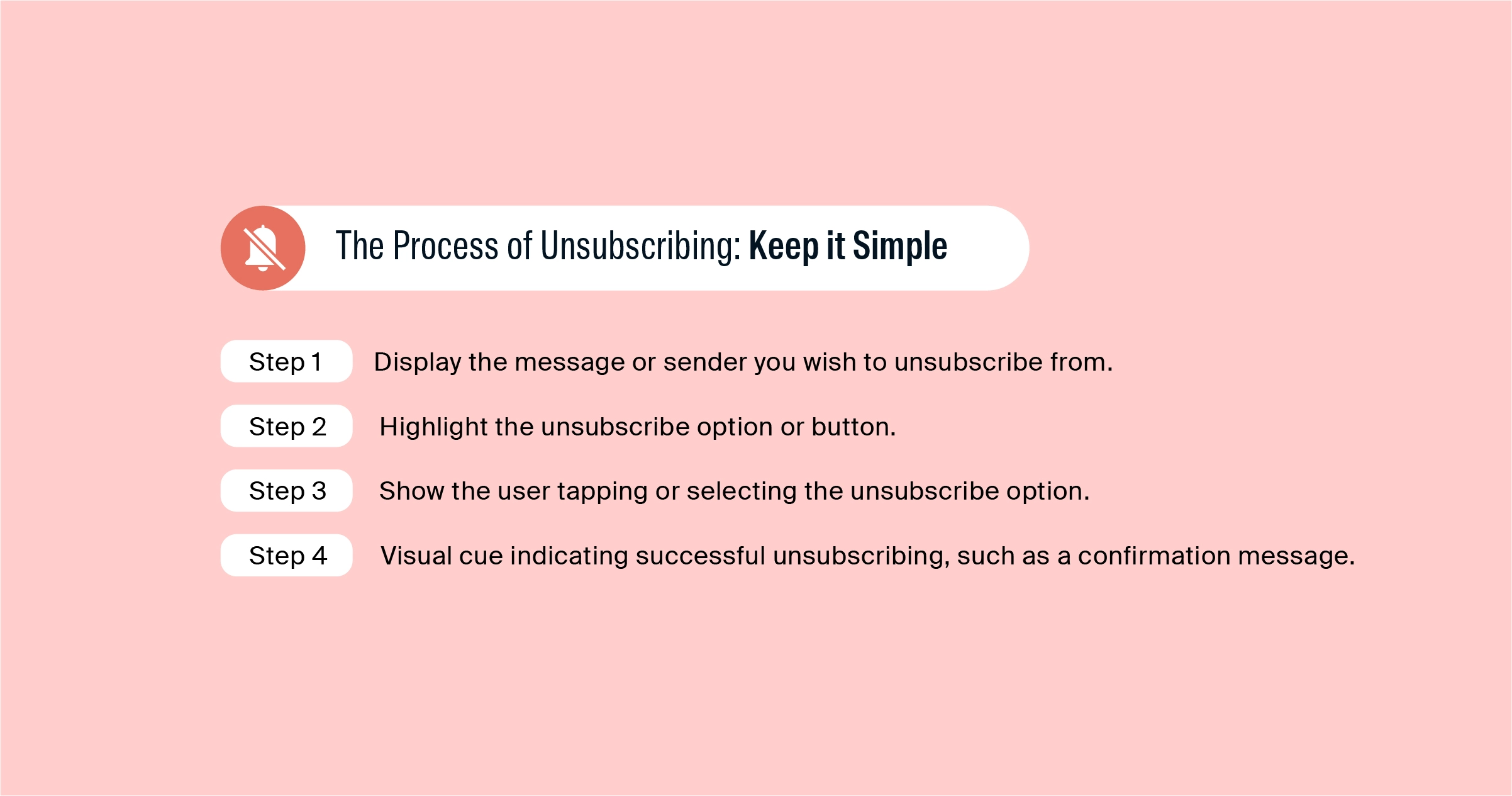 How to Unsubscribe From Text Messages in Just One Step
If you're a consumer who wants to stop receiving unwanted texts, you can generally unsubscribe by texting back "STOP" or "UNSUBSCRIBE." While those are the most common commands, you may also try "END", "QUIT", or "CANCEL."
Once you send the message, the automated system will take that request and unsubscribe your phone number. If done properly, you should receive a text message confirmation back telling you that you've been unsubscribed.
Though not as common as in emails, some texts may contain a link to unsubscribe or instructions on how to do so. But even if not, the commands above are fairly universal.
This works for legitimate sources that offer you a way to opt out. But some spam texts won't stop even when you ask. We have a separate piece on how to stop spam text messages.
How To Allow Recipients To Unsubscribe From Text Messages With Dexatel
Dexatel has a strict anti-spam policy and utilizes best enforcement and compliance practices to keep both its business users and their customers safe to create good connections and communication for everyone.
When sending messages to your audience, you can always give them the option to unsubscribe from the SMS campaign. To do this, simply click on the "Opt out" button to add it to your message. As a result, the system will create a link for your recipients to opt out if they wish to. Their number will be automatically added to the stop list.