How to Successfully Use Messaging for Customer Service
Thought about using messaging for customer support? You're not alone. How to use messaging for customer service is one of the biggest queries we get, and for good reason. People spend 1/3 of their waking time on mobile apps, that's an average of nearly 5 hours a day. 
Your customers are on their phones, so why not meet them where they are? Most people are already communicating with their family and friends through text messaging, so using texting to communicate with businesses is a natural continuation of their daily habits and preferences.
In a competitive business world where the difference often comes down to good customer service, being responsive, friendly, and helpful can give you an edge. And providing customer service over SMS ticks all those boxes.
Advantages of Customer SMS 
Sending customer SMS is all about communicating quickly and easily in a way that leaves both parties happy. Just like with text message marketing, successful customer service messaging relies on the inherent strengths of this powerful communication medium. 
Two-Way Communication 
SMS is a two-way communication channel, meaning that you can have one-on-one conversations with your customers. You can respond to them directly in the same texting window and complete an entire conversation over one single channel without jumping through different mediums. 
Scalable
While texting is a great one-on-one channel, its strength is also in its ability to reach a lot of people at once. If you have an important message to send out, you can use mass texting to immediately reach your entire customer list at once.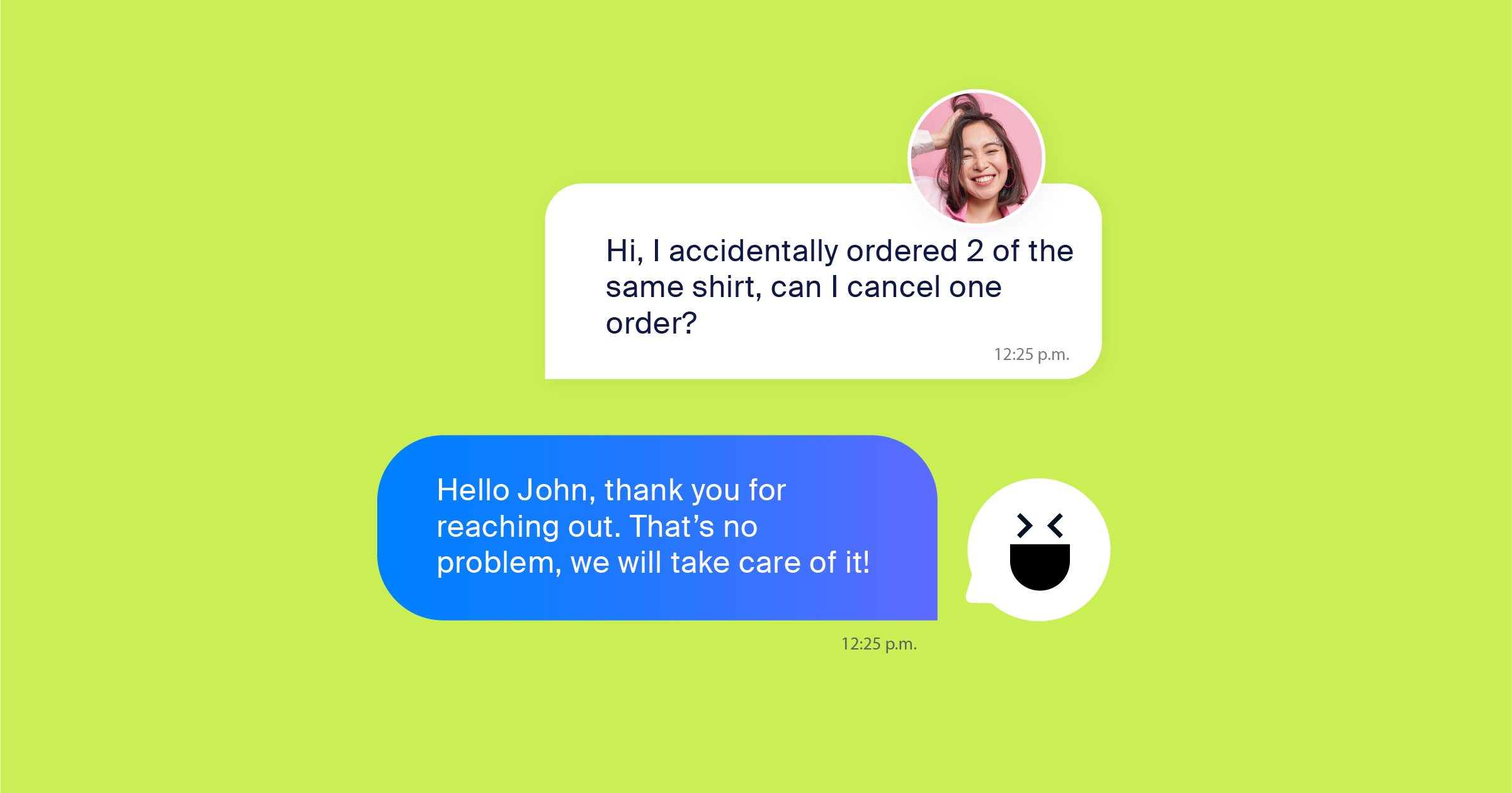 Immediate Responses 
Not only can you respond quickly to customer issues, but customers can also reply immediately because chances are they have their mobile phone with them at nearly all times. This allows you to quickly solve problems and move on to the next.
Clear and Concise 
SMS messages are short, but what may seem like a limitation is actually one of its strengths. Texting is all about being concise and straight to the point. Most emails go unread because people want the information they need quickly.
SMS encourages you to be clear in your messaging and convey things in as few words as possible. This saves time for both your service reps and the customers. 
Cost-Effective
Texting is significantly cheaper than phone calls and requires less time and customer service reps to take care of the same number of incoming requests. By text messaging customers you can divert a high volume of calls that would otherwise overwhelm your team members and help your customer a lot quicker.   
Customer Satisfaction
Not only is texting quicker than phone or email, but it also leads to faster resolutions to both simple and complicated customer requests. Whereas emails or phone calls can feel more formal and detached, you can connect on a more personal level and make your customers feel heard with an SMS. This way, you can significantly enhance the customer service experience.
Integration 
You can integrate your SMS communications with your overall CRM system or help desk and ticketing platform for an omnichannel experience. This enables you to follow up, see what previous customer interactions you've had, identify customer pain points, and make offers that are relevant to your customers.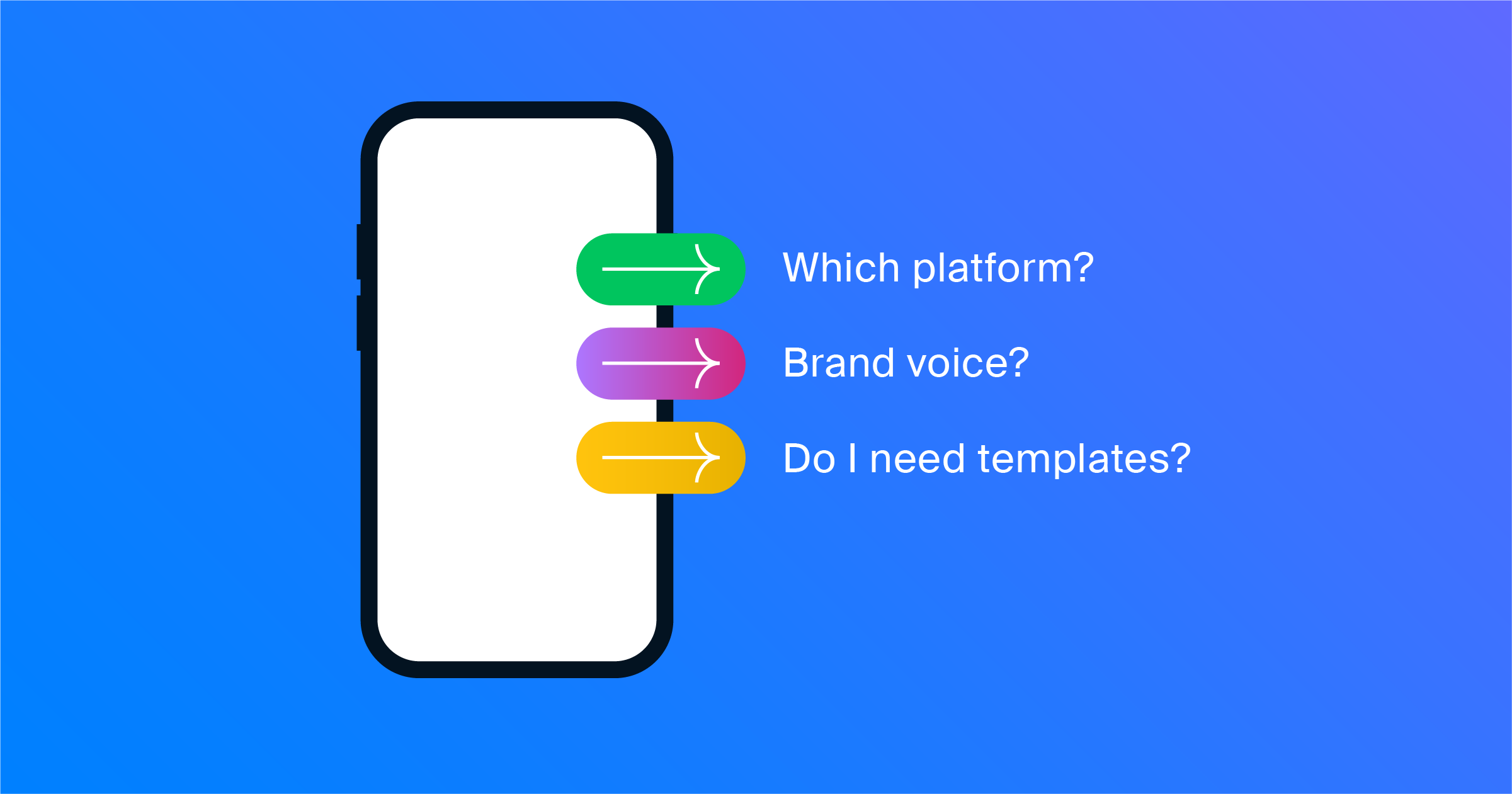 How to Use a Customer Service Message
Using customer service messaging is easier than you may think. In just a few steps, you can start text messaging customers and saving time and money, making life easier for both you and them.
1. Sign Up With An SMS Provider
There are many SMS platforms out there, but make sure you use one that meets all your business goals. You want to be able to easily personalize your messages, have a wide international reach, and with no setup or monthly fees. Dexatel offers industry-based solutions no matter what field of business you are in.
2. Use A Dedicated Phone Number
Set up a separate phone number for customer service text messages. This will make it easier to keep track of customer conversations and ensure that important messages don't get lost.
3. Use Templates
Create pre-written messages that you can use to respond to common questions or issues. This will save time and ensure consistency in your responses.
4. Promote Your SMS Customer Support
Make sure your customers know that they can easily reach you via SMS. Mention it on your existing customer support channels like phone, email, or on your website. Publicize it on your social media and make sure that they know they can contact you on those channels as well. 
Top Tips for Text Messaging Customers 
Choose The Right Messaging Platform
In addition to SMS, there are various other messaging platforms available such as WhatsApp, Viber, and Facebook Messenger. Choose the one that is widely used by your customers, and choose a business text messaging provider that offers you all. With Dexatel, you can send Viber Business messages and connect to the WhatsApp Business API.  
Respond Quickly 
Respond to messages as quickly as you can to ensure customer satisfaction. If you can't respond immediately, set up an automated reply that acknowledges their message and sets an expectation of when you will respond.
Reflect Your Brand Voice  
Every texting interaction you have with your customers reflects your brand. And you always want to put your best foot forward while staying true to your brand identity. While every interaction should feel personal and natural, set some texting norms for your service reps to use. For some brands, emojis and casual language are natural; for others, a more formal tone and response style is a better fit.
Personalize Responses 
Personalize your responses to each customer to make them feel valued. Use their name, reference their previous interactions, and provide tailored solutions to their problems. This helps you connect with customers and ensure they feel like they're talking to a real person who knows and cares about them.  
Automate Certain Responses 
You can use automated responses to offer quicker resolutions to common problems. Many simple customer queries can be solved without the need for a live agent. You can set up auto-responses to some of the most commonly asked questions you get like hours of operation. You can also let your customers know that a live agent will address their concerns as soon as they become available.
That being said, don't completely automate your customer service messaging. One of the reasons customers prefer SMS support is because of its personal and conversational nature. Customers want the same experience as speaking directly with a person, so be careful about what and where you automate.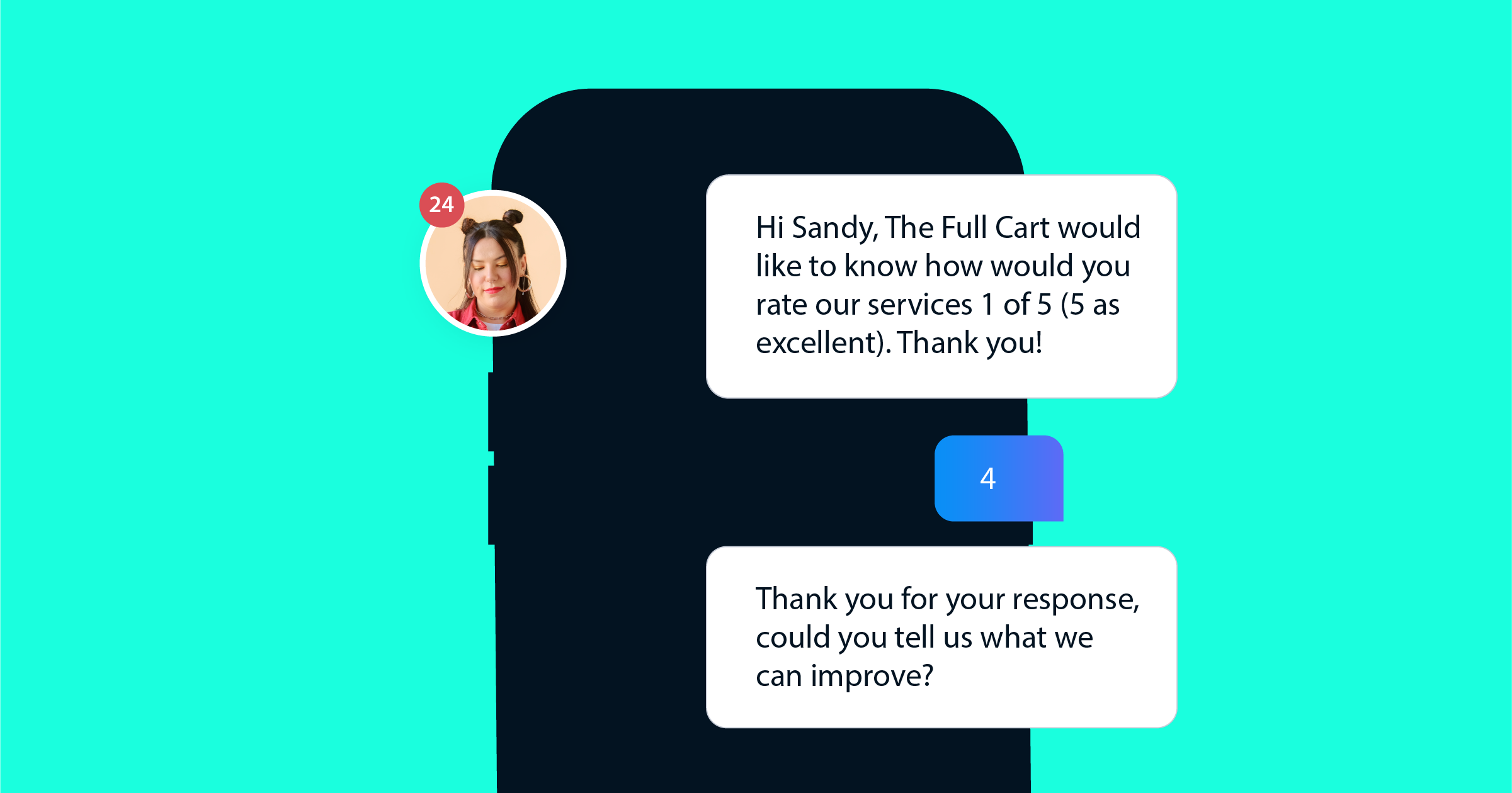 Collect Feedback 
While customers are more likely to complain about a bad interaction than praise a good one, sometimes you may not even realize where you are falling short. Following a customer interaction via SMS, send a service message for customers to rate their experience.
Keep it simple—ask for a one-word response or a rating on a number scale. This can feel less awkward for customers to give negative feedback if it's warranted and give you a chance to rectify a situation before your customers move on to a competitor. 
By being proactive in collecting customer feedback, you both show care and can identify areas for improvement. A dissatisfied customer is less likely to leave a bad online review or publicly air out their frustration on social media if you give them an opportunity and a platform for direct honest feedback.
You can also periodically send surveys through SMS asking your customers about their experiences. This hits two birds with one stone by helping you improve your customer relationships and engage old customers back with your business.
Follow Up With Customers 
This relates to the previous point about collecting feedback, but it's not necessary for something to go wrong for you to get in touch with your valued customers. You can reach out to customers via SMS when they haven't visited in a while or if you have a special promotion that you think they may be interested in. Texting also makes it much easier and more likely for customers to reply.
Send Appointment Reminders 
SMS reminders are a very powerful tool in cutting down on missed appointments, which cost businesses a lot of money yearly. You can send your customers reminders about upcoming appointments in advance—or even automate them—to which a customer can easily reply with a text to confirm. Your customers are busy, so when a phone call may be too intrusive or an email easy to miss, texting fills the gap.
FAQ 
What Is Messaging In Customer Service? 
Messaging in customer service refers to using texting or messaging apps to communicate with customers and provide support. Customers can easily text a business directly from their mobile phone without having to navigate complicated phone systems or wait on hold. They can also send messages outside business hours, view responses, and reply when it's convenient.
What Is SMS Customer Support?  
SMS (Short Message Service) customer support is a type of customer service that uses text messaging to communicate with customers and provide support. SMS customer service allows people to text their inquiries, questions, or issues directly to a support team and receive responses in real time. 
How Do You Attract Customers Through Messages? 
Attracting customers through messages can be a highly effective marketing strategy. But you have to first ensure that customers have explicitly opted in to receive messages from you. Group your customers into different segments based on their interests and profile, and tailor your messages to each group.
Provide value by offering exclusive promotions or discounts and sharing content that is relevant to each customer. For increased engagement, send messages at the right time, such as during business hours or when customers are most likely to be on their phones.