17 Car Sales Text Message Templates You Can Use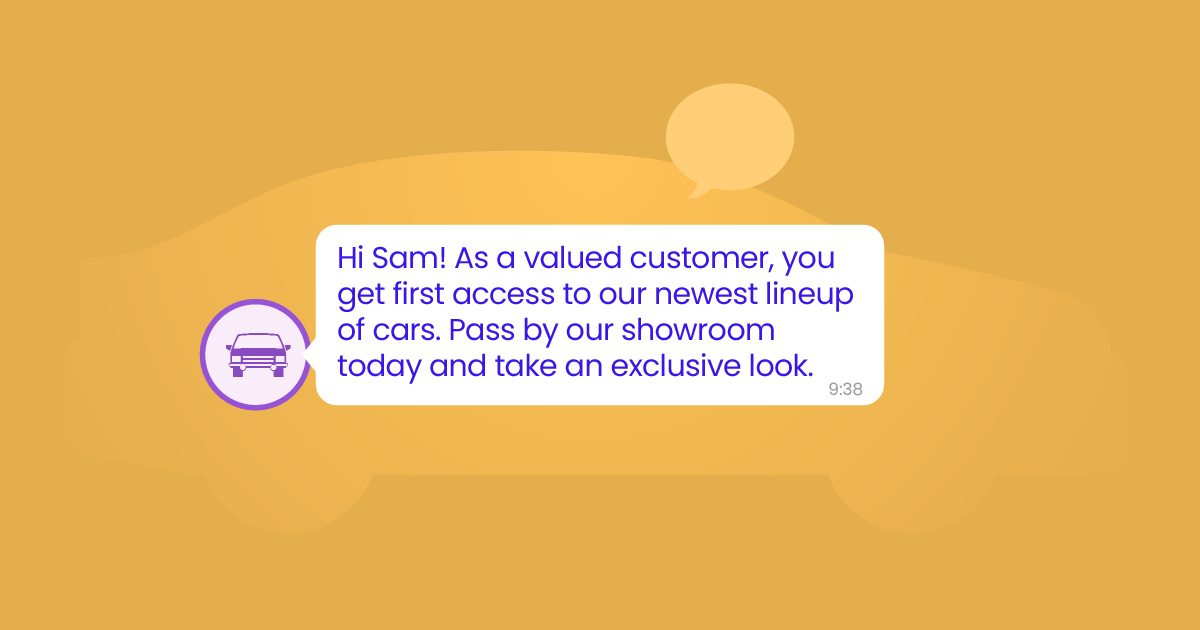 Over the past few years, the automotive industry has seen a massive shift in the way car dealerships communicate with potential buyers. Customers don't just go to car dealerships like they used to. They begin their car search online. Studies show that 92% of them research online before going ahead with the car-buying process. This creates a communication gap for both parties involved—the car dealership website and their sales team. One way to bridge that gap is with business text messaging.
SMS business texting can play a huge role in car sales. By sending a follow-up on a showroom visit, an appointment reminder, or your dealership address, you can connect with potential car buyers the right way. To get you started, we've provided a bunch of car sales text message templates you can use in your SMS marketing campaigns.
Why Business Texting Works for the Automotive Industry
Buying a car is a major investment, so it makes sense for buyers to take their time when looking for their next automobile. Dealerships, on the other hand, need to work on building relationships with customers and earning their trust to close deals faster. And since people often do their homework before shopping for the car model they want, handling customers requires a more consultative approach. In this case, effective communication is essential for car dealers. 
With a response rate of 45%, business messaging serves as a handy communication tool for car dealerships to stay connected with potential buyers in a personal way. Many back-and-forths take place during the sales process, and to save time, text messaging is a convenient way to carry out further conversations. The high open rates of SMS marketing also make it an effective channel for reaching prospects who aren't actively looking for a new car. 
Text messaging is great for follow-ups too. As a car dealer or sales representative, you can use SMS communications in various ways to reach out to potential customers who have already expressed an interest.
Get Started Now
Reach your clients now and claim your 30-day free trial. No credit card required.
How to Write a Car Dealership Sales Text Message 
Be Straightforward
Always keep your text marketing messages short and to the point, keeping in mind the 160-character limit. A straightforward message is also more likely to drive engagement. Nobody wants to read long, incoherent text messages. 
Emphasize the Benefits
Let the potential customer know why they should buy a car from you. Are you offering a discount? Is it a limited-edition car model? Highlight any special deals or promotions that can grab their attention and get them interested in buying that brand-new Chevy. Offering a test drive is another great idea for lead generation. You can also encourage customers to attend a sales event or invite valued customers to look at new cars before anyone else.
Add a CTA
What do you want the recipient to do after reading your text? A call-to-action goes a long way toward getting people to engage with your SMS campaigns. Prompt them to take action, like visiting your car dealership showroom, booking a free test drive, dropping by for routine maintenance, or meeting a sales representative to iron out all the details of a car sale or trade-in offer.
Use Powerful Language
Create a sense of excitement by using strong and urgent language, like "once-in-a-lifetime deal" or "for a limited time only." Evoke the fear of missing out by letting them envision what it would feel like to drive the car. In other words, make them want the car. 
Send Personalized Text Messages
Make your text messaging personal by using embedded variables to include the customer name, the car brand they're interested in, the car dealership name, and other relevant information. A tailored approach is especially crucial for customers who intend to buy the car. They're paying a significant amount of money, so personalized text message campaigns help to build trust and improve customer engagement. It also allows for strong relationship-building with your customer list.
Car Sales Text Templates
Car Model Sales Text Message Examples for Pre-Sale
Following up on phone calls: "Thanks for calling, Steve! Feel free to text me here if you have more questions. You can also visit the showroom on 795 E  Willow Ave."

Following up on an online lead: "Hi Beatrice! It's David from Dealer & Dealt. I noticed you're interested in the Tesla Model 3. I'd be glad to help with any questions."

Following up on an in-store visit: "Hey Jim! It was nice meeting you today. Let us know when you're planning on coming back to look at the 2023 FJ Cruiser. Don't forget to ask for Paul."

Following up with a referral: "Hello Lewis! I'm Charles. Your colleague George told me you're interested in buying a car. What do you have in mind?"

Sending a car model image to a prospect: "Hello Clarice! Here's a photo of the Volkswagen ID.4 you were asking about. I'm here if you have more questions."

Scheduling test drives: "Hi Valerie! It's Carlos from Dealer & Dealt. It looks like you're interested in the Nissan Skyline R34. Are you free for a test drive on Friday at 3 p.m.?"

Announcing a new car model release: "Guess what, Oscar! The new Mercedes AMG is finally here. Pass by our car dealership this week to take it for a test drive."
Car Sales Text Message Examples for Post-Sale
Sending important documents: "Hey Max! Here's the PDF of all your documents, including insurance and registration. Don't hesitate to reach out if you have any questions."

Checking in with new customers post-purchase: "Hi Pierre! How do you like your Jeep so far?

Asking for online reviews: "Thanks for choosing us, Karen! Do you have a few seconds to give us your feedback? Click on the following review link: http://bit.ly/p1we1"

Informing about trade-ins: "Hi Nadine! Dealer & Dealt is offering special trade-in offers starting today until 07.06.23. Contact us to schedule an appointment or visit our showroom."

Sending oil change appointment reminders: "Hi Robert! Your Toyota RAV4 will be due for an oil change next week. Call us at +1-202-555-0157 to schedule a service."

Sending routine car maintenance reminders: "Hey Ralph! It seems your Fiat 500X is due for a tune-up. To schedule a service appointment, click here: http://bit.ly/p1we1"
Car Sales Text Scripts for Other Scenarios
Announcing a ticketed event: "Hi Claudia! We're hosting the annual Motorshow, featuring some of the top auto experts in Los Angeles. Book your seat here: http://bit.ly/p1we1"

Sharing a VIP access invitation: "Hi Francis! As a valued customer, you get first access to our newest lineup of cars. Pass by our showroom today and take an exclusive look."

Sending recurring event details: "Hey Moe! We're hosting our annual webinar, and the topic this year is road safety. Join us tomorrow at 3 p.m. via Zoom through this link: http://bit.ly/p1we1"

Offering referral rewards: "Hello George! Thank you for referring your colleague Lewis to us. As a thank you, we'd like to give you 40% off on tires. Just show this message to one of our reps."
SMS Marketing Best Practices for Car Dealerships
Use mobile-friendly formats like short links and compressed images

Run A/B testing on different messages to see which one performs better

Automate recurring messages that you send to your customers at certain intervals

Stay compliant with SMS privacy laws like the Telephone Consumer Protection Act by getting customer consent through opt-ins

Track the performance of your car sales text messages (click-through rates and other metrics) and adjust your messaging strategy accordingly
How to Choose Texting Software for Auto Dealerships
A text marketing platform can be an indispensable part of your communication efforts. When choosing the right platform for your dealership, make sure to account for a handful of key factors. 
To start with, the platform should be easy to navigate. Next, look for features that allow you to segment your audience based on details like purchase history. Integration capabilities with existing systems, like DMS (dealership management software), are also vital for seamless operations. Other crucial specifications include compliance with SMS privacy regulations in addition to analytics and reporting tools. 
One software that ticks all these boxes is Dexatel. Using the Dexatel platform, users benefit from a range of features, like automation, analytics, and two-way communication. The software also offers omnichannel services, allowing auto dealerships to provide a seamless customer experience.