How to Text Business Cards: A Handy Guide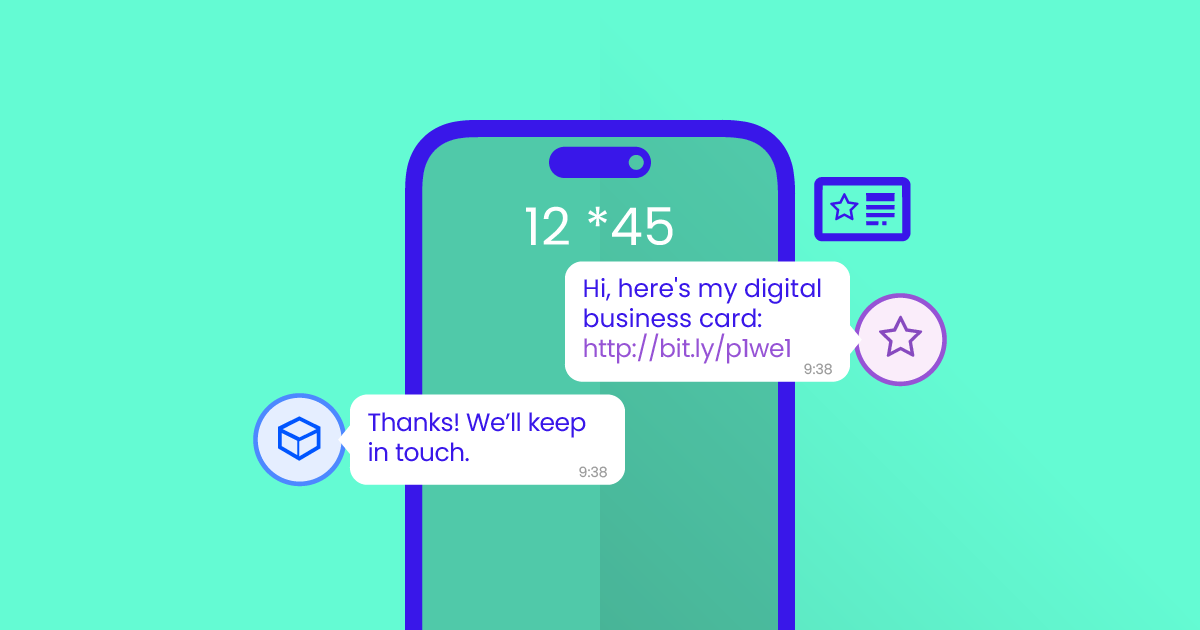 Imagine reaching for your pocket to hand out a business card, only to find out there's none left. Instead of heading over to the printing house for another batch, you could make your life much easier. Go digital instead—send your card directly to your customers' mobile phones.
Text business cards are the go-to choice for the modern businessperson. They're convenient, cost-effective, and eco-friendly—think of all the trees you'd be saving! Plus, you can create one in just a few minutes. 
Understanding SMS Business Cards
A text business card is essentially a digital version of a traditional one that you can send via SMS message. Much like its physical counterpart, it usually contains basic info like name, job title, phone number, email address, and company logo. Rather than handing out a physical card, send a digital one directly to your customers' mobile phones. This allows the recipients to save your contact details on their devices easily. 
The most common ways to send an SMS business card are via link sharing and as an attachment. The latter involves attaching your contact info file to the SMS as you would with a PDF document.
As for link sharing, simply upload it to an online platform that supports electronic business cards like Dropbox or Google Drive. Then, copy and paste the link into the SMS and send it to your recipients. You can also use an SMS URL shortener to prevent the link from taking up characters in the text message. Plus, you'll be able to use the short link for tracking results.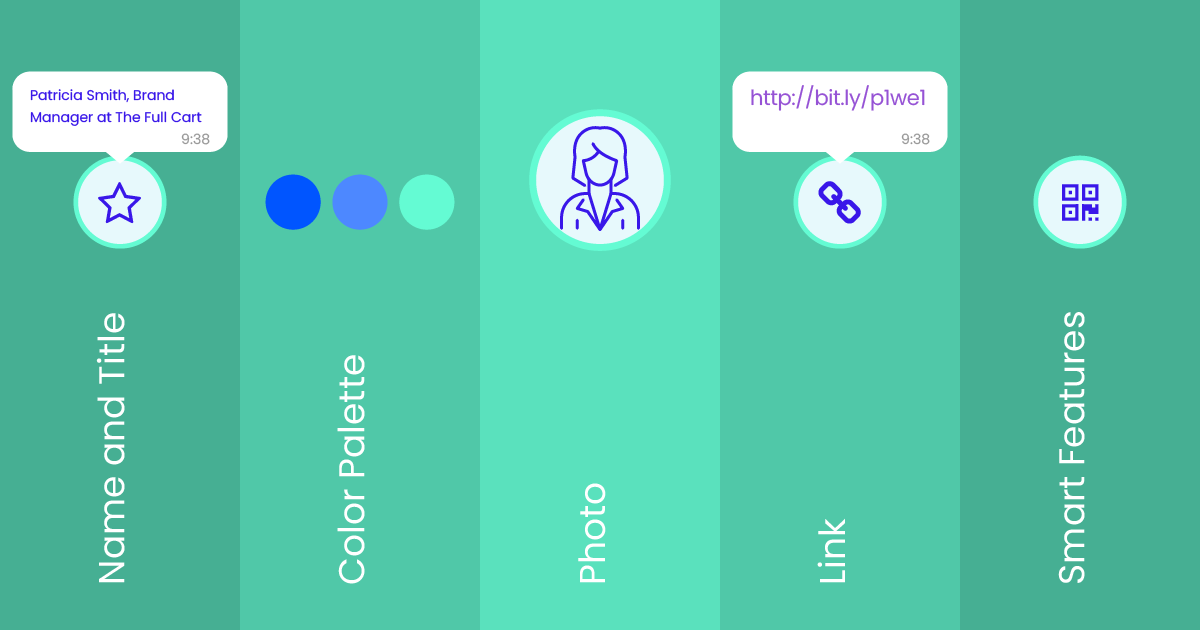 Tips for Creating a Text Message Business Card
Emphasize Your Name and Job Title
The main purpose of sending a business card via SMS is to serve as your professional ID. This means letting recipients know who you are and what you do. That being said, you'll want to highlight your name and job title by placing them front and center.
You can also use a larger and bolder font than the rest of the contact information. As for the typeface, make sure to pick one that looks clean and professional. Helvetica is a great choice. 
Use a Simple Color Palette
Your digital card's color scheme is another detail to consider. Minimalism is key here, so it's best to stick to no more than two or three colors. Go for a pale shade of yellow for the background and pick a brighter hue to highlight certain details.
It's also worth noting the effects of certain colors. Warm hues like reds and oranges inspire a sense of energy. Simultaneously, shades of blue and green tend to be more soothing. The palette should ultimately reflect your brand.
Visuals Go a Long Way
Adding a visual element can be a great way to catch the recipient's eye, like a photo of yourself. Remember to look confident, approachable, and professional.
It may also be a good idea to add a short video or a slideshow that introduces your brand. This is especially useful since it's something you can't do with a physical business card. Whatever visual you choose, make sure the placement is strategic and doesn't look overwhelming.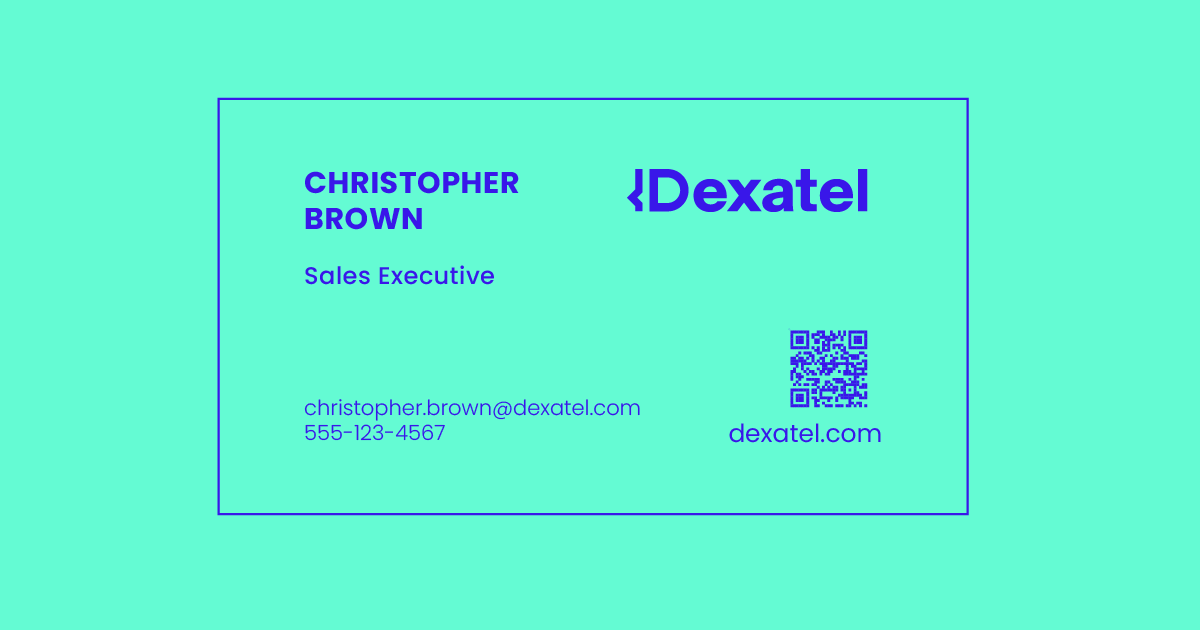 Contact Details Should Be Easy to See
There's no denying that your name and job title are paramount in a text business card. But it's just as important that your viewers easily know how to reach out to you. The way you display this information can say a lot about your brand.
You don't want your contact information to look flashy, but it should nonetheless be easy to spot. A simple yet clear typeface is the way to go. And be sure to keep it concise to make room for other elements.
Get Started Now
Reach your clients now and claim your 30-day free trial. No credit card required.
Don't Forget Your Social Media Links
Is your business active on social media? Assuming it is, be sure to add your socials to your digital card. While it's possible to include them in the form of hyperlinks, consider opting for clickable icons instead. You can place them somewhere convenient where they don't take up much space but are easily visible.
Then again, it all depends on your type of business and which details you want the recipient to focus on. 
Make Sure Your Website Link Is Clear
Another feature that could use special attention is your website, especially if it plays a major role in your business. There are several ways you can incorporate your website into your virtual business card. For example, it can be a simple URL beneath the logo or a visual.
You can also hyperlink a certain icon to make it more visually appealing. In any case, it should grab just the right amount of attention it needs. 
Look for a Digital Card Platform With Smart Features
You're spoiled for choice when it comes to digital business card apps. Go for one that offers smart features that you can take advantage of. Elements like QR codes and email signatures tend to make your electronic business card all the more practical. The more useful its digital tools are, the more effectively you'll be able to communicate with customers and business partners. 
How to Send a Text Business Card With Dexatel
As a business messaging provider, Dexatel lets you send your business card via text message. This step-by-step guide walks you through the process.
1. Sign up for an account with the Dexatel platform or log in if you already have one. Register for a Sender ID unless you have a pre-approved name.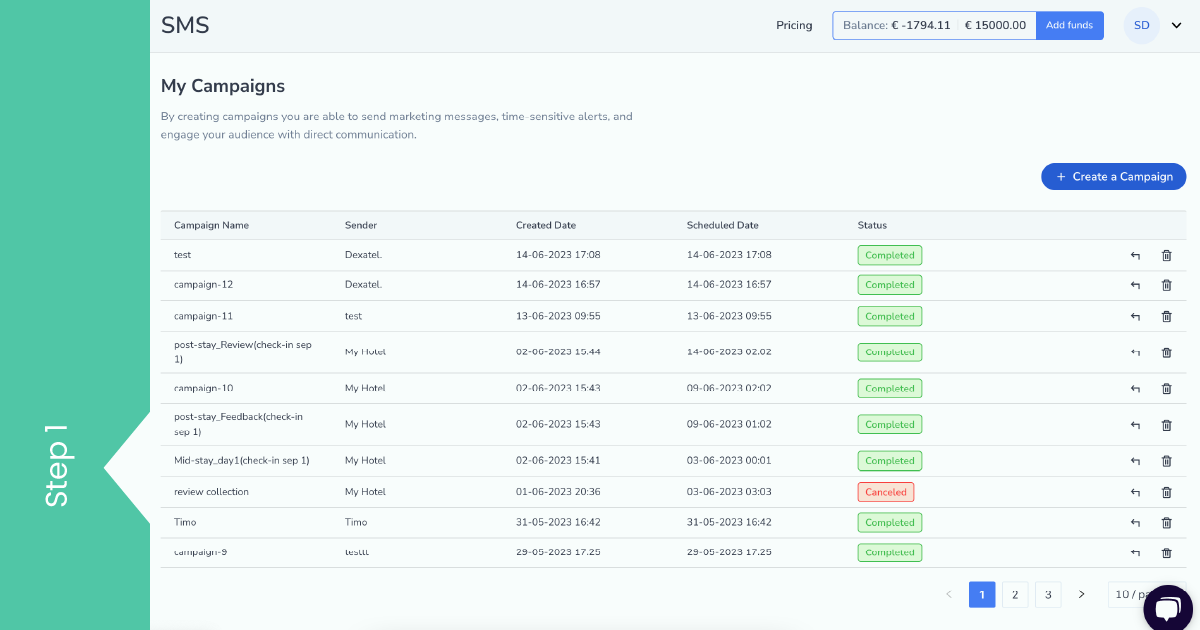 2. Form an SMS template that includes the link to your electronic business card. You can create using a virtual card app or a graphic design tool like Canva.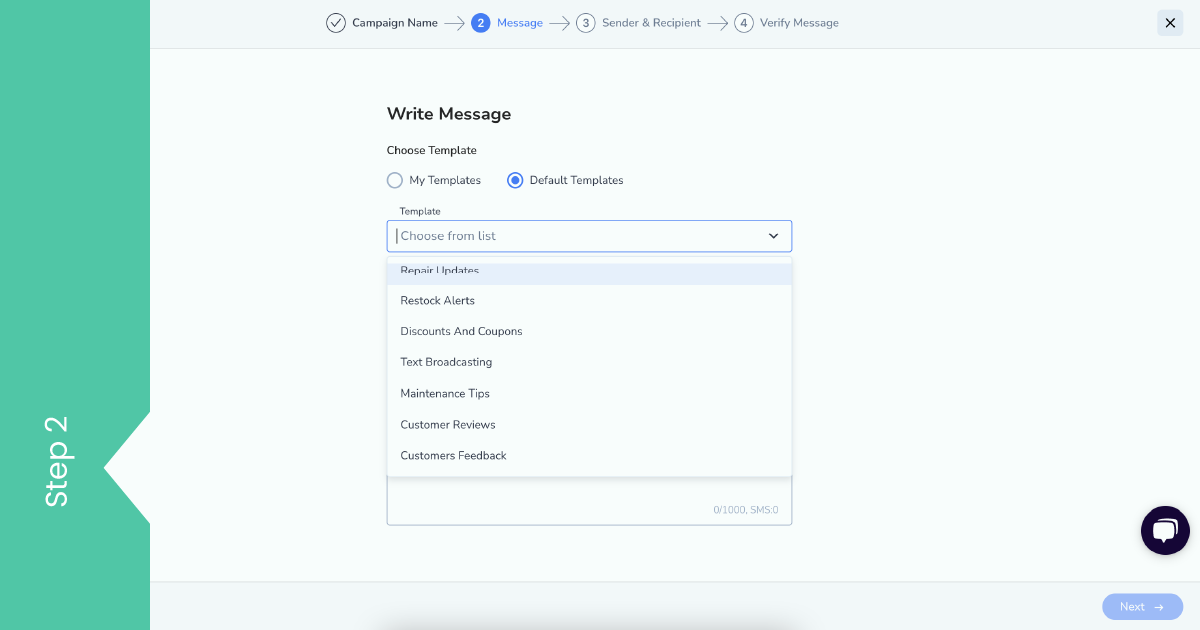 3. In the Audiences section, prepare a contact list to whom you want to text your digital business card.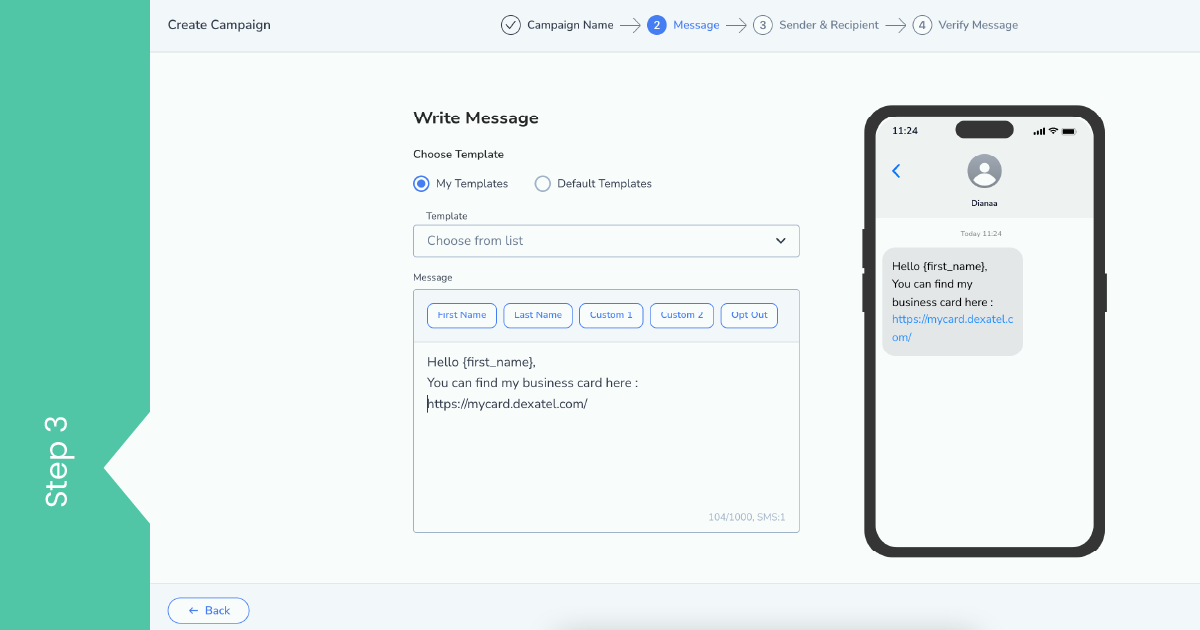 4. Go to the Campaign section and choose the SMS template, your Sender ID, and the contact list.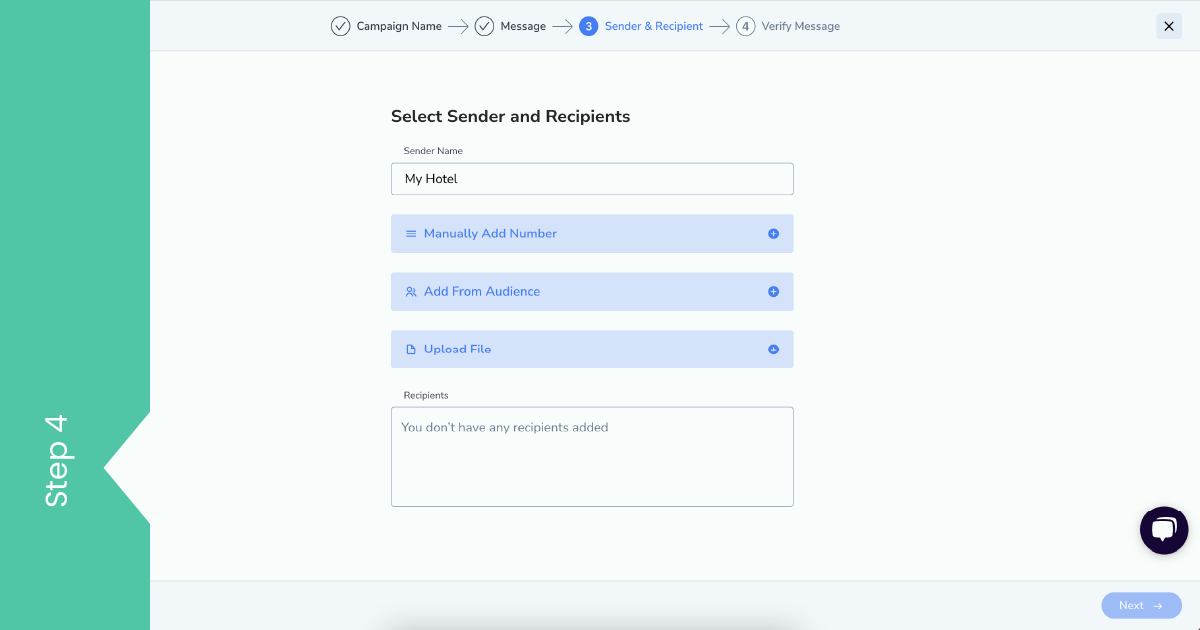 5. Take a look at the summary to check if everything is in order and send your message on its way.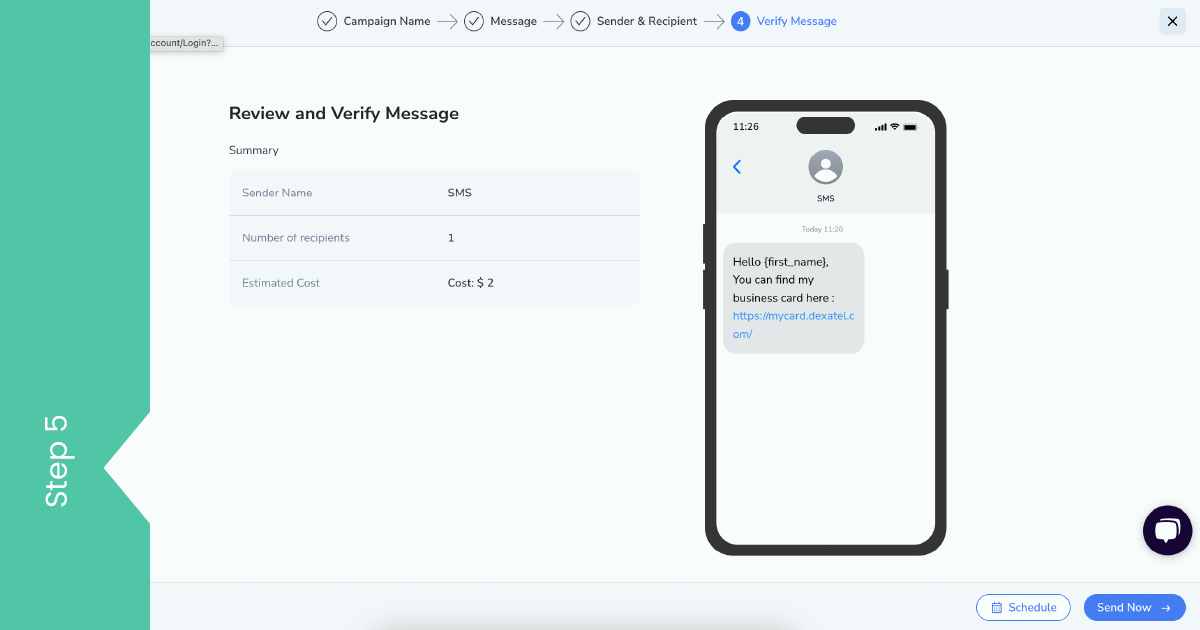 The Role of SMS Business Cards in Company Growth
SMS cards play a major role in generating leads and boosting sales, purely based on their simplicity and accessibility. Needless to say, sending a digital business card text message is an easy and convenient way to share your contact details. You can even employ two-way messaging, which helps you turn a simple interaction into an actual lead. 
Sharing your card via SMS also enables direct communication on a personal level. Think about how many traditional cards people have handed you. Chances are, you've lost or forgotten many of them.
A digital one, on the other hand, has the potential to foster a more immediate and lasting connection. This way, your company can drive more communications and nurture more leads, resulting in growth in sales. 
You can also integrate your virtual card with other systems like lead capture and CRM. This makes it easier for you to track and manage leads, essentially by using data from business card text messages. You'll be able to drive conversions efficiently and make sure valuable leads don't get lost in the sales funnel.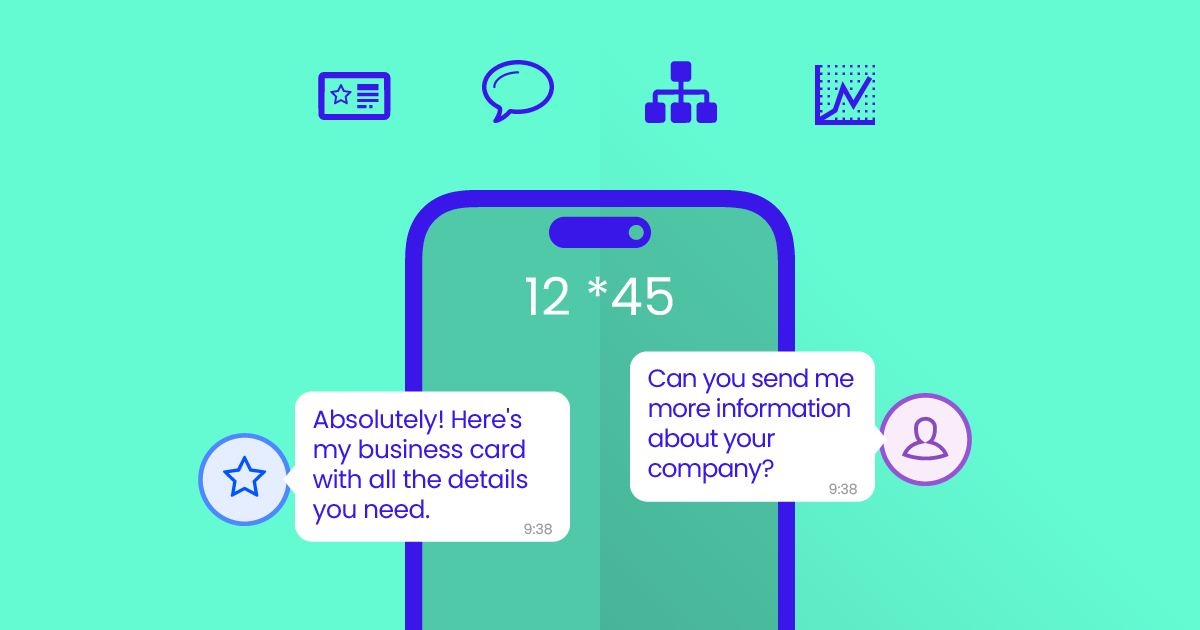 Legalities of Texting Business Cards
Much like sending any SMS marketing message, it's crucial to get permission before you text your business card. This means giving recipients the choice to opt-in to receive messages from you.
Since these cards contain personally identifiable information (PII) under data protection laws such as the General Data Protection Regulation (GDPR), sending them without consent can be considered a violation of privacy regulations.
That being said, regulations vary from one region to another; make sure to check the laws that apply in your jurisdiction.