Group Chat Vs. Mass Text: What's the Difference?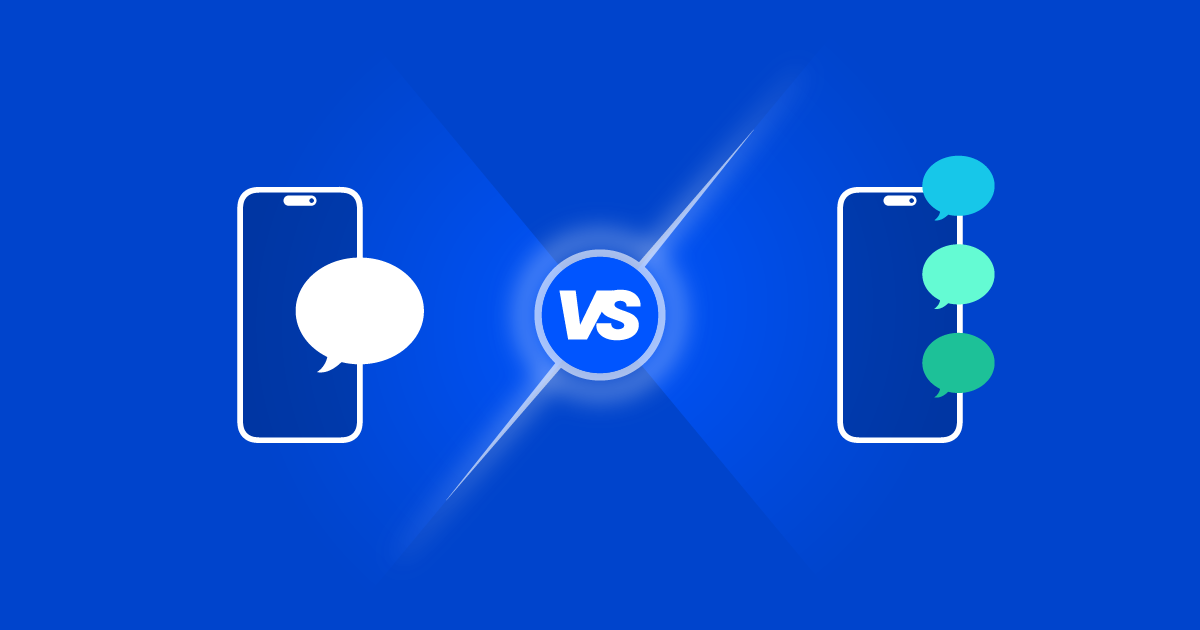 It's easy to mistake group texting for a type of mass texting—or even the other way around. After all, both involve texting multiple people at once. And there are many different ways to send messages in bulk, which include instant messaging apps. But in terms of SMS alone, these two are fundamentally different from each other. They also differ in how you can use them in the realm of business communication. To find out the differences between group chat and mass text, let's start by defining each. 
What is Group Messaging?
Group texting means you send messages to multiple contacts at once. The SMS message effectively becomes part of a group chat, a shared texting space where the recipients can see each other's texts. It doesn't offer the privacy of a one-on-one SMS conversation. That is why group texting in business is mainly for coworkers and small groups of customers or partners and isn't the ideal choice for SMS marketing purposes.
The great thing about group SMS is that there's no need to invest in a specialized mass texting service because most mobile phones already support group messages. But there's a catch: group chats only allow for a limited number of people—but more on that later. 
Messages you send in a group conversation count as a single group message. For example, if you're texting 15 recipients, you'll be charged for 1 message. 
What is Mass Text Messaging?
Also known as bulk messaging or text blasts, mass texting is when you send mass text messages to multiple recipients or an entire audience segment. This means you send the same text to several people individually. It is a large-scale SMS broadcast that requires a mass texting service. While there's generally no limit to the maximum number of recipients you can reach with a single mass text campaign, certain software programs don't support more than a few thousand at a time.  
When you send a text in bulk, it reaches the recipients individually. When a person responds, you'll receive the message in a separate message thread. This guarantees anonymity for each of the recipients. 
Get Started Now
Reach your clients now and claim your 30-day free trial. No credit card required.
Group Text Vs. Mass Text Messages
Contact Limit
With group texts, there's a limit to the number of contacts you can include in the group. Mass messaging, on the other hand, allows for potentially unlimited recipients. A mass texting service even lets you sort your contacts into different lists.
Messaging Volume
Mobile carriers like AT&T, Verizon, and T-Mobile often limit the number of SMS texts you can send from your mobile device. However, the additional vetting that bulk texting platforms go through allows them to deliver more than 10 messages per second. Some platforms even allow up to 40 per second via short codes. 
BCC Messages
Group texting doesn't offer BCC (group text without "reply all"). Members of a group chat can see all the texts and contacts in the group. Besides the lack of privacy, this also limits how contacts can manage their text notifications. Mass texts, however, are one-way blasts. This means that when a contact replies to your mass text message, the response initiates a one-on-one SMS thread. 
Carrier Approval
Group messaging doesn't have carrier approval for serving as a text message marketing tool. You can only use group text messages under certain circumstances. For example, when a yoga class attendee has already provided their phone number, you can add them to an SMS group conversation along with other attendees to keep everyone up to date. 
But with mass texting, you don't have to worry about any fines or penalties as long as you gain the recipients' consent. Bulk SMS platforms also have the approval of services like Campaign Registry, in addition to being carrier-approved. 
Opt-in and Opt-out Features
Speaking of consent, providing the option for customers to opt in and opt out is crucial for ensuring compliance with text message privacy regulations like the Telephone Consumer Protection Act (TCPA). Group messaging and native messaging apps don't support such options. But with a mass texting service, you get automated compliance features like opt-out list management. 
Scheduling and Personalization
You can't personalize a group text on iMessage or Google Messages. Pre-saving group texts as templates is not possible either. Group text messaging also doesn't allow for campaign scheduling or setting up automation. 
A business-grade mass texting software provider lets you do all that and more. It lets you schedule both individual messages and large-scale, recurring SMS broadcasts. 
Mass Text Vs. Group Text: Which One Should You Choose?
Group texting and mass texting are different in their own ways. Choosing the one that suits your messaging needs depends on a handful of factors. These include the number of recipients you need to reach and the audience you want to send text messages to. You'll also want to consider whether you need to schedule your texts and how often you plan to send them. 
If you're targeting small groups of people, like students or close clients, group texting is the way to go. But if you plan on carrying out large-scale communications, a bulk messaging platform is the better choice. Besides the compliance issue and the recipient limit, it's just not practical to handle entire contact lists on your personal phone. A bulk messaging platform is the most practical way to send mass texts, handle multiple conversations, and more.
How to Send Group Text Messages
You can send a group message on your mobile phone's default messaging app without the need for business texting software. The exact process depends on whether you have an iPhone or an Android device.
Via Android
An Android phone normally uses native text messaging apps like Google Messages or Samsung Messages, depending on the device you have. Here's how it works:
Go to the "Messages" app and tap on "Start Chat"

Select "Create a group" and choose recipients you want to add from your contact list

Tap on "Next" and type your group name (or skip)

You can now send texts to all the contacts in the group
If you happen to be using Google Messages and everyone in the group uses an Android phone, you can enable chat features. This allows you to activate RCS messaging, allowing you to send SMS messages over WiFi, see the typing indicator, and more.  
Via iOS
Group texting on iOS is not very different from Android. All you need to do is add contacts in the "To" field and compose your message via the native messaging app. If all the other group members use iPhones, they'll receive messages via WiFi or mobile data rather than a cellular network. In other words, you'll be sending the text message as an iMessage instead of a regular SMS.  
How to Send a Mass Text
As we mentioned previously, mass text messaging software is necessary if you want to carry out large-scale communications. You'll need to get started by choosing the right service provider for your messaging needs.
Choose a Mass Texting Platform
Start by evaluating several platforms based on the features they offer. You'll want high-volume, carrier-approved bulk texting capabilities. Make sure the software also allows for automation, including templates, integration, and campaign scheduling. 
Text-Enable Your Business Landline
Once you pick a platform and create your account, you'll need to text-enable your business number. You can also get a new textable number as an alternative. If you choose to text-enable your existing landline, you'll have to submit a request for number hosting. 
Import Your Contact List
The next step after configuring your SMS phone number is to import your contact list or synchronize the software with your CRM system. Remember to stay compliant with regulations by making sure your contacts opt in to receive promotional mass text messages from you. 
Create Templates, Tags, and More
After uploading your contact list, you can move on to composing your text messages. Pre-saved templates will come in handy here. You should also be able to create personalized messages. By doing so, you'll be able to optimize your SMS communications based on customer information.
Automate and Schedule Messages
Connecting with your audience involves pairing SMS broadcasts with campaign scheduling. It's also a good idea to reach out to consumers when they're more likely to respond. If you need to send mass text alerts at a specific date and time, you can do so by scheduling them. You can even set up automated texts to go out on a recurring basis.
How to Send a Text en Masse With Dexatel
As a provider of business communication services, Dexatel allows you to deliver bulk promotional messages. Personalization and automation features are also available. Here's how to send a mass text with Dexatel:
Create an account with the Dexatel platform

Click on "SMS" and select "Create Campaign"

Compose the mass text you want to send or choose a pre-written template

Add variables to personalize your message

Choose the recipients from "Audience" or upload a list

Click on "Send now" to deliver your message on the spot or "Schedule" to send it later